Review Tokyo Marui XDM GBB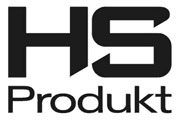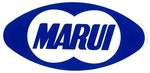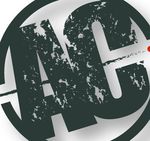 Ca fait un moment que j'avais envie de mettre la main sur cette réplique. Lorsqu'on en parle avec les joueurs, deux réactions dominent : « j'adore » et « c'est moche » (parfois également une combinaison du genre « c'est moche, j'adore ! ( pour les gens bizarres dont je fais partie).
Il est vrai que le XDM a un look particulier, presque rétro-futuriste (je viens d'inventer, ça sonne bien :-p ) avec son grip à grosses sculptures et sa bouille toute carrée.
Franck, patron du magasin Airsoft-Concept près de Tours m'a gentiment proposé de faire cette review afin de pouvoir faire un comparatif entre le modèle Marui et le WE déjà en test ICI.
It had been a while since I wanted to review this replica. When you talk about it with players, two reactions dominate : « I love it » and « wow, it's ugly ! » (and for weird people as me, « Wow, it's ugly, I love it ! »).
It is true that the XDM has a distinctive look, almost « retro-futuritic » (just made that up, it sounds good though !) with its broad-treaded grip and its square mug.
Franck, from Airsoft-Concept shop, lent me a Tokyo Marui in order to make a full review as well as a comparison with the WE model (review HERE)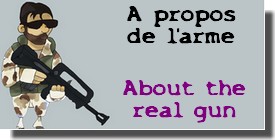 Lorsqu'on fait quelques recherches sur le XDM, on trouve rapidement « Springfield Armory » associé à ce modèle. En cherchant quelques secondes de plus, on découvre que si la licence et la distribution est à la charge de la société américaine, la fabrication est effectuée en Croatie par la compagnie HS Produkt. Le succès du XDM et de son prédécesseur, le HS2000, permit à l'armurier croate de passer de 80 employés à plus de 1000 en moins de 7 ans.
La version qui nous intéresse est le 4.5″ en calibre .40 Smith&Wesson équipé d'un chargeur de 16 balles (nous nous contenterons de 6mm full plastic jacket).
When you do some research about the XDM, you quickly found the name Springfield Armory associated with it. A few more seconds allow you to discover that is the American firm is in charge of licensing and distributing the gun,  the XDM is actually a Croatian weapon, made by HS Produkt . The successful welcome of the XDM led HS to develop from 80 employees in 2000 to about 1,000 in 2007.
The model we're interested in today is the 4.5″, .40 S&W caliber, housing a 16-bullet mag (we will continue to use 6mm full plastic jacket for our airsoft games !).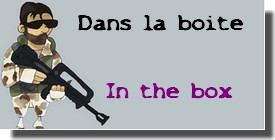 Le couvercle est magnifique, les lettres XDM sont en sur-impression rouge brillante et une superbe photo de la réplique y trône. A l'intérieur tout est maintenu dans un polystyrène gris foncé bien compact.

The box cover is beautiful, the XDM letters are glossy red and a gorgeous picture of the gun stands on it. Inside, everything is well maintained in compact gray polystyrene.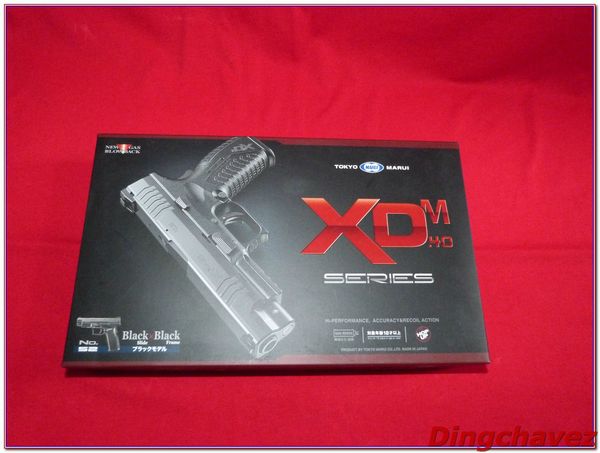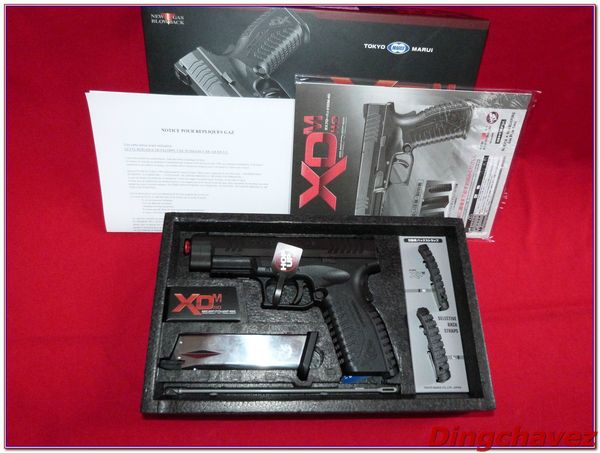 A l'intérieur, on a droit à :
-La réplique, 753 grammes de plastique et (un peu) de métal.
-Un chargeur chromé de 26 billes.
-Deux grips supplémentaires pour adapter la crosse à votre morphologie.
-Un manuel d'utilisation comportant également l'éclaté de la réplique.
-Une baguette de nettoyage.
-Deux pièces à insérer dans le chargeur pour pouvoir tirer à vide.
-Un chasse-goupille pour changer le grip.
-Un paquet de 100 billes.
Inside the box you can find :
-The BB gun, 753 grams of plastic and (a little bit of) metal.
-A 26BB chromed magazine
-Two additional grips to adapt the butt to your morphology.
-A user manual with a list of the parts.
-A cleaning rod.

-Two smal pieces to allow dry fire.

-A small part to change the grips.

-A pack of 100 BBs.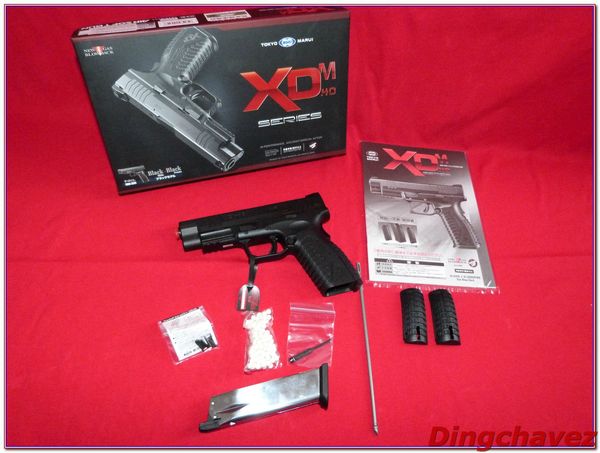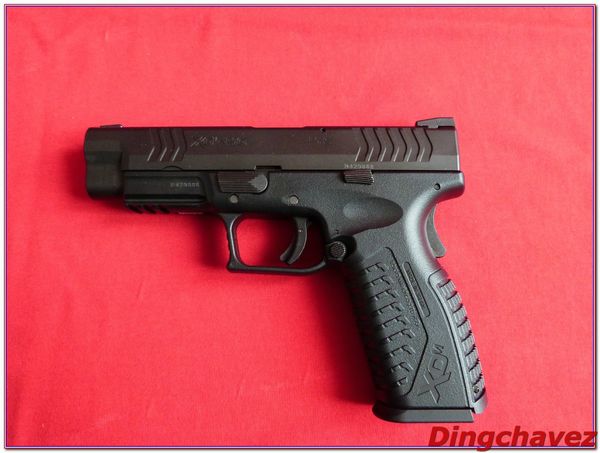 J'avoue être agréablement surpris par les derniers modèles proposés par WE. La série des F2xx et des Gxx ne m'avait pas spécialement emballé plus que ça (même si cela reste des alternatives abordables aux modèles plus haut de gamme). La prise en main est bonne et la finition globale de la réplique surprend : trace de moulage discrète, aucun défaut notable et une impression de solidité qui, je l'espère, sera vérifiée.
I must say that I'm surprised by the latest products by WE. The F2xx and Gxx series didn't impressed me much (even if they are a fine alternative to high end models). The handling is good and the overall finish suffers with no big flaws. The molding line is discreet and there is a feeling of sturdiness that, I hope, isn't just a feeling…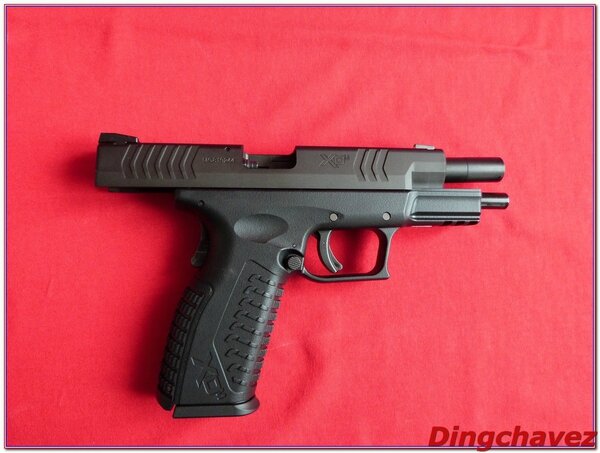 La crosse est pourvue d'un motif large qui peut surprendre, mais il n'est pas désagréable. On remarque le marquage « made in Japan » et le marquage XDM .
The grip has a broad thread design that can be surprising, but the grip is comfortable. Notice the « made in Japan » marking and the  XDM marking.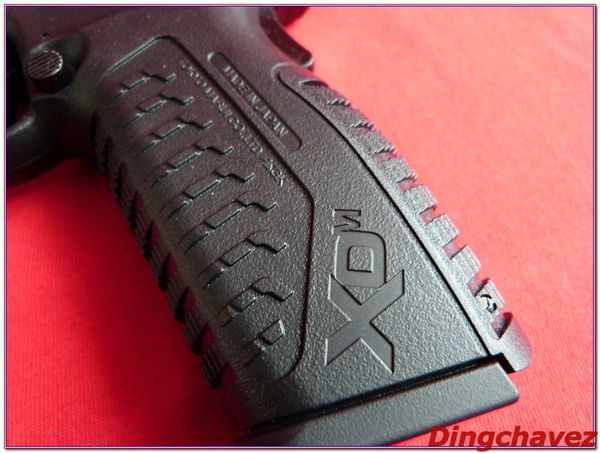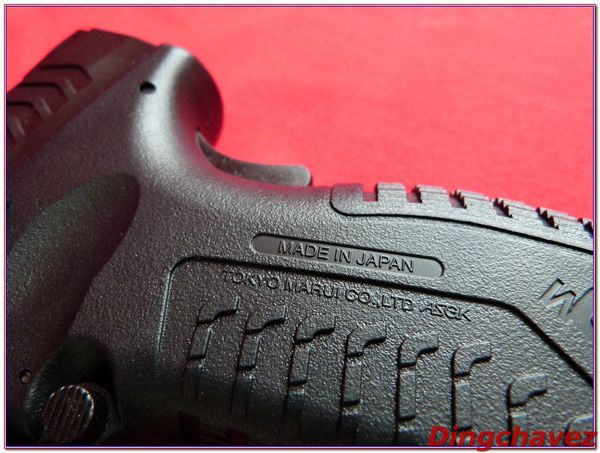 Et puisque nous sommes sur la crosse, attardons-nous sur les différents grips fournis avec la réplique. Pour le changer il faut enlever la petite goupille. Cette goupille sert également d'attache de dragonne.
As we focus on the butt, let's see the different grips given with the replica. To remove the grip, remove the small pin first. This pin also acts as a lanyard retainer.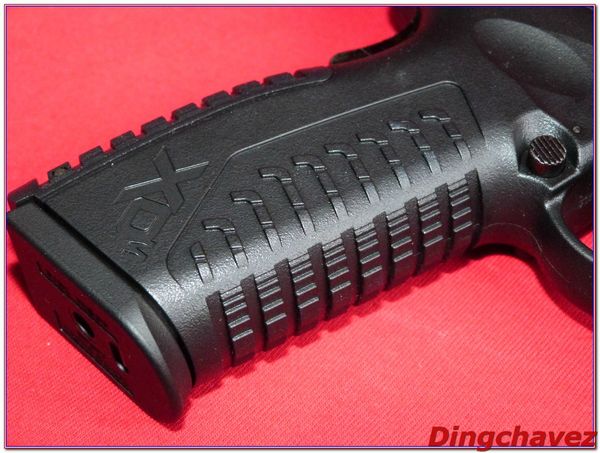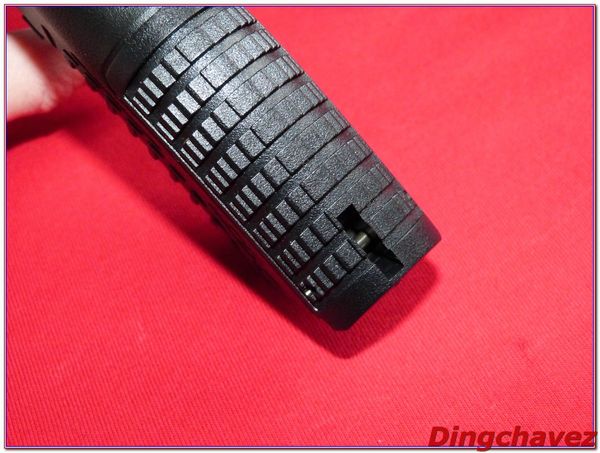 L'outil fourni dans la boite permet de chasser la goupille sans effort.
The tool given in the bow allows to remove the pin without any effort.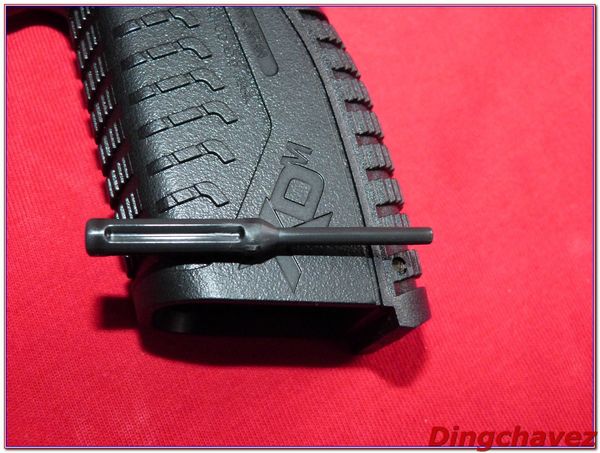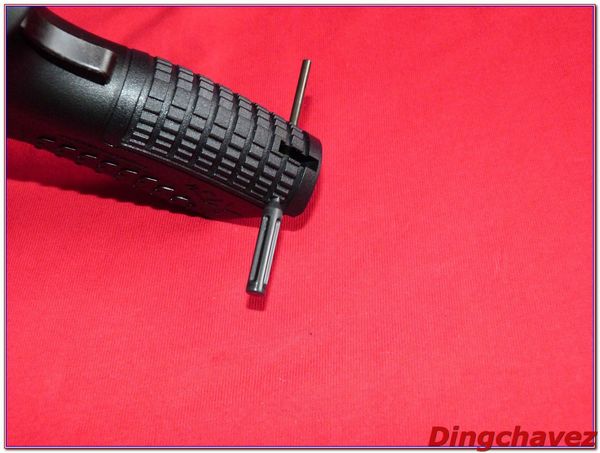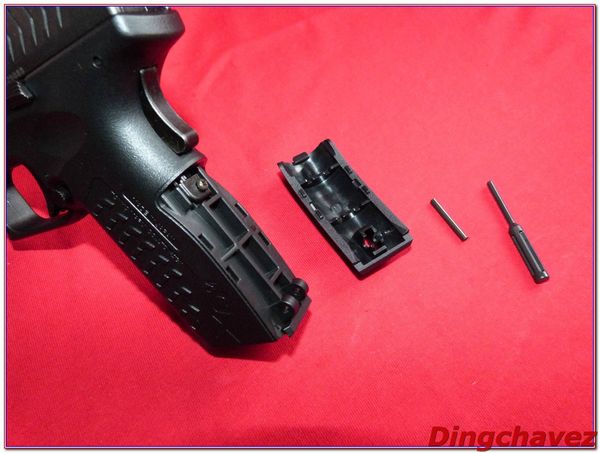 Trois tailles sont fournies, j'avoue que les différences sont subtiles…
Three sizes are provided. I must say that the differences are quite subtle.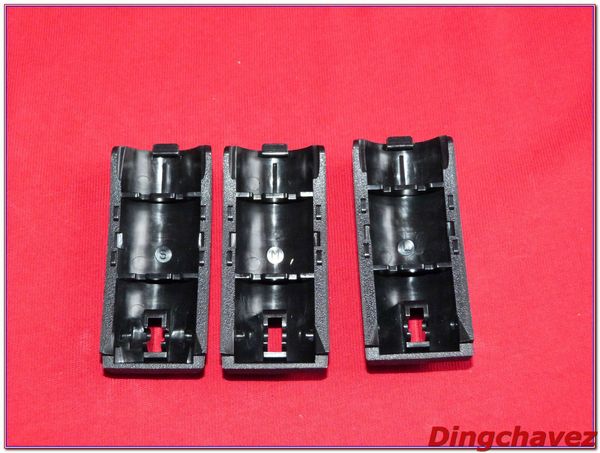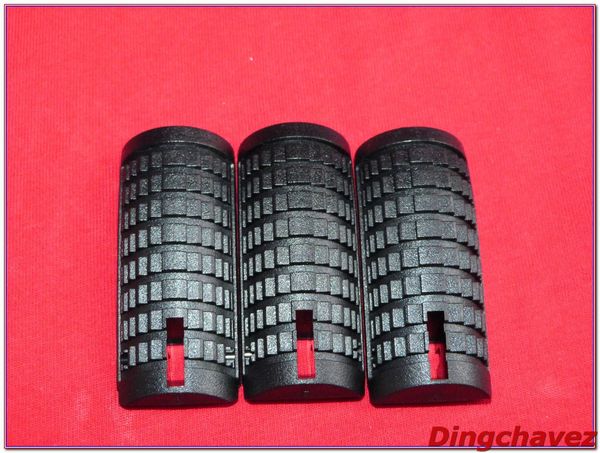 Petit.
Small.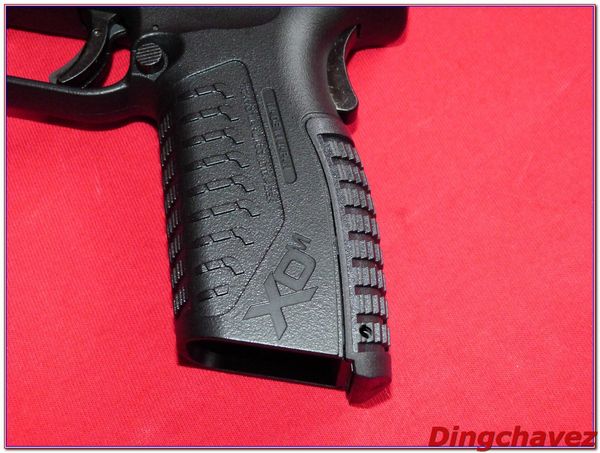 Moyen.
Medium.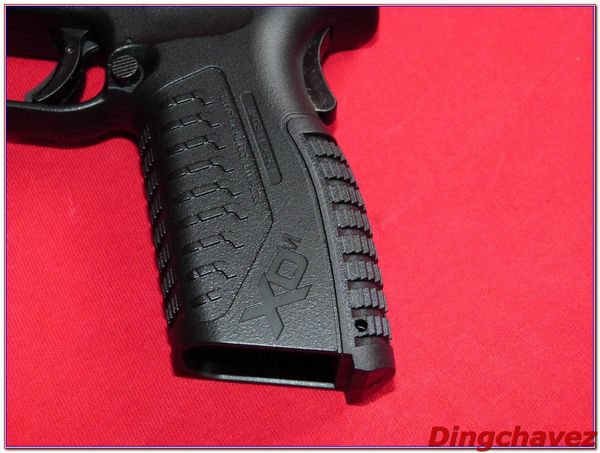 Grand.
Large.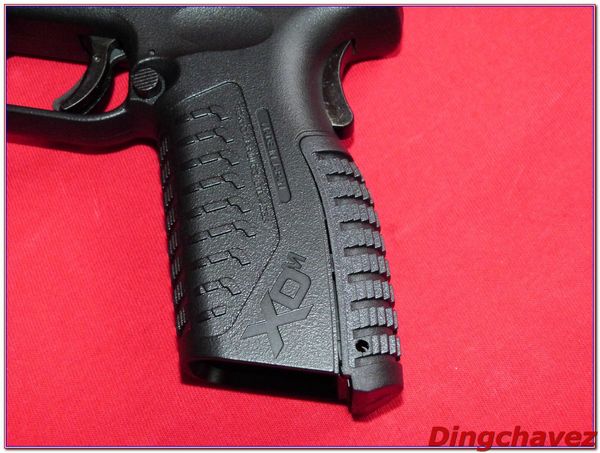 On retrouve le « 4.5 » côté gauche de la glissière…
There is the « 4.5 » marking on the left side…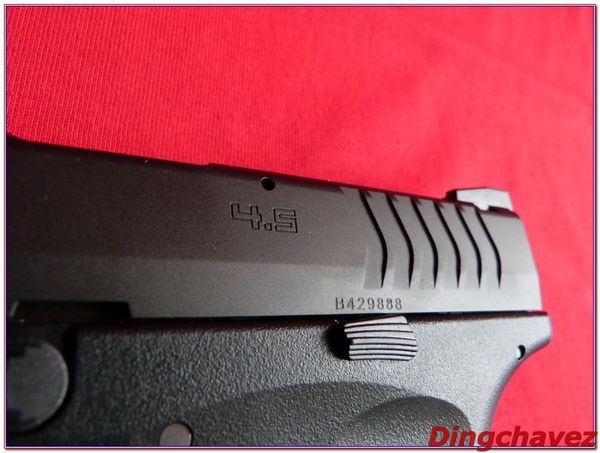 …ainsi que le calibre et la mention XDM.
…as well as the caliber and the XDM brand.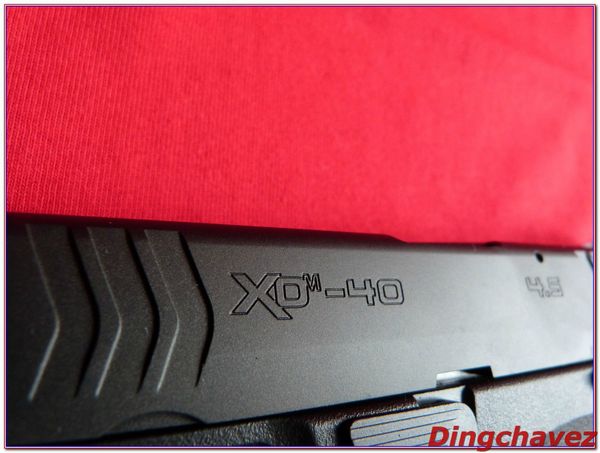 L'arrêtoir de glissière est assez discret. Un numéro de série est gravé sur la glissière.
The slide catch/release is quite discreet. A serial number is engraved on the slide.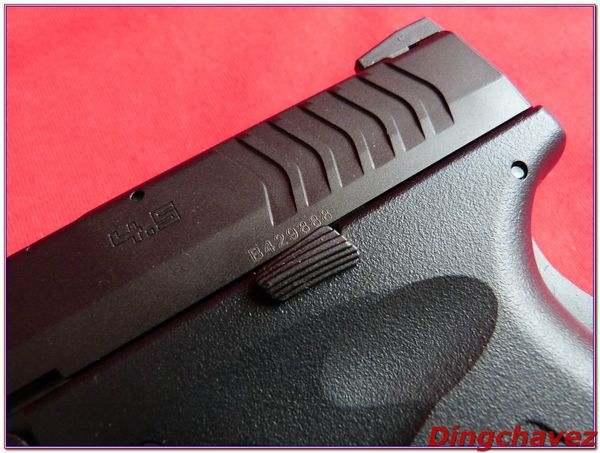 La petite plaque comportant le numéro de série (différent de celui de la glissière…) agit comme une sûreté lorsqu'on la fait glisser vers l'arrière.
The serial number (different from the one on the slide…) plaque acts as a safety when pushed to the rear.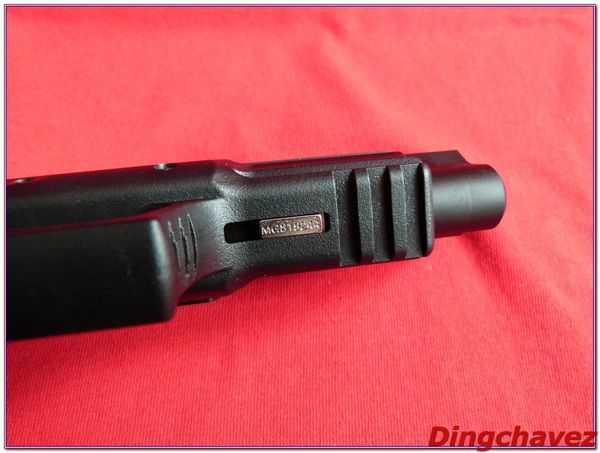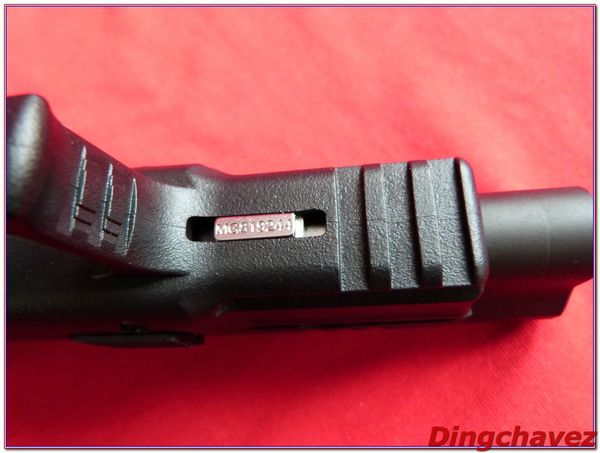 La queue de détente dispose d'une sûreté intégrée comme sur les Glocks, elle est plutôt sensible, pas besoin de forcer pour déclencher la percussion.
The trigger holds a « Glock-like » safety. It is quite sensitive on this model, no need to press it like a madman to trigger the firing pin !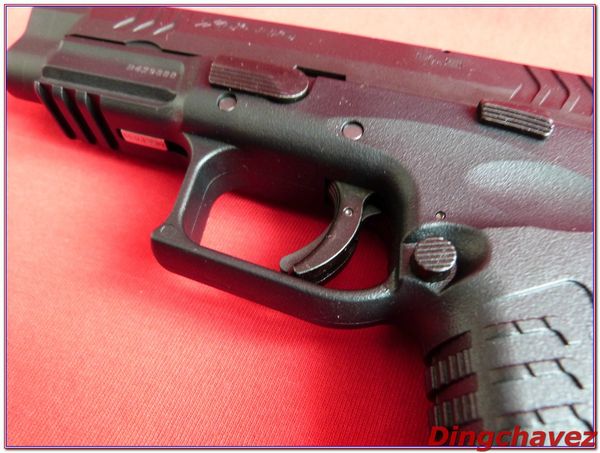 Un levier est présent sur l'arrière de la crosse. S'ils n'est pas actionné la pression sur la queue de détente ne déclenche pas le tir.
There's a lever at the back of the frame. If it isn't pushed, acting on the trigger doesn't fire the gun.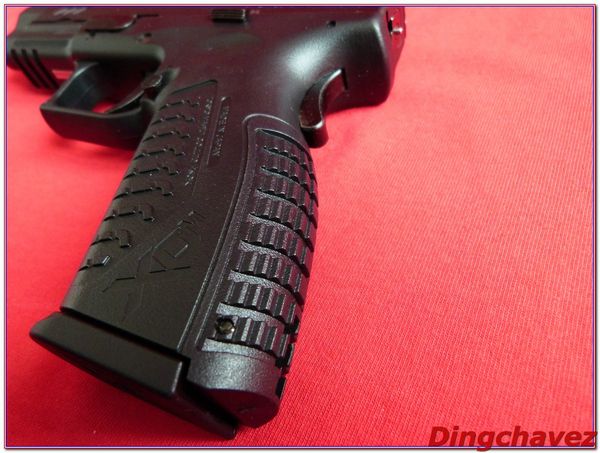 Sur cette photo on constate que le bouton de verrouillage du chargeur est également présent sur le côté droit de la réplique, bonne nouvelle pour les gauchers !
On this picture, we can see that the mag catch is ambidextrous. Good news for the left-handed players !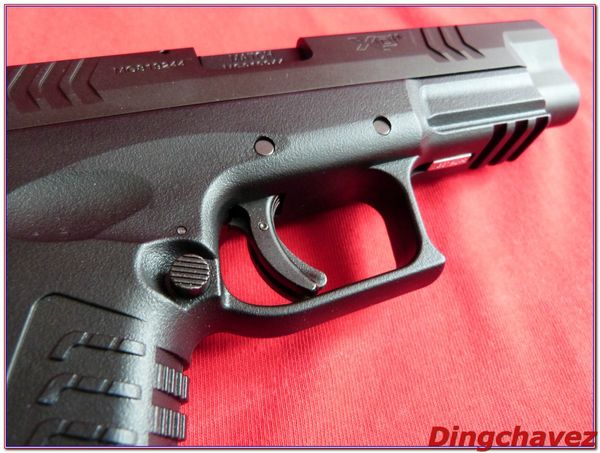 Le canon externe en plastique est marqué du calibre RS et du numéro de série. Ce numéro de série est également sur la glissière.
The plastic outer barrel is marked with the serial number and RS caliber. This SN is also on the slide.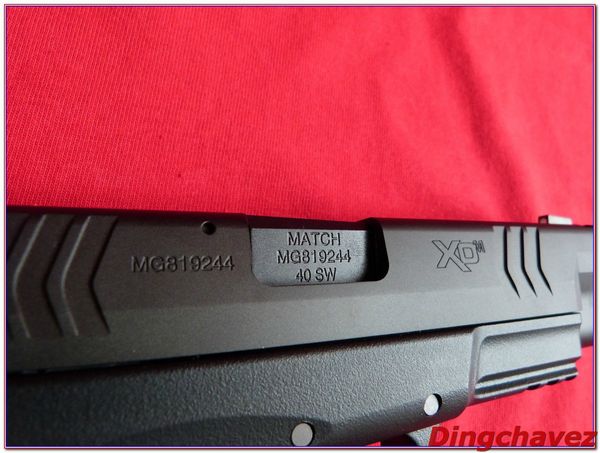 L'avant de la glissière dispose de stries, utiles en RS pour faire un CPS (contrôle personnel de sécurite), en airsoft c'est plutôt inutile car on chambre trop rapidement une seconde bille… On peut également voir que la carcasse dispose d'un rail, utile pour poser une lampe ou un laser. Enfin, remarquez à nouveau le no de série gravé sur le corps
The front of the slide also has a thread, useful on the RS model to perform a press check, but quite useless in airsoft as the BBs tend to be loaded pretty soon…  Notice the railed frame, useful to mount a flashlight or a laser device. Finally, there's the serial number on the frame.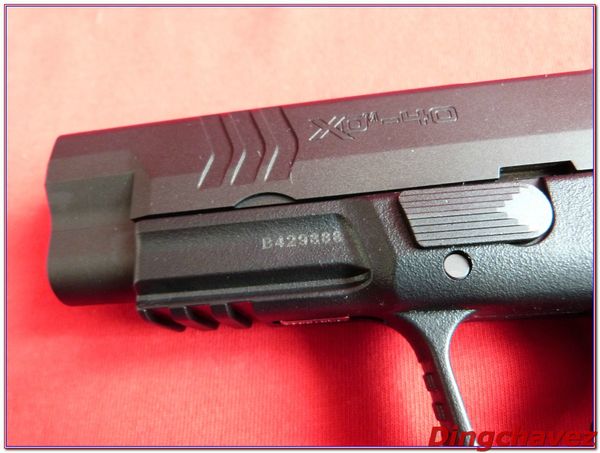 Le canon n'est pas fileté, impossible de monter un silencieux sans changer le canon externe.
The outer barrel is not threaded, impossible to put a sound suppressor unless you change the barrel.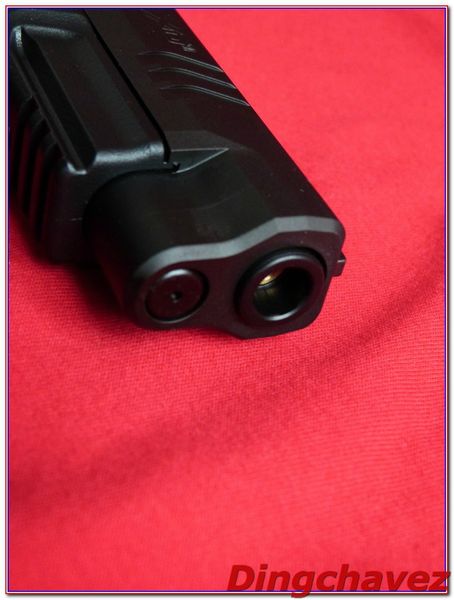 Les organes de visée sont assez intuitifs à utiliser, des points blancs facilitent l'acquisition d'objectif.
The sights are marked with white dots. It is easier to acquire targets.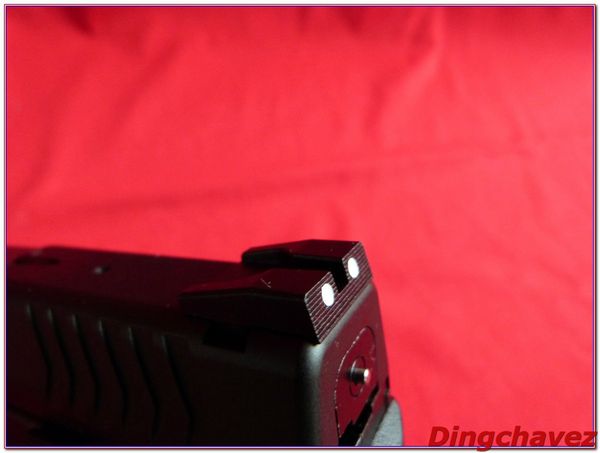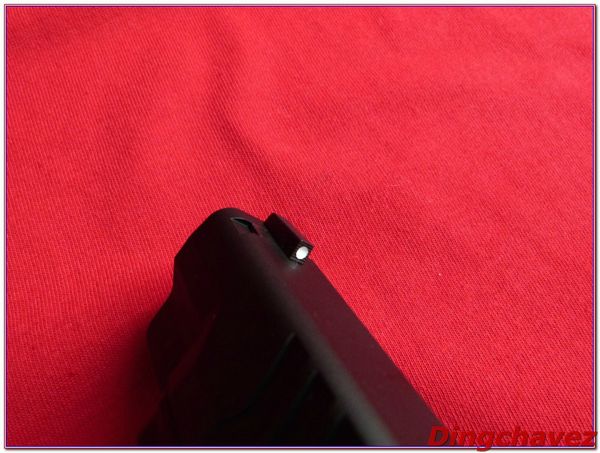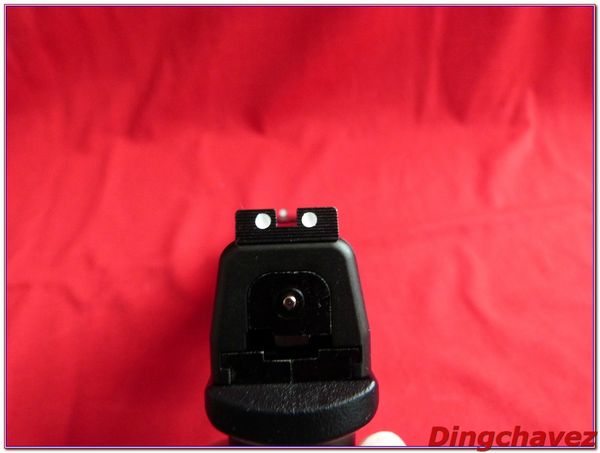 Ici on peut voir le témoin du percuteur, lorsqu'il est sorti, la réplique est armée.
Here is a focus on the firing pin marker. When it is out, the gun is cocked.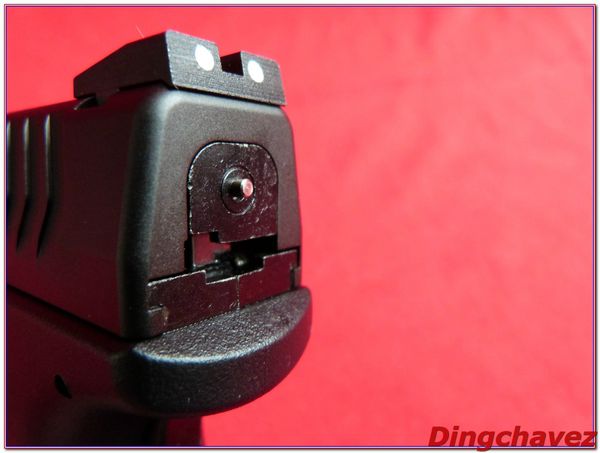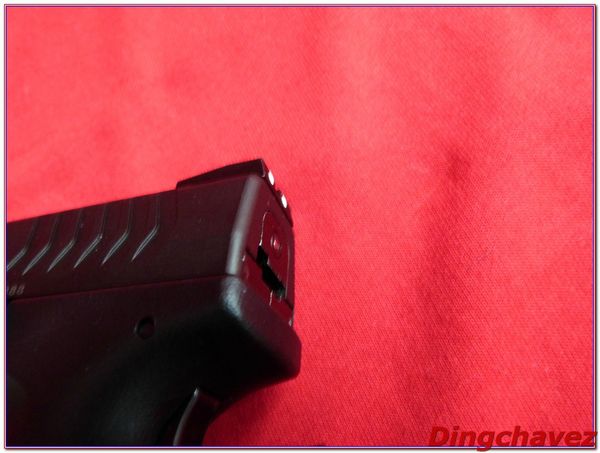 Terminons par l'extracteur, situé sur le dessus de la glissière.
Let's finish with the extractor, placed at the top of the frame.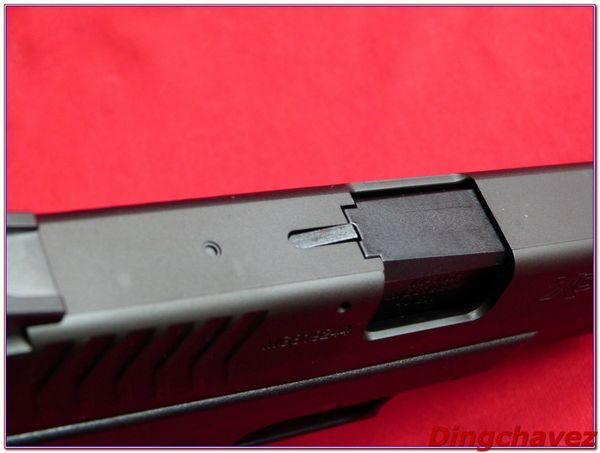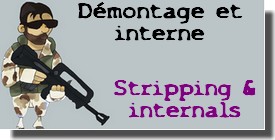 Pas besoin d'un diplôme d'ingénieur pour démonter cette réplique, il suffit de tirer la glissière jusqu'à faire correspondre la partie arondie et d'actionner le levier vers le haut.
No need to be a rocket scientist to strip this gun. You only have to pull the slide until you make the round part witness the frame and rotate the lever up.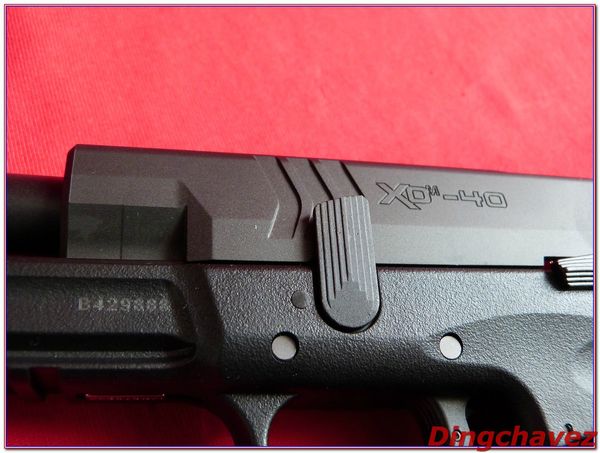 Puis on balance tout vers l'avant !
Then everything goes forward !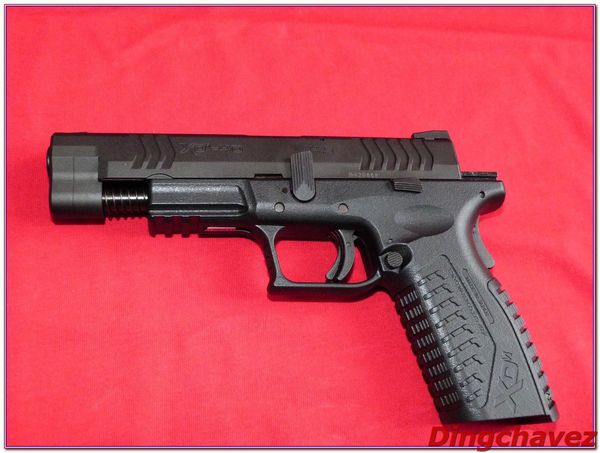 La mécanique.
The guts.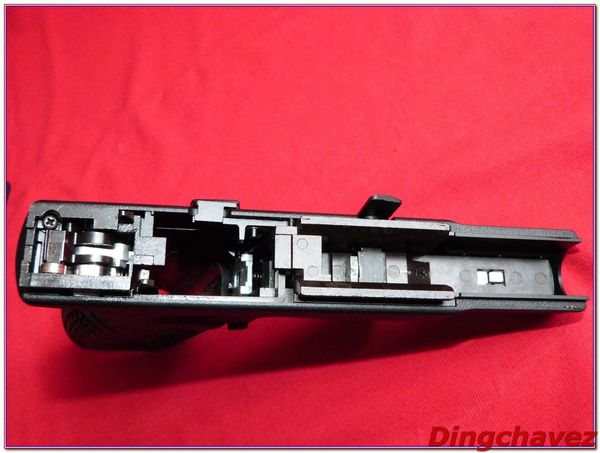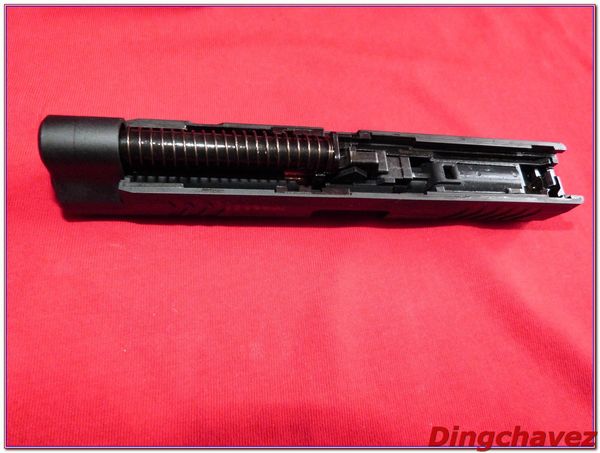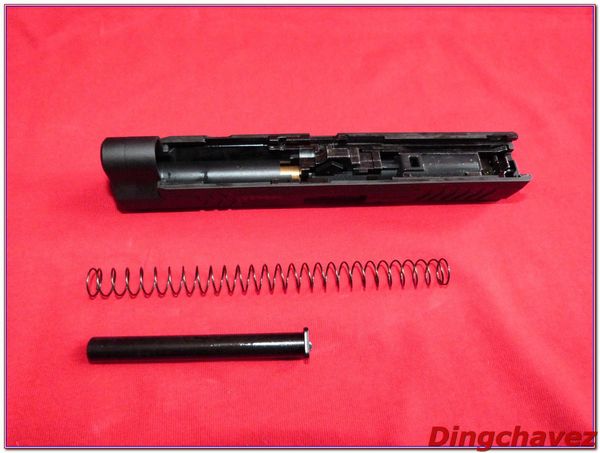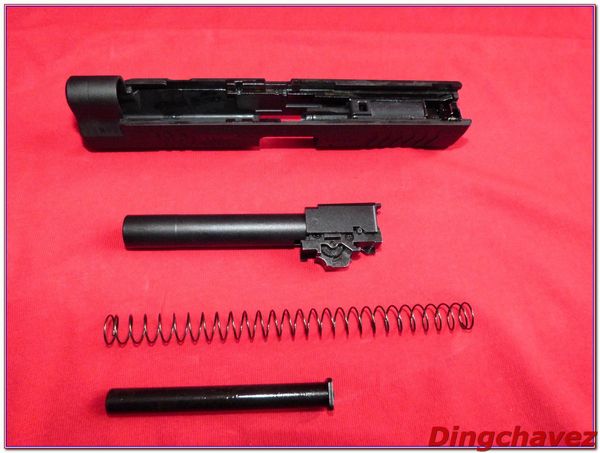 Vue sur le nozzle.
A close up on the nozzle.

 Le réglage de hop up est identique à la plupart des modèles Marui.
The hop up unit is similar to most of other Marui models.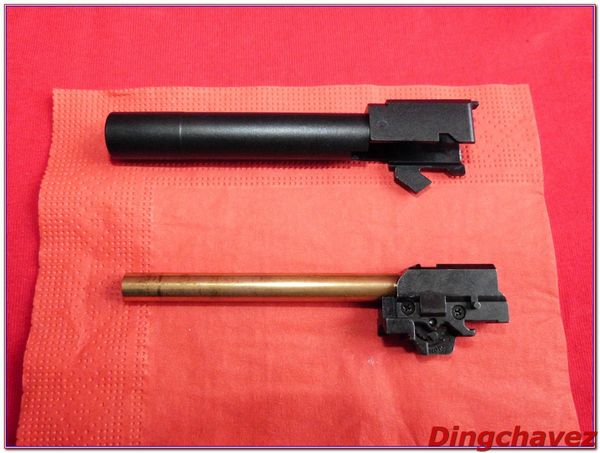 Le canon en laiton mesure 99mm. Le joint est un Marui pour VSR/hicapa. L'un des meilleurs du marché.

The brass inner barrel is 99mm. The rubber is a VSR/hicapa type. One of the bests in the industry.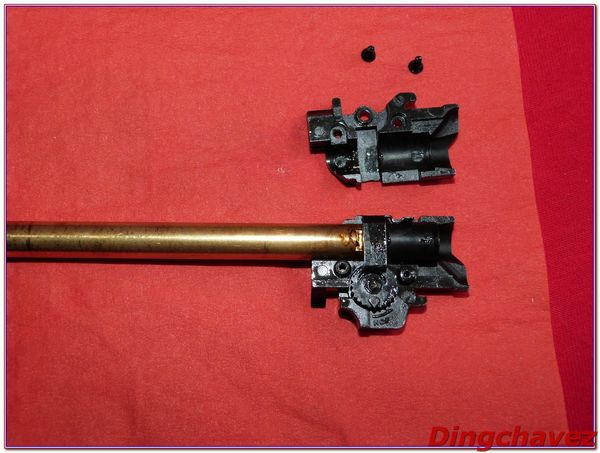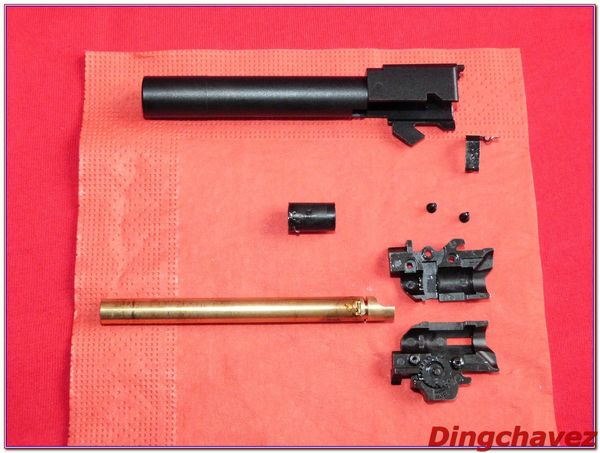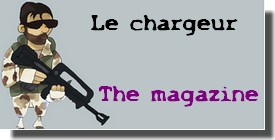 Nous avons droit à un modèle chromé du plus bel effet.
The replica is provided with a chromed magazine. Shiny !

 L'arrière du chargeur comporte les marquages de capacité RS -16 balles-
At the rear of the mag are the RS capacity markings : 16 bullets.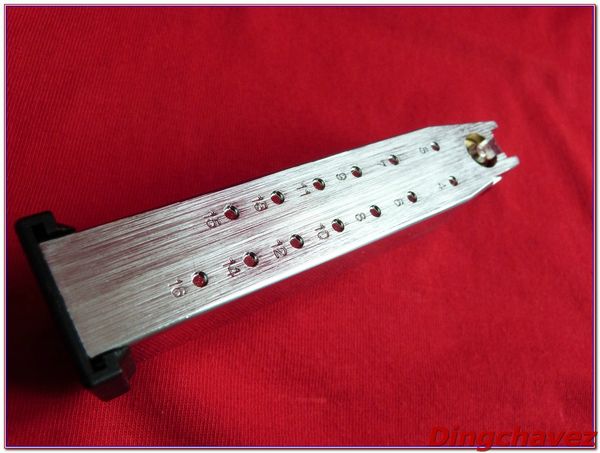 On peut y mettre 26 billes.
It holds up to 26 BBs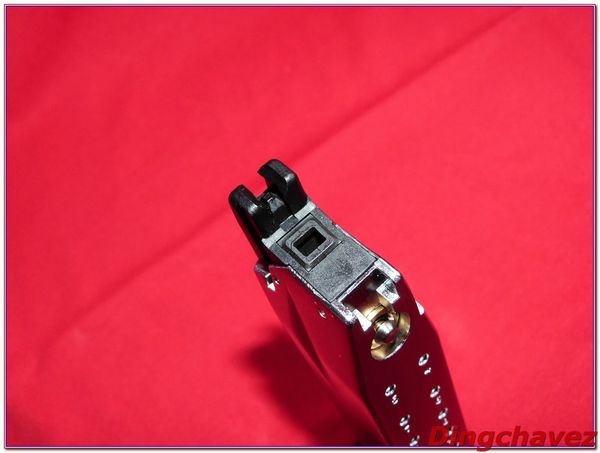 Le talon comporte les marquages Marui ainsi que le calibre RS et la capacité.
The mag plate has got RS caliber and capacity markings alongside Marui markings.
Pour le retirer, il suffit d'actionner le téton de verrouillage et de tirer.
To remove it, just press the lock pin and pull the plate out.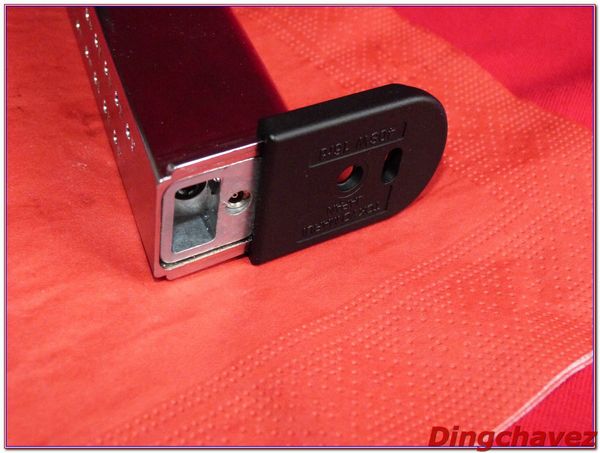 Ca ne mange pas de pain de démonter le chargeur, tout est nickel, joint huilé et pas de saloperies dans le chargeur.
It's no big deal to strip the magazine, everything is clean, the seal is slightly lubricated.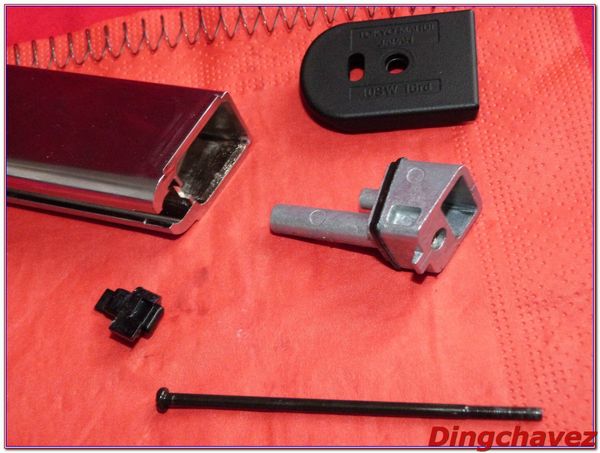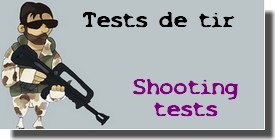 Les tests ont été effectués avec du Abbey Predator 144a et du Ultrair. Abbey Predator144a and Ultrair gas.
Température 22°C en intérieur (pour les tests chrony) et environs 26°C en extérieur (pour la vidéo de tir).
Temperatures : 22°C inside (chrony tests) and about 26°C outside (for shooting tests)
Billes bio Xtreme précision 0.2 grammes.
La valeur moyenne obtenues en FPS avec du gas Abbey Predator144a est de 275 FPS. On monte à 285 FPS avec du gaz Ultrair.
Le hop up est efficace il lève un grammage de 0.25 sans souci, on a à faire à un joint qui a fait ses preuves. Le kick est bien présent, on sent bien le choc du recul. Niveau portée, on atteint les 25-30 mètres avec une dispersion honorable.
The average power is 275 FPS using Abbey Predator144a gas. When switching to Ultrair, it raises to 285 fps.

The hop up is efficient, it has no problem lifting 0.25BB. . The kick is interesting. The range is about 30-35 meters with a good accuracy.
Concernant la précision, les tests ont été effectués à une distance de 5, 10 puis 20 mètres avec des billes 0.25 Xtreme precision bio.
Je vous laisse découvrir ce que ça donne en images :
About accuracy, the tests have been conducted at 5, 10 and 20 meters using 0.25 Xtreme precision Bio BBs.
Let's discover the shooting tests  :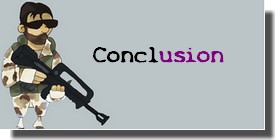 Tokyo Marui fidèle à sa réputation une fois de plus. Ce XDM s'avère d'une régularité et d'une précision exemplaires, seul le tireur fait la différence. La qualité des matériaux et des finitions sont bien au dessus des modèles WE mais pour un prix en France avoisinant les 230 Euros, cela reste une réplique que peu de joueurs pourront s'offrir. Je vous laisse vous faire vote propre idée, la review du modèle WE se trouve ICI.
 Vous pouvez bien entendu commenter cette review et en discuter sur Facebook.
Tokyo Marui provides us once again with a hall of a gun ! This XDM has got ragularity and accuracy beyond the average, only the shooter can make the difference ! The quality of the materials ans the finish are way beyond WE. The only downside is the price. In France it costs roughly €230, a litle bit too much for most players. I'll let you decide if this gun woth the price, you can read the WE review right HERE.

You can comment and react on Facebook.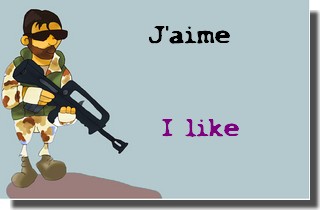 -Look sympa (ou non, ça dépend des goûts)./good looking gun (or not, depends on how you like it).
-Excellentes finitions./excellent finish.
-Marquages RS/Real Steel markings.

-Excellente précision et régularité./ excellent accuracy and regularity.
-Contenu de la boite/content of the box.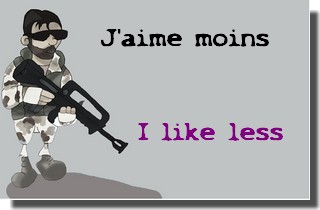 -Prix. Price.
---
Quelques photos pour que vous puissiez comparer les éléments WE et Marui.

A few pictures so you can compare WE and Marui.

Marui à gauche, WE à droite. Les pièces sont interchangeables.

Marui to the left, WE to the right. The different parts can be exchanged.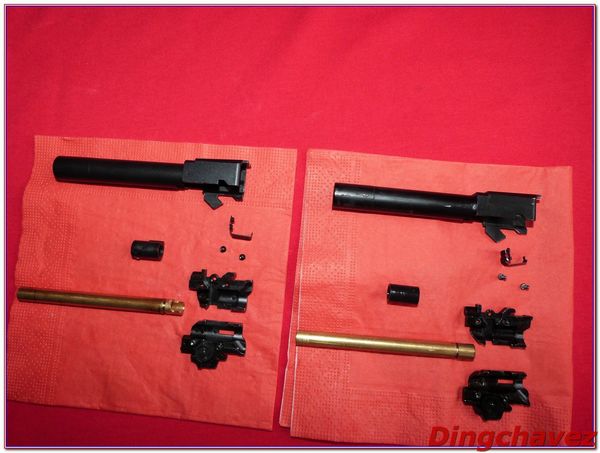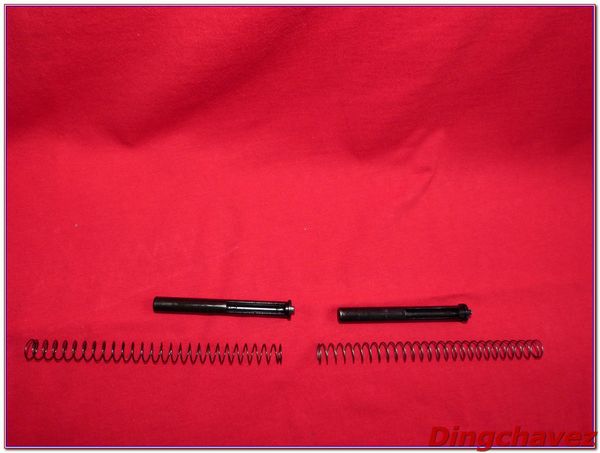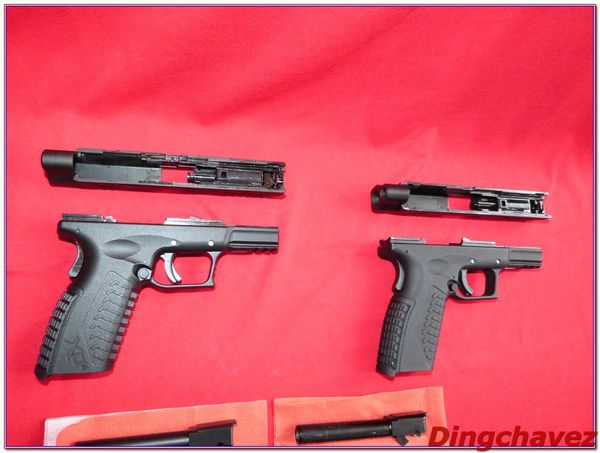 Marui en haut, WE en bas. Remarquez la différence entre les deux blocs. Cette patte sur le bloc Marui rend difficile le montage d'un canon externe en métal.
Marui top, WE bottom. Notice the difference between the two hop up units. The small excrescence on the TM unit makes difficult the mounting of a metal outer barrel.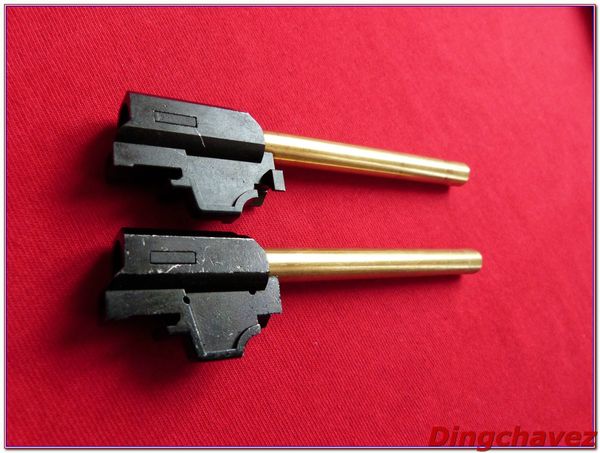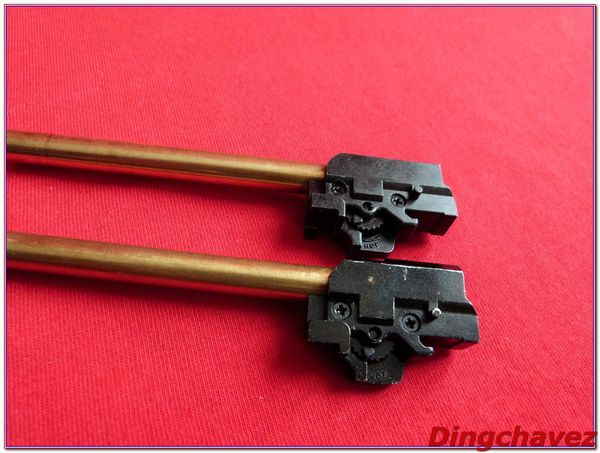 Le canon Marui n'est pas fileté.
There is no thread on the TM outer barrel.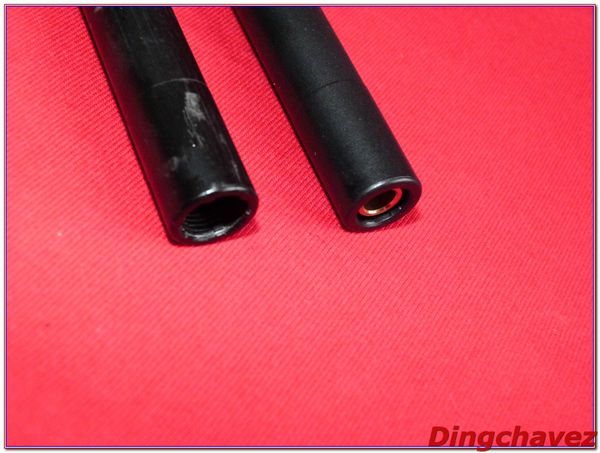 WE en haut, TM en bas.
WE top, TM bottom.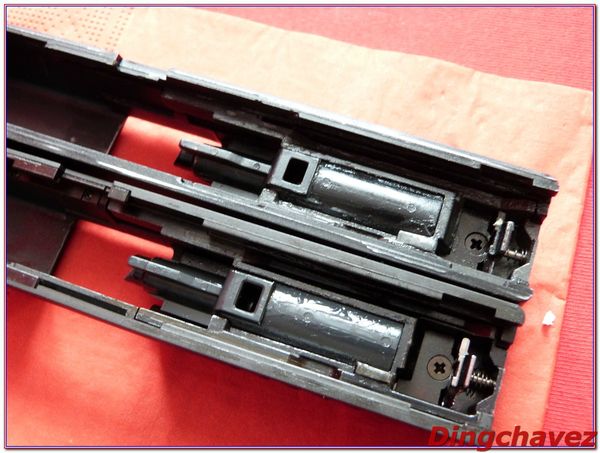 TM en haut, WE en bas. Les glissières sont interchangeables sans souci.
TM to, WE bottom. You can exchange the slides without any problem.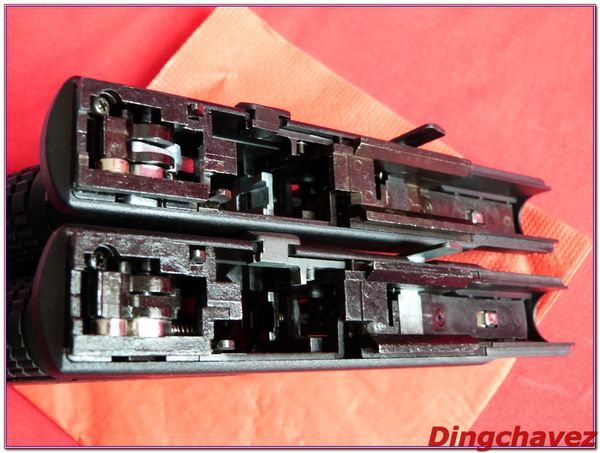 Les chargeurs sont également compatibles.
The mags are also compatible.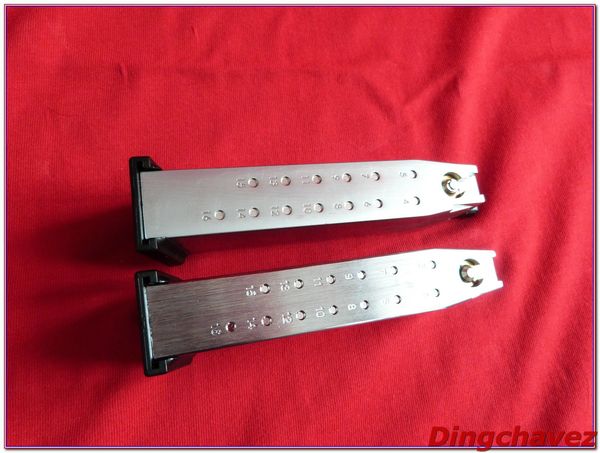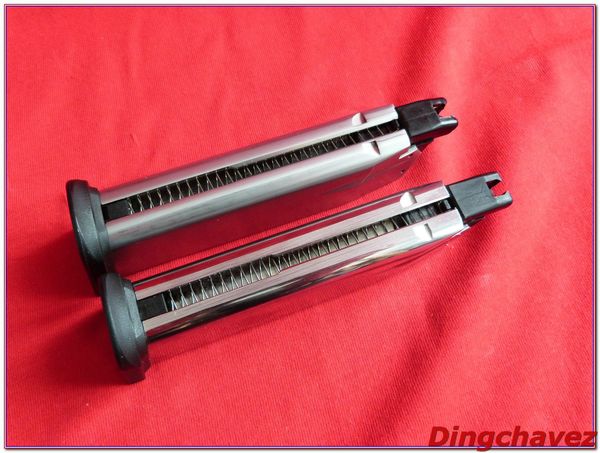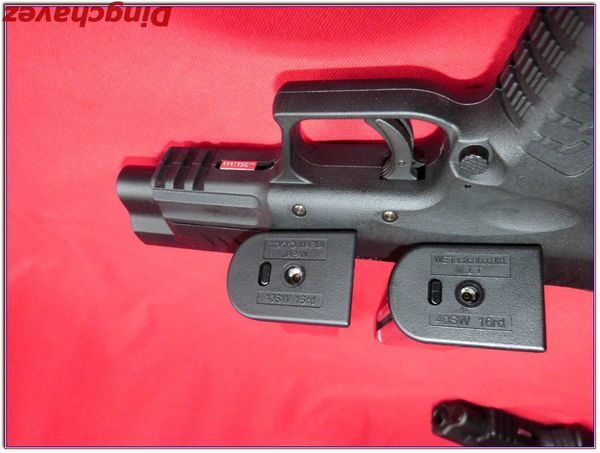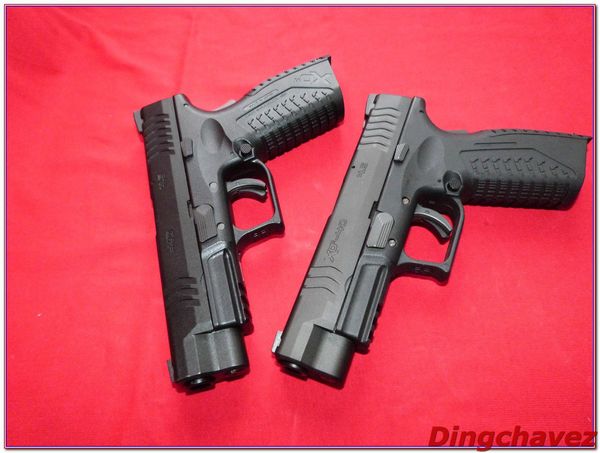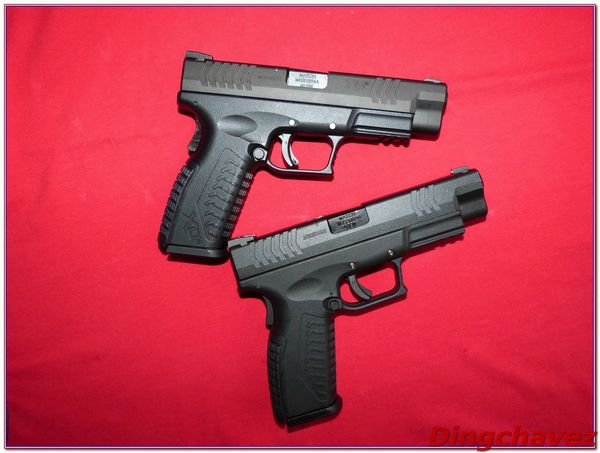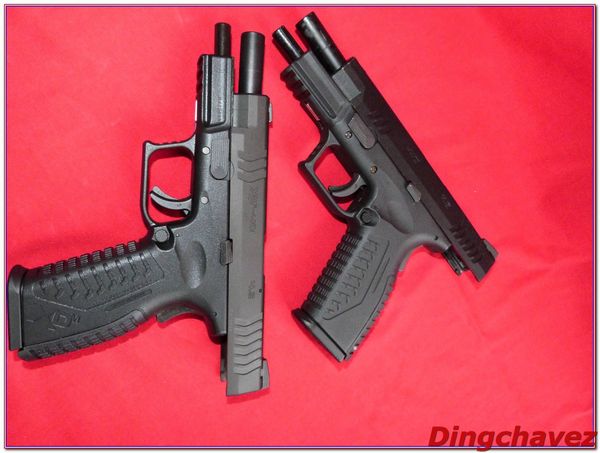 Au final je ne saurais quoi vous conseiller.
Il est certain que le contenu et la qualité de fabrication du modèle Marui joue en sa faveur, mais avec 100 Euros d'écart de prix en moyenne, la plupart des joueurs préférera sans doute partir sur le modèle WE, et en cas de casse, changer les pièces défectueuses par du Marui.
Pour ma part, si je ne suis pas fan des glissières en ABS car je joue au propane (source de stress sur les glissières plastique), je suis malgré tout un inconditionnel des répliques de poing Marui pour leur régularité et leur précision en sortie de boite. Seul le prix élevé me fait préférer d'autres marques telles que WE ou KWA, mais comme on le dit souvent : la qualité, ça se paye…
Posté le 1 juillet 2013 par Dingchavez