Review WE SMG-8 GBB Black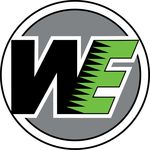 16 août 2013
Et bien voilà, encore un produit WE ! Non pas que je fasse du favoritisme, mais il faut bien admettre qu'en ce moment ils ont un bon rapport qualité/prix. Voyons si c'est encore le cas avec ce SMG-8, petit frère caché du HK MP-7.
En parlant du MP-7, voici une review complète du modèle Marui GBB postée sur GBB-technics par Ffix413.
Here is another WE product. I don't do things like favors or enlightening a brand, but during these days of financial recession, the price/quality rate of the Taiwanese suits me well ! Let's discover this SMG-8, little brother of the HK MP-7.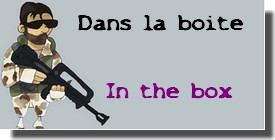 Après l'interne en carton du TT-33 de la même marque (je parle de la boite bien sûr !), j'espérais secrètement retrouver le même système ici, mais peine perdue, nous sommes bien en présence de polystyrène blanc qui s'insinue partout…
After experiencing the cardboard inside of the WE TT-33,(the box of course!) I was secretely hoping that it would be the same here. Unfortunately this is the plain white polystyrene. No need to say that the unboxing is a nightmare of white particles !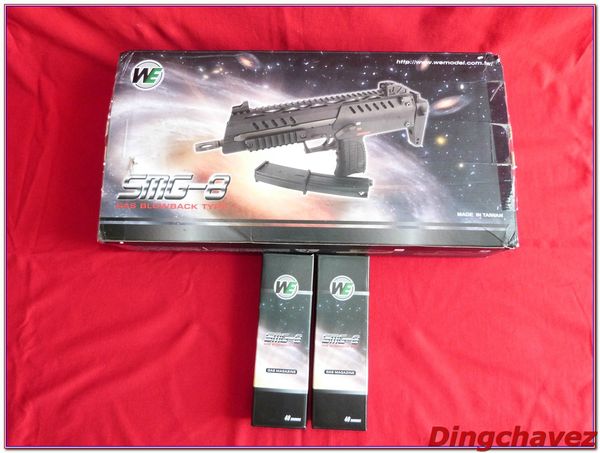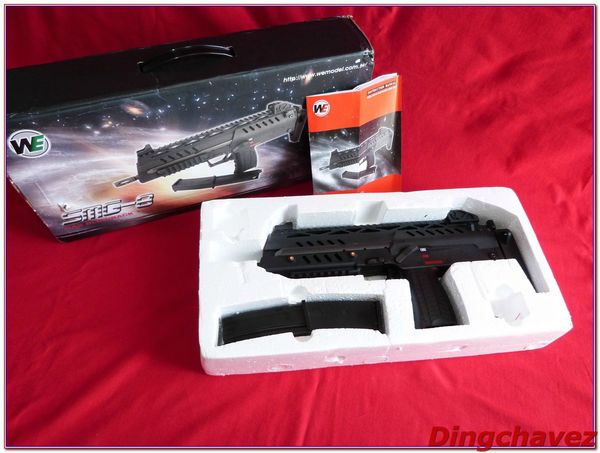 Une fois le ménage fait, on peut découvrir le contenu :
-La réplique, en polymères et alliage, affichant 1715 grammes à vide et 2218 grammes avec le chargeur.
-Un chargeur pouvant contenir 44 billes.
-Un BB loader spécifique.
-Un manuel d'utilisation comprenant également l'éclaté.
-Deux rails latéraux et leurs vis.
Once you've cleaned the house from all those white particles, here is what you get :
-The replica, 1715 grams without mag, 2218 grams with the mag.
-A 44BB magazine.
-A specific BB loader.
-A user manual.
-Two side rails plus the screws.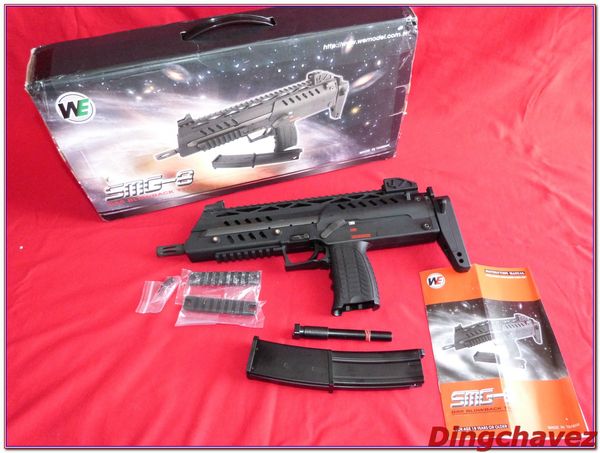 Je vous l'ai dit, carcasse en polymères, interne en alliage, presque pas d'acier sur cette réplique et vous verrez que ça peut occasionner des casses…
I told you before, Polymer frame, alloy inside, almost no steel on this gun, as you'll see, it can lead to failures…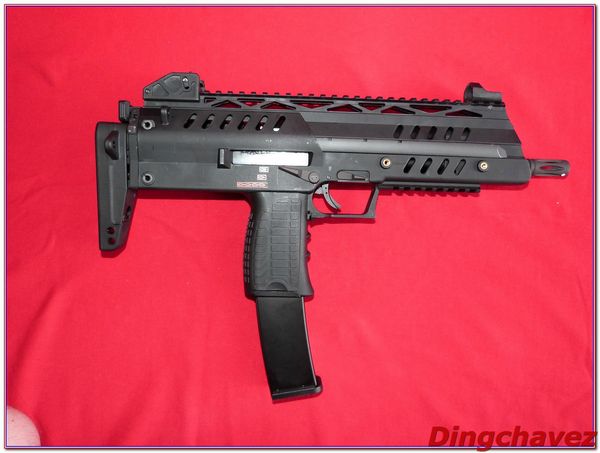 Un comparatif de look avec un MP-7 Marui. Il y a quelques similitudes mais il y a tout de même pas mal de différences pour éviter les soucis de licences.
Let's have a comparison with the MP-7 from Tokyo Marui. There are enough differences to avoid license problems.
Photo FFix413
Ce pistolet mitrailleur est équipé d'une crosse rétractable à 4 positions, ici la position fermée, avec une vue sur le bouton de déverrouillage.
This submachinegun is equiped with a 4-position colapsible stock. Here the stock fully embedded in the frame, with a view on the unlocking button.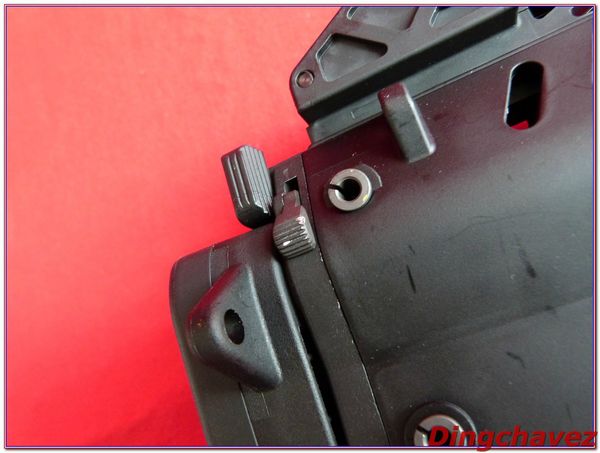 2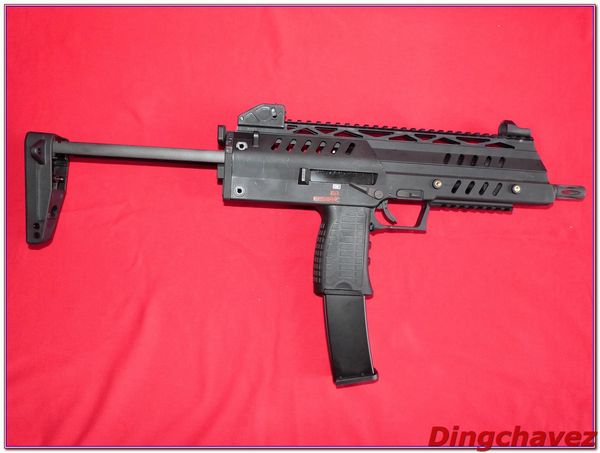 3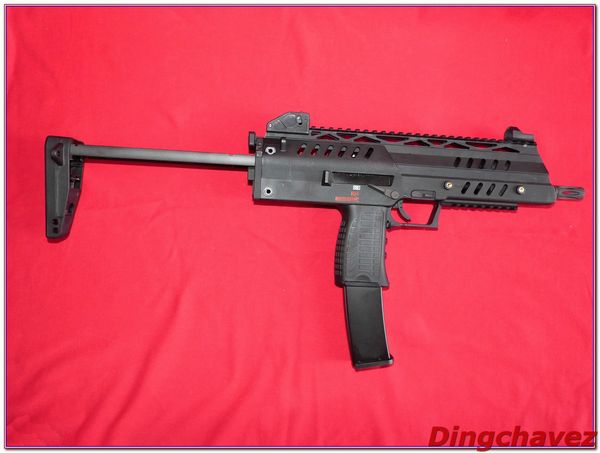 Et 4, de quoi adapter la prise en mains à votre morphologie.
And 4, that allows you to set the stock according to your morphology.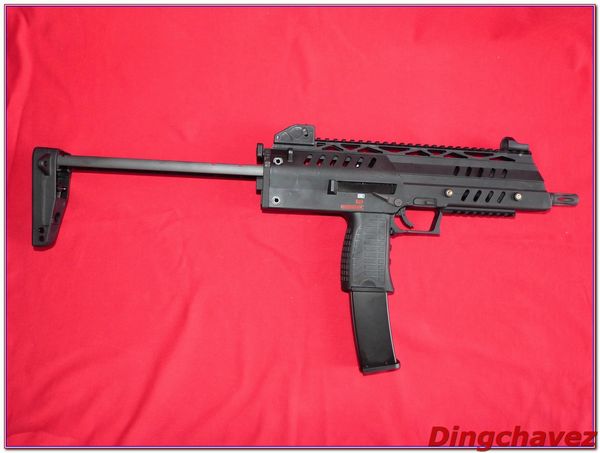 Le talon est assez confortable.
The butt is quite comfy.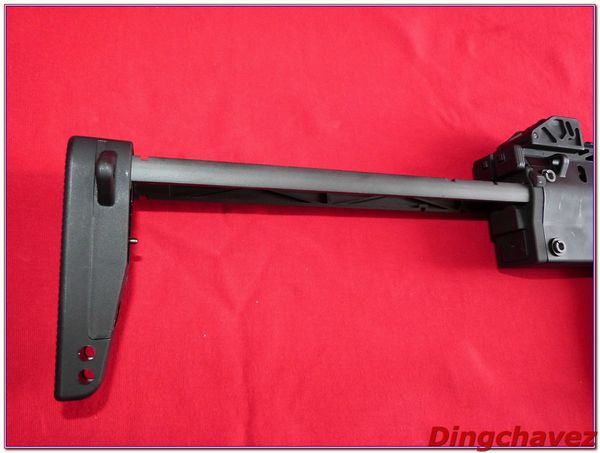 Le sélecteur de tir est ambidextre, côté droit c'est un peu bizarre, la position sûreté empiète sur la fenêtre d'éjection. Notez les symboles typiques chez HK.
The fire selector is ambidextrous. The right side is quite weird as the safe position overlaps the breech. Notice the HK type symbols.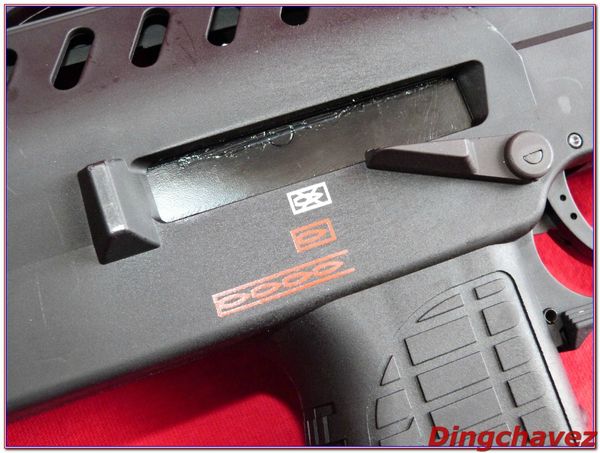 Les crans ne sont pas très francs, parfois on ne sait plus trop en quelle position on se trouve entre le semi et le full.
The different positions are not crisp. Sometimes you can't tell if you're in semi or full position.
La queue de détente possède une sûreté intégrée, à la manière des Glocks ou des M&P.
The trigger has got an integrated safety, like Glocks or M&Ps.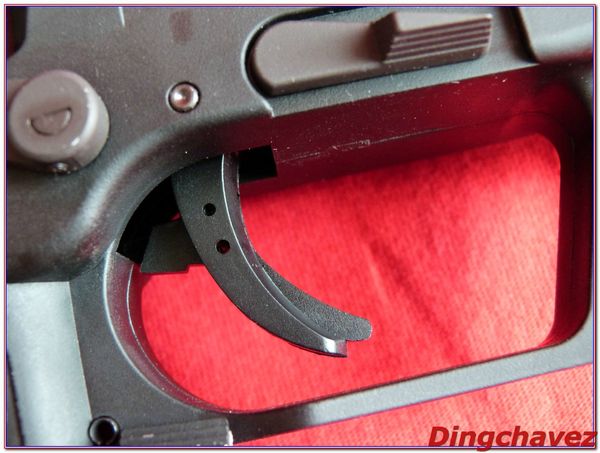 Le grip est agréable et bien moulé.
The grip is nice and well molded.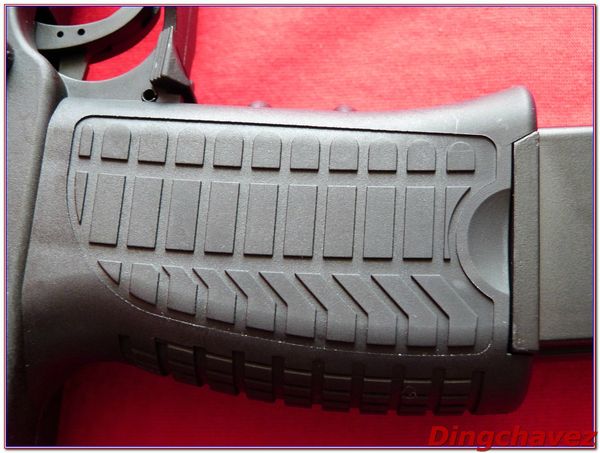 On jette un œil dans le puits de chargeur.
A glance into the mag well.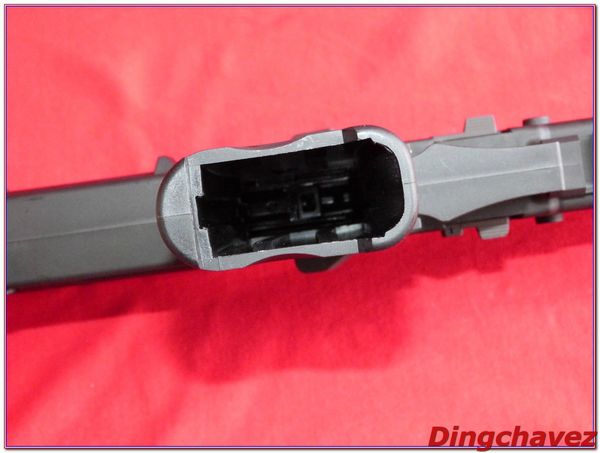 Passons aux organes de visée. Le guidon est en plastique, s'il ne vous plait pas une goupille à enlever et ils saute !
Let's have a look at the ironsights. The front sight is made of plastic. If you don't like it you only have to remove a pin.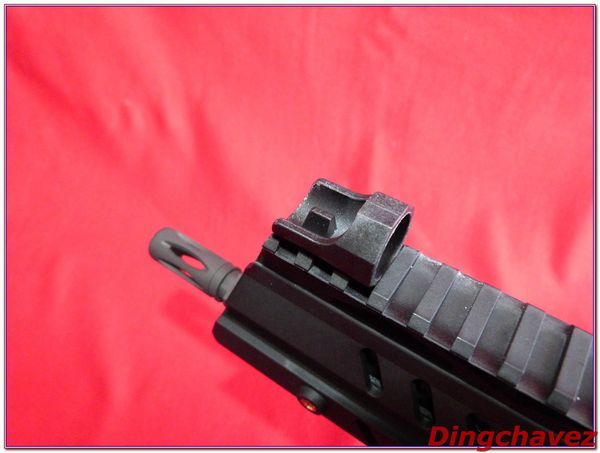 L'œilleton à deux positions. Cela ressemble à un bloc d'UMP. Il est réglable en hauteur.
The rear sight looks like an UMP one. Its height can be set.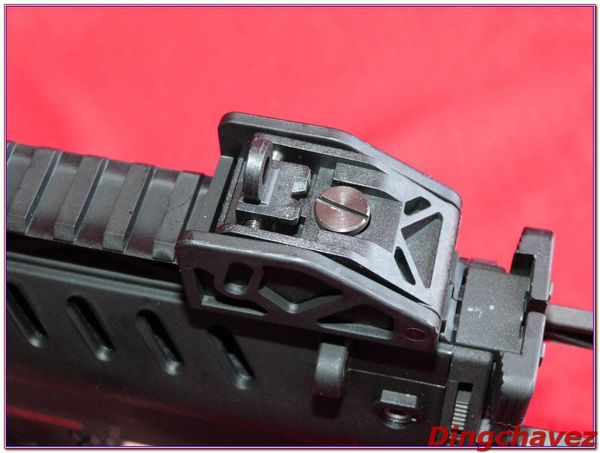 La visée est correcte, mais selon vos réglages les organes ne seront pas alignés avec le tir, la faute à la vis de l'œilleton, pas filetée jusqu'au bout…
Aiming is quite easy, but depending on your hop up settings, the sight might not be lined up with your shots. That's because the rear sight screw has no thread on all its length…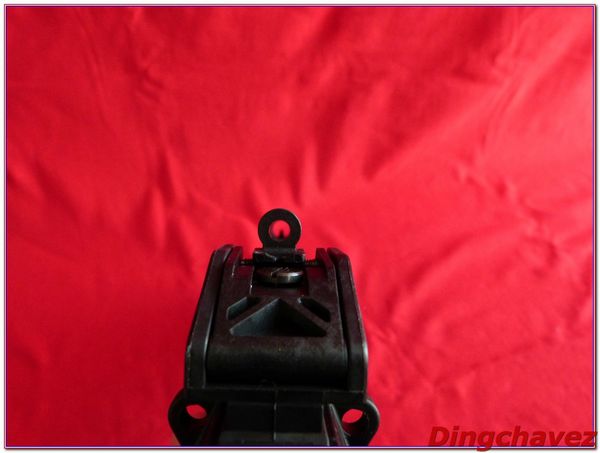 L'arrêtoir de culasse. Encore une pièce ambidextre.
The bolt catch. Another ambidextrous part.
Le levier de rétention de chargeur est également ambidextre, il ressemble à ce que l'on trouve sur les HK USP.
The mag catch is also ambidextrous. It looks like a HK USP one.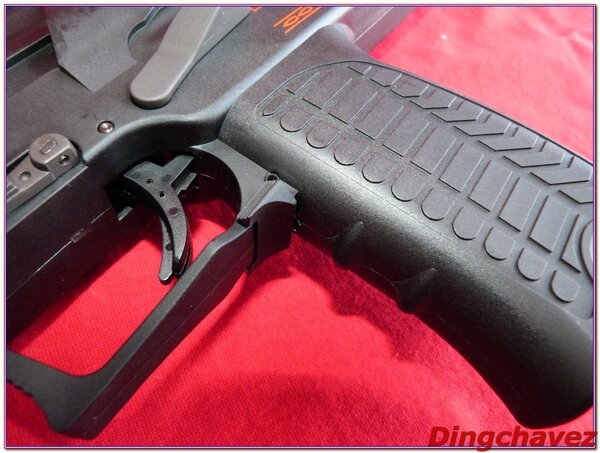 le levier d'armement, attention, pour l'actionner il faut appuyer sur les côtés et tirer.
The charging handle. Be careful, to use it you have to press the sides and pull.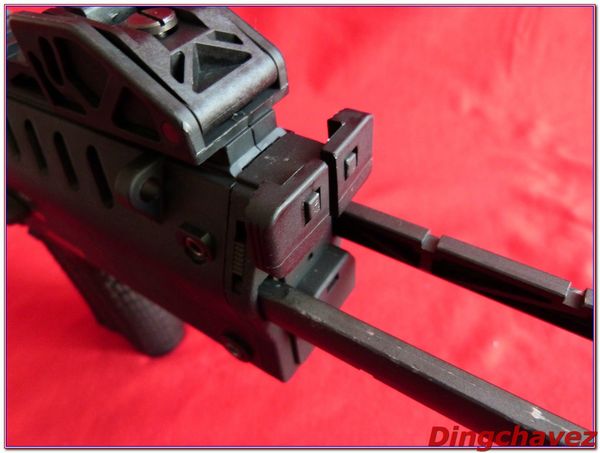 L'avant de la réplique a vraiment un drôle de look. Il faut aimer. Notez les emplacements des rails latéraux.
The front of the gun has got a weird design, you've got to like it. Notice the side rail bindings.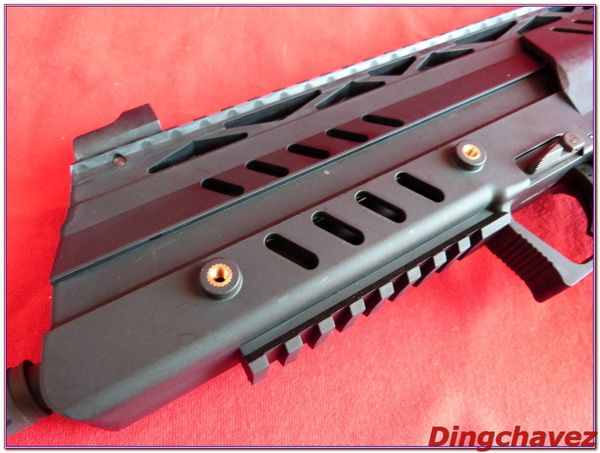 Ils sont en alliage.
They are made of alloy.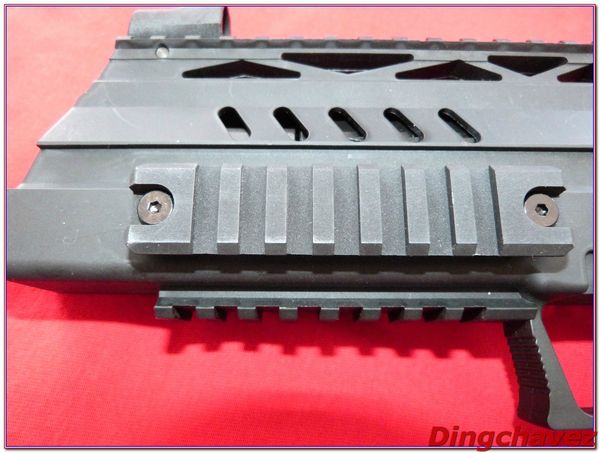 Le cache-flammes est une copie du MP-7, il peut être remplacé par l'adaptateur pour silencieux fourni dans la boite.
The flash hider is an MP-7 copy. It can be replaced with the silencer adaptor given in the box.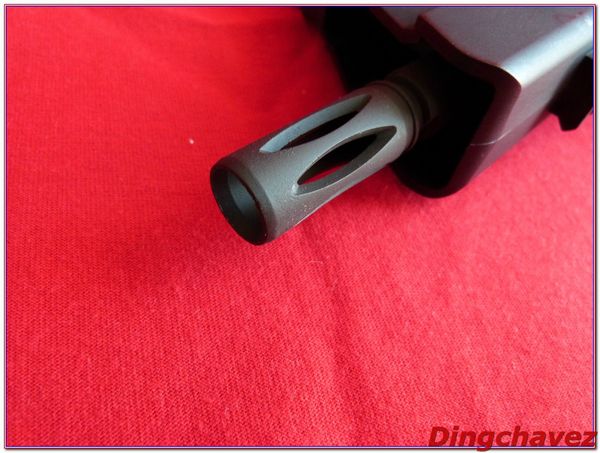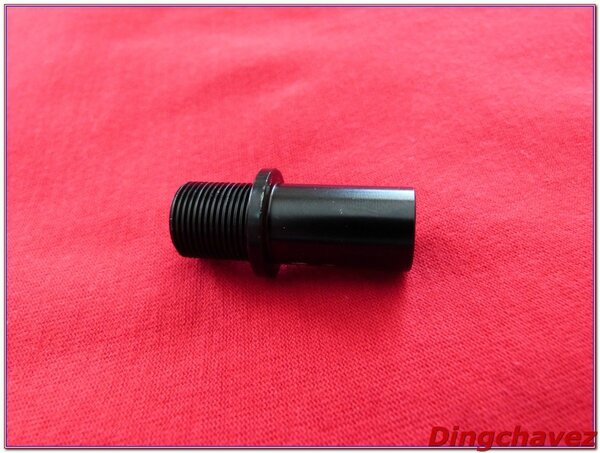 Ici on aperçoit la vis de réglage du hop up, juste au dessus du canon. C'est une vis 6 pans.
Here we can see the hop up setting screw just above the barrel. It is an Allen screw.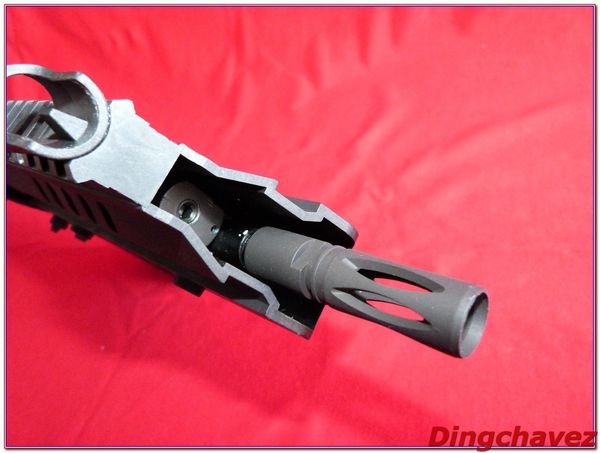 Pour attacher une sangle, il faudra trouver un système particulier car les emplacements sont très petits. Pour ma part, un anneau de porte-clé fait l'affaire.
To put a sling, you'll have to find a system because there is no much space. I chose to use a keyring.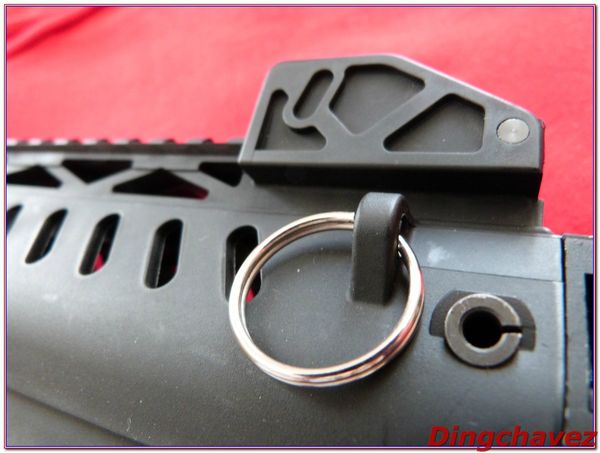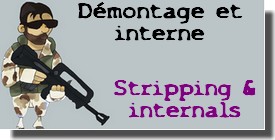 Le démontage basique nécessite simplement d'ôter les deux goupilles ci-dessous.
The field stripping is really simple, you only have two takedown pins to remove.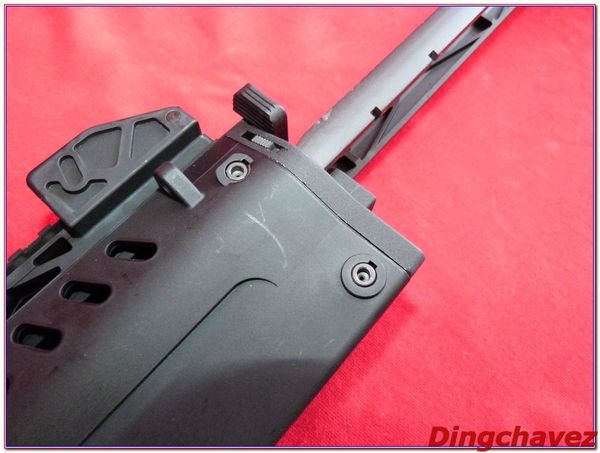 On peut les placer sur la crosse.
We can put them on the stock.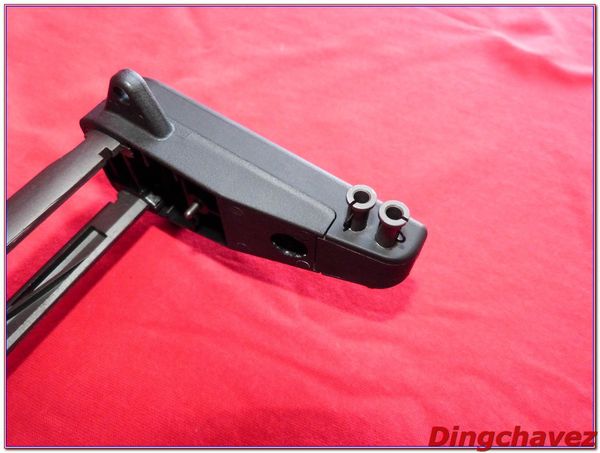 Puis on tire l'ensemble mobile et la crosse vers l'arrière.
Then we pull the stock and the bolt carrier.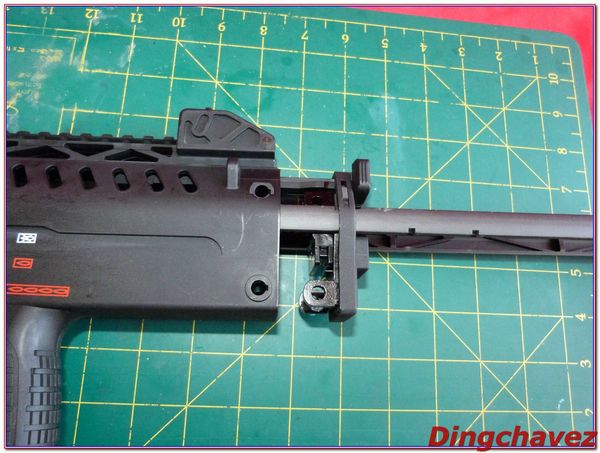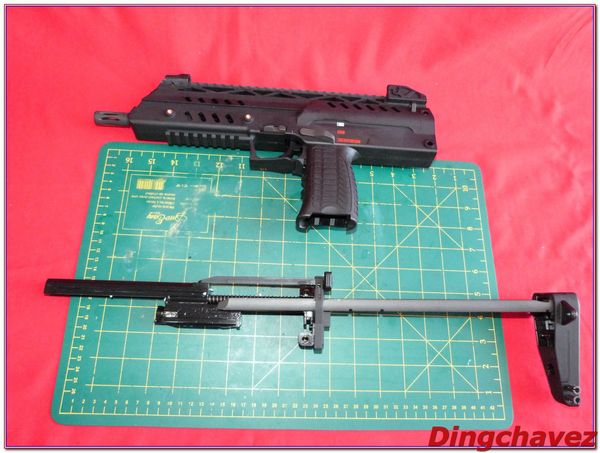 Pour une fois le graissage d'origine est pas mal.
For once, the lufication is quite good.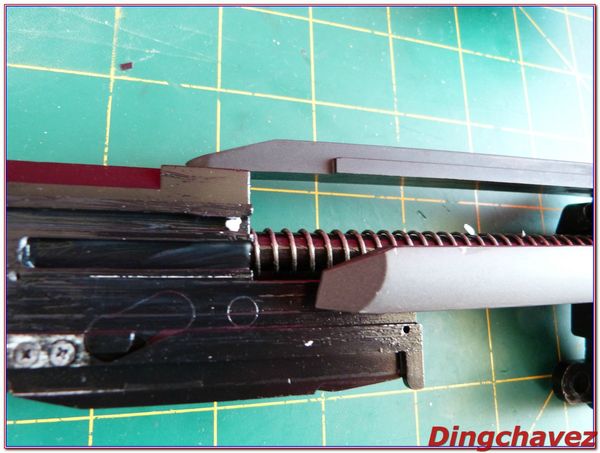 Pour enlever la crosse il faut actionner cette pièce.
To remove the stock you have to pull this part.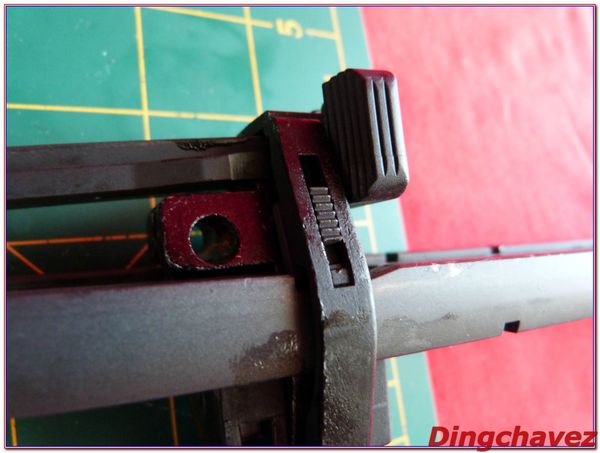 Pas beaucoup d'acier là dedans…
Not much steel on this BBgun.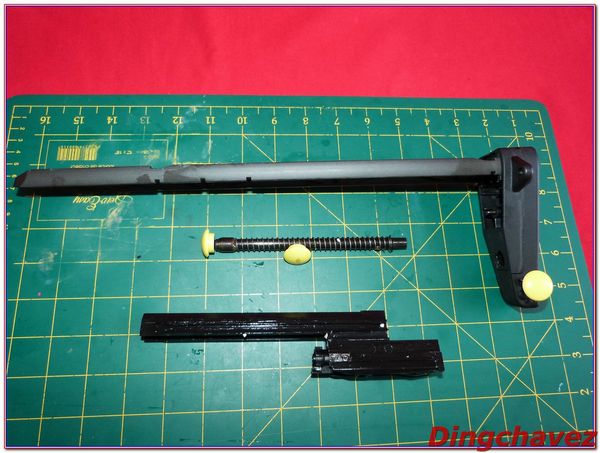 L'ensemble mobile pèse 199 grammes.
the bolt carrier weighs 199 grams.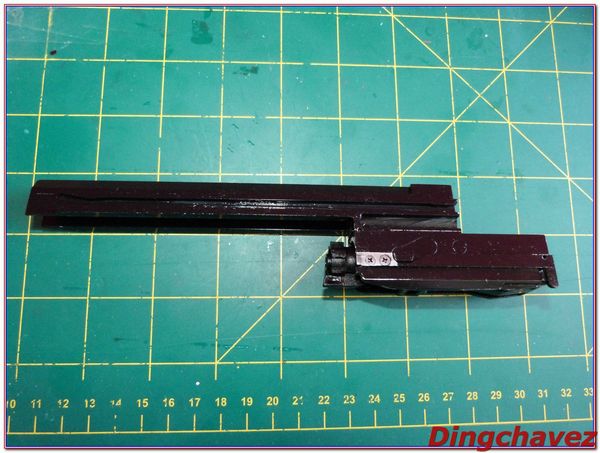 La poignée d'armement est en plastique.
The cocking lever is made of plastic.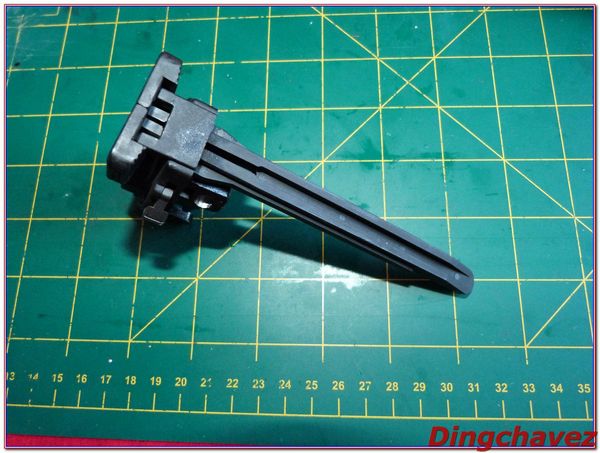 Le nozzle coulisse librement, l'étanchéité est assez bonne.
The nozzle slides freely. The airtightness is good.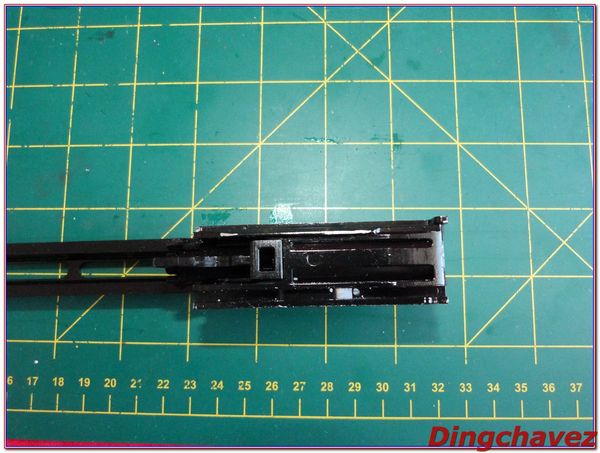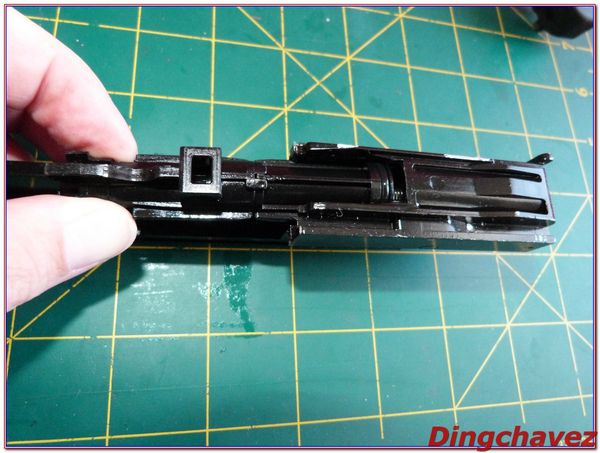 Ayant déjà fait les tests de puissance, je veux poser une valve NPAS, c'est quoi donc ? Explication ci-dessous :
Having done the shooting tests already, I want to install an NPAS valve. What is it ? explanation :
Il faut donc dans un premier temps démonter les trois guides de nozzle. Deux vis retiennent le premier.
So first thing first, we have to remove the nozzle guides. Two screws hold the first one.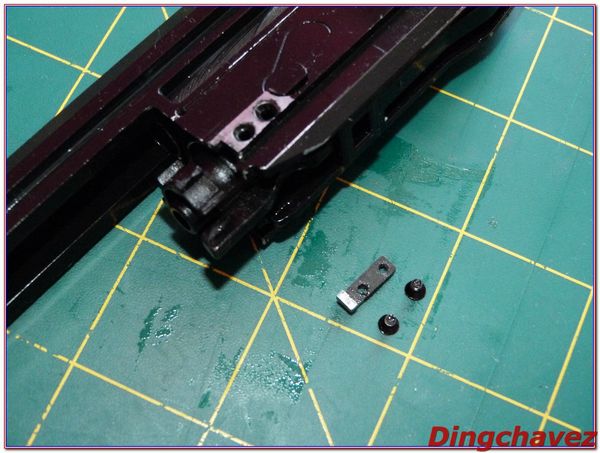 Une petite goupille retient le guide supérieur.
A small pin holds the upper guide.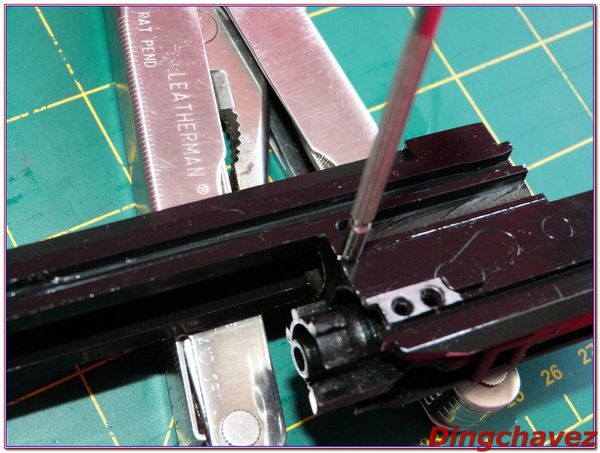 Et une vis cruciforme retient le troisième et dernier guide.
And a Philips screw holds the third guide.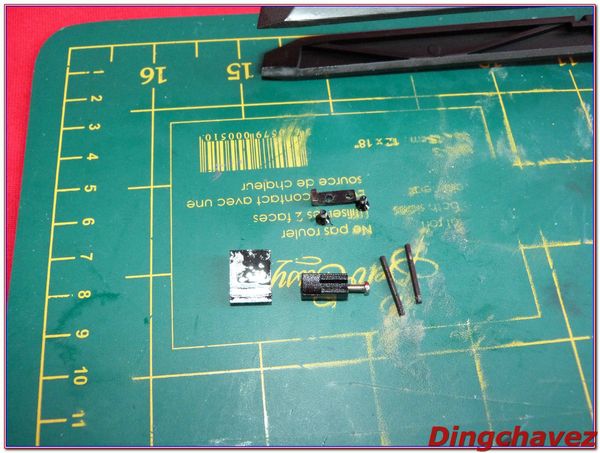 On peut ensuite retirer la goupille à l'arrière de l'ensemble mobile pour retirer le nozzle.
then, remove the pin at the back of the bolt carrier to disassemble the nozzle.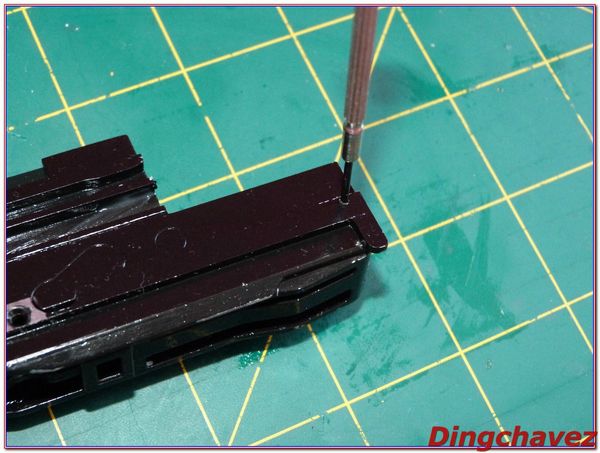 Et tant que j'y étais j'ai également retiré la goupille qui retient les deux moitié du nozzle ensemble (le petit point brillant).
As I was here, I also removed the small pin holding the two parts of the nozzle together.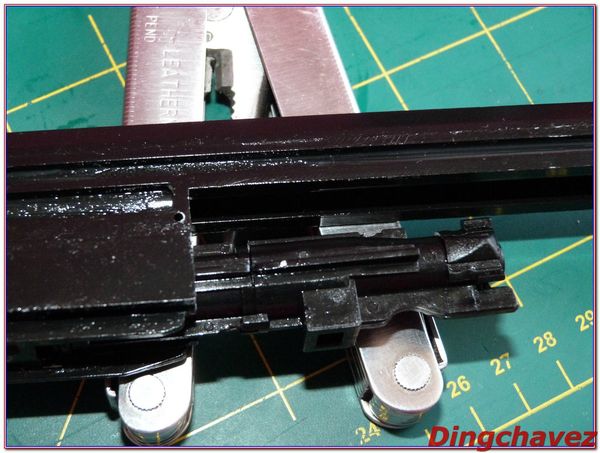 Et voilà !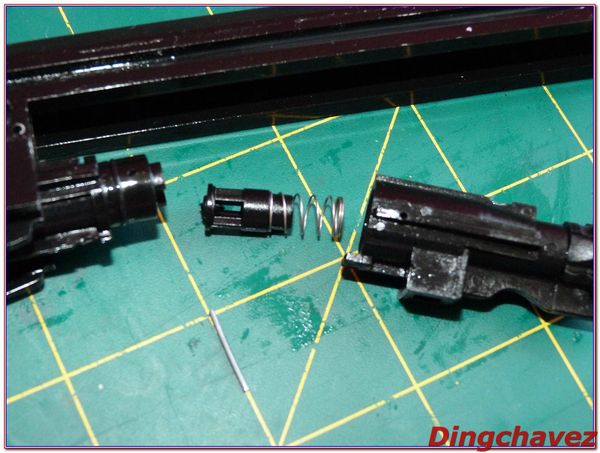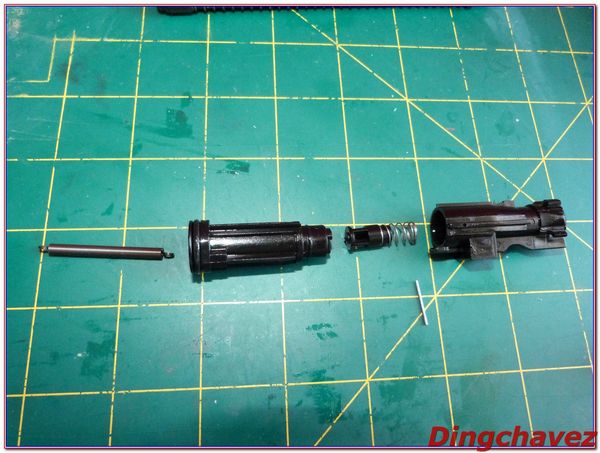 Place au NPAS, qui va remplacer la valve d'origine en plastique noir.
The NPAS will replace the black plastic valve.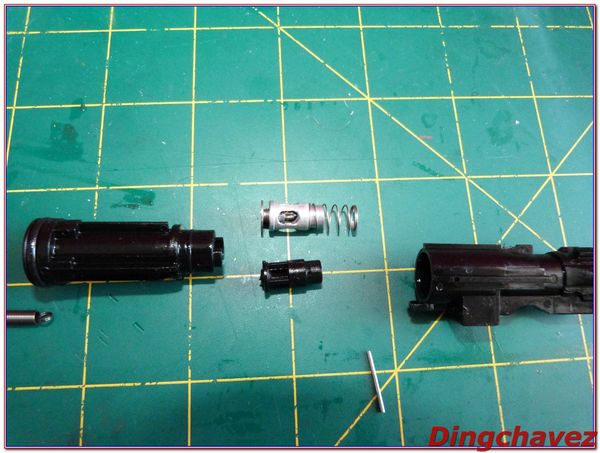 Et me voici propriétaire d'un SMG-8 avec une plage de puissance de 200 à 400 FPS !
And now I own an SMG-8 with a 200-400 fps power range.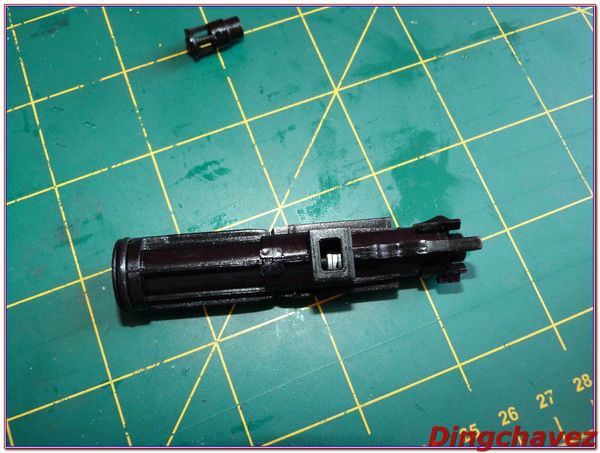 Edit 24/01/2014 :
Il semblerait que les répliques ayant été produites plus tard ont un nozzle modifié pour sortir environs 330 FPS. De ce fait, les ergots sont plus longs et ne permettent pas de faire fonctionner un NPAS. (photos Raidouc, GBB-Technics).
It seems that the first revision of the gun has a modified 330 fps nozzle. The lugs are way longer and don't allow a NPAS to work (pictures : Raidouc, GBB-technics)
Il faudra donc couper une partie des ergots en laissant environs 2mm si vous souhaiter monter une valve réglable.
You'll have to cut the lugs (not completely, 2mm must remain) if you want to mount the adjusting valve.
Pour pouvoir aller plus loin et retirer la mécanique du corps, il faut enlever le sélecteur de tir, l'arrêtoir de culasse et la détente.
If you want to strip the gun further, you must remove the fire selector, the bolt catch and the trigger.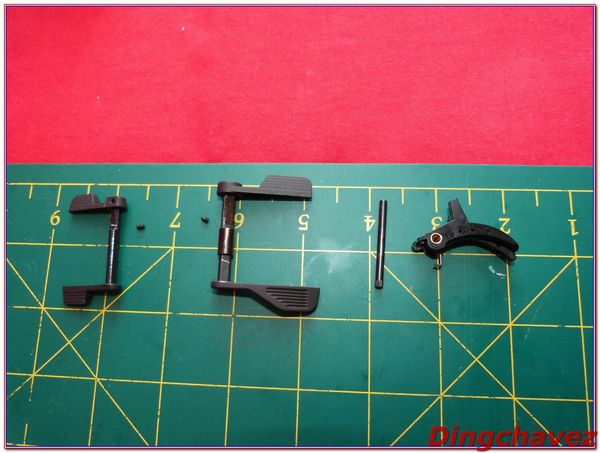 Puis on sort l'ensemble par l'arrière de la carcasse.
then take out the insides off the frame.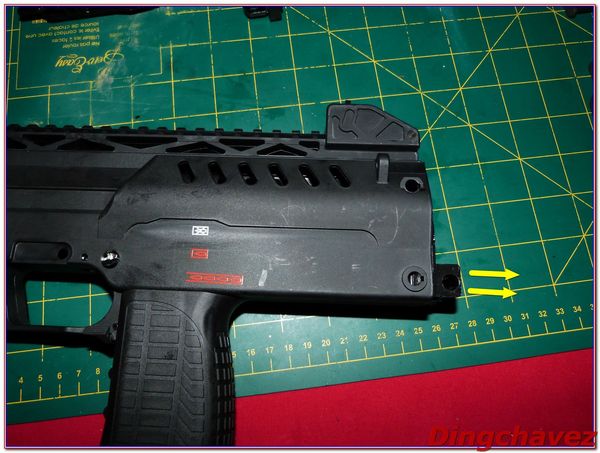 Au vu de ce que l'on trouve dans la mécanique, un démontage n'est pas superflu !
As you can see, stripping the gun is no luxury, there's a bunch of crappy things in there !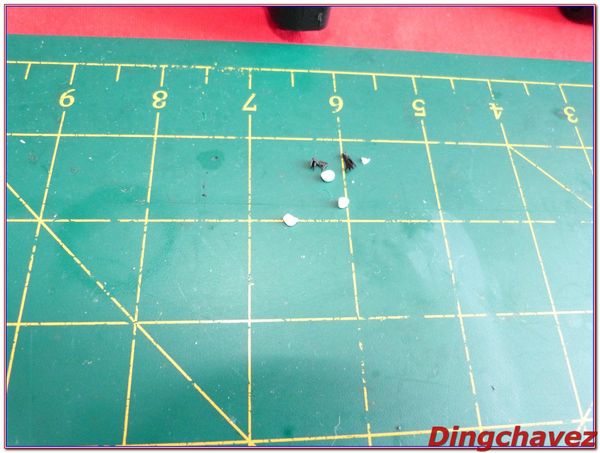 Quelques vues du bloc mécanique.
A few pictures on the inside.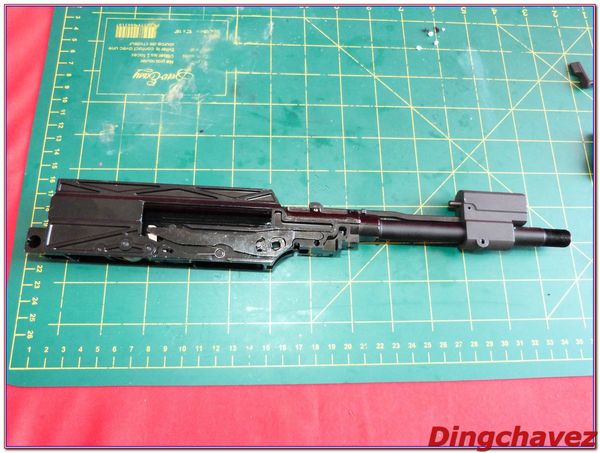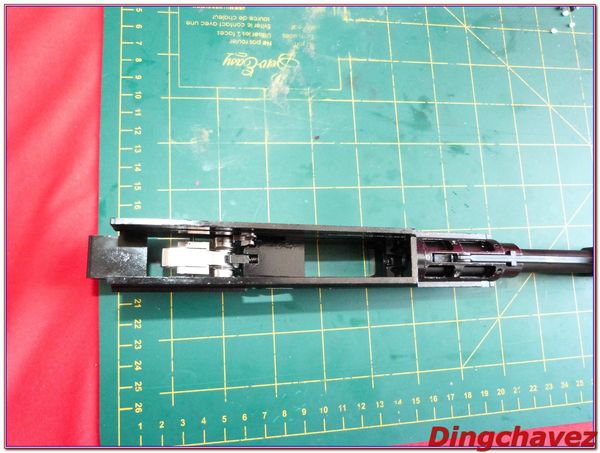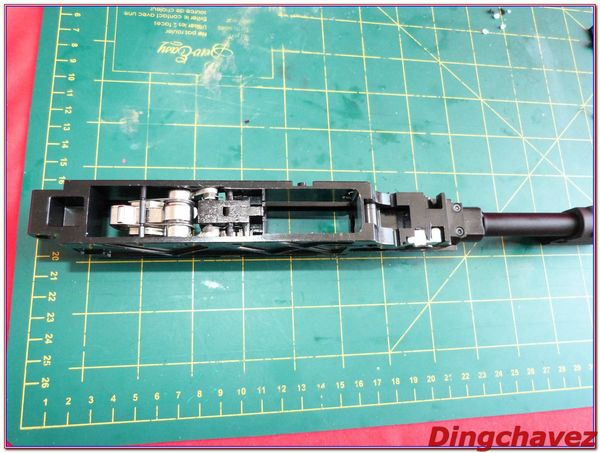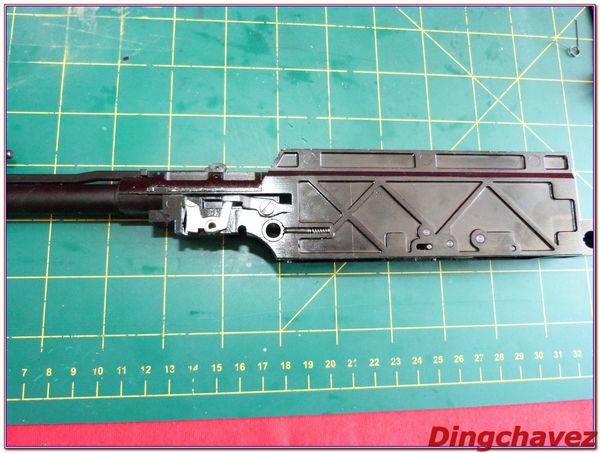 Vue d'ensemble des pièces démontées.
Global view on the stripped gun.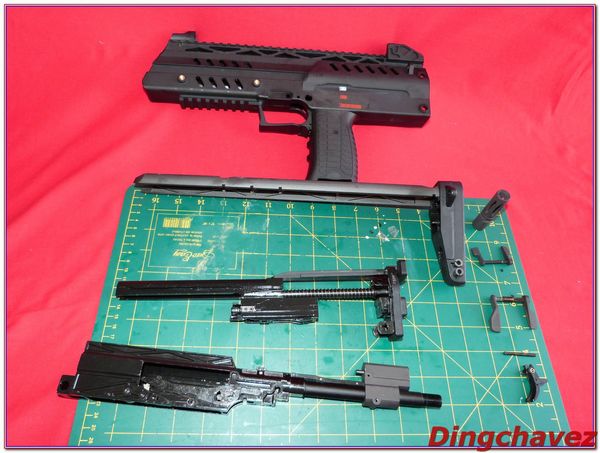 Hop up et canon interne/inner barrel and hop up unit :
Le hop up se règle à l'aide d'une clé Allen, lorsqu'on serre (sens horaire), on augmente l'effet hop up.

When you tighten the screw, you increase the hop up effect.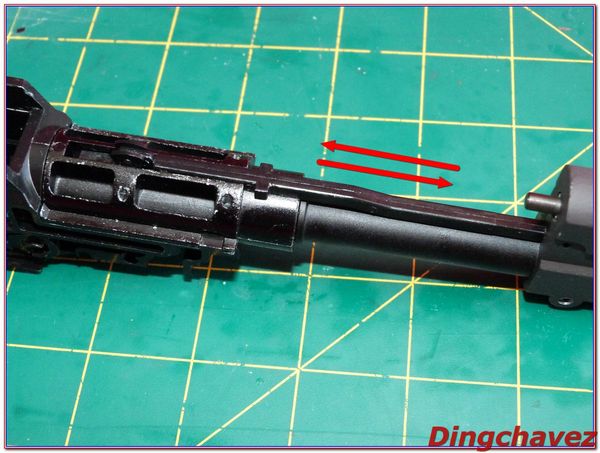 Pour démonter le bloc hop up il vous faut enlever ces deux vis Allen situées sur le dessous de la réplique.
To take the hop unit appart, you need to remove these two Allen scews.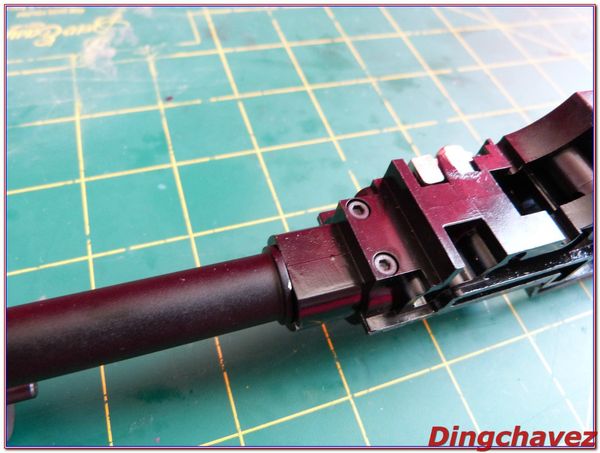 Pour ma part, j'ai préféré ne forcer sur rien, j'ai donc choisi de retirer la goupille du gas bloc.
I decided to go smoothly, so I removed the gas bloc pin.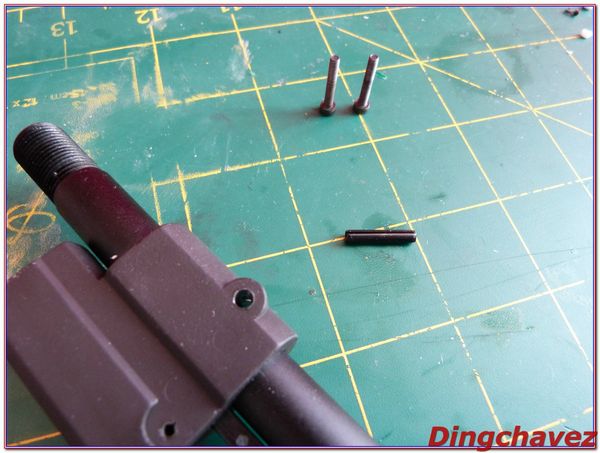 Puis la petite goupille qui fait la jonction entre la tige de réglage et la pièce d'appui du hop up.
then the small hop up pin.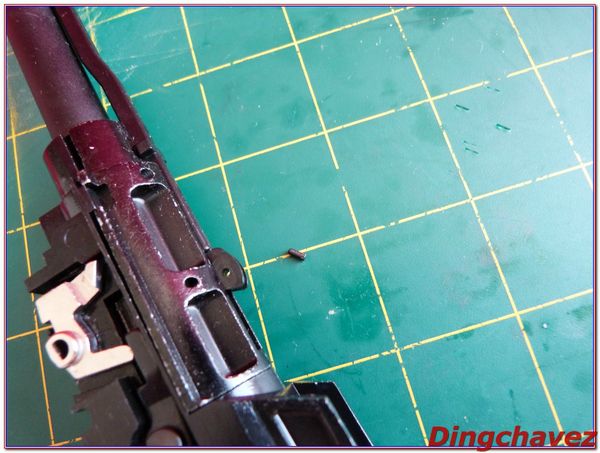 On retire le tout par l'avant SANS ROTATION, sinon on peut casser la tige de réglage en plastique.
finally, you pull to the front, WITHOUT ROTATION, otherwise you can break the plastic setting rod.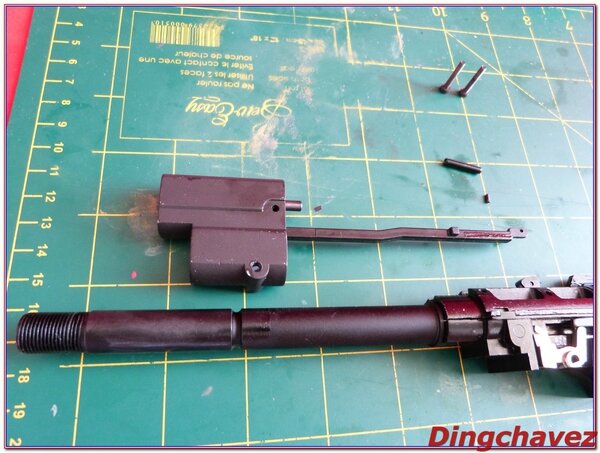 Et on retire la partie supérieure. Notez l'espèce de matière censée éviter la rotation du canon externe. Lors du remontage j'ai mis quelques gouttes de frein filet.
At this point you can remove the upper part of the unit. Notice the assembly product to prevent the outer barrel from rotationg. I used Loctite to reassemble the barrel.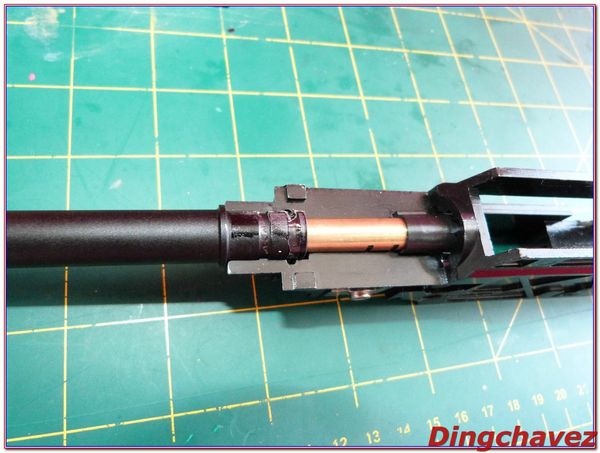 Le canon interne fait 175mm de longueur. Le profil du joint est le même que celui que j'ai pu découvrir il y a peu sur le TT-33, le bourelet est plus marqué et anguleux que sur les anciens joints. Par contre le joint semble différent des modèles pour VSR10…
The inner barrel is 175mm long. the rubber has the same profile as on the TT-33, apparently a new design from WE. The small lump is more « angular » than before. Unfortunately it seems that VSR10 type rubbers won't fit …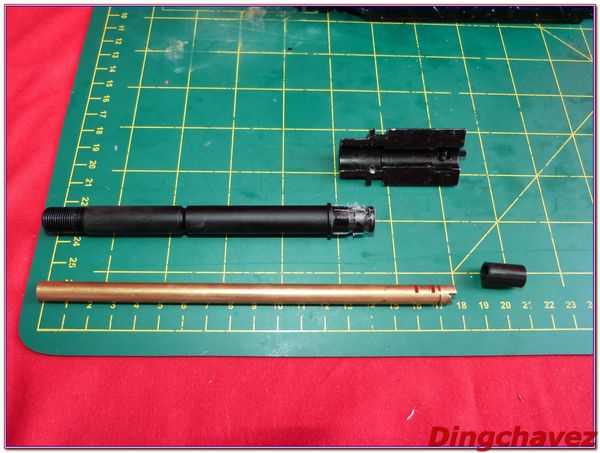 Ici avec un silencieux et les rails latéraux.
Here is a picture with a silencer and the side rails.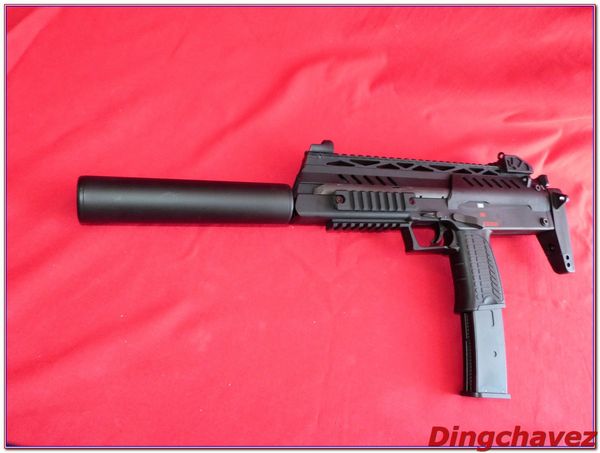 ATTENTION : Selon les répliques il se peut que le vissage/dévissage du cache-flammes ou du silencieux fasse pivoter le canon externe.
WARNING : on some models the outer barrel can rotate when you screw the flash hider or silencer adaptor.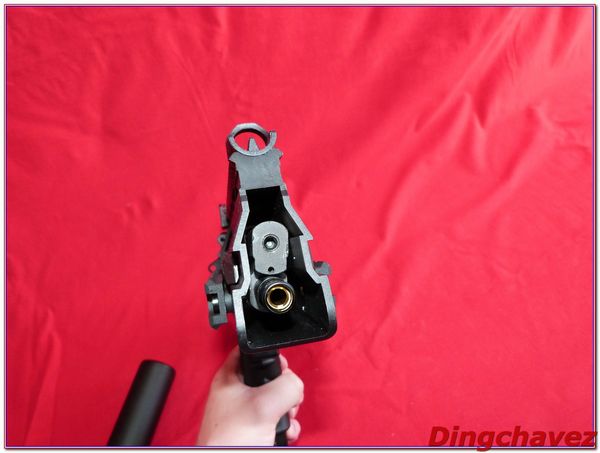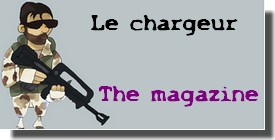 On l'a déjà dit, 44 billes dans ce chargeur assez lourd (500 grammes).
Le remplissage ne pose aucun souci et on peut largement tirer l'intégralité des billes avec une charge de gaz.
As we said, it can hold 44 BBs. The mag is quite heavy (500 grams).
There is no problem filling it with gas and you can shoot all the BBs with a gas load.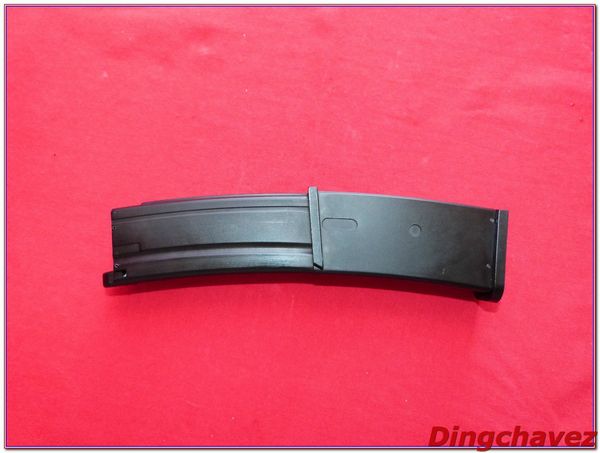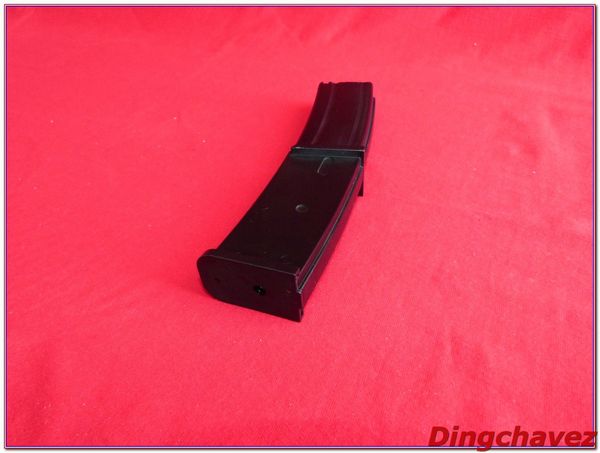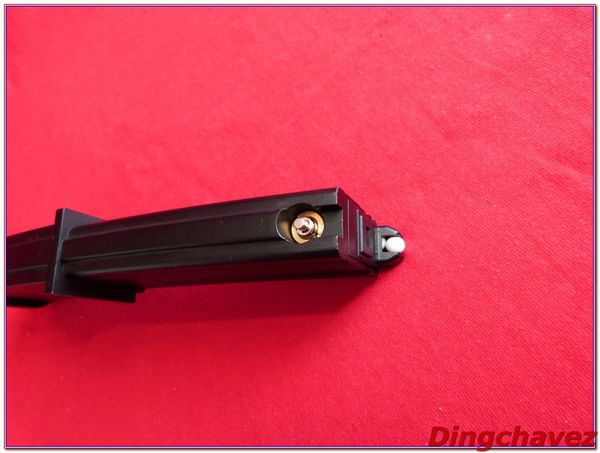 Pour remplir le chargeur vous pouvez soit utiliser un BB loader classique, soit celui fourni avec la réplique.
To fill the mag with BBs, you can use a regular BB loader or the one from the box.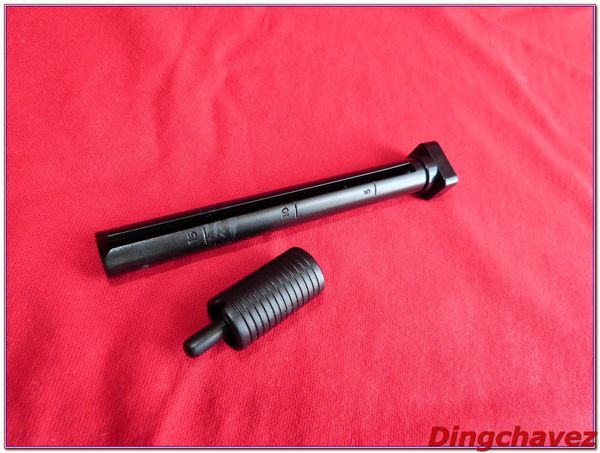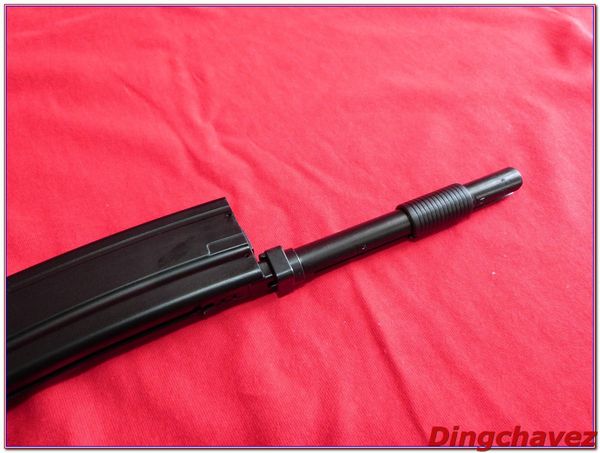 Et hop, 44 occasions d'offrir un voyage au respawn à vos adversaires !
And here it is, 44 reasons to offer a trip to the respawn to your adversary !
Le chargeur d'origine avait une légère fuite au niveau du talon. Pour démonter c'est simple, on retire le talon en plastique.
My mag had a small leak near the bottom. To strip it, remove the plastic mag plate.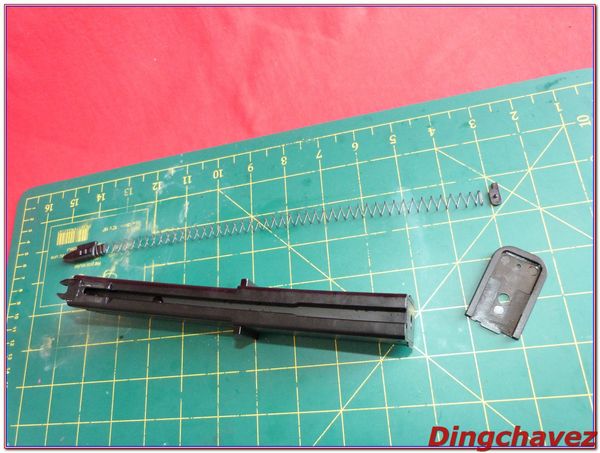 Puis deux goupilles et on retire doucement le talon. J'ai rajouté deux épaisseurs de téflon et huilé le tout avant de remonter : fuite disparue !
The two pins, and remove gently the bottom part. I addes two rounds of teflon and a little bit of lube before putting it back together. No more leak !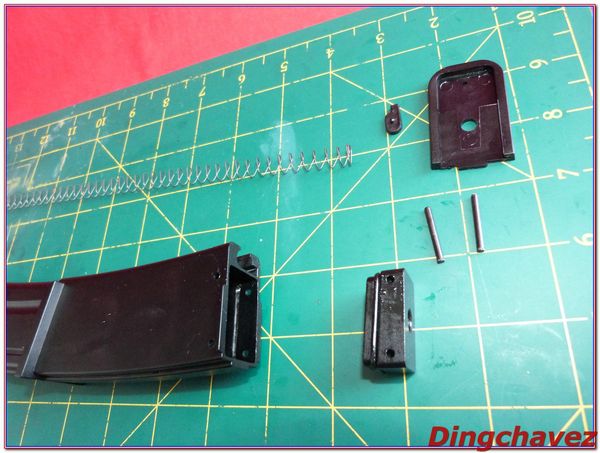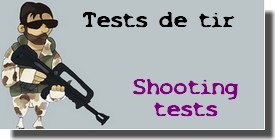 Les tests ont été effectués avec du propane. gas : propane.
Température 24°C en intérieur (pour les tests chrony) et environs28°C en extérieur (pour la vidéo de tir).
Temperatures : 24°C inside (chrony tests) and about 28°C outside (for shooting tests)
Billes bio Xtreme précision 0.2 grammes (chrony) bio Xtreme précision 0.25g (tirs)
Voici les valeurs obtenues en FPS sur 5 tirs : 390-387-378-385-377-375
Soit une valeur moyenne de 382 FPS, un peu puissant pour ce type de réplique, en utilisant du gaz HFC144a j'ai réduit à 355 fps la moyenne des tirs. Le top étant de poser une valve NPAS comme je vous le montre plus haut.
Lors de ma première sortie avec cette réplique j'ai réglé le NPAS à 280-290 fps, pour du CQB ce fut excellent ! En plus les billes vont droit sur le réticule de mon Eotech !
The average power using propane is 382 fps, a little bit powerful for a SMG. By using HFC144a, I reduced the powwer to 355fps. A good solution is to put an NPAS valve as I showed you before. During my first airsoft war with this gun, I set the power on 280-290 fps, it was awesome, and the BBs go straight on my Eotech reticle.
Les tests de tir sont en demi-teinte. autant sur mon Eotech les billes filent droit, autant viser à l'aide des organes mécaniques est une galère du fait des limitations de la vis de réglage, du coup j'ai un peu tiré au jugé, voici les résultats à 10 et 20 mètres. Niveau portée, vous pouvez facilement doubler la distance et encore toucher un camarade. Le joint de hop up est efficace et le réglage assez fin. Sur la vidéo la puissance est toujours à 280-290 fps.
The shooting tests are quite puzzling. If the BBs go straight to my eotech reticle, using the ironsights is foolish because of the setting limitations. Son in this video, I shot on sight. Here are the results at 10 and 20 meters. You can easily double the range to hit a comrade. The hop up is very efficient and you can tune it perfectly. On the video, the power is still 280-290 fps.
Feedback utilisation/user's feedback :
Et bien, première sortie première casse ! Une partie du loquet de verrouillage de crosse s'est cassé à cause d'une fragilisation de l'alliage dûe à une bulle d'air dans la pièce !
Pour avoir accès à cette pièce il faut d'abord démonter 3 vis maintenues par du frein filet FORT, donc attention à ne pas les foirer !
 First play and first broken part ! The stock locking part broke due to a small air bubble in the alloy….
To acces this part, you'll have to remove 3 screws, and they're tightnen with Loctite (strong type).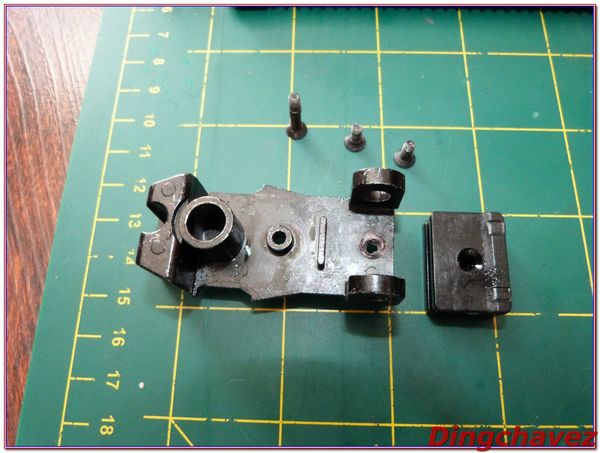 Ici on voit bien la pièce qui est venue bloquer le mécanisme.
We can see the broken part jamming the mechanism.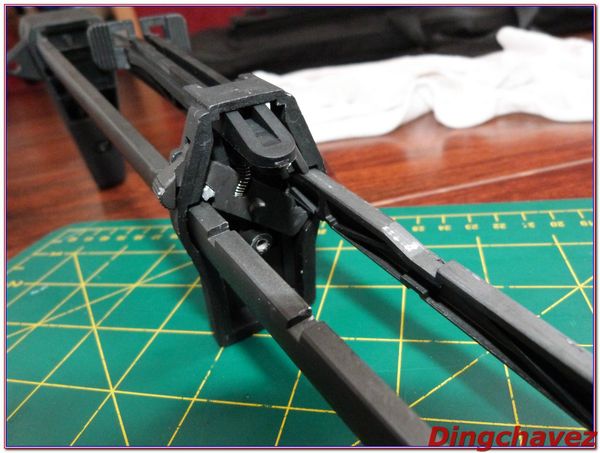 Pas cool…
Not cool…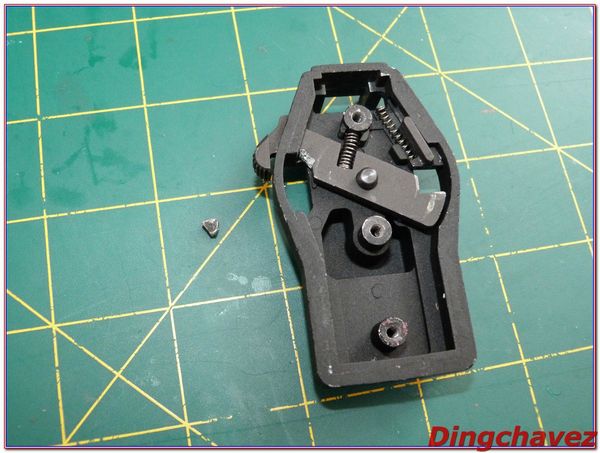 Sur cette photo on voit bien la bulle d'air, comme sur toutes mes photos de review vous pouvez cliquer dessus pour avoir la photo en taille normale ;-).
On this picture you can notice the air bubble (as on every pic of my reviews you can click en it to see it full size).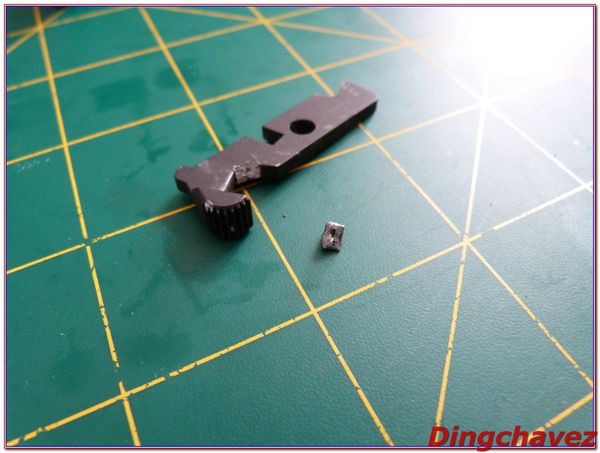 Je vais essayer d'en refaire une en acier, j'ai trouvé une plaque de même épaisseur.
I'll try to make a new one, I found a steel plate of same thickness.
Edit du 15 septembre 2013 :

Bonne nouvelle, WE fait désormais cette pièce en acier, j'ai commandé le spare chez RA-tech et aparemment en contactant vos shops, WE change la pièce gratuitement sur demande.

Good news, WE now builds the part using steel. I ordered on Ra-tech website but they told me that you should be able to get this part free by contacting you shops. WE is supposed to replace the part if you ask for it.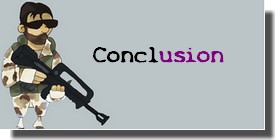 Bon sang, encore une belle surprise signée WE. Ce petit SMG-8 est une réplique de choix pour le CQB, mais pas que ! A l'instar du Kriss Vector, son petit canon permet d'avoir malgré tout une bonne portée et une précision raisonnable tant qu'on n'utilise pas les organes de visée d'origine. Certes, la puissance en sortie de boite est un peu haute, mais une fois un NPAS posé (5 minutes de boulot et moins de 20€) vous possédez une réplique exploitable sur la plupart des terrains.


Bien entendu, on aimerait des pièces de meilleure qualité, un sélecteur plus franc et une détente moins capricieuse, mais il est probable que des pièces d'upgrades seront bientôt disponibles. Pour le prix d'un GBB moyen, ce serait dommage de se priver mais attention à la casse !

Darn, once again a nice surprise from WE ! This small SMG-8 is a weapon of choice for CQB, but not only ! As The Kriss vector, its small inner barrel still has a good accuray and range. The out of the bow power is a little bit high, but once you've put an NPAS (5 minutes of work and less than 20€) you own a replica that you can use on any terrain.

 Of course, we'd like better quality materials, a crispier fire selector and a trigger less shaky, but it is more than probable that upgrade parts will be soon available. For this price range, it would be too bad to skip it, but be careful not to break anything !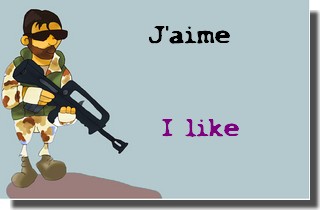 -Design sympa/nice design

-Bonne portée-précision/good range-accuracy

-La carcasse a l'air solide/ the frame looks sturdy.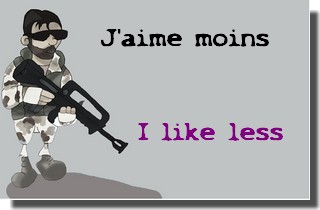 -Vis du bloc de visée pas assez filetée/ not enough thread on the rear sight screw

-Les surprises de l'alliage WE/ the surprises of WE alloy.

-Un peu trop puissant d'origine/a little bit too powerfull out of the box.

 Vidéo du SMG8 en partie/in-game vidéo :

Edit du 1er septembre 2013 :
Certains acquéreurs du SMG-8 de chez WE (dont je fais partie), one des soucis avec un ou plusieurs de leurs chargeurs qui n'enclenchent pas l'arrêtoir de culasse.
Sur mes 3 chargeurs, deux n'actionnaient pas l'arrêtoir alors que tout est neuf.
Du coup je me suis penché sur la question et ai remarqué que sur le chargeur fonctionnel, je pouvais actionner le bolt catch sans aucune résistance, alors que sur les deux autres la pièce restait bloquée en position basse.
J'ai donc étudié les différences entre ces chargeurs.
Celui qui fonctionne :
Some SMG-8 users have problems with the bolt catch. Among my 3 mags, 2 didn't work. So I decided to study the problem. On the working mag, the bolt catch was smooth and there was no resistance whereas the two others blocked.
Have a look at the working mag :
Remarquez l'espace entre le corps du chargeur et l'ergot en plastique, puis regardez la différence avec celle de mes deux autres chargeurs :
Notice the smal space between the mag body and the platsic nubbin, then look at the difference on my two other mags.
On remarque une différence d'épaisseur; cette épaisseur supplémentaire suffit à empêcher la bonne remontée de l'arrêtoir.
J'ai donc démonté les lèvres.
We notice a difference in thickness, this prevent the bolt catch to go up. So I removed the lips.
Puis limé la partie trop épaisse.
File the thick part.
Au final, après quelques essais, j'ai un arrêtoir fonctionnel .
After a few trials I've got a working bolt catch.
Vous pouvez également vous passer de la modification de tous vos chargeurs en réduisant l'épaisseur de la pièce présente sur l'arrêtoir de culasse, mais ayant tout remonté au frein-filet pour limiter les jeux (surtout celui du sélecteur de tir), je n'avais pas envie de tout démonter à nouveau !
Of course, you can also file the bolt catch itself, it prevents you from stripping all your mags, but I didn't want to strip the gun again as I managed to remove all the wobble in the fire selector and so on by putting some Loctite.
Posté le 16 août 2013 par Dingchavez