Review WE Katana Raptor.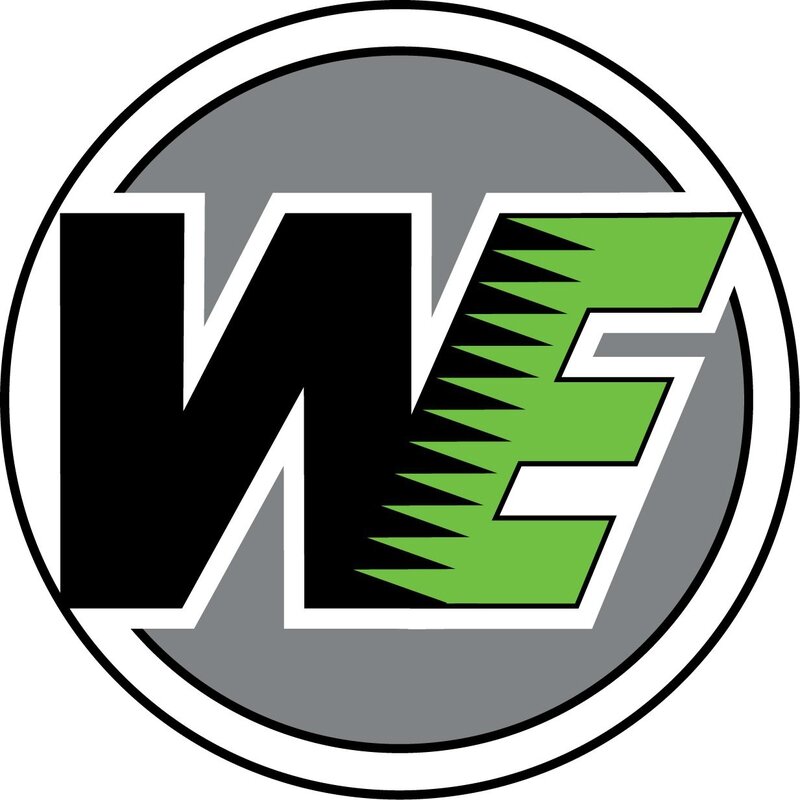 07/01/2014
Le katana, un sabre japonais ? Non !
Katana, it's a Japanese sword isn't it ?

 Ici on parle du système de gearbox avec changement de cylindre rapide de chez WE sorti l'an passé (oui, je suis très à la bourre, maisl ils n'ont qu'à faire des AK ! Na !).
Lisant un peu tout et son contraire sur ce système, je me suis décidé à commander un exemplaire, et tant qu'à faire, autant prendre le modèle le plus « exotique », le Raptor.
Aller, en piste pour un tour complet de cette réplique ! Mais avant tous, peut-être ma pire vidéo mais celle qui fait le plus de vues…
Here, we're talking about WE gearbox system, the one on which you can quickly change the cylinder assembly. You'll tell me « hey, thats one year old now dude ! », you're right but if they'd built AKs, I'd have reviewed that before :-p
Reading anything and everything about this system, I finally decided to make my own opinion and I ordered the WE Katana Raptor.
Let's roll for a complete review of the beast ! But before that, maybe my worst video but the one which makes the more views…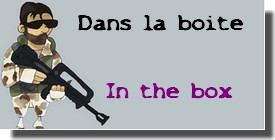 C'est pas brillant ! Une boite lambda en carton relativement fin, la réplique, emballée dans un sachet, y est maintenue par deux colliers en plastique. De minces blocs de mousse prennent place à chaque extrémité. heureusement la boite était remplie de papier bulles.
Well, it's not brilliant. A thin basic cardboard box, the gun wrapped in a plastic bag and tied to the box with two flex ties. Two thin foam rubber things at each end of the box… Fortunately, the shop filled it with bubble wrap.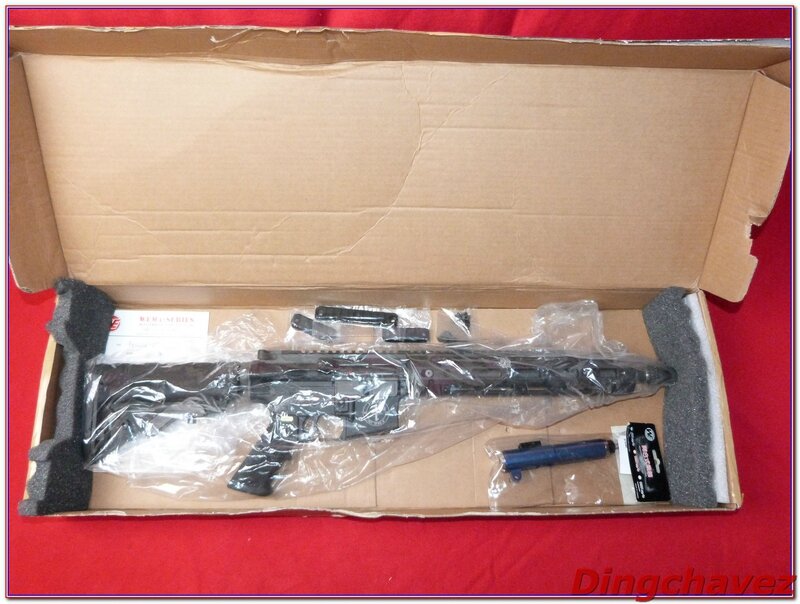 Cela n'a pas suffit à protéger le tout du transport, heureusement seul le carton est marqué.
It wasn't enough to protect the parcel. I'm lucky that only the box was damaged.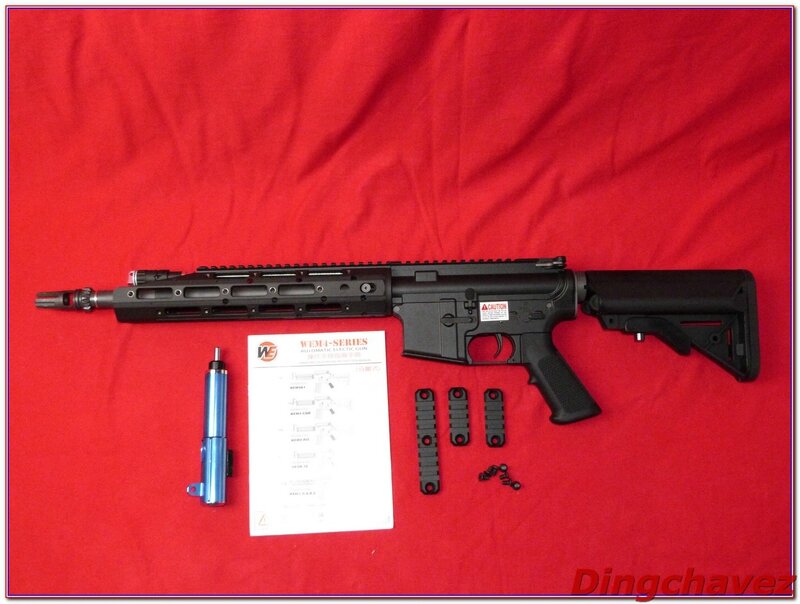 Au final le contenu est minimaliste :
-La réplique, entièrement en métal à part la crosse et la poignée pistolet, elle pèse pas loin de 4 kg !
-Un chargeur Hi-cap
-Trois rails.
-Un manuel d'utilisation.
J'avais profité de l'occasion pour également acheter le cylindre M90.
Thin box and thin bundle :
-The gun, entilery made of metal except fot the stock and the pistol grip. it weighs almost 4 kilos !
-A hi-cap magazine.
-Three rails.
-The user manual.
I also bought the M90 cylinder.
Bien entendu WE n'a aucune licence, les marquages sont donc fantaisistes. Ici un patch de la Delta Force. La réplique semble solide, aucun jeu à part au niveau de la crosse mais rien de méchant. La réplique n'est livrée avec aucun organe de visée, il faudra donc prendre en compte l'achat de ceux-ci, qu'ils soient mécaniques ou optiques.
As WE doesn't have any licence, the markings are phoney. Here a SFOD patch. The gun seems sturdy and there is no game except for a slight one around the stock. As you can see, the replica is not delivered with any kind of sights. You'll have to buy some.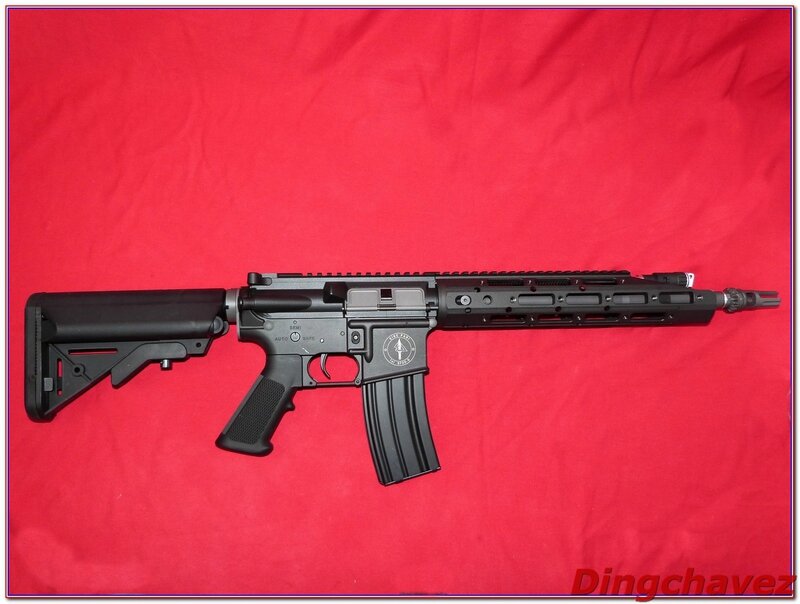 Il est bon de le rappeler : avant de casser la réplique en deux pour sortir le cylindre, passez en position sûreté pour détendre le ressort.
Because a reminder is never too much :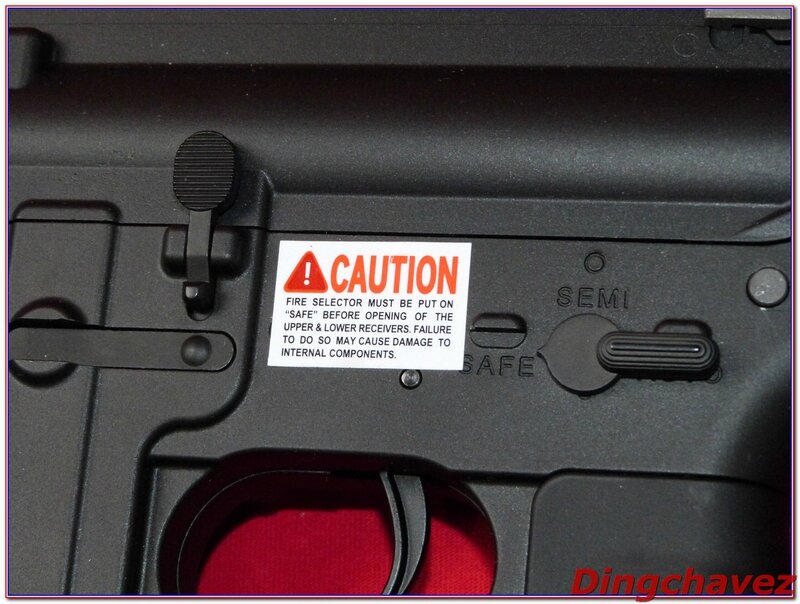 Fabriqué à Taiwan, et toujours une peinture fragile !
Made in Taiwan, ok, and still the fragile paint !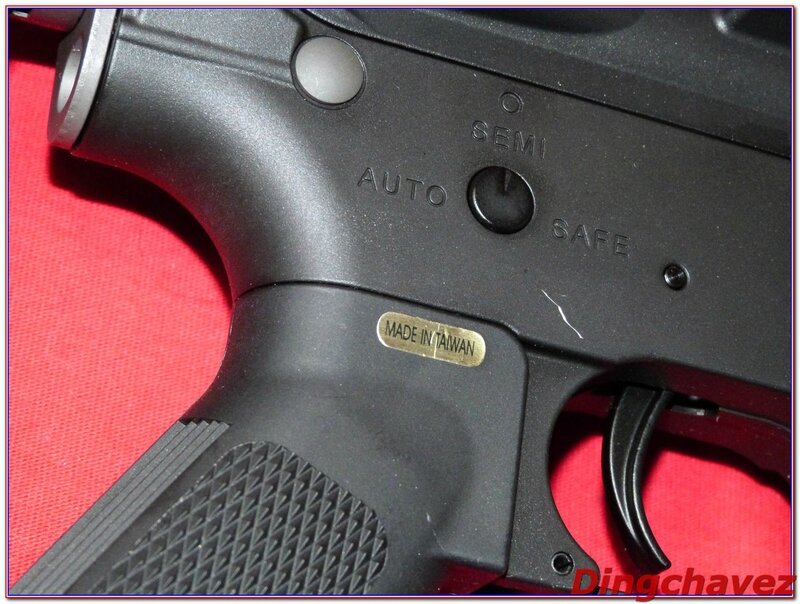 Le cache anti-poussière dissimule une fausse culasse qui elle même dissimule le bloc hop-up. L'arrêtoir de culasse est fonctionnel, ce qui facilite les opérations de réglage.
The dust cover hides a fake bolt, hiding the hop-up unit. The bolt catch is working so you can set your hop-up easily.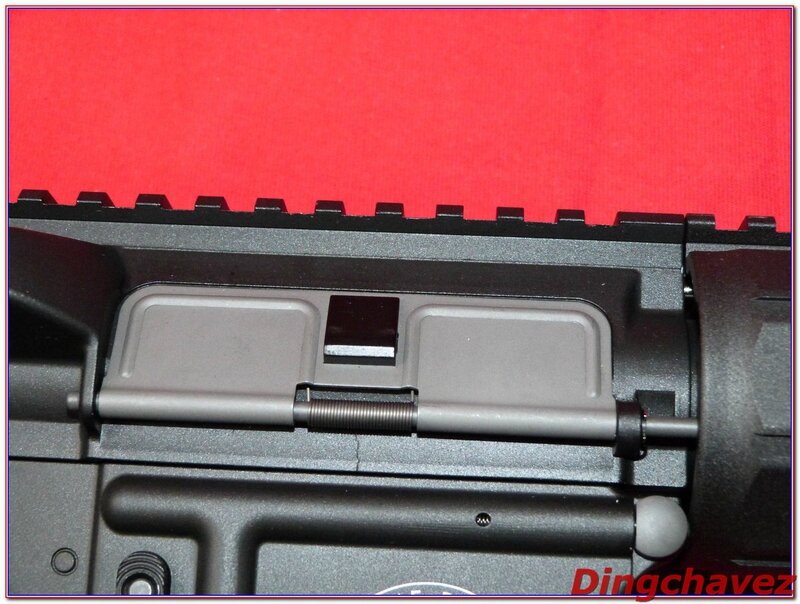 Le garde-mains spécifique à la version Raptor. Il est profilé et très long.
The specific handguard of the Raptor version. It is quite long and has a low profile.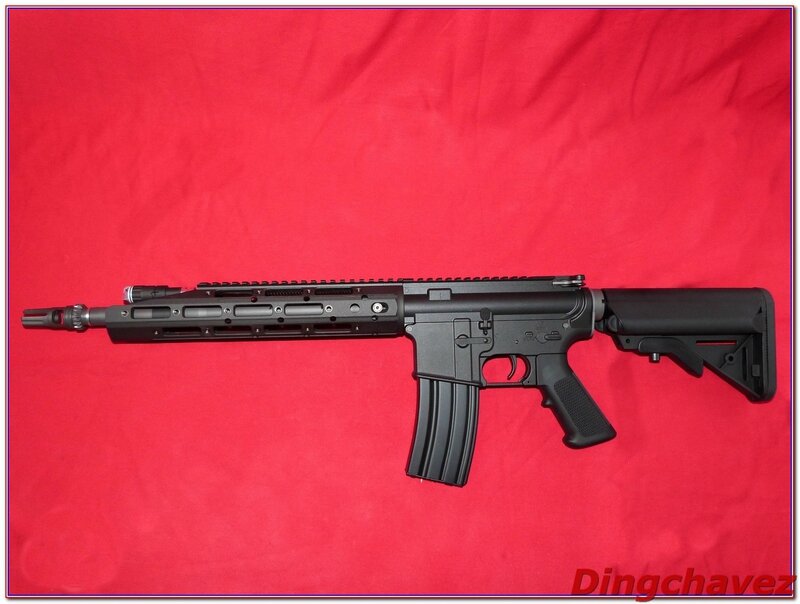 On peut y placer les rails selon le setup choisi.
You can mount the rails where you need them to be.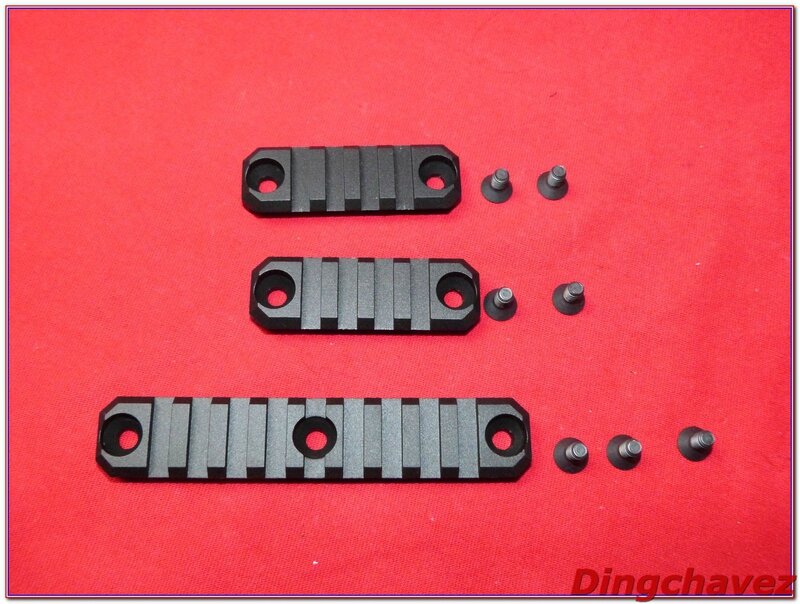 Une vue sur le puits de chargement.
A view of the mag well.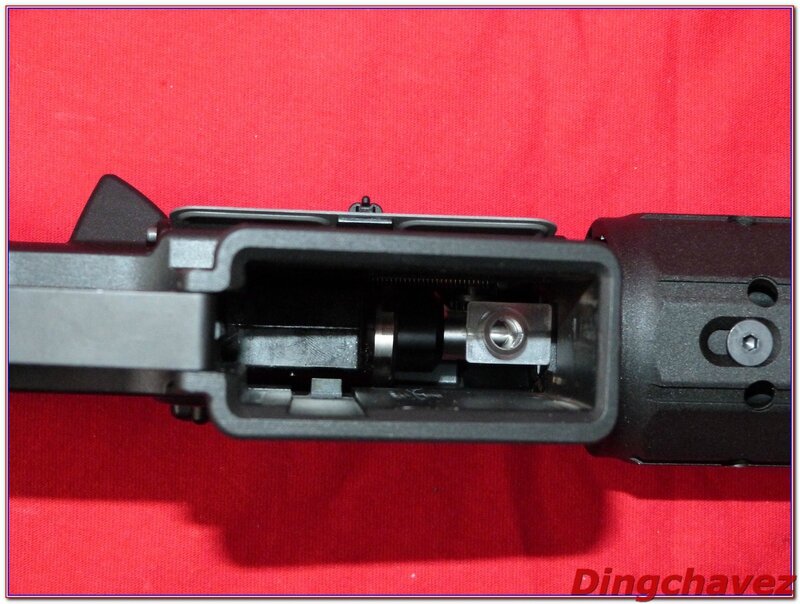 Le cache-flammes est bloqué par une vis 6 pans. Il est compatible avec les pièces à filletage 14mm anti-horaire.
The flash-hider is held by an Allen screw. It is compatible with any 14mm CCW thread.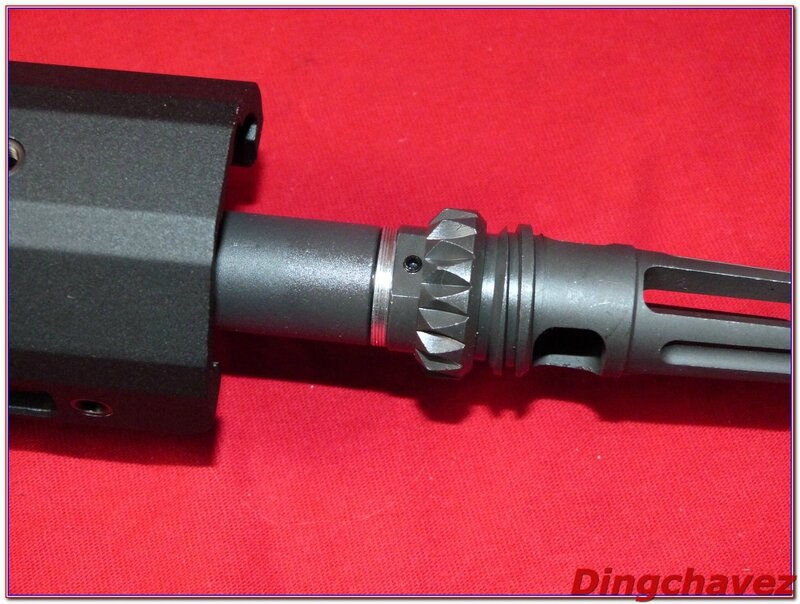 Le sélecteur de tir est facile à actionner. Les crans sont tout de même bien marqués.
The fire selector is easy to operate. The different positions are well marked.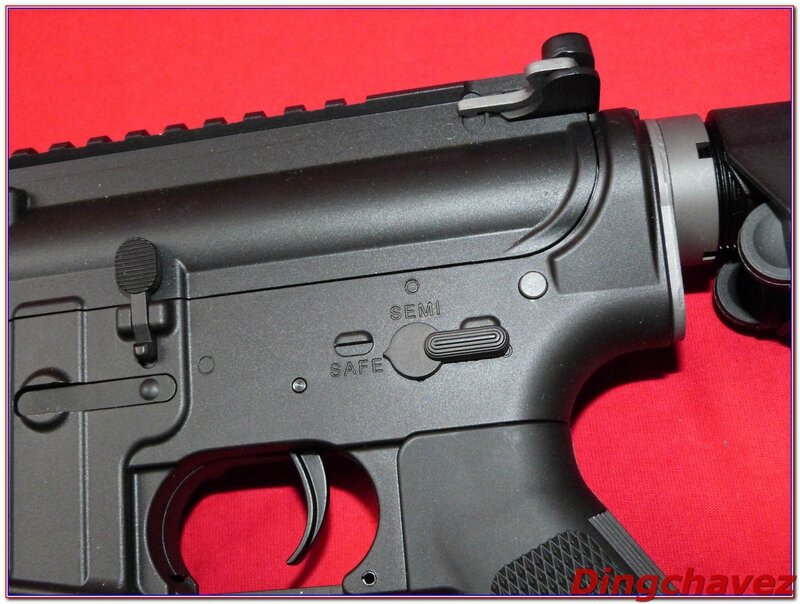 Le pontet et le grip n'ont rien de spécial. Ils peuvent être remplacés aisément par des pièces compatibles.
The trigger guard and the pistol grip are the plain version. You can replace them with any compatible part.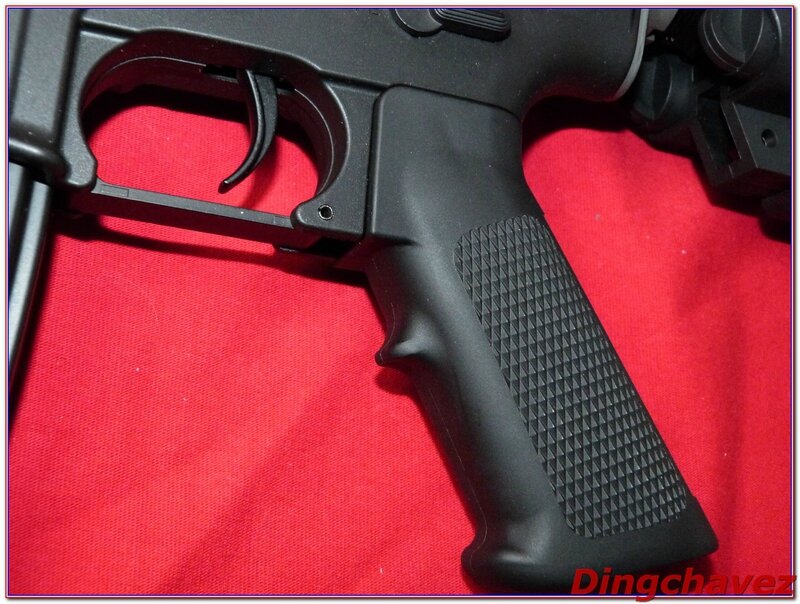 La longueur de rail vous permet d'adapter tous les accessoires nécessaires à vos parties.
The rail length allows you to adapt your gun to your way of playing airsoft by adding your favorite accessories.
La crosse « crane » n'est pas trop moche. Elle est bien entendu réglable afin d'adapter la réplique à votre morphologie.
The « crane » stock is quite nice. Of course you can collapse it to adapt the gun to your morphology.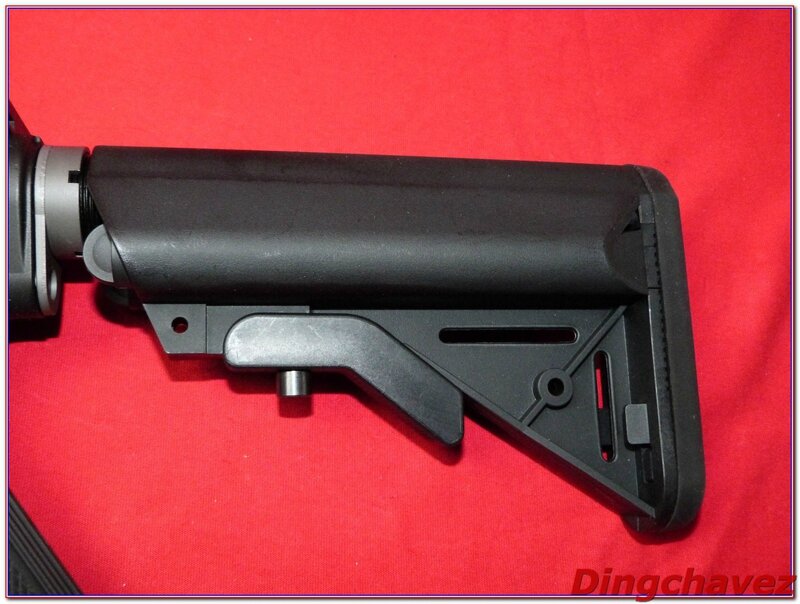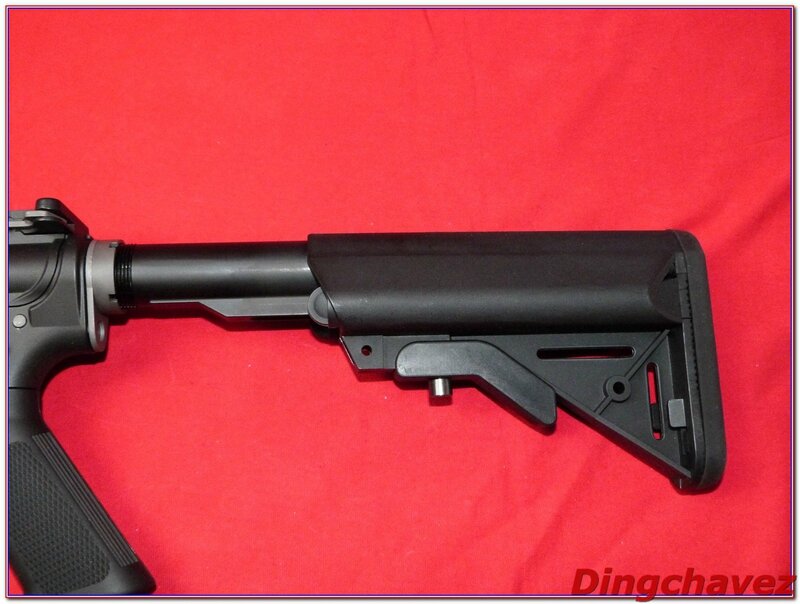 La batterie vient prendre place dans le tube ou dans les emplacements latéraux de la crosse.
The battery fits the buffer tube or the side cylinders of the stock.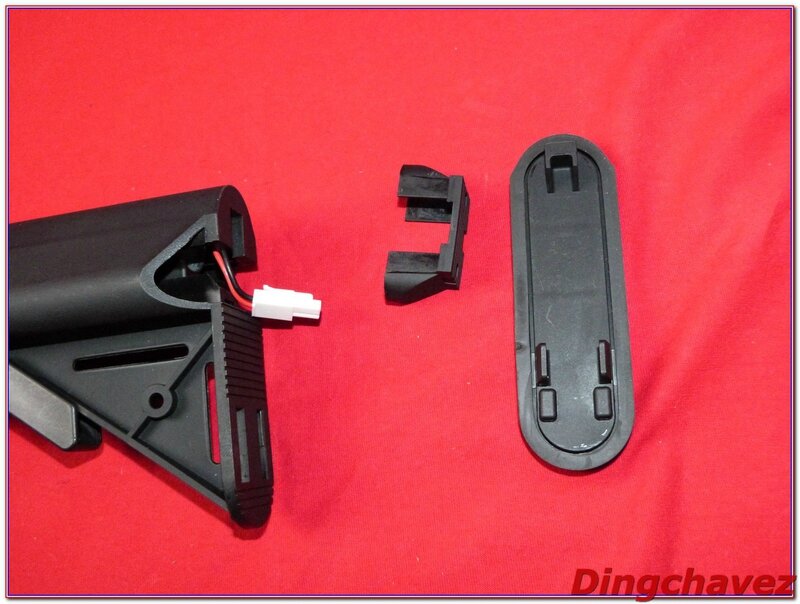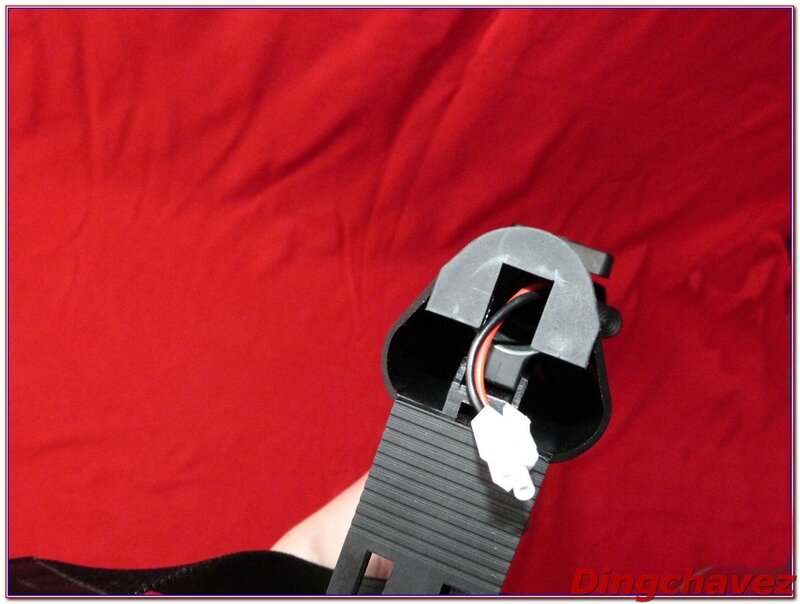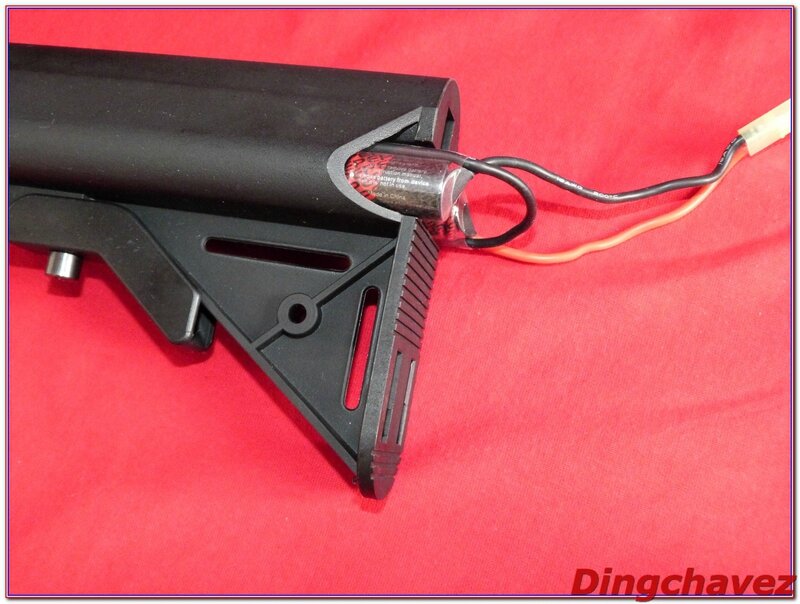 Pour en terminer avec la crosse, la mienne avait du jeu au niveau de la pièce de verrouillage. Il suffit de dévisser le petite vis 6 pans et de visser ensuite la grosse vis (ça fait beaucoup de vis d'un coup !).
There were some wobbling on the stock retainer. To fix this, loose the small Allen screw and tighten the round part.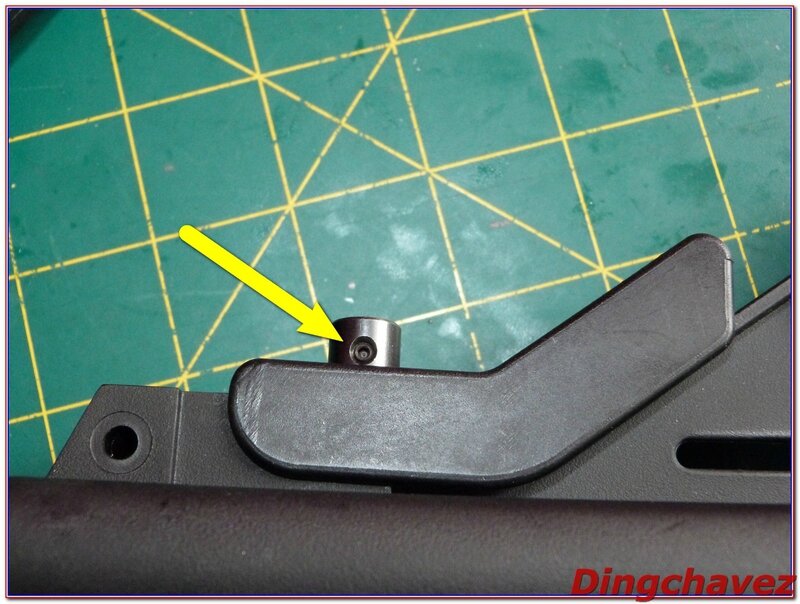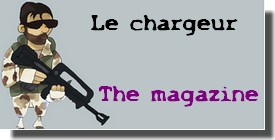 Inutile de s'y attarder, il s'agit d'un hi-cap à coque en métal. Au passage, j'ai testé la réplique avec des chargeurs mid cap de plusieurs marques (Tenhauser, SRC, King Arms) et à partir du moment où j'ai lubrifié les puits, je n'ai pas eu de problème d'introduction.
No need to spend too much time on it, it is a hi-cap mag with metal casing. By the way, I tested the gun with various mid-cap mags (Tenhauser, SRC, King Arms) and I suffered no misfeed as soon as the mags were well lubricated.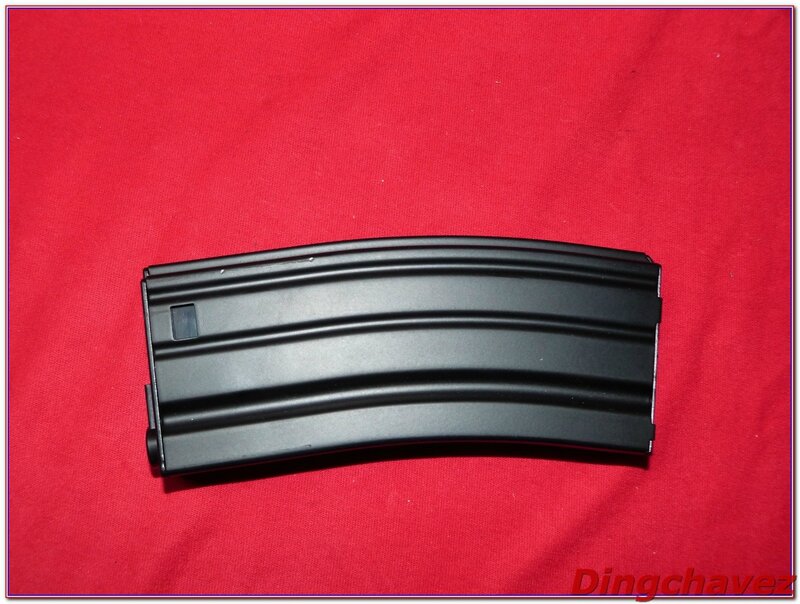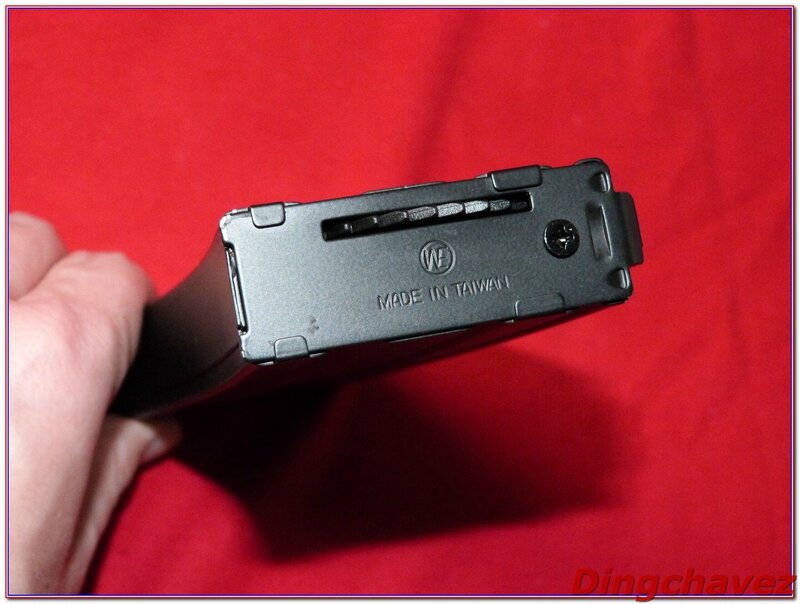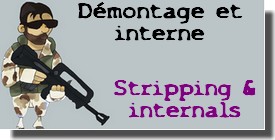 Pour changer le cylindre, retirez la goupille arrière et tirer le cylindre hors du receveur supérieur.
To change the cylinder, remove the rear takedown pin and pull the cylinder out.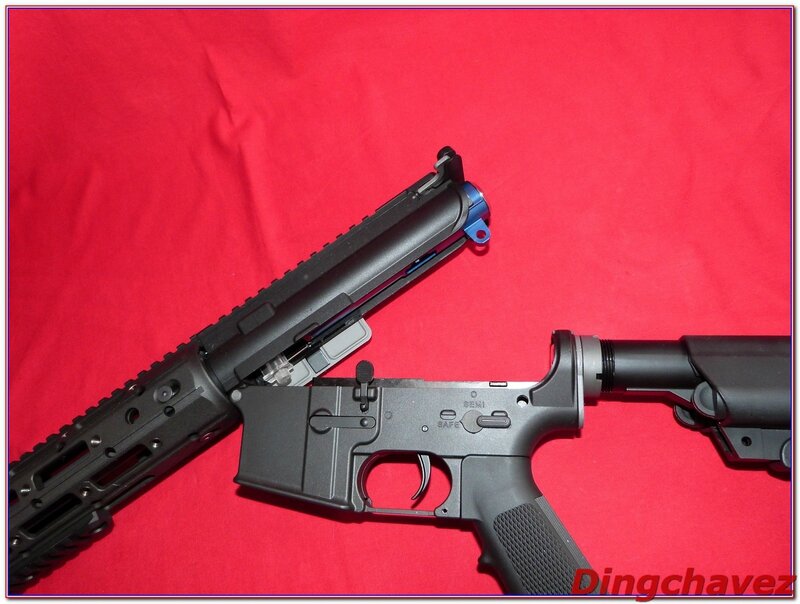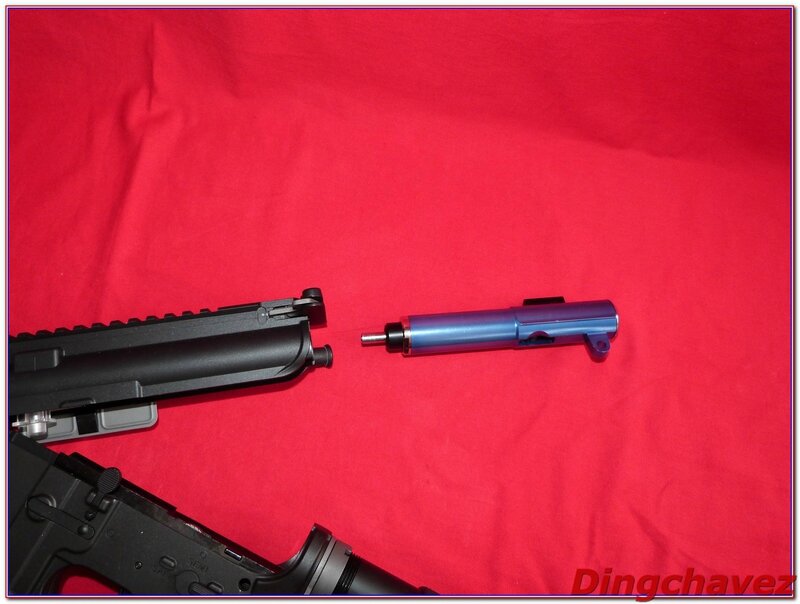 Vous pourrez ensuite sortir facilement l'ensemble canon interne/hop-up.
You can then easily take down the inner barrel/hop-up chamber.
Le bloc est en plastique transparent. Le joint noir est de dureté moyenne et il est plutôt gras d'origine.
The unit is made of plastic. The rubber is of medium hardness, it is quite greasy.
Le canon interne mesure 351mm. Le diamètre annoncé est de 6.04mm mais je n'ai pas mesuré.
The inner barrel is 351mm long. Its diameter is supposed to be 6.04mm.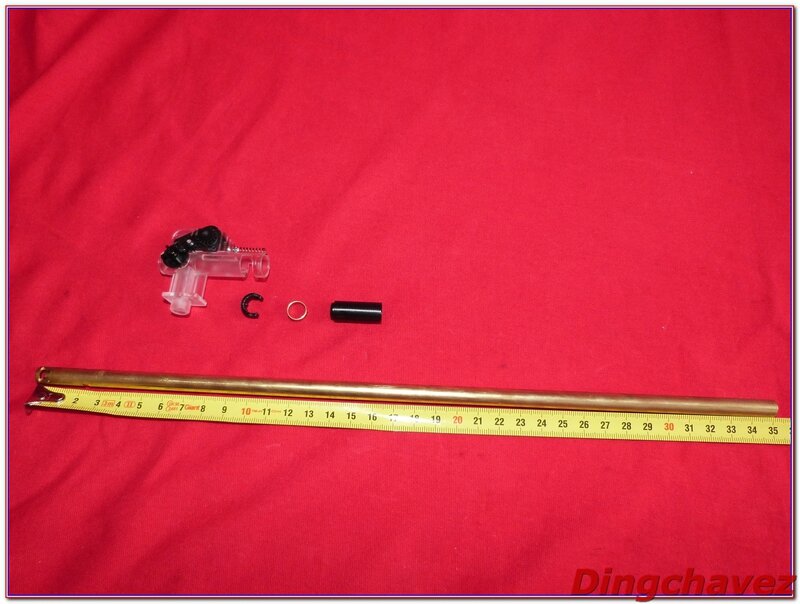 J'avais lu sur certains forums que des misfeed étaient courants car in manquerait 2-3mm sur le bloc d'origine. Comparons… Et bien non, il ne manque pas de matière sur le bloc WE.
I've read on a forum that WE chambers were too short so misfeed happens. As you can see, the dimensions are all right.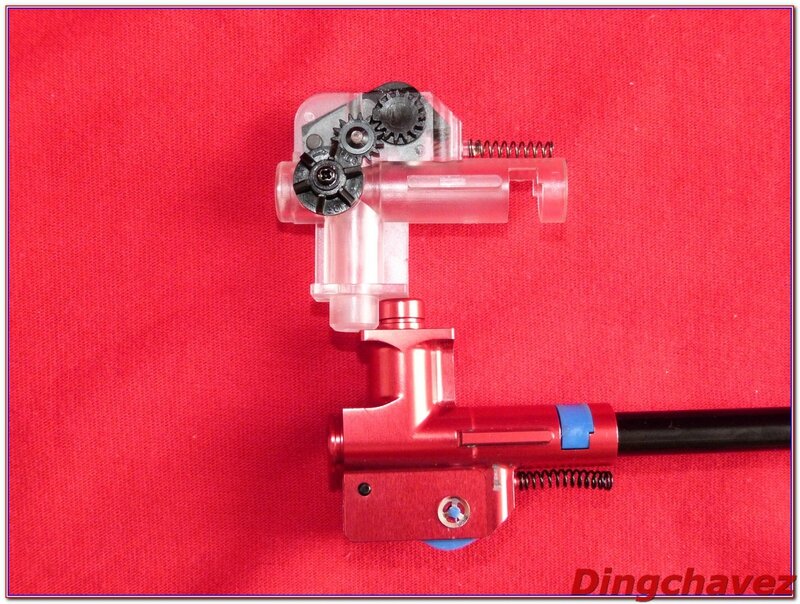 J'ai tout de même préféré changer le joint par un G&G dont je suis très très content.
I prefered to put a G&G rubber instead of the WE one. I'm very satisfied with those.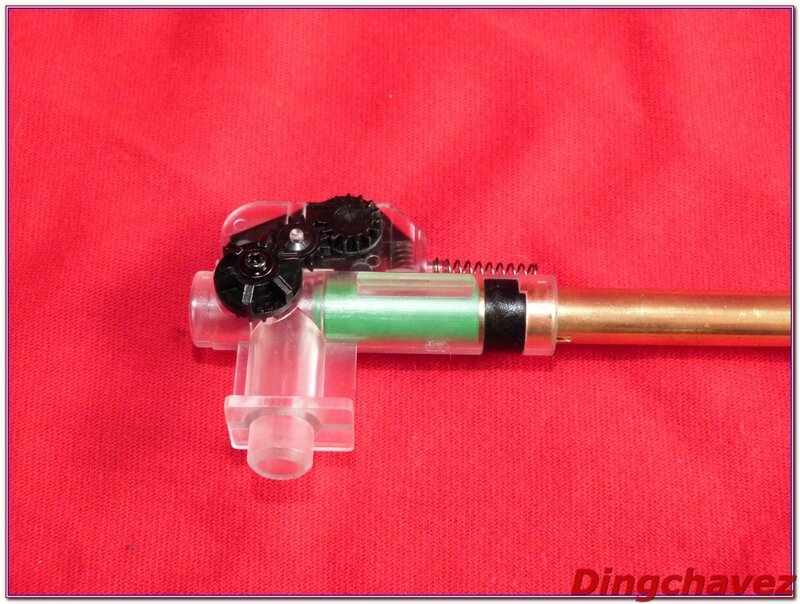 Le cylindre/cylinder assembly :
 Le gros avantage du système katana, c'est de pouvoir changer rapidement de puissance sans rien démonter. Il suffit de casser la réplique, de changer le cylindre et le tour est joué.
The main advantage of katana system is that you can set the power within a few seconds by changing the cylinder assembly .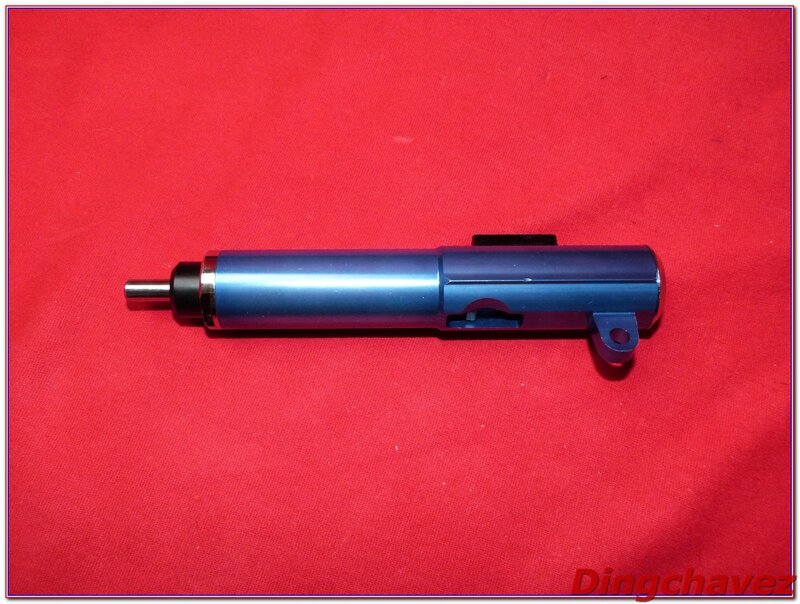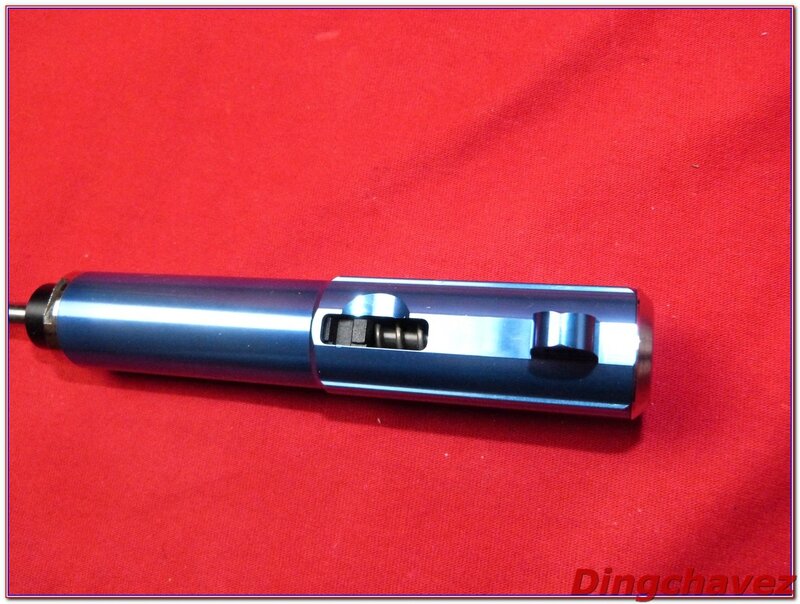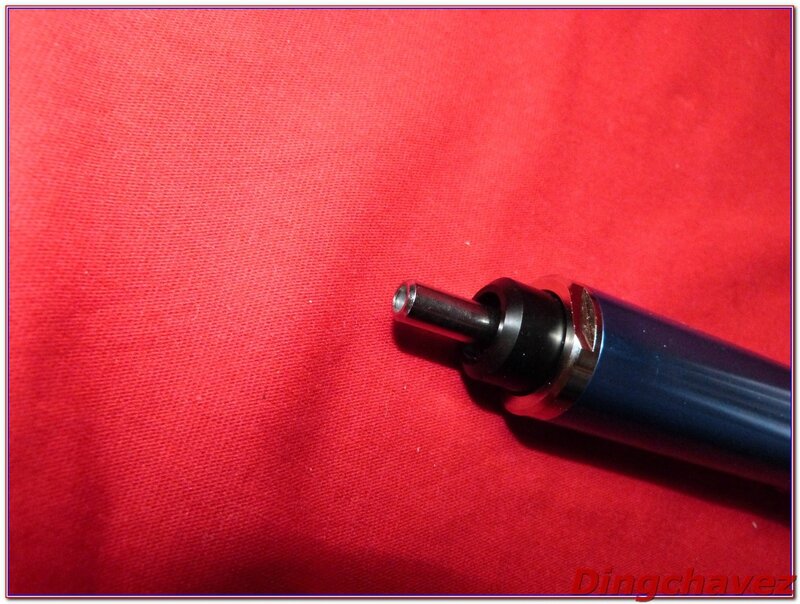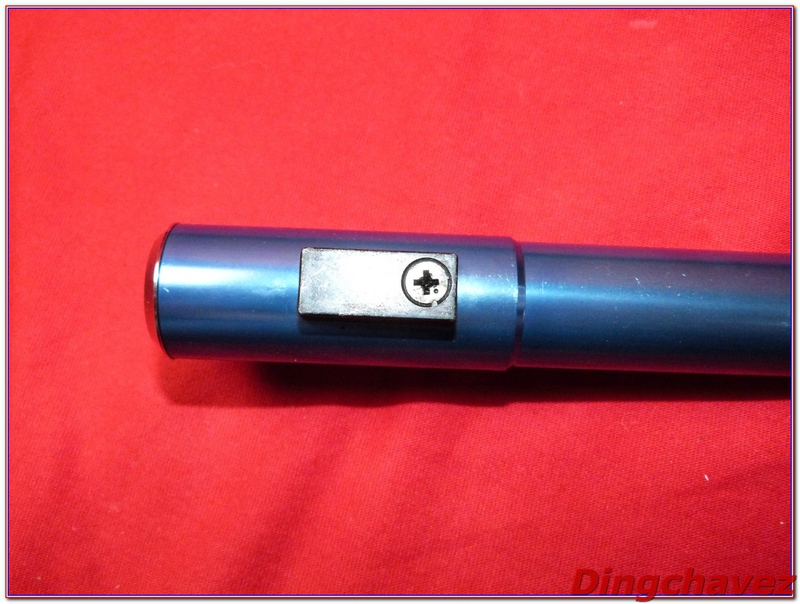 On peut démonter l'ensemble. Il suffit de dévisser l'arrière.
You can disassemble the system. All you have to do is unscrew the back.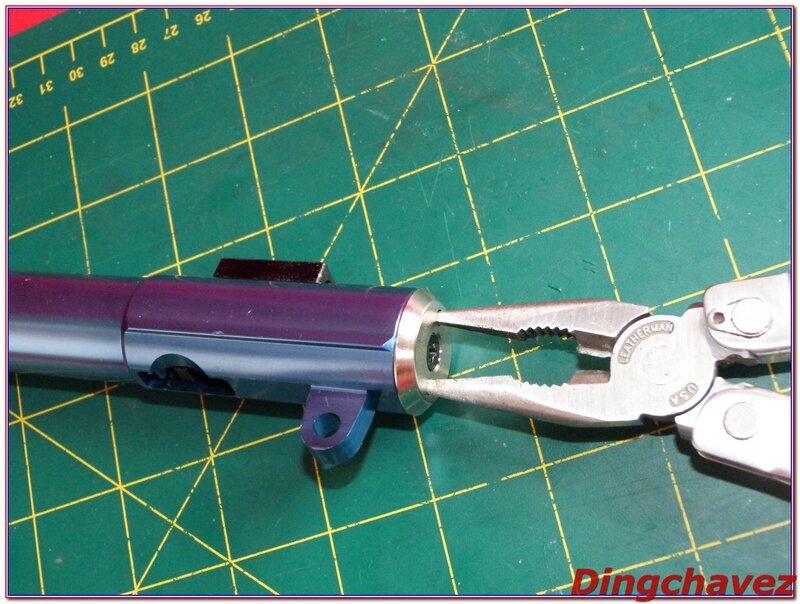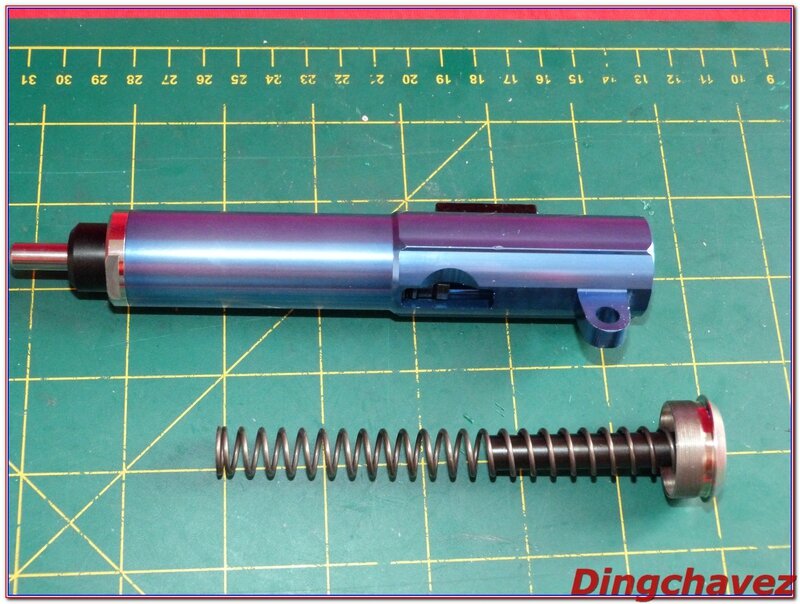 Et ensuite de dévisser la partie avant où se situe le nozzle.
And then the front part where the nozzle sits.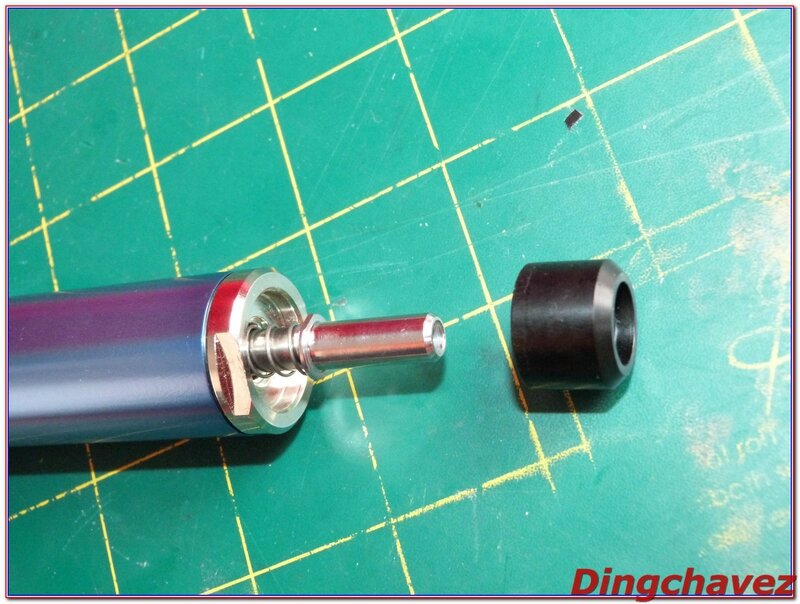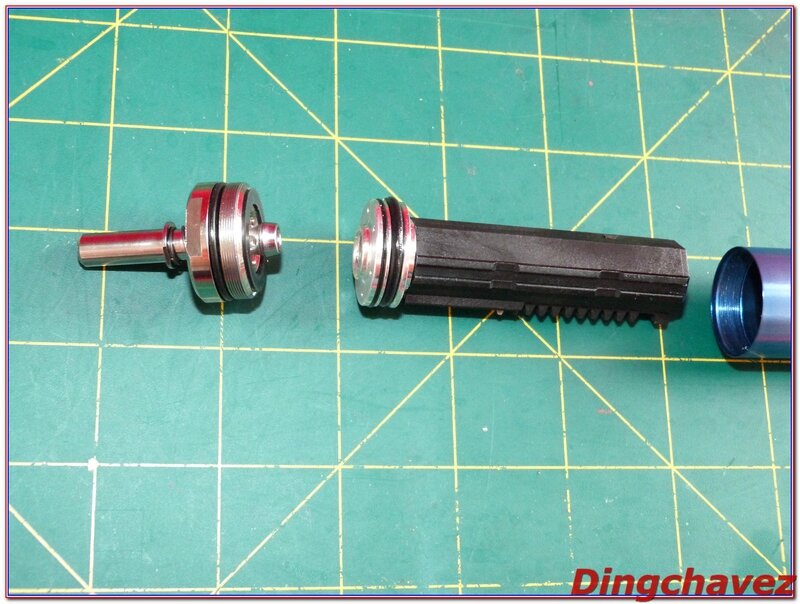 Rien de bien compliqué. Aparemment les ressorts ont les mêmes dimensions que ceux des PTW.
Nothing really complicated. aparently the springs have got the same dimensions than the PTW ones.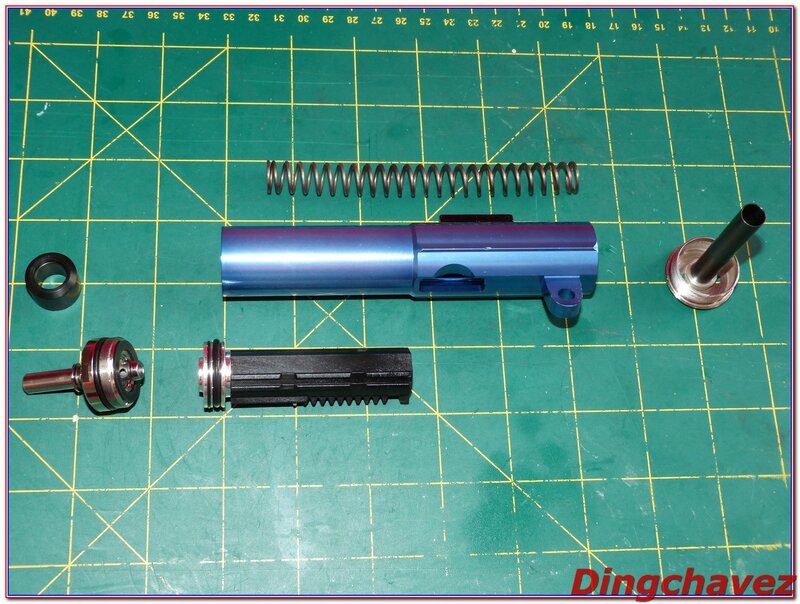 En parlant de PTW, le système de nozzle est similaire.
Speaking of PTW, the nozzle system is similar.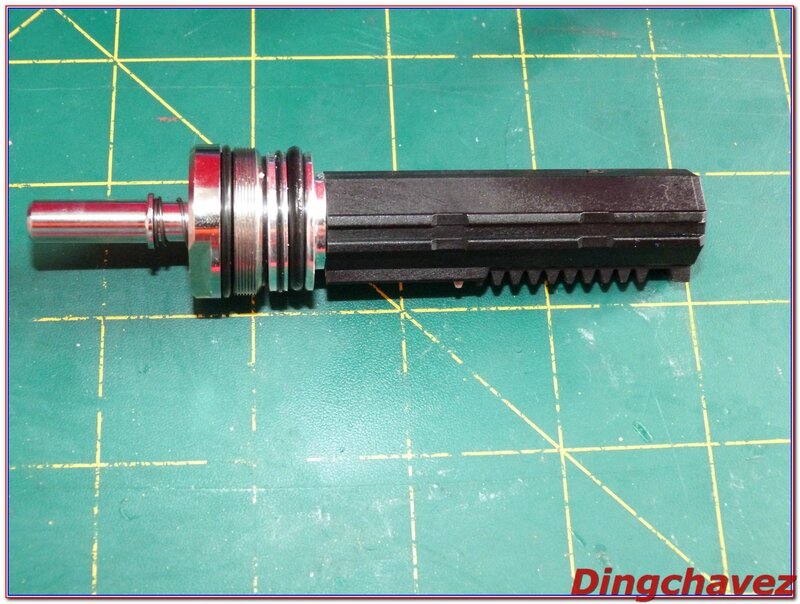 Dommage que seule la dernière dent du piston soit en métal.
It is too bad that only the last tooth of the piston is made of metal.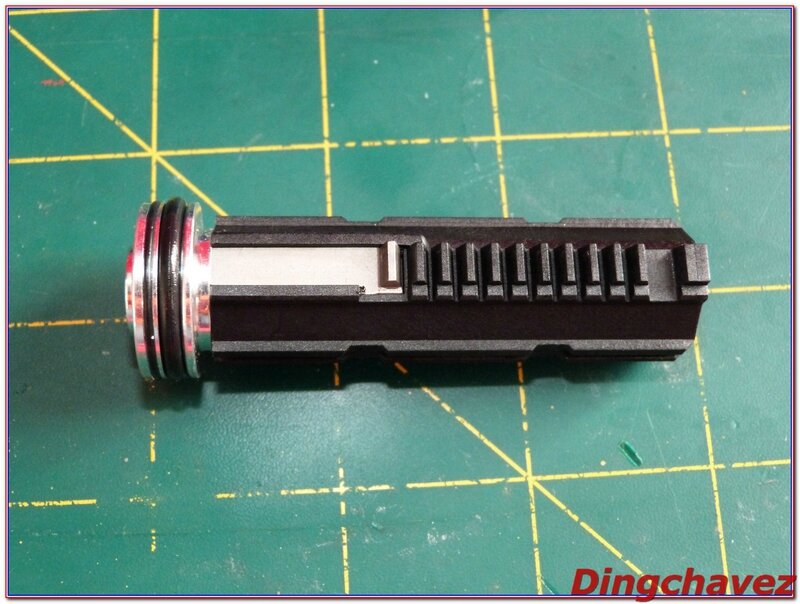 Ici deux cylindres démontés, la puissance varie en fonction de la longueur du ressort.
Here you can see two stripped cylinders. The power depends on the spring lenght.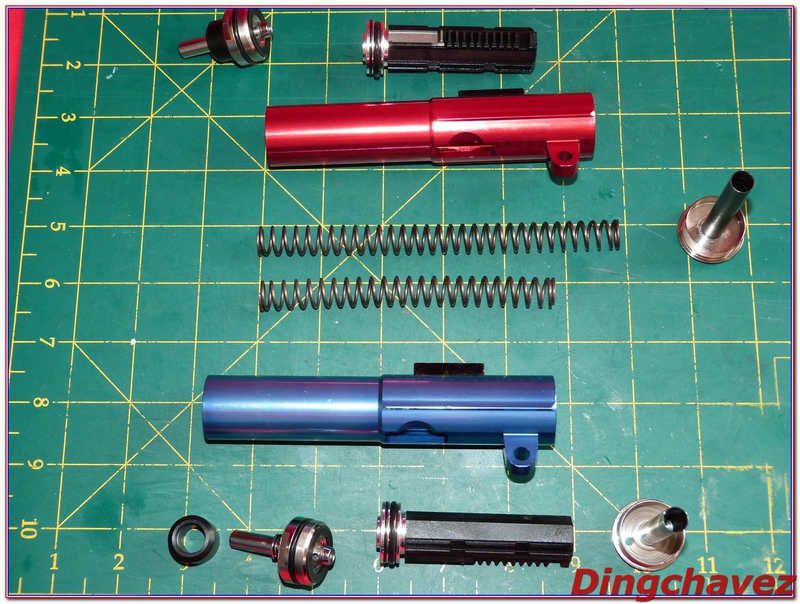 12 cm pour 290 fps, 15 cm pour 360 fps.
12 cm for 290 fps, 15cm for 360 fps.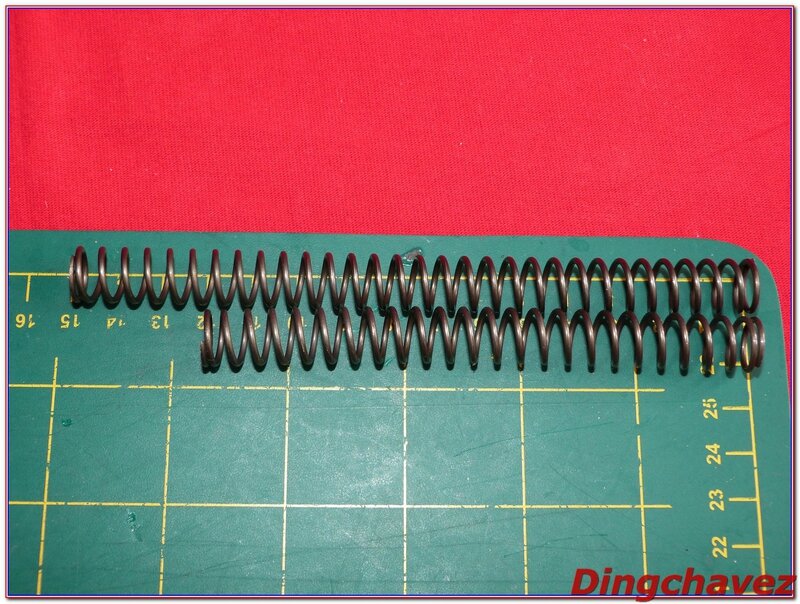 L'étanchéité est en partie assurée par la bague noire.
The sealing is parlty made thanks to the black ring.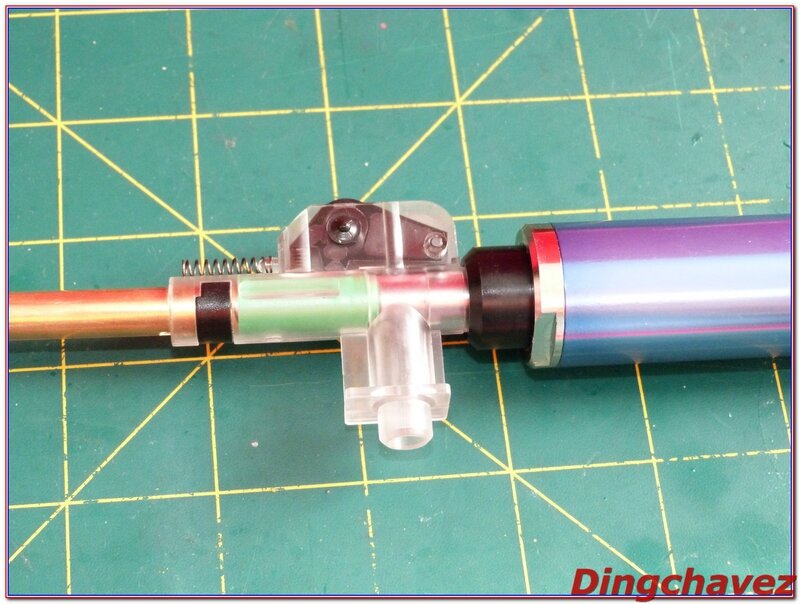 Une vue sur les engrenages, malheureusement pas d'engrenages hélicoidaux ni de planétaires dans cette gearbox…
A close-up at the gears. Unfortunately, no helical gears nor planetary in this gearbox…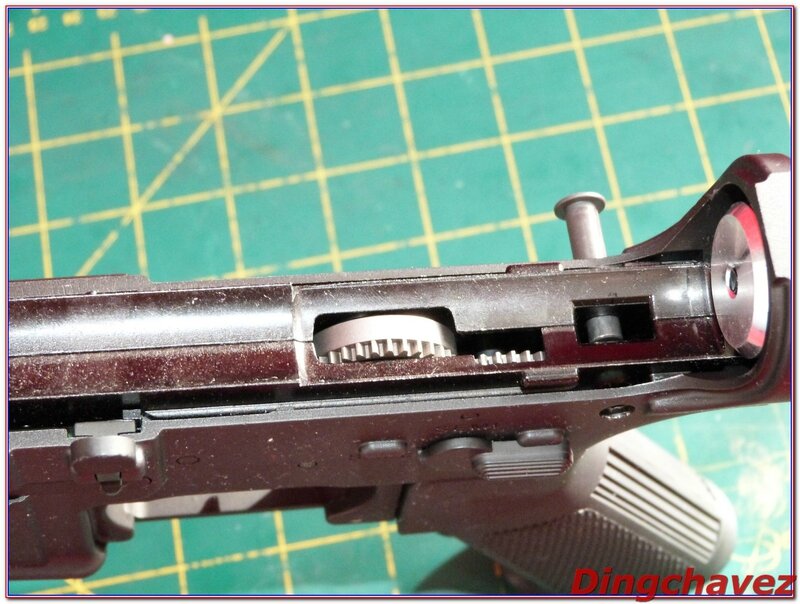 Pour déposer le moteur il faut au préalable démonter le talon de la poignée.
To remove the motor, first take out the bottom of the grip.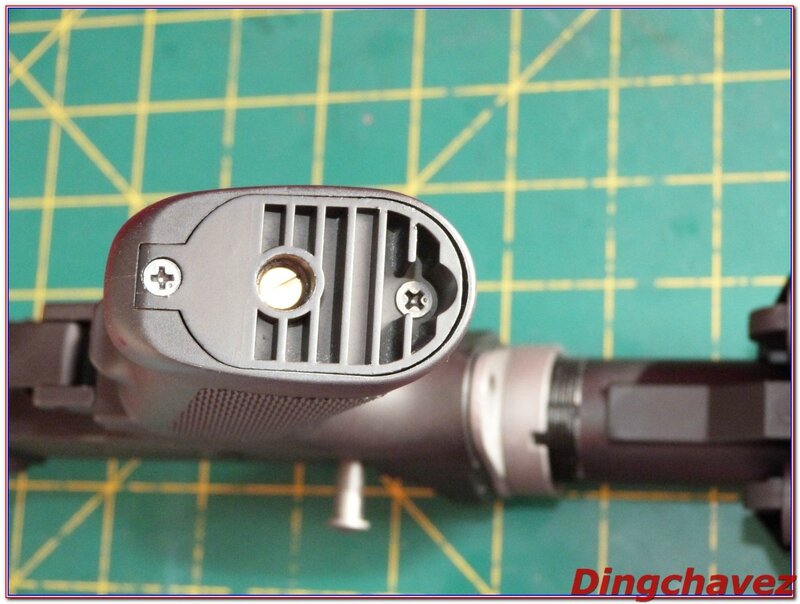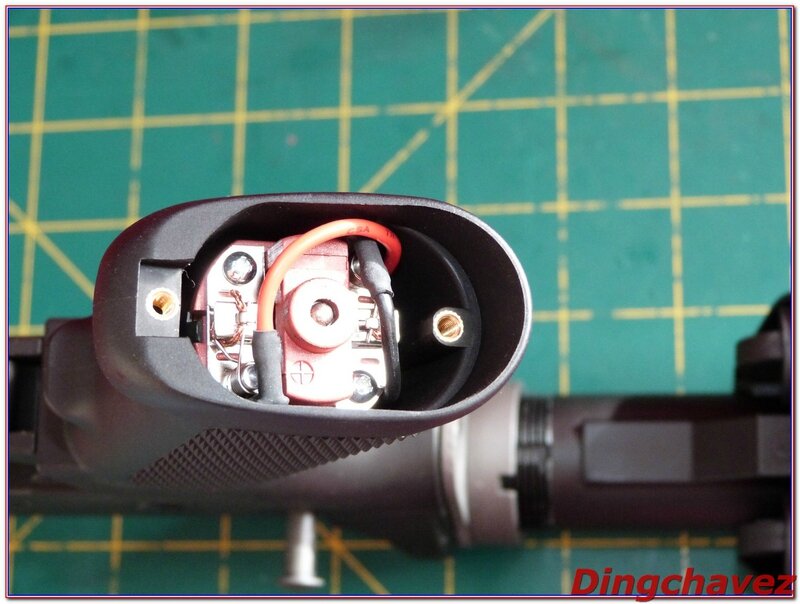 Aucun marquage ni spécifications techniques sur le moteur, présenté comme un high torque.
No markings and no technical specs on the motor, it is supposed to be a high torque model.
Ensuite on peut démonter la poignée et le verrouillage de chargeur, n'oubliez pas le bolt catch.
Then remove the grip, the mag catch and don't forget the bolt catch.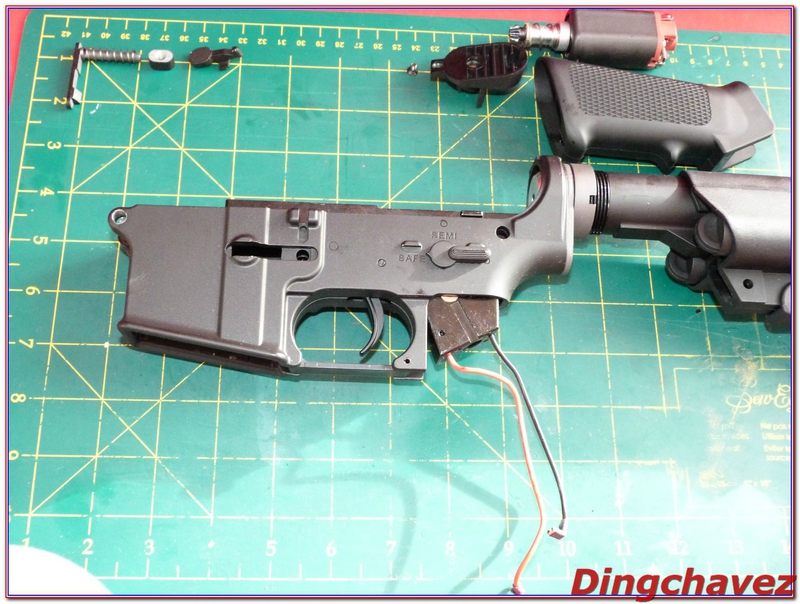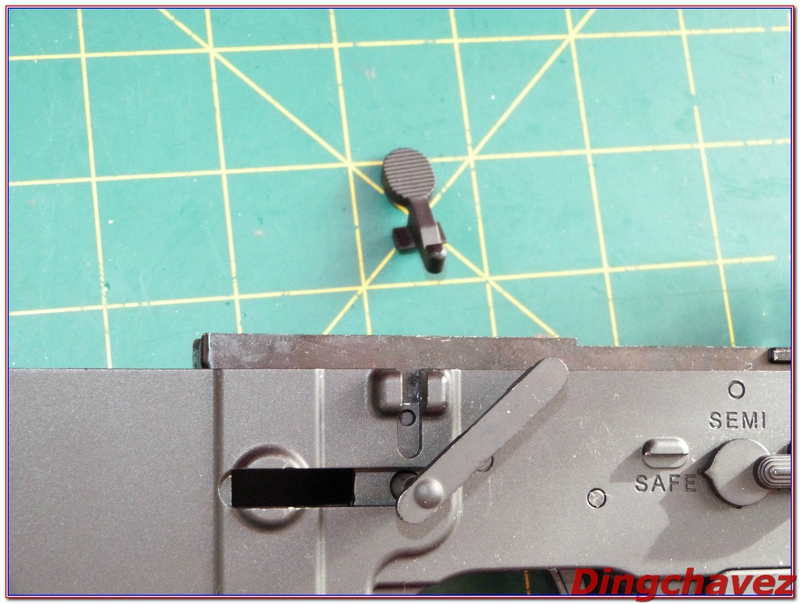 On n'oublie pas non plus la petite goupille. Attention elle a un sens.
Don't forget the small axle too.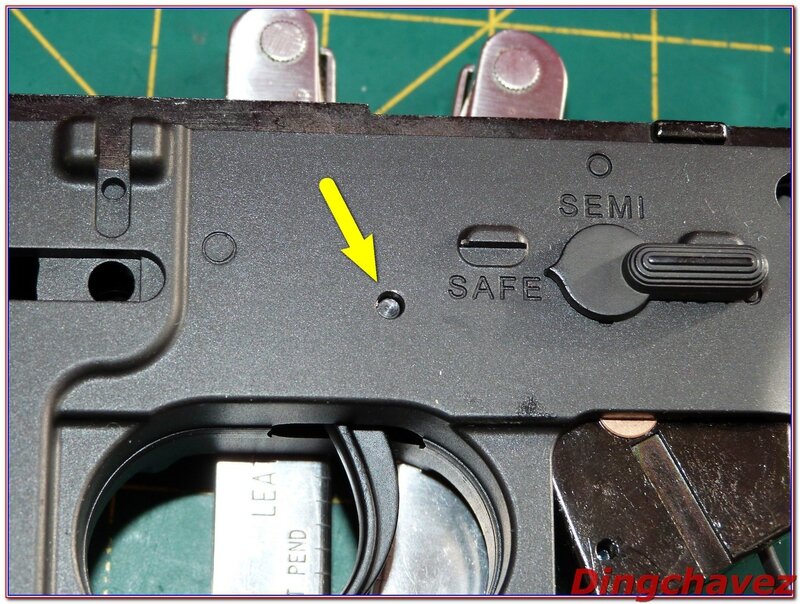 On termine par le tube de crosse, il ne tient que par une petite vis.
We finish with the buffer tube, it is only maintained with a small screw.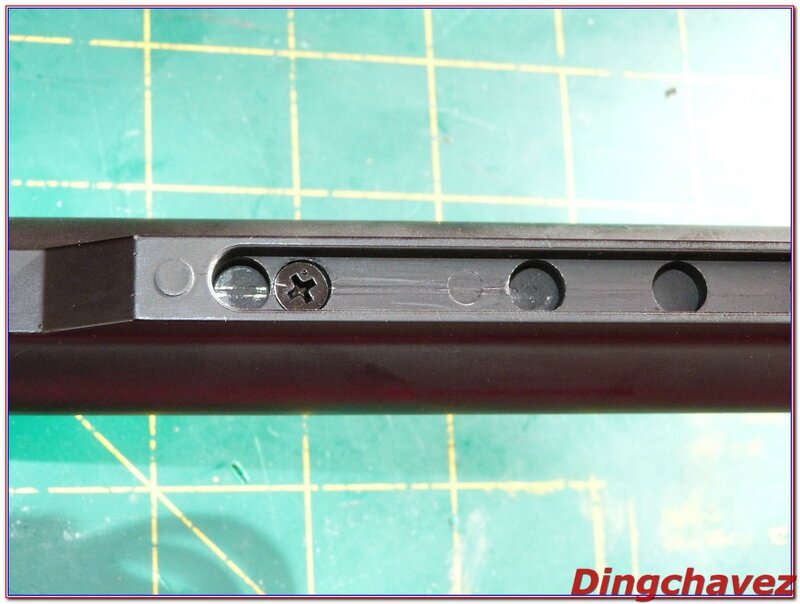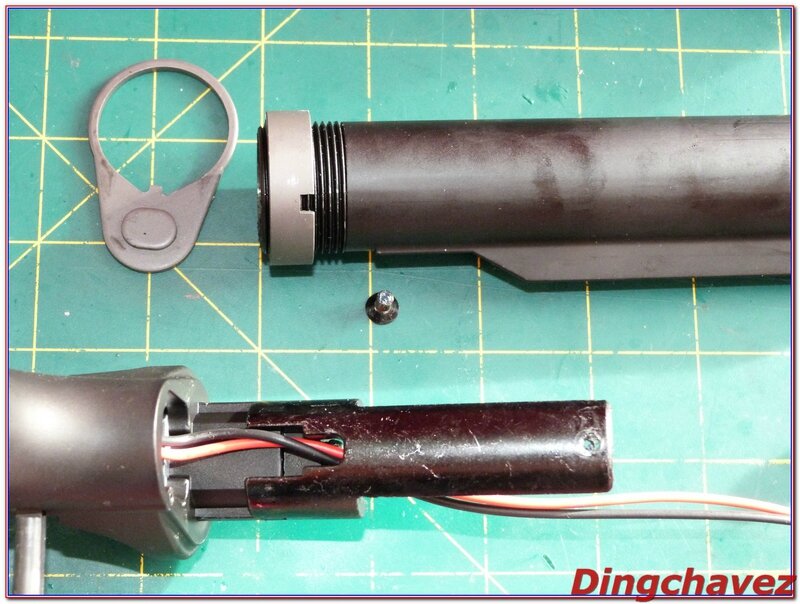 Et voici la dernière vis qui maintient la gearbox dans le corps.
And here is the last screw holding the gearbox to the receiver.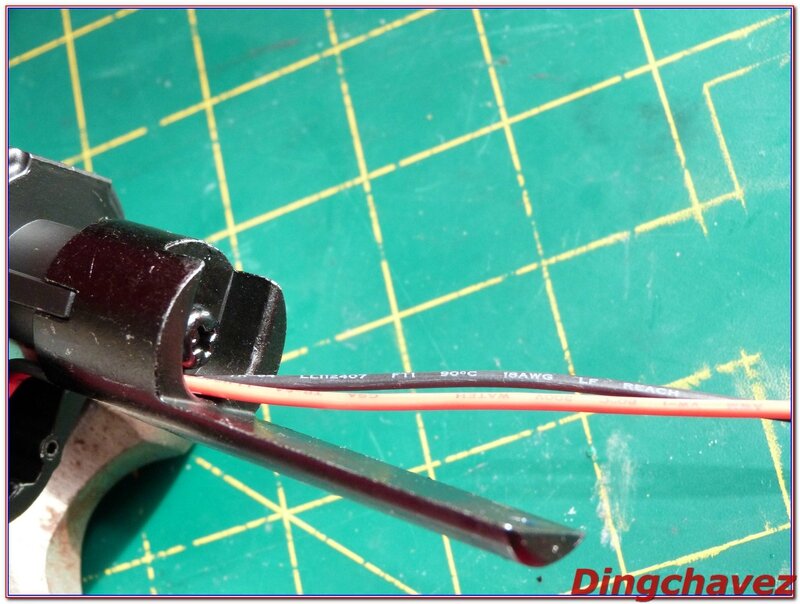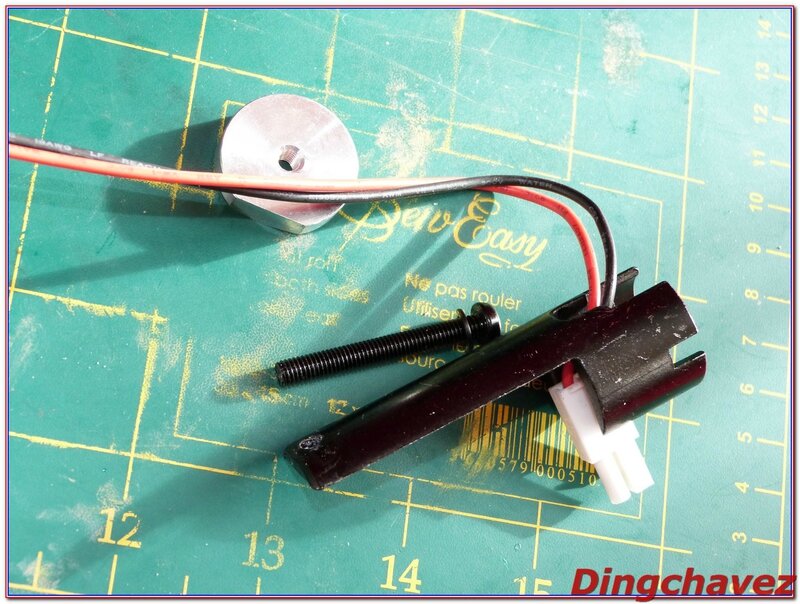 Un sacré bazard !
What a mess !
 On remarque le système de déverrouillage de l'anti-retour à l'arrière de la gearbox.
Notice the spring « decocking » system at the rear of the gearbox.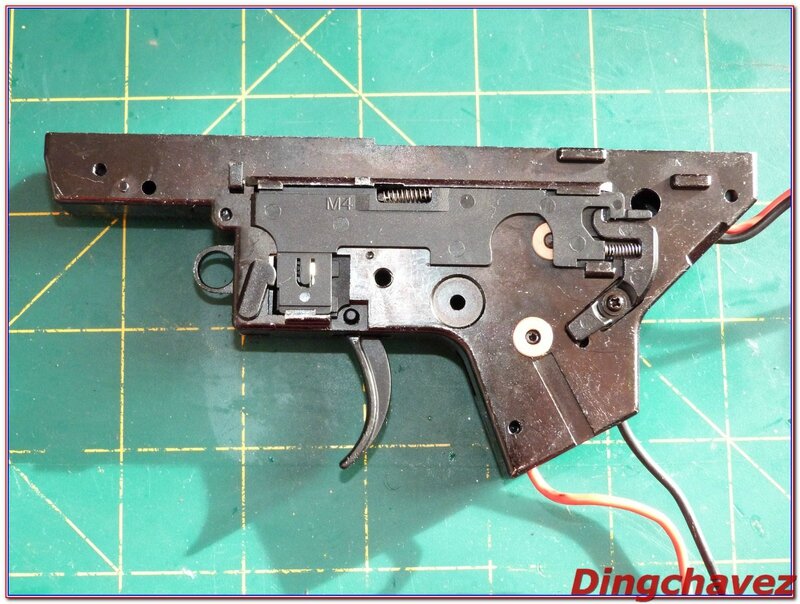 Quatre vis à enlever et la gearbox est ouverte, rien ne saute, même pas l'anti retour.
Four screws to remove, nothing jumps out of the GB, not even the anti-reversal latch.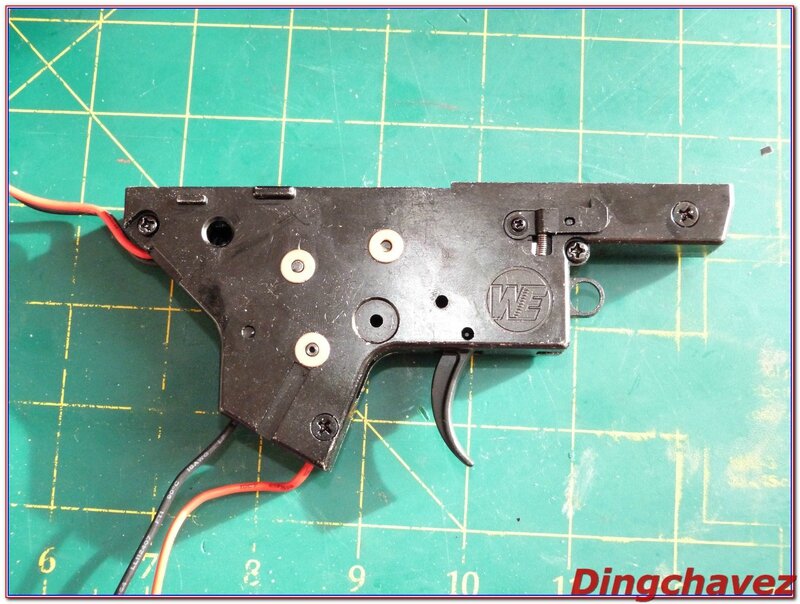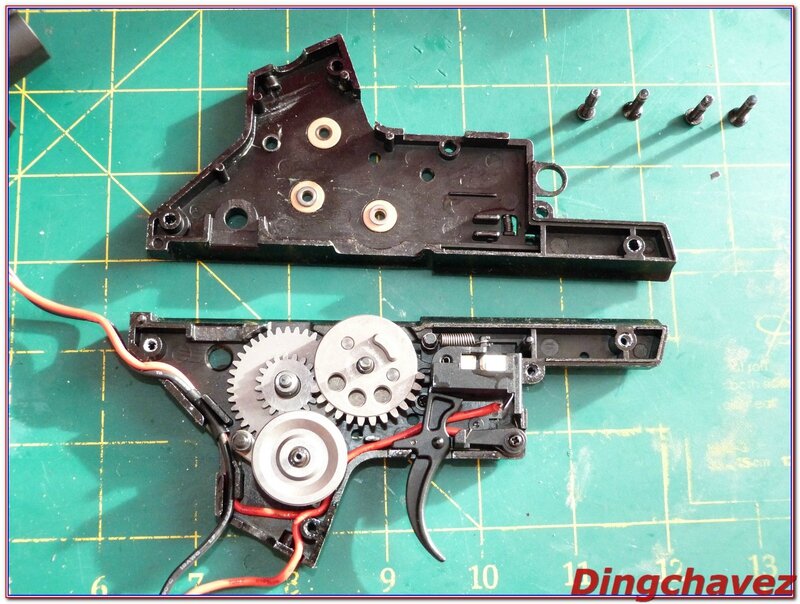 Au moins vous ne risquez pas de vous mettre de la graisse sur les doigts : c'est sec comme un coup de trique !
At least you won't have grease on your fingers ! This is dry as a bone !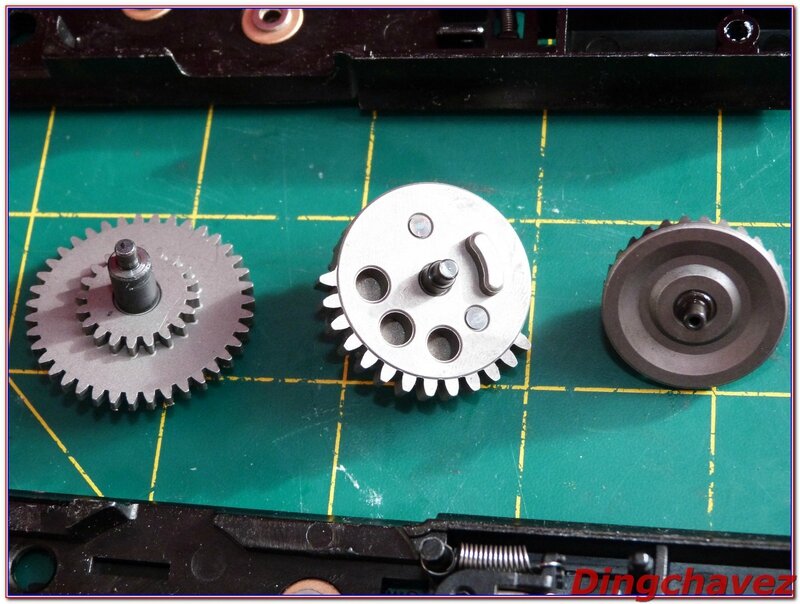 Ici on peut voir les bushing en métal (on dirait une sorte d'alliage cuivré). Ils font 8mm de diamètre. il y a un tout petit peu de gras au fond de la GB, juste pour dire qu'ils en ont mis mais j'aurais préféré la voir sur les engrenages ou dans le cylindre !
Here you can see the 8mm bushings. Their color is strange, as if they were made of copper… Notice the slight amount of grease in the GB. I would have prefered seing grease on the gears or into the cylinder…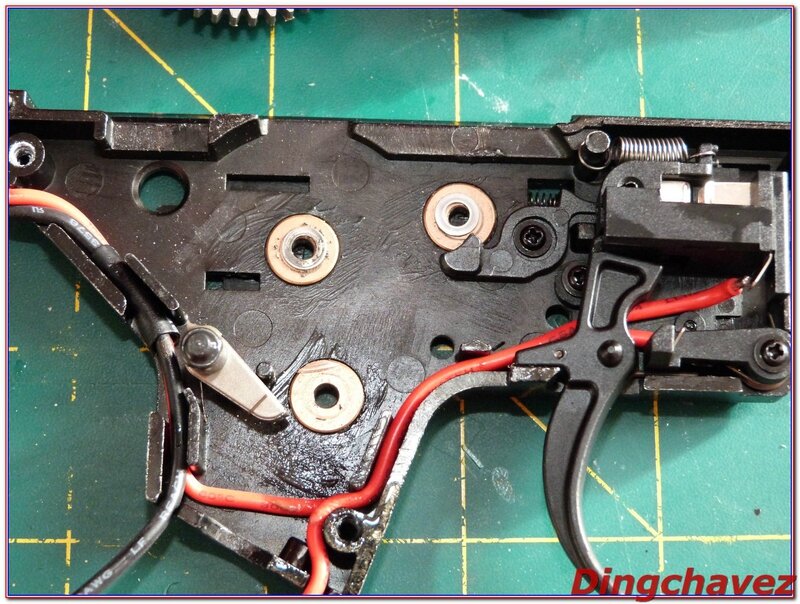 J'ai essayé de placer une calle pour réduire la course de détente et ainsi gagner en réactivité mais ce fut un échec, la détente faisait alors sauter le contacteur et cela n'initiait plus le tir. Si vous avez vous-même trouvé une solution n'hésitez pas à la partager.
I tried to reduce the trigger slack, but I was unsuccessful. The trigger disconnected from the switch and nothing happened then, impossible to shoot… If you managed to find something that works, don't hesitate to share.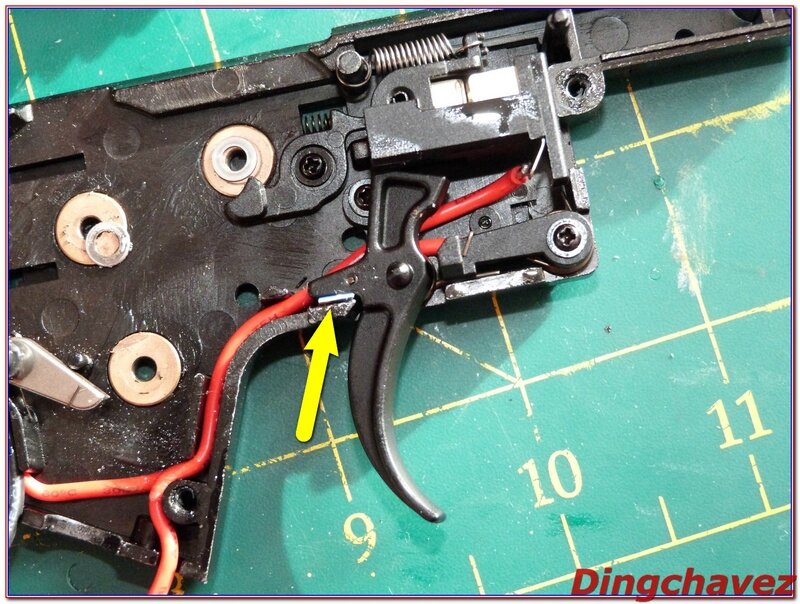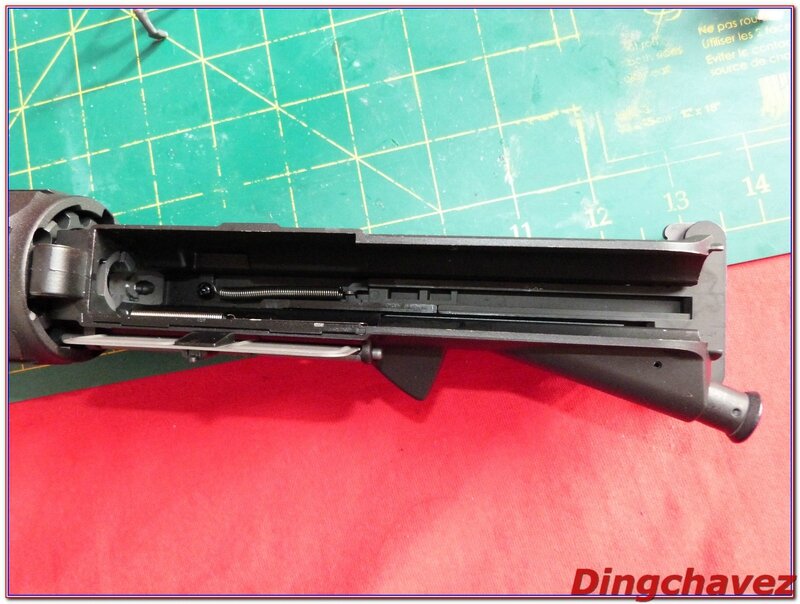 Bonus : démonter le canon externe/stripping the outer barrel.
En soit cela ne sert à rien mais si vous deviez le démonter pour une raison X ou Y (genre remettre un RIS normal…) il suffit de déposer les 4 vis du tour de rail.
Well, not very useful in itself but if you want to change the RIS it is quite simple, first remove the 4 rail screws.
Vous pouvez également enlever la vis qui retient le bloc d'emprunt des gaz.
You can also remove the gas bloc.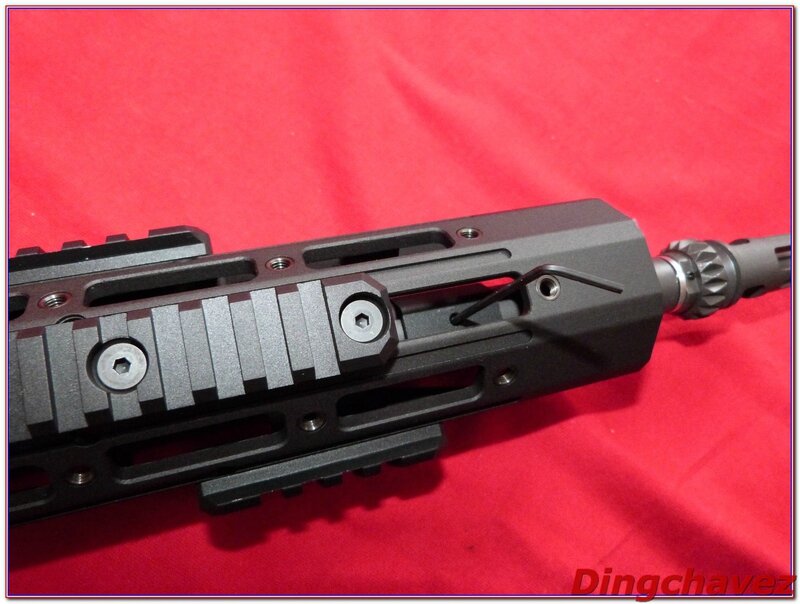 Et le cache-flammes.
And the flash-hider.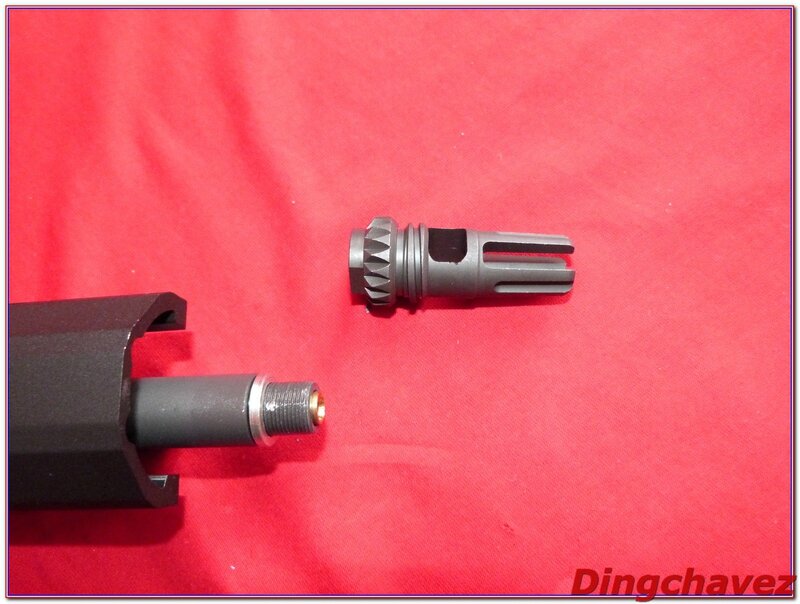 Puis dévissez l'écrou de canon et tout vient facilement.
Then unscrew the barrel nut, everything falls apart 🙂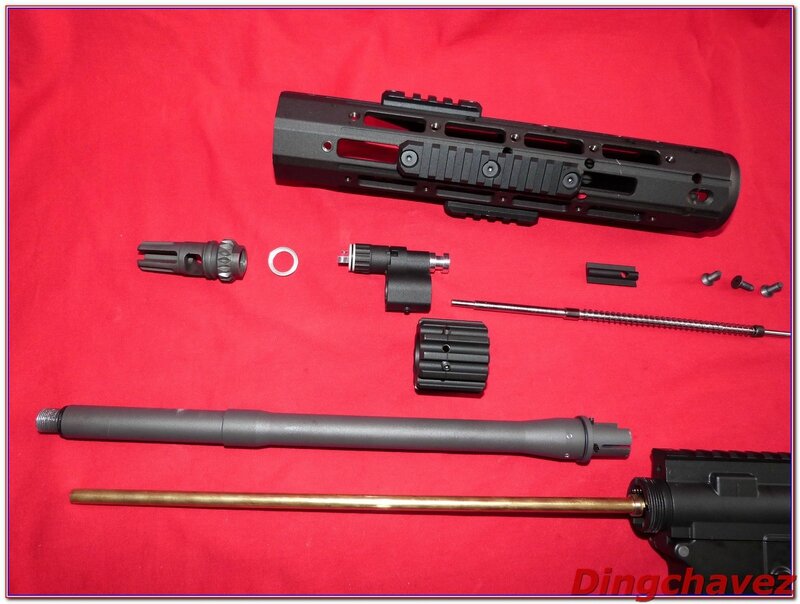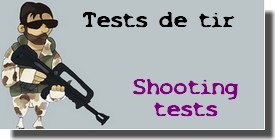 Les tests ont été effectués avec un chrony Xcortech3200, une batterie NiMh 9.6V 1600 mAh des billes 0.2grammes bio Xtreme precision et à une température de 19°C.
Cylindre rouge (M120) : 362-363-362-363, soit une moyenne de 362.5 fps-cadence de tir : 16 billes/seconde
Cylindre bleu (M90) : 290-290-290-292, soit une moyenne de 290.66 fps-cadence de tir :18 billes/seconde
La régularité est bonne et les puissances sont conformes aux valeurs annoncées sur les cylindres( 90m/s = 274.32 fps et 120m-s = 367.76 fps)
Notez qu'il existe un cylindre gris équipé d'un ressort M130 (si les valeurs se tiennent par rapport aux autres cylindres, cela donne 396 fps).
Avec le joint d'origine j'ai eu des soucis de trajectoires même après dégraissage de l'ensemble canon/hop up, une fois le joint changé (dans ce cas par un G&G vert) les trajectoires sont régulières et la portée est bien meilleure.
The shooting tests have been conducted using a Xcortech3200 chrony, a NiMh 9.6V 1600 mAh battery, 0.2gramms bio Xtreme precision BBs and the temperature was 19°C. 
Red cylinder  (M120) : 362-363-362-363, an average of 362.5 fps-rate of fire : 16 bb/second
Blue cylinder  (M90) : 290-290-290-292, an average of de 290.66 fps-rate of fire :18 bb/second
Consistency is good and the powers are in conformity with the cylinder values (90m/s = 274.32 fps and 120m-s = 367.76 fps)
Note that there is also a grey cylinder equiped with a M130 spring, that would be 396 FPS
I had some trajectory issues with the original hop up rubber even after cleaning all the parts thoroughly. Once the rubber changed with a green G&G, accuracy was good and  range was increased.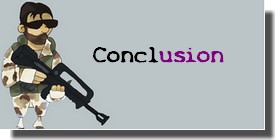 Au cours de mes tests, j'ai eu l'impression d'en avoir eu pour mon argent : matériaux qui semblent solides (à part la peinture, encore trop fragile chez WE), montage correct, réplique bien assemblée et ne souffrant pas de jeu, tout est réuni pour que le joueur moyen puisse profiter immédiatement de son acquisition (n'oubliez pas : il vous faut une batterie et des billes…). Certes, la réactivité du moteur d'origine est bien molle et il faudra au moins cher le replacer par un SHS high torque (environs 35€) qui lui fera commencer une nouvelle vie.
Le système de changement de cylindre est bien fichu mais j'aurais aimé un peu plus de choix dans les puissances données, avec par exemple un M100 et un M110 pour atteindre les 350 fps sans pour autant les dépasser. Bien sûr on peut changer le ressort mais encore faut-il trouver le bon…
Bref, si le système vous attire, vous en tirerez la quintescence en changeant moteur, joint et éventuellement bloc hop up et canon de précision, mais les performances en sortie de boite sont loin d'être ridicules. Un ASCU par dessus tout cela et vous n'aurez pas à (beaucoup) rougir face aux possesseurs de PTW au niveau de la réactivité.
While I was testing this replica, I felt that I hadn't wasted my money. Sturdy looking materials (well, except for the paint…), good assembly and no wobbling, everything is gathered to offer an immediate game experience to the player -don't forget to buy a battery and some BBs !). Of course, the original motor is a little bit weak, but a few more Euros in a decent high torque motor (SHS for example) will greatly improve this gun.
The cylinder system is well designed, I only wish they would release some M100 and M110 cylinders. Of course one can change the spring, but it needs to be found.
Bottom line, if you're interested in this system, there is little to do to improve the Katana : a rubber, a motor, maybe a hop up unit and a precision barrel, but out of the bow this is not a ridiculous gun. Add to this an  ASCU and you won't blush in frint of PTW owners !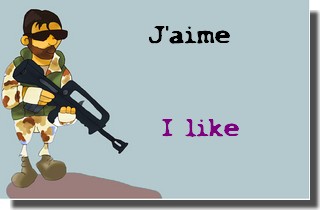 -Look original./original look.
-Facilité de démontage et d'entretien./Easy to service.
-Compatibilité pièces V2/ V2 compatible.
-Bonne réactivité avec un moteur high torque./Good reactivity once you put a real high torque motor
-Système de cylindre./Cylinder assembly system
-Détente du ressort en mode safe./Spring release when put in safe mode.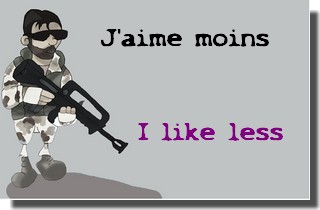 -Peinture fragile (comme souvent chez WE)/Fragile paint (often the casse with WE guns, definitely something to work on)
-Joint hop up d'origine peu performant./Average hop up rubber.
-Lubrificaction à revoir./Not enough lubrication.
-Dommage d'avoir mis un moteur un peu faible (pourtant annoncé high torque)./the motor (announced as a high torque) is a little bit weak.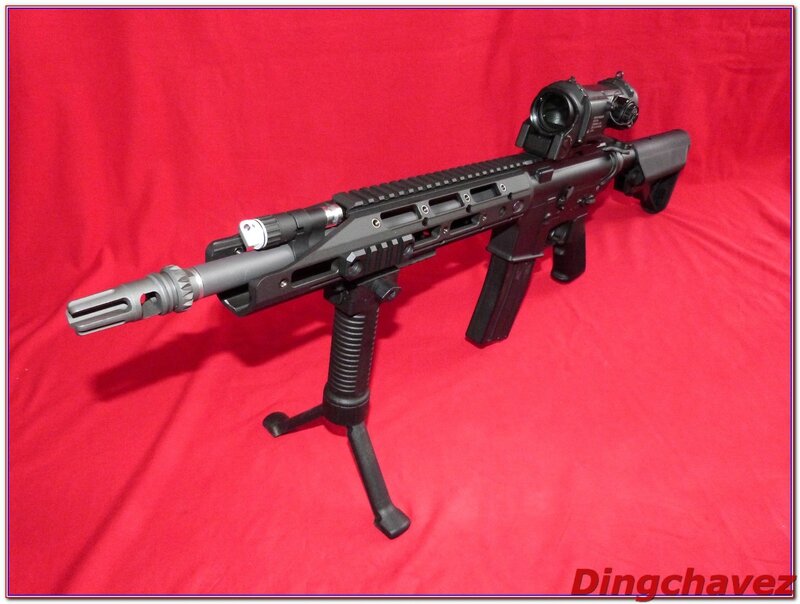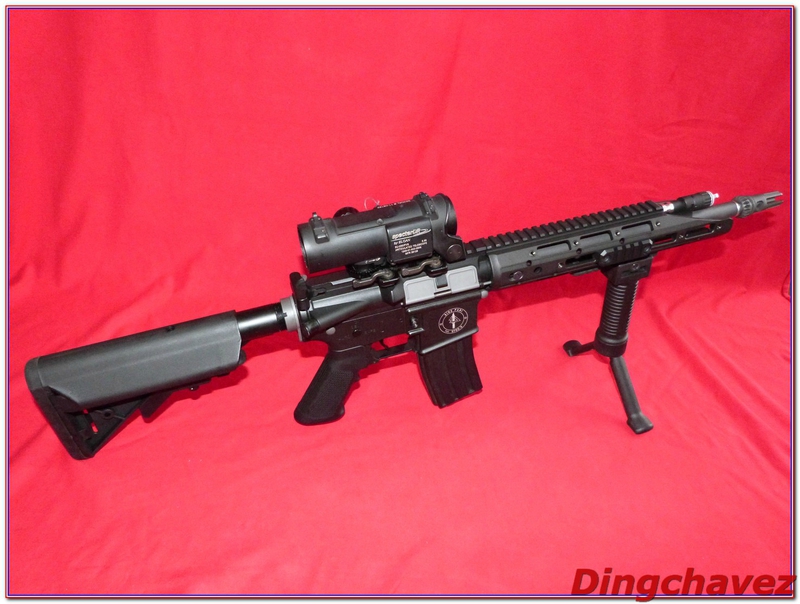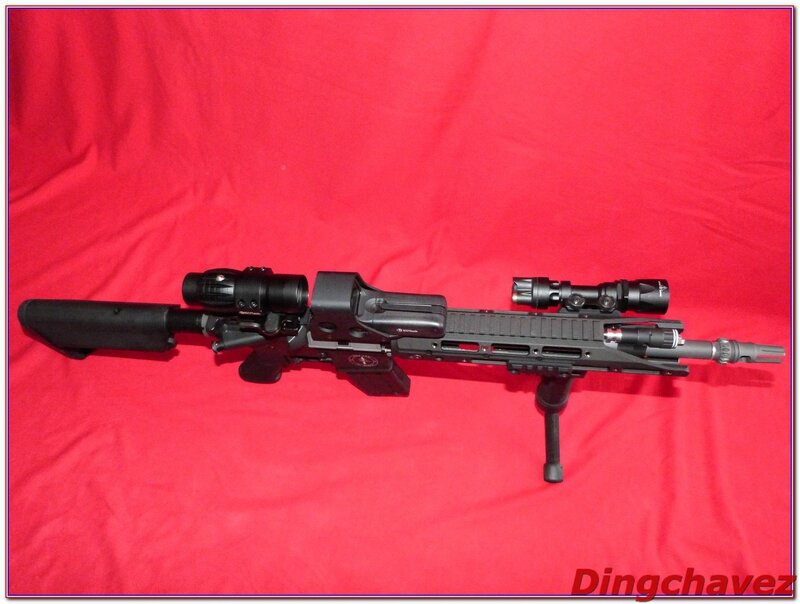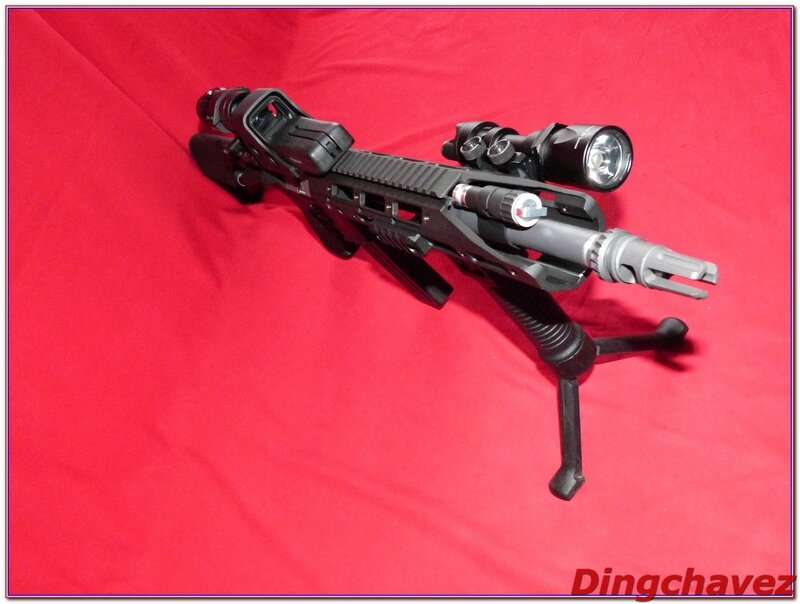 On termine par l'éclaté de la réplique (comme d'habitude vous pouvez cliquer sur l'image pour la voir en taille normale).
Let's close this review with the parts list. As usual you can click the picture to view it full size.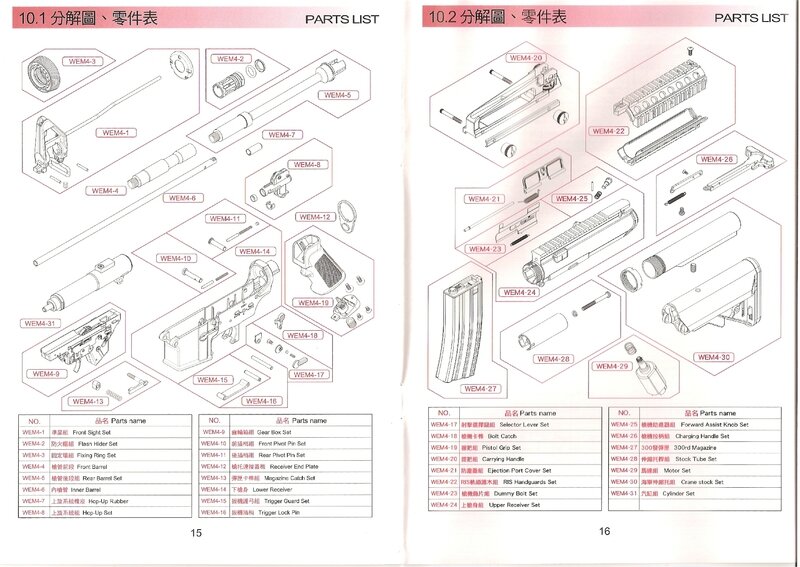 Posté le 7 janvier 2014 par Dingchavez