Review Tokyo Marui M870 Breacher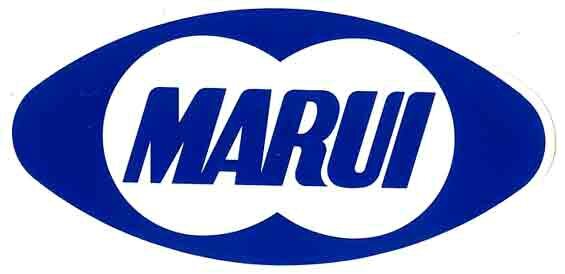 24 août 2014
Snif, c'était le dernier colis que je recevait du shop Pulse Japan, mais rassurez-vous, Julien et Kenji reviennent dans peu de temps avec une nouvelle enseigne – IMPULSE– et les mêmes services, j'aurai donc le plaisir de recevoir d'autres produits en direct du Japon.
Le timing fut bon, je n'avait pas pré-commandé le Breacher, persuadé que cette réplique n'apporterait pas grand-chose par rapport au modèle Tactical (review complète ICI les amis !) sorti il y a tout juste un an. Et puis j'étais tout de même curieux de savoir si Marui avait tenu compte des soucis de jeunesse du système pour l'améliorer.
C'est parti pour une review complète du Tokyo Marui M870 Breacher !
Here it is, the LAST parcel from Pulse Japan shop !
But don't worry, Julien and Kenji will be back with a new website (IMPULSE) in September !
Timing was good, I hadn't pre-ordered the breacher because to me it was purely a short tactical model (review right here !) issued one year ago. But I was a bit curious about the improvements made by Tokyo Marui to deal with the former problems of the system.
So let's discover the brand new M870 Breacher !
Apparté RS/About the real gun :
Remington propose un kit de fusil à pompe de combat modulaire (modular combat shotgun -MCS) afin que les utilisateurs puissent adapter aisément l'arme à l'utilisation recherchée. Cette version « Breacher » est, comme son nom l'indique, destinée à entrer en force en cassant les portes. Cela implique un tube de chargement plus court, contenant seulement 3 cartouches (plus une dans la chambre) et l'échange de la crosse contre une poignée pistolet plus maniable, ainsi qu'un canon de 10 pouces.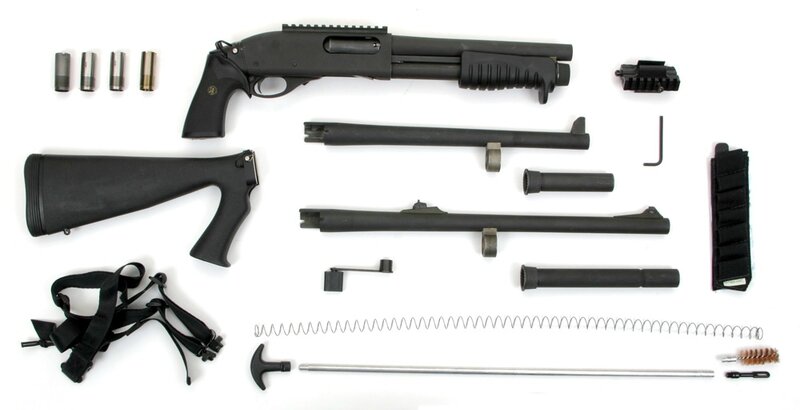 Remington created a special kit, the Modular Combat Shotgun, so the military and law enforcement could adapt the gun to the mission.
Thus, there are accessories to make a « breacher » gun (10″ barrel, pistol grip, short ammo tube), shorter and adapted to door-opening.
Ici en configuration Breacher avec la crosse/Here in breacher conf, with the long stock
Dans la boite/in the box :
Pas vraiment de surprise concernant l'extérieur de la boite, c'est le même schéma que pour le modèle Tactical sorti l'an dernier.
No surprise here, the artwork is similar to the Tactical model issued last year.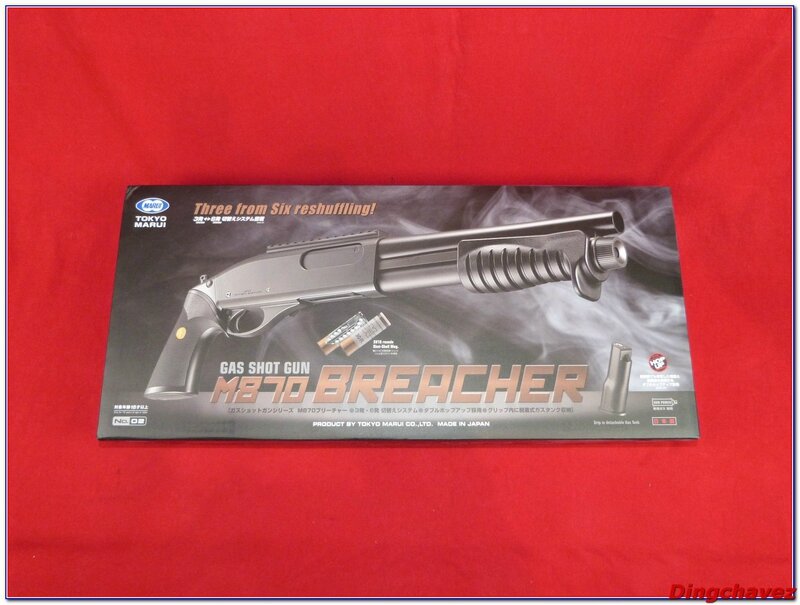 A l'intérieur tout est bien callé par des blocs de polystyrène et la réplique est maintenue par deux bandes velcro.
Inside the box the gun is maintained with 2 velcro straps, and polystyrene pads on the lid hold everything tight.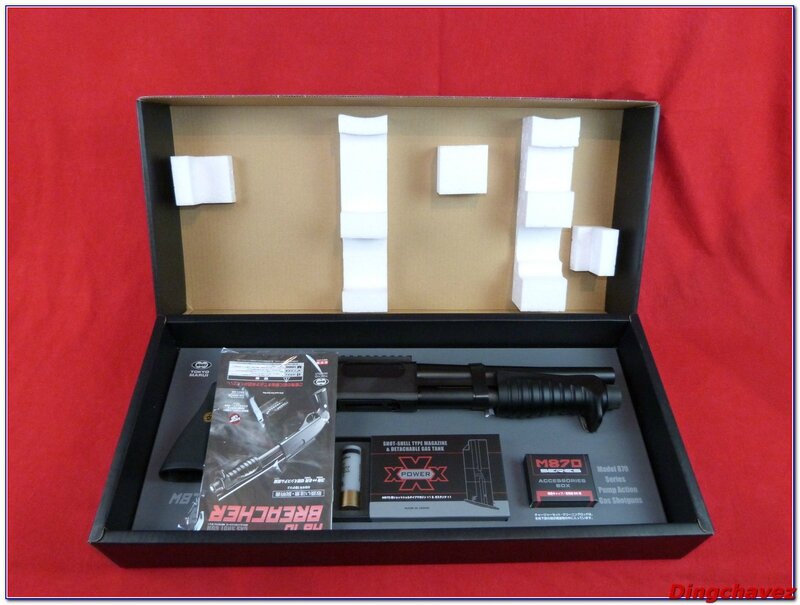 Attention, le BB loader et la tige de nettoyage sont situés au fond de la boite !
Warning, the BB loader and the cleaning rod are hidden at the bottom of the box !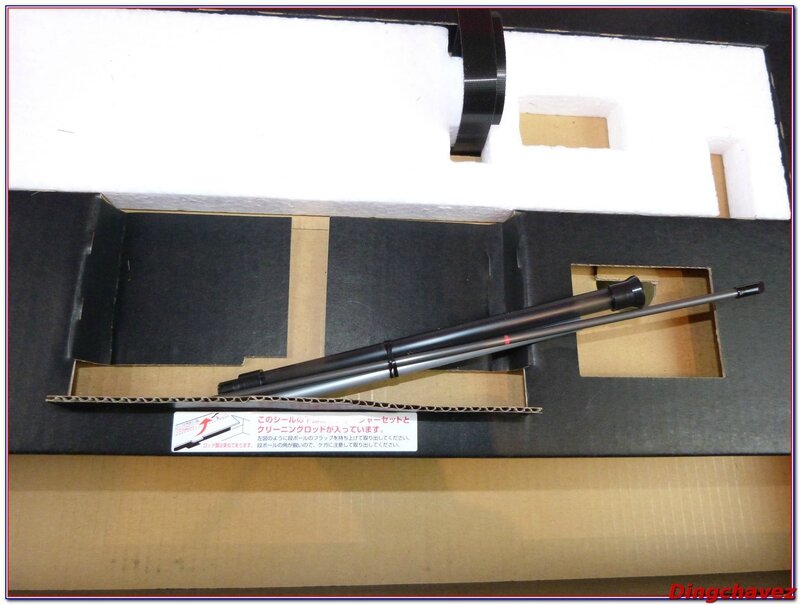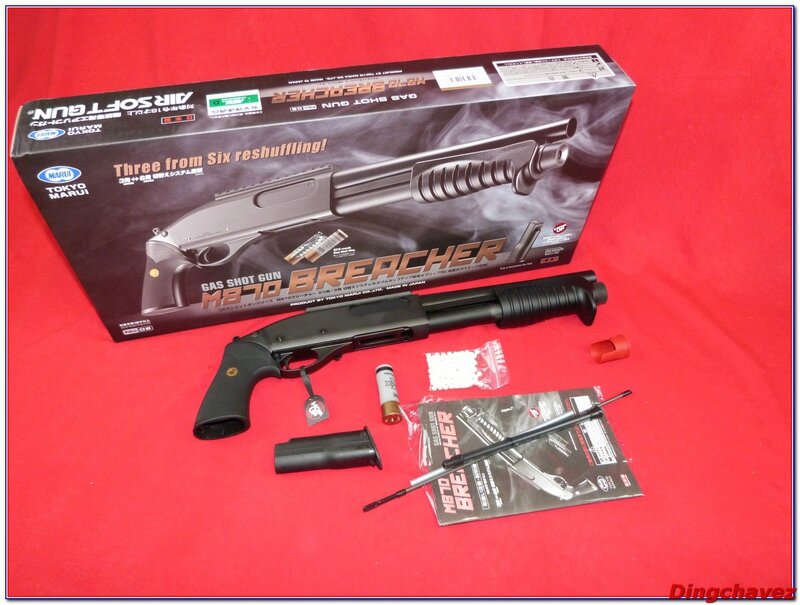 Le contenu comprend :
-La réplique du breacher, fabriquée en alliage et en abs, elle pèse tout de même 2.2Kg (avec cartouche et réserve de gaz)
-Une cartouche pouvant contenir 30 billes.
-Des billes.
-Un réservoir de gaz.
-Un manuel d'utilisation avec quelques cibles et l'éclaté de la réplique.
-Un BB loader
-Une tige de nettoyage.
-Un capuchon de canon.
In the box, there are :
-The gun, made of alloy and ABS, it weighs 2.2kg (with cartridge and gas tank)
-A 30 round shell.
-BBs
-A gas tank.
-A users' manual and a few targets.
-A BB loader
-A cleaning rod
-A barrel red tip.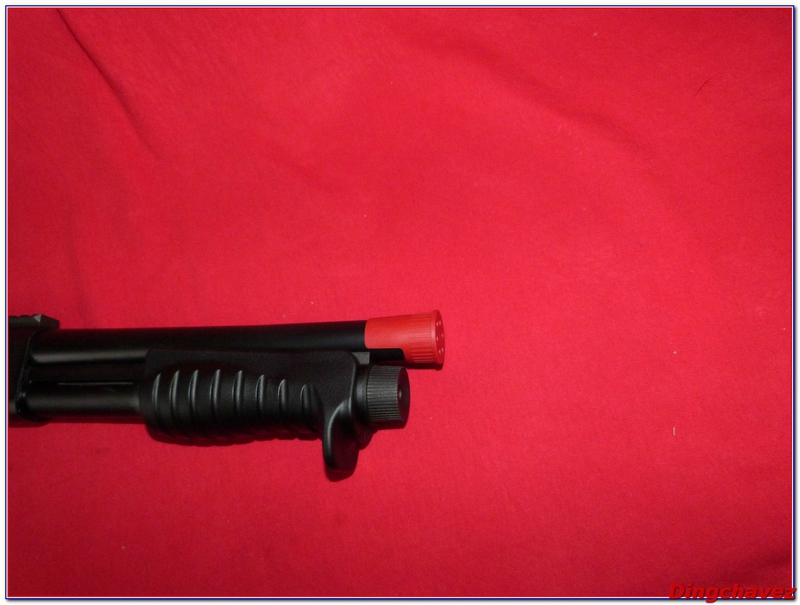 La réplique/The gun :
J'avoue qu'avant d'avoir manipulé la réplique je n'étais pas convaincu par son design : poignée pistolet Pachmayr « vindicator » qui semblait imposante et pompe minuscule, un drôle d'oiseau que ce Breacher !
Mais en le sortant de la boite on comprend rapidement que cette réplique va satisfaire beaucoup de joueurs ! La poignée, bien qu'en plastique, est confortable et la pompe est au final très ergonomique, d'autant plus que comme la course est inférieurs à un vrai fusil à pompe, on arme rapidement et sans effort, avec toujours le CRAC CRAC spécifique à la réplique !
I must admit that before having held the gun, I wasn't convinced by its design : big Pachmayr « vindicator » pistol grip and tiny handguard, weird bird that breacher !
But as soon as I put it out of its box, I understood that this replica will satisfy many players ! The plastic grip is comfy and the pump is very ergonomic and easy to operate. The path is shorter than on a real gun so it is quick to reload, and you can still hear this sexy CRAC CRAC !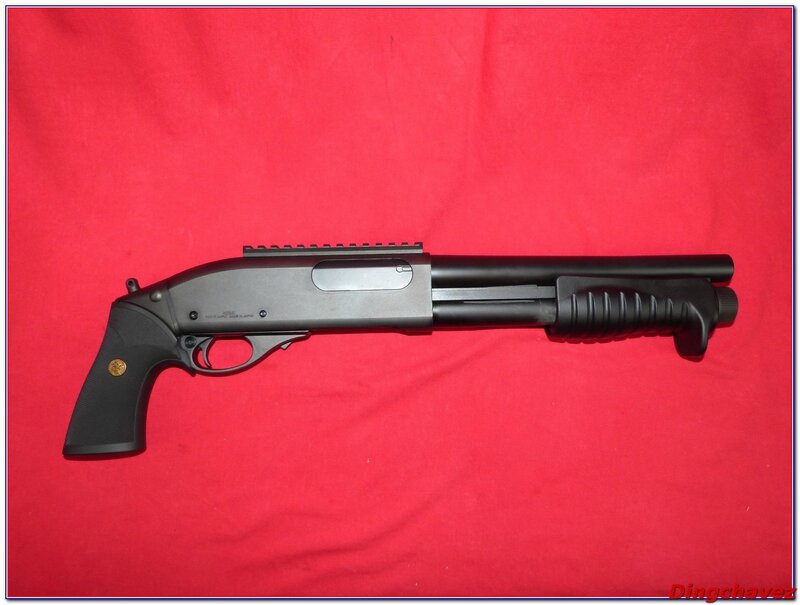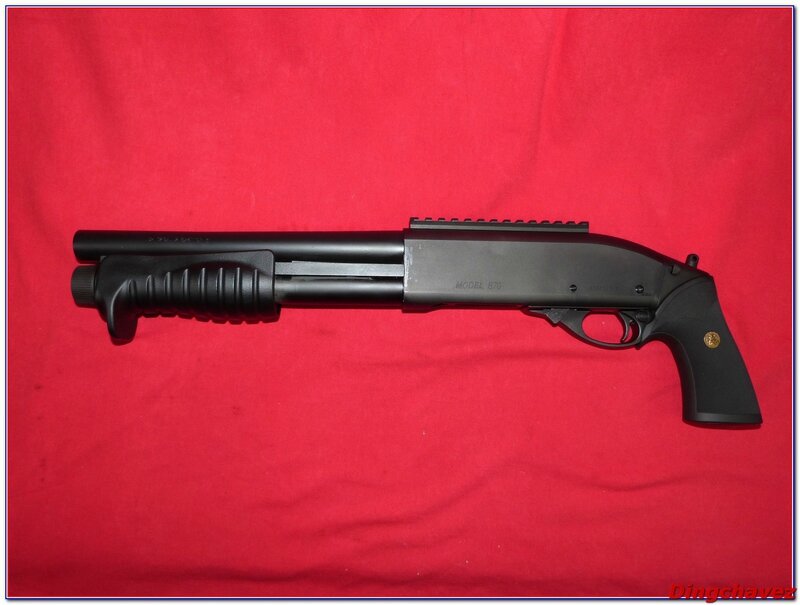 Marui ne s'est pas vraiment cassé la nénette, ils ont coupé les canons longs pour en faire des courts, les inscriptions sont identiques.
Marui didn't change anything on the outer barrel, same writings, they only cut it shorter.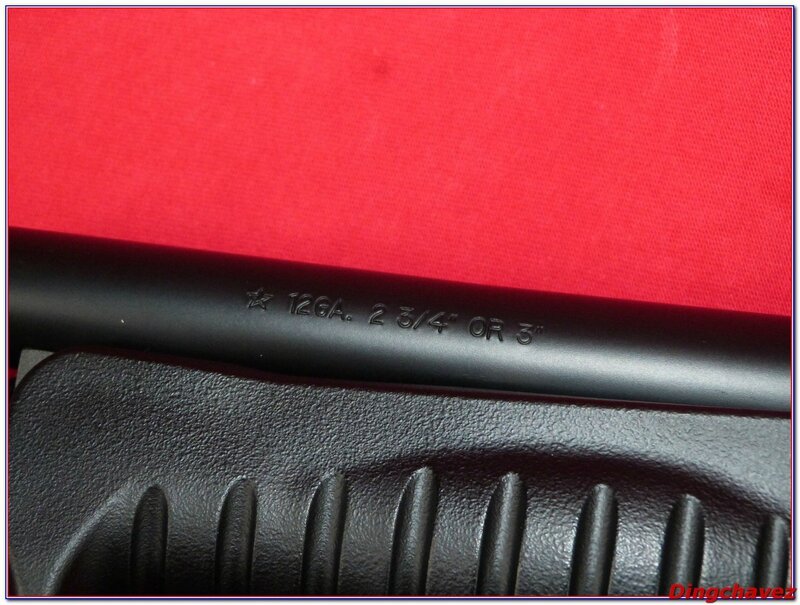 Idem pour le corps.
Same here on the body.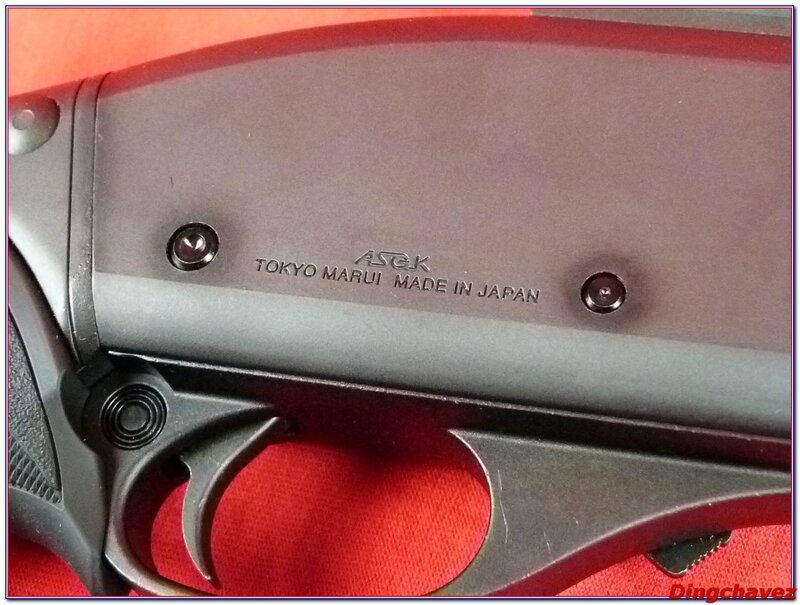 Seule la mention « Tactical » disparait.
The « Tactical » marking disapears, making it the only difference in markings.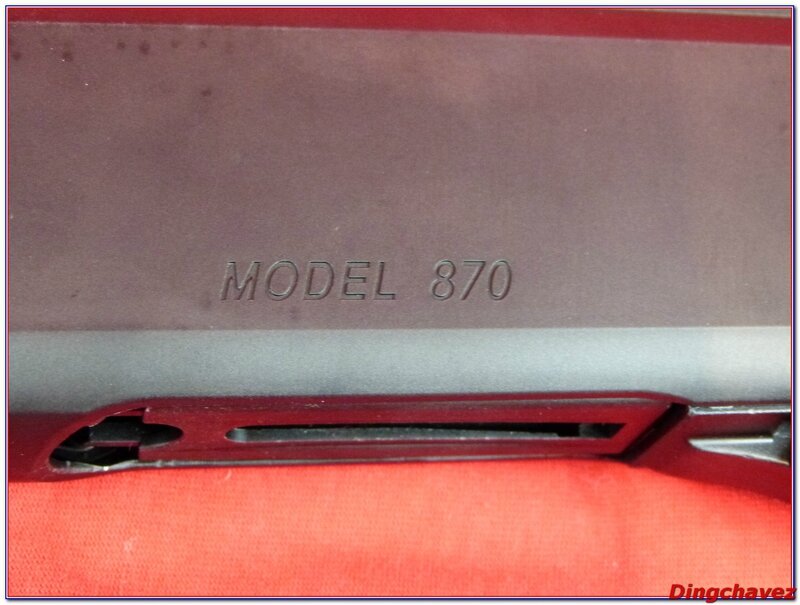 Même le numéro de série est identique.
Even the serial number is the same.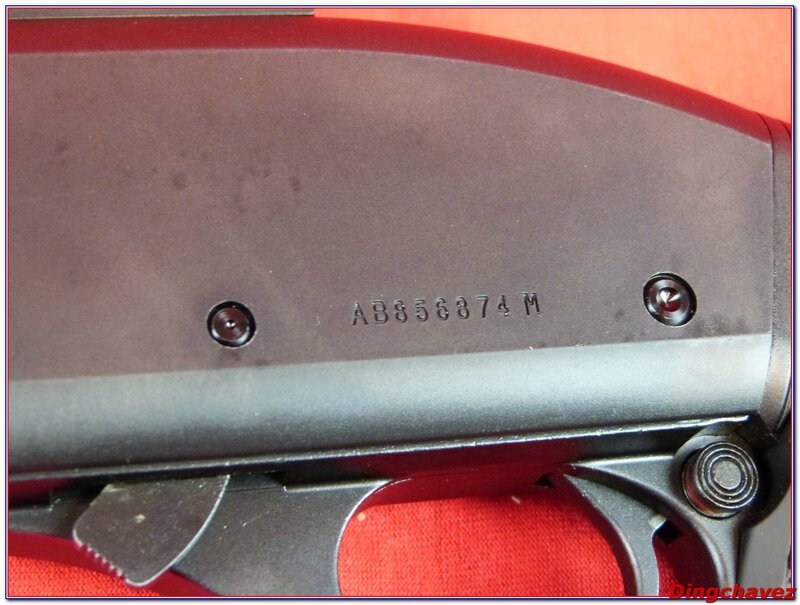 La texture de la poignée pistolet n'est pas désagréable. Notez le médaillon présent de chaque côté.
The texture of the pistol grip isn't bad. Notice the small medal on each side.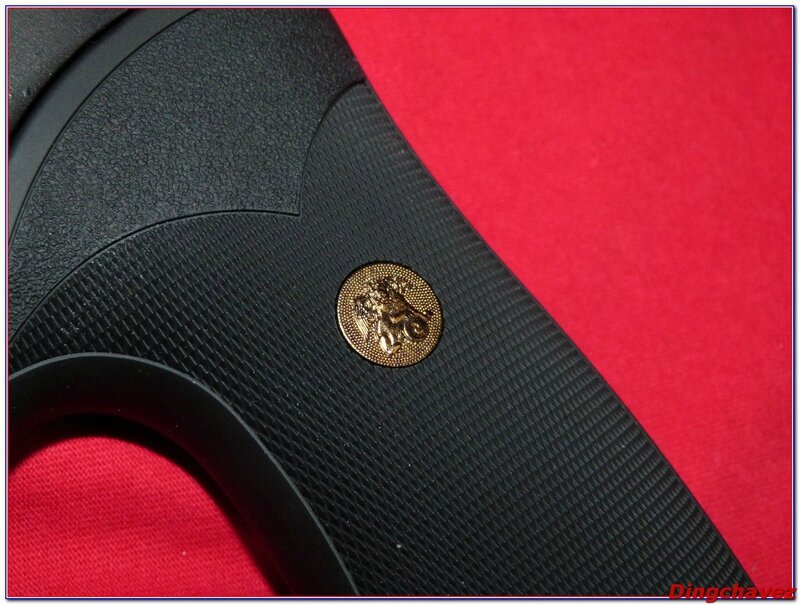 Si la prise en main est satisfaisante, tout le monde ne pourra pas tirer à bout de bras comme dans les films !
Handling is adequate but not every player will be able to shoot it « movie style » at arm's lenght !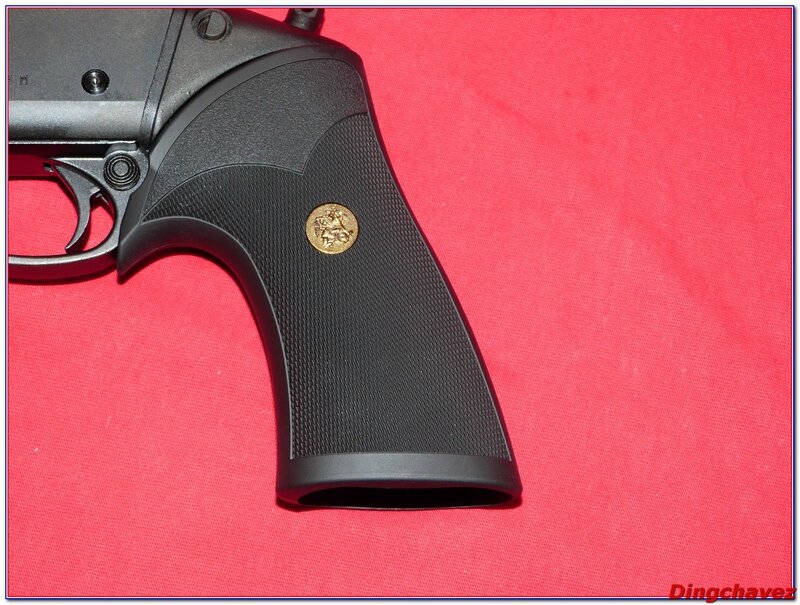 Le chargement est classique, on pousse le levier situé à l'avant du pontet, puis on insère une cartouche et on referme le clapet.
Loading is classic, push the lock in front of the trigger guard, insert a shell and close the lid.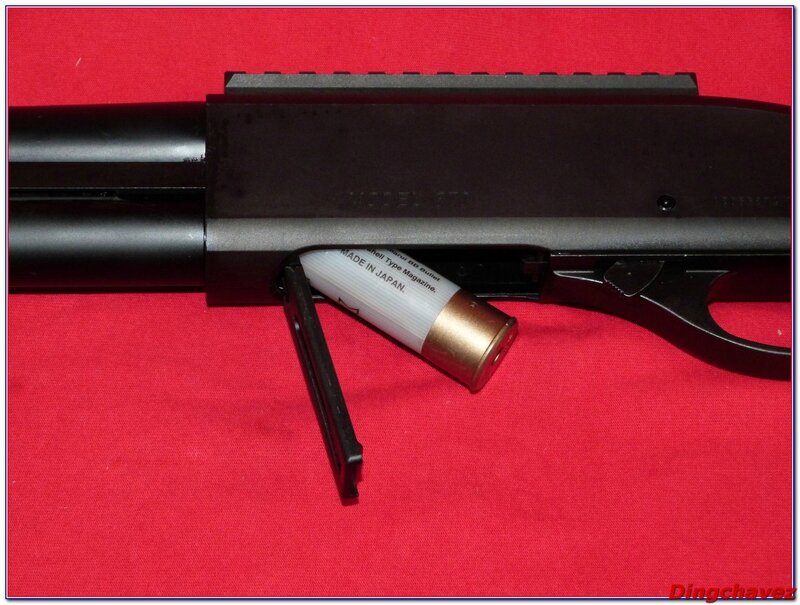 Qu'elles soient vertes, grises ou rouges, les cartouches Marui (et celles compatibles) passent sans souci.
White, breen or red, every Marui shell is compatible. Some other brands also fit.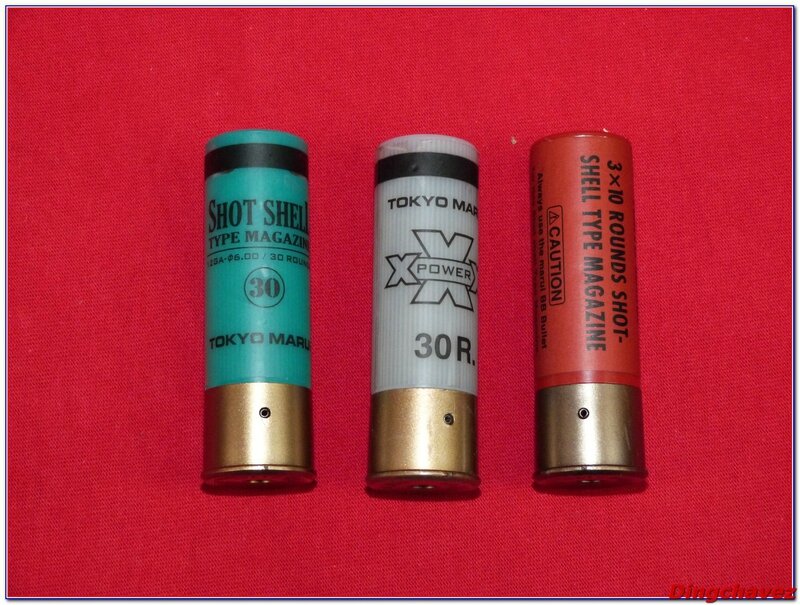 Sur cette photo on peut voir l'emport du vrai Breacher, 3 cartouches dans le tube, une dans la chambre. Suffisant pour ouvrir quelques portes !
 On this picture we can notice the « real » load of the breacher : 3 in the tube, one in the chamber. Enough to open a few doors !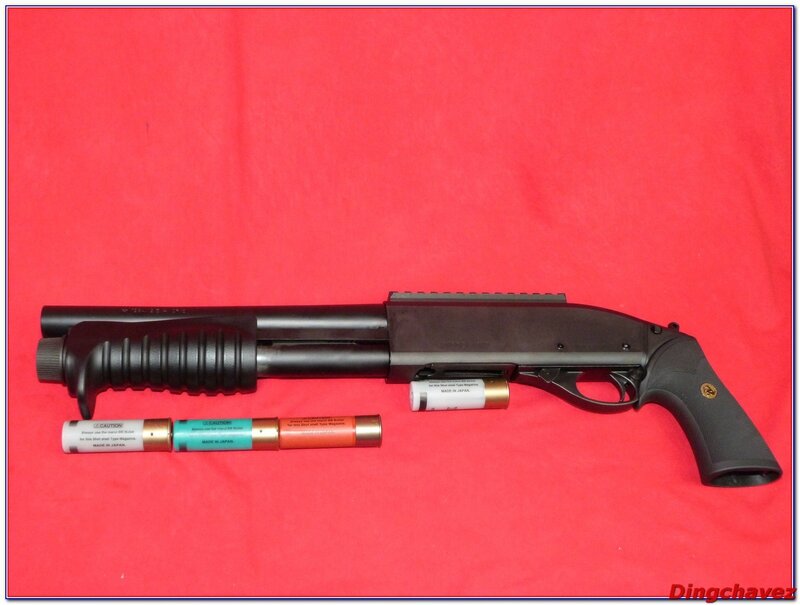 La sûreté, ici en position tir.
Safety. Here it bangs…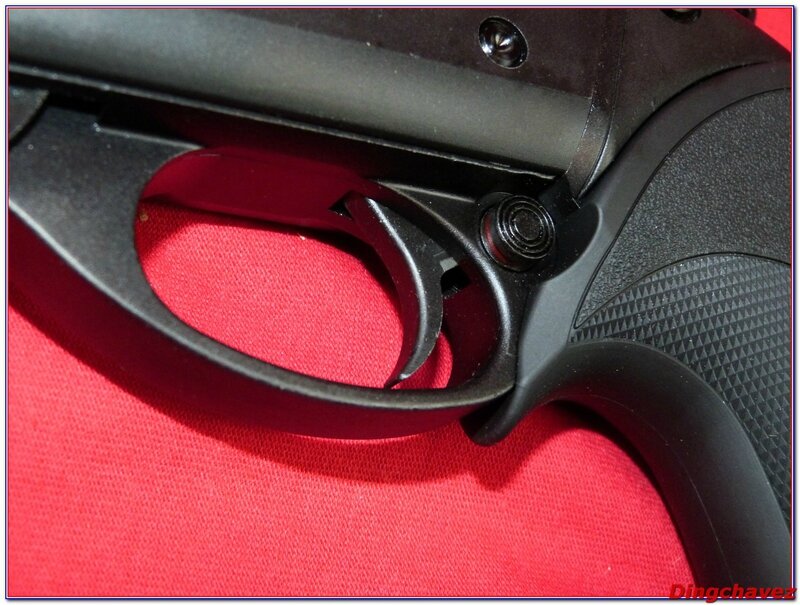 Et ici en position… sûreté, magique !!
…here it's safe…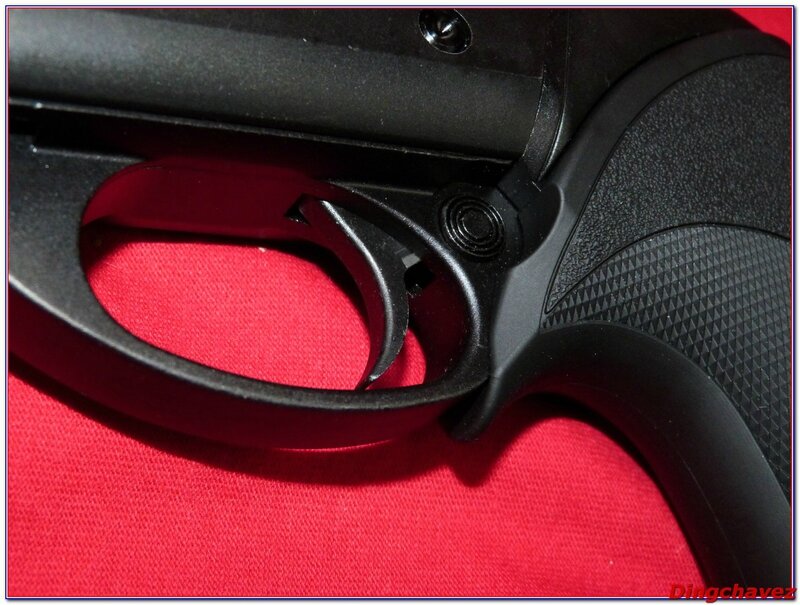 Sur la partie supérieure du Breacher, il y a un emplacement pour un anneau ou tout autre système qui vous permettra d'utiliser une sangle.
On the upper part, there is a place to put a sling swivel.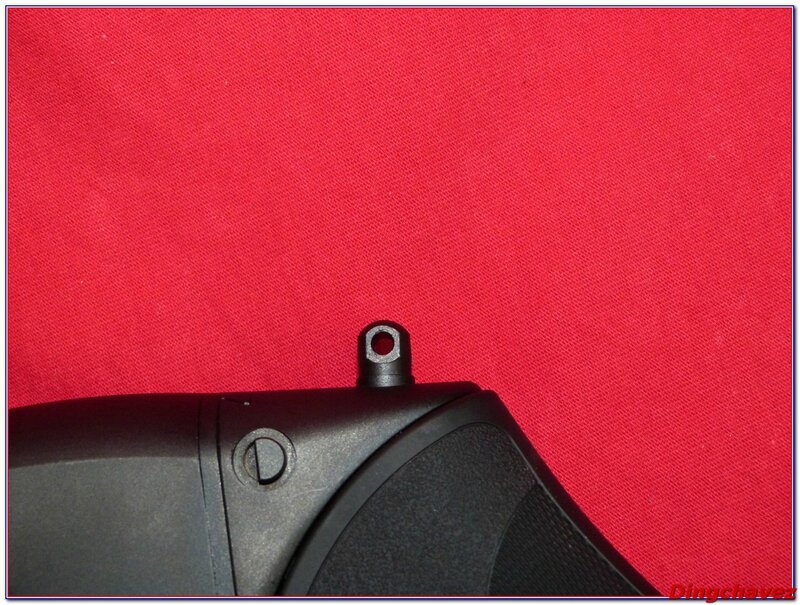 Pas d'organes de visée, mais un rail supérieur vous laisse le choix de l'optique à utiliser. Attention, j'ai remarqué qu'au tir au juger, on a tendance à viser un peu haut, et donc à toucher la tête facilement.
 No iron sights on this gun, but there is a top rail which will allow you to put any type of optics you like. Be careful, when firing instinctively, you tend to shoot at head level.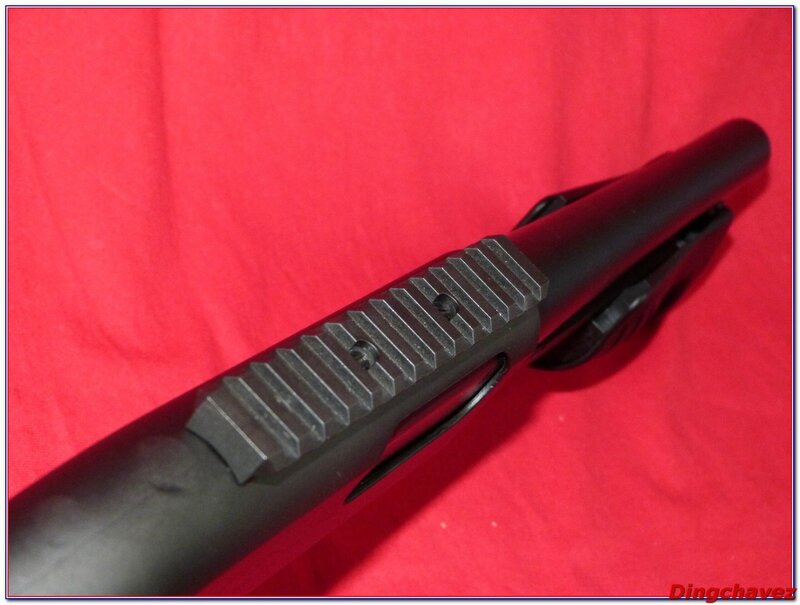 Si le rail ne vous plait pas, il est amovible.
If you don't like the rail, it is removeable.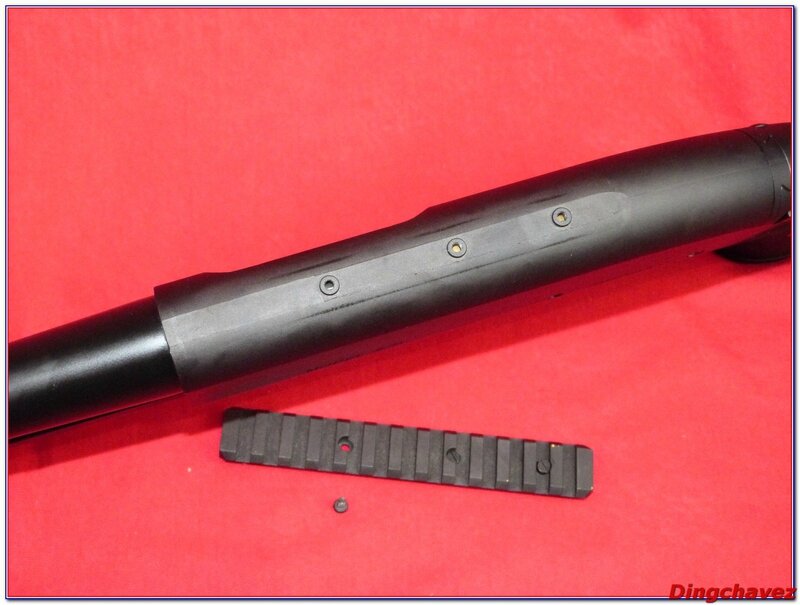 La pompe. Facile à actionner, sa petite taille n'est, en définitive, pas un inconvénient.
The pump. Easy to operate, its small size isn't a drawback after all.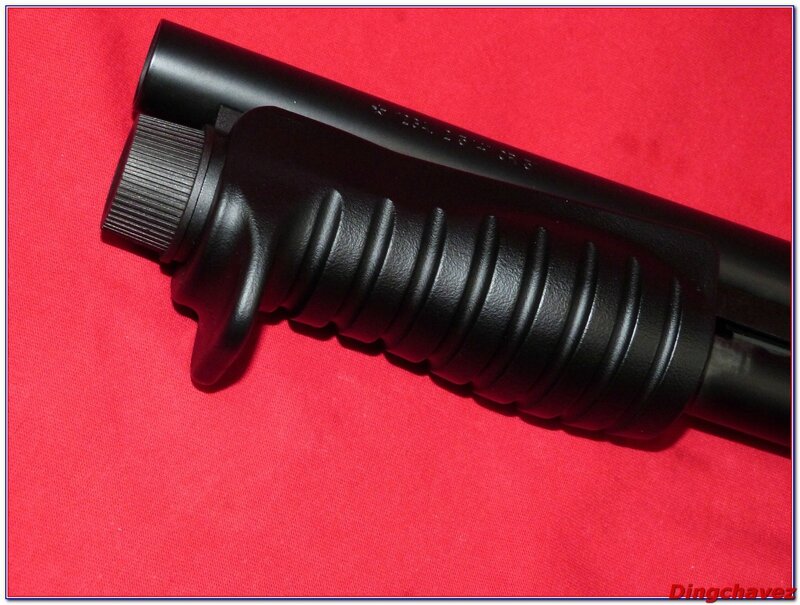 Il est possible de mettre deux cartouches dans le tube, mais le ressort les expulse assez fortement lors de l'ouverture. A utiliser en dernier recours…
You can insert 2 shells in the tube, but they will fly away when you open it again…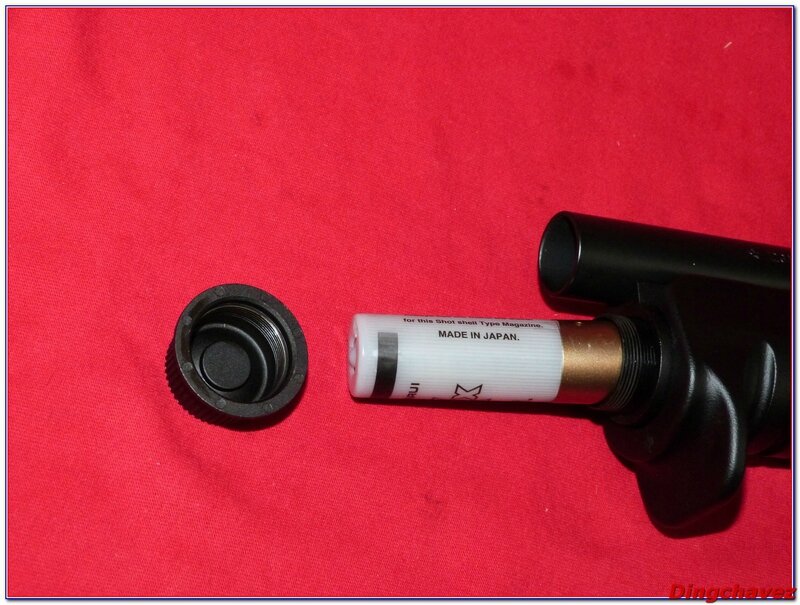 Trois canons pour un tir en 3 ou 6 billes.
 Three barrels, for 3 or 6 BBs per shot.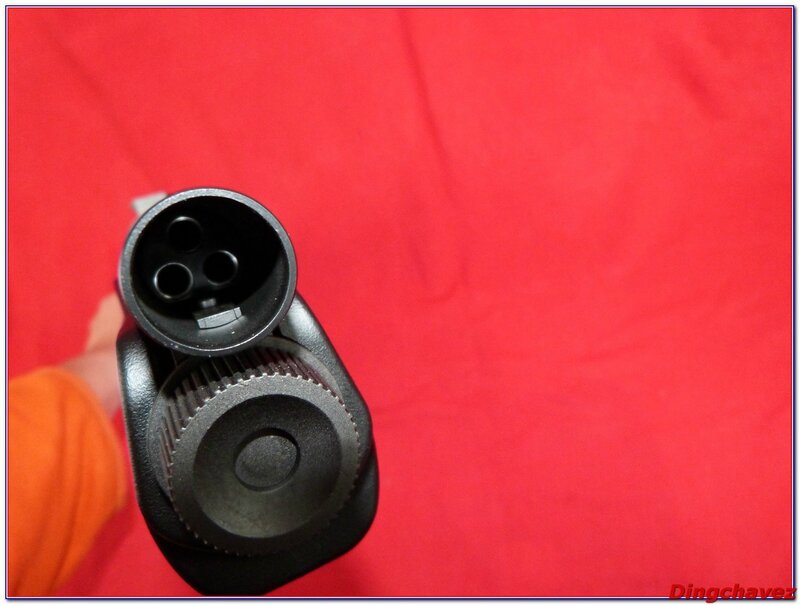 Le sélecteur est accessible en tirant la pompe vers l'arrière. On sélectionne alors 3…
The selector is behind the fake bolt. Select 3…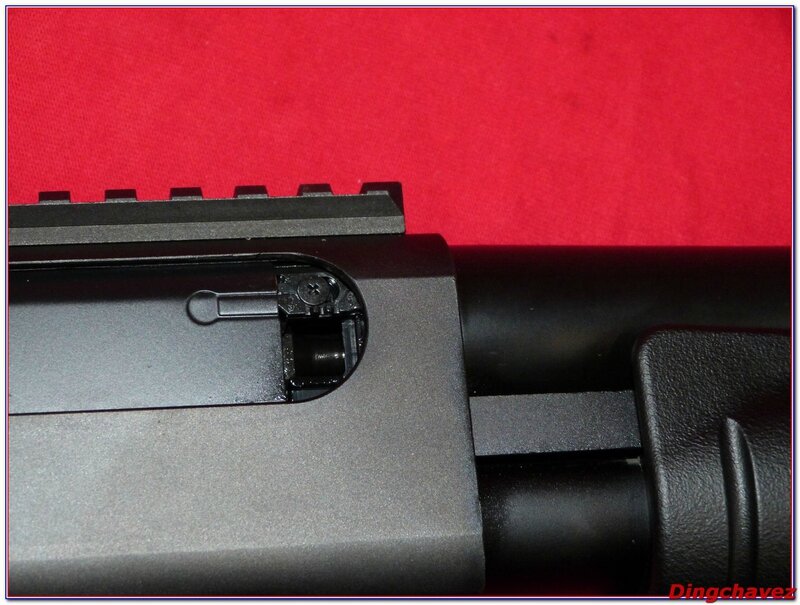 …ou 6 billes par tir.
…or 6 BBs.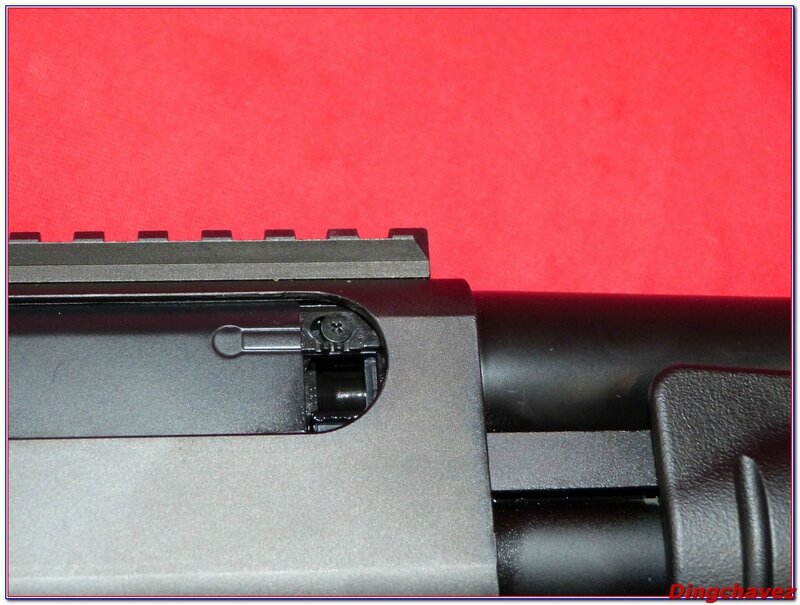 Réservoir de gaz/gas tank :
J'avais lu ici et là que l'autonomie devait être comparable au modèle Tactical. Au vu de la différence de volume des deux réservoirs, j'étais perplexe. Le mieux fut donc de tester sur 3 charges de gaz en mode 3 puis 6 billes avec du gaz Abbey Predator 144a.
Je m'arretais lorsque le volume de gaz ne permettait plus d'avoir une trajectoire satisfaisante.
En mode 3 billes, j'ai pu tirer une moyenne de 9 cartouches.
En mode 6 billes, j'ai pu tirer une moyenne de 8.5 cartouches.
Je suis impressionné car la différence est très faible entre le mode 3 et 6 billes (le volume de gaz doit donc être le même) mais surtout il y a peu de différence entre l'autonomie du Breacher et celle du Tactical ! Bonne nouvelle donc…
I had read here and there that autonomy should be comparable to the Tactical model. When seeing the difference of size, I was a bit sceptical. So I tested the gun, using HFC144a gas and filling 3 tanks for each test.
I stopped firing when the gas volume didn't allow a straight and consistent shooting.
In 3BB mode, I was able to shoot an average of 9 shells.
In 6BB mode, I could shoot 8.5 shells.
I'm really impressed because there's not a huge difference between the Breacher and the Tactical. Autonomy is quite identical in 3 or 6 BB (same volume of gas used). That's good news !
Une fois de plus, Marui a choisi de placer la valve de remplissage à côté de la valve d'échappement. J'aurais aimé la voir un peu plus accessible, mais après tout, si c'était le cas, ils ne vendraient pas de réservoirs supplémentaires !
Once again, Marui chose to put the filling valve next to the exhaust valve. I'd have liked it a bit more accessible, but if they put it somewhere too convenient, we wouldn't buy extra tanks !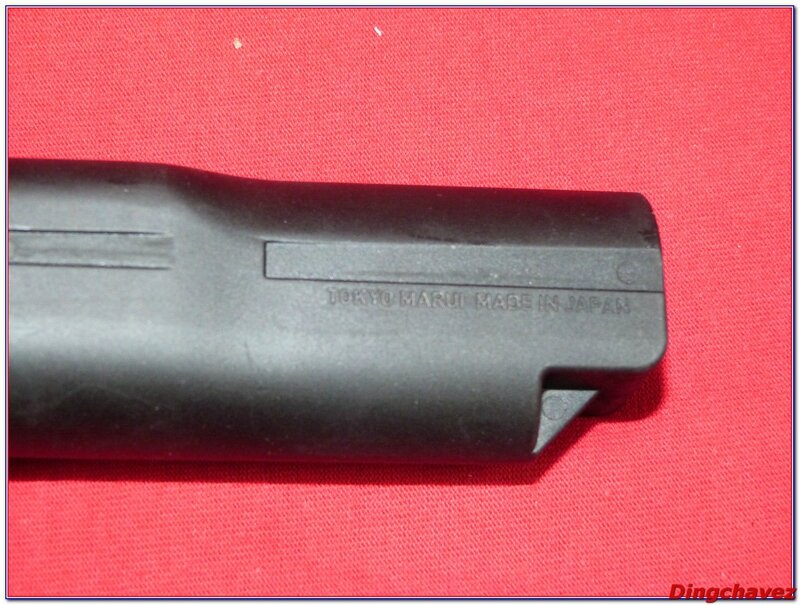 Le système de verrouillage est actionné par un bouton sur le talon du réservoir.
The locking system is operated by a swith on the tank plate.
On pousse, on entend un clic, c'est verrouillé !
Push it, click, it's locked !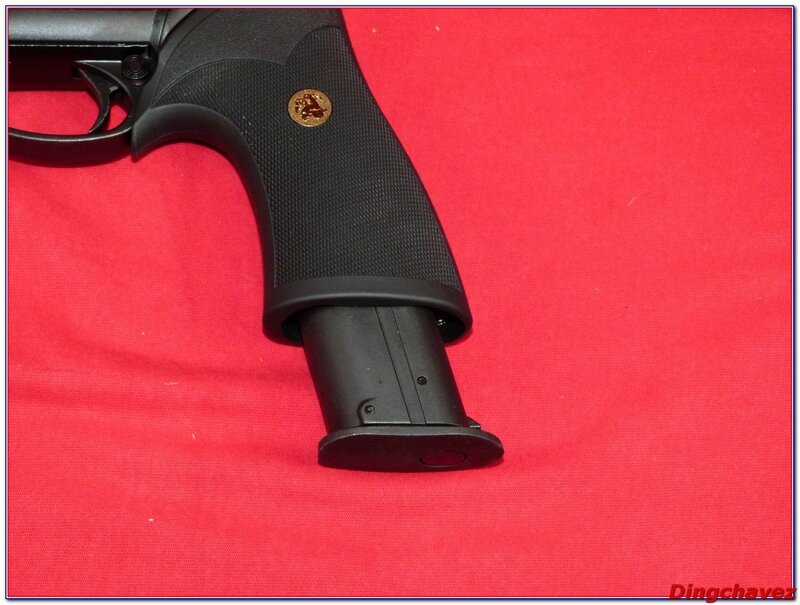 Marui a changé depuis peu ses valves de remplissage, j'ai vu la première sur les chargeurs du HK45. Elles guident mieux les tiges des bouteilles de gaz et on perd moins de gaz au remplissage.
Marui changed its filling valve not long ago. I saw those on the HK45 for the first time. They guide the gas bottles better and we lose less gas when filling.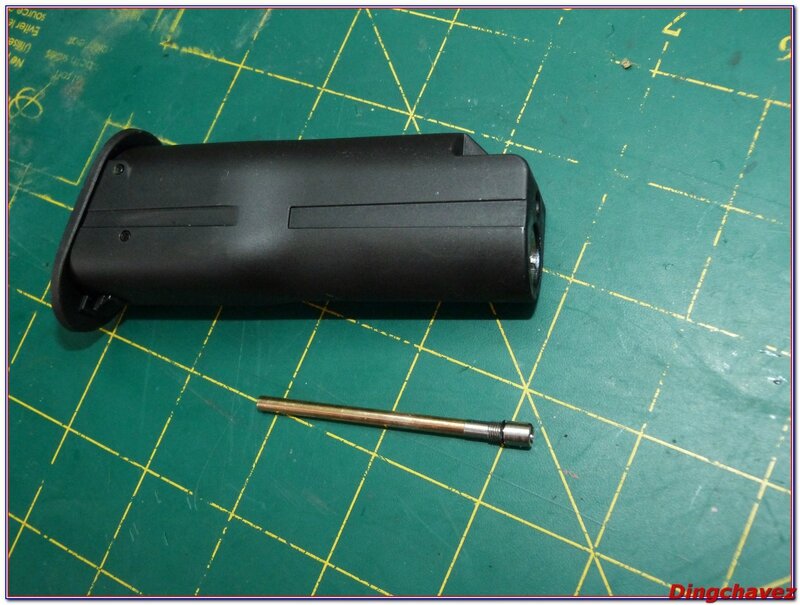 La valve d'échappement est identique à celle du Tactical.
The exhaust valve is the same as the Tactical one.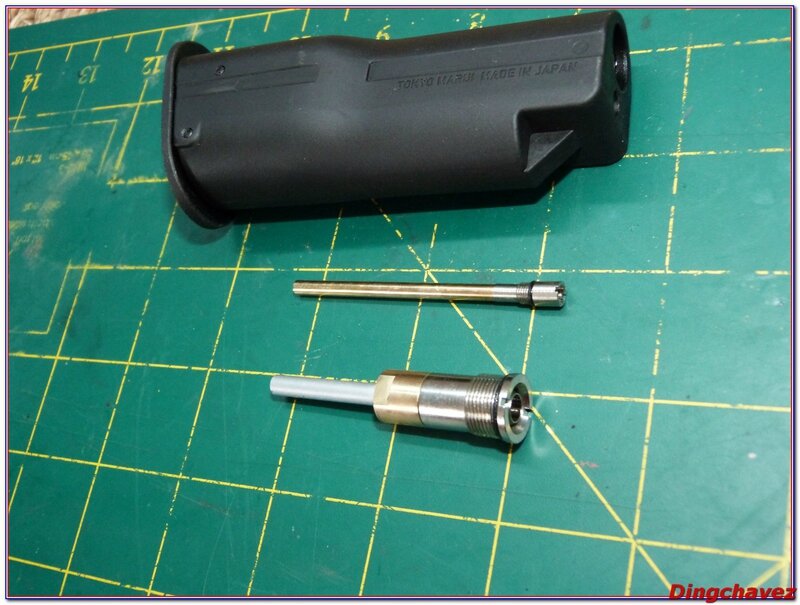 Si votre réservoir fuit du bas, chassez les goupilles et changez/huilez le joint.
If your tank leaks from the bottom, remove the two pins and change or oil the seal.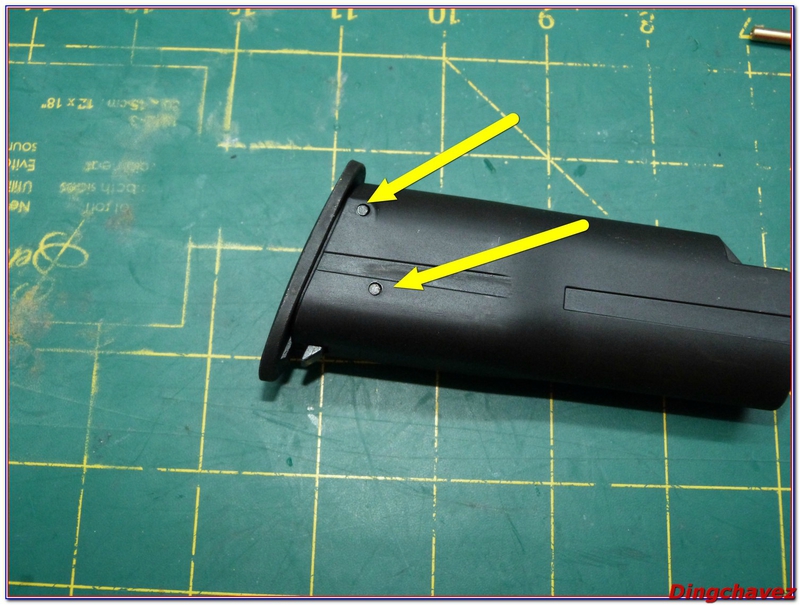 Tests de tir/Shoting tests :
Billes : 0.20g Airsoft Entrepot
Gaz : Abbey Predator HFC144a
Temperature : 21°C
Chrony : Xcortech 3200
Et bien, je ne sais pas si la différence de longueur de canon y fait, mais j'ai obtenu une moyenne de 310 FPS sur les tests en 3 billes, en 6 billes j'étais plus proche des 250 mais j'émets quelques réserves, il est toujours difficile d'avoir des valeurs exactes lorsque plusieurs billes passent en même temps. C'est plus puissant que le Tactical pour le coup.
Les trajectoires sont bonnes et on peut allègrement dépasser 35 mètres de portée en mode 3 et 6 billes. Attention cependant, vu le canon un peu court, on disperse assez rapidement et il est facile de viser trop haut.
L'action de la pompe est magique, on peut enchaîner les tirs sans forcer et on peut toujours laisser son doigt sur la queue de détente tout en pompant pour un effet de suppression maximal !
Même si les joints ont été prévus pour des billes 0.20, on peut sans souci utiliser de la 0.23 ou 0.25 pour gagner un peu en stabilité.
J'aime la 0.20 car en mode 6 billes on disperse assez pour un effet « chevrotine »
I obtained an average of 310 FPS shooting 3BB mode, 250FPS shooting 6BB mode, thats way more than the Tactical version, but it might be due to the barrel lenght among other things… Keep in mind that it isn't easy to obtain crisp values when multiple BBs pass through the chrono.
Trajectory is good and you can easily touch a target farther than 35m. The short barrel tends to disperse the BBs a bit, but after all, this is a shotgun !
Pumping is magic ! The sexy sound added to the smooth operation make you want to shoot this gun forever ! You still can press the trigger and pump at the same time.
Even if the rubbers were conceived for 0.2BBs, 0.32 and 0.25 will work perfectly.
Let's discover this in a vidéo
Je vous laisse découvrir cela en vidéo (à 15:20)
Conclusion :
Elle va être courte, pour une fois !
Oui, il est cher : comptez entre 260 et 350€ selon les shops/frais divers etc.
C'est un pompe, mais c'est LE pompe ! Il peut servir sans peine de réplique principale dans toutes les parties en bâtiment, mais pas que ! Avec une portée efficace de 35 mètres il peut également vous rendre service en extérieur.
Marui ayant gommé les erreurs de jeunesse des premiers modèles de M870 Tactical, il ne vous reste qu'à utiliser un gaz adapté pour éviter tout problème, mais souvenez-vous : tout système mécanique casse un jour… Une fois quelques vis serrées correctement, la réplique ne souffre plus d'aucun jeu important. Seul le corps est relativement sensible aux traces et autres rayures.
J'ai hâte de voir si Marui va sortir d'autres modèles et je me prends à rêver à un SPAS12 !
La seule question à vous poser est : « quel modèle je préfère ? », en ce qui me concerne, j'opte pour le long, plus proche de mes attentes et de ma façon de jouer…
Well, I'll be quick (for once !) This might seem a bit pricey (between 250 and 340€), but this is THE shotgun to have.
You can use it as main gun, wether in CQB areas or outside. It is short, but its range is good. Once you've thightened a few scerews, bye bye wobble ! The last drawback is that the body tends to mark easily.
Add to this some new componets to erase the early mistakes made by Marui, and I tell you : the only thing you have to decide is if you like the Tactical or the Breacher better !
I hope that the Japanese ingeneers will provide us with a nice SPAS12, or why not, a M3 Benelli !
J'aime/I like :
-Compact
-Bon ratio portée-puissance-dispersion/good range-dispersion-power ratio.
-Modifications des points faibles du modèle Tactical/ weak parts of the Tactical have been modified
-Alliage solide/ solid alloy
-Toujours ce bruit d'armement sexy ! /still this sexy pumping noise !
J'aime moins/I like less :
-Le look de la pompe /the look of the handguard.
-Absence du porte cartouches qui était souvent sur les vidéos de présentation/ no shell holder in spite of Marui showing it on every shot show…
-Tarif / pricey
-Corps qui marque facilement/ alloy which takes easily fingerprints and scratches
-Quelques vis à serrer pour éviter le jeu dans le canon/ a few screws to tighten to avoid wobble.
*BONUS*
Démontage et interne/stripping and internals :
J'étais curieux de voir les modifications internes apportées sur les révisions du modèle Tactical, et du coup appliquées sur le Breacher. Démontons la réplique ensemble !
 I was curious about discovering the improvements made compared to the early Tactical type. Let's strip this down !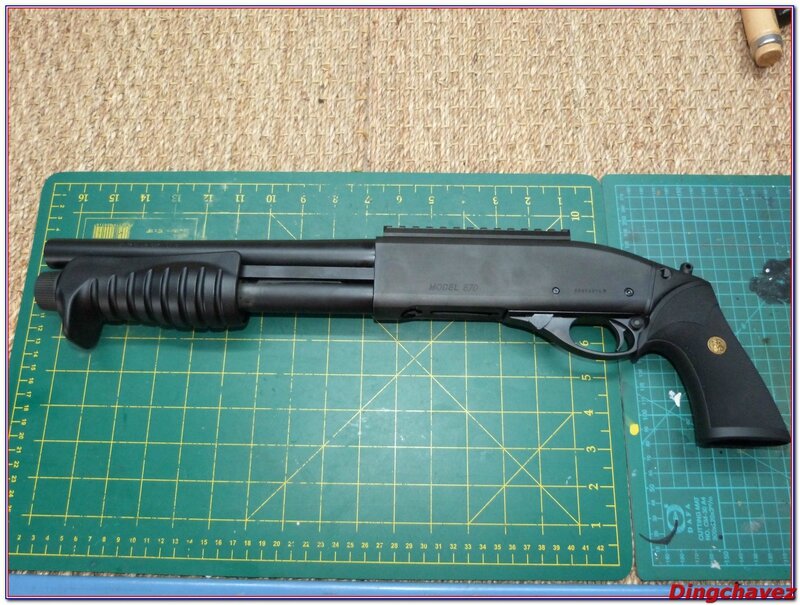 On dépose le bouchon du tube.
Remove the tube cap.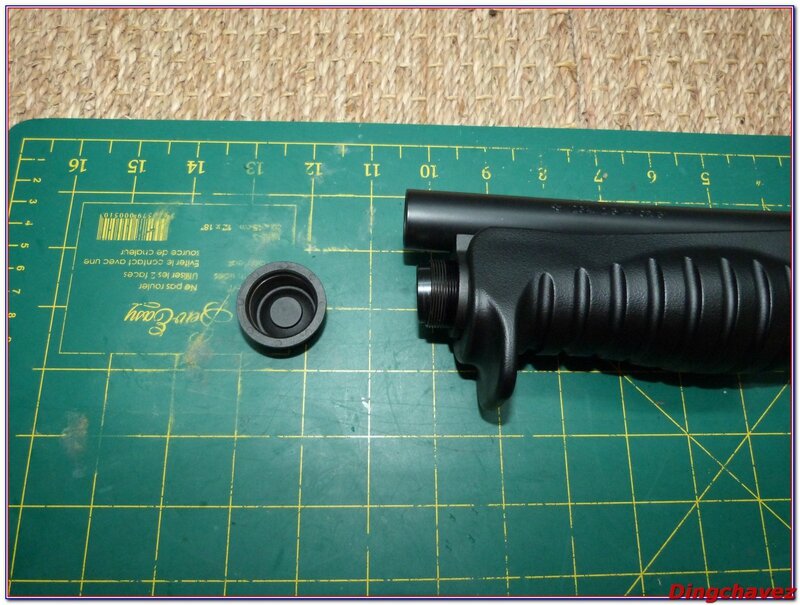 Puis on actionne la pompe pour dévoiler le trou par lequel on enlève la vis qui maintien le tube et le canon ensemble.
Then operate the pump to uncover a small hole. There you can remove the screw.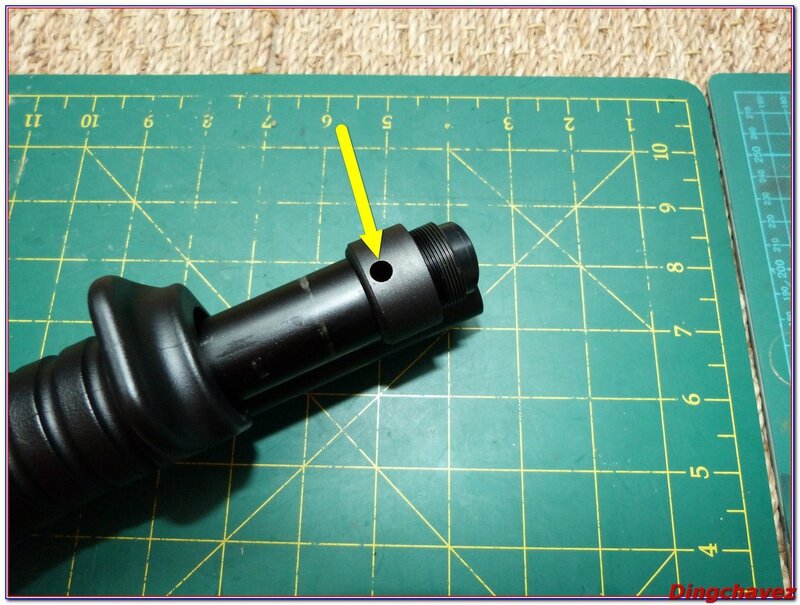 Attention la pièce à un sens, mais un détrompeur permet de s'y retrouver au remontage.
Watch it, the part isn't symetrical but you can't be wrong when putting it back together.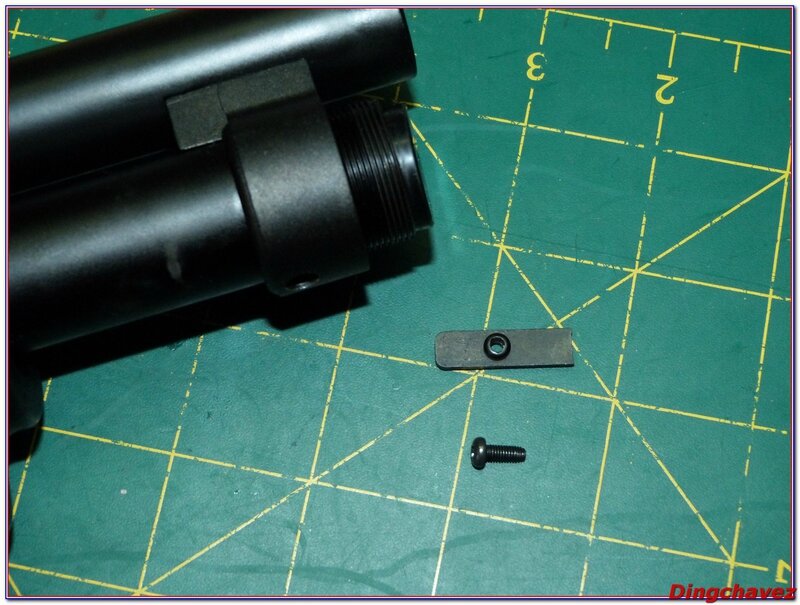 Enlevez ensuite l'anneau, il faudra peut-être forcer un petit peu en écartant le canon et le tube à l'aide d'une tige.
Remove the ring, you may have to force its way out using a screwdriver.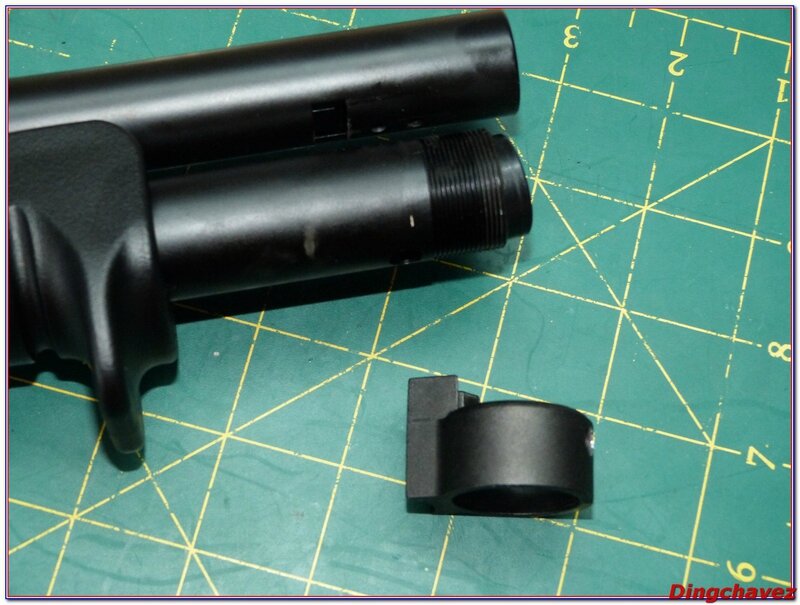 Il est temps d'enlever la pompe. Elle tient grâce à un anneau fileté qui dispose de deux entailles. J'ai utilisé l'outil qui m'avait été fourni avec une pompe Magpul destinée au Tactical.
Now remove the pump. It holds thanks to a threaded ring, I used the Magpul tool provided with my M870 MEO handguard.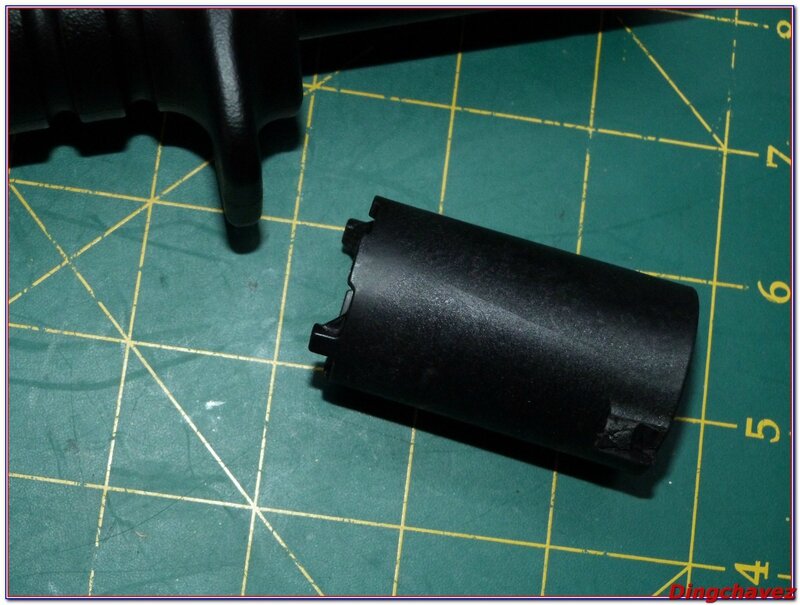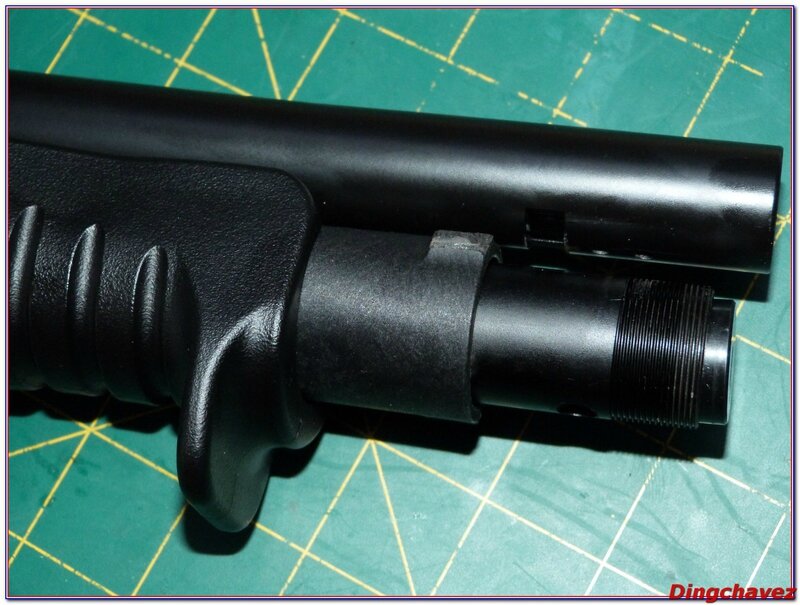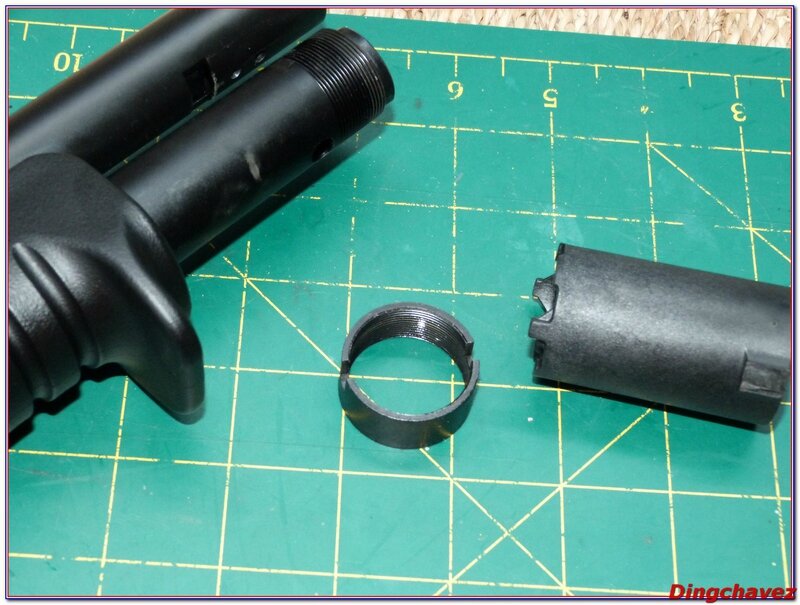 Une fois l'anneau retiré, on pousse la pompe vers l'avant. Elle doit sortir sans trop d'effort.
 Once the ring removed, push the handguard to the front.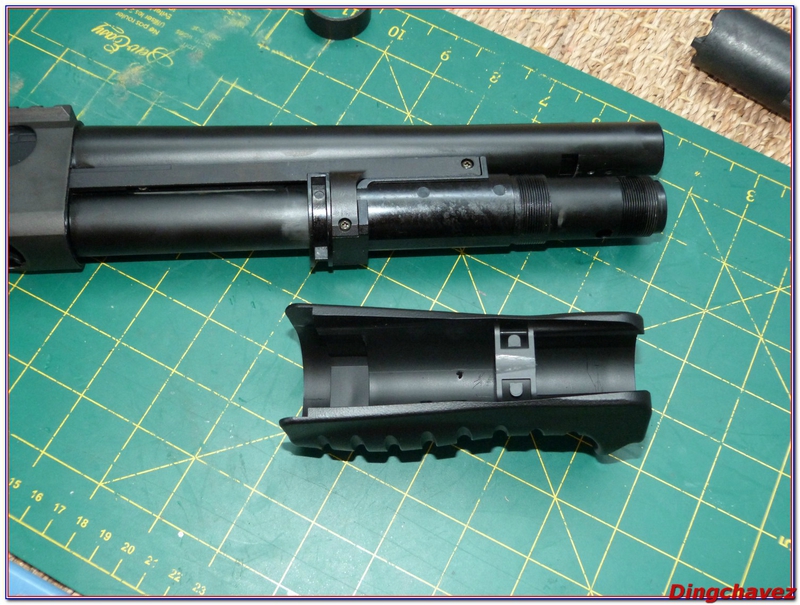 Il faut alors enlever 4 vis, deux de chaque côté. Elles lient les tiges d'armement à la structure de la pompe.
Then, remove 4 screws, they hold the loading rods.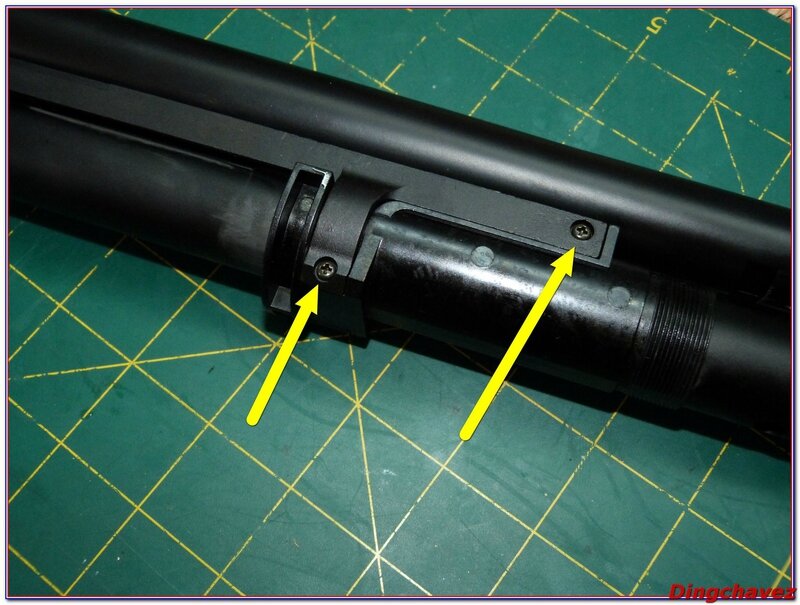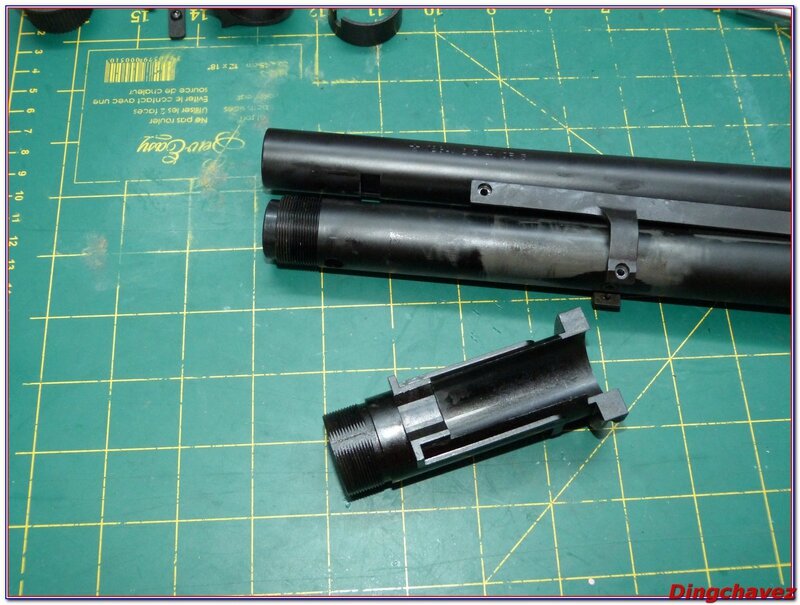 Puis on peut ôter la vis de maintien du tube inférieur. Cette vis devra être bien serrée au remontage pour éviter le jeu.
 Now we can remove the tube screw. This one will have to be tightened hard when you reassemble the gun.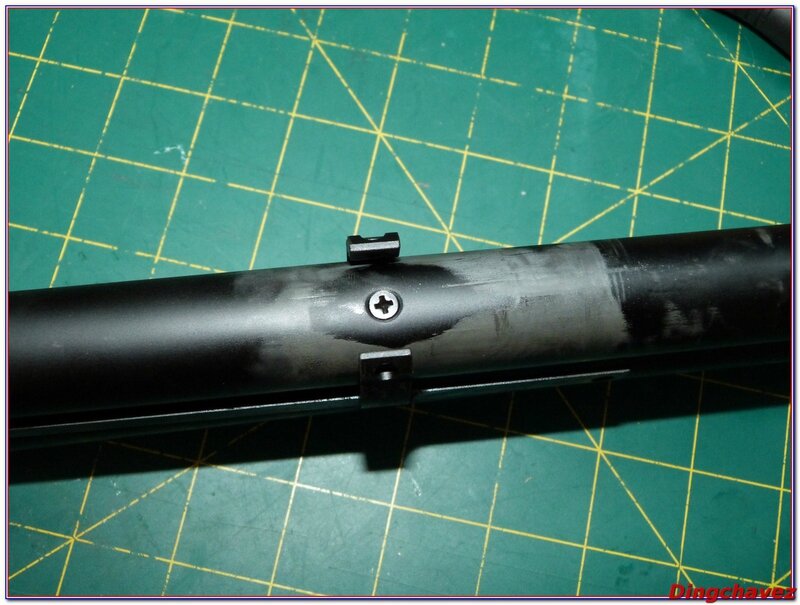 Attention au ressort lorsque vous retirez le tube.
Watch out for the spring when removing the tube.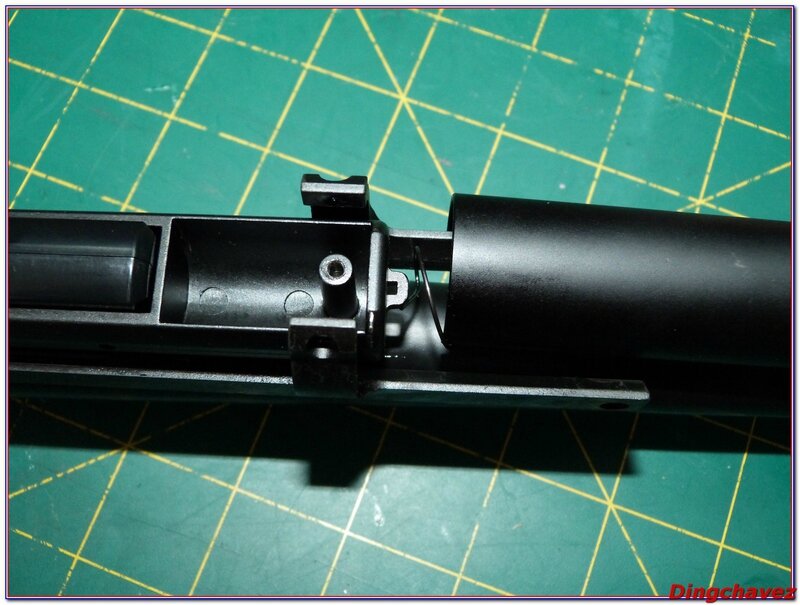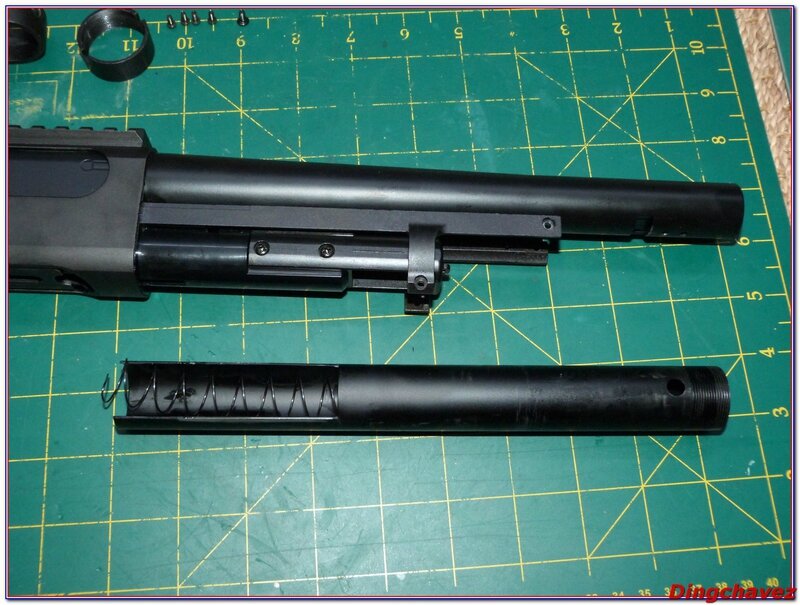 A ce stade vous pouvez également retirer le canon externe si vous le souhaiter, ou faire ça plus tard. Les deux longues vis seront également à serrer assez fort au remontage, ce sont elles qui déterminent si vous aurez du jeu dans le canon.
Now, wether you can remove the outer barrel, wether you can switch to the rear of the gun. Those two long screws will also have to be real tight to avoid wobble in the barrel.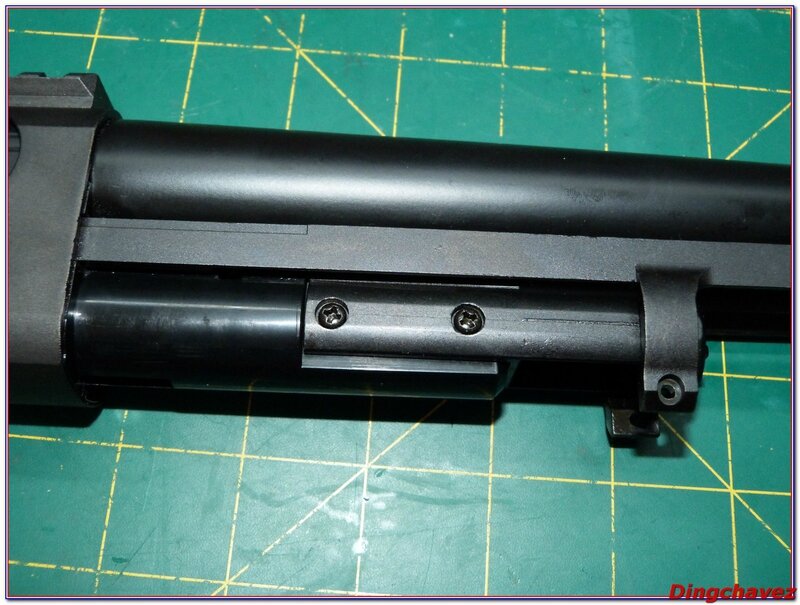 On passe à la partie arrière. Démonter la poignée pistolet nécessite d'enlever deux petites vis cruciformes et la valve.
 I'll go to the rear of the gun now. Removing the grip will require to release two screws and a valve.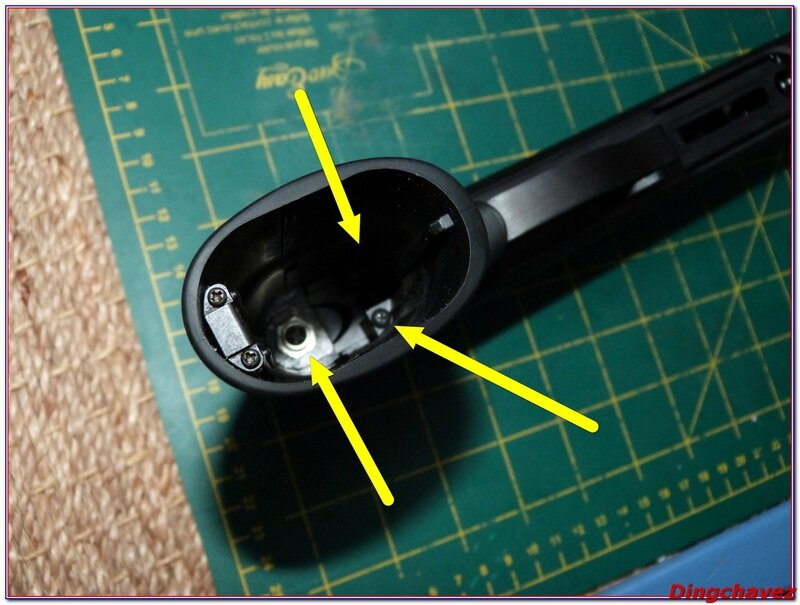 Ces vis sont enduites de frein filet, attention à bien utiliser le tournevis adapté sous peine d'endommager l'empreinte.
 These screws are coated with Loctite so they can be hard to remove. Be careful not to destroy the heads !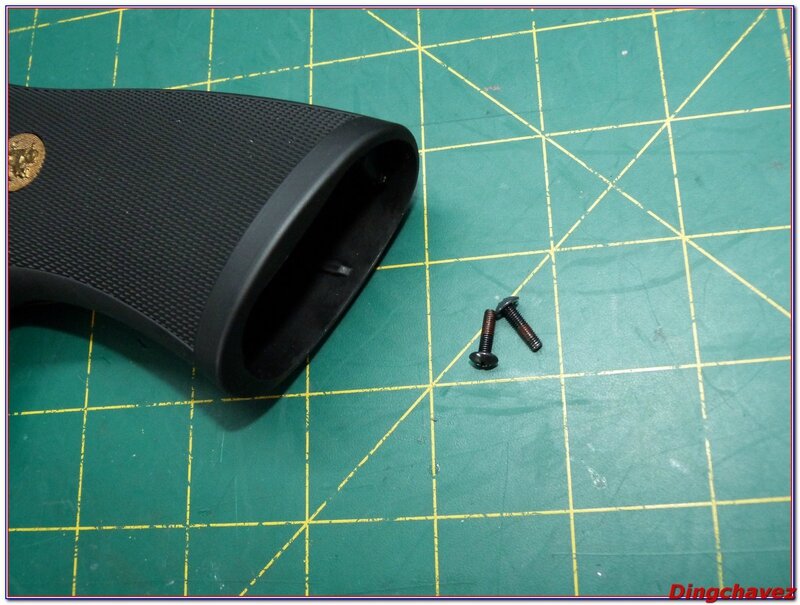 Une douille de 10mm est ensuite nécessaire au démontage de la valve.
A 10mm socket is necessary to remove the valve.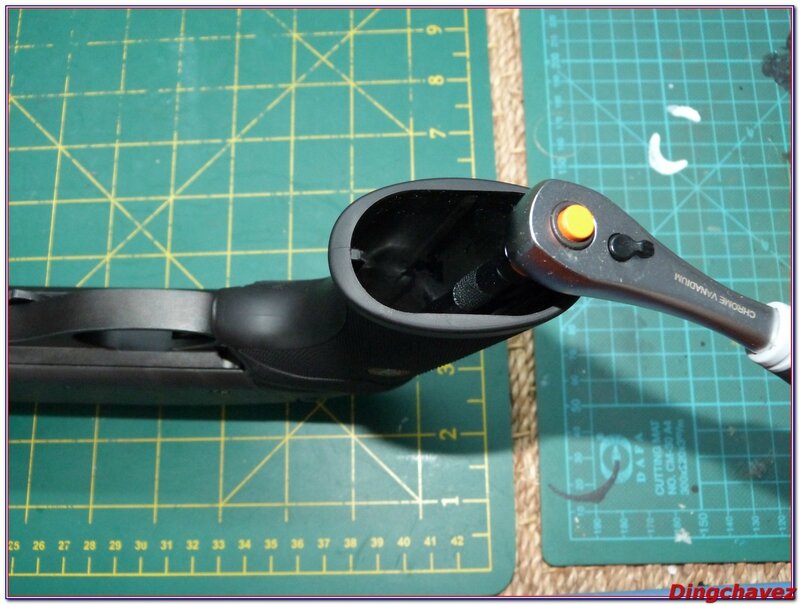 On peut alors retirer la poignée pistolet.
 Now you can remove the pistol grip.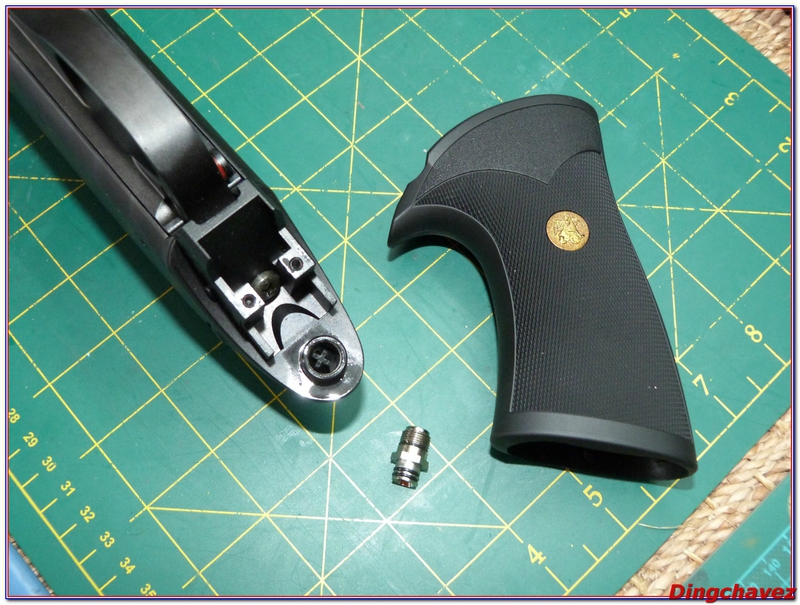 Une grosse vis, elle aussi enduite de frein filet, doit être retirée. J'ai exceptionnellement utilisé une mini visseuse/dévisseuse pour cette étape.
A big screw right here. This one is Loctite coated too, I used a mini electric screwdriver to remove it.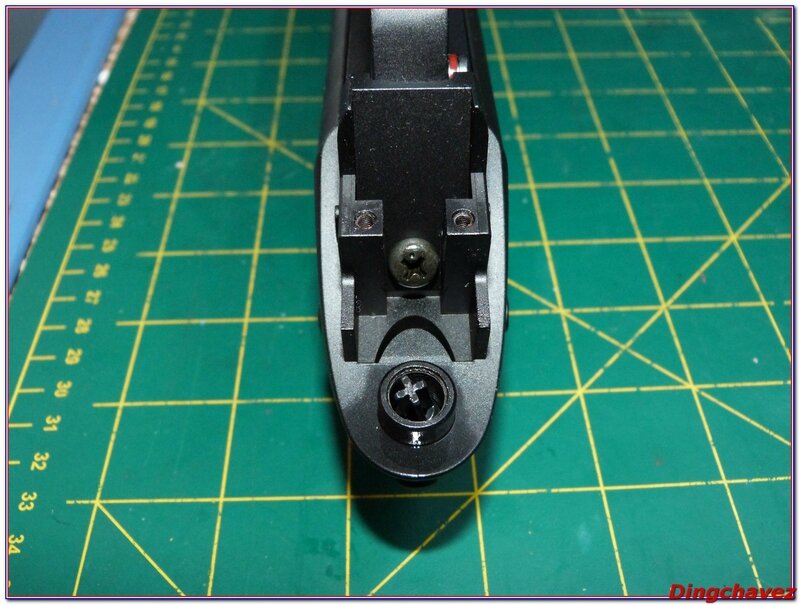 On peut alors séparer la partie arrière. Attention au joint !
 Then you can strip the rear part. Don't lose the O-rings !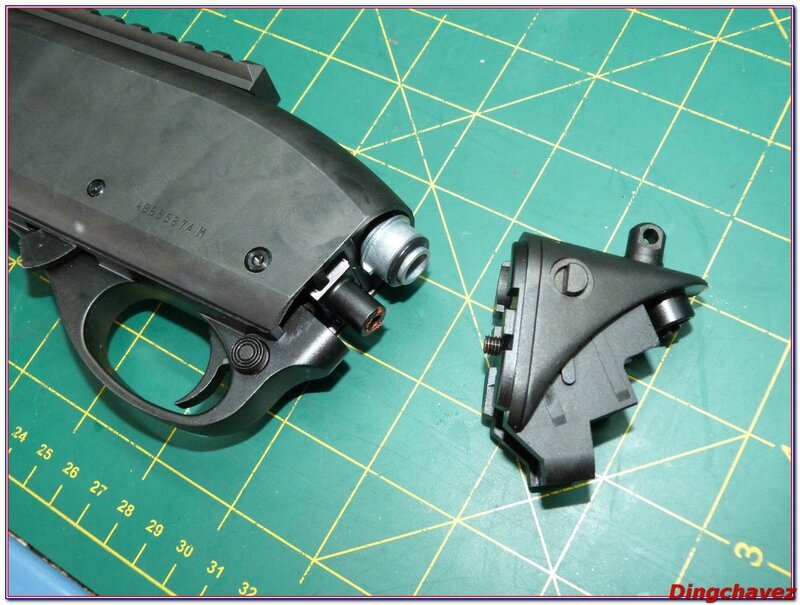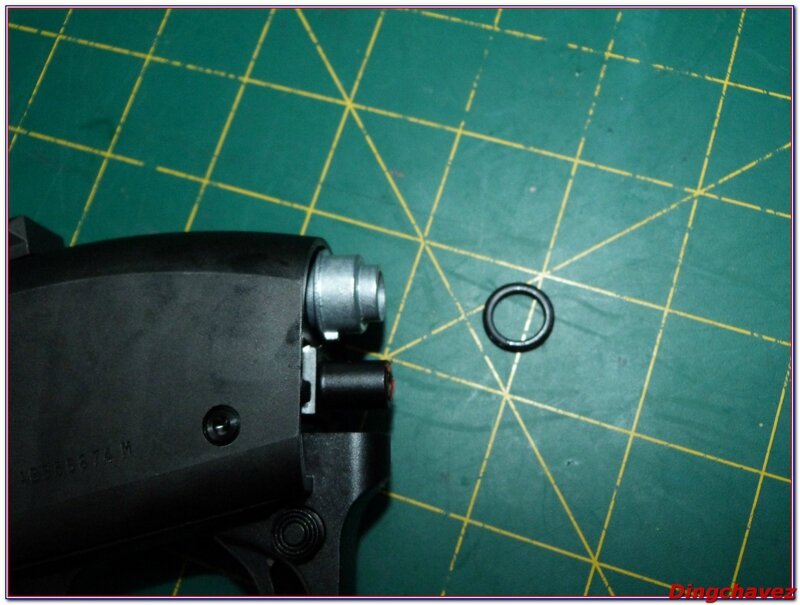 Cette pièce fait la liaison entre la partie interne et la poignée, ne perdez pas les joints ! On constate qu'il est possible de monter la crosse du Tactical sur le breacher et inversement, cela donnera peut être des idées à certains !
This part links the internals and the grip DON'T LOSE THE O-RINGS !!! Notice that you can put the Tactical stock on the breacher and vice-versa. This might give you custom ideas…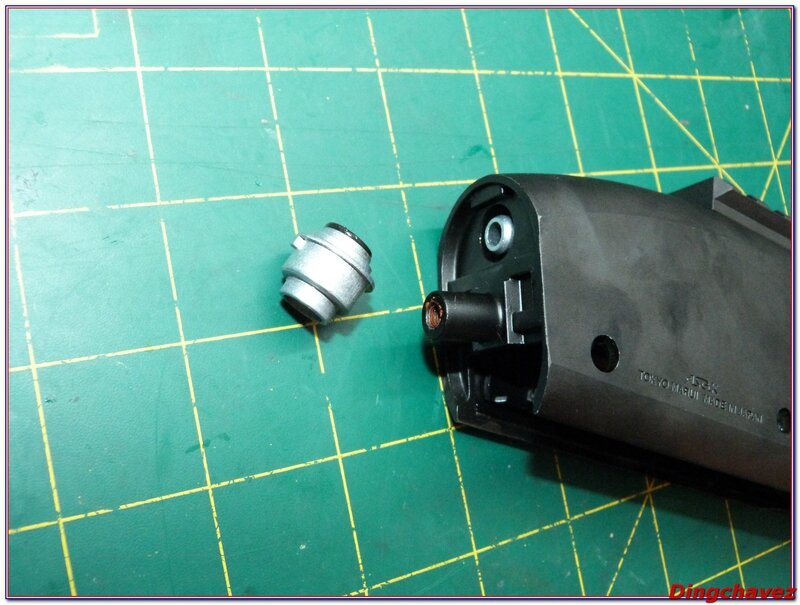 On peut ensuite retirer les deux goupilles retenant interne et externe liés. Attention, elles ont un sens !
Now, remove the two pins. Notice that there's a serated end to remove head first.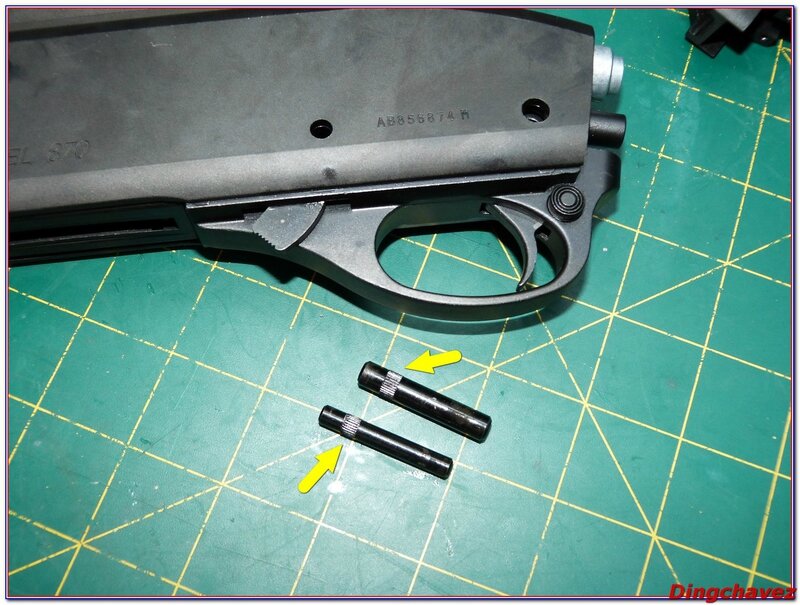 Puis retirez le bloc détente, si vous n'y arrivez pas, actionnez les tiges d'armement vers l'arrière, cela devrait débloquer le bloc.
 Strip the trigger group. If it doesn't come easily, pull the two loading rods to the rear.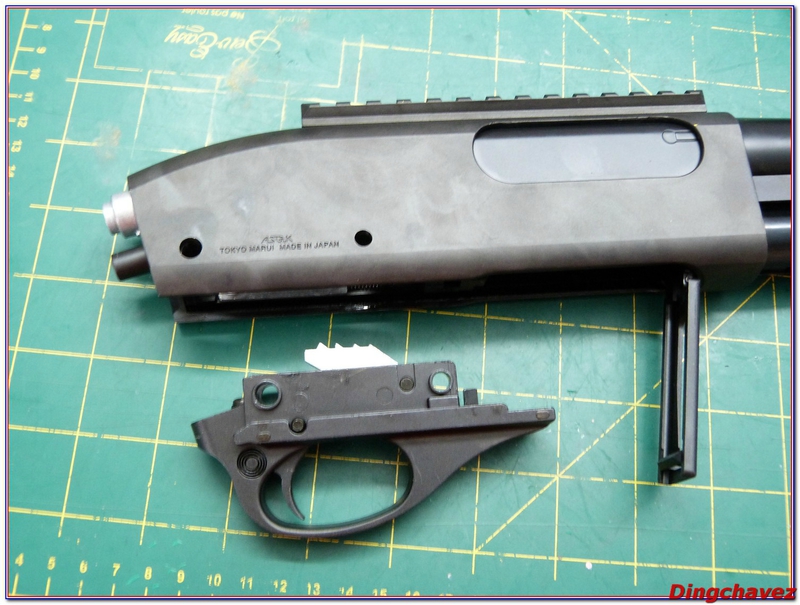 On peut ensuite désolidariser la coque externe de l'interne. Attention aux deux ressorts !
Now we can remove the inside from the outside body. Mind the two springs !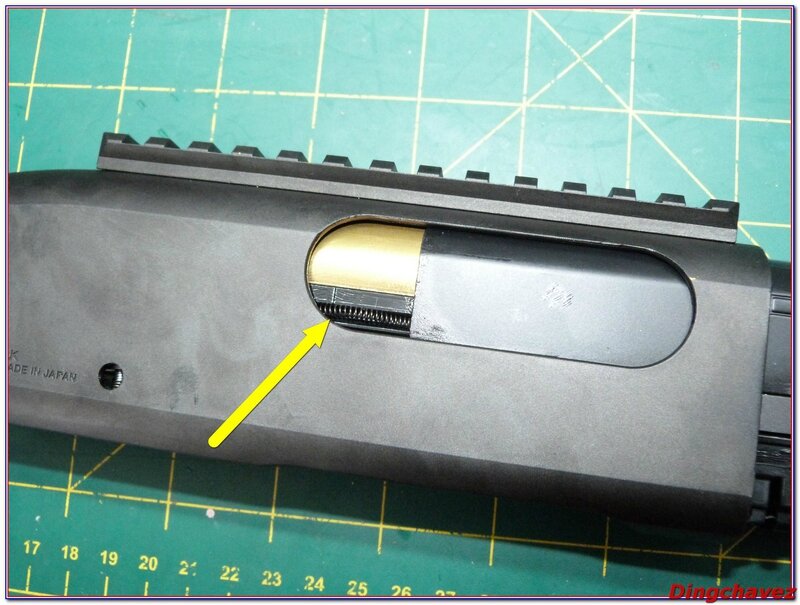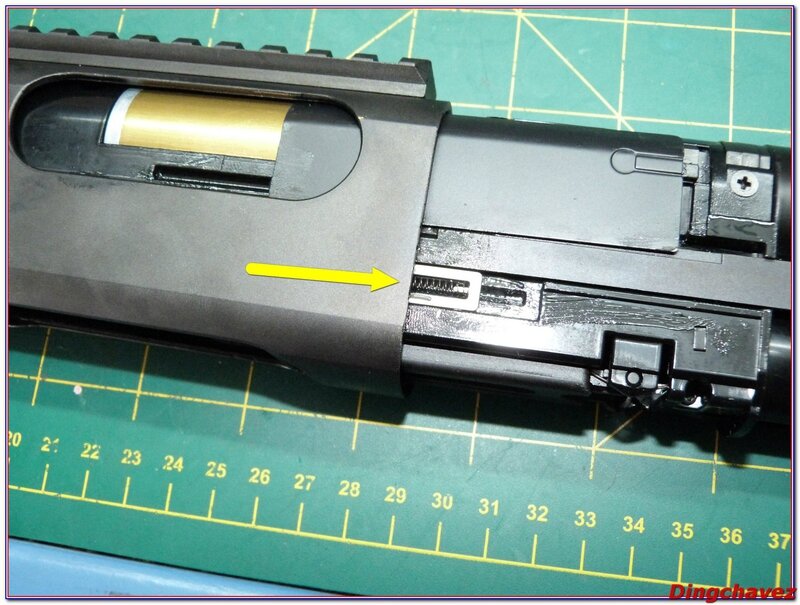 Et hop !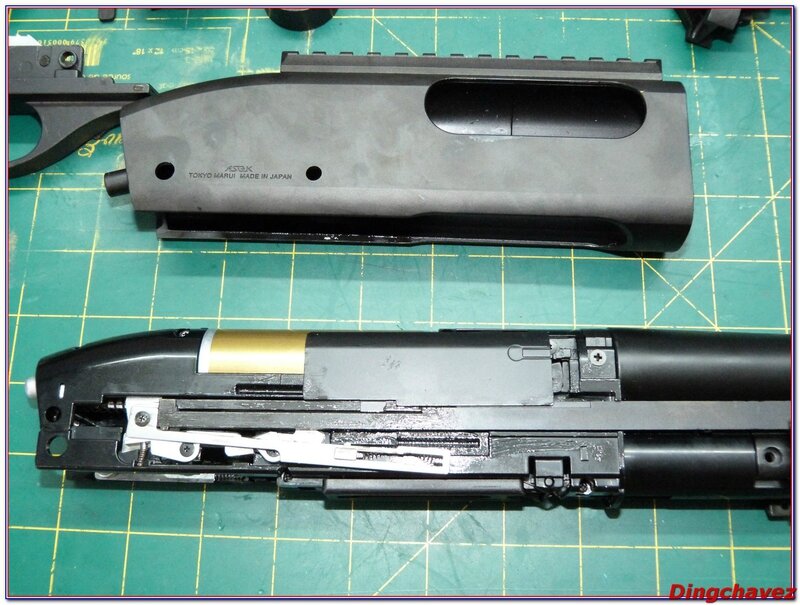 Une fois la fausse culasse enlevée, j'ai immédiatement remarqué la différence de forme du sélecteur 3-6 billes. J'ai surligné en jaune l'ajout de matière de la nouvelle version.
Once the fake bolt removed, I saw that the selector part was different. There is much more material here than before (I highlighted the extra material in yellow).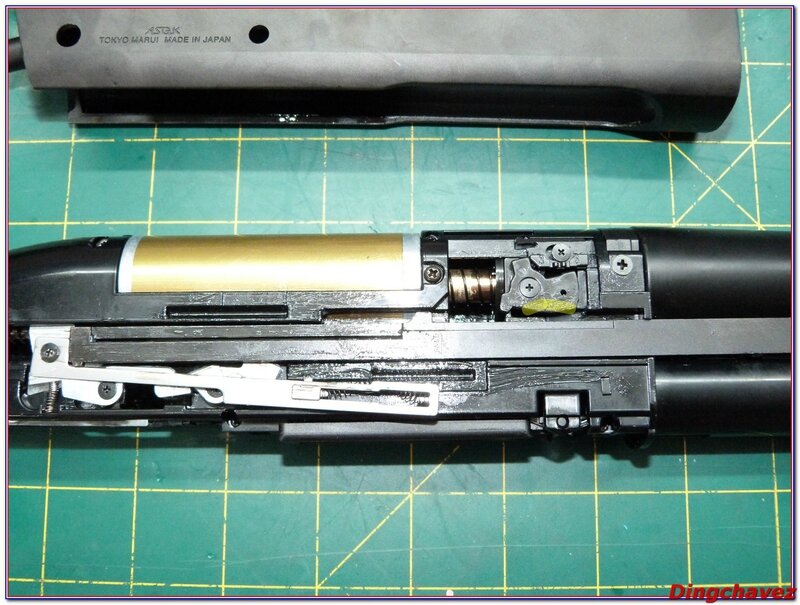 Après avoir retiré le canon externe, intéressons-nous aux canons internes et au bloc hop-up.
After retiring the outer barrel, let's look at the inner barrel, and the hop up.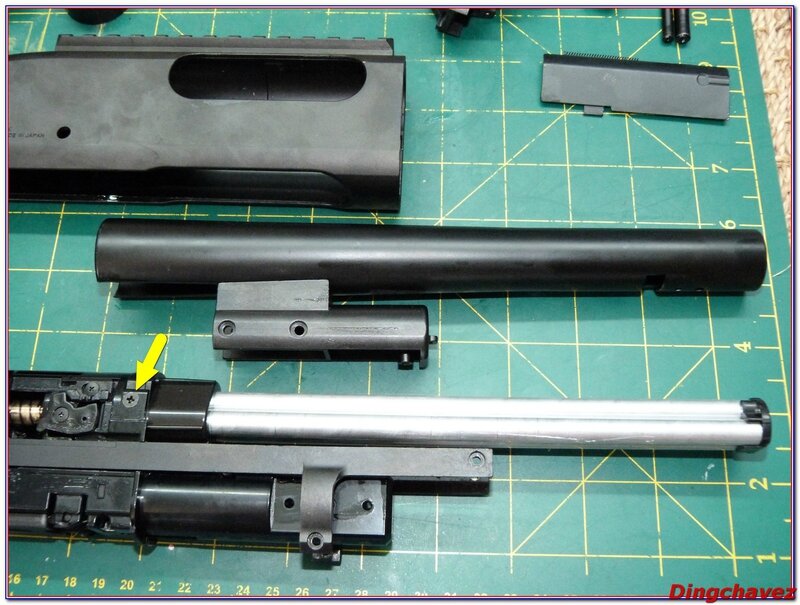 Il arrivait parfois qu'une bille se coince entre les 3 nozzles de la réplique, occasionnant une casse. Pour remédier à cela, Marui a ajouté une petite tige en métal.
 Some users experienced nozzle breaking because of a BB coming in the middle. Now there is a metal pin to prevent this problem.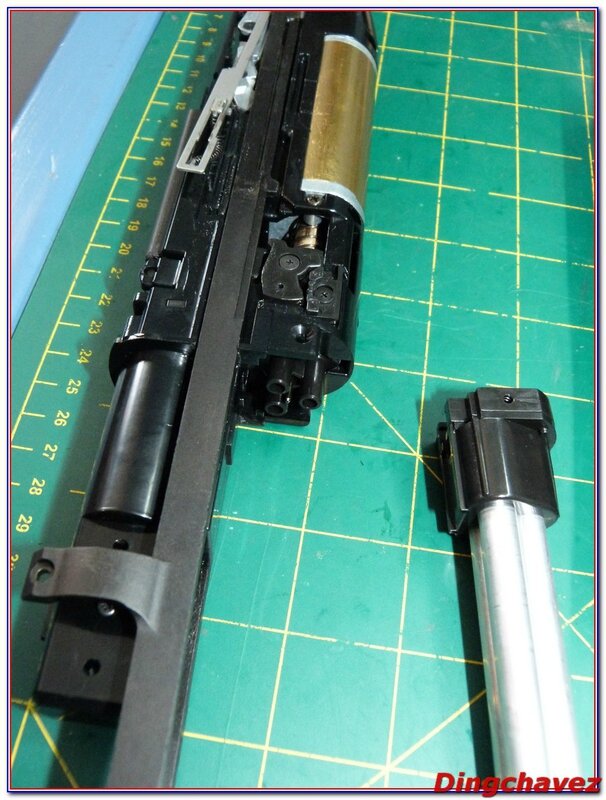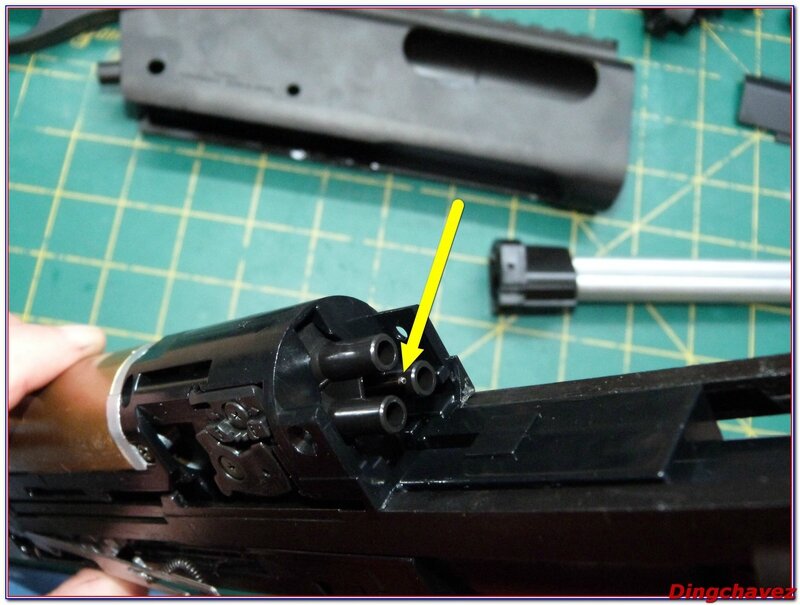 Les canons mesurent 196 mm.
 The barrels are 196mm long.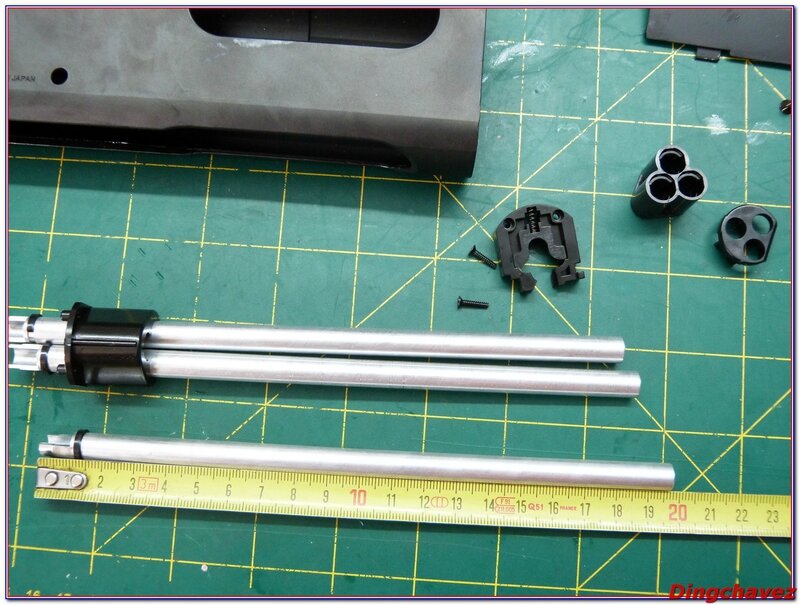 Ici on peut voir les joints de hop up fixe.
 Here you can see the rubber profile.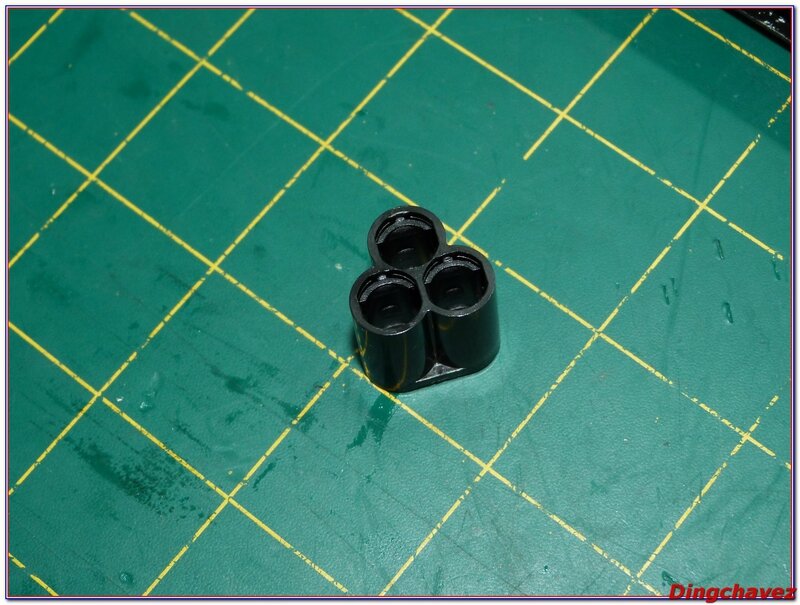 Et voilà, je vous épargne les photos du reste, vous pouvez les trouver ICI en fin de review, c'est identique.
This is it, to see the details, go to the Tactical review right HERE, it is the same !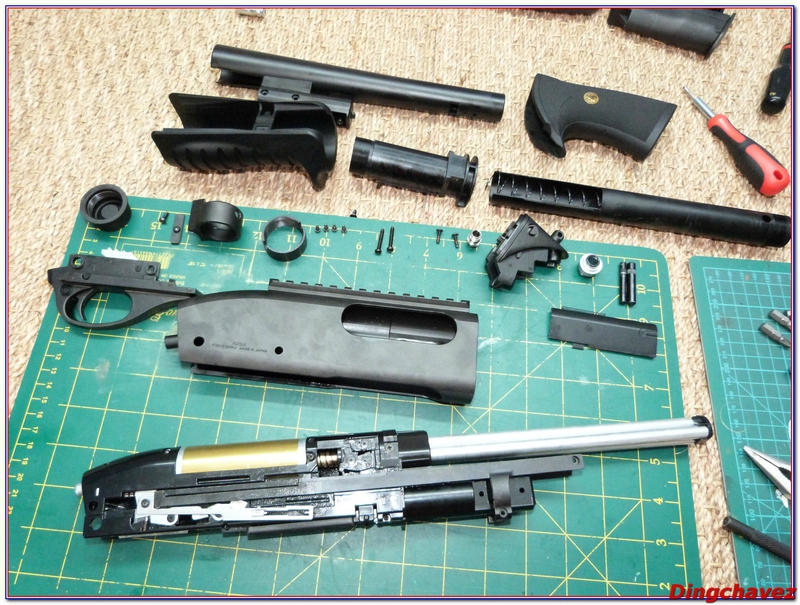 L'éclaté pourra vous aider à y voir plus clair !
The part list will help you if you're lost.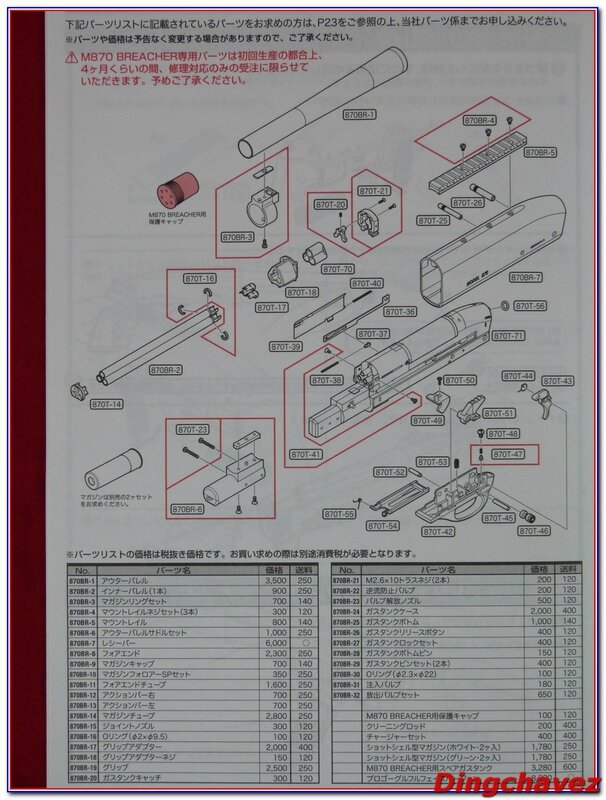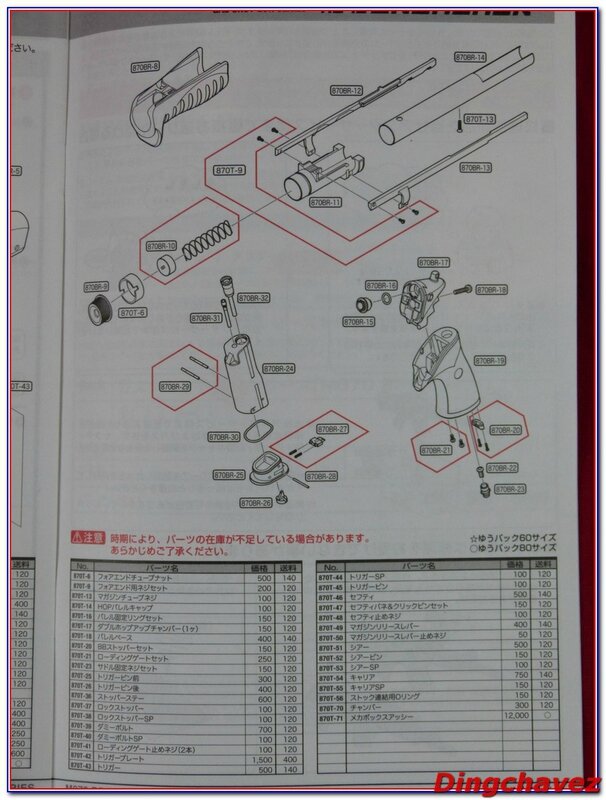 On termine par quelques photos avec un cache-flamme Laylax, un porte cartouches G&P et une sangle Magpul.
Let's finish with some accessories : G&P shell holder&rail and Laylax muzzle break, with a Magpul sling.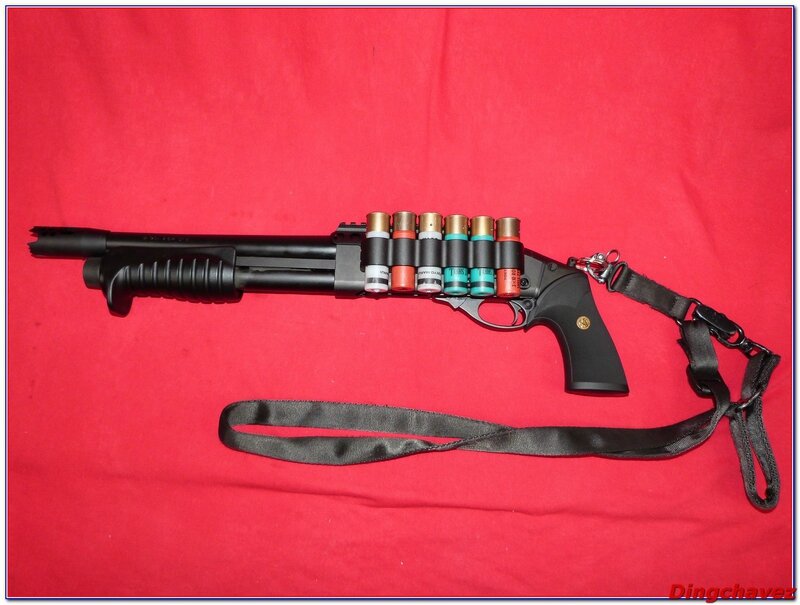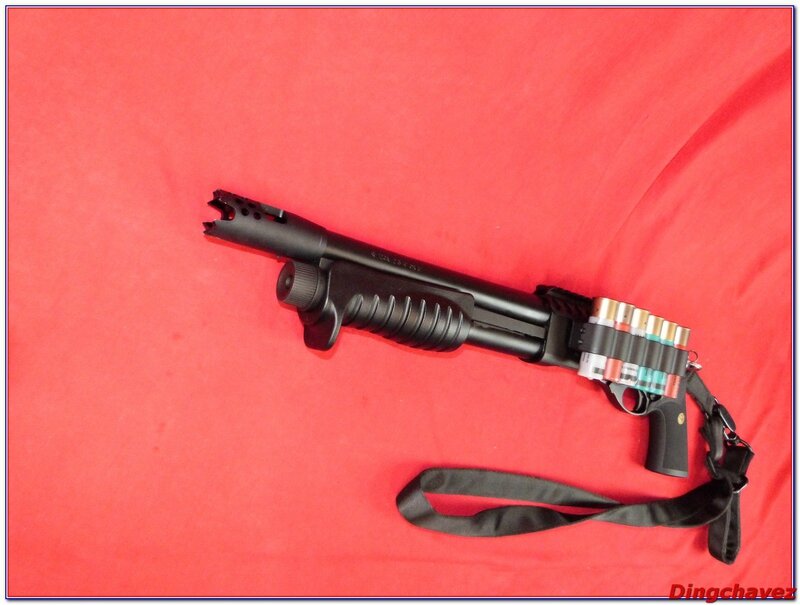 Et avec le grand frère !
And with big brother !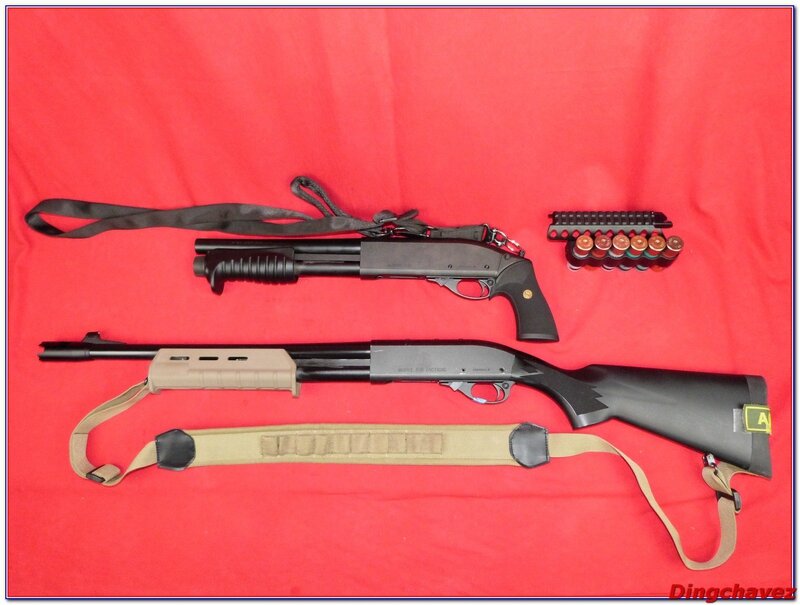 Edit 08/10/14
Marlouf sur FA a fait un retour peu élogieux de son modèle :
« Oui, le breacher a des problèmes. Le mode 6 billes a lâché chez moi au bout de … 3 cartouches (15 tirs). Rageant alors que la version longue tient bon depuis 1 an (d'autant que c'était la 1ere version d'aout 2013, donc non renforcée)
Pour le dégazage, une légère faiblesse entre la crosse emportant la réserve de gaz, et le reste de la réplique : j'ai constaté que c'est juste un défaut au niveau de la vis cruciforme maintenant les 2 l'un à l'autre, et situé au fin fond de la crosse. Assez difficile à resserrer (car en biais) mais depuis ça remarche (avant : insertion de la charge de gaz, tout partait aussitôt par la jointure crosse/réplique)
Sur les 2 chargeurs, l'un a pris l'habitude (dés l'achat) de se coincer dans la réplique: impossible de le sortir manuellement, il faut que je fasse coulisser une lame pour le désenclencher (s'il reste encore du gaz par contre pas de probléme, le dégazage permet une expulsion plus facile du chargeur)
Enfin les 2 goupilles placées au dessus de la gachette, sur le corps de la réplique, ont tendance à se faire la malle d'elles mêmes (défaut qui existait déjà chez certains pour la version longue)
Donc niveau plaisir de jeu, je mettrais un 10/10 au breacher. En CQB, il est incomparable et gomme les défauts de la version longue de par sa maniabilité. Quand il fonctionne, c'est l'une des répliques les plus jouissives que j'ai eu entre les mains (voir LA réplique)
Niveau fiabilité, 2/10. C'est mon 8éme Marui (M870, breacher, 1911, M9, MK23, Desert Eagle, MP7 etc) et là ou les autres n'ont jamais démérité, celui là est une calamité.
J'en viens à ramener ma version longue en partie au cas ou le breacher me claque dans les pattes durant la journée.
A refaire ? Je ne l'achèterais pas malgré le plaisir de jeu qu'il procure« 
Posté le 24 août 2014 par Dingchavez