BO Manufacture AKM13 -Une belle de l'Est « made in France » *
   17/06/2013
Il est des jours où j'aime ce job… Ah, on me fait signe qu'en réalité ce n'est pas mon travail, zut !
Ce n'est pas grave, il y a des jours où j'aime que les potes me fassent confiance. Mon ami Nonofrag, par exemple. Il se paye l'une des répliques les plus attendues par les russophiles et il l'a fait envoyer directement chez moi pour review. Mais attention, hein, pas question d'ouvrir la gearbox, garantie oblige ! Ca ne me pose pas de problème, je suis déjà assez excité de recevoir son précieux avant lui pour pouvoir me frotter dessus en ronronnant !
J'en vois déjà 4 qui ont zappé : « zyva l'aut Dinguelechavéze il raconte sa life  é il mé meme pa sa riviou sur effa, mouah j'veux de la raiplique ki tabasse sa mère-grand ! »
Patience est mère de toutes les vertus (ce n'est pas une insulte…) alors affûtez vos mirettes, c'est parti ! Comme d'habitude désormais, review bilingue : en noir c'est pour vous, en violet, pour les anglophones.
Sometimes I love this job… Wait a minute… This is not my job ! Damn !
No big deal, some days I love having trusting pals. My friend Nonofrag for instance. He buys one of the most russian-lover awaited airsoft replica and he choses to have it sent to me directly so I can review it ! But no way for me to open the gearbox, no no, warranty business. No problem, I'm happy enough to have my hands on this gun and rub it all over my body !
Hum, well, less talking, more reviewing, that's why you're here I bet !

As usual now, purple writing is for you guys, black is for French speaking people.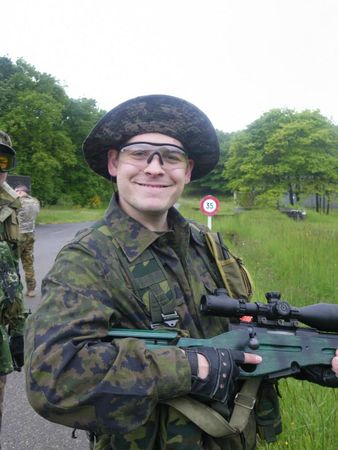 Nonofrag, il était effectivement drogué lorsqu'il m'a confié cette réplique.
                                                     Nonofrag, I think he did drugs before giving me his replica 🙂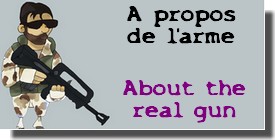 Sérieux ? Filez sur le wiki les amis, c'est impardonnable ! (et ne regardez pas les versions roumaines, hein, on n'est pas chez Marc Dorcel !)
Seriously ? Please stride to the wiki, and don't stare at the Romanian versions, this is not a porn blog !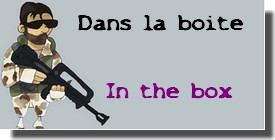 La réplique est livrée dans une mallette de rangement en plastique garnie de mousse. Rien ne bouge une fois fermée. Le logo BO manufacture est peint sur le couvercle.

The gun is delivered in a plastic BO-marked gun case. It is well maintained by foam.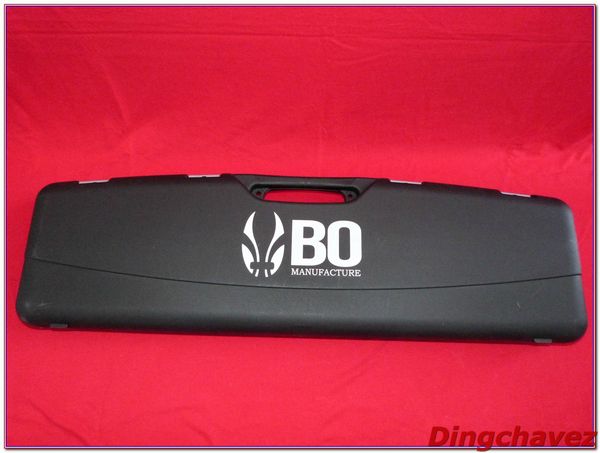 A l'intérieur, pas trop de fioritures (en fait je ne sais pas c'est une seconde main donc j'ai « imaginé » le contenu. Si je me suis trompé, n'hésitez pas à commenter sur Facebook.
-La réplique, de bois et d'acier vêtue, accusant un poids de 3.5 kg sur la balance.
-Un chargeur de 70 coups en acier et plastique.
-Une tige de nettoyage.
-Un petit mode d'emploi illustré en couleur.
 Inside, no fancy stuff (well, other than the gun itself…)
-The replica, made of wood and steel, weighing 3.5 kg.
-A 70BB magazine (also made of steel).
-A cleaning rod.
-A user manual, printed in color.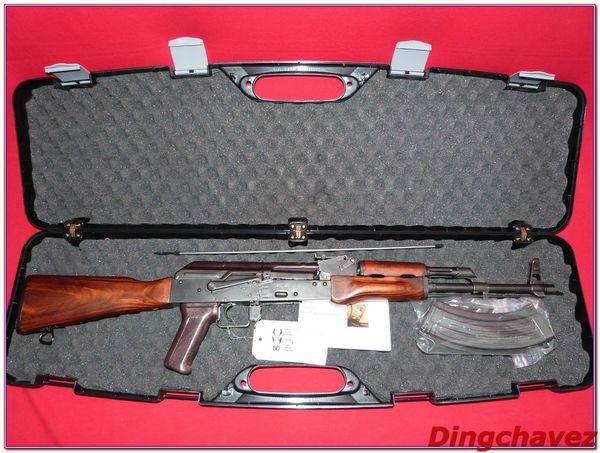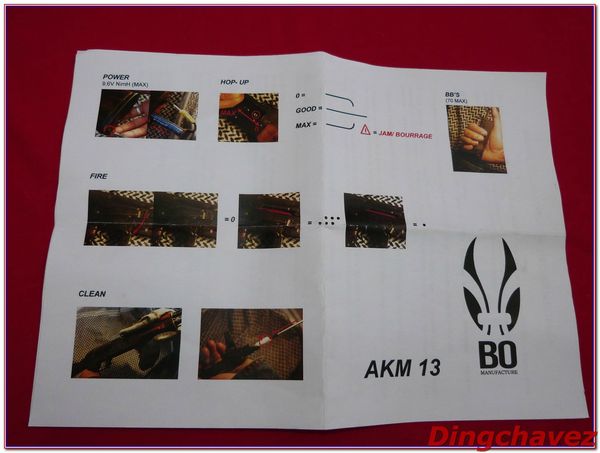 On remarque que chaque répllique est testée avant commercialisation. Nous verrons si les valeurs se vérifient. Les initiales de l'opérateur figurent également sur la fiche.
We can see that each BB gun is tested before being sold. We'll see if the values match.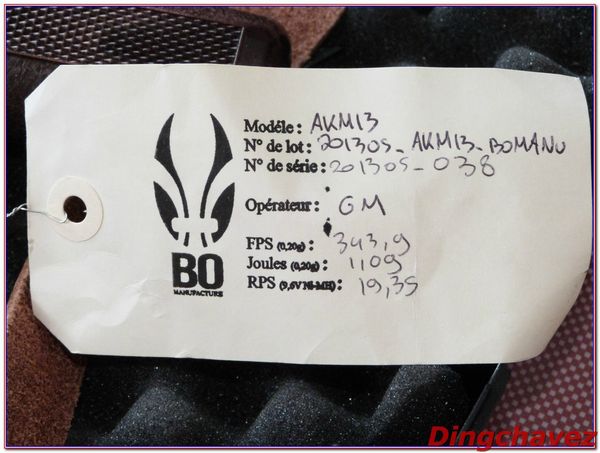 Y a pas à dire, le classique c'est beau ! Et puis ça change de la mode tacticool qu'on croise de plus en plus, cela dit tous les goûts sont dans la nature…
I tell you, nothing better than old school AKs ! Steel&wood, it changes from the « all tactical » fashion we keep seing everywhere…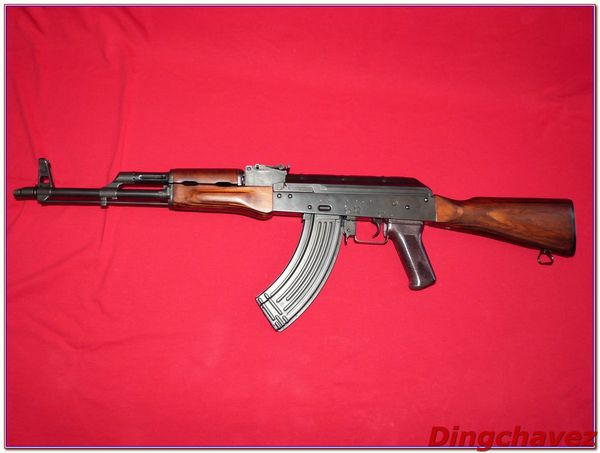 Commençons par les organes de visée. Une hausse et un guidon, tous les deux réglables en hauteur.
Let's start with the sights, both the front and rear sights can be set in elevation.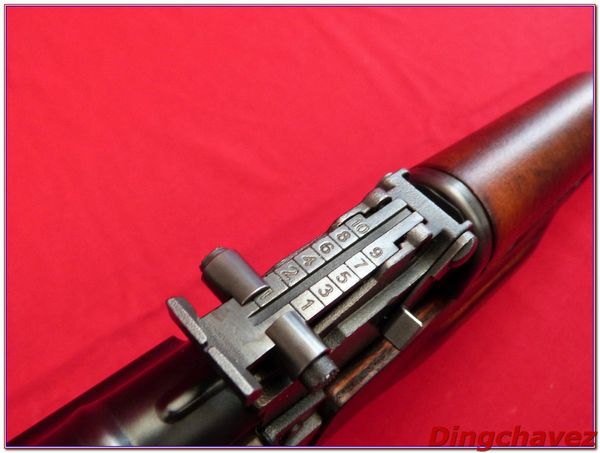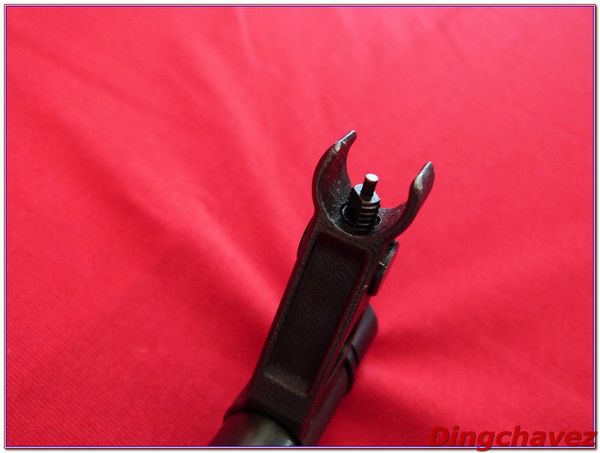 Le corps est marqué du symbole de la manufacture Izhmash, et un numéro de série commun à tous les modèles semble frappé.
The receiver is marked with the Izhmash manufacture symbol, a generic serial number seems to be stamped too.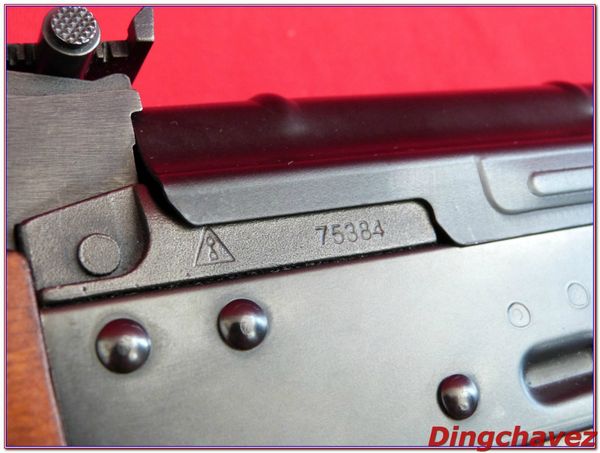 A côté du puits de chargeur, la date de fabrication et le numéro de série de la réplique. Chaque pièce est montée et vieillie à la main par un technicien français.
Next to the mag well there is the serial number and the production date of the gun. Each piece is unique, assembled and finished by a French technician.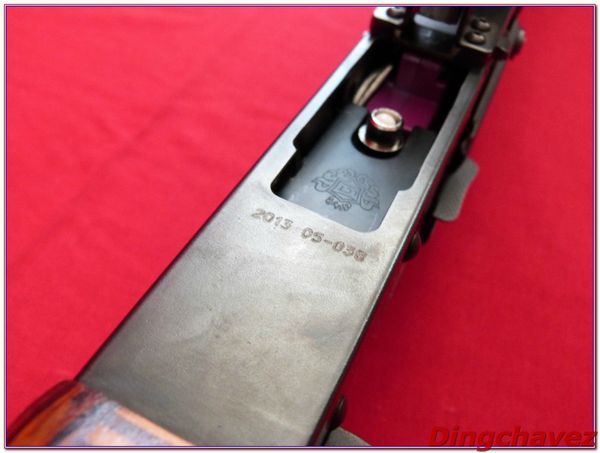 Seule marquage fantaisiste, le logo BO derrière la poignée pistolet.
Only fancy marking, the BO logo behind the pistol grip.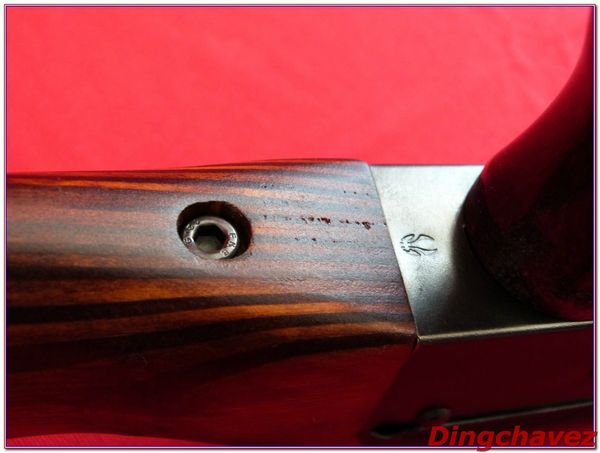 Le technicien chargé de la patine a rajouté des marques circulaires sur le corps de la réplique, comme sur le modèle réel.
The tech in charge of the finish added circular marks on the receiver, just as on the real gun.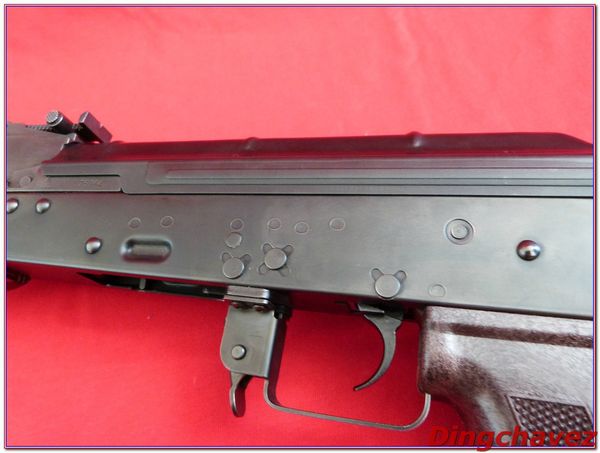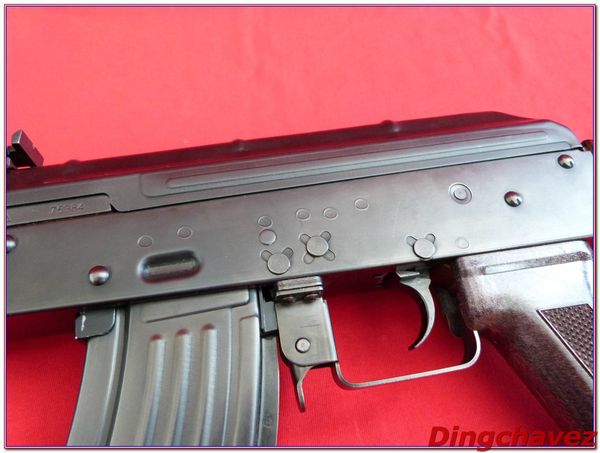 Ici une AKMS « afghane » trouvée dans un puits.
Here an Afghan AKMS found in a well.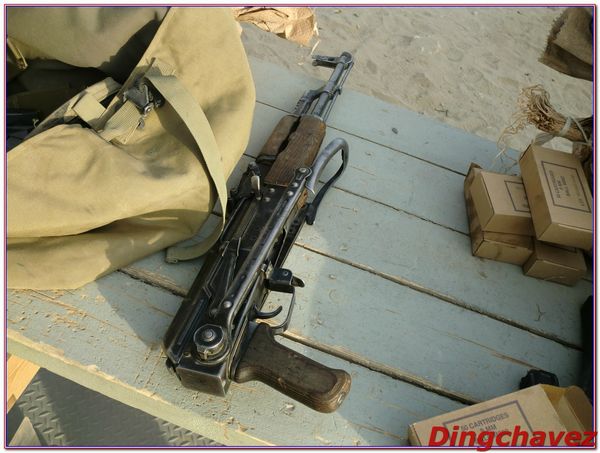 La poignée bakélite par LCT, la meilleure du marché (et souvent indisponible).
The LCT bakelite grip, the best on the market but often out of stock.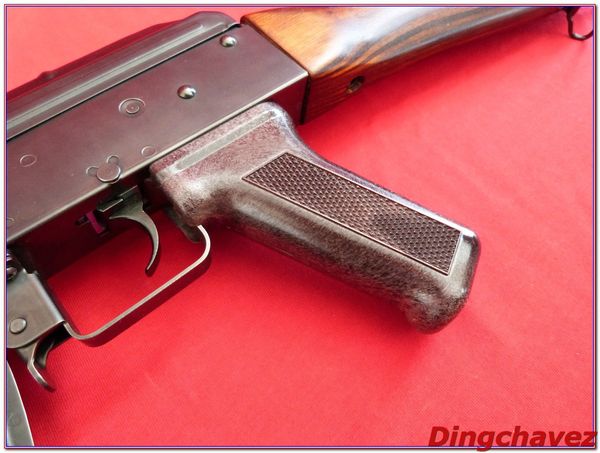 Le travail sur les parties en bois (crosse et garde-mains) est superbe. Je ne suis pas menuisier mais je pense qu'il n'a pas été vernis de manière conventionnelle, mais lazuré ou nourri avec je-ne-sais quoi…Peut-être de la cire. Bien entendu nous avons à faire à du contreplaqué (également appelé lamellé-collé).
The work on the wooden parts is superb. I'm no cabinet-maker but I'd say that it hasn't been varnished in a conventional way. It's more like tint or fed with I don't know what… Maybe wax. Of course this is plywood !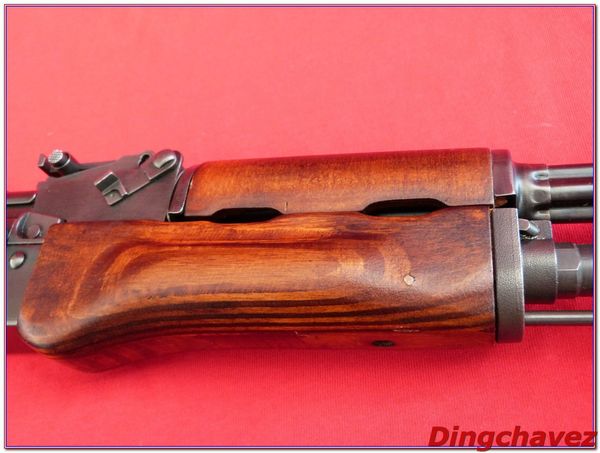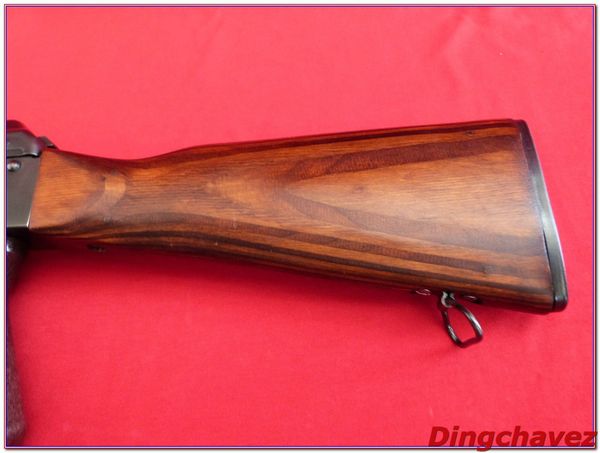 Le plaque de couche a subit le même traîtement de surface que les autres parties métaliques. La trappe du kit de nettoyage est fonctionnelle.
The butt plate has been traited as the rest of the metal parts. The cleaning kit compartment lid works.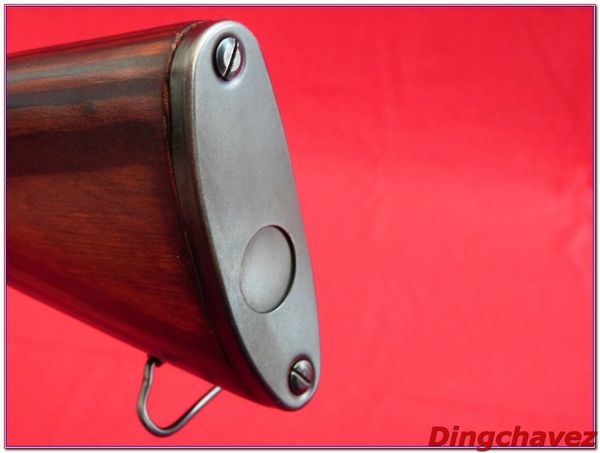 Il faut d'ailleurs tout dévisser pour placer la batterie.
You'll have to unscrew it to plug the battery.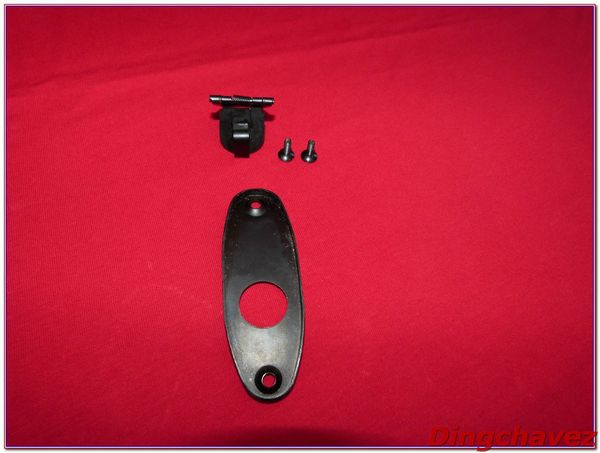 En effet, la crosse est creuse, le câblage passant par l'arrière. Pas besoin de batterie stick du coup, mais attention aux chocs violents sur la crosse !
The stock is hollow. The wires go to the rear. No need for stick-type batteries, but beware of violent shocks on the stock.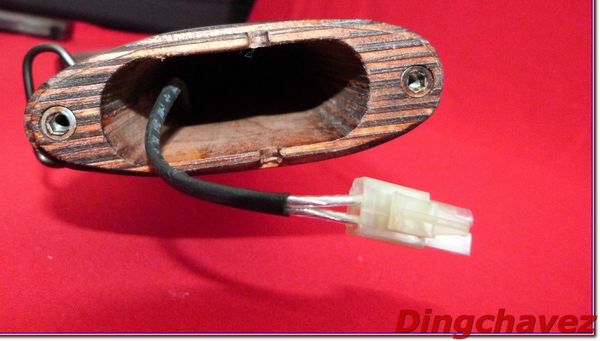 On peut faire entrer sans peine une batterie et un mosfet dans la crosse.
ATTENTION : les batteries LiPo 11.1V sont fortement déconseillées sur ce modèle (cela peut causer des casses de piston ou des pannes moteur). Préférez les NiMH si possible, il y a assez de place dans la crosse.
There is no problem fitting a battery and a mosfet in the stock.

WARNING : 11.1V LiPo batteries are strongly inadvisable on this gun (it can cause piston or motor failures). There is enough space in the stock to fit NiMh batteries.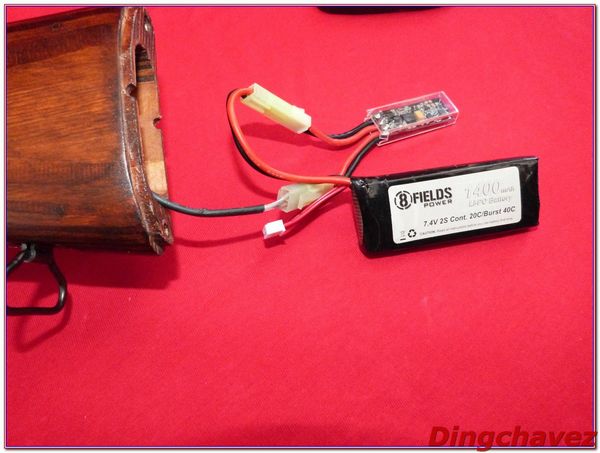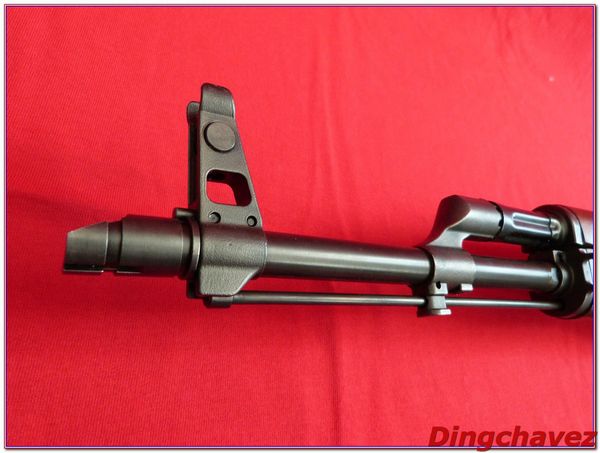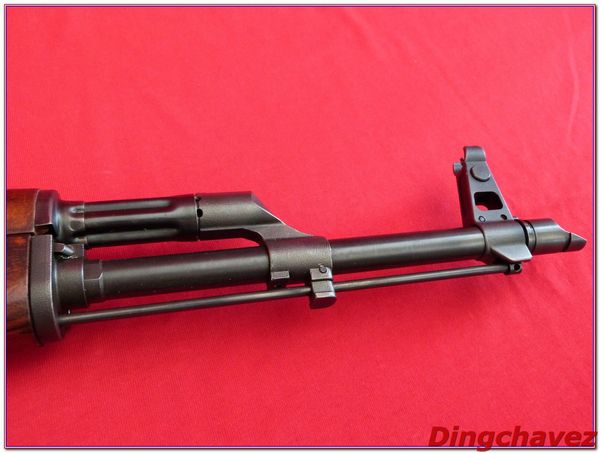 Le compensateur, d'un acier bleuté, il semble avoir subit un traitement thermique…
The fire compensator. Made of blue steel, it seems to have been through thermic (thermal ?) process.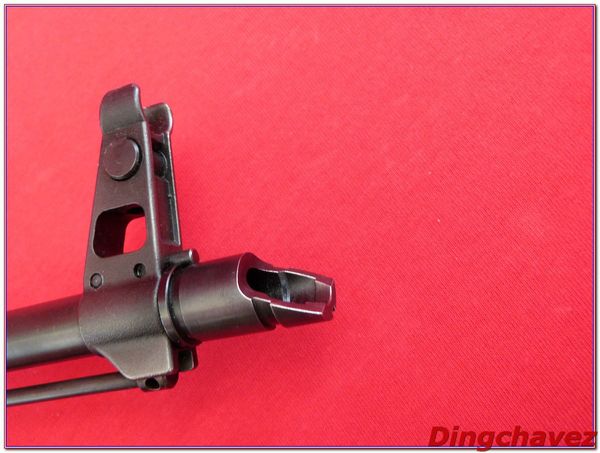 Le sélecteur de tir. Comme sur tous les modèles LCT le cran auto est mal placé. Détail…
The fire selector. As on every LCT AK, the auto position is not accurate. Detail…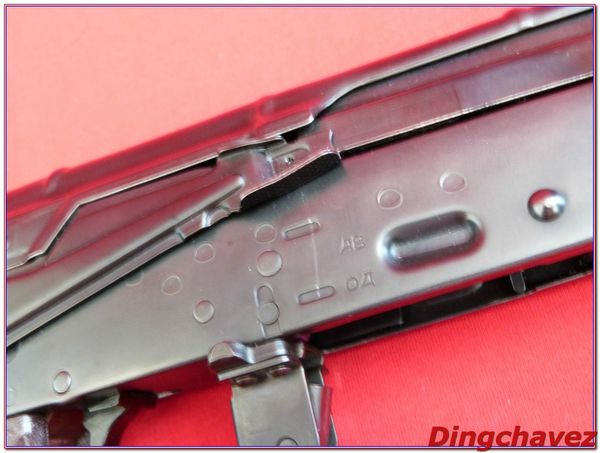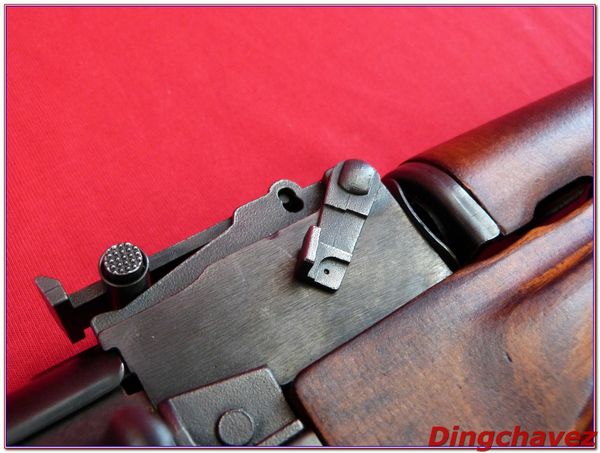 Attention à la goupille qui retient le verrouillage du chargeur, elle a tendance à sortir de son emplacement. J'ai eu le même souci sur mon modèle GHK/LCT. C'est assez génant lorsque ça arrive en partie…
Watch the mag catch pin. It tends to slide to the right, blocking the mag. I had the same problem on my GHK/LCT gbbr. It is not cool when happening during a play…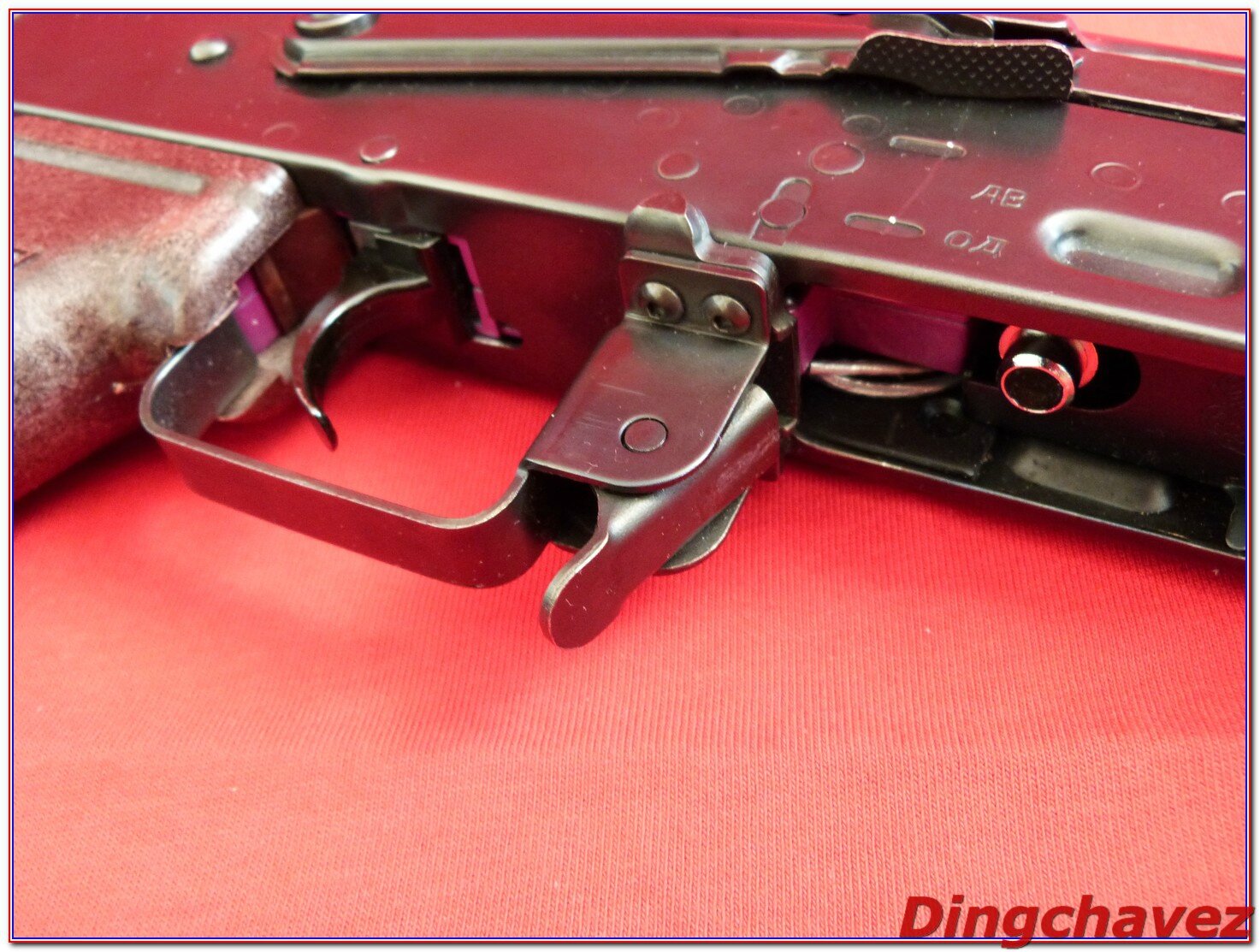 Le propriétaire a ici rajouté la pièce d'ajustement pour puits de chargeur disponible en spare chez LCT. Cela évite d'avoir un jeu toujours désagréable à cet endroit. Notez le bloc hop up métalique.
The owner added the special LCT mag well part. It removes the wobble happenig quite often on AK mags. Notice the metal hop up unit.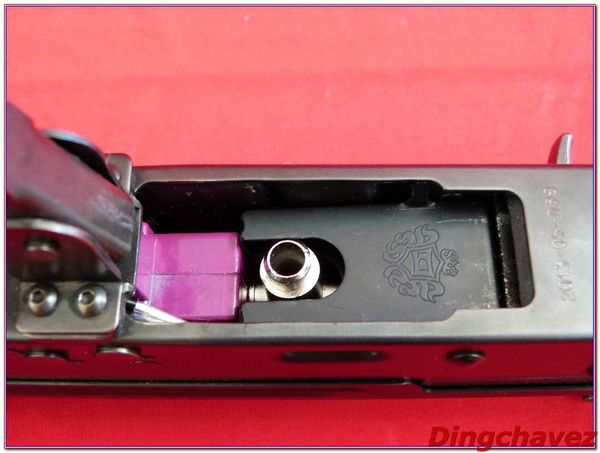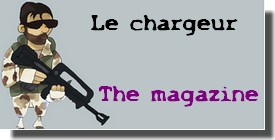 Egalement en acier, la coque a été travaillée selon le même procédé que le reste de la réplique, lui donnant une patine visuellement attrayante. Fans de la rafale illimitée passez votre chemin : ici ce sont 70 billes et pas une de plus qui prendront place, soit 3 secondes de tir !
Les billes coulissent sans effort et je n'ai pas rencontré le moindre misfeed durant mes nombreux tests.
The mag is also made of steel. It has been treated as the other parts of the gun, giving it a fancy look. If you're trigger happy, go somewhere else, this is a 70BB mag so full auto is ill advised, the mag would last 3 seconds !
The BBs don't force their way in, I didn't notice any misfeed during my tests.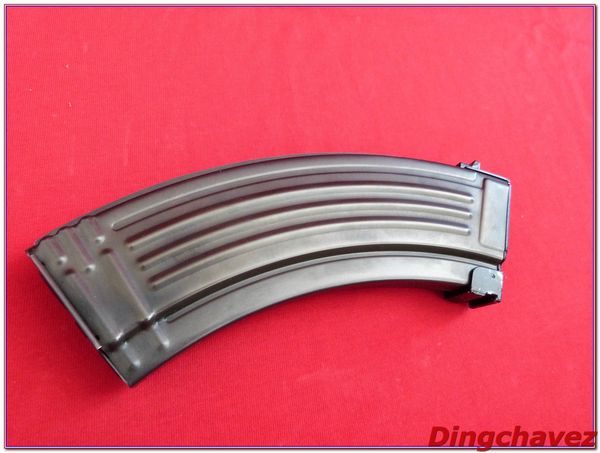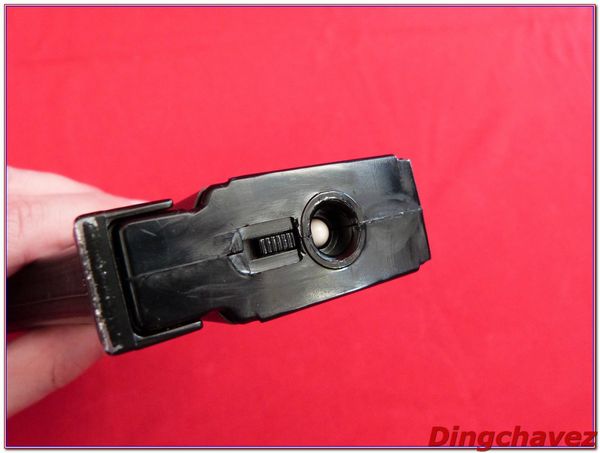 Encore le sigle Izhmash.
Once more the Izhmash logo.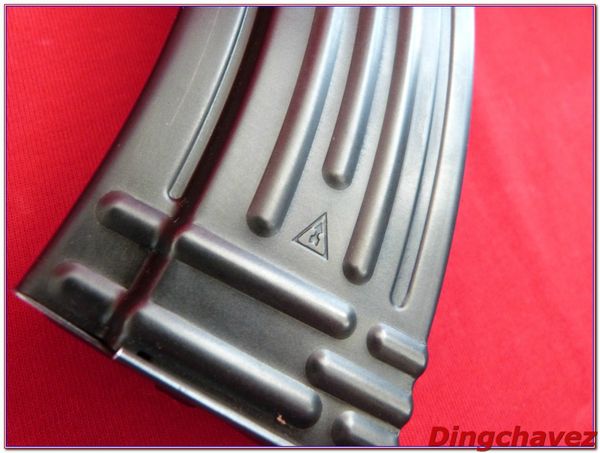 Je voulais également tester mes chargeurs bakélite avec coque RD, l'un d'eux frotte dans le puits de chargeur.
I wanted to try my modified mags (real deal Bakelite shell), one of them is a bit too wide for the mag well.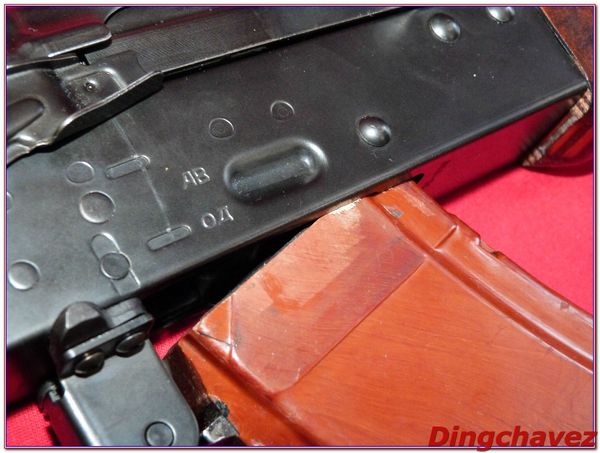 L'autre rentre presque, il faudrait juste limer le point d'attache. C'est encore plus beau comme ça, vous ne trouvez pas ?
The other one almost fits. A little bit of filing on the catch and it would be perfect. She is even more beautiful like this, don't you think? (yes, she's a she !)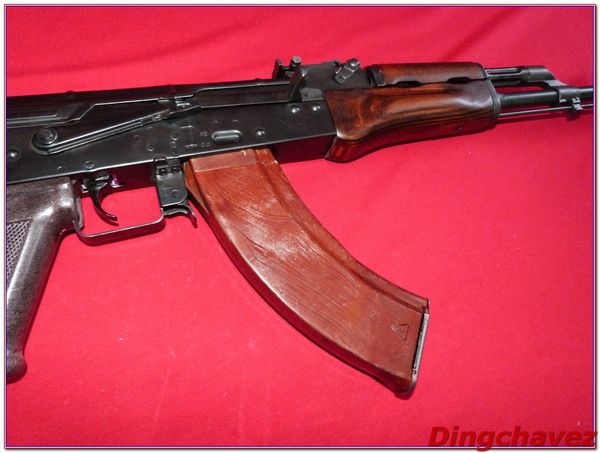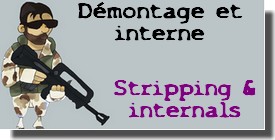 Première étape, on enlève le couvre culasse.

First step, we remove the bolt cover.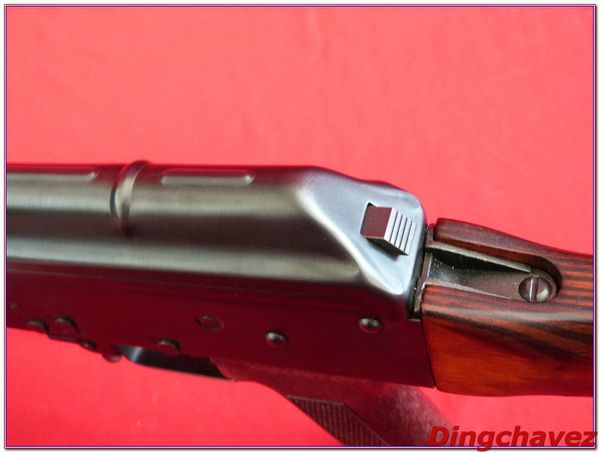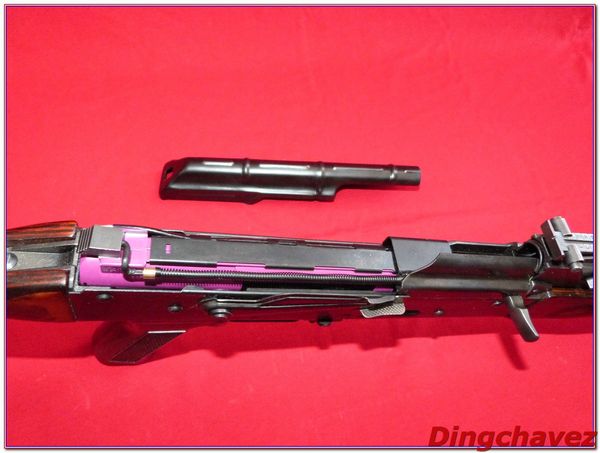 Puis la fausse culasse. La petite vis Allen est à re-serrer au remontage.
Then the dummy bolt. The small Allen screw is to be tighten when you put the gun back together.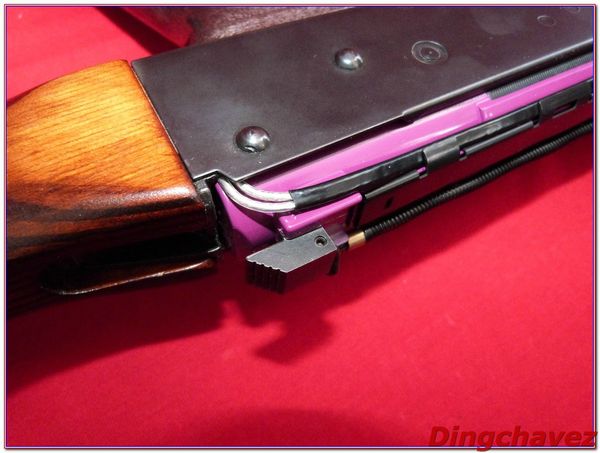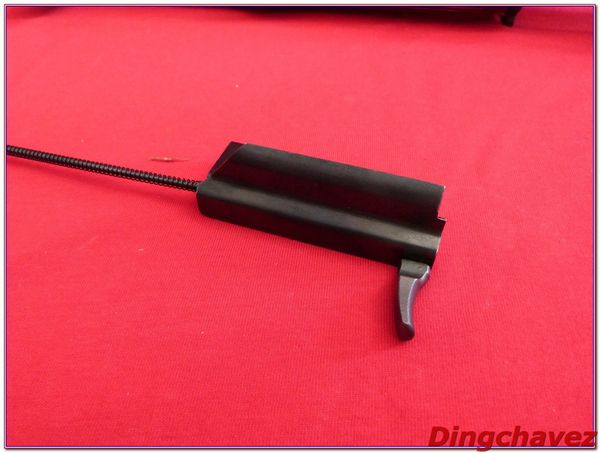 Le système est étudié pour que la fausse culasse ne bascule pas (ce qui est parfois le cas sur les anciens modèles VFC).
The part has been made to avoid the bolt toppling over (which is ofer the case on VFC early models).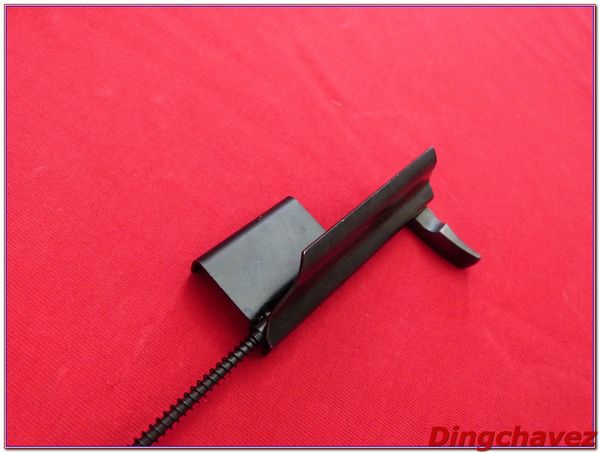 On peut découvrir le dessus de cette gearbox qui titille la curiosité.

We can discover the top of this gearbox that tickles our curiosity !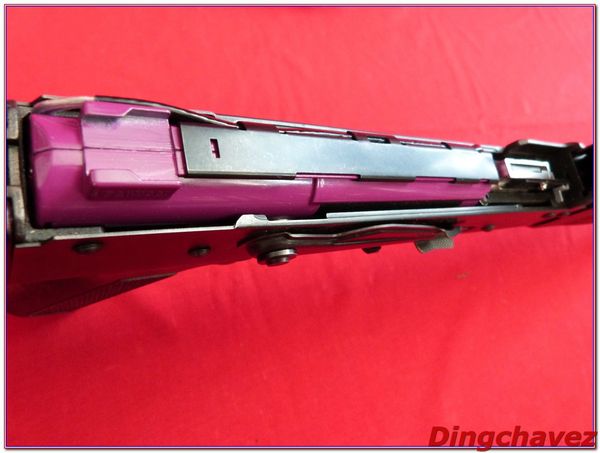 Et une vue sur le bloc hop-up en métal.
And a close up on the metal hop up unit.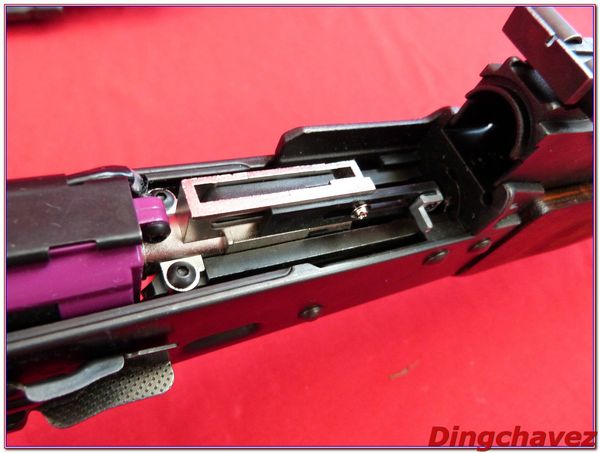 On peut alors démonter la poignée pistolet, découvrant ainsi le moteur. Il n'y a aucun marquage sur ce dernier. Il s'agit d'un moteur Hi-torque/Hi-speed 40000 tours/minute.
Then we can remove the pistol grip to discover the motor. There is no brand and no markings on it. This is a High-torque/High-speed 40,000 rpm motor.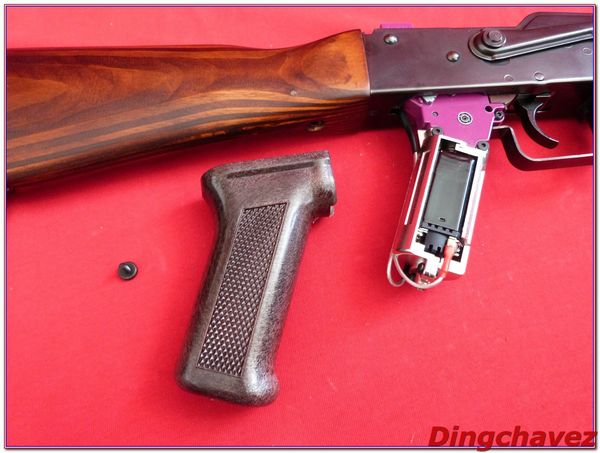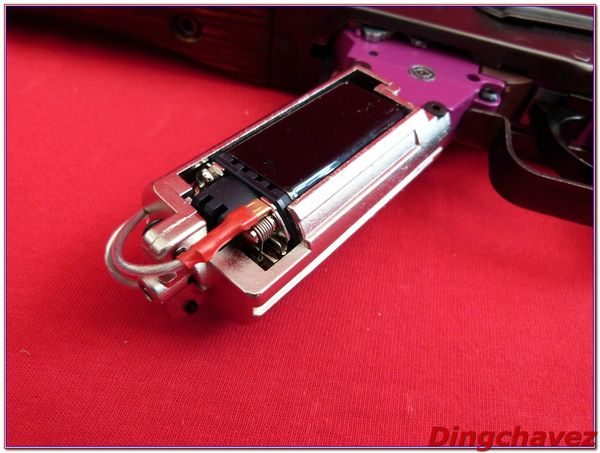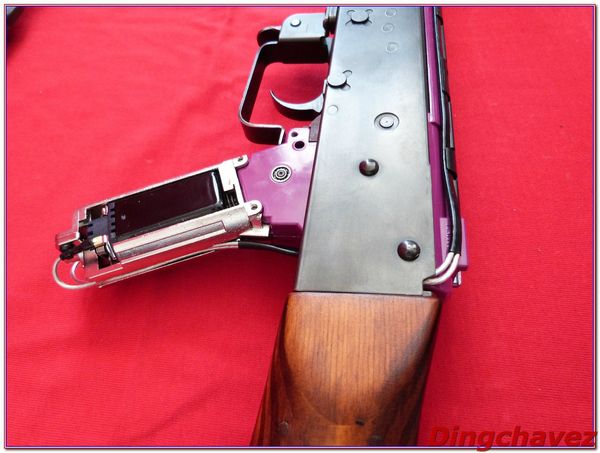 La coque made in Taiwan.
The gearbox is made in Taiwan.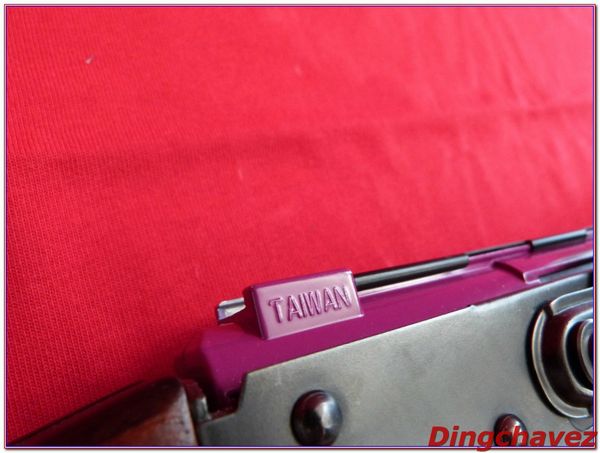 Premier aperçu sur le cylindre bore-up.
First glance at the bore-up cylinder.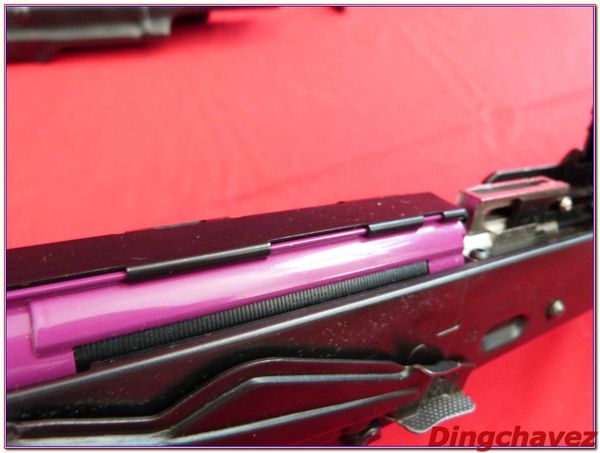 Comme je veux démonter le garde-mains, il faut ôter la tige de nettoyage.
As I want to remove the handguard, I must remove the cleaning rod first.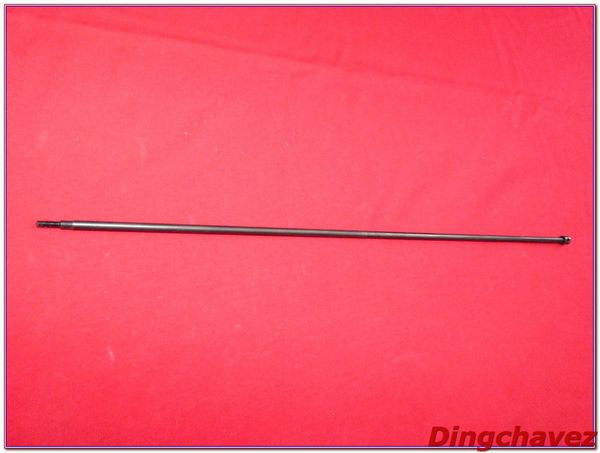 Et tant que j'y suis, je dévisse le compensateur.
And as I'm at it, I remove the compensator.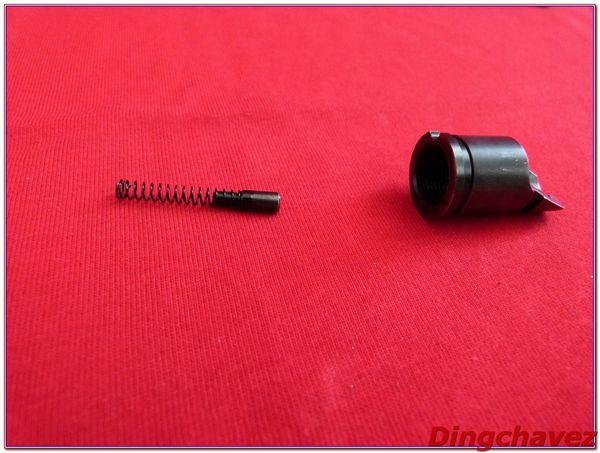 La partie supérieure du garde-mains est montée en force, je dois donc désolidariser le tube d'emprunt des gaz du canon externe. Pour ce faire, je dois dévisser une vis 6 pans et chasser une goupille.
The upper handguard is tightly set, so I have to remove the gas block. To do so, I must unscrew an Allen screw and remove a pin.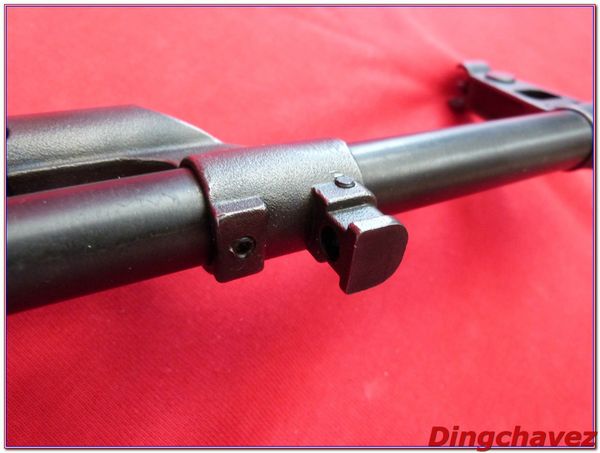 Et voilà !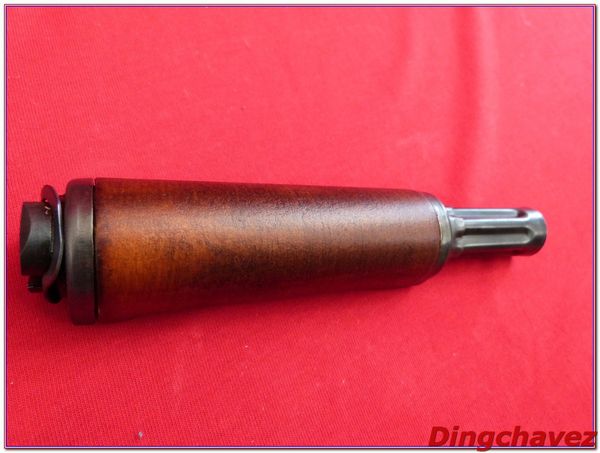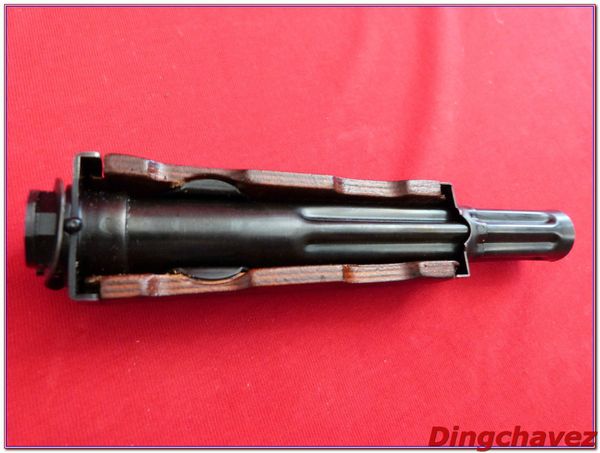 C'est au tour de la partie inférieure. Là encore c'est monté en force, allez-y avec précaution pour ne pas marquer les pièces.
Now the lower part. Once again it is tight, so be cautious in order not to print marks on the parts.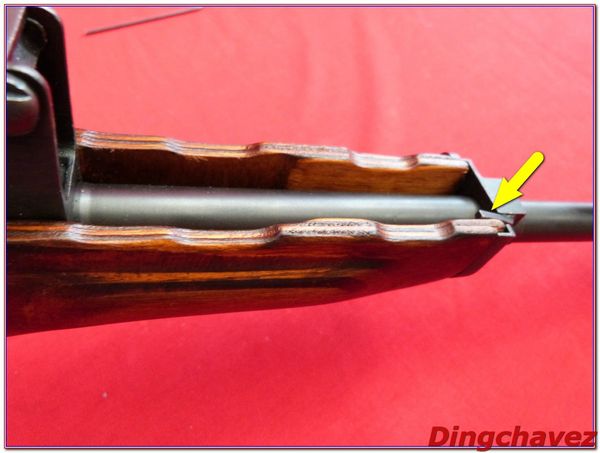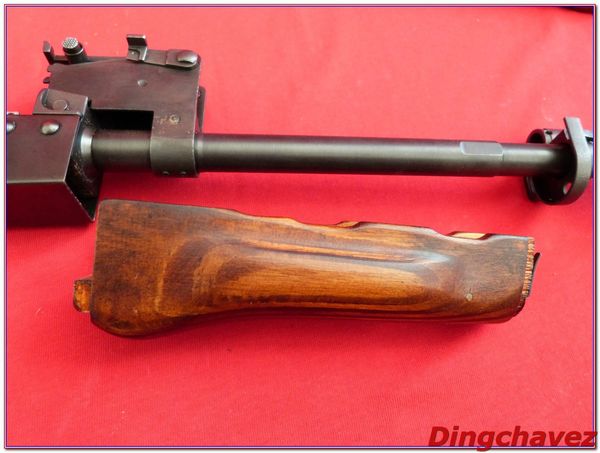 Pour sortir le bloc, il faut dévisser deux petites vis Allen et sortir une goupille.
To remove the block, unscrew 2 Allen screws and remove a pin.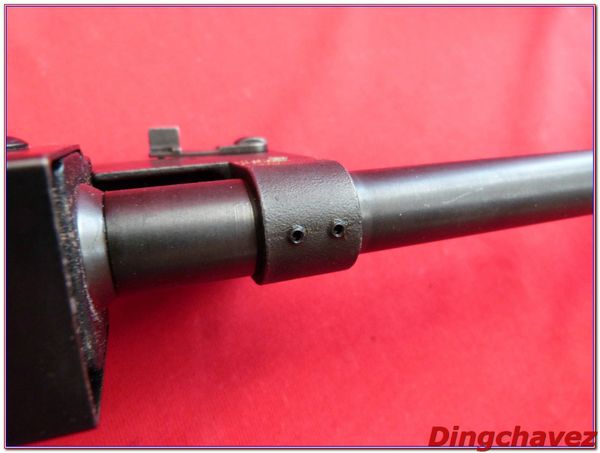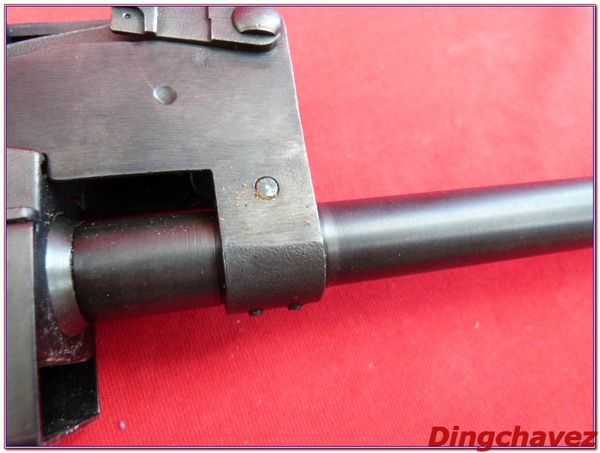 On enlève les deux petites vis et on peut sortir le canon externe vers l'avant.
Remove the two small screws and pull the outer barrel forward.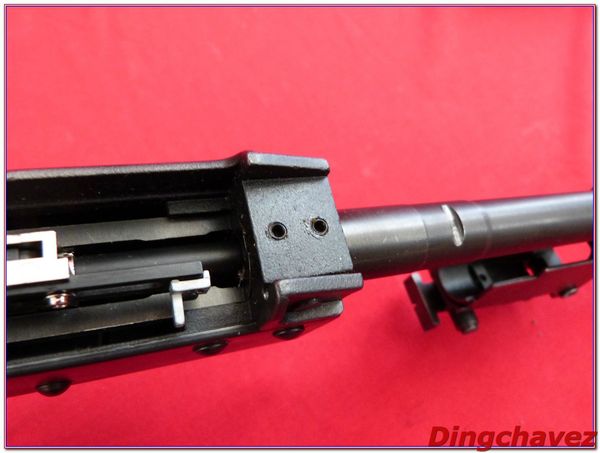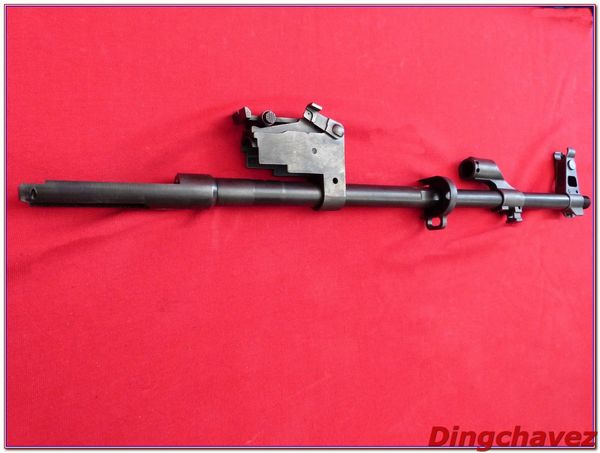 Pour sortir le canon interne et le bloc hop up il faut faire bouger la pièce du puits de chargeur, c'est un coup à prendre. Comme c'est une pièce rapportée vous n'aurez pas ce problème, mais pensez-y si vous voulez la rajouter (ça élimine le jeu des chargeurs)
To remove the inner barrel and hop up unit, you'll have to move the mag well part, it's a little bit tricky at the beginning but once you've got the move it's easy. As this is not a original part you won't have this problem, but know it if you plan on buying this extra part.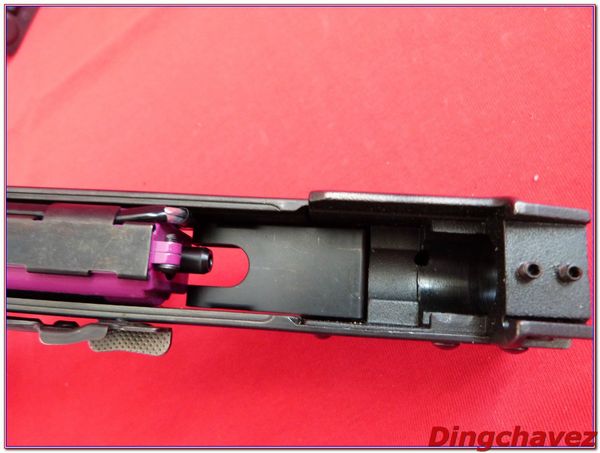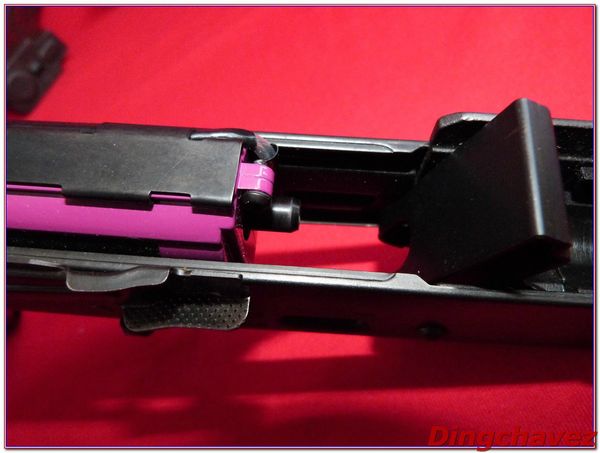 Canon externe et interne.
Outer and inner barrel.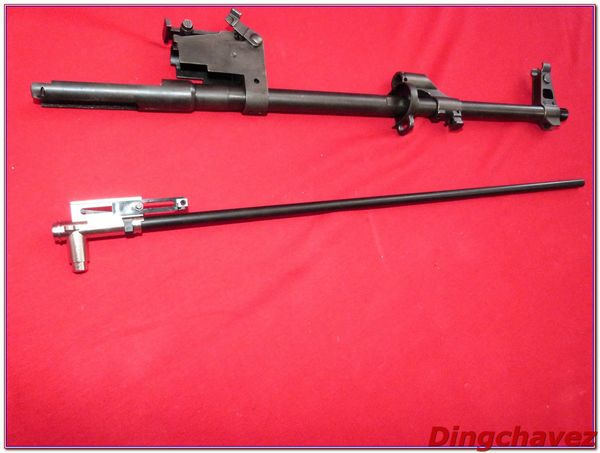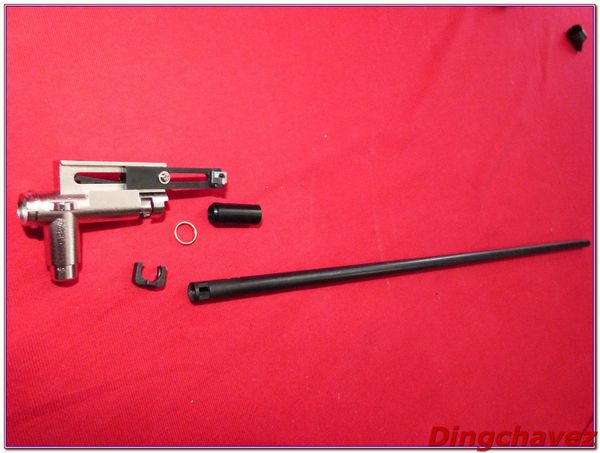 Le canon est en acier, il mesure 455 mm et son diamètre est annoncé à 6.03mm.
The inner barrel is made of steel, its lenght is 455mm and its diameter is 6.03mm.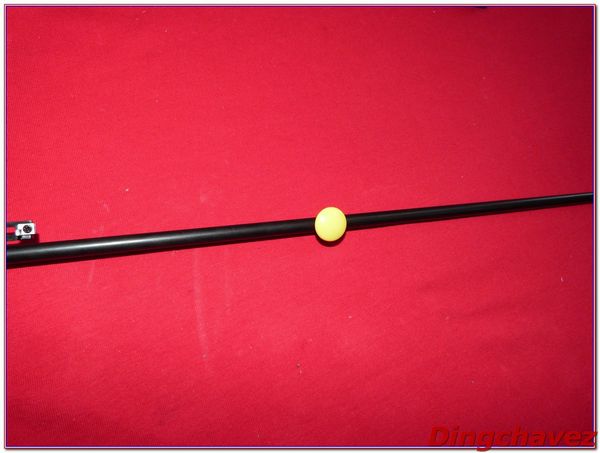 Et tant que j'y étais avec les aimants, j'ai tout tester. Et bien ce n'est pas difficile : à part la gearbox et les parties bois et plastique, tout est en acier !
 As I was playing with the magnets, I tested everything. And everything is made of steel (except the gearbox, the wooden and plastic parts of course…)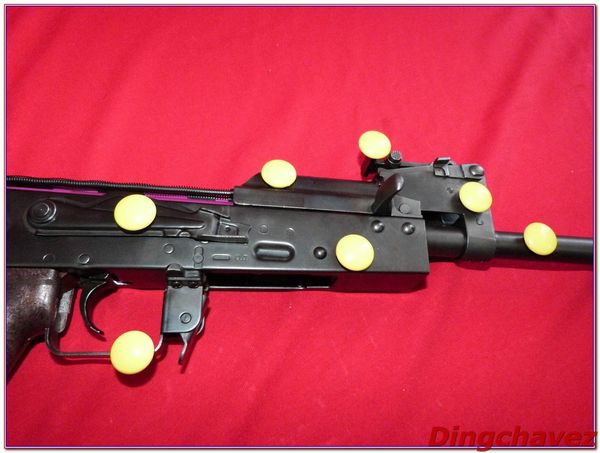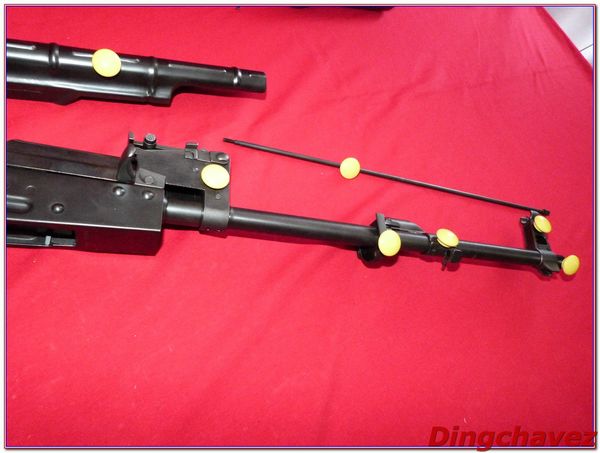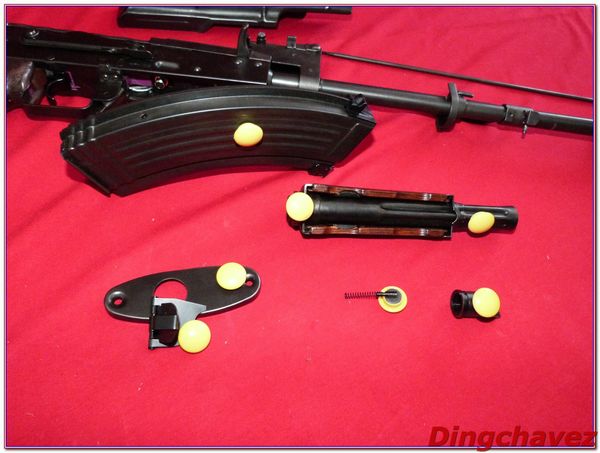 Je vous disais en début de review que Nono m'avait demandé de ne pas ouvrir la gearbox. Cependant, je lui ai tellement ouvert l'appétit qu'il a craqué et m'a donné l'autorisation. Avouez que ça aurait été dommage d'aller jusque là sans aller voir les entrailles de la bête ! (oui,je sais, j'ai un pouvoir de persuasion immense, sauf lorsqu'il s'agit de me faire prêter des répliques par des grosses boites :-p ). Aller, on commence par dévisser le sélecteur de tir, tout doucement pour ne pas le marquer.
As I told you at the beggining of the review, Nono asked me not to open the gearbox. However, I tickleled his curiosity strongly enough for him to change his mind (is than even English ?). It would have been a shame to strip this gun without knowing what's inside the guts ! (yes, I know, I have a huge sense of persuasion, except to have big shops lend me new guns :-p ).
All right, let's start with the fire selector, very gently in order not to imprint wrench traces.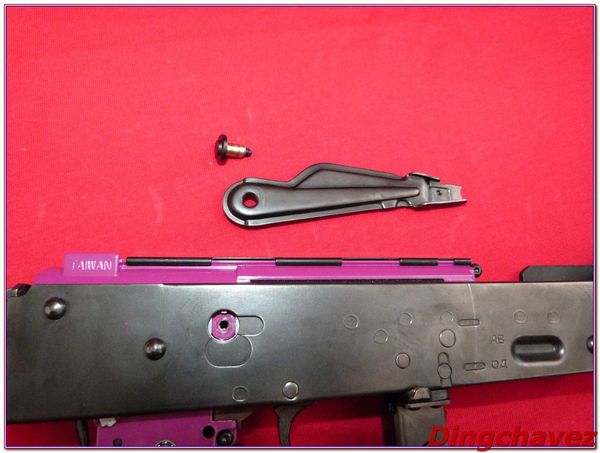 On retire la crosse. (optionnel mais comme je démonte tout…).
We remove the stock. (this is not mandatory).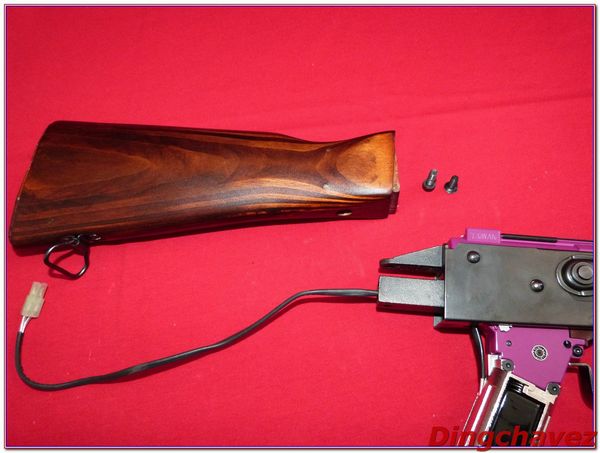 Puis on peut désaccoupler le moteur.
Then separate the motor from the GB.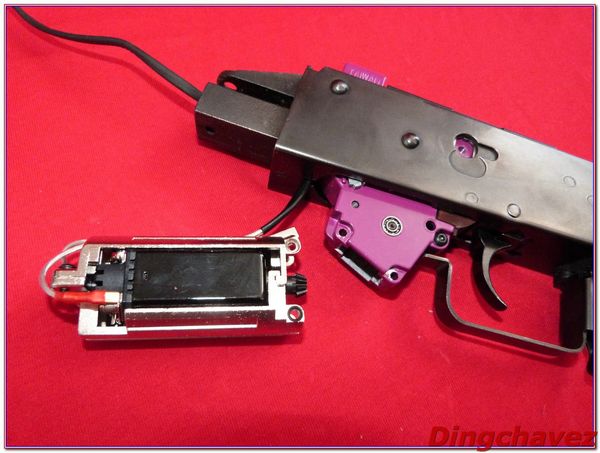 A propos, la cage moteur étant un peu large, impossible de la faire passer par le corps, mieux vaut débrancher les cosses pour travailler sur la GB.
By the way, the motor cage can't go through the receiver. It is better to unplug the motor if you want to work on the GB.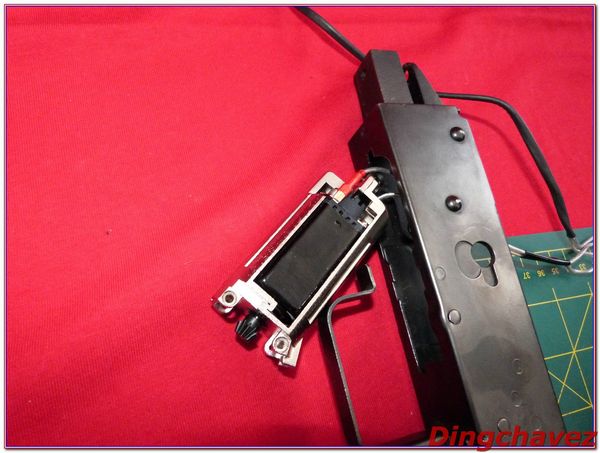 On peut alors sortir l'ensemble en le faisant glisser vers le haut et admirer cette coque mauve (qui à dit rose ?).
You can slide the GB out of the receiver and behold this purple (who said pink ?) gearbox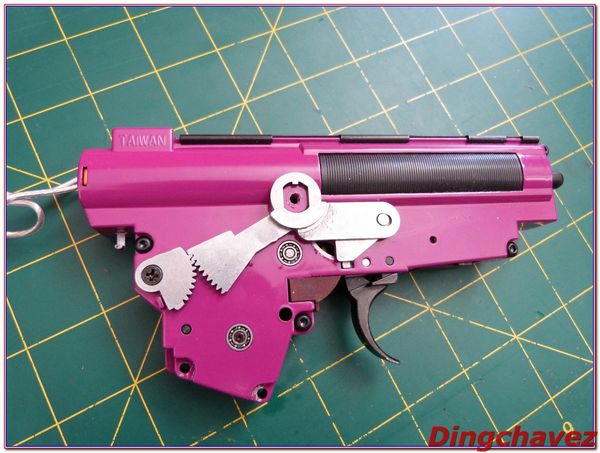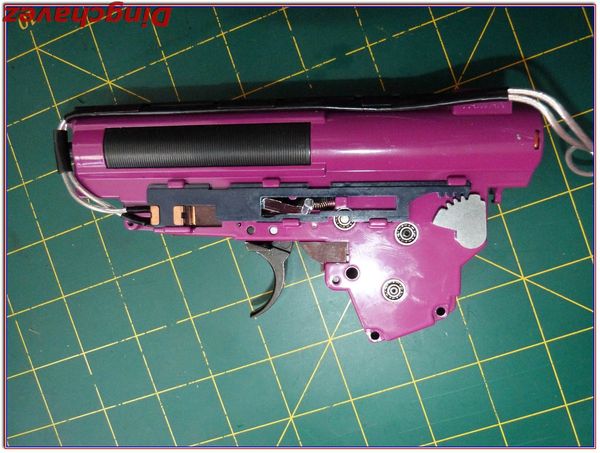 Comme promis sur le prospectus, ce sont des roulements à billes de 8mm.
As promised in the ad, those are 8mm ball bearings.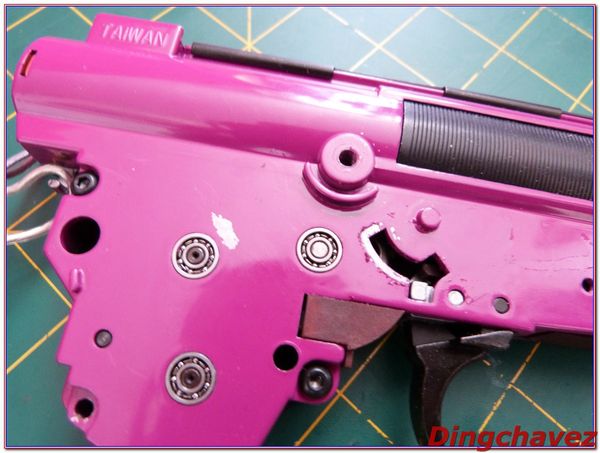 On dépose le sélecteur de tir, le cache d'engrenages (attention à ne pas le casser), le passe-câble (à ne pas plier !)…
We take appart the fire selector, the wire hider (?), the gear cover (?)…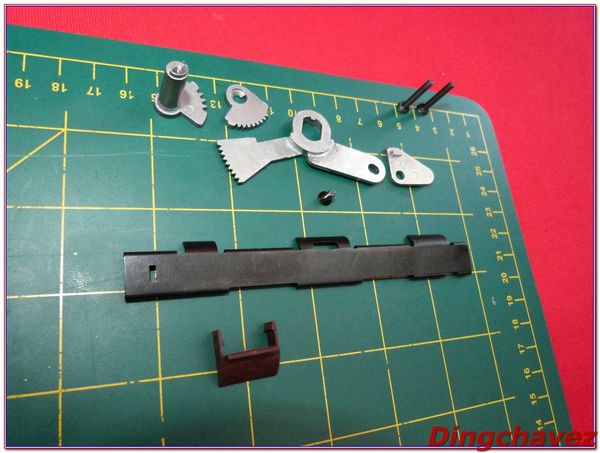 …on dévisse le tour de la coque et on ouvre ! L'interne est aussi beau que l'externe, je vous laisse découvrir.
…we unscrew the shell and we open it ! The inside is as good looking as the outside ! Have a look !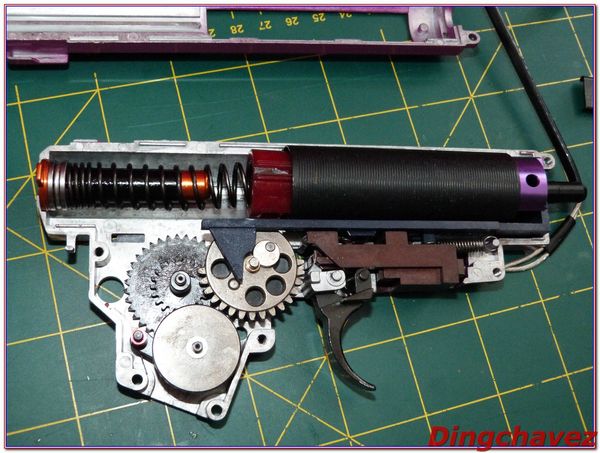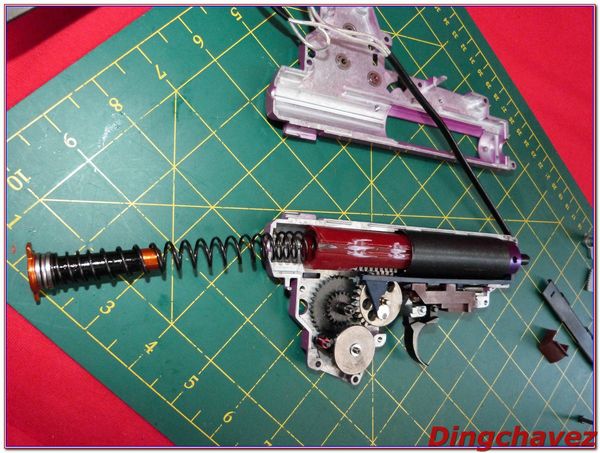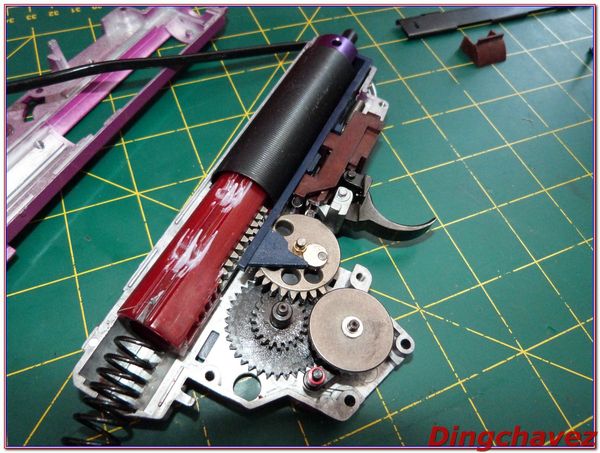 Le nozzle est équipé d'un joint torique, l'étanchéité est parfaite.
The nozzle is equipped with an O-ring, the airtightness is perfect.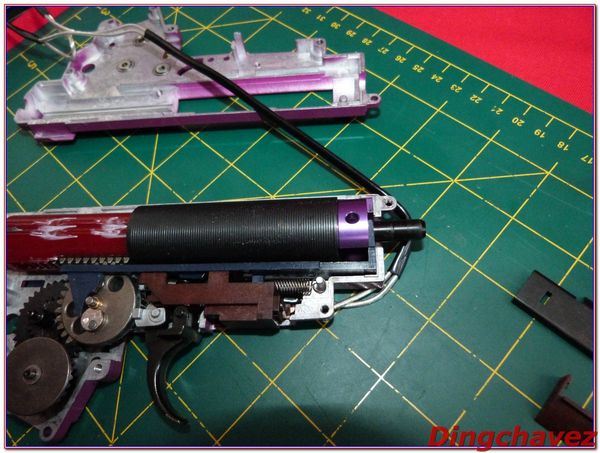 Le guide ressort est sur roulement.
The spring guide has a ball bearing.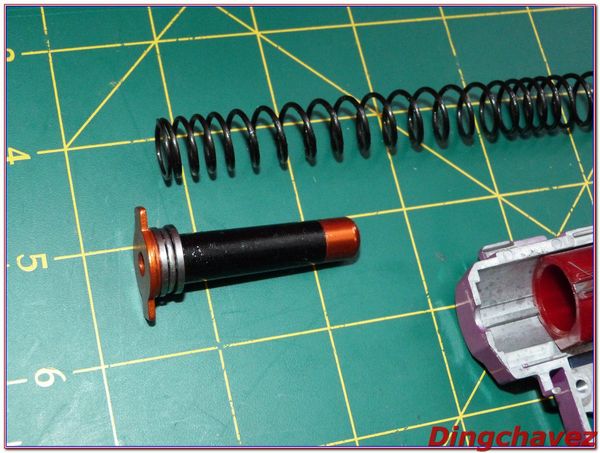 Le kit bore-up. Du coup ça me donne envie d'en mettre sur mes AK !
The bore-up kit. I feel like putting some of those inside my AKs !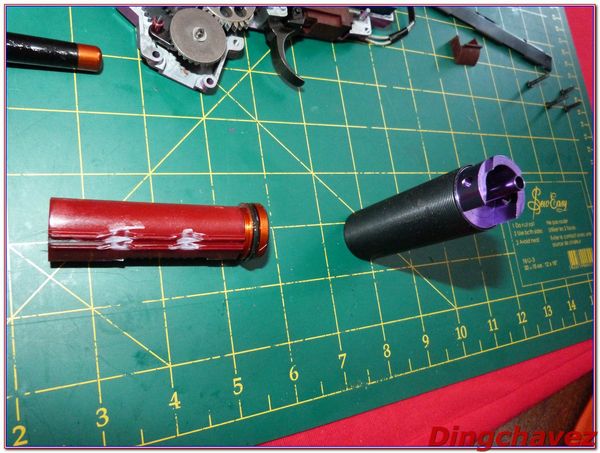 Comme le reste, le piston est lubrifié juste comme il faut, on sent qu'on a à faire à des gens qui savent ce qu'ils font…
As the rest of the componets, the piston has just enough lubricant. We can feel that the people who assemble this know what they are doing…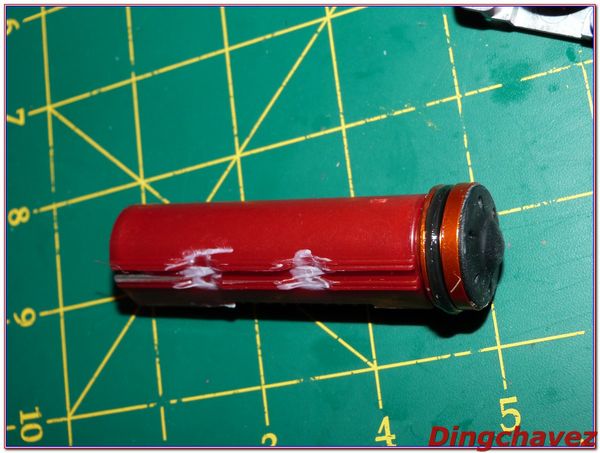 Les deux dernières dents du piston sont déjà presque inexistantes, à moins que ce ne soit une astuce pour gagner en cadence…
The last two teeth of the piston are almost worn out. Unless it is a trick to gain rate of fire…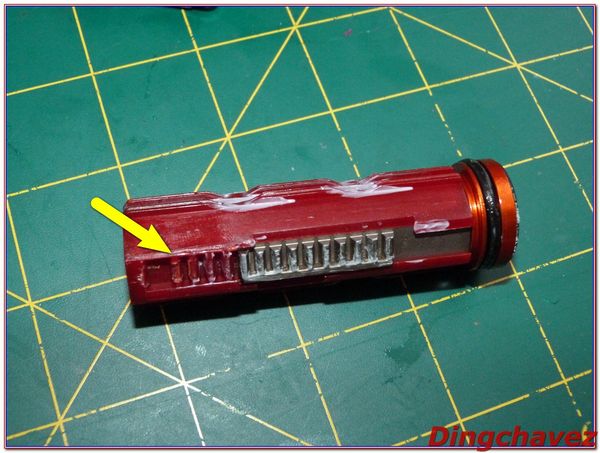 Le calage des engrenages était au poil. Lorsqu'on imprime un mouvement de rotation à l'engrenage moteur (anti-retour enlevé) les 3 engrenages tournent sans contrainte, une « pichenette » et ça tourne tout seul.
The gear fitting is nice. When rotating the motor gear, there is no constraint on the others. If you flick it, everything rotates smoothly.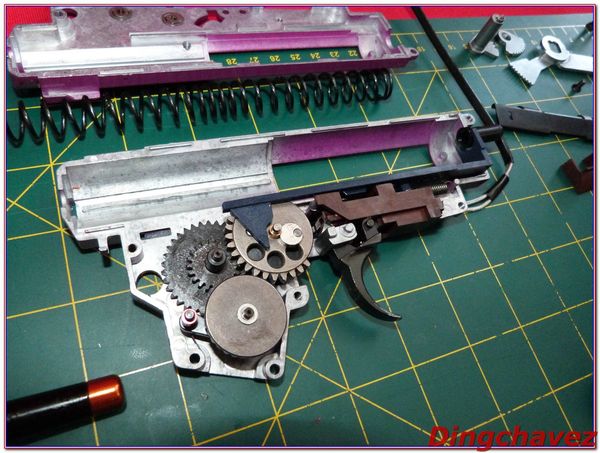 Gros plan sur les engrenages en acier.
Focus on the steel gears.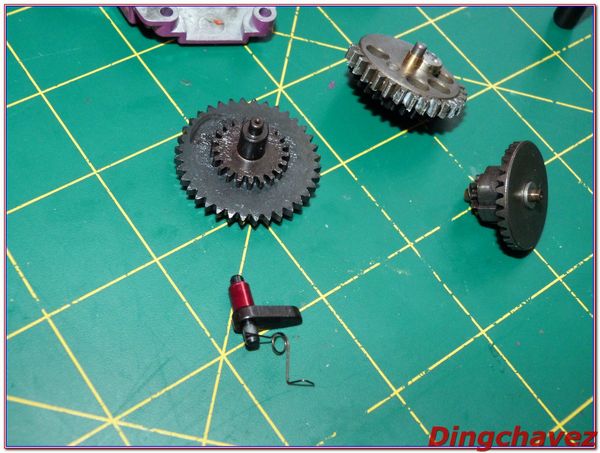 La coque presque vide.
The almost empty shell. (as my soul !)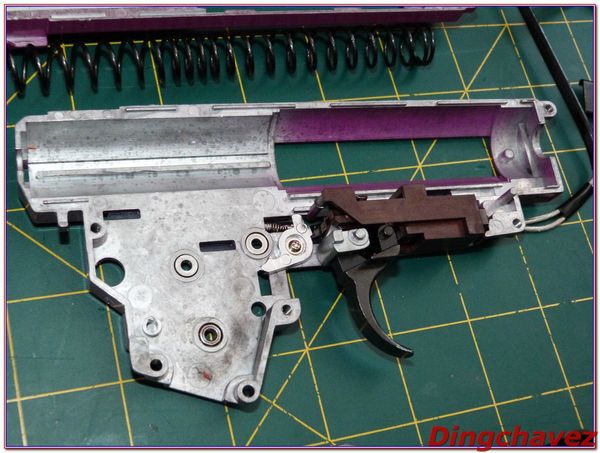 Pour terminer, une vue du contacteur électrique. Malgré les nombreux tirs il ne semble pas avoir souffert.
And to finish with this review, a close up on the electric contact. Despite the numerous shots, it doesn't seem damaged.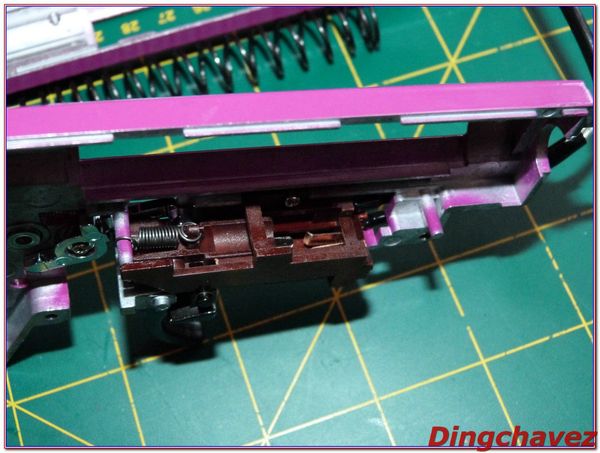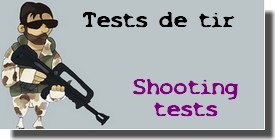 Tests chrony : Billes bio 0.20 grammes Xtreme precision. Batterie LiPo 7.4V 1400mah. mosfet avocado.
Tests de tir : Billes bio 0.25 grammes Xtreme précision. Batterie LiPo 7.4V 1400mah. mosfet avocado.
La valeur moyenne sur 10 billes est de 346 fps (hop up à zéro). Impeccable pour jouer dans toutes les associations et sur toutes les OP sans risque de se faire interdire le full. Je mettrai la cadence de tir vendredi, j'ai oublié de contrôler lors des tests !
La cadence de tir avec cette batterie est de 19 billes/seconde.
Sur le terrain on constate que l'interne donne toute la mesure de sa qualité. Les trajectoires sont régulières et le hop up est très efficace. J'ai tiré à la 0.25 mais de la 0.28 aurait peut être été plus adaptée dans les conditions de test (léger vent latéral).
Je vous laisse découvrir ce que ça donne, gardez à l'esprit qu'une feuille A4 à 40 ou 50 mètres, c'est très petit 😉
The average value on 10 BBs is 346 fps (hop up set to minimum), which is good in France, because most of the teams limit the use of full auto above 350 fps.
The rate of fire using this LiPo battery is 19 rounds per second.

On the field, we can see that the good internals gives good performance. The trajectories are consistent and the hop up does its job pretty well. I used 0.25BB but given the light wind, maybe 0.28 would have been better.
I let you discover the results, bear in mind that a 21X29.7 cm sheet at 50 meters is quite small without a scope :-).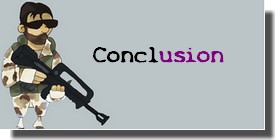 Une base LCT qui a fait ses preuves, un interne aux petits oignons, un assemblage et une finition made in France, BO Manufacture nous offre avec cette AKM13 une réplique d'exception.

720 Euros pour un custom unique, certains peuvent trouver le prix exagéré, certains peuvent dire « moi aussi je peux acheter une LCT et je sais faire un vieillissement et monter une gearbox ». Certes, mais il existe également des joueurs et des collectionneurs de répliques pour qui la qualité n'a pas de prix et qui n'ont pas forcément le temps/les capacités de se monter un tel custom.
L'apparence est importante mais les performances de l'AKM13 ne sont pas en reste : portée, précision et constance, tout cela avec une puissance raisonnable, on ne peut qu'approuver une telle initiative. Certains joueurs ont déjà rapporté des casses d'axe moteur ou un tappet plate brisé mais dans quelles circonstances (pourtant à priori il s'agissait de batteries NiMH) ? Rappelons qu'aucun système mécanique n'est à l'abri d'une casse, quel qu'en soit le prix mais espérons justement que pour le prix, les soucis ne seront pas récurents…
En bref, si vous êtes russophile convaincu ou collectionneur, cette réplique est pour vous, si vous débutez et n'y connaissez rien, orientez-vous vers des marques plus abordables (Cyma ou KLS sont de bons choix).
Quant à moi, j'avoue que je vais avoir du mal à la renvoyer à son propriétaire, la seule chose qui me réconforte, c'est que j'ai moi aussi ma beauté russe, mais à gaz, et le gaz… c'est la vie 😉
Je mettrai cette review à jour au fur et à mesure des retex. Merci de votre attention, n'hésitez pas à commenter sur Facebook.
A LCT frame which proved to be successful in the past, a fine tuned gearbox, assembled and finished in France, BO Manufacture gives us an exceptionnal replica with this AKM13.
720 Euros for a unique custom, some of us could thinks it is a heavy price to pay, some of us could say « I can buy LCT and do the same, I know how to tune a gearbox too ». Maybe you're right, but there are also many players or people who can't access real or neutralized guns to hang them over the chimney 🙂 Some of us also think that quality is priceless and that not every player is able to tune a BB gun like that.

Of course the look of the gun is important, but here, the performances are really good : range/accuracy/RoF and consistency, all we can do is approve such initiatives.

A few players reported broken motor axles and one broken tappet plate, but we don't know yet if it is some isolated problems. I shot about 500-700 BBs without a problem, let's hope it continues because the retail price should grant a good reliability…

In a nutshell, if you love Russian guns or beautiful pieces of art and you have the money, this AKM13 is for you to adopt ! Otherwise, Cyma and KLS have nice cheap basis to make your own and personal custom.

I'll drop a tear when I send it back to it's owner, but I also have my own eastern beauty, but using gas of course !

Thanks for your attention and don't hesitate to comment on Facebook !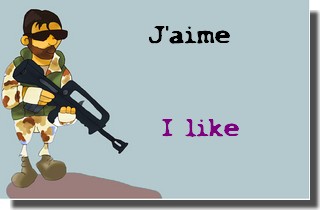 -Qualité des matériaux. Materials quality.
-Qualité des finitions. Finishing quality.
-Qualité de l'interne.  Gearbox and internal quality.
-Montage soigné. Perfect assembling.
-Ratio puissance/portée/précision excellent. Excellent power/range/accuracy ratio.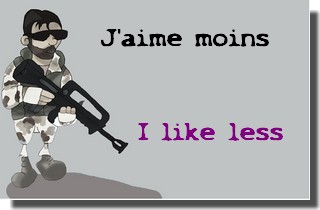 -Axe du loquet de verrouillage de chargeur qui a tendance à se sauver. Mag catch pin tends to slide away.
-Je préfère les crosses pleines (et donc les batteries stick). I prefer filled stocks (so I use stick batteries).
-Pas accessible à toutes les bourses. This is not everybody's BB gun, money matters !

-Je dois la rendre à son propriétaire :-/    I have to give her back to her owner :-/
---
---
Quelques photos comparatives à côté d'un modèle GHK/LCT (bois, sangle, compensateur, baguette de nettoyage, hausse et poignée pistolet RD) ainsi qu'une AKMS VFC ( compensateur, bois et hausse RD).
A few pictures with my GHK/LCT AKM (real deal handguard, stock, compensator, cleaning rod, sling, pistol grip and rear sight) as well as a VFC AKMS (real deal compensator, handguard and rear sight).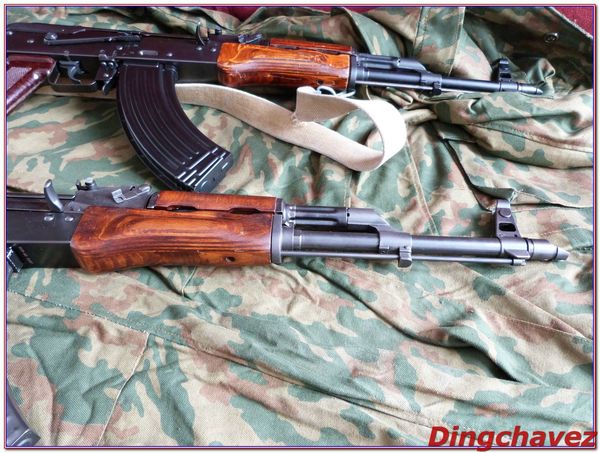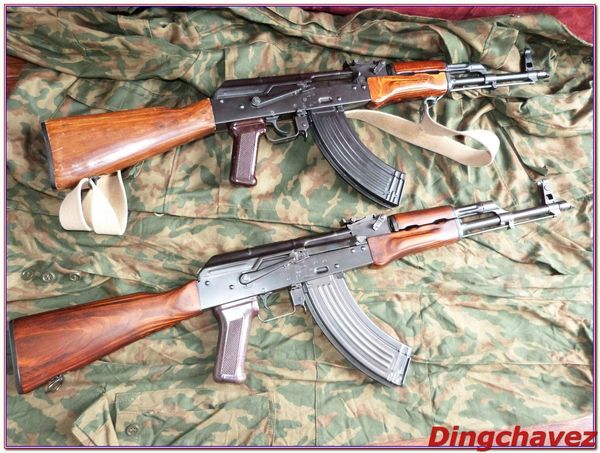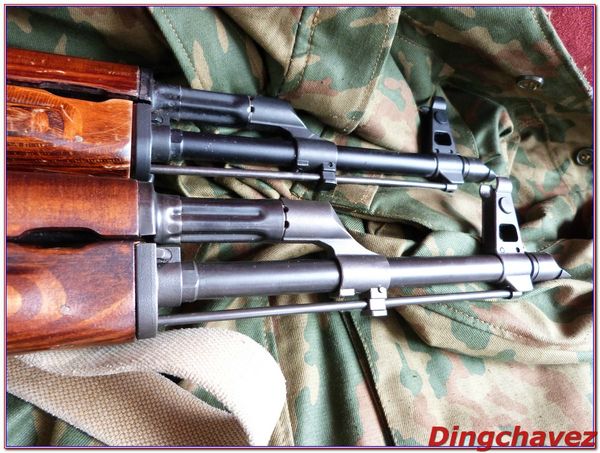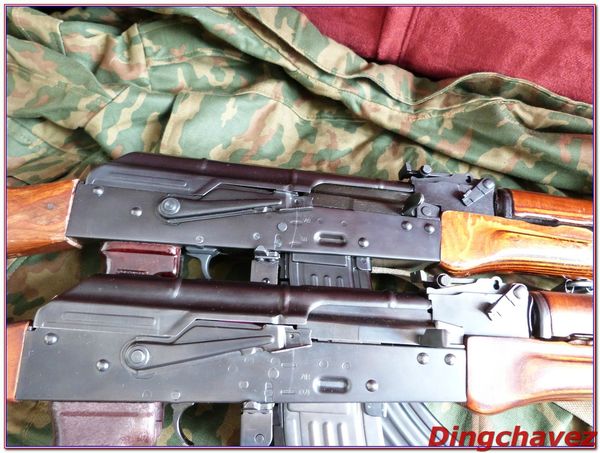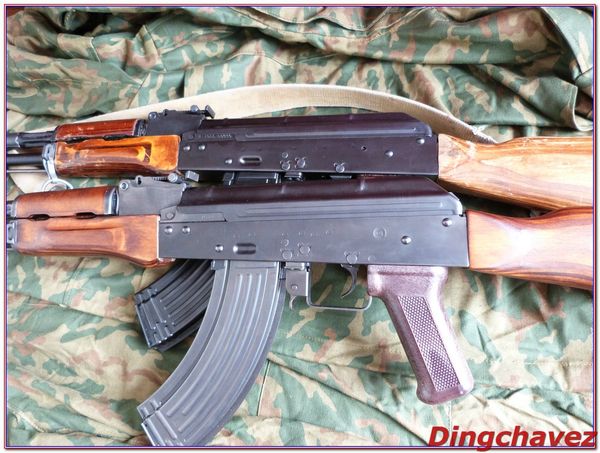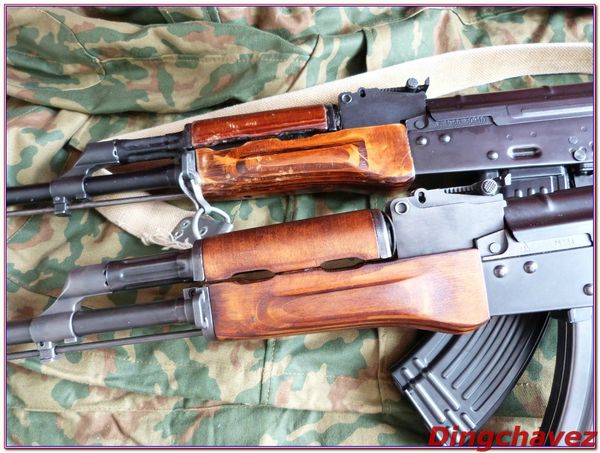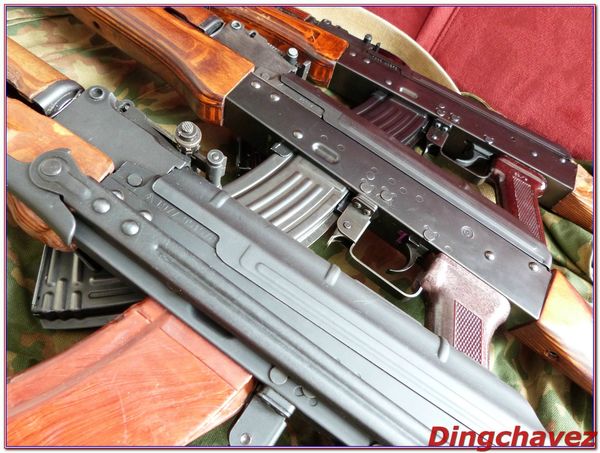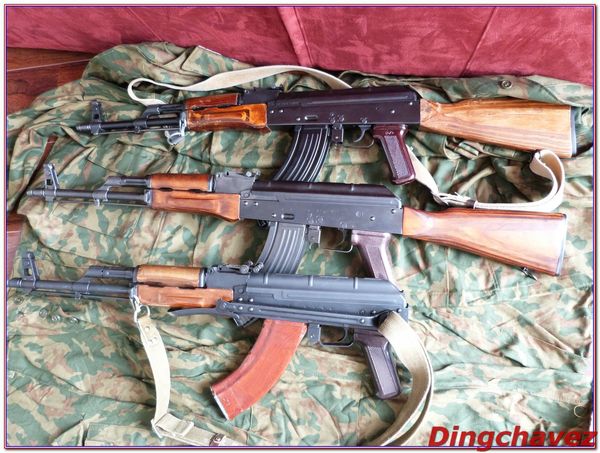 Quelques photos dans la nature, milieu idéal pour cette beauté !
A few pics in the nature, ideal background for this beauty !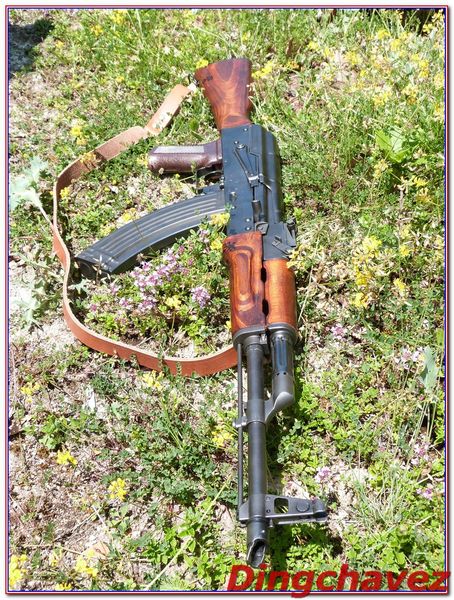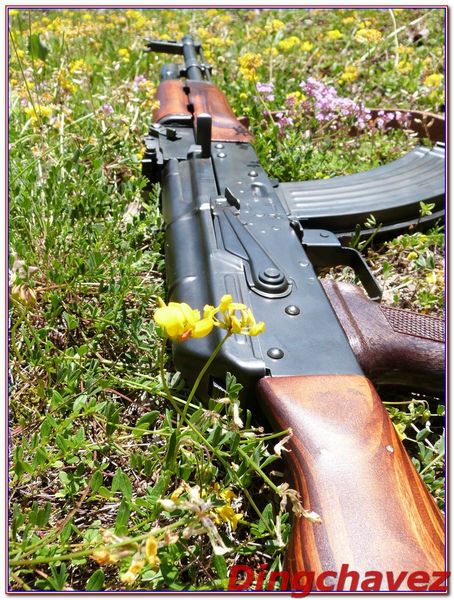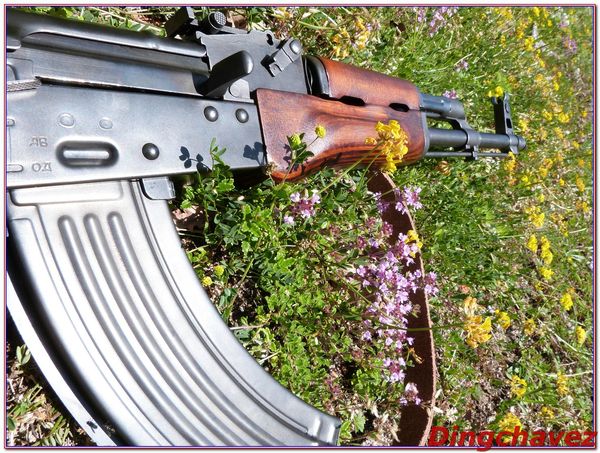 * « Une marchandise dans la production de laquelle sont intervenus deux ou plusieurs pays, est originaire du pays ou a eu lieu la dernière transformation ou ouvraison substantielle, économiquement justifiée, effectuée dans une entreprise équipée à cet effet et ayant abouti à la fabrication d'un produit nouveau ou représentant un stade de fabrication important. »

Posté le 17 juin 2013 par Dingchavez