Review Tokyo Marui PX4 et comparatif TM-WE(HK3PX4)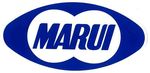 Quelques semaines après avoir pu tester le PX4 de chez 3PX4 (WE avec marquages), j'ai pu mettre la main sur la version made in Japan de Tokyo Marui.
Vite, vite, le point sur cette réplique, avec en fin d'article un comparatif entre les deux modèles…
A few weeks after the 3PX4 (WE with markings) version of the Beretta PX4, I've been able to grab a Tokyo Marui.
No more waiting, here is the review, and at the end of this paper, a comparison between the two models.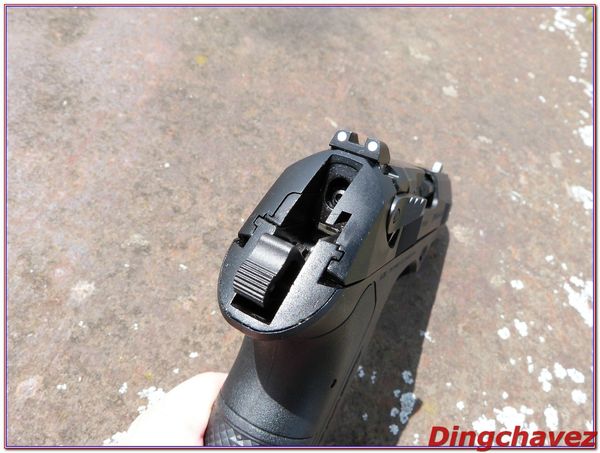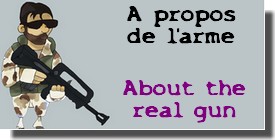 Pour la faire courte, le PX4 est un pistolet semi-automatique fabriqué par la firme italienne Beretta. La particularité de cette arme est d'avoir un canon rotatif qui permet de diminuer le recul. Trois calibres sont disponibles (9mm para, .40 et .45ACP) et le PX4 dans sa version 9mm (objet de cet article) est doté d'un chargeur de 17 balles.
Pour plus d'infos, le wiki…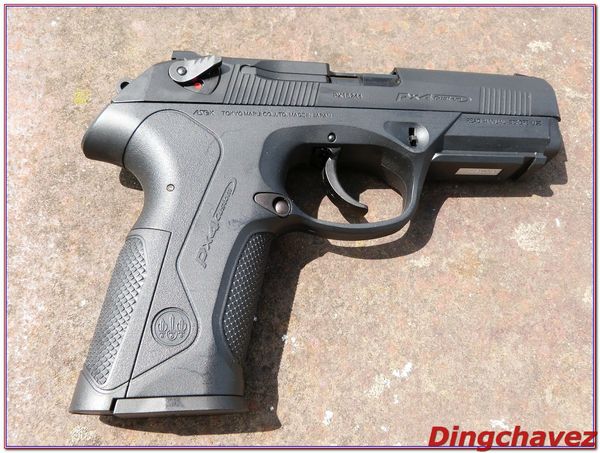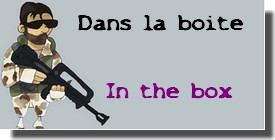 Elle brille, elle est belle, elle est bien remplie, c'est une boite Marui !

It shines, it's beautiful, it's full, it's a Marui box !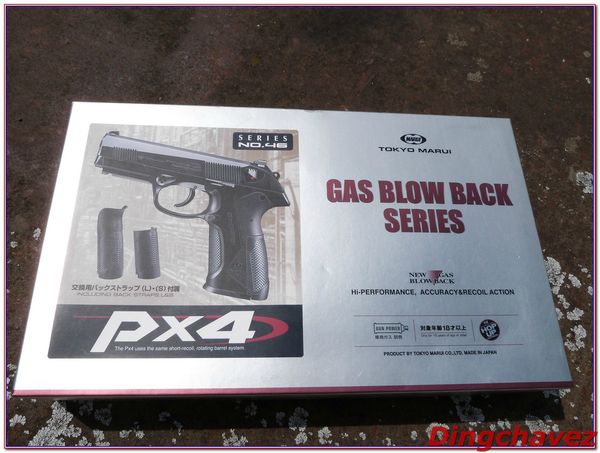 Tout est bien callé dans du polystyrène bien compact, rien ne bouge.
Everything is well in place in hard polystyrene, nothing moves.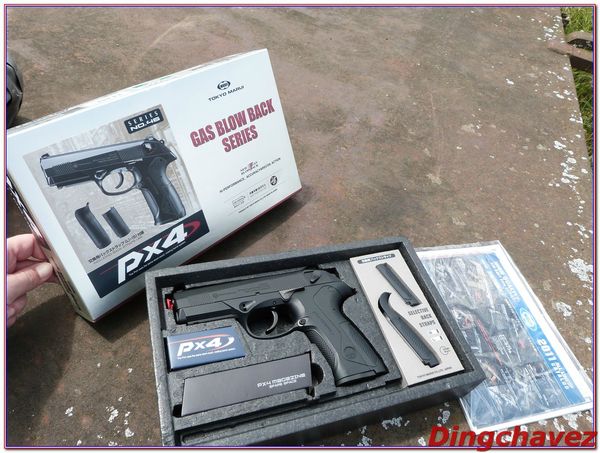 On sort tout de la boite pour y trouver :
-La réplique. 937 grammes de bonheur !
-Un chargeur de 26 billes.
-Une tigette de nettoyage (ici absente, les joies de l'occase !)
-Un paquet de billes.
-Deux grips de rechange.
-Deux pièces pour pouvoir tirer à vide.
-Un manuel de l'utilisateur.
Let's empty the box to find :
-The gun, 937 gramms of pure airsoft happiness.
-A 26BB magazine.
-A cleaning rod (thanks to the used gun market, there was none in my box).
-A small pack of BBs.
-Two extra grips.
-Two blank firing parts.
-A user manual.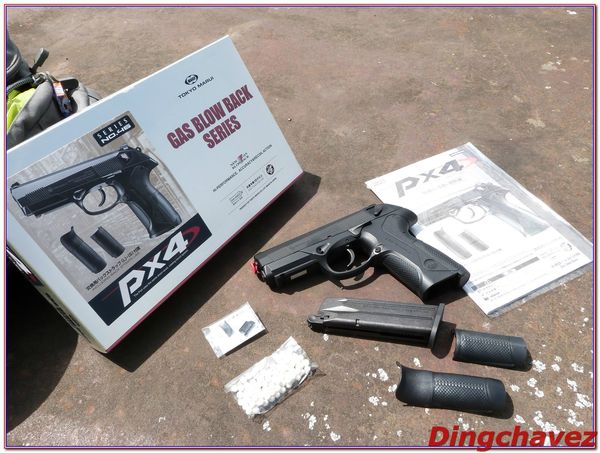 Carcasse et glissière sont en ABS. Comme la plupart des GBB Marui, ça sent bon la qualité d'assemblage et le détail. Les moulages sont très bons et tout se manipule sans qu'il n'y ait de jeu ni de point dur. Finitions nickel donc pour ce PX4.
The frame and the slide are made of ABS. As most of Marui GBBs, it smells like quality and detail. The molding is excellent and the handling is perfect : no wobbling, no hard parts. Excellent finish for this PX4.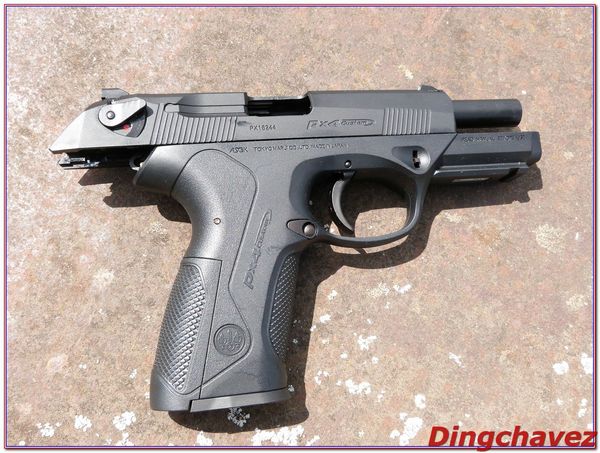 Les marquages de la glissière sont impeccables, pas de bavure, pas d'imperfections notables.
The markings on the slide are crisp and without flaw.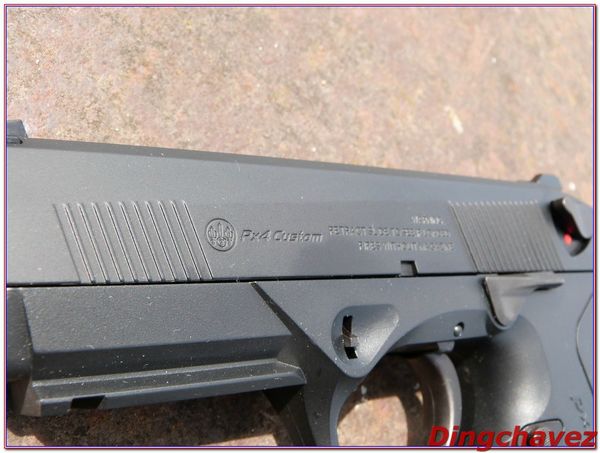 A l'avant de la carcasse, un autre marquage.
At the front of the frame, another marking.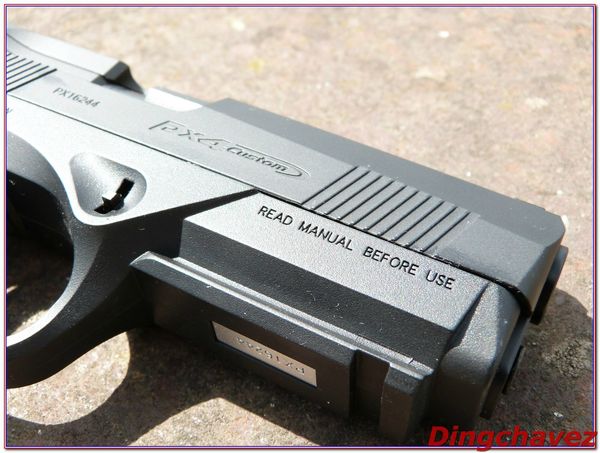 Et bien entendu la marque du fabricant.
And of course, the maker's marking !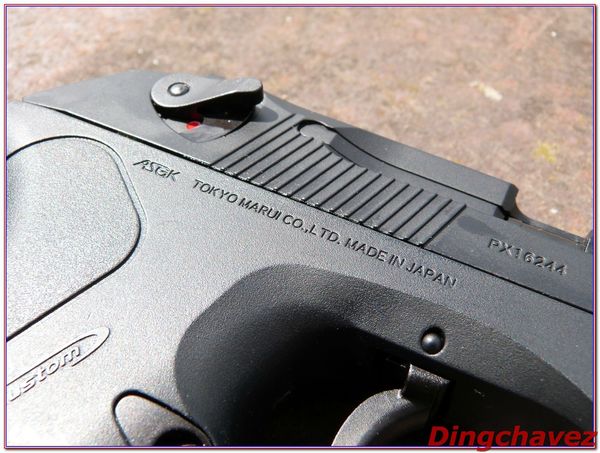 La crosse dispose de marquages Beretta. L'aspect est moins brillant que le modèle WE. Le grip est agréable.
The butt has got Beretta markings. The look is less glossy than the WE, the grip is pleasant.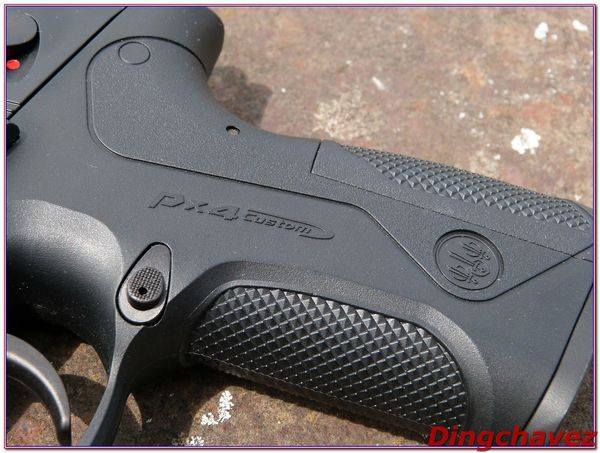 Et puisqu'on en parle, il est possible d'adapter votre prise en fonction de votre morphologie à l'aide d'un des 3 grips présents dans la boite. Pour en changer, on appuie sur le bouton situé au cul de la crosse.
Speaking about grip, it is possible to change it for one of the 3 different versions in the box. To remove it, press the button at the bottom of the butt.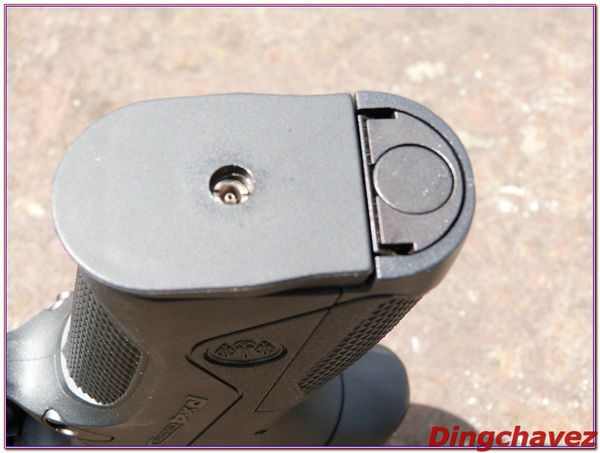 Et on fait glisser le grip vers l'arrière.
And we slide the grip it to the rear.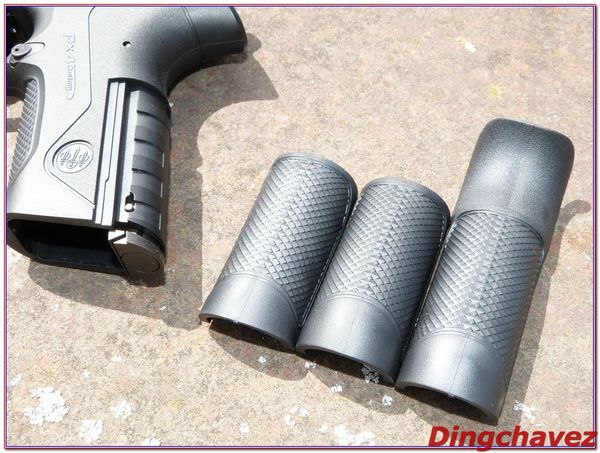 Petit
Small
Moyen
Medium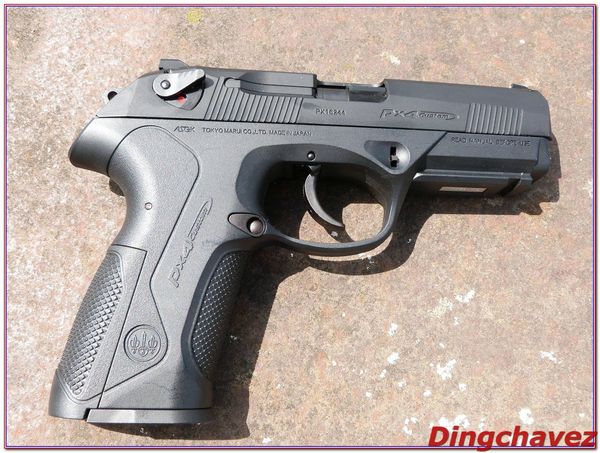 Grand
Large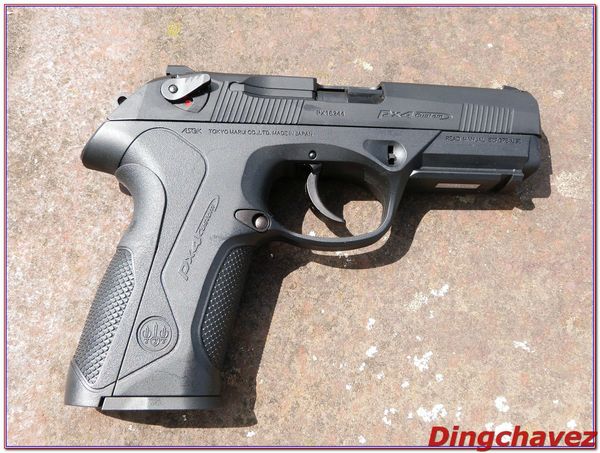 Le canon comporte le numéro de série plus l'indication du calibre RS (9 para).
The outer barrel is engraved with the serial number, plus the real steel caliber (9 para).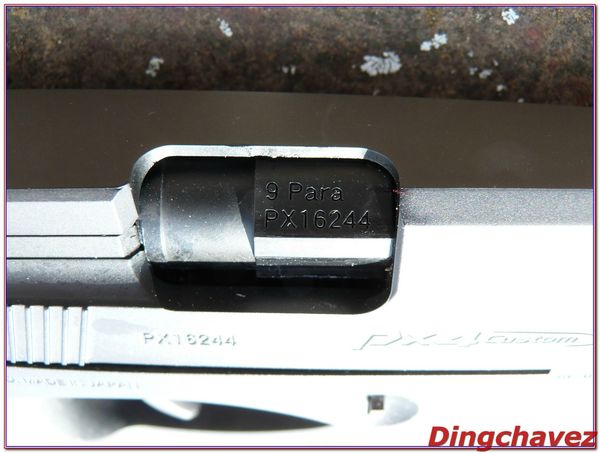 L'arrêtoir de glissière est en alliage. Quant au bouton ed verrouillage de chargeur il est possible de le passer à droite si vous êtes gaucher.
The slide catch is made of alloy. The mag catch can be moved to the right of the gun if you're left handed.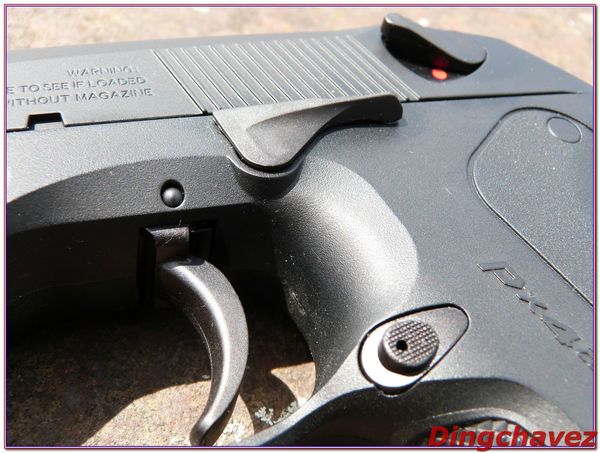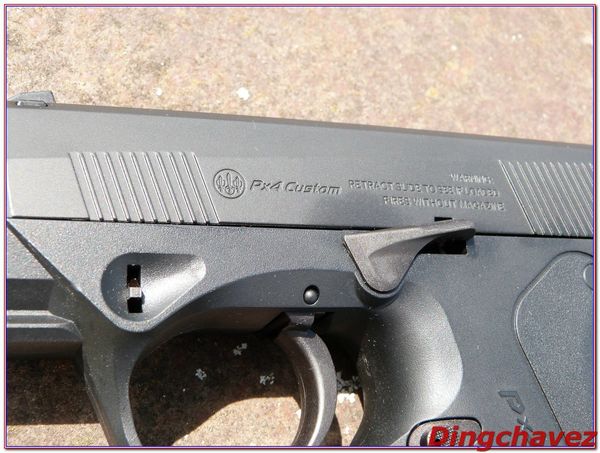 Le cran de sûreté fait également office de levier de désarmement.
The safety lever is also a de-cocking lever.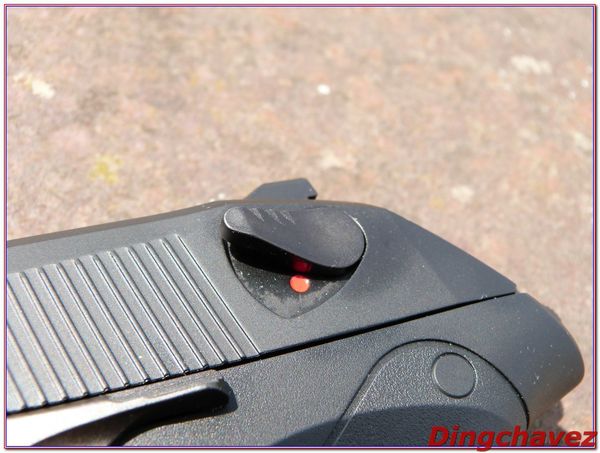 On retrouve à nouveau le numéro de série sur la partie inférieure de l'avant de la carcasse, là ou se situe le rail 22mm permettant de fixer une lampe ou autre laser…
Once again we see the serial number. This time on the lower part of the frame, were the 2mm rail is molded.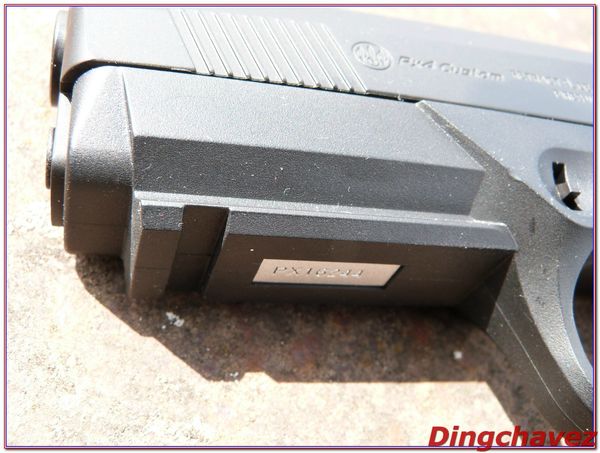 Les organes de visée comportent des points blancs, cela facilite l'acquisition de la cible.
The sights are marked with white dots. It is easier to acquire targets.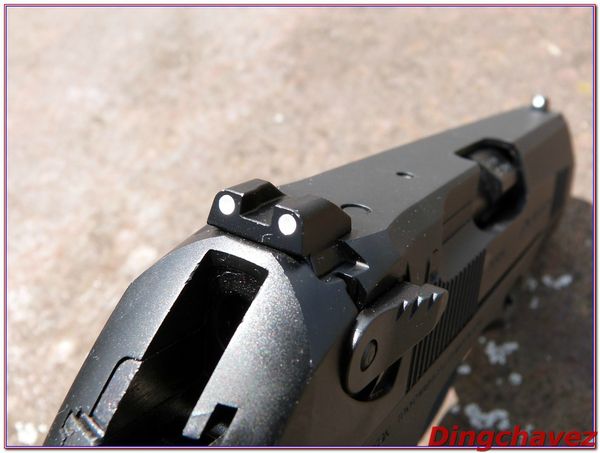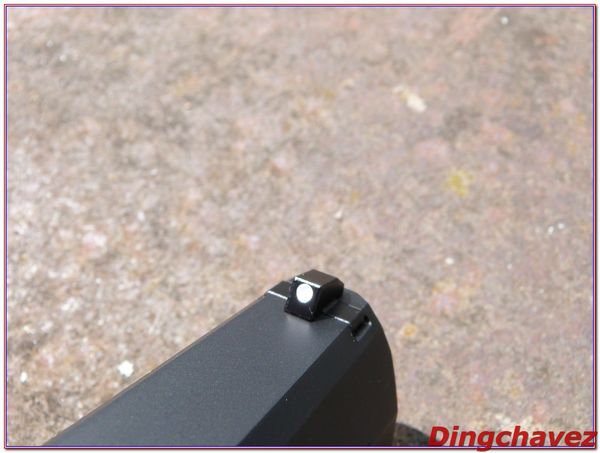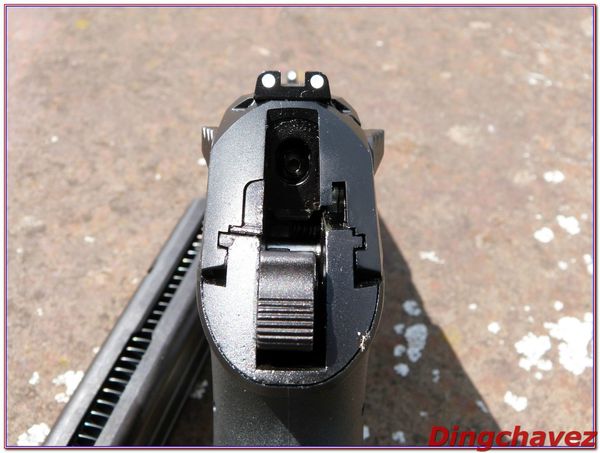 Le côté droit de la glissière comporte également le numéro de série. On distingue en gris clair la molette de réglage du hop up.
On the right side of the slide, there is the serial number. We can notice the hop up unit setting wheel (light grey).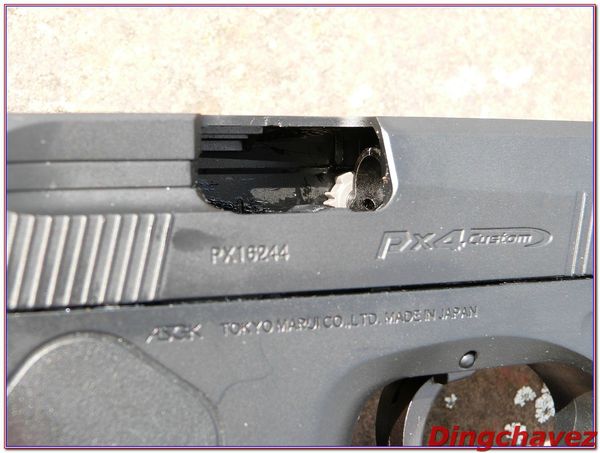 Pas de filetage sur le canon externe en plastique, il faudra donc un canon spécial si vous souhaitez mettre un silencieux.
No threading on the plastic outer barrel, you'll have to buy a new one if you want to adapt a silencer.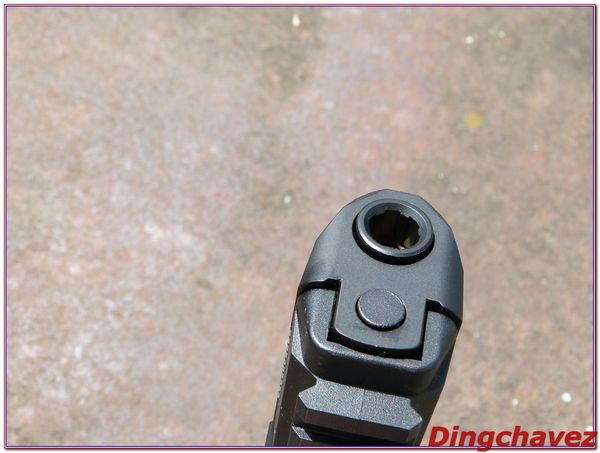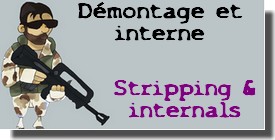 A l'instar des Glocks, ce Beretta se démonte en une pression des tenons situés sur la carcasse.
As the Glock family, this Beretta can be stripped using the lugs on the frame.
Une petite vue de la mécanique.
A view at the guts.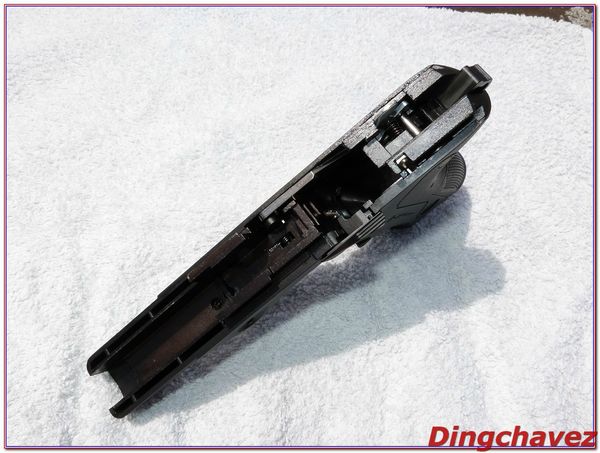 On peut alors enlever la tige-guide, le ressort récupérateur, l'ensemble canon interne-externe et hop up.
Now we can remove the insides from the slide : inner and outer barrel, spring guide and recoil spring, hop up unit.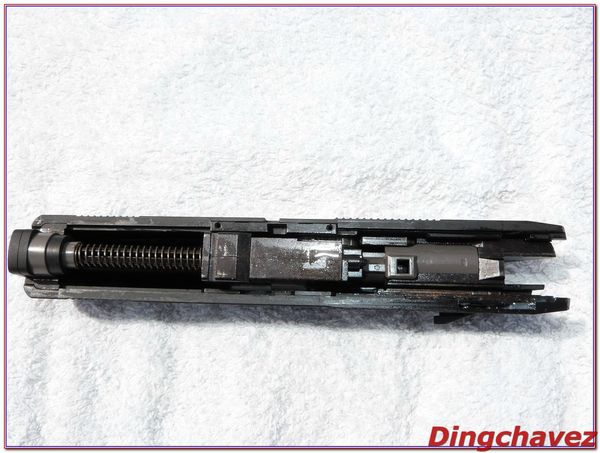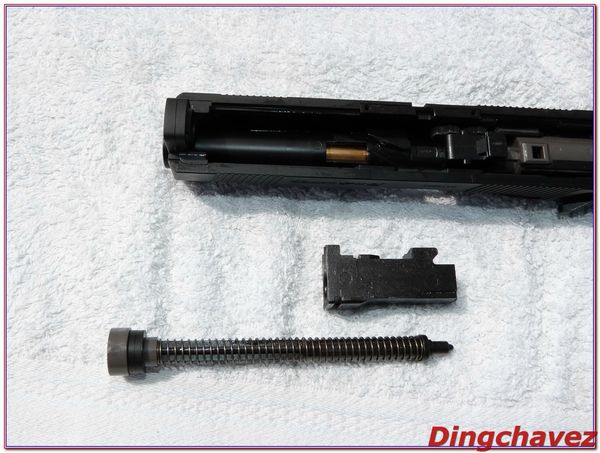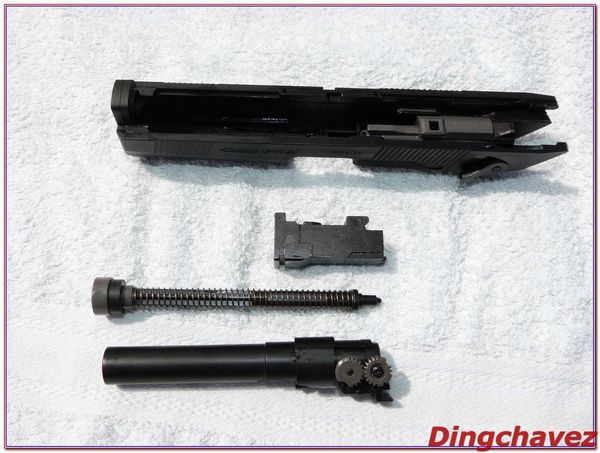 Vue sur le nozzle.
A close up on the nozzle.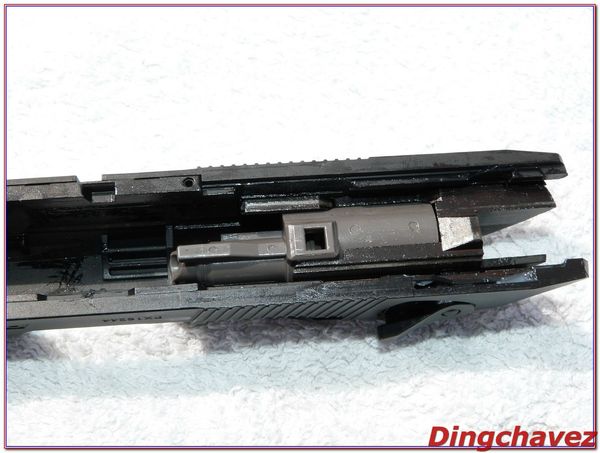 Ici on remarque une pièce métallique, c'est en fait là que vient se poser l'arrêtoir de culasse, bonne idée, plutôt que d'avoir un contact métal/plastique, l'arrêtoir vient se bloquer ici, évitant l'usure prématurée de la glissière.
ATTENTION : certains utilisateurs ont reporté que cette pièce avait tendance à bouger. Sur le modèle testé, tout tient bien.
Here you can notice a metal part. This is here that the slide catch operates. Clever : instead of having a metal/plastic contact, you can avoid a rapid wear of the slide.
WARNING :  a few users reported that this part could go away, on the tested model, no problem.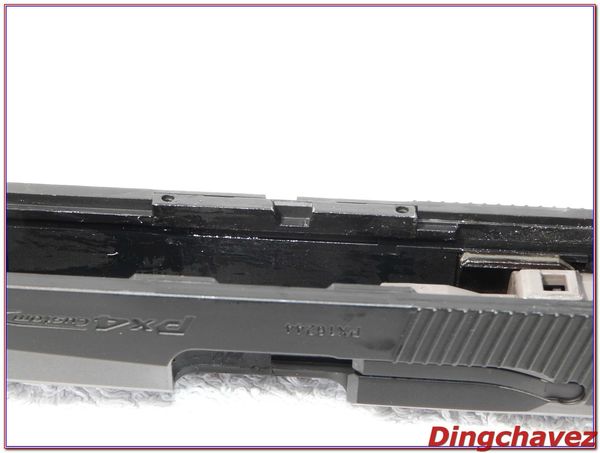 Le canon externe. Comme sur le vrai PX4, il est rotatif. Celui-ci est en ABS.
As on the real PX4, the outer barrel is rotating. This one is made of ABS.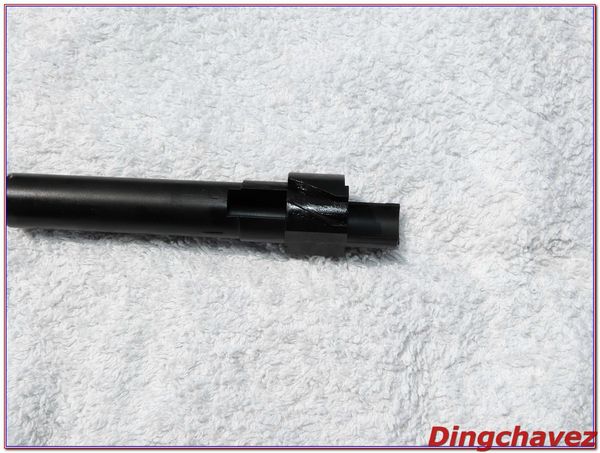 Le bloc hop up est assez inhabituel, il y a deux roulettes de réglage.
The hop up unit is a special one, with two small wheels.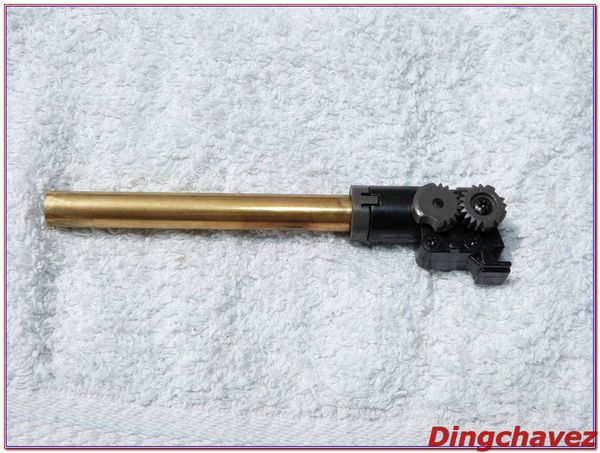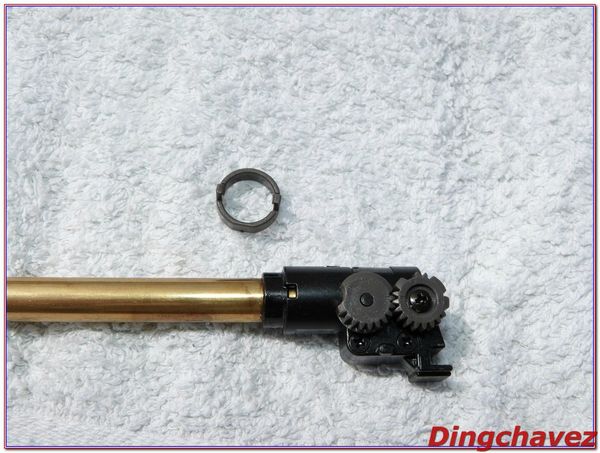 Le canon interne mesure 92 mm.

The inner barrel is 92mm long.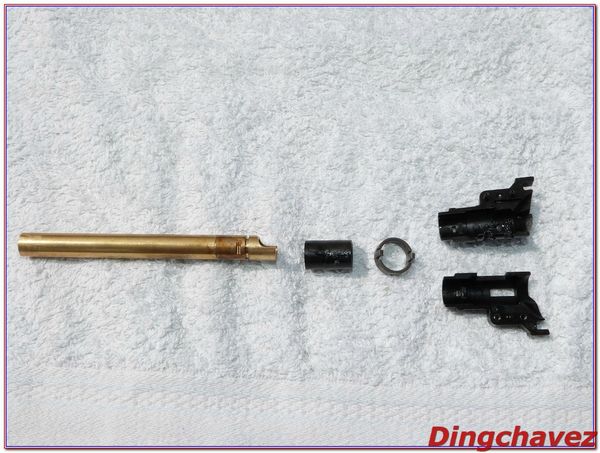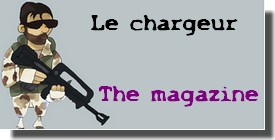 Le chargeur du PX4 peut contenir jusqu'à 26 billes.
The PX4 mag can holt up to 26 BBs.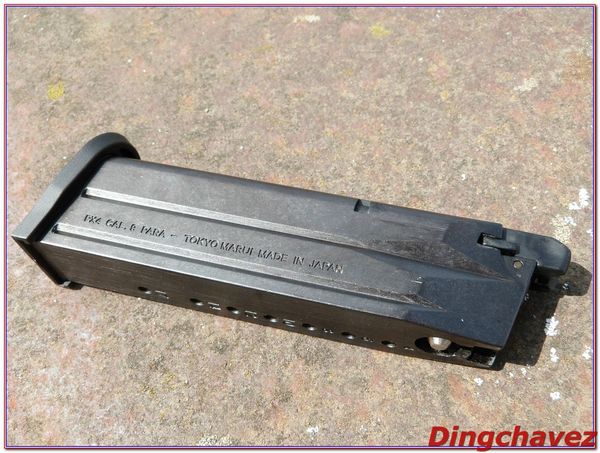 Ici avec la pièce permettant de tirer à vide sans déclencher l'arrêtoir.

Here is a picture with the part allowing dry fire.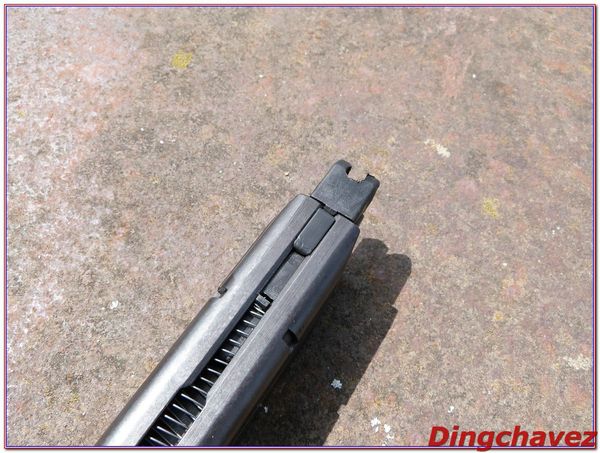 Sans…
Without…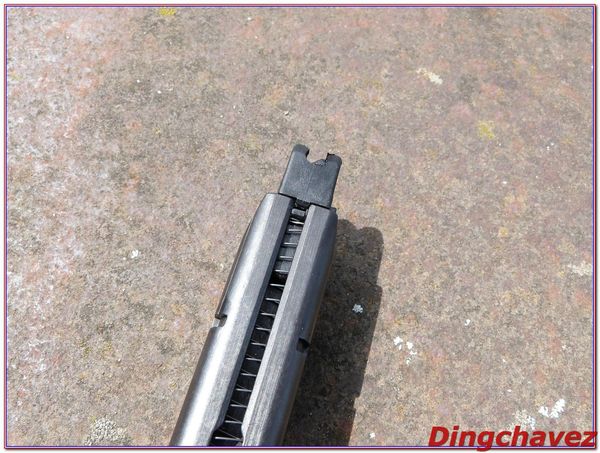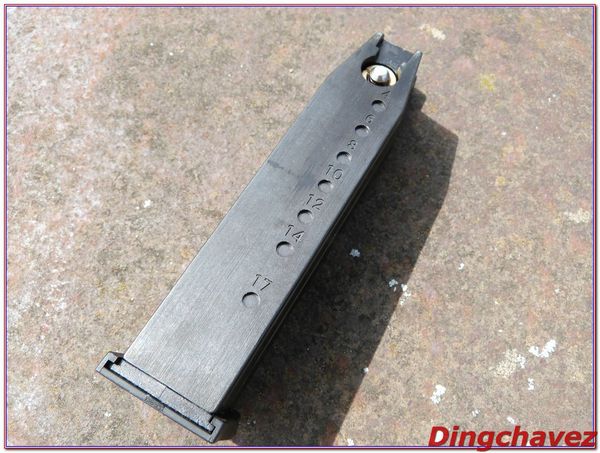 En cas de fuite, on enlève le talon, on dévisse et on répare !
If the mag leaks, just remove the butt plate and unscrew, then repair.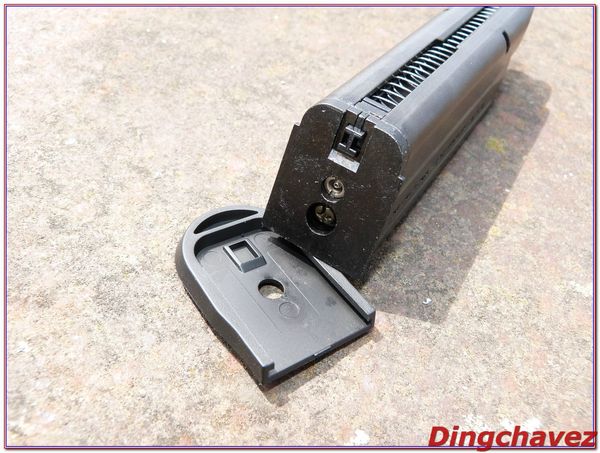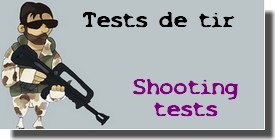 Les tests ont été effectués avec du HFC144a. gas : HFC144a
Température 25°C en intérieur (pour les tests chrony) et environs 34°C en extérieur (pour la vidéo de tir).
Temperatures : 25°C inside (chrony tests) and about 134°C outside (for shooting tests)
Billes bio Xtreme précision 0.2 grammes.
Voici les valeurs obtenues en FPS sur 5 tirs : 266-265-261-263-265
Soit une valeur moyenne de   264 FPS, parfait pour un backup.
Le hop up est efficace il lève un grammage de 0.25 sans souci, pas étonnant car on a à faire à un joint Marui, pour moi parmi les meilleurs pour des répliques peu puissantes (jusque 350 fps). Le kick est très sympathique on atteint les 30-35 mètres avec une dispersion assez faible.
The average power is 264 FPS.

The hop up is efficient, it has no problem lifting 0.25BB. This is good but to me Marui rubbers are the best ones for guns up to 350 fps. The kick is interesting as the gun is compact. The range is about 30-35 meters with a good accuracy.
Concernant la précision, les tests ont été effectués à une distance de 5-10 et 20 mètres environs.
The accuray tests have been made at a distance of 5-10 and 20 meters.
Je vous laisse découvrir ce que ça donne en images (il y avait un peu de vent, c'est pas facile) :
Let's discover it (the weather was windy) :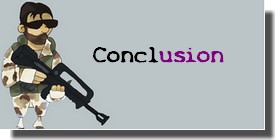 Ce qui est chiant avec les répliques de poing Marui, c'est qu'il y a peu de surprises : très bonne finition, détails à foison, performances de tir souvent excellentes, c'est assez joussif.

Certes, ce PX4 dispose d'une glissière en ABS et il faudra donc faire attention au gaz utilisé sous peine d'avoir de la casse à plus ou moins court terme, mais il y a suffisament de pièces détachées et d'améliorations possibles pour se limiter. A mon sens, seul le prix auquel on trouve ce type de réplique dans les shops français (comptez entre 180 et 240 Euros) peut freiner les ardeurs des joueurs les moins fortunés (ou plutôt les moins économes si comme moi vous n'aimez pas attendre !).
A part ça, Marui signe une fois encore une très bonne réplique de poing et que vous soyez un adepte de Beretta, de Marui ou de Khan Seb, ce PX4 pourrait devenir votre meilleur ami !
What's boring with Marui is that there is no surprise : good finish, good details, mostly excellent shooting performance, this is really enjoyable.
Of course, this PX4 has got a plastic slide so you should be careful about which gas you use if yon don't want it to break, but there are more than enough spare parts to ignore limits ! In my opinion, only the price here in France can deter the fellow buyer to acquire this BB gun (about 180-240Euros).
Other than that, if you're a Beretta addict, Marui addict or Khan-Seb addict, this PX4 could become your best friend !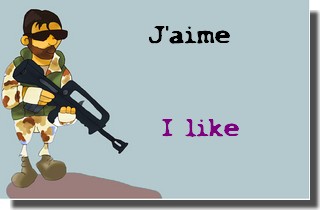 -Look sympa./good looking gun.
-Finitions./good finish.
-Portée/précision d'origine./good range/accuracy.
-Contenu de la boite /Box content.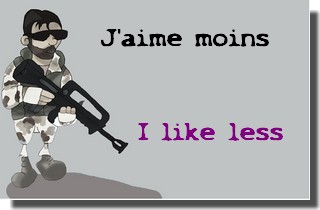 -Le prix… /Price

-Pas d'attache pour dragonne ! / no sling attachment.
Ici dans un holster CQC en fibre de carbone de chez Blackhawk, écrin de choix pour cette réplique !
Here in a Blackhawk carbon fiber CQC holster.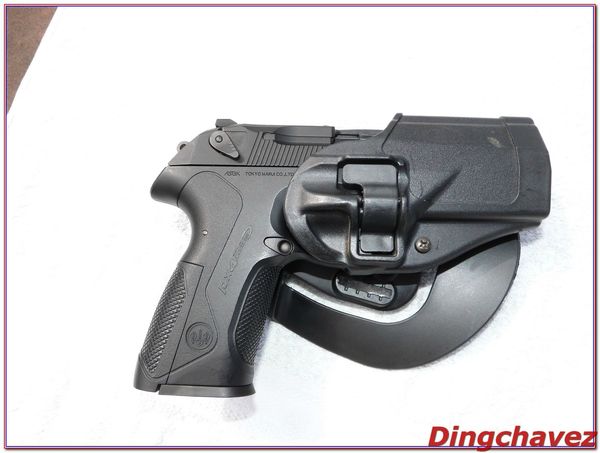 Comparaison WE/Marui WE/Marui comparison :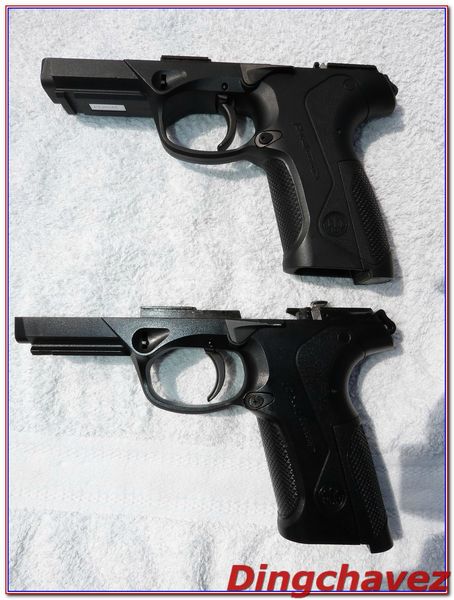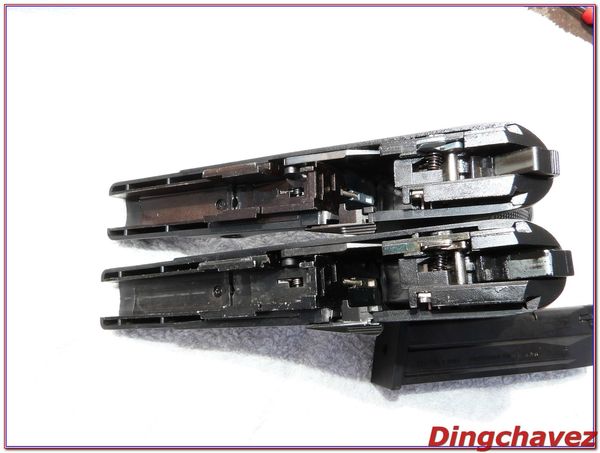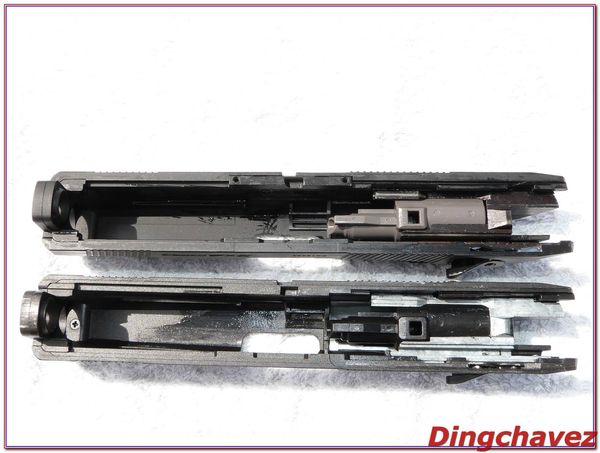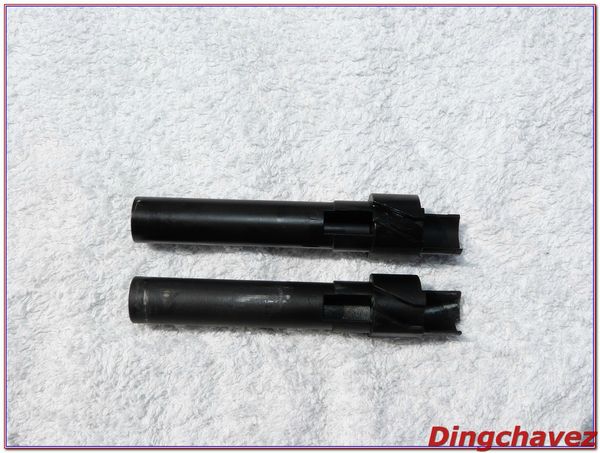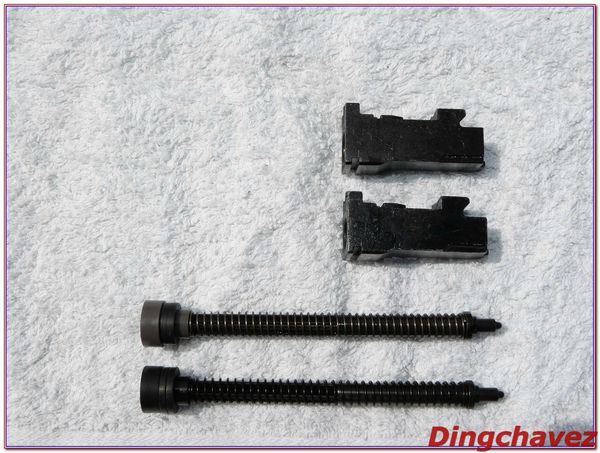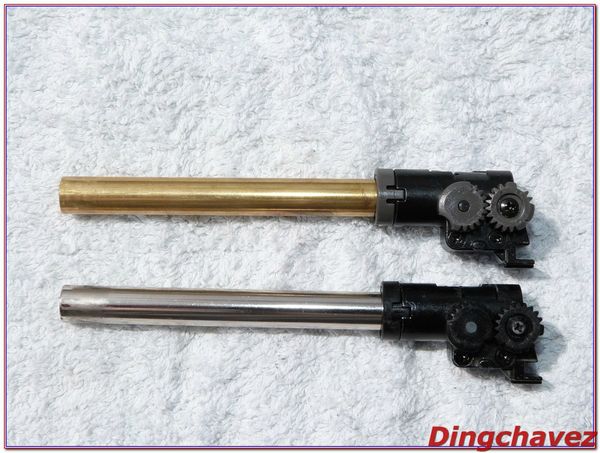 Comme vous pouvez le constater l'ensemble canon/tige guide et guide canon est interchangeable. Par contre, il est intéressant de noter que si l'ensemble Marui ne pose aucun souci lors des tirs sur le WE, le fait de mettre l'ensemble WE occasionne des problèmes de tir : le cycle ne se fait pas et la culasse recule peu, ou pas du tout alors qu'à la main tout coulisse parfaitement. Il faudra un rôdage avant que la réplique ne tire à nouveau.
As you can see, the barrel, the spring guide and the barrel guide can be switched. But it is interesting to note that if the Marui assembly works fine in the WE slide, the fact of putting the WE assembly into the TM slide leads to misfires and bad cycles (but everything goes smoothly when you cycle the gun by hand !). It appears that it needs a while to get a little break in.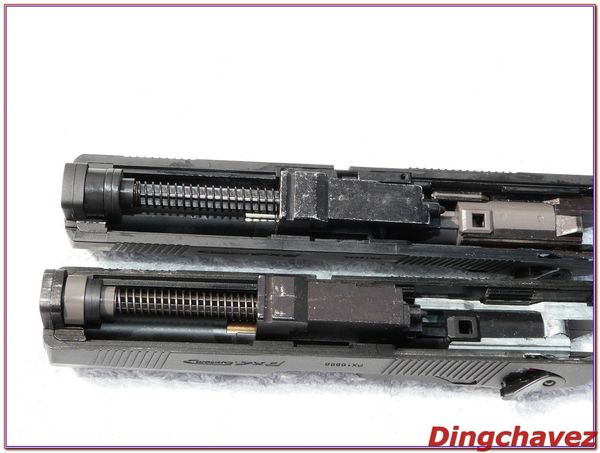 J'ai également voulu essayer de faire tourner les répliques avec l'ensemble mobile du concurent. C'est probant, les répliques chambrent les billes et cyclent normalement, bonne nouvelle en cas de casse de glissière ABS, vous pourrez acheter une glissière en alliage si bon vous semble !
I also wanted to try the guns by switching the slides. Good news, it works fine so if you break the ABS slide of your Marui BB gun, you'll be able to buy an alloy slide from WE if you want to !
Glissière Marui sur corps WE.
Marui slide on WE frame.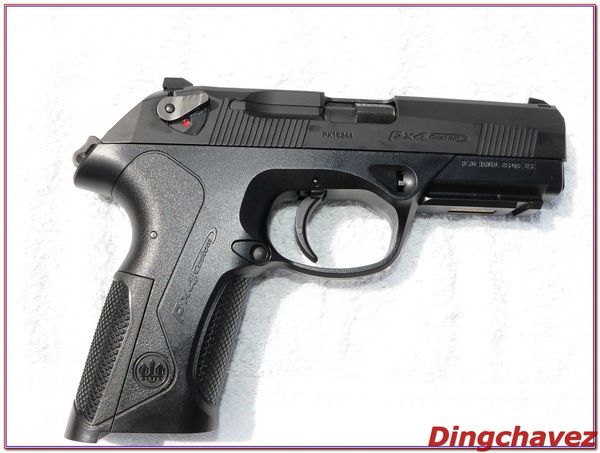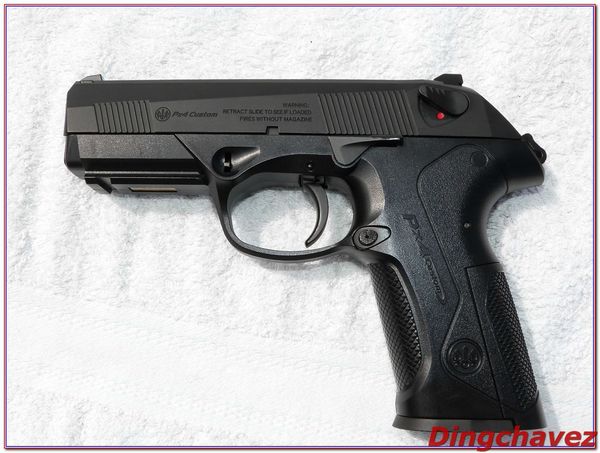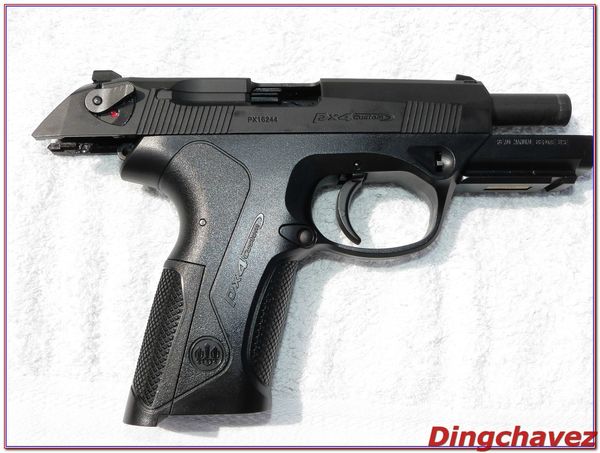 Glissière WE sur corps Marui.
WE slide on Marui frame.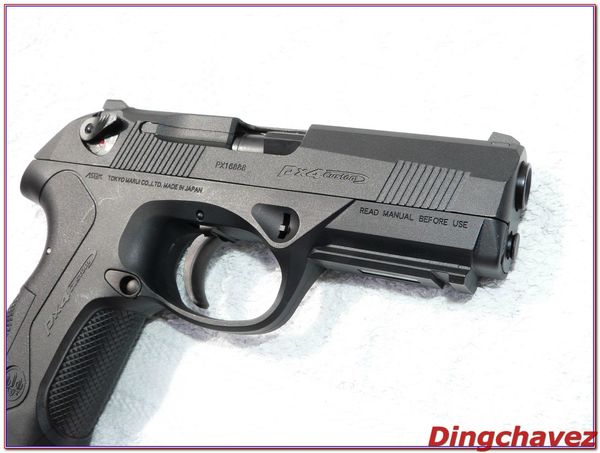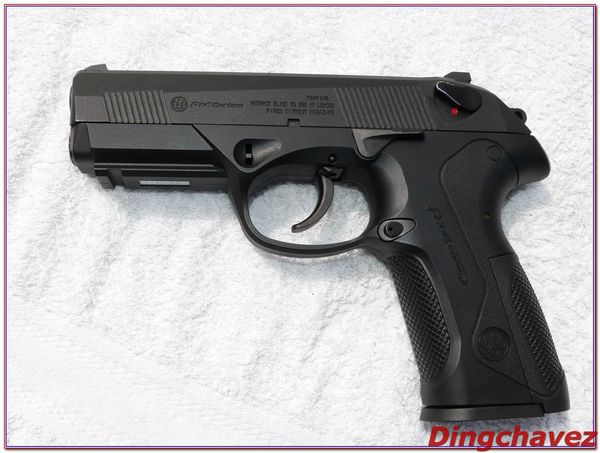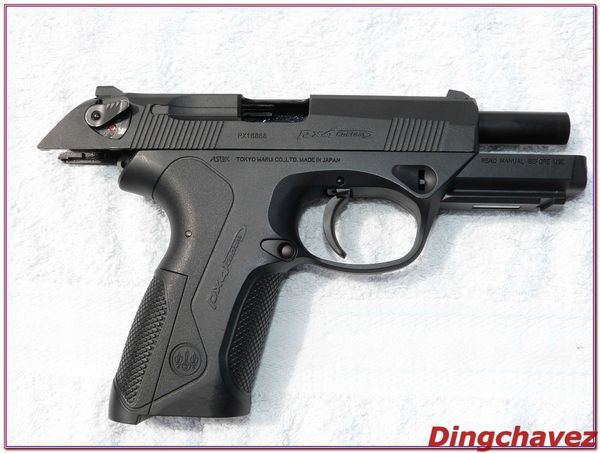 Bien entendu les chargeurs sont parfaitement compatibles.
Of course, the mags are compatible !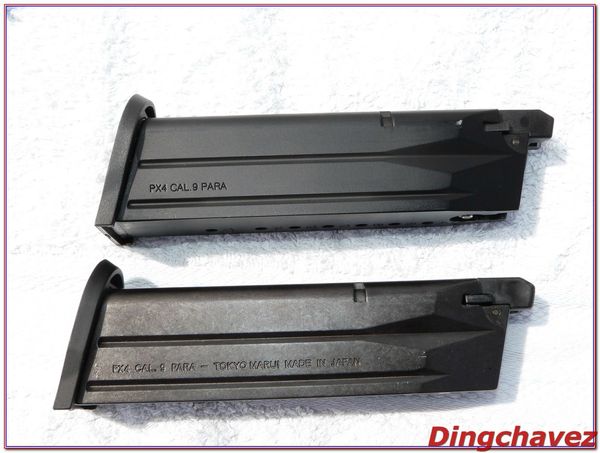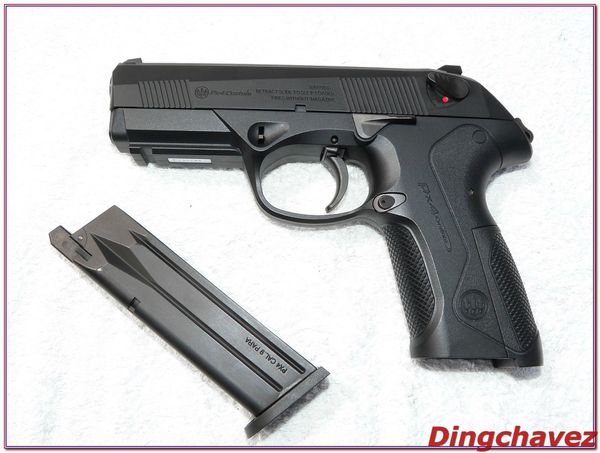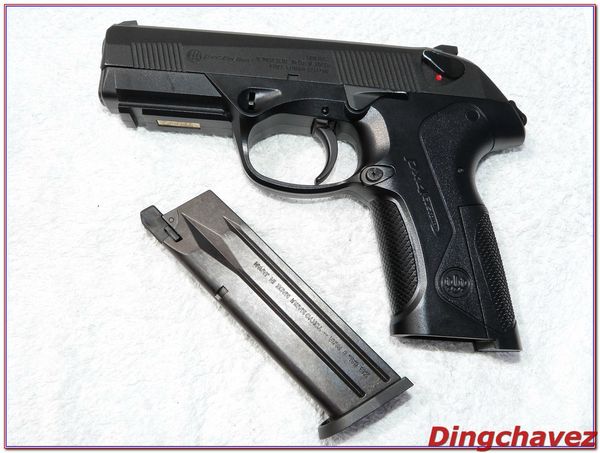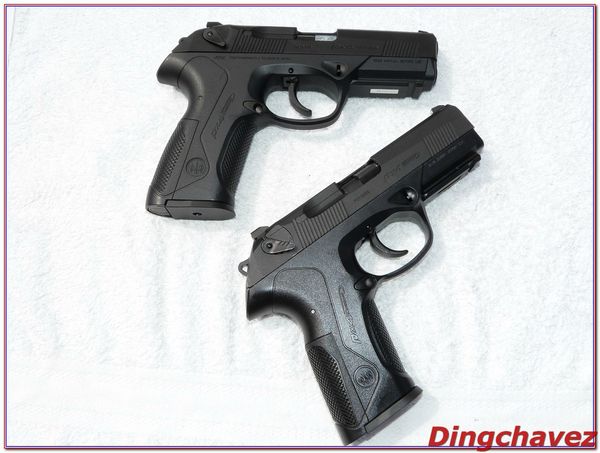 Photo de famille pour terminer, qui est où ?
Family portrait to end this paper : who's where ?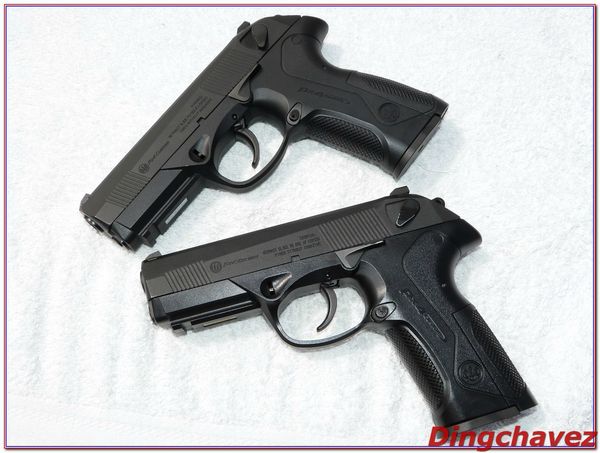 N'hésitez pas à commenter et à participer sur Facebook.
Don't hesitate to participate and comment on Facebook.
Posté le 7 août 2013 par Dingchavez