Review KSC USP .45 Taiwan version
15/09/2013
 Une fois n'est pas coutume, je m'attèle aujourd'hui à la review d'une réplique d'occasion, que j'ai achetée sans boite, sans manuel, bref, à poil ! Cependant, au vu de l'état de la réplique et de sa rareté au moment de son achat, je n'ai pas hésité longtemps.
 Today I review a used gun that I bought to a fellow airsoft player. No box, no manual but when I bought the gun, it was rare enough for me to jump on it !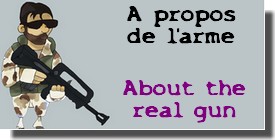 L'USP (Universale Selbstladepistole en allemand dans le texte, en gros, « pistolet qui se charge tout seul », ouais, pistolet automatique quoi…) est décliné en plusieurs calibres. Ici c'est un modèle .45, apparu en 1995 et surtout utilisé par quelques forces de police aux USA.
Comme d'habitude si vous voulez plus d'infos, consultez le wiki.
English readers, nothing to say except to go to the well detailed wiki !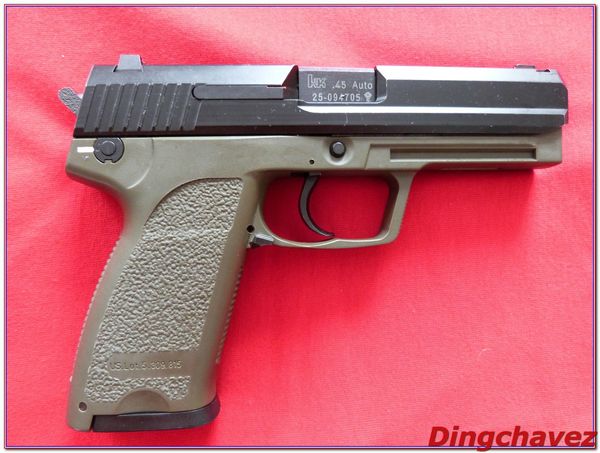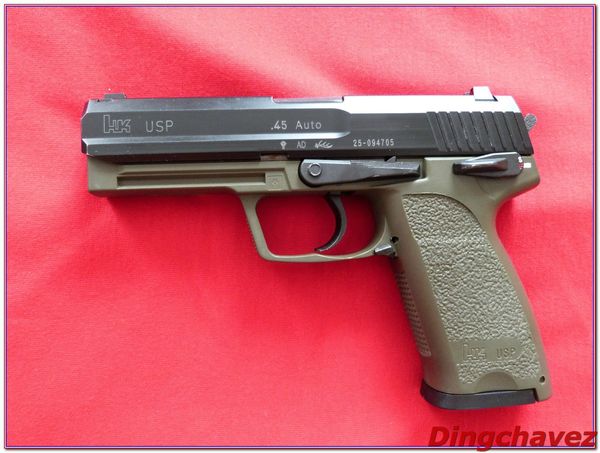 Un peu mois de 1 kg sur la balance (946g), on a à faire à une belle bête.
La version Taiwan de cette réplique implique une glissière en alliage au lieu de l'habituel plastique des versions Japon. La carcasse est en ABS, ici la version « OD » (Olive Drab en anglais, soit vert olive quoi…)
La glissière dispose des marquages HK et du calibre RS.
946 grams on the weighing machine, this is a nice baby !
The Taiwan version has got the metal slide instead of the plastic one of the Japan versions. The frame is made of OD ABS.
The slide holds nice HK markings.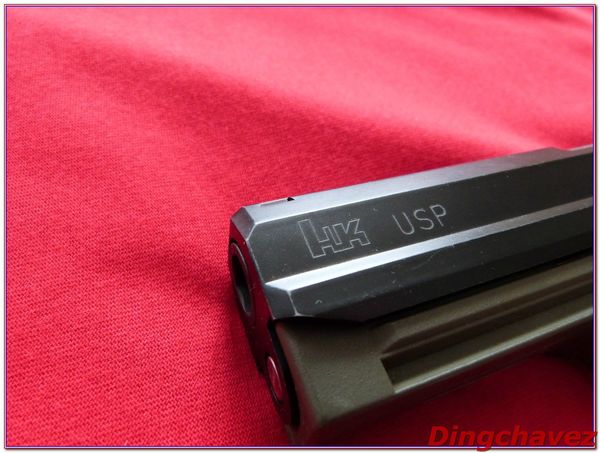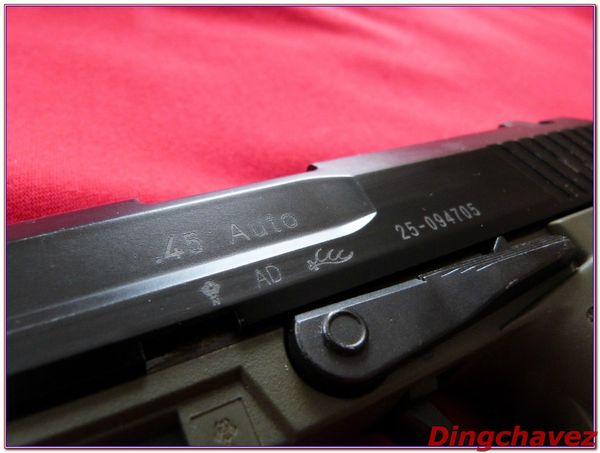 La carcasse est également marquée.
The frame also has markings.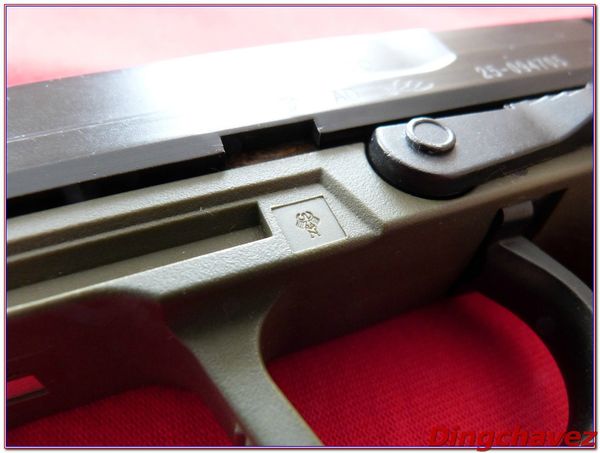 Le pontet comporte les instructions d'utilisation (fastoche, comme on dit en anglais : RTFM read the f…ing manual !).
The trigger guard holds the operator instructions : RTFM read the f..ing manual !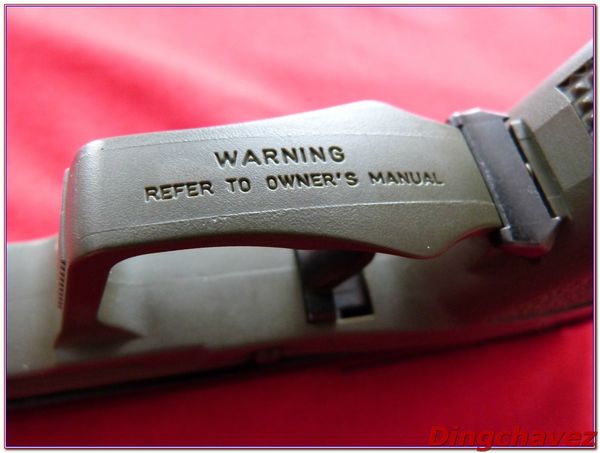 Sur la partie inférieure avant, le numéro de série.
On the lower part of the frame, here is the serial number.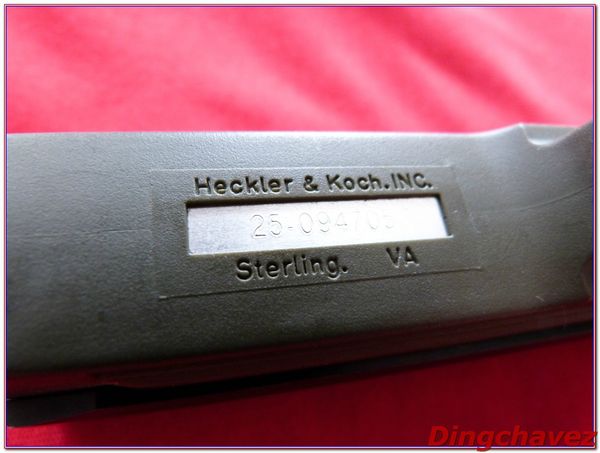 Le chargeur s'intègre parfaitement sur la réplique, rien qui dépasse et un marquage HK réglementaire.
The mag fits in the well really tightly.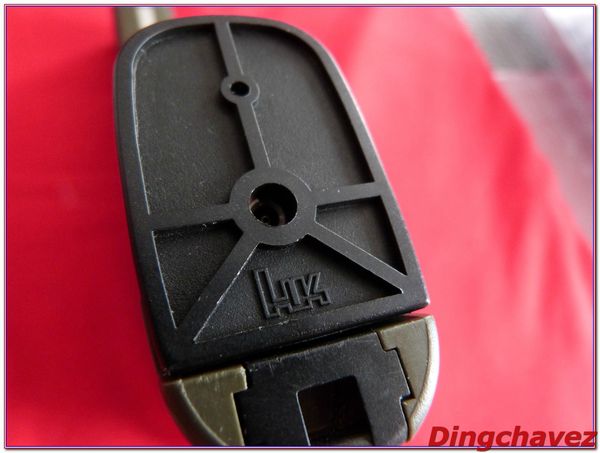 Les marquages du canon externe sont superbes, enfin, superbes si comme moi vous appréciez les marquages HK.
The outer barrel markings are nice and crisp, well, if you like HK markings.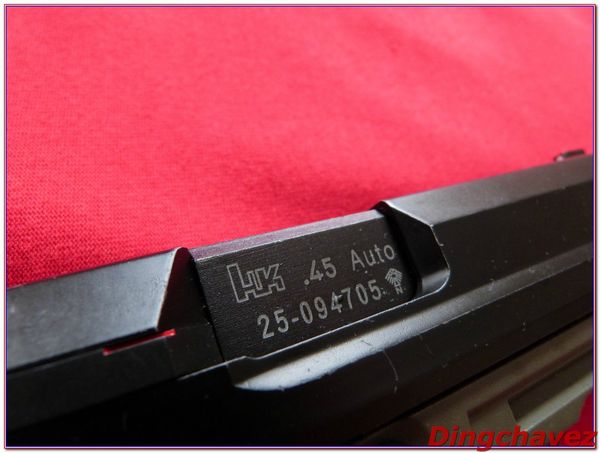 L'extracteur est marqué de rouge (en théorie pour voir d'un seul coup d'œil si une balle est chambrée).
The extractor has a small red marking. It is supposed to let you know if you've got a round in the chamber.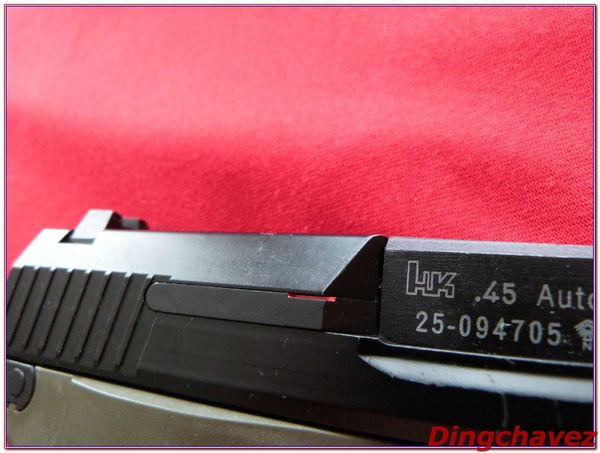 Les marquages de la crosse. Remarquez la texture, elle est agréable au toucher.
Notice the texture of the grip, it is smooth to touch. You can also see the grip markings.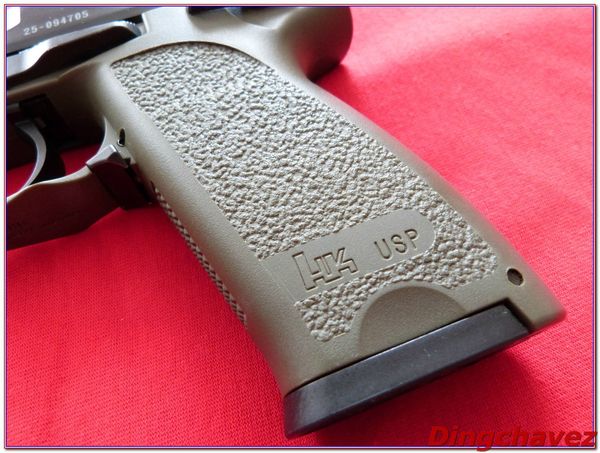 Le nozzle métallique comporte une petite partie mobile montée sur ressort.
The metal nozzle has a small part mounted on a spring.
 L'arrêtoir de glissière est d'une taille assez imposante. Utile pour l'actionner avec le pouce de votre main faible (pour les droitiers).
The slide catch is quite big, which is good for right handed players (you can operate it with the thumb of your reaction hand).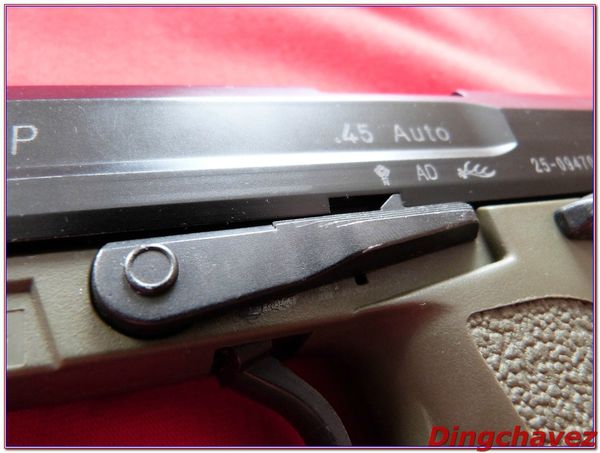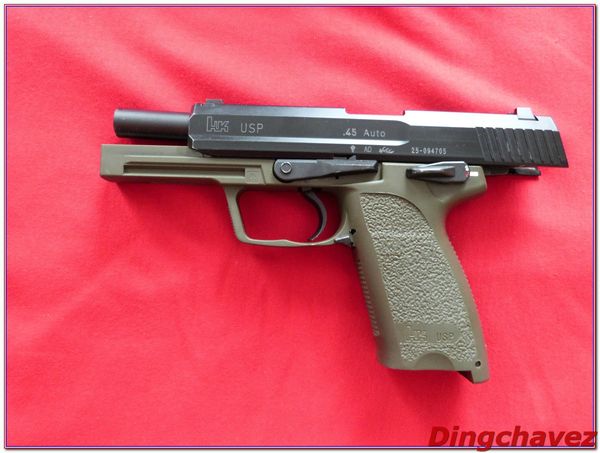 Le cran de sûreté fait également office de levier de désarmement.
The safety lever also acts as a de-cocking lever.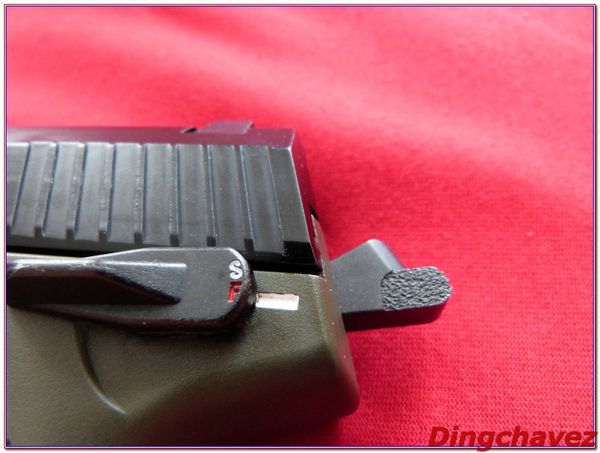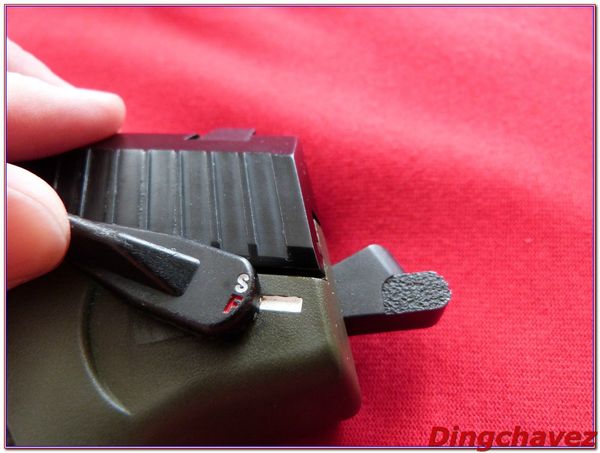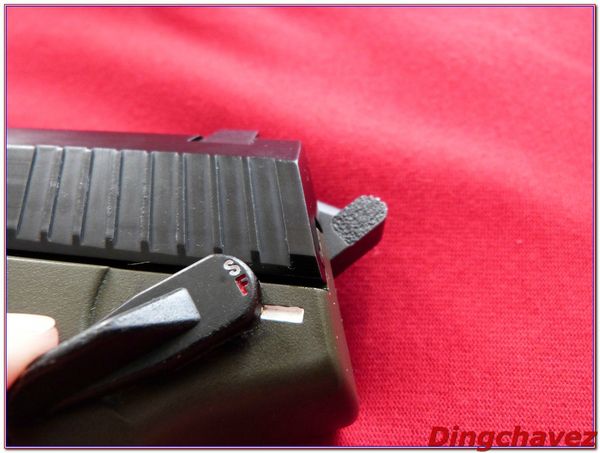 Un verrouillage supplémentaire est présent au niveau du puits de chargeur et permet d'éviter des tirs accidentels inopportuns.
An additional lock is taking place in the mag well. It prevents accidental discharges.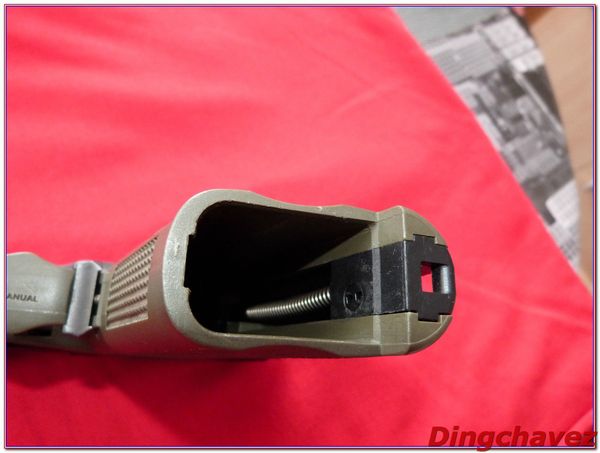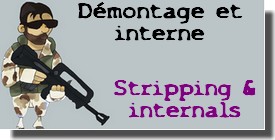 Première étape, retirer le chargeur, puis on tire légèrement la glissière pour pouvoir enlever l'arrêtoir.
First step, remove the mag, then pull the slide a bit and remove the slide catch.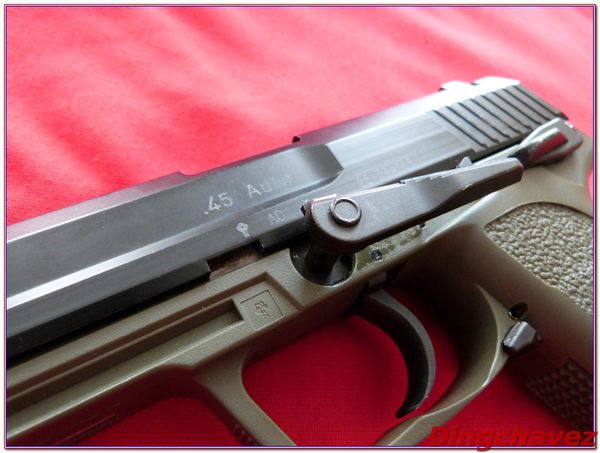 On peut alors retirer la glissière et jeter un œil sur la mécanique.
Now we can strip the slide and have a look at the guts of the gun.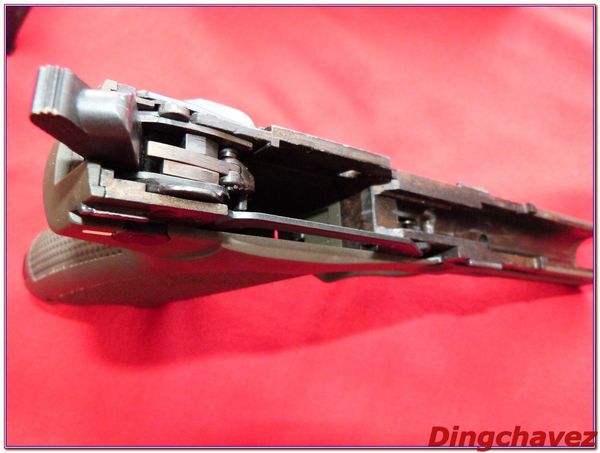 La tige-guide et le ressort récupérateur sont en un seul bloc. Attention à bien tenir la glissière organes de visée vers le bas sinon tout tombe.
The spring guide and the spring are bound together. Hold the slide with the sights towards the ground or everything jumps arounds !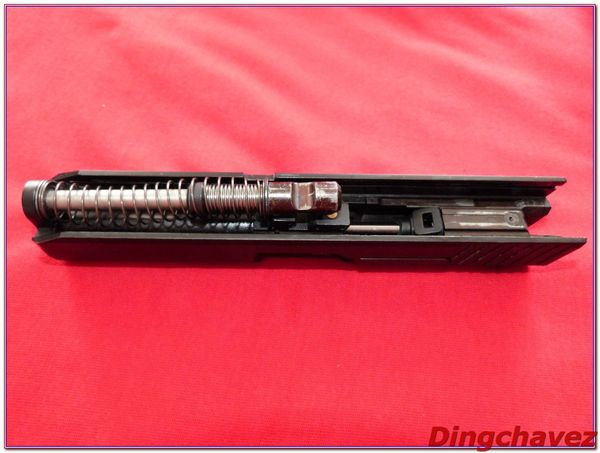 Le canon interne est également en alliage.
The outer barrel is also made of alloy.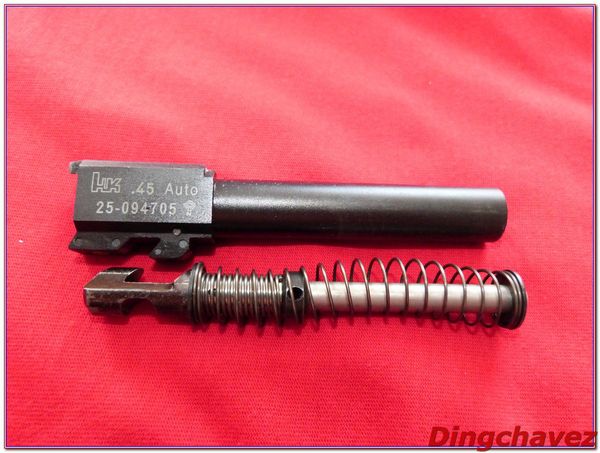 Vue sur le nozzle, on remarque un système spécifique.
A view on the specific nozzle.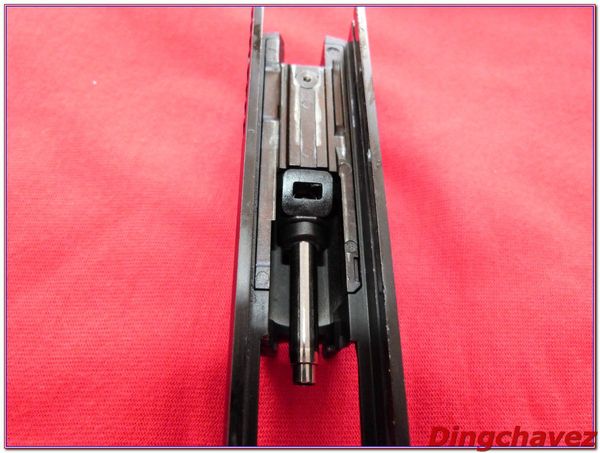 Le réglage du hop up s'effectue par l'intermédiaire d'une molette crantée. Il faut utiliser la clé fournie. Bon point, la molette est en métal, contrairement à d'autres produits (Kriss Vector par exemple), ce qui évite une usure prématurée et un contact métal sur plastique.
To set the hop up, you have to use a small wrench. The good side of t is that the setting system is made of metal, no bad surprise as on the Kriss Vector (metal on plastic contact is not very good…).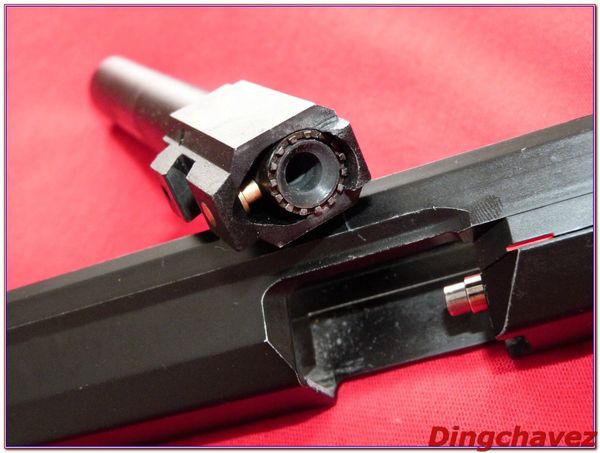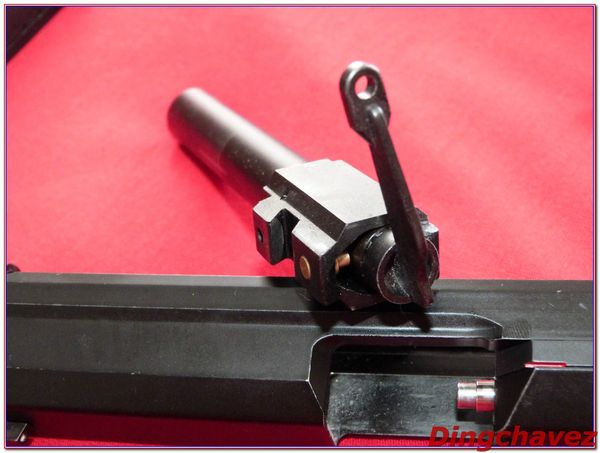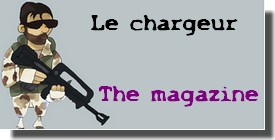 Il est assez massif et pèse à lui seul 338 grammes, soit plus d'un tiers de la réplique. On remarque les marquages de capacité RS.
It is massive. Its weight alone(338g) represents 1/3 of the total gun weight . Notice the real capacity markings.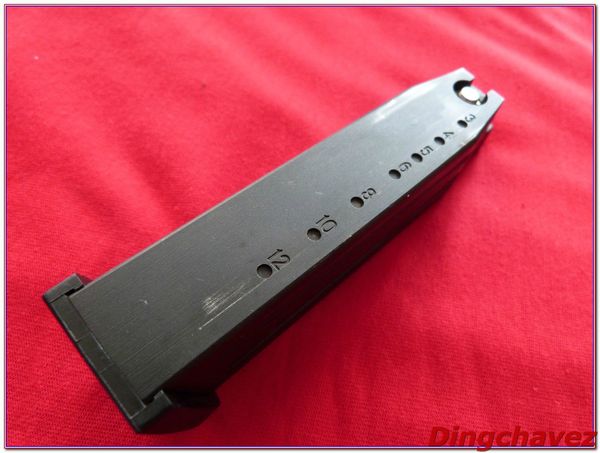 Il n'est pas possible de voir le chemin de billes, c'est assez déroutant, surtout lorsqu'on veut faire un CPS en pleine partie, avant un assaut par exemple… Il faudra donc y aller au culot !
You can't see how many BBs you've got left, so if you want to perform a press check before an assault, you'll have to guess…
Un rappel sur le calibre RS.
A reminder about the real caliber.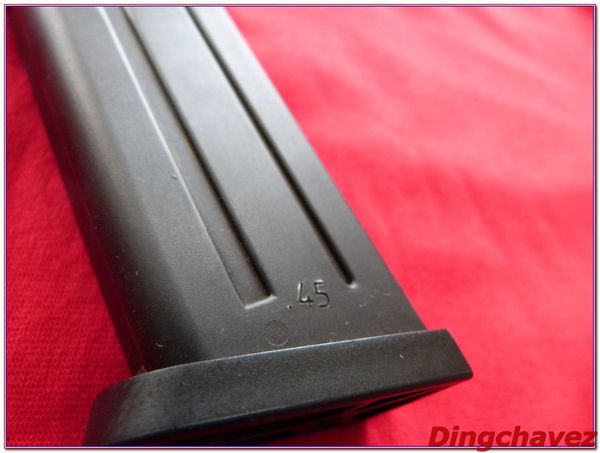 Attention, la réplique n'est pas compatible avec les chargeurs type « System 7 » de la marque.
Be careful, this BB gun is not « System 7 » compatible.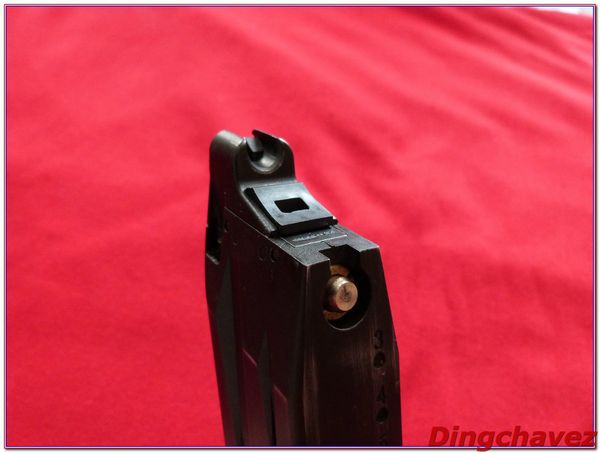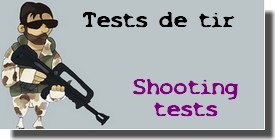 Températures 20°C (test chrony) et 15°C (tests de précision).
 Gaz propane.
 Billes Bio Xtreme precision 0.20 et 0.25g.
 Chrony Xcortech 3200.
Les valeurs relevées sont les suivante : 303-298-298-293-295-295, soit une moyenne de 297 pfs, avec des variations assez minimes. Parfait pour un backup.
Le hop up est très efficace et peut être réglé précisément pour des grammages variés. Pour ma part j'ai effectué les tests de tir à la 0.25. Les trajectoires sont stables et bien droites et la précision est honorable.
The average power is 297 fps using propane, which is good for a backup. the hop up works well with various weights, I made the tests using 0.25 BB. The accuracy is good, so is the range.
Voici les résultats en vidéo.
Here are the results :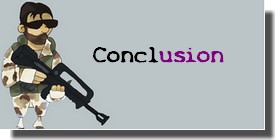 Et bien je suis content de mon achat. Certes, je n'ai ni boite, ni manuel ni accessoires, mais l'état général de la réplique ainsi que ses performances me conviennent parfaitement. Si habituellement je recherche des répliques qui s'accordent avec mes tenues, ici je n'ai aucun état d'âme à la prendre lorsque je joue en russe !
Les matériaux utilisés, l'assemblage, la robustesse : tout ou presque me plait dans cette réplique.
Well, I'm happy with this gun ! Of course I don't have the package nor the manual, but the replica is beautiful and the performances are above my expectations. I usually try to buy guns which matches my outfits, but here I have no problem using it with my Russian clothes !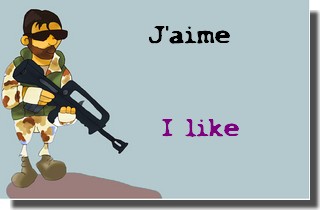 -Tout sauf…/everything except…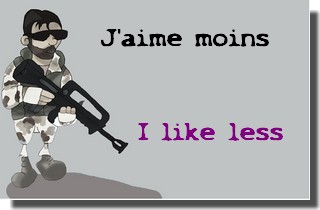 -… la difficulté de démontage du canon interne./… it's very difficult to remove the inner barrel.
– pas possible de savoir précisément combien de billes il reste dans le chargeur./impossibility to see how many BBs are in the mag
 Et pour terminer, un comparatif visuel à côté de l'USP Compact.
Let's finish this with a quick view of my small USP family !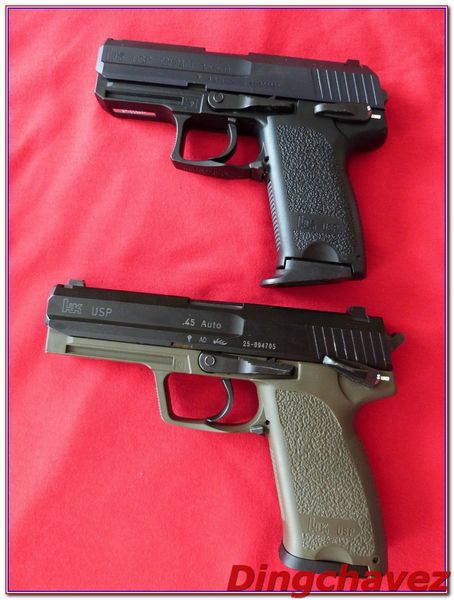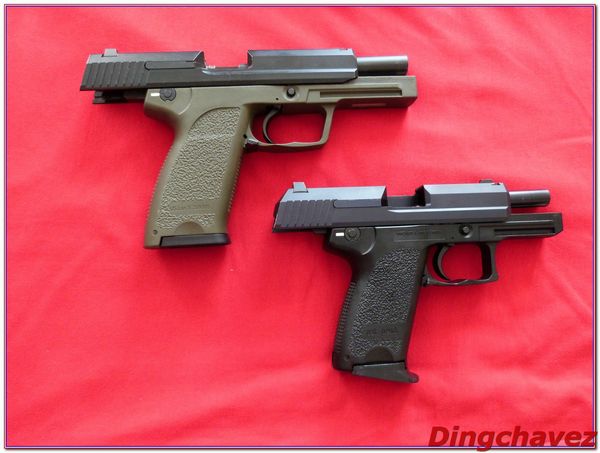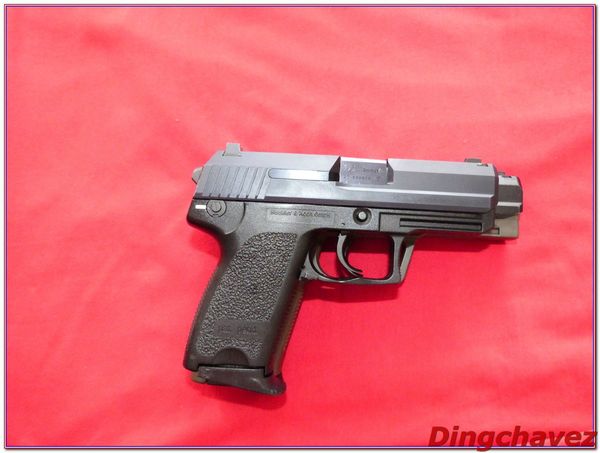 Posté le 15 septembre 2013 par Dingchavez