Review BO Manufacture Gothic Serpent Operations 13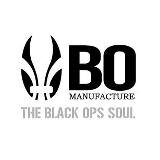 As I do now, the review is written in both French and English. English-fluent readers will focus on the purple typing 😉

 06/11/2013
Ouh lala, que de retard ! Presque deux mois que ces photos sont sur l'Antre et la flemme d'écrire ! Aller, c'est parti pour une review de ce custom de Colt 1911 SRC (oui, oui c'est bien du SRC) made in BO Manufacture limité à 100 exemplaires que Hiro, le gentil rédac' chef du magazine Red Dot, à gentiment mis à ma disposition faute de place dans le chemin de fer !
I'm sooooo late ! Almost two month that those picture have been online and waiting for me to write ! Let's go for a review of this BO Manufacture GSO.13, a SRC custom (yes, SRC it is !) limited to 100 pieces. Big up to Hiro, chief publisher with Red Dot Magazine, for the gun !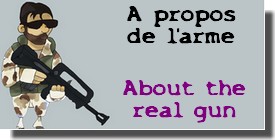 Bah, c'est un 1911 quoi, Wiki sait tout !
Meh, this is a 1911, go to Wiki, it knows better !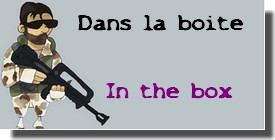 Pas vraiment une boite mais une pochette UTG très pratique. L'extérieur est en nylon et l'intéreur est doublé de tissus très doux qui ne risque pas d'endommager votre réplique.
Well, no box here but a nice and handy UTG pouch. The outside is made of nylon and the inside is coated with nice and soft fabric. No chance of damaging your gun !
On y trouve :
-La réplique, en alliage et plastique, d'un poids de 808 grammes en ordre de bataille.
-Un chargeur de 15 billes.
C'est tout, les acheteurs « normaux » bénéficient certainement d'un manuel d'utilisation, ce n'est pas le cas sur le modèle fourni.
Constitué à partir du Colt 1911 SRC, ce GSO.13 à bénéficié d'un traitement de faveur de la part des petites mains de BO. Quelques heures de travail sont nécessaires afin d'obtenir le rendu particulier de ce custom au numéro de série unique.
Le logo BO est gravé sur la carcasse.
Le numéro de série est unique, ici le 70. Notez le calibre correspondant aux billes de la marque.
Et un gros plan sur la devise dont nous avons déjà parlé.
La détente est assez dure mais la course est limitée, on a donc une assez bonne réactivité.
Le cran de sûreté et la sûreté de crosse. Deux valent mieux qu'une.
Vous pouvez même attacher une dragonne pour éviter de perdre votre préciiiieux !
15 billes de capacité, attention attention attention lorsque vous chargez les billes, ne laissez surtout pas échapper le remontoir de billes, sinon il y a de fortes chances que les lèvres cassent !
En chargeant de cette manière au BBloader, vous ne rencontrerez pas de résistance.
Tous ceux qui ont déjà eu un 1911 ou un dérivé seront en terrain connu. Pour les autres, il suffit de tirer la glissière vers l'arrière…
… et de retirer l'arrêtoir.
Et on renvoie le tout vers l'avant (sans tout faire tomber, c'est mieux).
Une vue sur l'intérieur de la carcasse.
Il va falloir enlever la tige guide et le ressort récupérateur.
Facile.
Afin de pouvoir extraire le canon, il faut imprimer une rotation à la pièce qui retient le tout.
Une petite patte retient l'ensemble hop-up/canon interne. Dévissez-là.
On peut alors accéder aux parties sensibles. Remarquez le canon de précision.
Le joint est de type « Marui », il est relativement souple. Le canon mesure 113mm.
Un aperçu du nozzle pour terminer.
Les tests chrony ont été réalisés avec un Xcortech3200 du gaz Ultrair et des billes Xtreme Precision Bio de 0.2g par une température de 20°C.
voici les résultats : 308-317-312-312-312, soit une moyenne de 312.2 FPS, on remarque la très bonne régularité des 3 derniers tirs. La puissance est correcte pour un backup. Le kick est bien présent et ça claque agréablement aux oreilles.
Que ce soit avec des billes en 0.2 ou 0.25 grammes, le hop up est efficace et les trajectoires sont régulières. On peut sans doute remercier le canon de précision.
La portée est également honorable pour une réplique de poing, seule la faible autonomie en gaz du chargeur vient noircir le tableau. Lors de mes tests de tir sur cible j'ai eu du mal à terminer un chargeur de 15 billes avec une charge de gaz. Certes, la température de 8°C combinée à l'utilisation de gaz Ultrair n'est pas optimale, mais la minceur du chargeur ne permet pas d'emporter une grosse quantité de gaz.
La réplique fait son travail lorsqu'il s'agit de toucher un camarade de jeu entre 5 et 25 mètres. Une courte vidéo de tir pour illustrer la review :
J'aime. J'aime le soin apporté aux finitions de cette réplique, j'aime la notion d'exclusivité apportée par cette série limitée à 100 exemplaire. Pour ne rien gâcher, les performances de tir sont correctes et les sensations bien présentes. Seule la faible quantité de gaz inhérente à la conception des chargeurs de 1911 classiques peut poser problème en fonction de la température, ainsi il sera possible de tirer assez aisément 2 chargeurs à 20°C mais parfois moins d'un chargeur lorsqu'il fait froid. La fragilité des lèvres de chargeur doit sensibiliser les utilisateurs au fait de charger par le dessus, et non pas par le trou prévu à cet effet dans le corps du chargeur. Reste la question du prix. Si pour vous la notion de pièce unique est attirante, vous ne regretterez pas votre achat, si vos moyens sont limités, BO propose des modèles classiques pour bien moins cher.
Posté le 6 novembre 2013 par Dingchavez