Review WE Pviruses, le GBB qui fait pleurer les zombies !
14/11/2013
 On dira ce qu'on voudra, WE fait de plus en plus de « copies » de produits Marui. Il faut dire que les bases techniques sont bonnes, donc copier un truc bien en utilisant en plus du métal à la place de l'ABS (bien que mieux vaut un bon plastique qu'un alliage pourri…) des répliques japonaises, pourquoi pas !
Avec ce Pviruses, WE s'attaque au  Biohazard Sentinel Nine Leon Model tout droit sorti de Resident Evil 6, sauf que j'ai eu beau chercher dans le Wiki très complet, aucune trace de ce Sig Sauer P226 custom dans RE6 !
Bref, avec un prix deux fois inférieur au modèle Marui, ce Pvirus est-il un bon plan ? Les éléments de réponse dans les lignes qui suivent.
Even if they have their own style, I must say that WE keeps copying Marui products. Of course the technical basics are good so we could think that mocking something good but using metal instead of ABS should be great (well, better have good plastic than bad alloy…). Why not…
With this Pviruses, WE replicates the Biohazard Sentinel Nine Leon Model supposed to feature in Resident Evil 6. I looked at the thorough Wiki and found no clue about such a gun…
Anyway, with a price twice cheaper that the Marui, is this Pvirus a good deal ? I'll try to answer that in the following paper.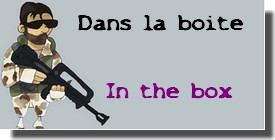 Et bien c'est une première pour moi, je vais parler assez longuement de l'emballage de ce Pviruses car WE a fait l'effort de proposer quelque chose d'original.
De prime abord, ce n'est pas très sexy : un carton assez terne avec d'un côté les détails de ce custom de Sig Sauer P226 (ou F226 chez WE) et de l'autre, une charmante bâtisse et un crâne aux longues dents !
Well well well, it's the first time that I'll talk about a package ! WE made the effort to come up with a really interesting design.
At first glance this is not sexy : a cheap cardboard box with the P226 (or F226) features on one side, and a kind of mansion with a toothy skull on the other side.
Une fois le carton défait, on découvre une mallette en plastique. Mais OU DIABLE EST LA REPLIQUE ???
Once you get rid of the cardboard cover, you discover the plastic gun case. But… WHERE THE HELL IS THE GUN ???
L'éclaté tient grace à l'électricité statique, pas de colle ou de scotch disgracieux à enlever.
The part list isn't glued to the box, so there are no nasty traces !
Et enfin on découvre le Pviruses (j'ai vraiment du mal avec ce nom…).
At last we discover the Pviruses (seriously, who came up with this name ?)
Attention lorsque vous commanderez, précisez bien au vendeur de mettre la réplique et le chargeur dans du papier bulles, sinon le transport peut faire mal aux attaches dans la mallette. Heureusement le filetage n'est pas fantaisiste, il est donc aisé de remplacer les vis cassées par des modèles en métal.
Be careful when ordering the gun, ask the retailer to wrap the gun and the magazine, otherwise some parts might broke during the trip. Hopefuly the thread is a standard one so you can easily find replacement screws.
Les différents points d'ancrage permettent de personnaliser la mise en scène de la réplique.
Thanks to the various holes, you can customise your setup into the case.
Le coffret est livré sans pilles, une fois celle-ci ajoutées (3XAAA) on peut allumer les LED.
The gun case is delivered without batteries. It takes three AAA type to lit the LEDs.
Un interrupteur permet de passer par les 3 modes d'éclairage différents : fort, moyen et clignotement.
A switch triggers the three different modes : strong light, dim light and flashing light.
Les piles sont maintenues par une bande velcro.
The batteries are held by a velcro strap.
Et le couvercle est solidaire de la vitre centrale par l'intermédiaire d'une petite pièce. Ici elle s'était défaite lors du transport…
And the lid is attached to the central plate with a plastic part.
L'idée est bonne tout de même, surtout pour les collectionneurs.
This is a really good idea, especialy for gun collectors !
Mode éclairage maxi.
Strong light mode.
On peut alors profiter de ce joli P226 custom.
Now you can admire this nice custom P226 !
Pour sortir la réplique on actionne les deux loquets du couvercle et on fait glisser le tout vers le haut, tout simplement.
To release the gun, operate the two lid buttons and pull the lid.
Des écrous permettent de faire tenir la réplique et le chargeur dans la mallette.
Some plastic bolts hold the replica and the mag.
 Le contenu est minimaliste :
-La réplique, composée presque entièrement d'alliage et d'un poids de 1010 grammes.
-Un chargeur de 31 billes.
-L'éclaté.
There is not many things in the box :
-The BB gun, made of alloy and ABS, it weighs 1010 gramms
-A 31BB magazine
-The part list.
On peut dire que le look du Pviruses est… particulier !
Compensateur à l'avant, chargeur long, chrome et grip spécifique, ce custom ne laisse pas indifférent, que l'on adore ou que l'on abhorre !
Il faudra prendre garde à ne pas perdre vos chargeurs, le P226 est une réplique sur laquelle on a vite fait d'appuyer sur le bouton de verrouillage de chargeur, mais là c'est encore plus flagrant du fait de sa taille.
We could say that this Pviruses has a weird look.
Recoil compensator, long magazine, some chrome parts and specific grip, this custom can't let you without words, wether you like it or hate it !
You'll have to take care about your magazines, the mag catch is quite big so it is easy to lose one's mags…
On remarque qu'après quelques utilisations la peinture du canon interne s'en va.
After a few shots, the paint is already taking off.
Canon externe marqué du calibre RS au niveau de la fenêtre d'éjection. Là aussi la peinture est fragile.
The outer barrel has the real caliber marking near the ejection port. You can see that the paint is quite fragile here too…
La queue de détente custom est assez sympa bien que sa course soit assez longue même en simple action.
The custom trigger is pretty nice. The slack is important, even in simple action mode.
Le compensateur donne un look agressif à la réplique.
The compensator gives an agressive look to the gun.
Il est amovible. On peut le remplacer par un silencieux (par exemple celui du kit assassin).
You can remove it and replace it with a sound supressor (from the assassin kit from WE).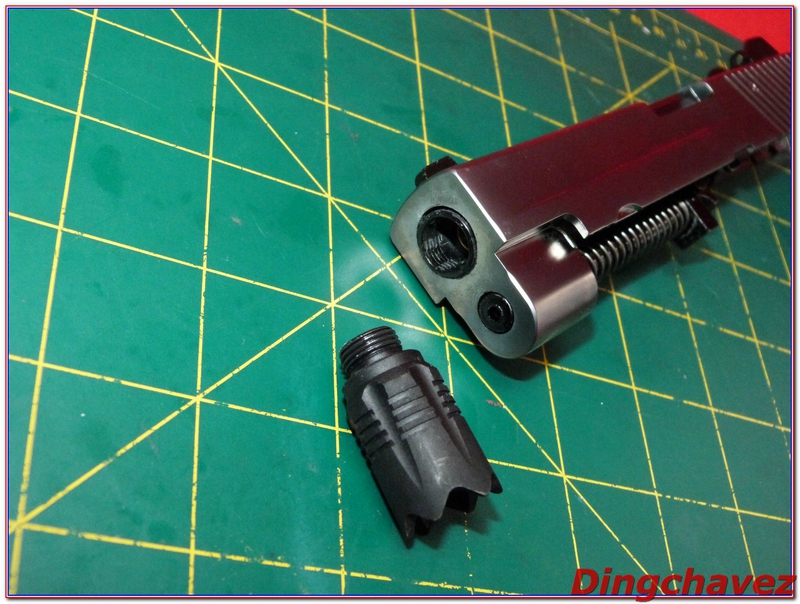 Le marteau est également customisé. En tout cas j'aime bien cette réplique, on vire le compensateur et le chargeur long et ça fait un truc bien sympathique 🙂
The hammer is also a custom one. I really like this gun : remove the compensator and the long mag and you've got a nice looking replica !
On remarque que l'extracteur est usiné directement dans la glissière.
The extractor has been machined directly off the slide.
On retrouve le logo de l'emballage sur le grip.
Here is the same logo as on the cardboard.
De gauche à droite : le levier de verrouillage de la glissière, le levier de désarmement, le verrouillage de chargeur (également custom) et l'arrêtoir de culasse.
From left to right : slide lock, de-cocking lever, mag catch and slide stop.
 Gros plan sur l'arrêtoir en fonctionnement.
Close-up at the slide catch.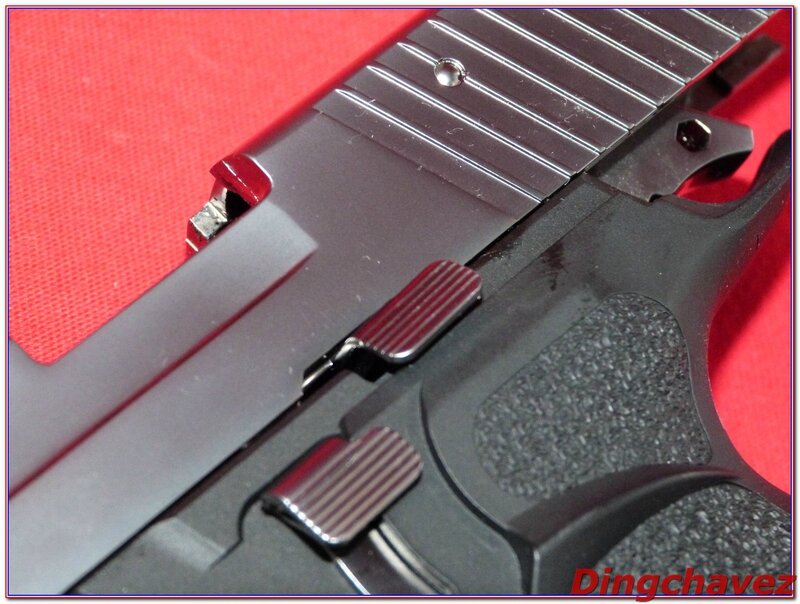 Bien entendu le levier de désarmement est fonctionnel.
Of course the de-cocking lever works.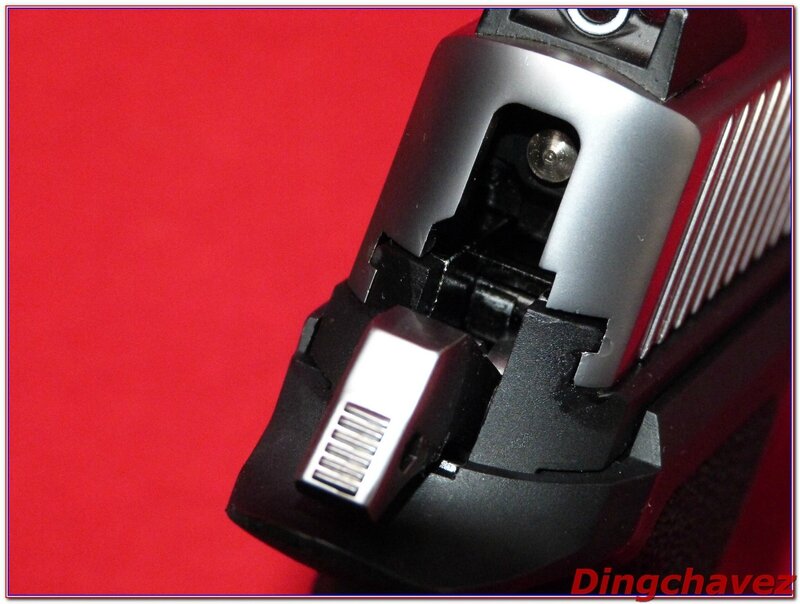 Le chargeur long, on constate qu'il n'a pas aimé le transport…
The mag didn't appreciate the trip !
Un rail est intégré à la carcasse, malheureusement il est un peu étroit du coup ma lampe  flotte dedans… Dommage ! C'est peut être du au modèle de ma lampe mais je n'en ai pas d'autre pour tester…
The frame is railed. Unfortunately my flashlight is wobbling a lot. Maybe my torch's fault but this is the only one I've got !
 Seule petite imperfection d'usinage au niveau de la glissière, quasiment invisible si on n'y prête pas attention.
Notice the small glitch on the slide. It is almost invisible with bare eye.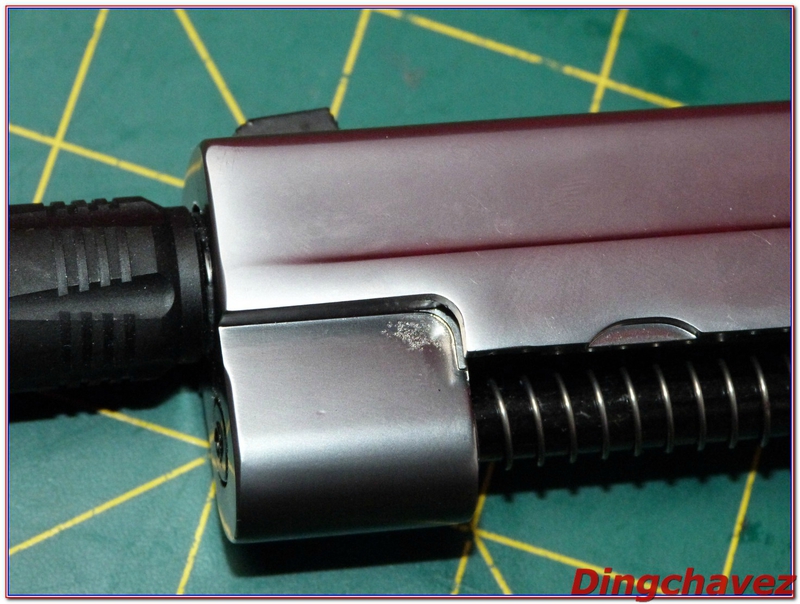 Quoi ma gueule ?
What's with my mug ?
Si à l'avant on retrouve un cran de mire assez classique…
The front sight is very simple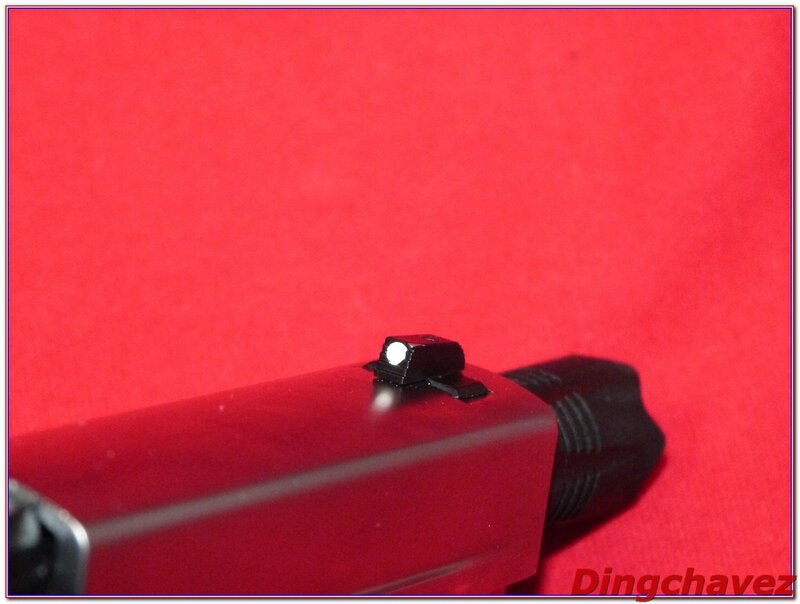 L'oeilleton est spécifique. Cerclé de blanc il permet de prendre facilement et rapidement la visée.
This is a specific rear sight. Circled with white, the aim is fast and easy.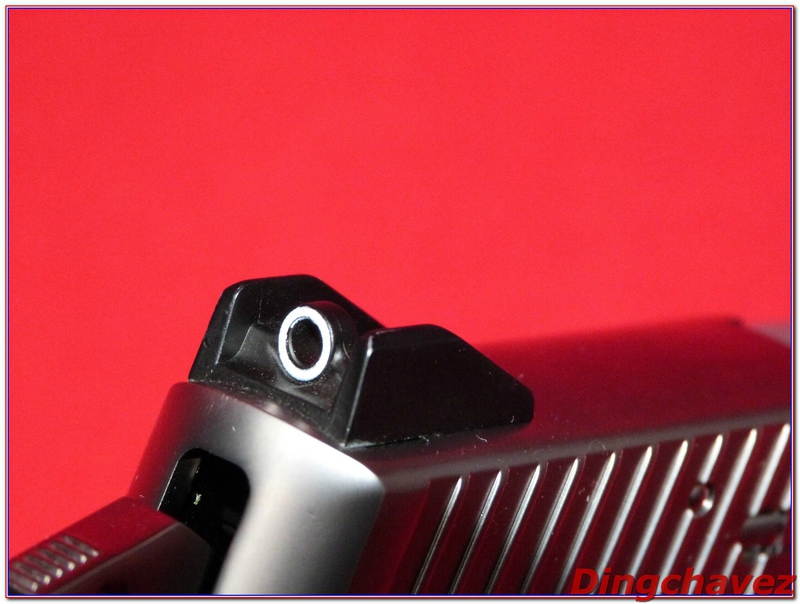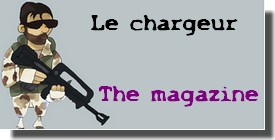 Il est long et peut contenir jusqu'à 31 billes. Comme vous pouvez le constater, il a mal digéré le transport et le talon est bien marqué, il devra passer par la case peinture, pour le moment je l'ai poncé…
Remarquez les marquages de capacité accompagnés d'une sorte de motif « puzzle »
It is a long magazine. It can hold up to 31 BBs. As you can see, it didn't like travelling ! I'll have to paint it. Right now it is polished

Notice the capacity markings. It looks like some puzzle parts.
Comme à chaque fois que je reçois une réplique WE à gaz, je préfère démonter et contrôler le chargeur en cas de présence de limaille. Ici, une simple vis à enlever et on accède à l'interne.
Each time I receive a new WE gun, I strip the magazine to control if there is no metal chunk inside. It happened before…
Here, there is only one screw to remove.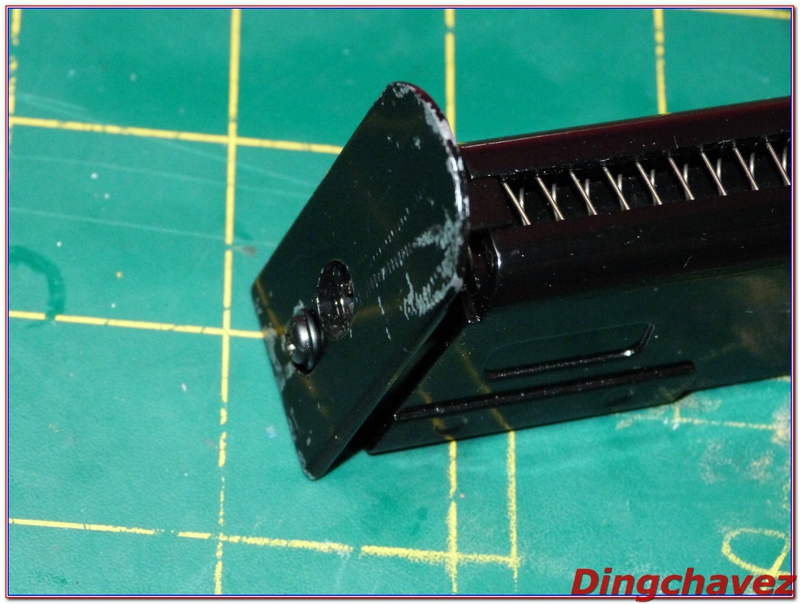 Rien à signaler, le joint est bien lubrifié et l'interne est propre.
Nothing to say, the seal is well lubed and the mag is clean.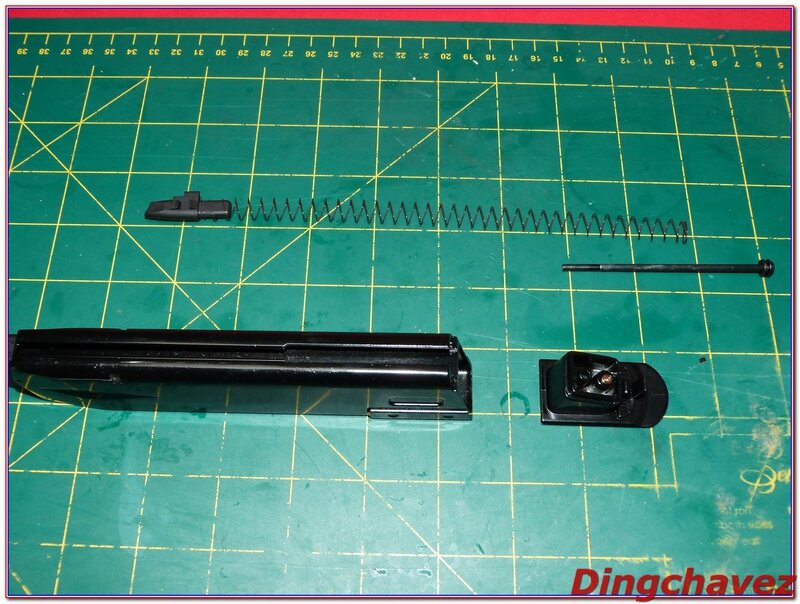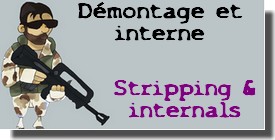 On a à faire à un P226, aucune raison donc que le démontage diffère de ses congénères ! On recule la glissière puis on bascule le tenon de verrouillage…
This is a Sig Sauer, no reason that the stripping would differ from the others ! Pull the slide and rotate the small lug…
… et on pousse !
…and push !
La mécanique est légèrement huilée.
The gun is lubed.
Gros plan sur le nozzle. Habituellement je fais les photos avant de prendre la réplique sur le terrain, mais là je l'ai utilisé en partie et pour les tests de tir avant, c'est pour cela que vous pouvez remarquer pas mal d'endroits déjà marqués par les frottements.
Close up at the nozzle. I usualy take pictures before using the guns but this time I took the gun on the field first, hence the rubbing marks.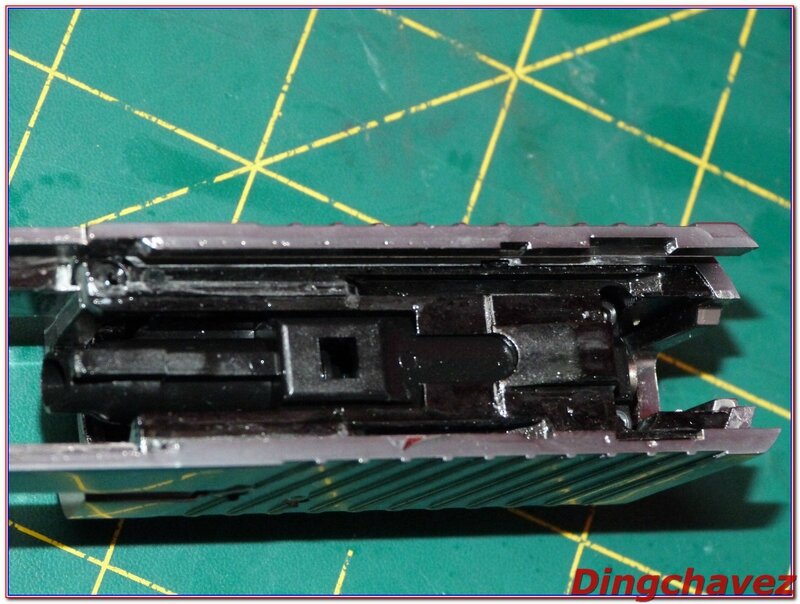 On retire ensuite la tige-guide et le ressort récupérateur ainsi que l'ensemble canon/hop up.
Then you remove the spring+spring guide and the hop-up/barrel assembly.
Les vis du bloc hop up ont été montées au frein-filet.
The hop unit screws were assembled with Loctite.
Comme d'habitude, le bloc type Marui.
As always, a Marui-like hop up unit.
Le canon mesure 94mm. Son diamètre est d'environs 6.05mm (pas facile au pied à coulisse !)
The inner barrel is 94mm long, its diameter is about 6.05mm (not easy to figure out with my measure tools !)
Bonne nouvelle, il semble que le « nouveau » joint WE soit devenu une généralité. Tant mieux, il fonctionne plutôt pas mal.
Good news, it seems like the « new » WE rubber now equips all of their guns ! That's a good thing because it is a fine rubber.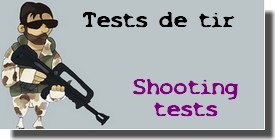 Test avec chrony Xcortech3200.
Bille 0.20g bio Xtreme precision.
Température 19°C
Gaz Ultrair
La moyenne constatée est de 300 FPS, je suis assez étonné car le kick est vraiment fort !
Le hop up est très sensible et fait bien son travail même avec des billes assez lourdes. Les trajectoires sont tendues et le groupement n'est pas ridicule en sortie de boite et ne pourra que s'améliorer avec le rodage du joint. A 20 mètres il est quasi-impossible de rater un camarade de jeu et la réplique en a encore sous le coude.
Je l'ai déjà dit précédemment, le kick est bien présent mais la bonne prise en main de ce PA permet de contrôler le recul de la glissière. Le grip est doux au toucher et convient bien à toutes tailles de mains.
Je vous laisse découvrir les résultats en vidéo :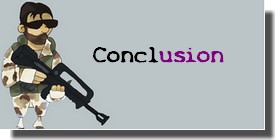 Que cette réplique vous fasse pleurer des larmes de sang tellement vous trouvez ça moche ou que vous sautiez partout tellement elle vous plait, difficile de rester stoïque lorsque l'on manipule le Pviruses.
Kick sympa, bonne portée en sortie de boite qui peut encore être améliorée par l'adjonction d'un canon de précision et possibilité d'ajouter un silencieux sont les atouts du Pviruses. Certes, la finition n'est pas irréprochable si on regarde à la loupe mais au moins c'est une réplique abordable.
Les dernières productions WE sont de bonne facture, proposant un rapport qualité/prix intéressant pour qui ne peut investir chez Marui, mais on n'est jamais à l'abri d'un défaut et on constate que la peinture est souvent le point faible de la marque Taiwanaise. Petit à petit ils s'améliorent, j'aimerais simplement qu'au lieu de copier des produits déjà existants, ils nous proposent des modèles inédits et novateurs, ils l'ont déjà fait, autant ne pas s'arrêter en si bon chemin !
Si le look de ce P226 survitaminé vous plait, n'hésitez pas à investir, il devrait résister longtemps à vos côtés !
Wether you cry blood tears because you think this gun is ugly or you jump to the ceiling because you looooove this design, the Pviruses should trigger emotions into players' minds.
Nice kick, good range out of the box (it can be improved with a precision barrel though) and possibility to mount a sound suppressor (like the WE assassin kit) are the assets of this P226 custom.
The latest WE productions are pretty good, with a nice ration Price/quality for someone who can't buy Marui guns or who want metal slide. Paint is often the weak point of WE guns. Nevertheless, they gradualy improve their products and listen to the community. I'd love them to present some new designs that we don't see anywhere else, like a Makarov, a Grach-A or a nice full metal Desert Eagle !
Bottom line : if you like this gun, buy it, it shouldn't disapoint you !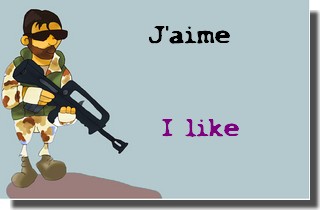 -Malette sympa./Nice gun case.
-Bonnes performances en sortie de boite./Good performance out of the box.
-Bon rapport qualité/prix. /Good quality/price ratio.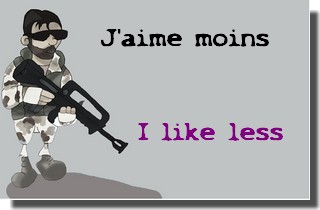 -Copier, pourquoi pas, mais innover c'est mieux…/Copying, why not, but inovation is better…
-Peinture fragile./Fragile paint
-Pviruses ? Sérieux, c'est quoi ce nom ?/ Pviruses ? seriously ?
Sus aux zombies !
Let's whack some Zs !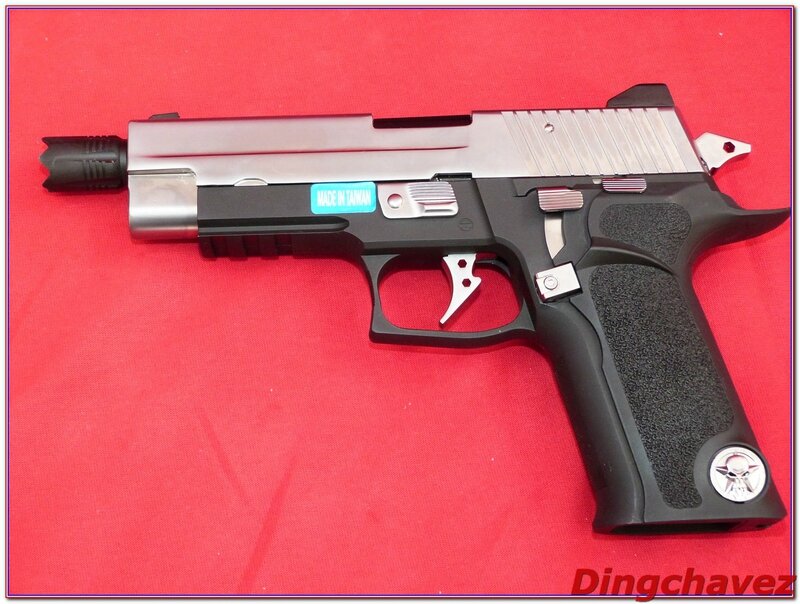 Posté le 14 novembre 2013 par Dingchavez