Review Tokyo Marui Desert Eagle .50 Mark XIX 10″ – La bête de guerre !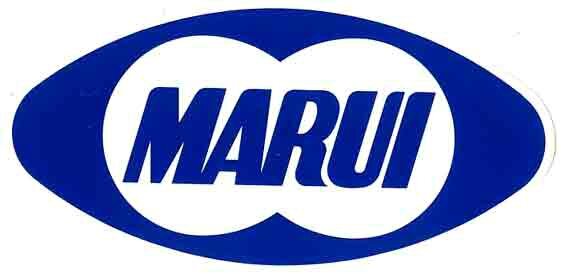 01/01/2014
Quoi de mieux en avant-propos que la vidéo du déballage que j'ai effectuée pour fêter mes 500 abonnés Youtube ? Cela vous permettra de découvrir le type d'emballage fait par Impulse101. A mon sens un poil juste pour bien protéger l'intérieur des boites à l'époque (2014 ! ça ne nous rajeuni pas, à l'époque ça s'appelait Pulse Japan !)…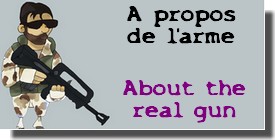 Marui nous propose la variante Mark XIX du Desert Eagle, la plus moderne à ce jour, équipée d'un canon de 10 pouces et d'un rail sur le dessus de la culasse.
Plus de détails ICI.
Marui bring us the Mark XIX variation of the Desert Eagle. This is the most advanced design so far, equiped with a 10″ barrel and a Picattiny rail on the upper frame.
More details HERE.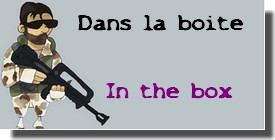 Comme souvent chez Marui, une jolie boite au couvercle brillant ornée d'un dessin de la réplique.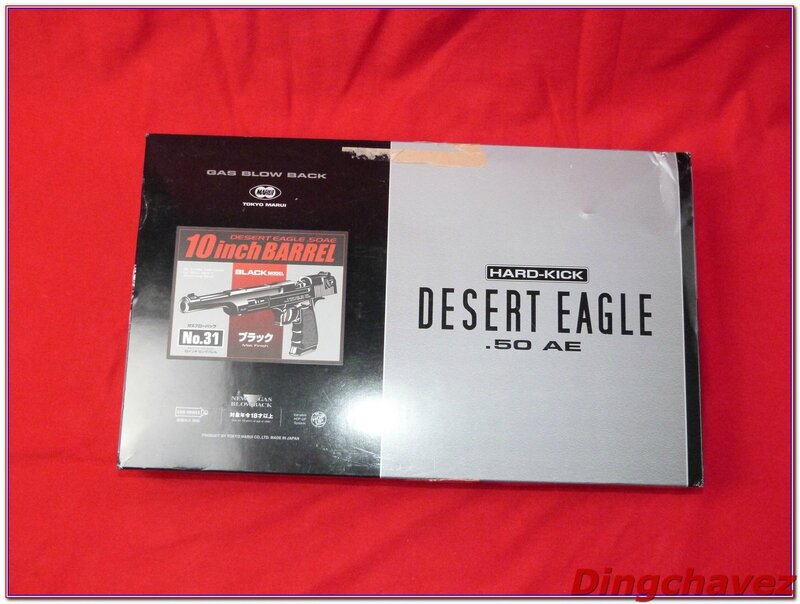 A l'intérieur tout est callé dans du polystyrène de bonne facture qui ne s'en va pas partout lorsque vous enlevez la réplique.
Inside, everything is nice and tight, encased in polystyrene.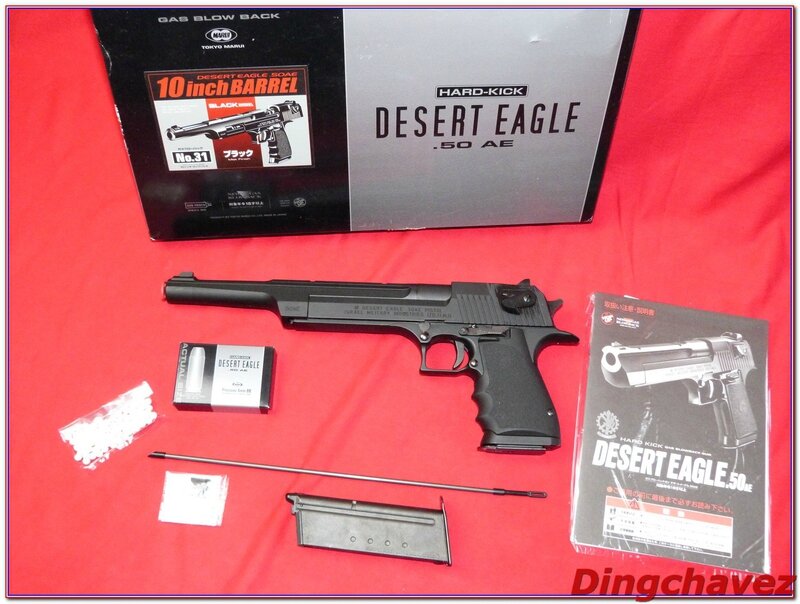 On y trouve :
-La réplique, en majorité constituée d'ABS à part pour la mécanique et le chargeur. Elle pèse néanmoins 1270 grammes.
-Un chargeur pouvant contenir 24 billes.
-Une tige de nettoyage.
-Un sachet de 100 billes couvert par une petite boite en carton représentant une munition réelle à l'échelle 1.
-Deux pièces permettant de tirer à vide.
-Le manuel d'utilisation et quelques cibles.
There is :
-The gun, 1270 gramms of ABS and metal.
-A 24BB magazine.
-A cleaning rod.
-100 BBs.
-The users manual and a few targets.
-Two « dry firing » parts.
Y a pas à dire, si le modèle classique est déjà un beau bébé, ici on a une pièce d'artillerie portable !
Wow, if the classic DE is a big gun, this 10″ version is a man-portable-artillery-device !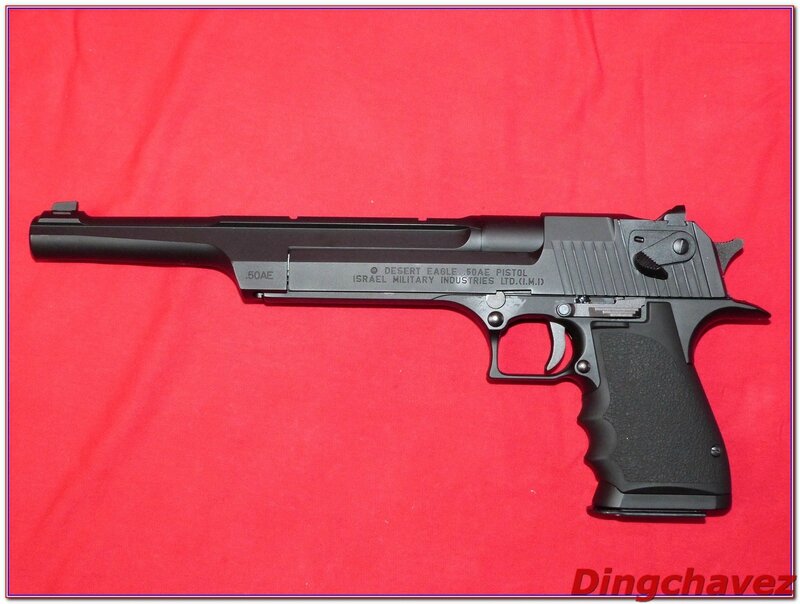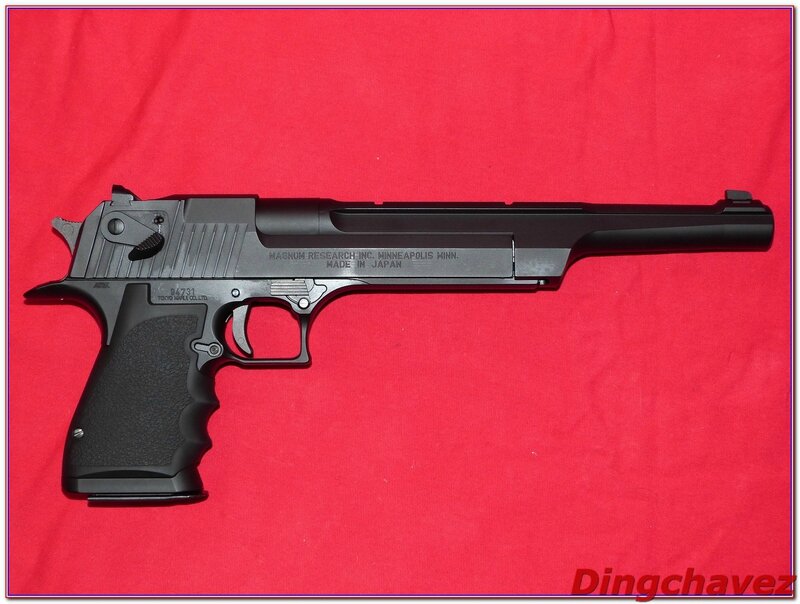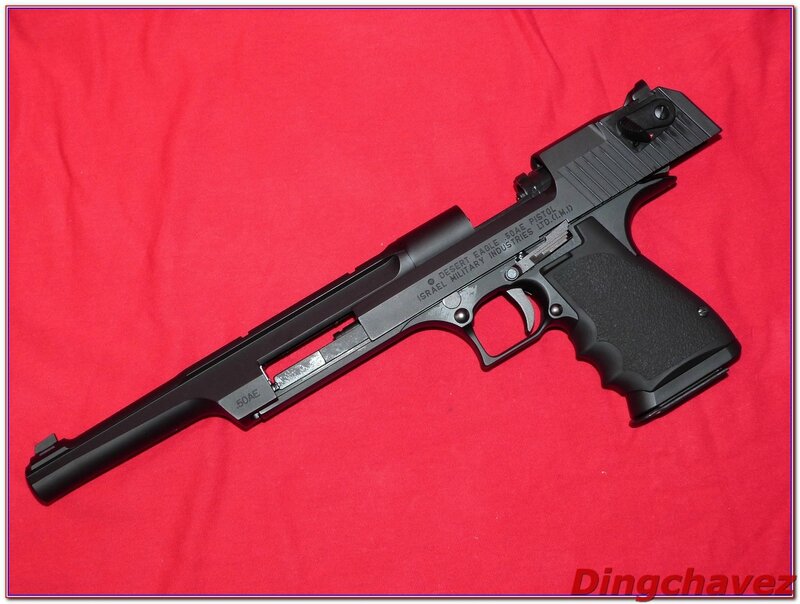 Le calibre réel de l'arme, .50 Action Express, nous ce sera du 6mm, soit plus de deux fois inférieur (12.7mm pour l'arme).
The real weapon caliber, .50 inch (thats 12.7mm, huge compared to our 6mm BBs !).
Le grip est très agréable avec sa texture légèrement caoutchouteuse. Je n'ai pas de grandes mains mais je ne peine pas à tenir la réplique.
The grip is very smooth, it is made of rubber. I don't have big hands but I've got no problem handling this DE.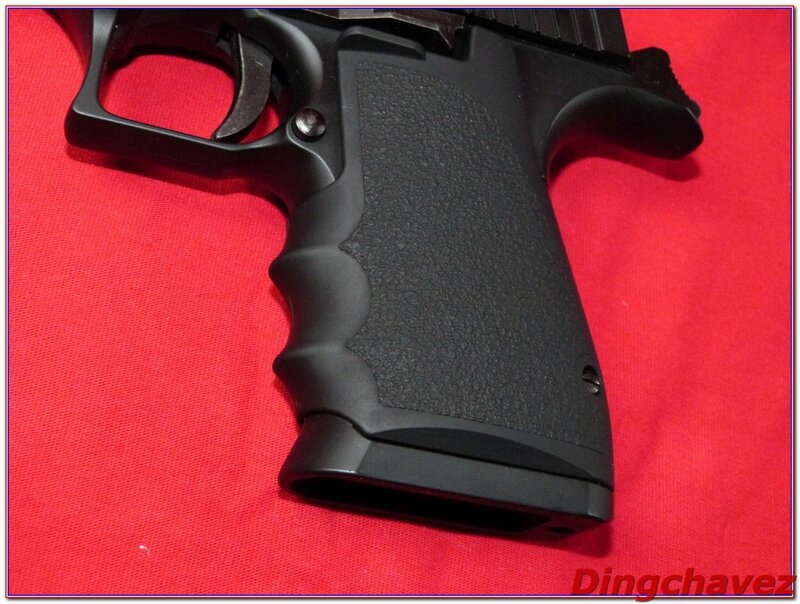 Le cran de sûreté est ambidextre.
The safety lever is ambidextrous.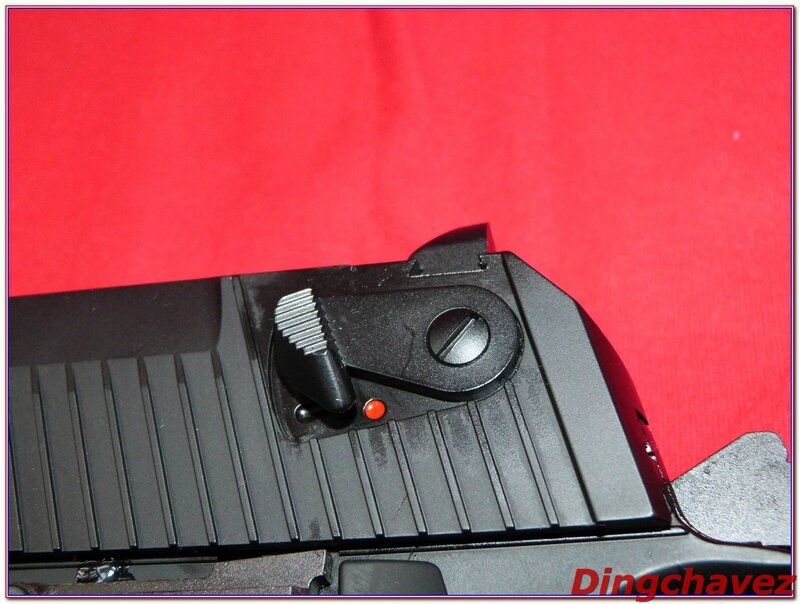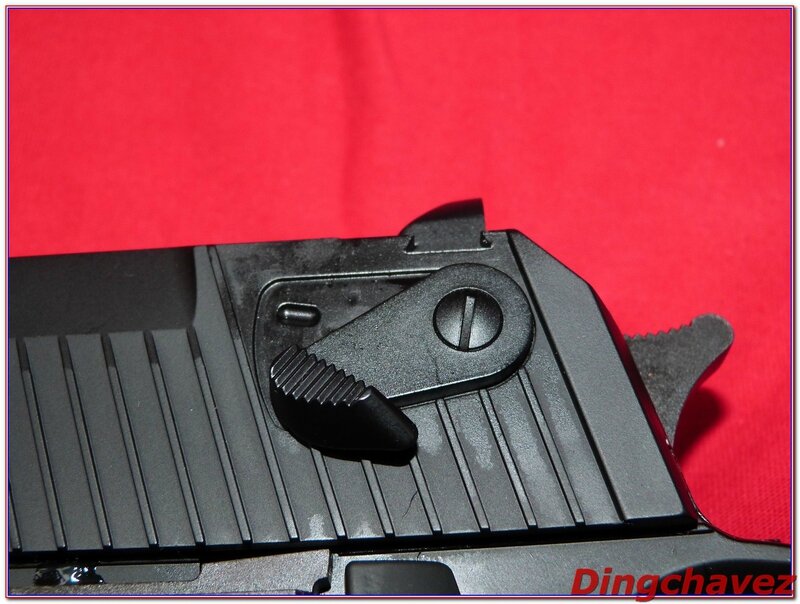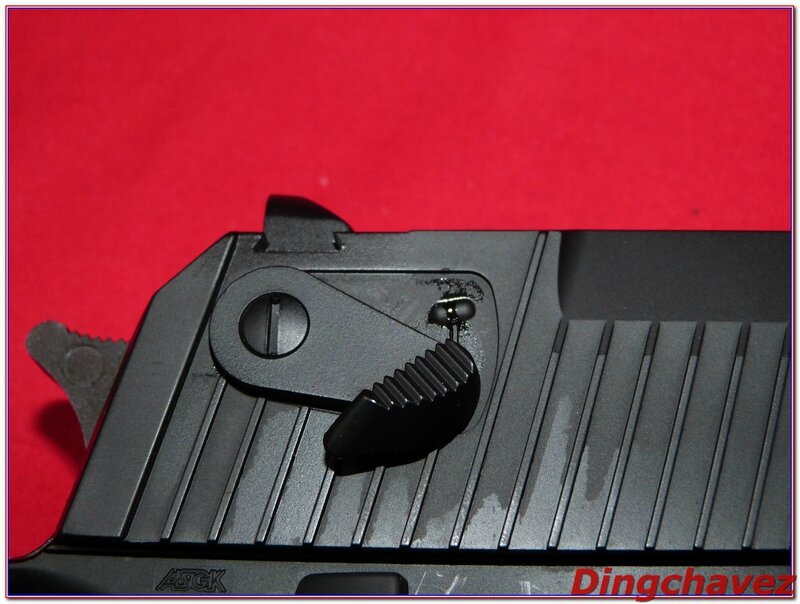 Marui a apposé un marquage discret sur le corps.
Marui applied discreet markings on the frame.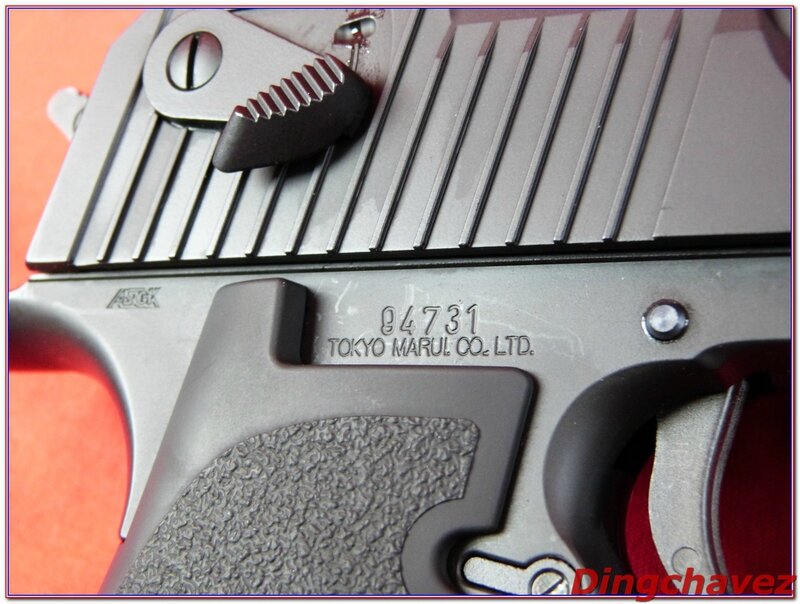 Les marquages choisis sont ceux de Magnum Research, co-développeur avec Israel Military Industries et responsable du développement de l'arme depuis 25 ans. Seul un « made in Japan » vient trahir l'origine de la réplique.
The markings are the Magnum Research ones. MR is co-developper along with Israel Military Industries and has been in charge of the gun's improvements for the past 25 years. Only the « made in Japan » betrays the real origin of this BB gun.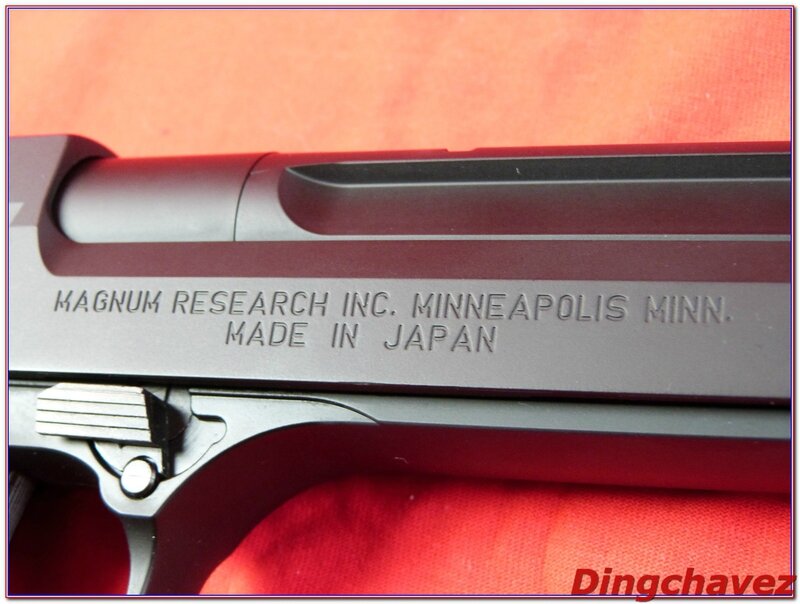 Les marquages IMI sont du côté gauche de la glissière.
The IMI markings are on the left side of the slide.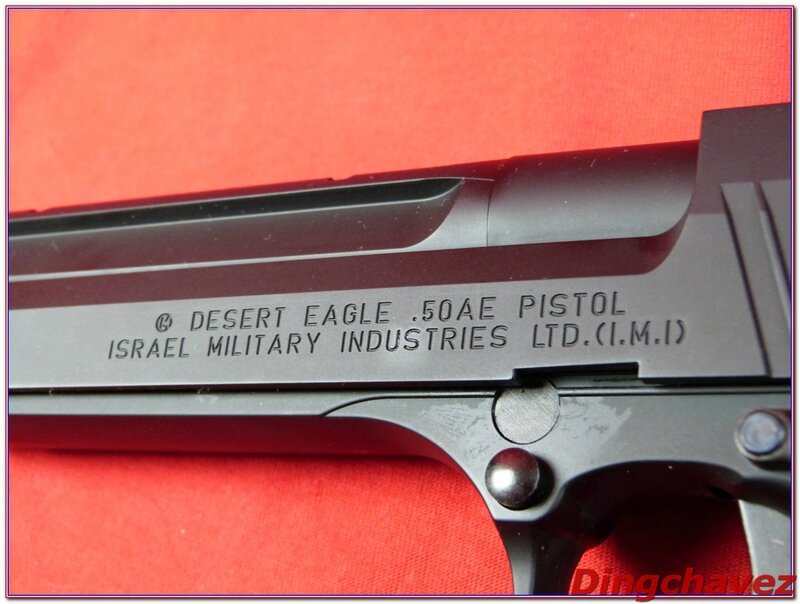 Comme le reste, la queue de détente est surdimensionnée.
As well as the rest of the gun, the trigger is oversized.
L'arrêtoir de glissière, massif et parfaitement fonctionnel.
The slide catch/release, perfectly working. It is massive.
Le marteau. Notez la trace de moulage.
The hammer. Notice the molding print.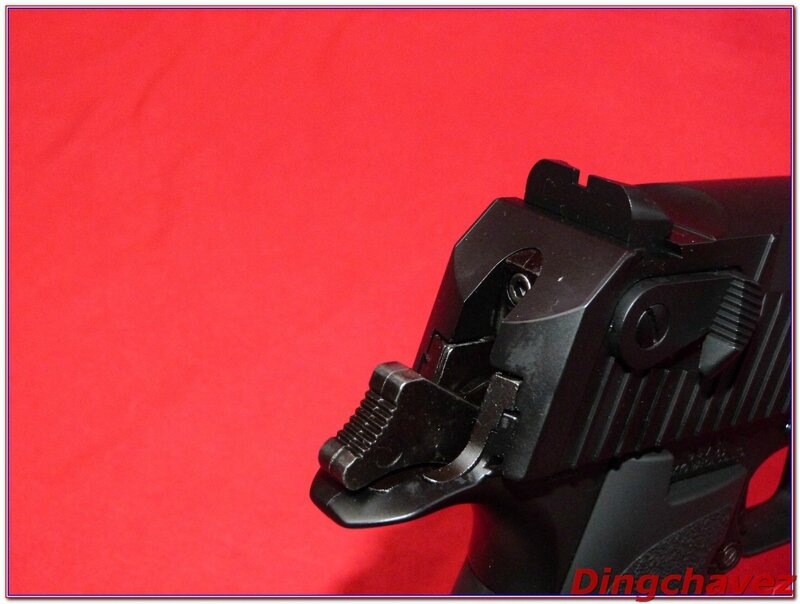 Le nozzle a l'air vraiment solide. Il est bien huilé d'origine.
The nozzle looks sturdy. It is perfectly lubricated.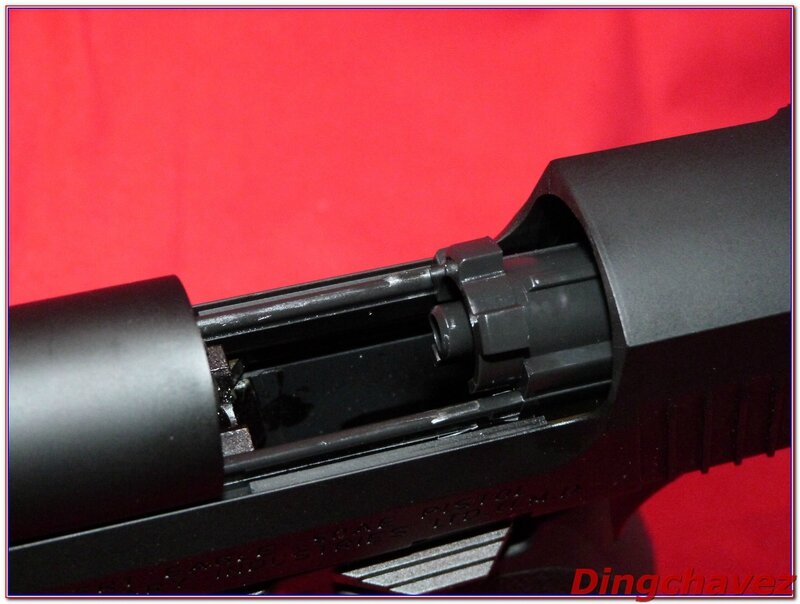 Le rail. Malheureusement il semble qu'il soit un peu trop large, je n'ai pas réussi à y placer mon Eotech.
The rail. It seems that it is slightly too wide. I couldn't fit my Eotech on it.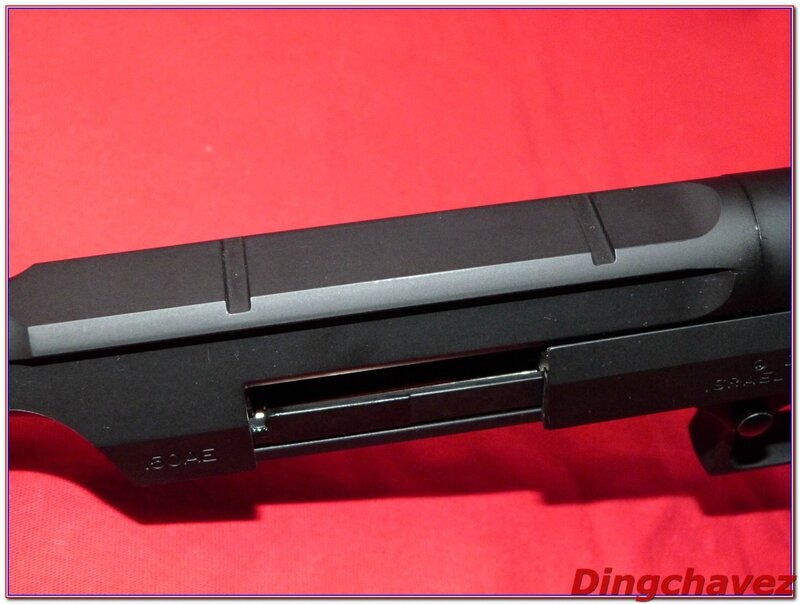 Le joint de hop up fait office de chambre de chargement. Pour régler le hop up, il faut faire coulisser une pièce vers l'arrière.
The hop up rubber acts as loading chamber. To set the hop up, slide the upper part to the rear.
Le réglage du hop up s'effectue via une bague. Elle est assez difficile à actionner, pas de risque que le hop up se dérègle tout seul.
The hop up setting ring. It is quite hard to operate, no risk of self-unsetting hop up.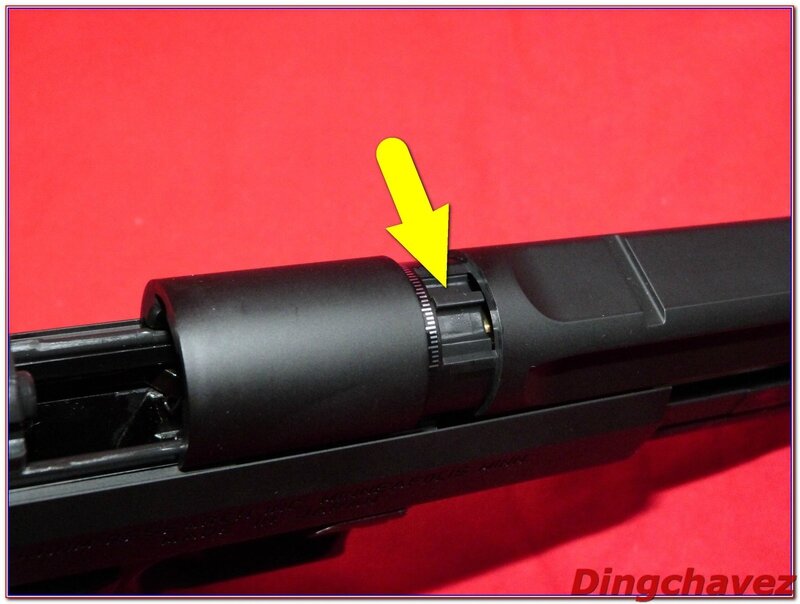 On reste dans du basique, un cran de mire assez massif à l'avant.
This is a basic front sight. Basic and huge !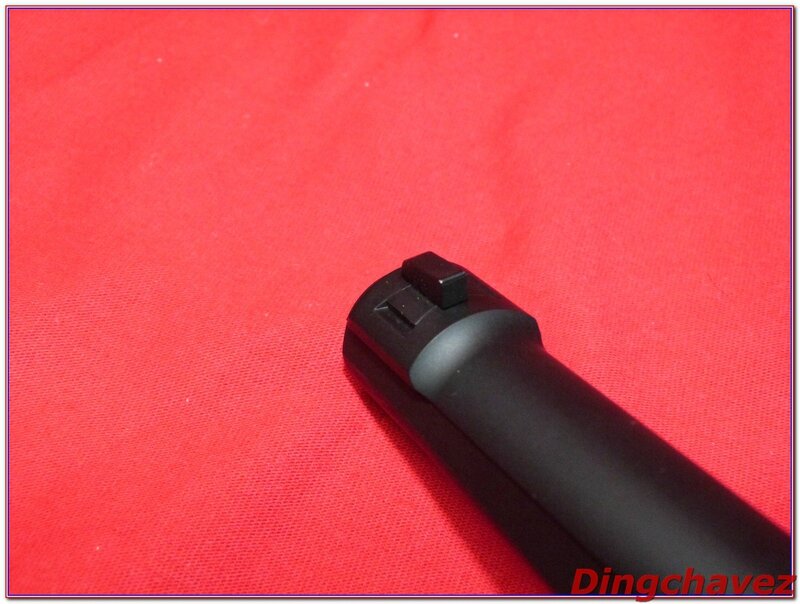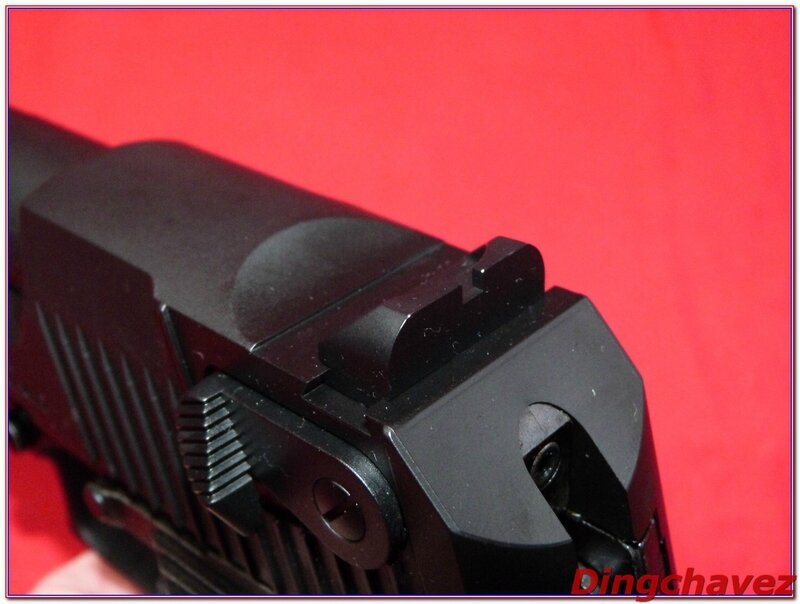 Du coup la visée est assez aisée, tant mieux car vu le poids de la réplique, quand on n'a pas de muscles comme moi, on tremble…
The aim is quite easy, this is really good for folks with no muscles, just like me !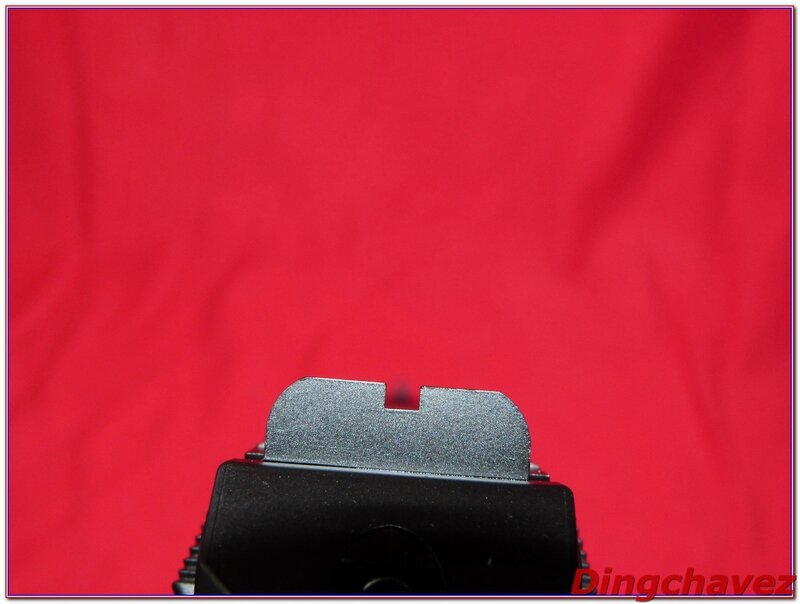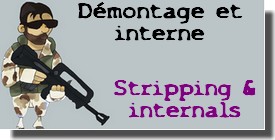 Pas de manipulations ésotériques pour démonter cette réplique, poussez sur le bouton du côté gauche de la carcasse…
Nothing difficult to strip the gun, first of all push the button on the left side of the frame.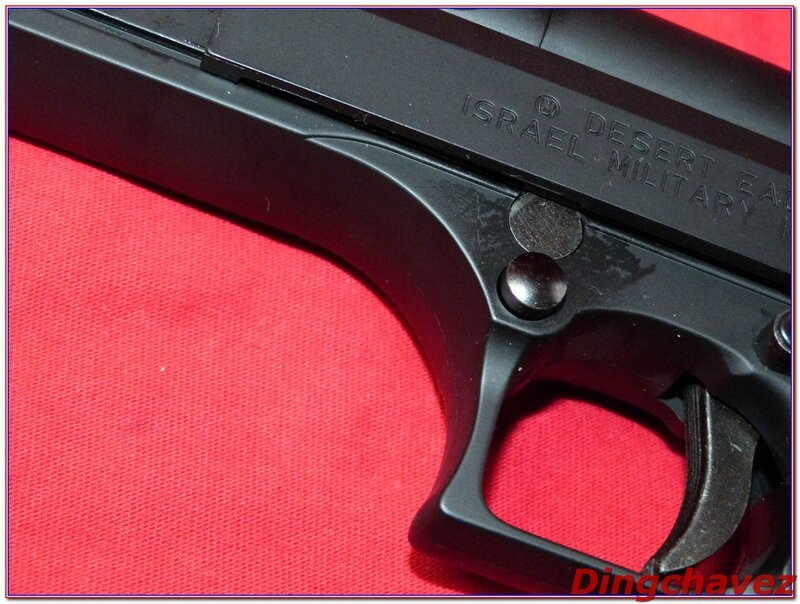 Puis faites pivoter la pièce de verrouillage de l'autre côté.
Then rotate the lock.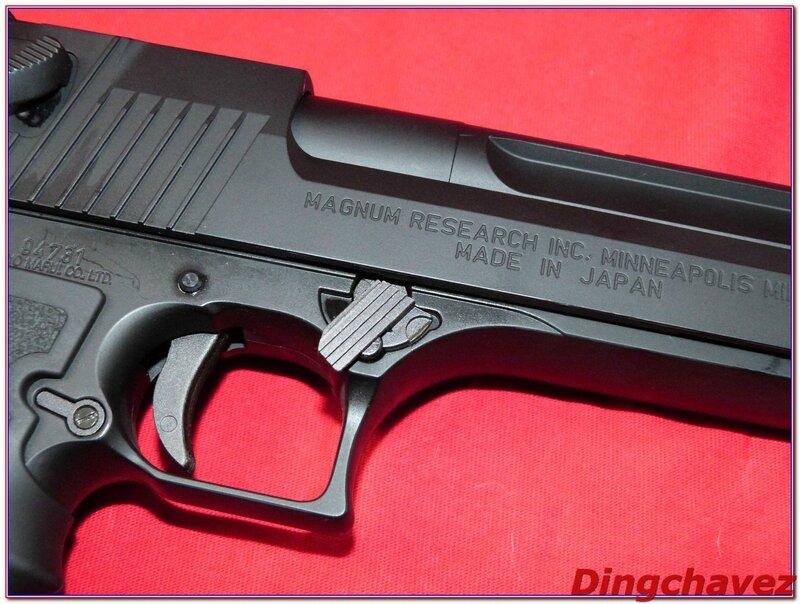 On fait glisser vers l'avant.
Slide the slide forward.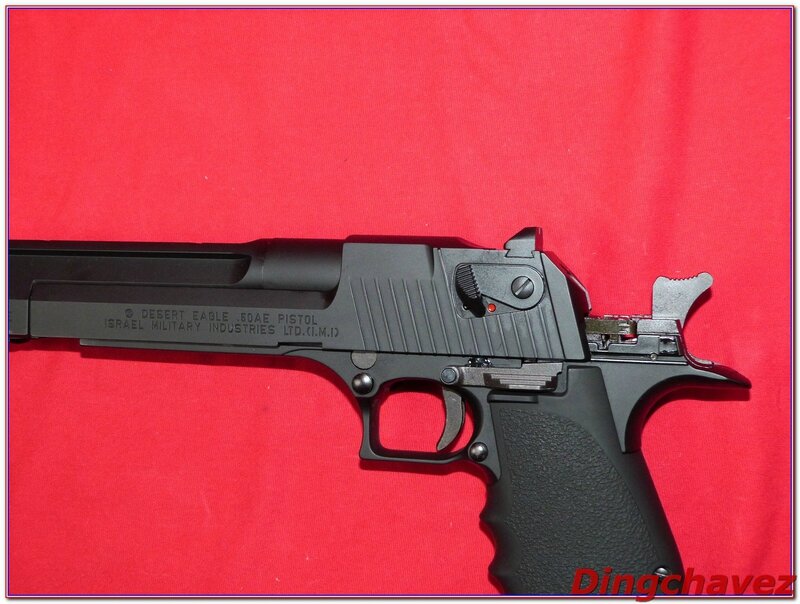 Puis on sépare le tout.
Then split the two groups.
Une vue sur la mécanique.
A view at the inside.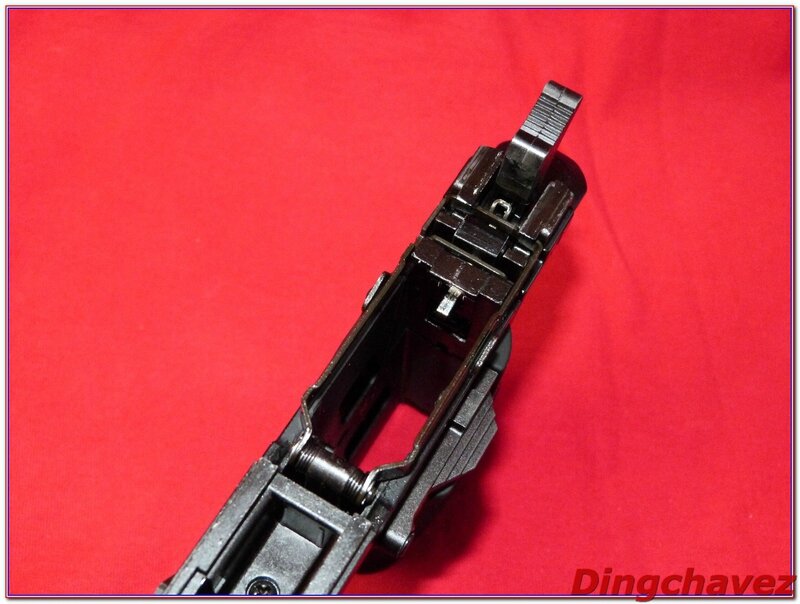 Si la commande de tir saute, pas de panique, il suffit de la remettre à sa place.
If the sear jumps out of its seat, don't panic and simply put it back.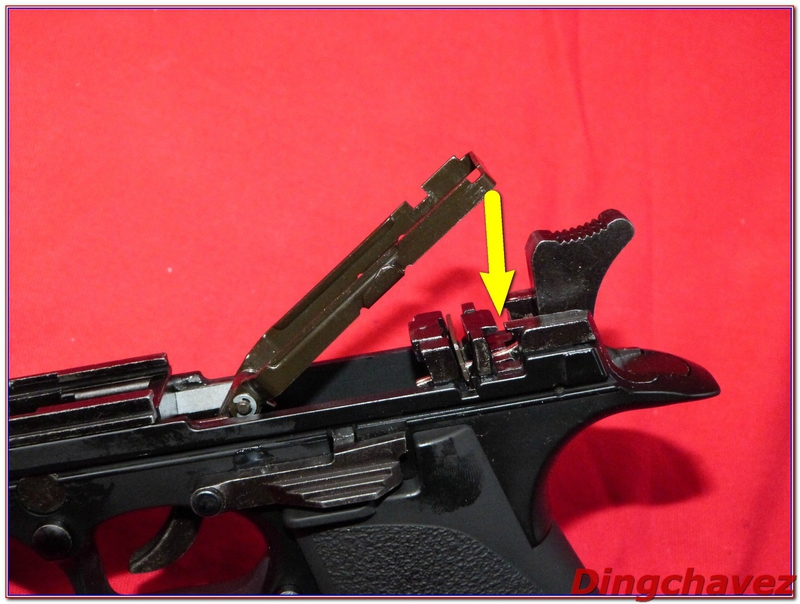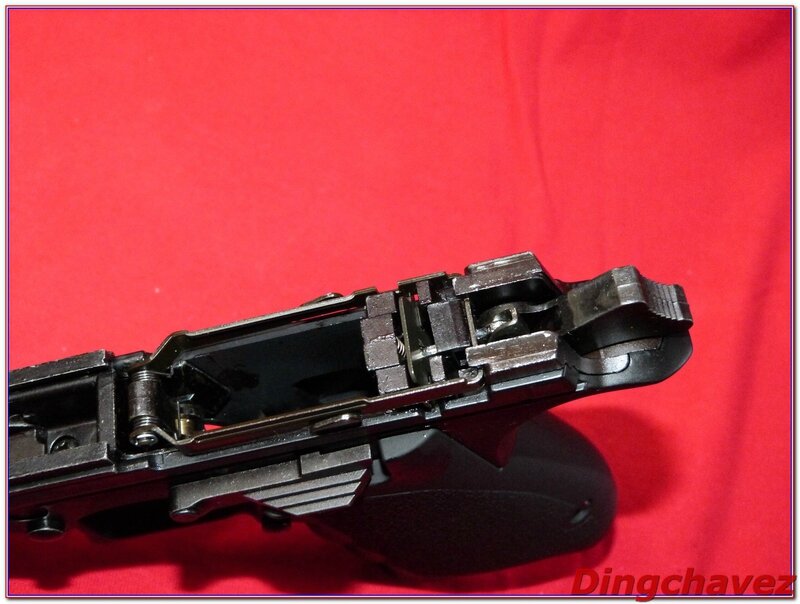 L'intérieur de la glissière.
The inside of the slide.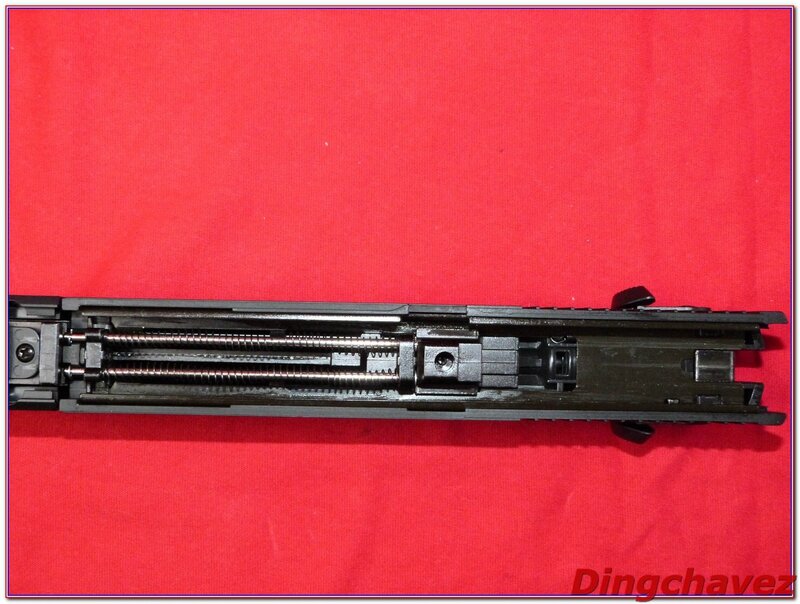 Les deux ressorts sont solidaires des tige-guides.
The two recoil springs are interdependent with the spring guides.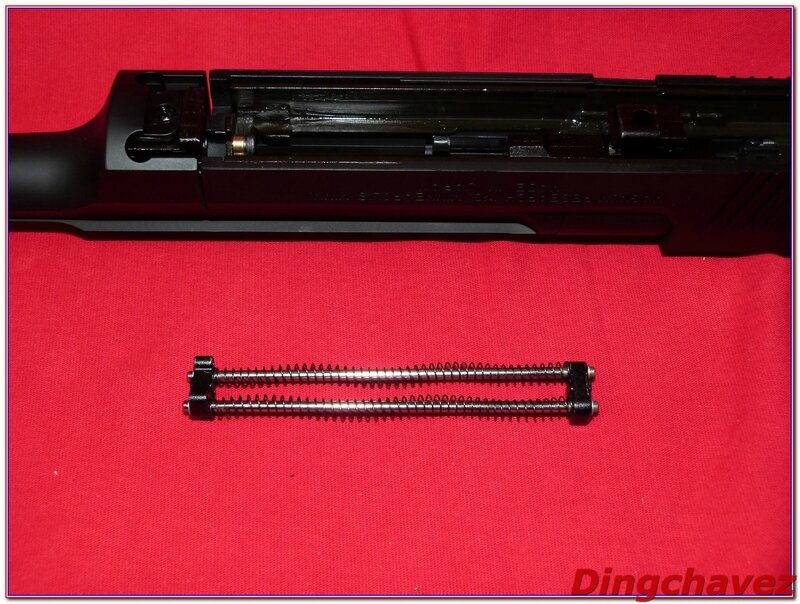 On peut alors séparer la glissière du canon externe, il faut pousser et exercer une légère rotation.
Then we can split the slide from the outer barrel. Push and rotate slightly.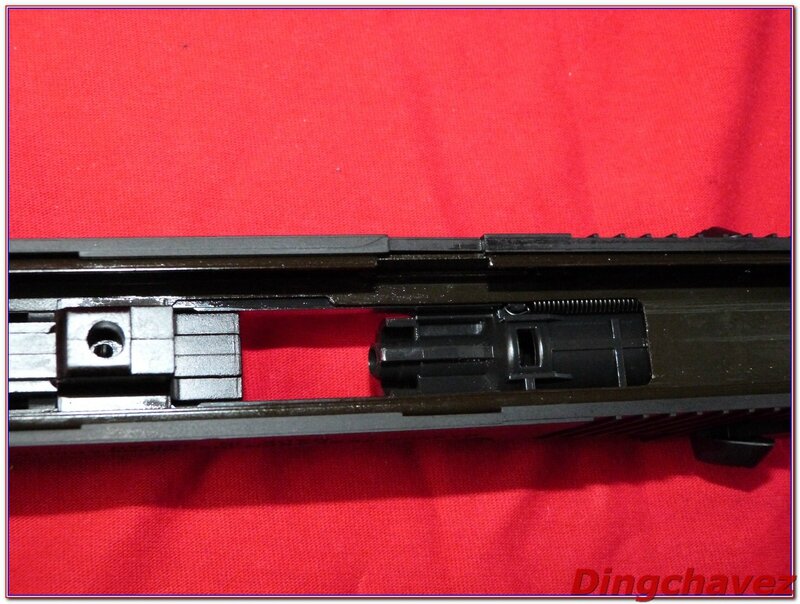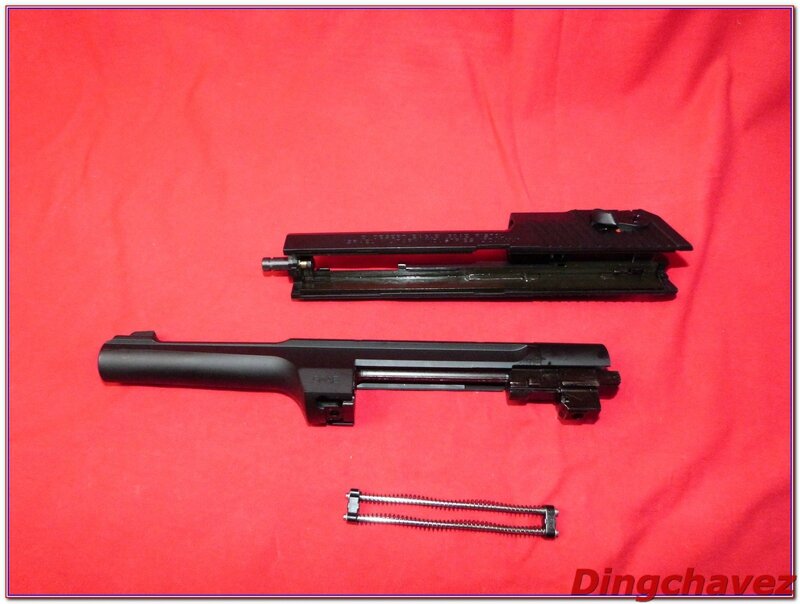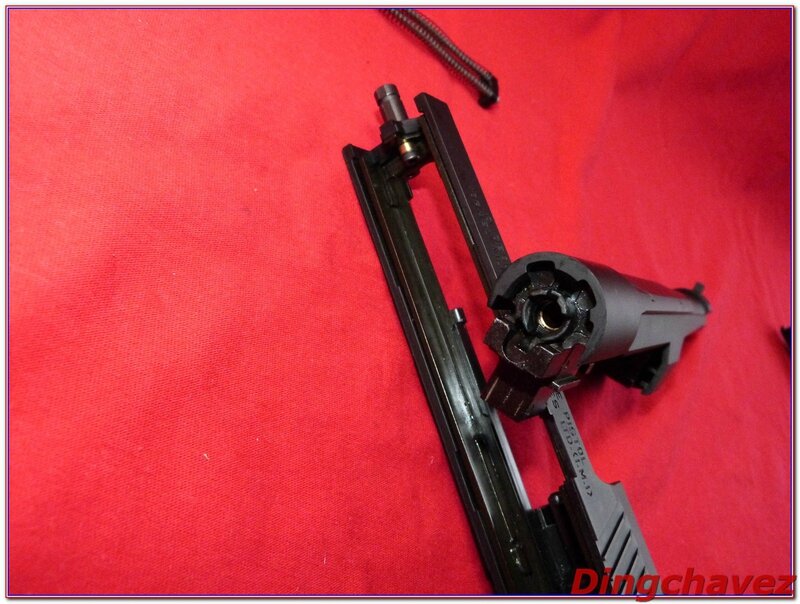 On déclipse le capot du hop up.
Remove the hop-up lid.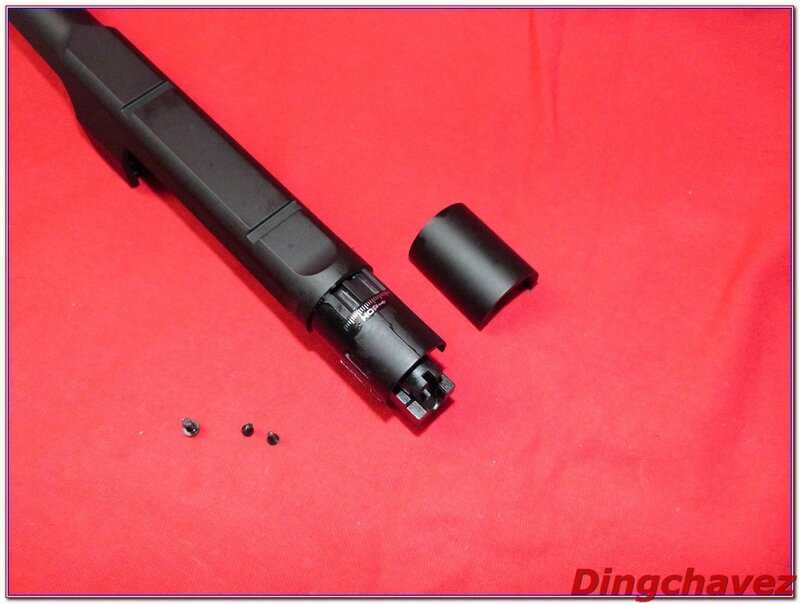 Une dernière vis à ôter.
One last screw to remove.
Puis on peut déclipser l'ensemble.
Then we can separate the two groups.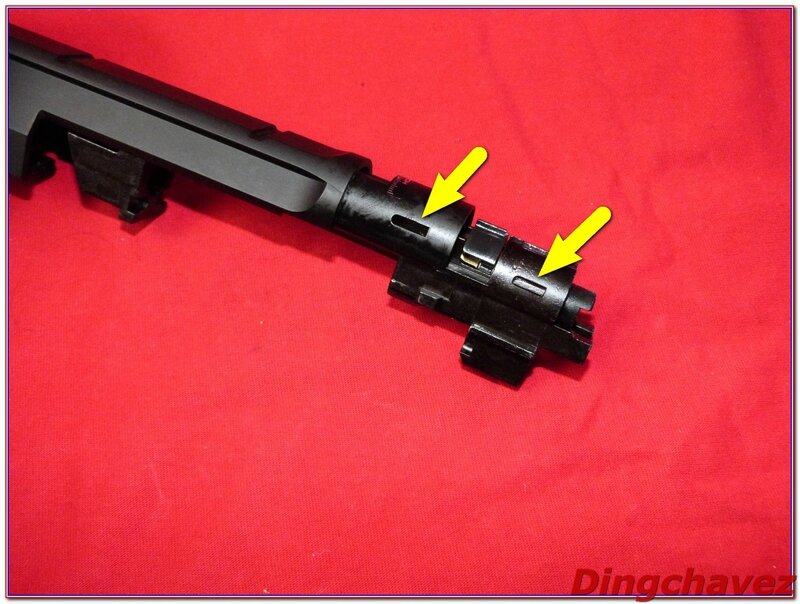 Et voilà ! Pour séparer le bloc hop-up/canon interne, il suffit de pousser vers l'arrière. J'ai utilisé une calle en bois.
To get the hop-up unit and the inner barrel, push to the rear. I used a wooden rod.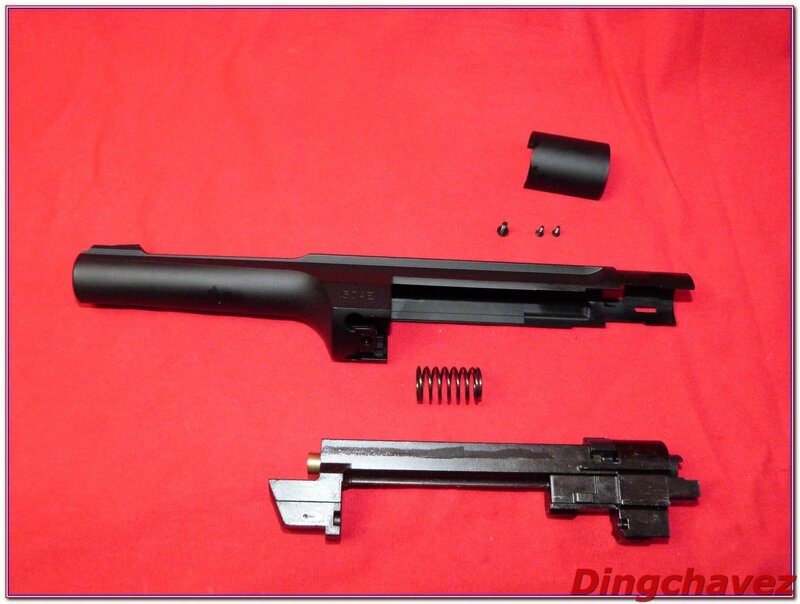 Le hop up consiste en une bague qui actionne un levier, poussant ainsi sur le joint.
The hop up consists in a ring operating a lever, thus pushing the rubber.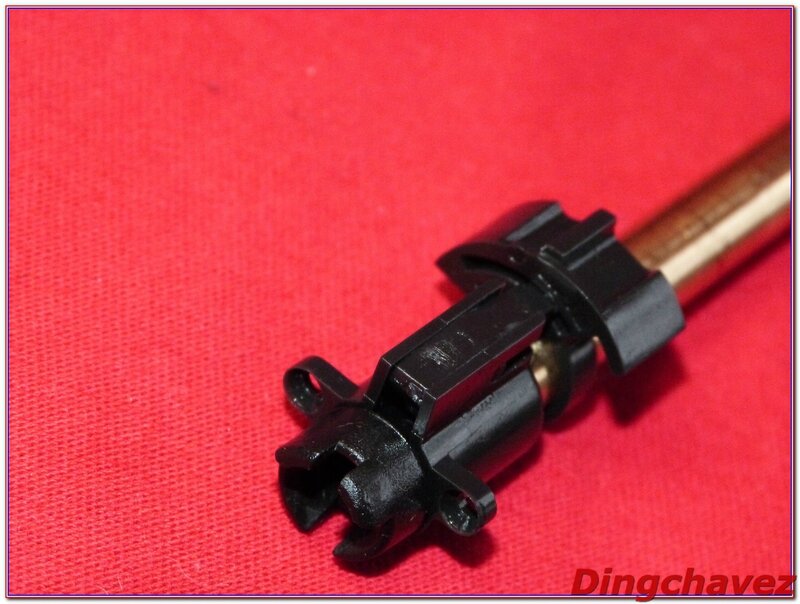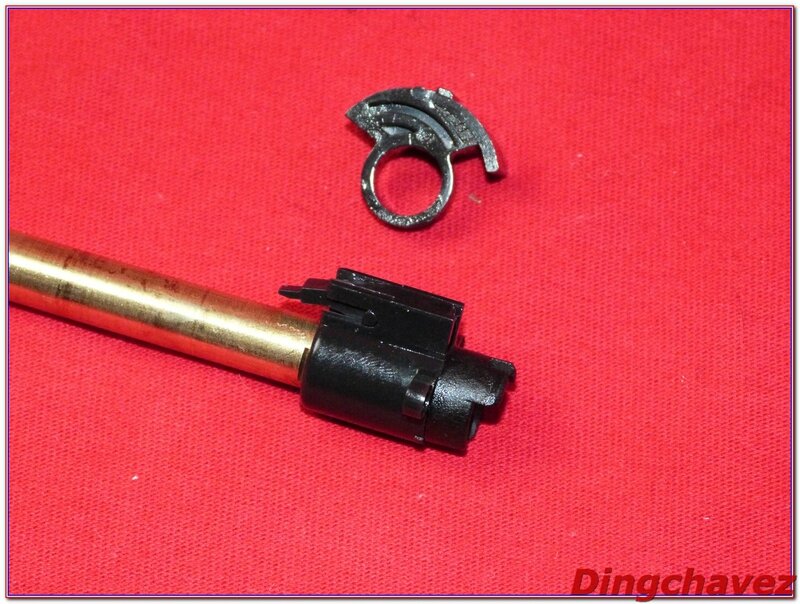 Le joint de hop-up est spécifique à la série des Desert Eagle.
The rubber is a specific one.
Le canon interne mesure 136mm, une bonne taille qui explique en partie les bonnes performances de la réplique.
The inner barrel is 136mm-long. This could explain the good performances of the gun.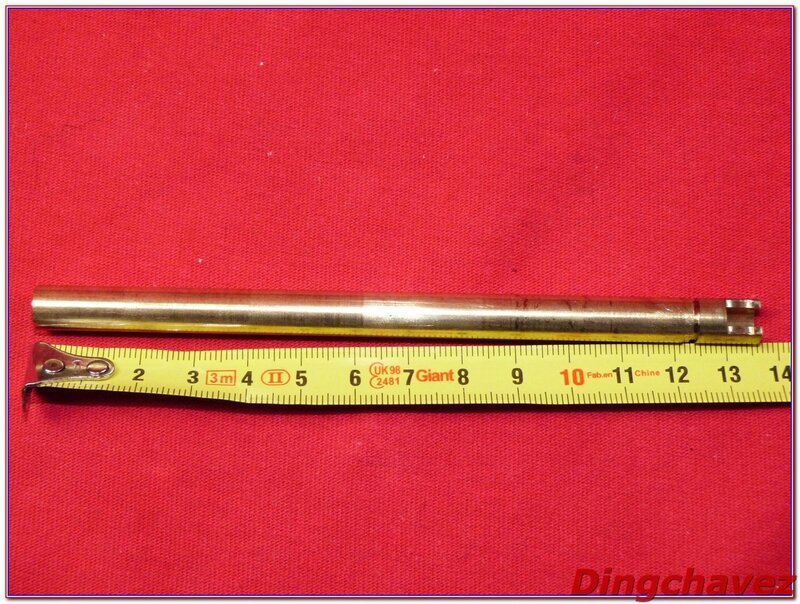 L'alignement est parfait.
Everything falls perfectly in line.
Il est gros le troutrou !
That's a big hole !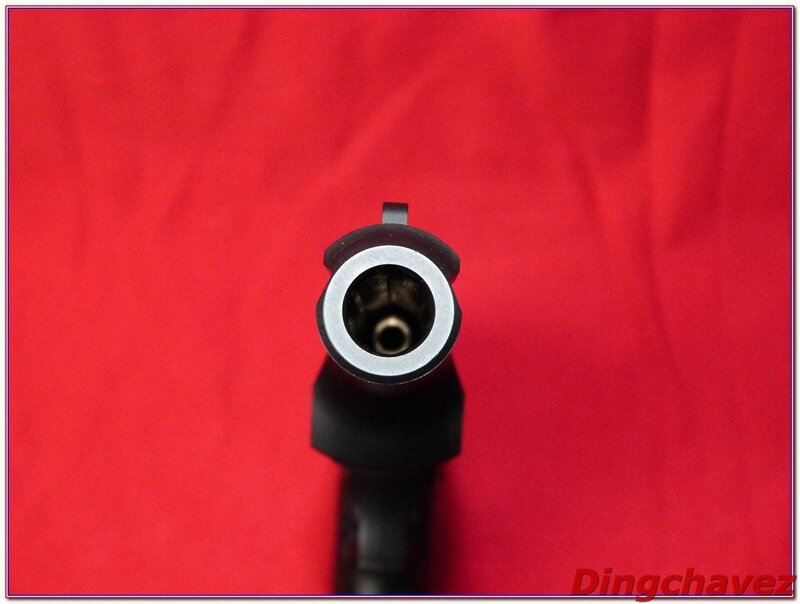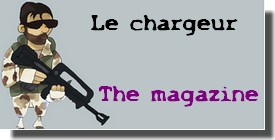 Le chargeur de ce DE peut contenir 24 billes, contrairement aux marquages RD sur le côté droit qui précisent 7 cartouches maximum (et oui, les munitions .50 Action Express sont balèzes !)
 The Magazine can hold up to 24 BBs. The real markings mention 7 bullets. .50 AE are fat ass ammo !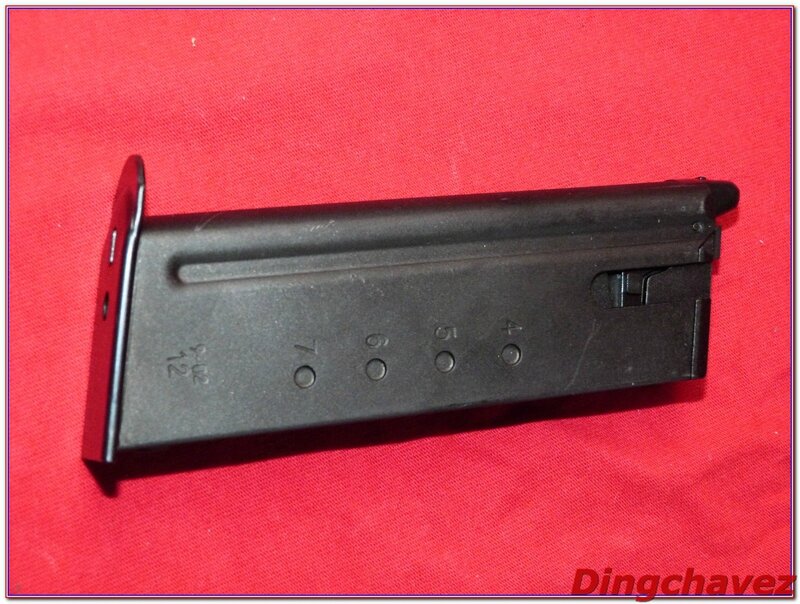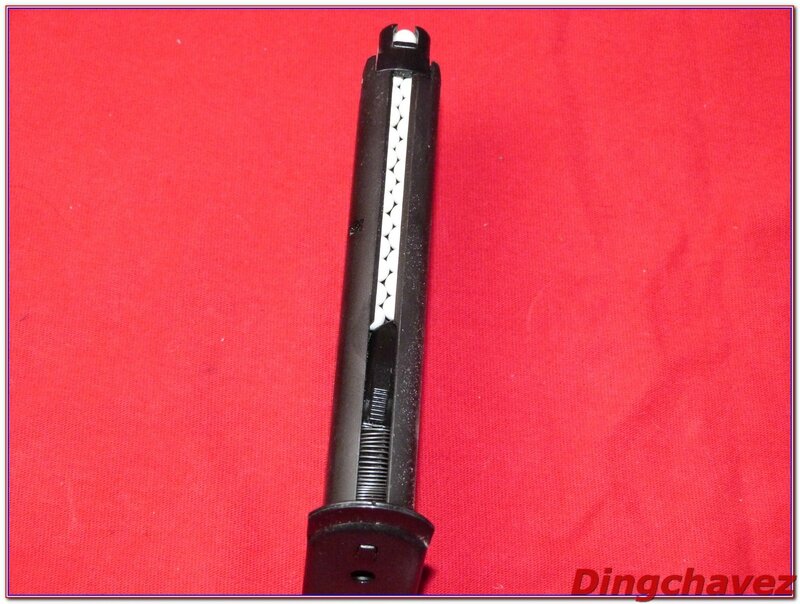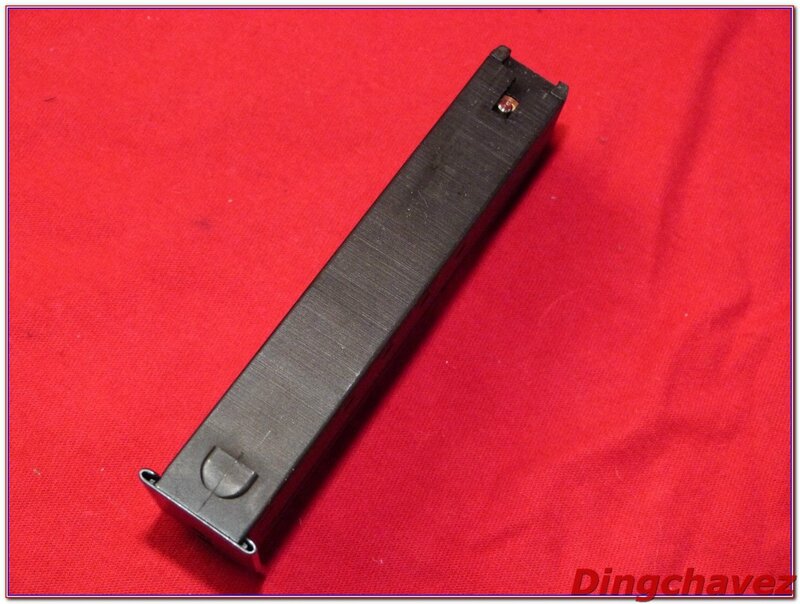 En cas de fuite par le bas du chargeur, il vous suffit d'ôter le talon, il n'y a ensuite qu'une vis à enlever.
If your mag leaks from the bottom, remove the mag plate and there is only a screw to remove.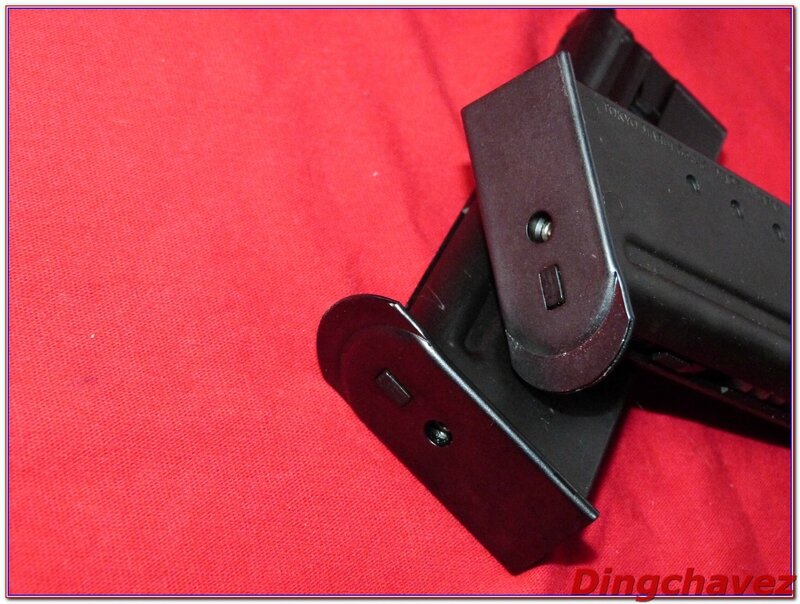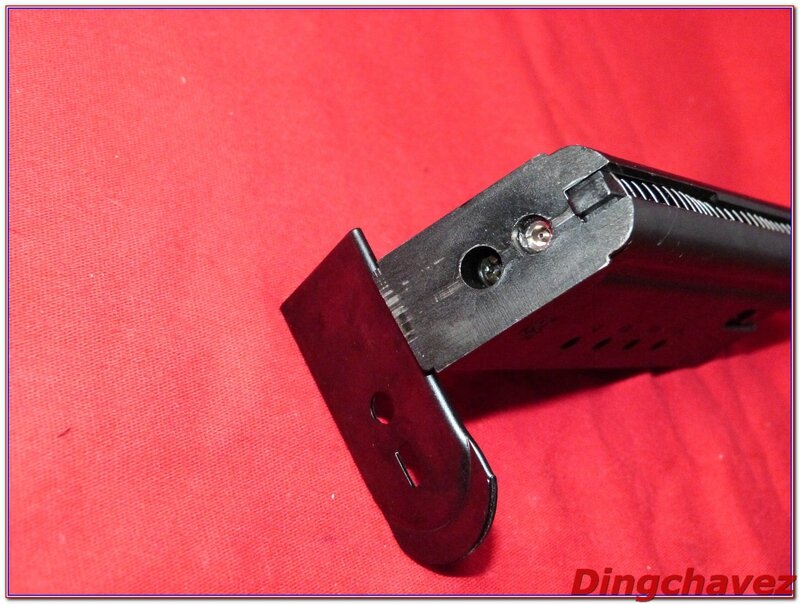 Un rappel sur le fabricant.
A quick reminder about the maker.
Les pièces permettant de tirer à vide prennent place dans le chemin de billes, idéal si vous souhaitez faire un court-métrage tel que l'excellent « infiltrables » de Tonton Jim !
The small parts allowing dry fire go in the BB path. That's a nice feature if you want to shoot a short movie like « infiltrables » from Tonton Jim !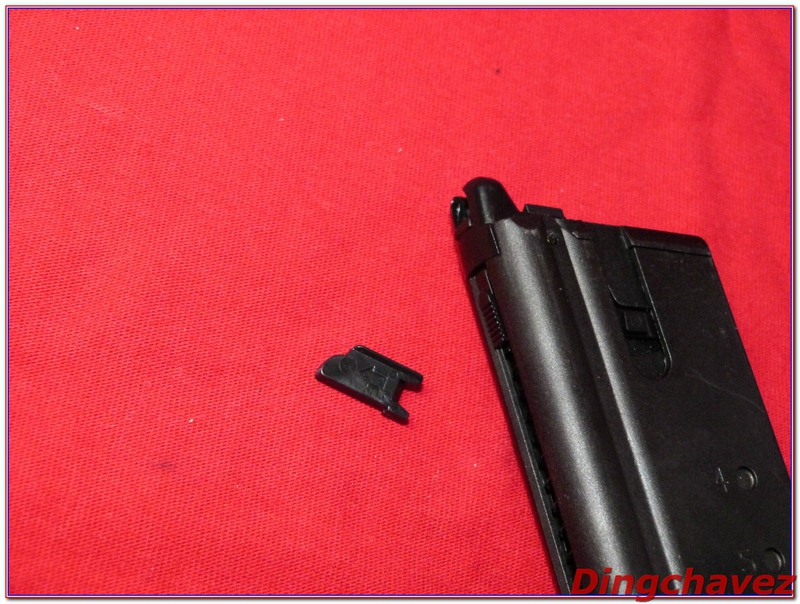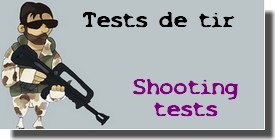 Les tests chrony ont été réalisés avec un Xcortech3200 du gaz Ultrair et des billes Xtreme Precision Bio de 0.2g par une température de 20°C en intérieur.
Voici les résultats : 309-304-301-297-298, soit une moyenne de 301.8 FPS. La puissance est idéale pour un backup. Le kick est bien présent et ça claque pas mal, même si l'on regrette le bruit un peu « plastique ».
Que ce soit avec des billes en 0.2 ou 0.25 grammes, le hop up est efficace et les trajectoires sont régulières. La réplique est très précise et la portée utile dépasse les 30 mètres !
The chrony was a Xcortech3200, I used Ultrair gas and 0.2g Xtreme precision BBs. The indoor temperature was 20°C.
Here are the results : 309-304-301-297-298, that is an average of 301.8 FPS. Ideal power for a handgun. The kick is awesome and the sound, even if a little « plastic », is nice.
Wether you use 0.2 or 0.25g BBs, the hop up is very efficient and the trajectories are consistent. Precision is good and the BBs reach 30 meters easily !
Désolé pour la qualité de la vidéo mais ce fut difficile à cause d'un vent fort, je n'ai même pas mis les résultats à 20 mètres car ça dispersait trop :
Sorry for the crapy video, it wasn't ideal because of the strong wind, I didn't even edit the 20m results because it sprayed too much.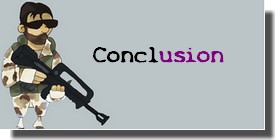 Pourquoi n'ai-je pas testé un Desert Eagle Marui plus tôt ? Cette réplique est tout bonnement magique ! Portée/précision au top, excellent qualité de fabrication, les « puristes » regretteront peut être encore que la réplique soit en ABS, mais on trouve des kits métal très bien faits. Pour ma part, seule la taille imposante de cette version 10 pouces est un obstacle, et encore, simplement parce que j' n'ai pas de holster adapté. La taille de cette réplique en fait également l'une des répliques de poings les plus onéreuses de la marque (j'ai payé 240€ ports compris avec un chargeur supplémentaire) en dehors des séries spéciales, genre Resident Evil. Mais au vu du contenu de la boite et de la taille de la réplique, ce n'est pas du vol.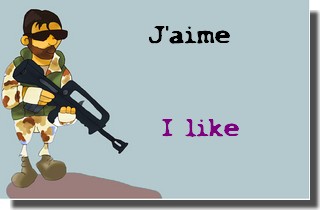 -Contenu complet de la boite./Content of the box.
-Combinaison puissance honnête/portée/précision. / Power/range/accuracy combination.
-Qualité de fabrication. / Overall quality.
-Kick.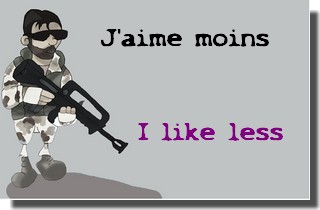 -Un des PA Marui les plus chers./ One of the most expensive TM handgun
-Look qui ne plaira pas à tout le monde. /The look of this long version may not please everyone
-Très très encombrant. /Very cumbersome.
Posté le 1 janvier 2014 par Dingchavez