Review WE M9A1 GBB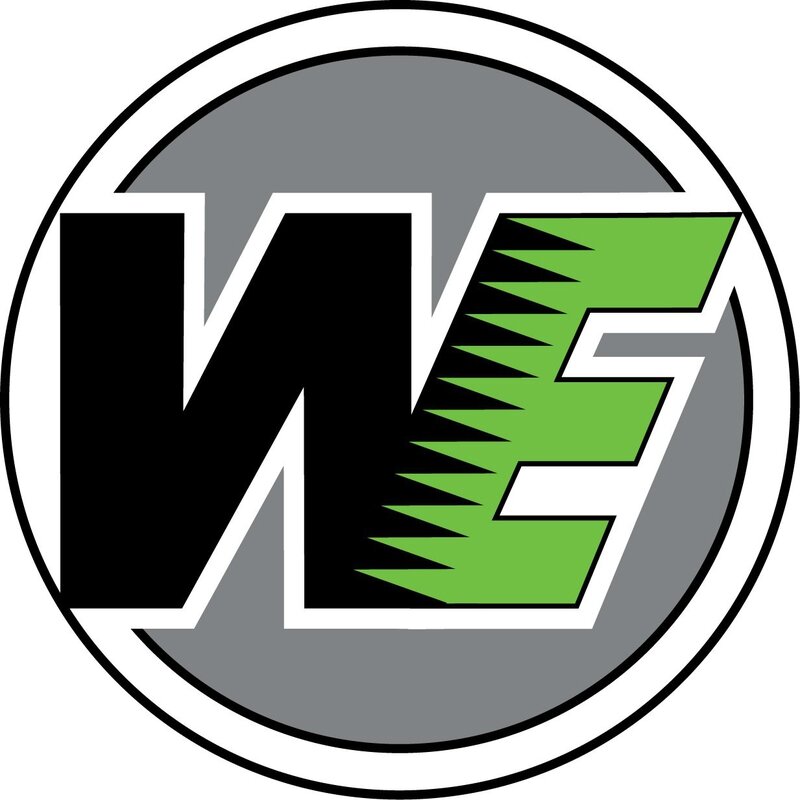 22/02/2014
Il est gros mon logo hein ? J'avais envie, car oui, je suis content du travail de WE ces derniers temps, même si les gens de la branche Europe ne daignent pas répondre à mes messages, même s'ils ont une comm' proche de zéro à part pour balancer deux photos de bouteille de gaz sur Facebook, je suis content de leurs produits à bon rapport qualité/prix. J'étais curieux de voir si leur dernier PA en date, le M9A1, copie du modèle Marui nouvelle génération sorti en 2012, tenait ses promesses. Voici quelques éléments de réponse…
That is a big logo isn't it ?  I wanted to. Yes, I'm happy with WE's work these days, even if people from WE Europe never answered my message, even if their PR is close to zero except when they put some ad on Facebook. I must admit that most of their products have a godd price/quality ratio and I wondered if this new M9A1, based on the Marui one, was as good as it seemed. Let's try to answer this …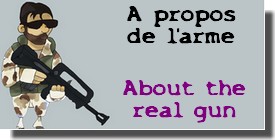 Bon, à moins de vivre dans une grotte vous savez déjà que le M9 est la version adoptée par l'armée américaine en 1985. En l'occurence il s'agit ici de la version A1 créée en 2006 et qui redonne un coup de jeune à cette pétoire. Plus d'infos sur le wiki en anglais.
Here is the full wiki.
As always, be cautious, wikipedia sometimes bring wrong data.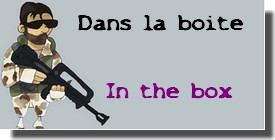 J'ai déjà longuement parlé de la boite dans le review du Pviruses, je n'y reviens donc pas. Cette fois-ci, la boutique a mis du papier bulles dans la malette du coup aucune casse à déplorer.
I talked about the box in the WE Pviruses review so I won't go through it again. This time the shop (Tiger111hk) put some bubble wrap in the bow so nothing broke.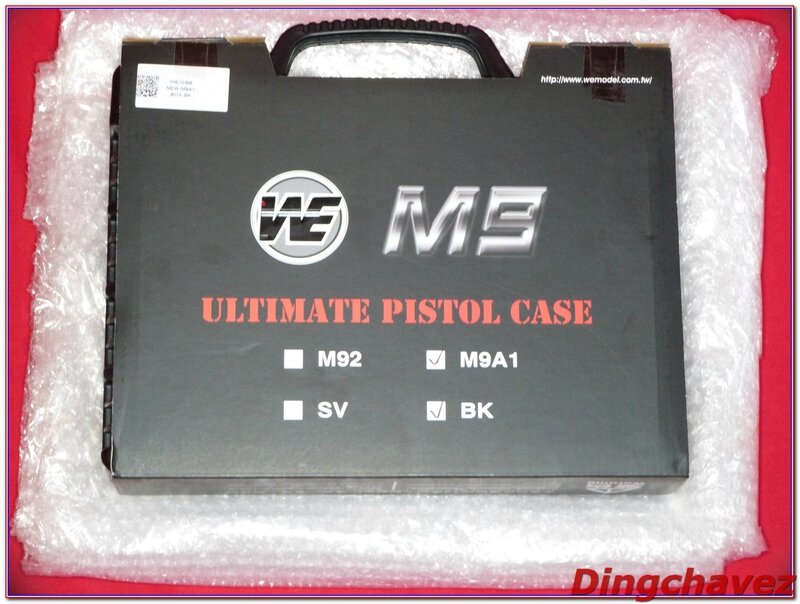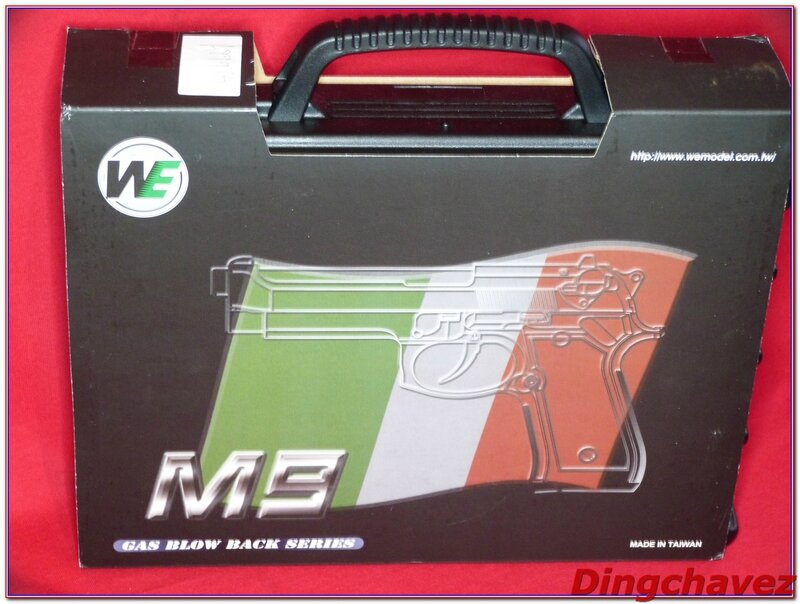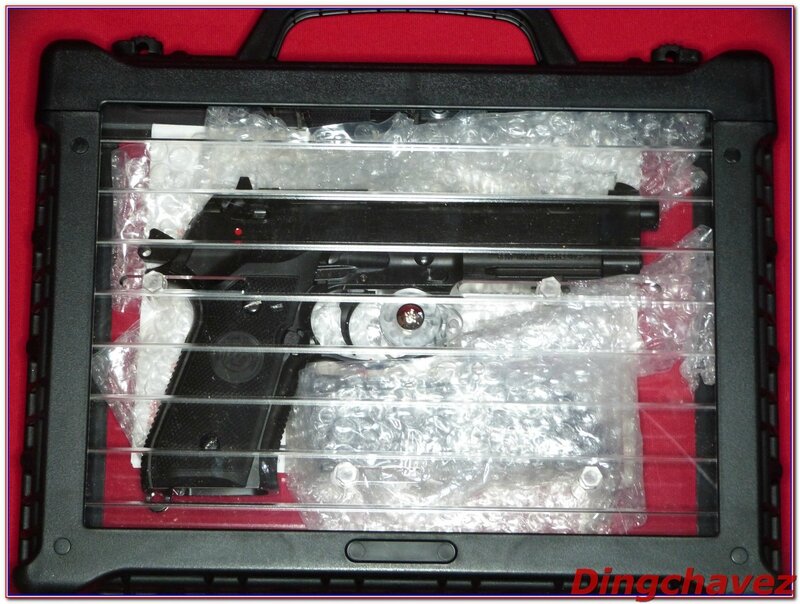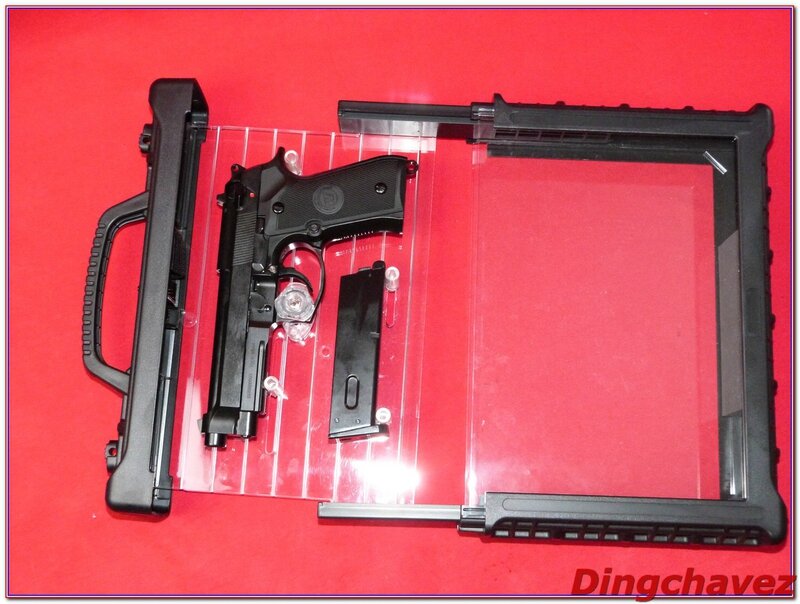 Le contenu est limité au strict minimum :
-La réplique, en alliage, pesant 900 grammes en ordre de marche.
-Un chargeur de 27 billes (je pense qu'il est prévu pour 26 mais pour une fois j'ai pu en mettre une de plus !).
-Un mode d'emploi/éclaté.
As usual, minimum content :
-The BB gun, weighing 900 grams
-A 27BB magazine (I guess it is supposed to hold 26 but hey, for once I managed to put more !)
-A users manual.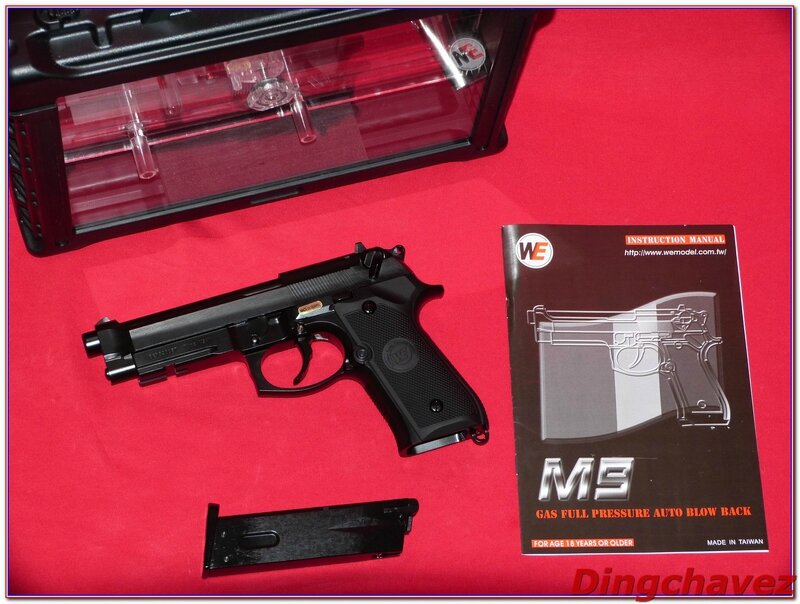 L'aspect de la réplique est très bon, ni trop mat ni trop brillant. Pour une fois la teinte ne semble pas vouloir partir au premier contact avec un holster. La prise en main est bonne et le grip se voit pourvu des gravures spécifiques au modèle A1. Pas de traces disgracieuses, pas de jeu à part un léger mouvement du chargeur dans son puits, c'est une belle réplique.
This M9A1 has got a nice look. Not too dull, not too shiny, for once the color doesn't seem fragile. Handling is good, the serated grip specific to the A1 feels nice. No unsightly stains or molding traces, no excessive wobble. It is a nice gun.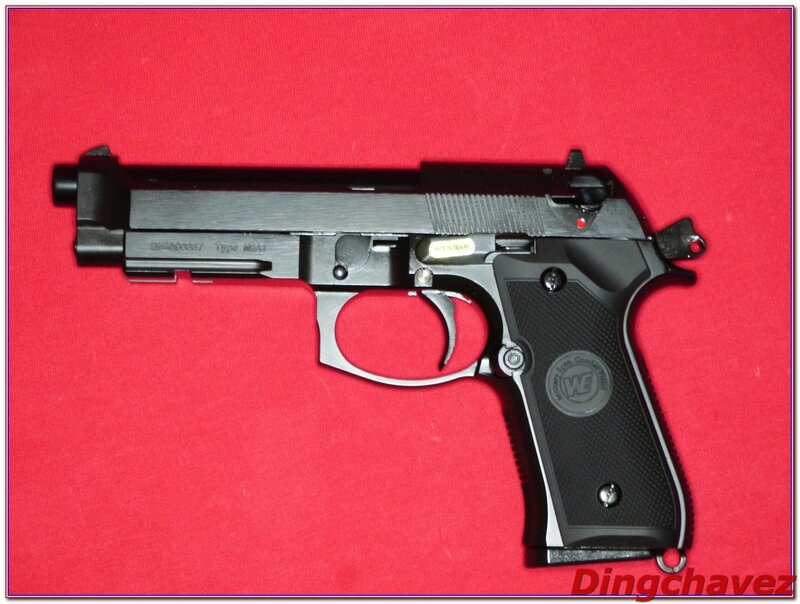 Manque de license oblige, les plaquettes de crosse ne sont pas marquées Beretta mais WE.
No Beretta licence means no markings except for the WE ones.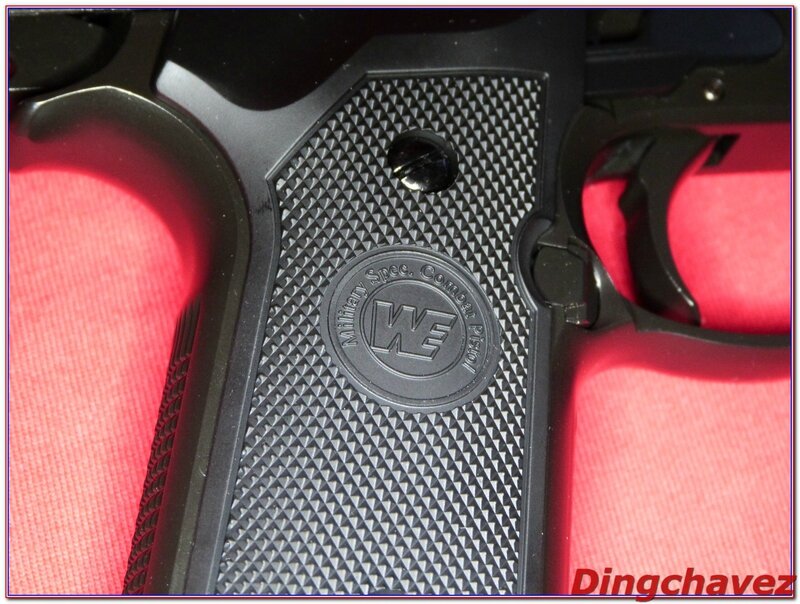 L'extracteur n'est pas usiné dans la glissière, c'est une pièce à part.
The extractor isn't machined in the slide, it is a separate part.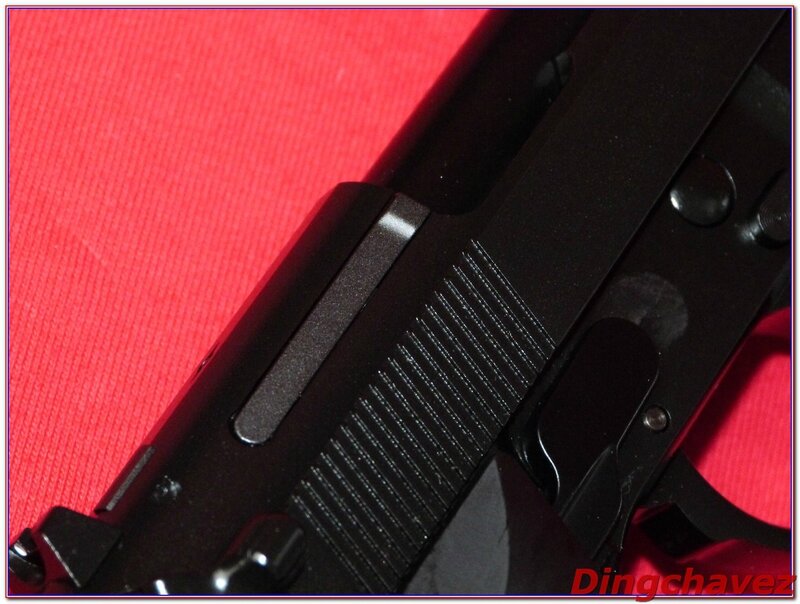 Spécificité de cette version A1, un rail est intégré à la carcasse de la réplique. Notez les marquages presents sur le corps.
The A1 version is equiped with a railed frame. Notice the markings.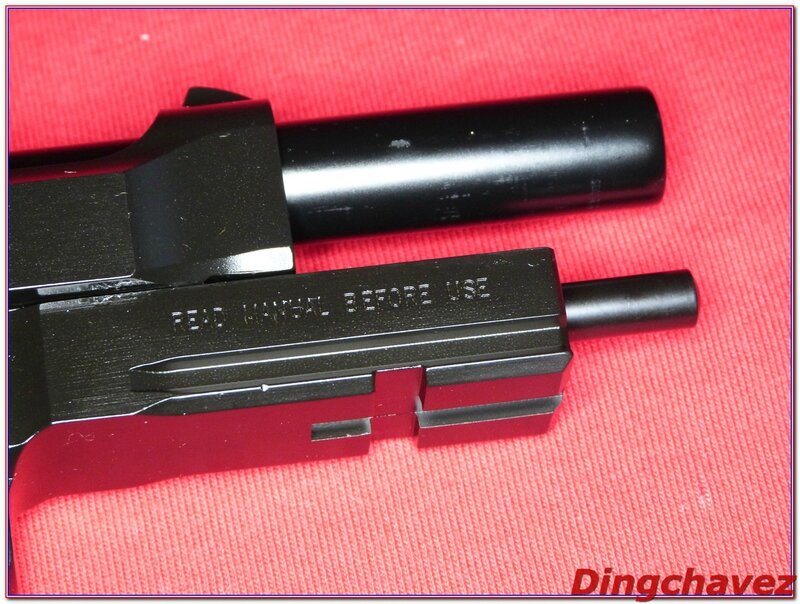 Seule « entorse » de WE, les premières lettres de Beretta avant le numéro de série.
The only « fancy » daring markings are the BER from Beretta.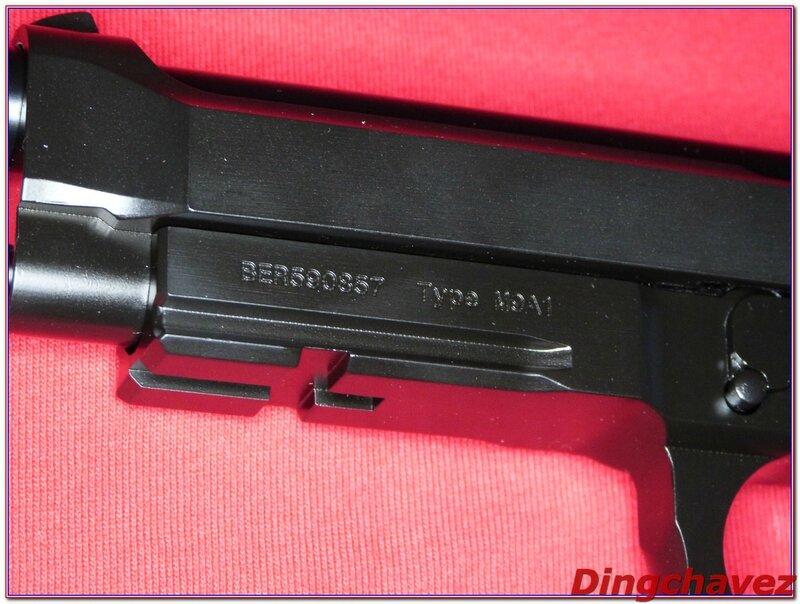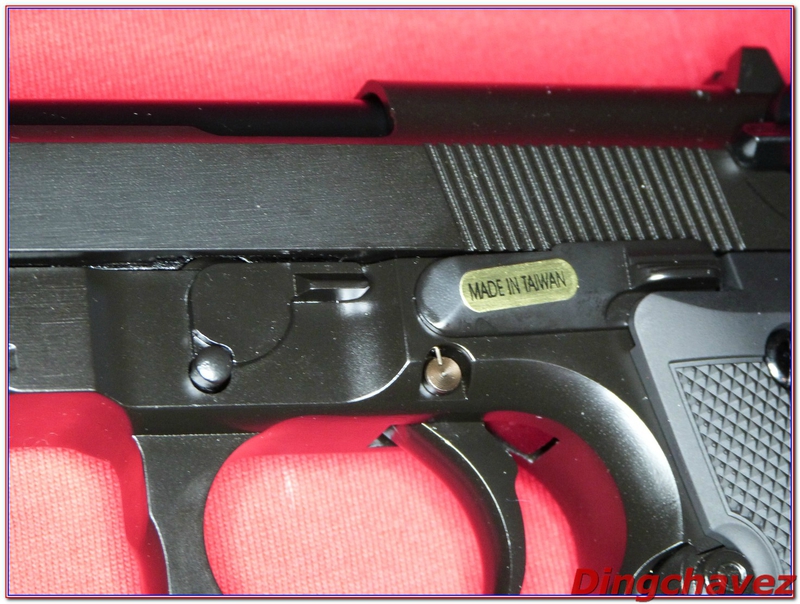 Le levier de sûreté ambidextre fait également office de levier de désarmement du marteau.
The ambidextrous safety lever also works as a de-cocking lever.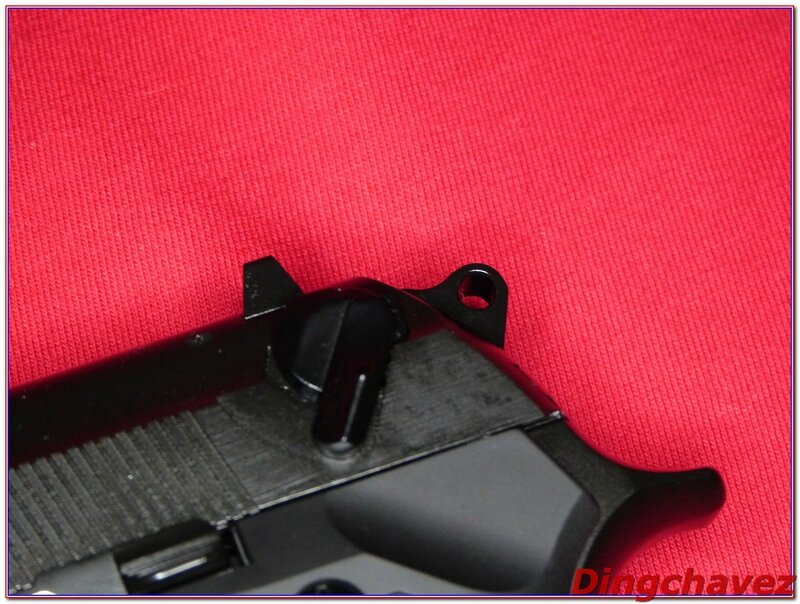 Les organes de visée fixes sont munis de points blancs.
The sights have white dots painted on them.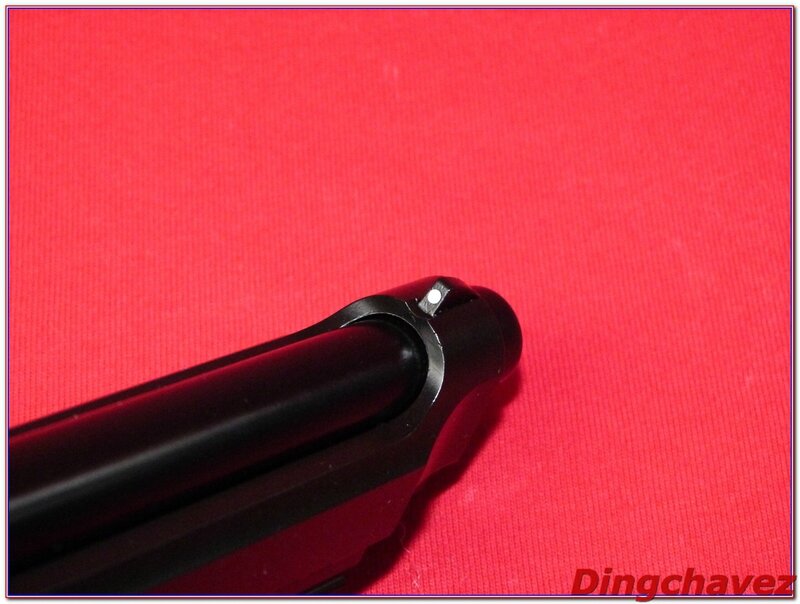 Au final la visée est agréable et efficace.
It is easy and nice to aim at a target.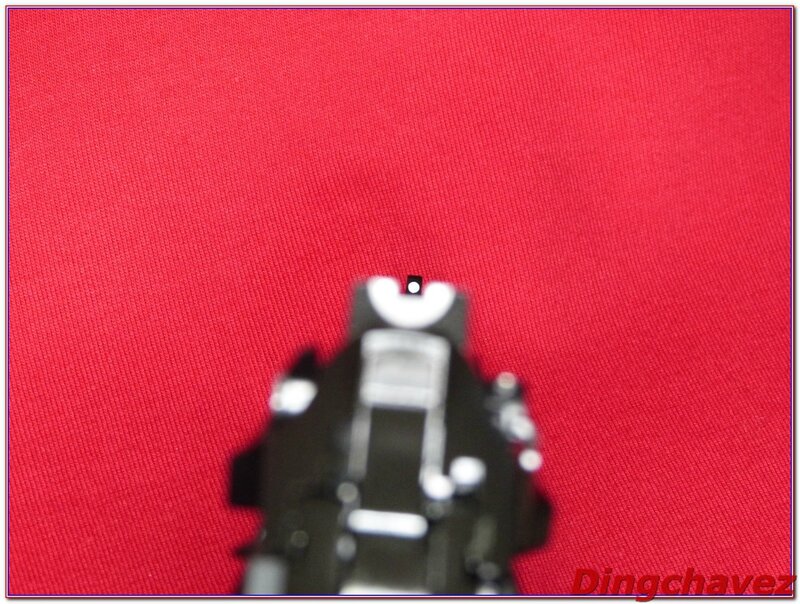 Un anneau permet l'utilisation d'une dragonne. Le puits de chargeur est censé être évasé sur le modèle A1, j'avoue ne pas y avoir prêté attention. Cela pourrait expliquer le léger jeu du chargeur.
A ring allows users to attach a lanyard. The mag well is supposed to be different than on a classic M9 but I must admit that I didn't pay attention. It could explain the slight wobble of the mag.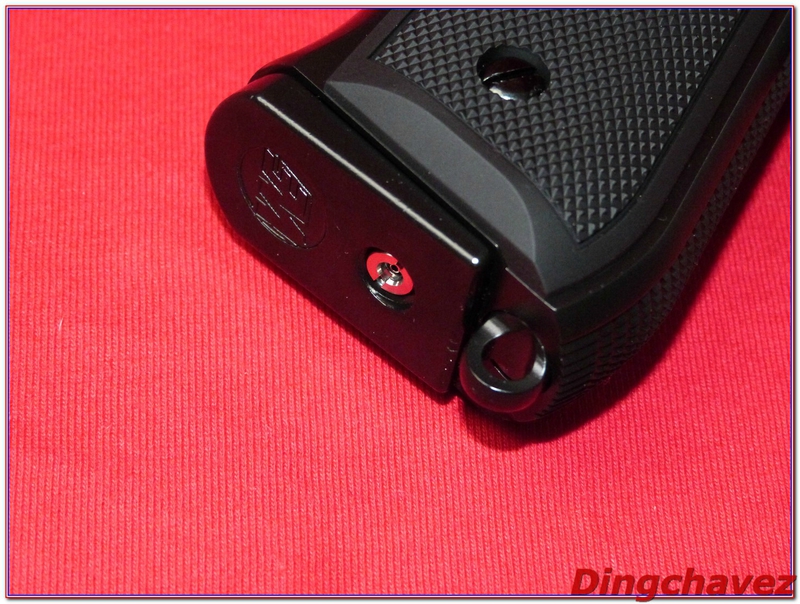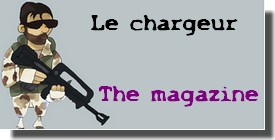 Bonne surprise, ce chargeur emporte 27 billes, ce qui lui donne une bonne autonomie. Les chargeurs des anciennes générations ainsi que les chargeurs Marui sont compatibles.
It is nice to discover that it can hold up to 27 BBs. The best thing is that your old gen mags as well as Marui mags are compatible.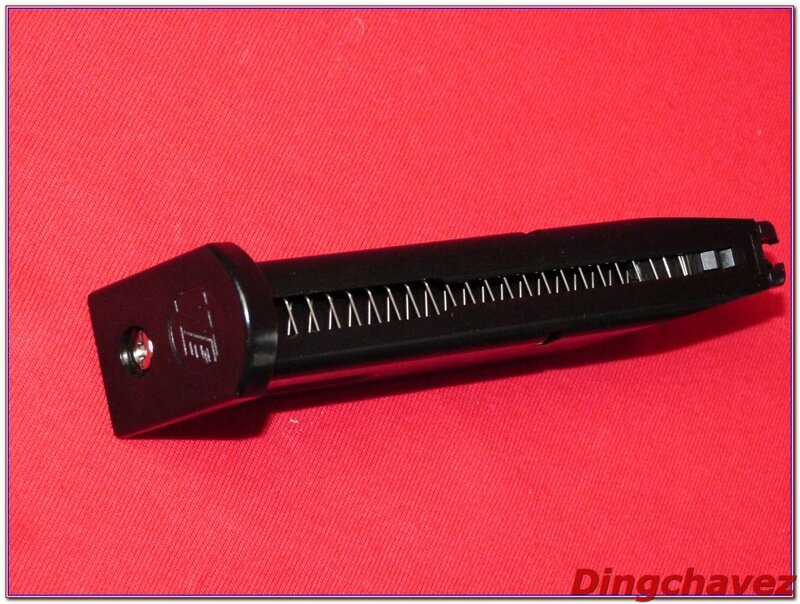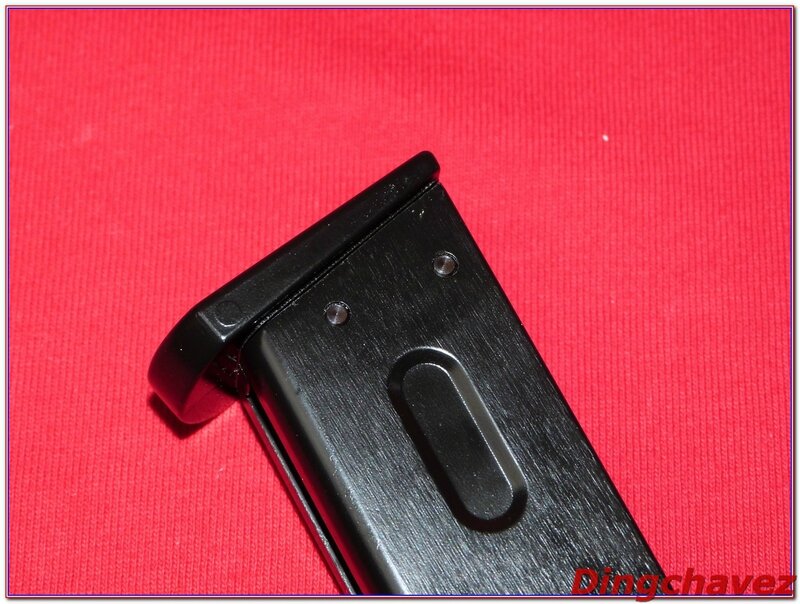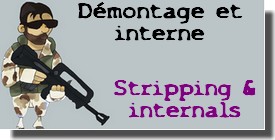 Rien de bien sorcier lorsqu'on a déjà démonté un Beretta, on appuie sur le bouton ovale côté droit et on fait pivoter le verrouillage.
Nothing really difficult, push the oval button and rotate the slide lock.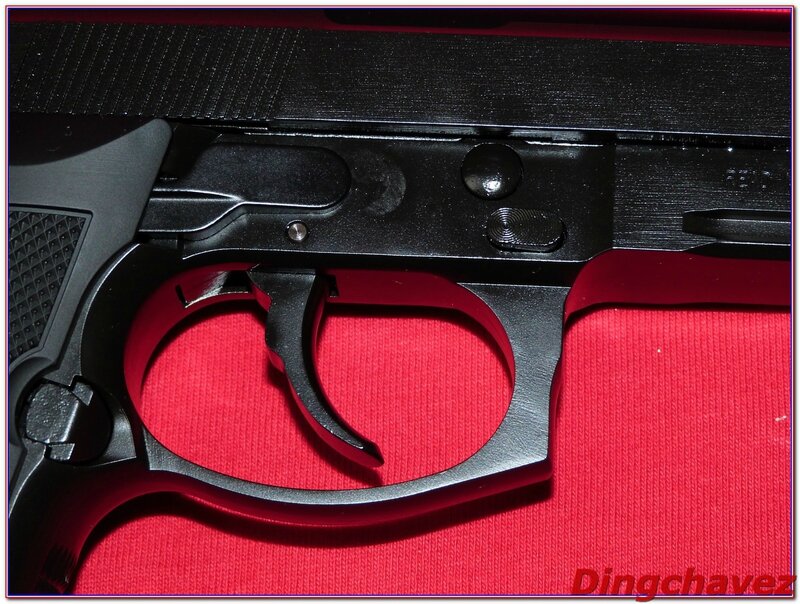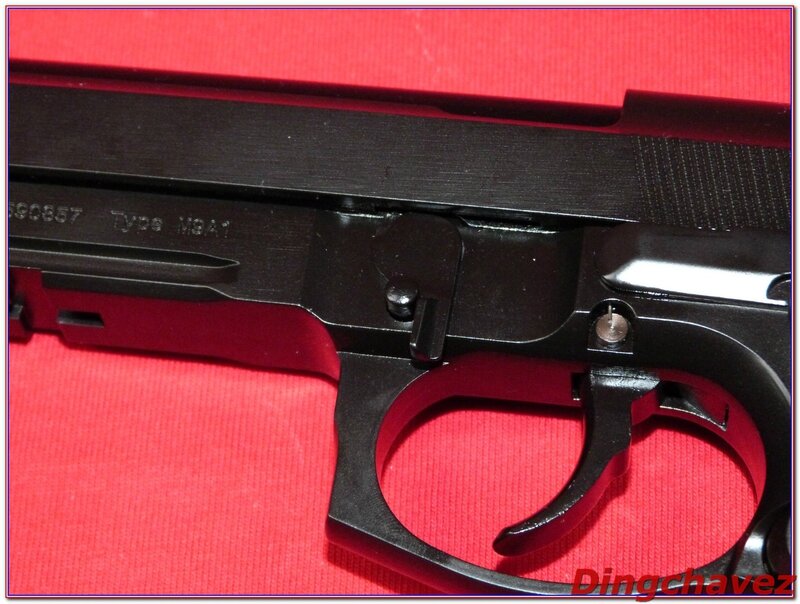 Puis on pousse la glissière vers l'avant.
Push the slide forward.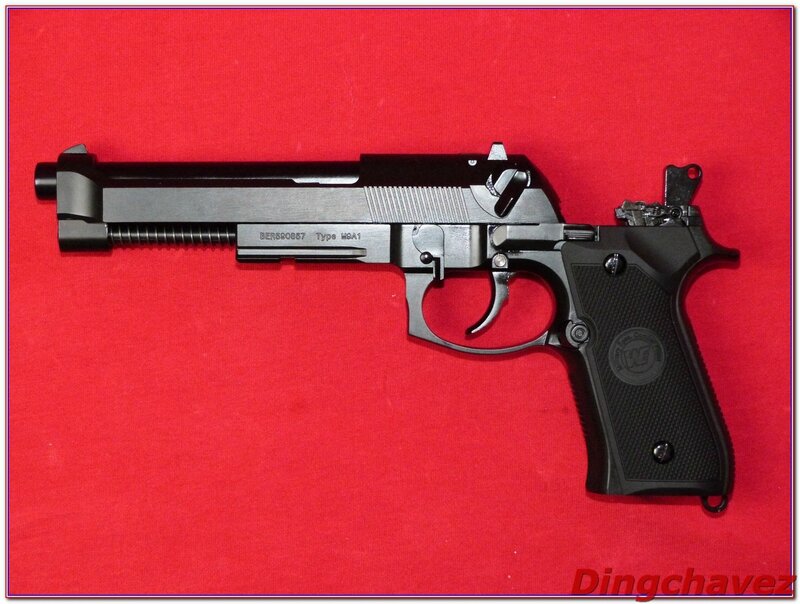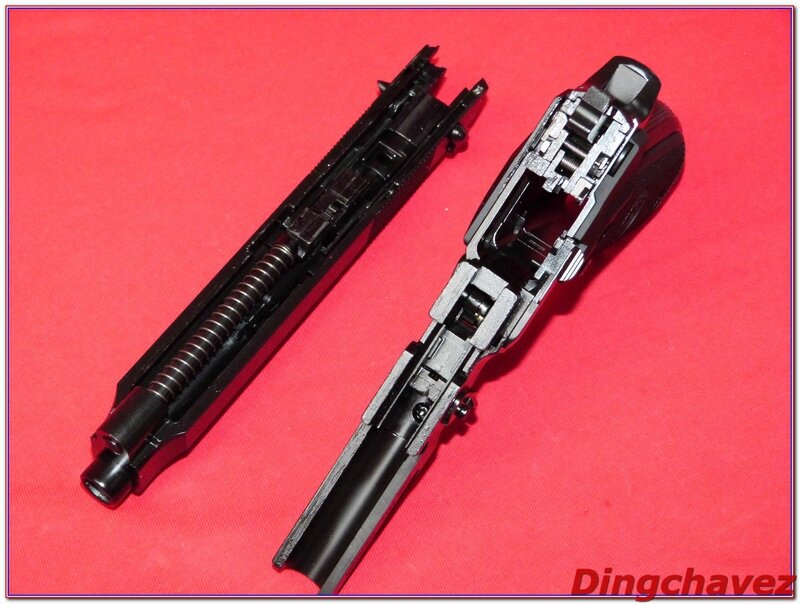 Une vue sur la mécanique.
A close-up at the guts.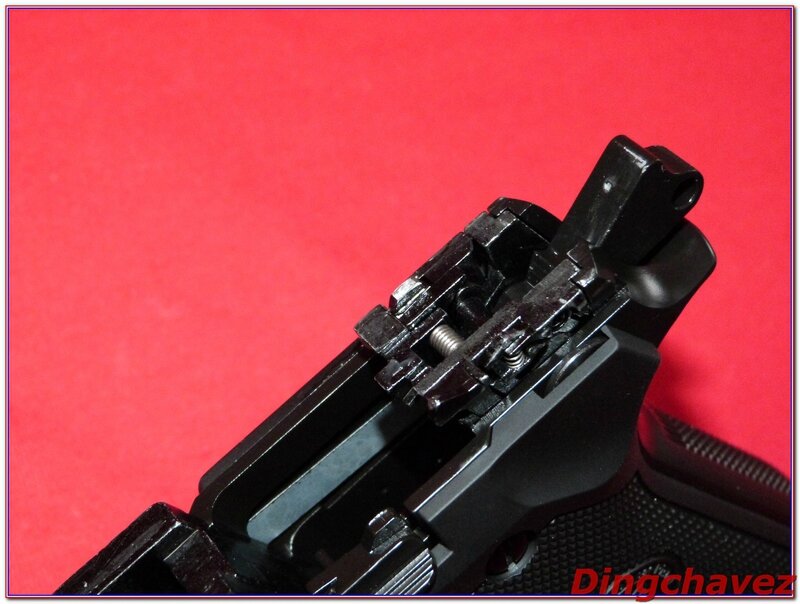 Et sur le nozzle.
And the nozzle.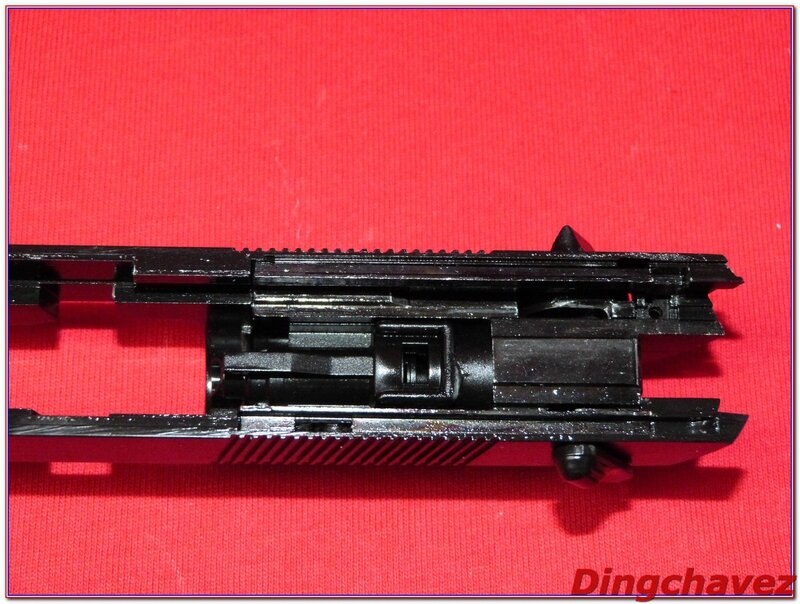 On peut ensuite démonter la tige guide et le ressort récupérateur et dégager le canon interne du canon externe.
Then remove the spring and its guide and pull the inner barrel out of the outer barrel.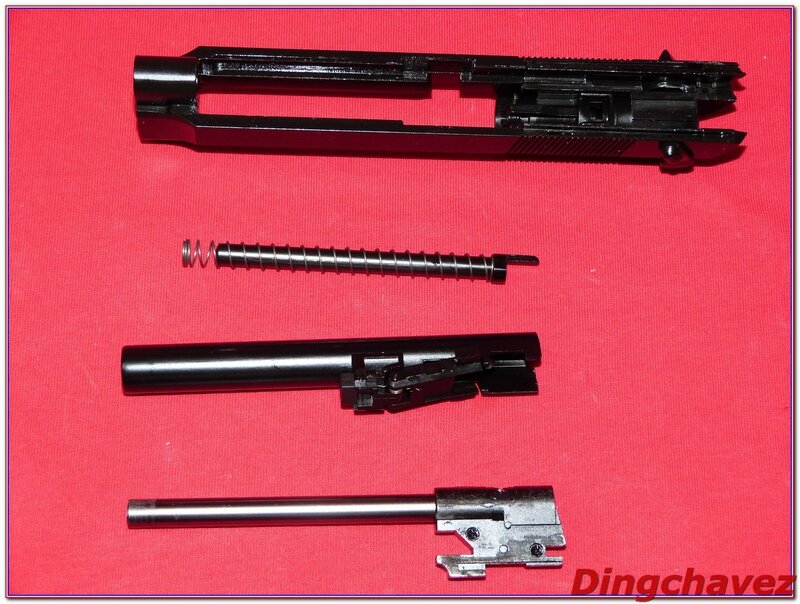 Un vrai bloc hop up réglable succède aux espèces de languettes minuscules qui équipaient les anciens M9 de la marque et qui avaient tendance à aller faire leur vie hors de la réplique après quelques chargeurs si on serrait un peu trop la vis de réglage.
Here is the hop up unit, at last it replaces the tiny rubber which equiped the old gen Berettas of the brand. Now we can set it as we want and the rubber doesn't go through the barrel after a few shots if the setting screw was a little bit too tight!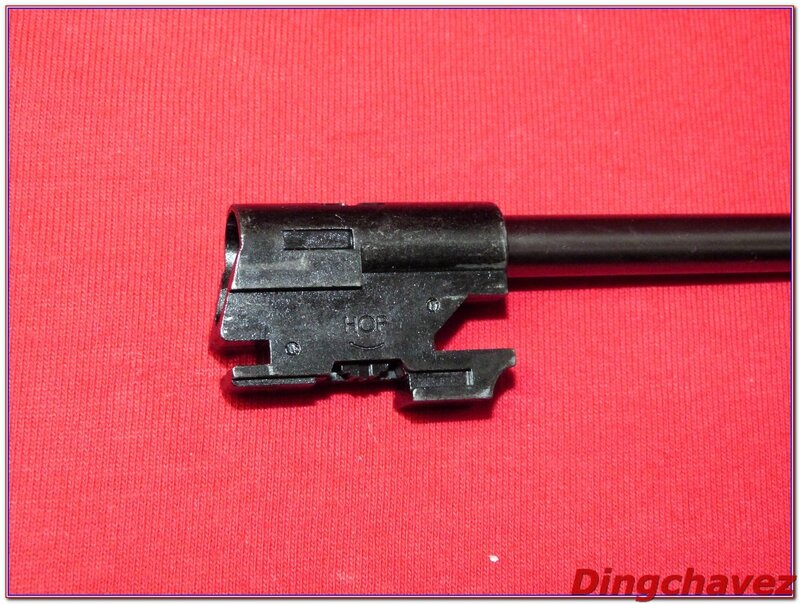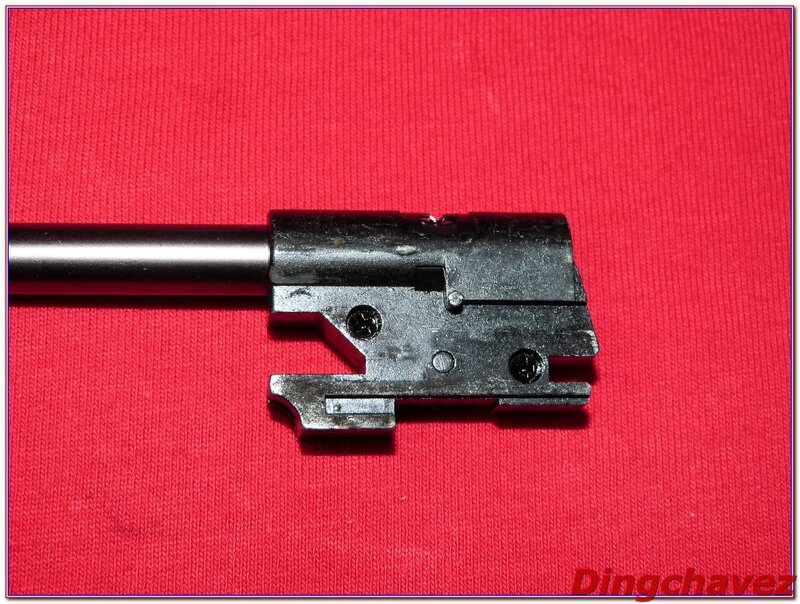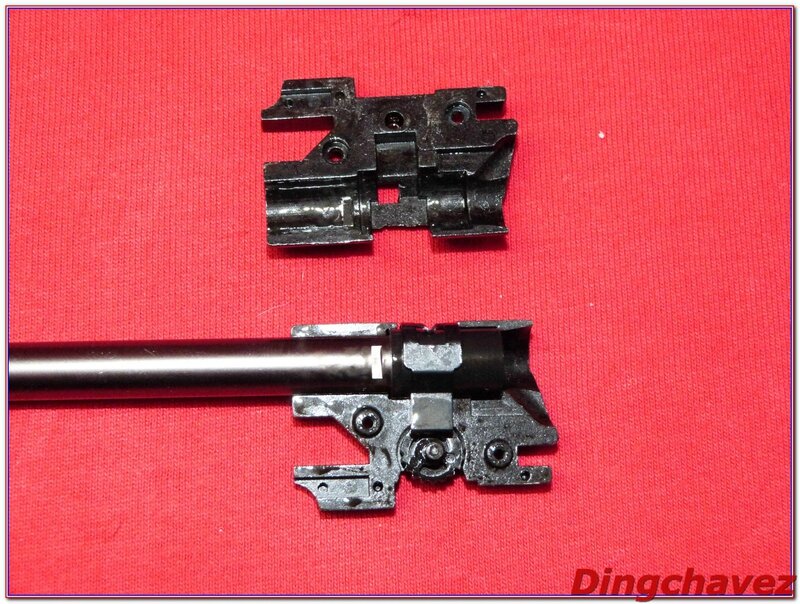 Le canon interne mesure 114mm.
The inner barrel is 114mm long.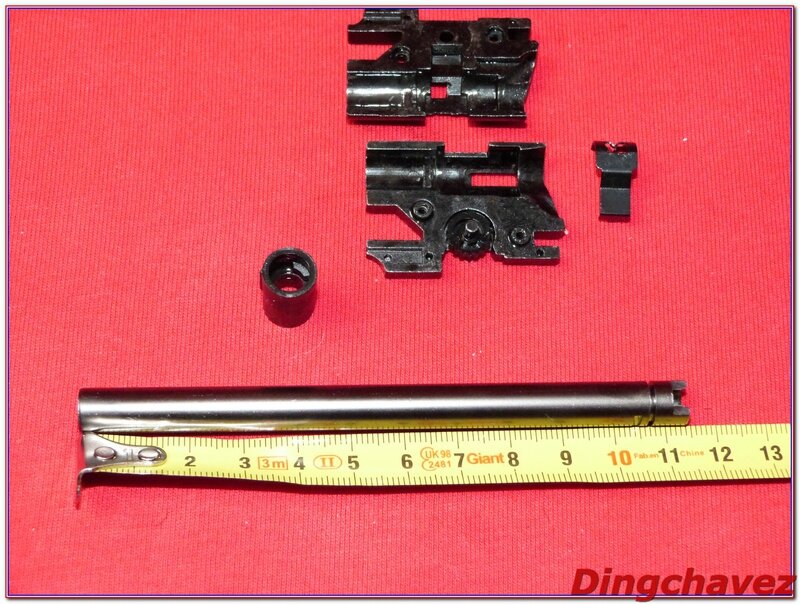 Le joint est identique à tous les PA WE depuis le TT-33
The rubber is the new type, introduced with the TT-33.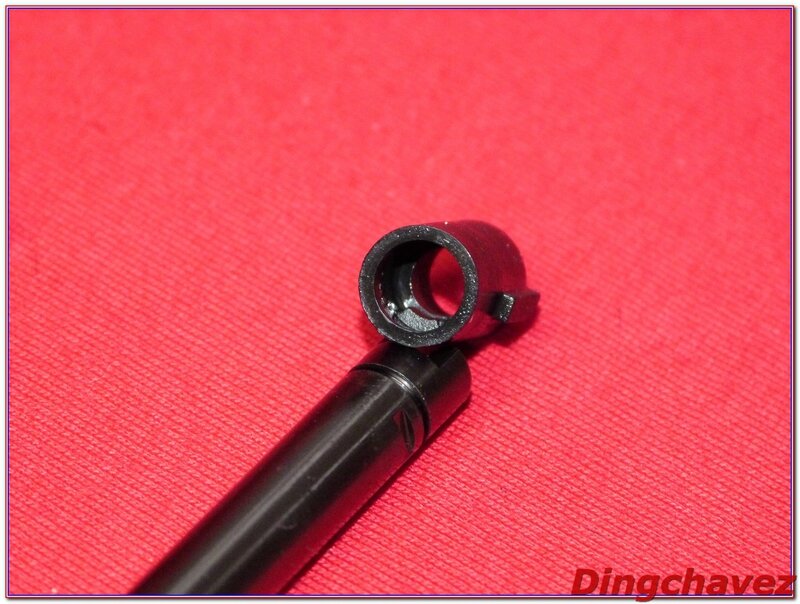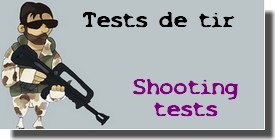 Les tests chrony ont été effectués par 20°C avec des billes 0.2g bio xtreme précision et un chrony Xcortech3200.
Voici les résultats au green gas : 347-334-339-334-335, soit une moyenne de 338 FPS, un poil haut pour un backup mais ça passe.
Au Hfc144a, avec une moyenne de 288 FPS sur 5 billes les résultats s'approchent de ce qu'on attend d'un PA qui en général sert à poutrer un camarade de jeu à très courte distance.
Le kick est bon et une charge de gaz permet de tirer un peu moins de 2 chargeurs. La détente est un vrai plaisir, elle est souple et le coup part à l'improviste, c'est idéal.
Le hop up est un peu faible et s'il n'a aucun mal à lever de la 0.20, la 0.25 est déjà un peu lourde et tombe aux environs de 15 mètres même réglé au maximum.
La précision est dans la moyenne, j'ai voulu faire des tirs avec le silencieux du kit assassin, mauvaise idée : cela occulte les organes de visée et du coup il faut pas mal compenser pour éviter de tirer trop bas et cela occasionne également parfois des problèmes de cycle. Je vous laisse découvrir cela en vidéo.
The chrony tests have been made under a temperature of  20°C with 0.2g bio xtreme precision BBs and Xcortech3200.
Here are the values using green gas : 347-334-339-334-335, that's an average of 338 FPS.
With Hfc144a, the average is 288 FPS on 5 BBs.
Kick is really good and a load of gas allows almost 2 loads of BBs. Hop up is good with 0.2BBs but it struggles with 0.25BBs, they fall after about 15 meters.
Accuracy is average, I wanted to use WE assassin kit but it seemed that the extra weight on the outer barrel caused malfunctions. In addition to that, the sights are partially hidden so you must compensate otherwise you shoot too low.
Let's discover the vidéo.
Edit du 27/02/14 :
Après avoir vendu la réplique, son utilisateur m'a raporté que la patte du hop up a cassé après seulement 2 chargeurs. N'en ayant moi-même pas tiré des masses (une dizaine), cela explique sans doute la relative efficacité du hop up lors de mes tests.
After selling the gun, the new owner reported that the hop up broke after only 2 mags. It could explain why I struggled to obtain a good spin during my tests.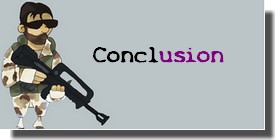 Le rapport qualité/prix de ce M9A1 WE est dans la norme des dernières productions de la marque taiwanaise. Finition correcte, bon kick et hop up enfin digne de ce nom, ils auront  mis le temps à copier le système nouvelle génération Marui et à l'adapter pour que ça puisse tourner au green gas.
Petite déception concernant le hop up du modèle testé, il avait du mal à lever correctement de la 0.25 même après un bon nettoyage mais un changement joint/canon devrait rapidement arranger les choses.
En résumé cette réplique n'est pas la meilleure de la marque en sortie de boite mais l'ensemble de ses qualités efface largement ses défauts.
Well, the price/quality ratio of this M9A1 by WE is consistent with the latest products of the Taiwanese brand. Nice finish, nice kick and at last a real hop up unit. They took a while copying Marui and adapting it full metal and green gas-compatible.
A slight disappointment about the hop up on this particular gun : it was reluctant with 0.25 BBs even after a thourough cleaning. However, changing the rubber and the barrel should improve the overal performances.
Bottom line, this gun isn't the best one from WE out of the box, but the tiny flaws can't cast shadows on all its qualities.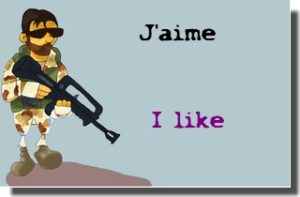 -Bon recul./Nice kick.
-Finition agréable./Good finish.
-La malette fournie./Hardcase provided.
-Bon rapport qualité/prix /Good price-quality ratio
-Compatible avec les chargeurs Marui./ Tokyo Marui compatible mags.**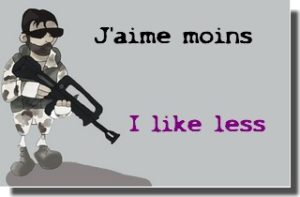 -Hop up mystérieusement moins efficace que les dernière productions WE. /Mysteriously inefficient hop up.
-Parfois des blocages lors de l'utilisation du kit assassin WE. / Some shooting problems using the assassin kit by WE
Si je n'ai pour ma part pas eu de problème en utilisant un chargeur Marui, Khan Seb à quant à lui constaté des performances en baisse, un cycle mou et des tirs en full alors que la réplique était en semi. Soyez donc prudents et faites vos propres tests ou préférez acheter les chargeurs WE pour plus de sécurité.
I didn't have any issue using Marui mags, but Khan Seb experienced some bad performances, low kick and full auto instead of semi using Marui Mags. Be careful and to be sure, use only WE mags with this gun.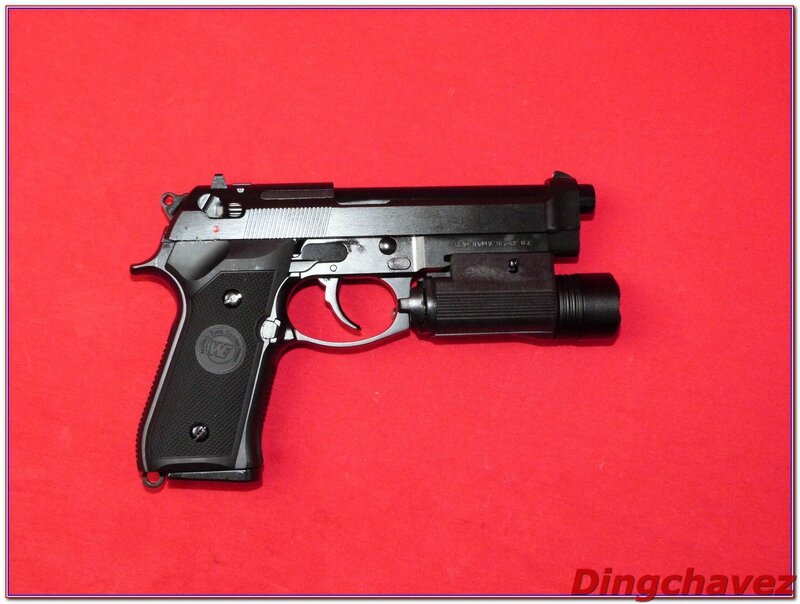 La  réplique rentre parfaitement dans un holster CQC IMI Defense.
The replica fits an IMI defense CQC perfectly.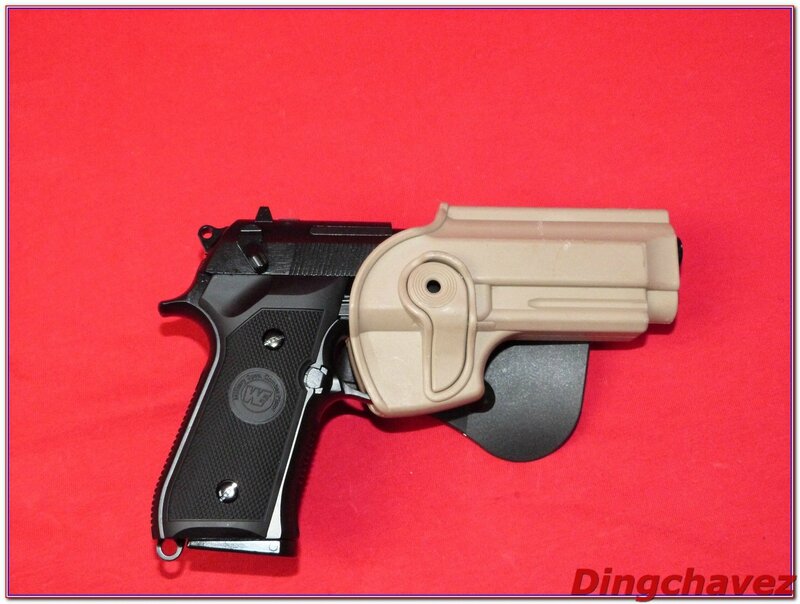 Ici en compagnie de mon MAS G1S WA.
Here with my WA MAS G1S.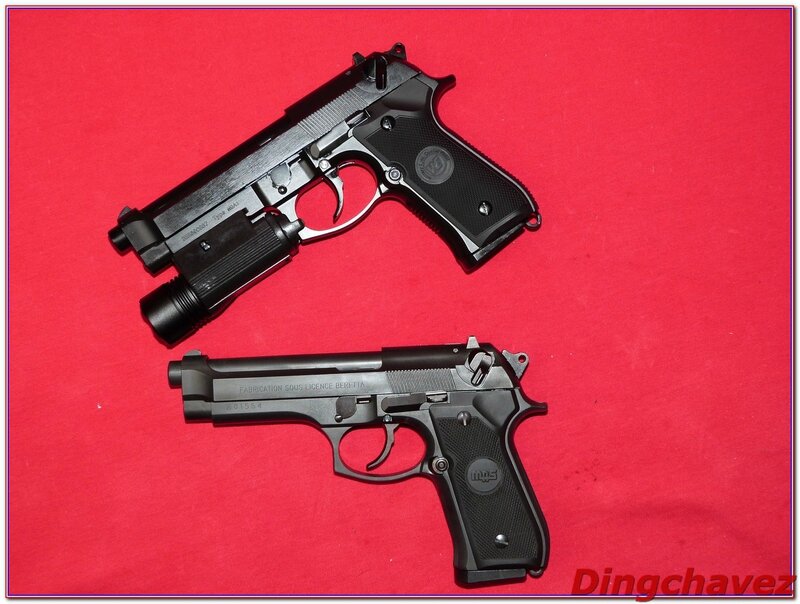 Lampe tactique G&P et kit silencieux WE. Attention, il semblerait que le silencieux cause des incidents de tirs dus au déséquilibre du canon, en tout cas c'est ce qui m'est arrivé comme vous avez pu le constater dans la vidéo de tir.
G&P tactical flashlight and WE assassin silencer. Be careful, it seems that the silencer leads to malfunctions, as you could see on the above shooting video.
Et on termine avec l'éclaté de la réplique.
Let's finish this review with the parts list.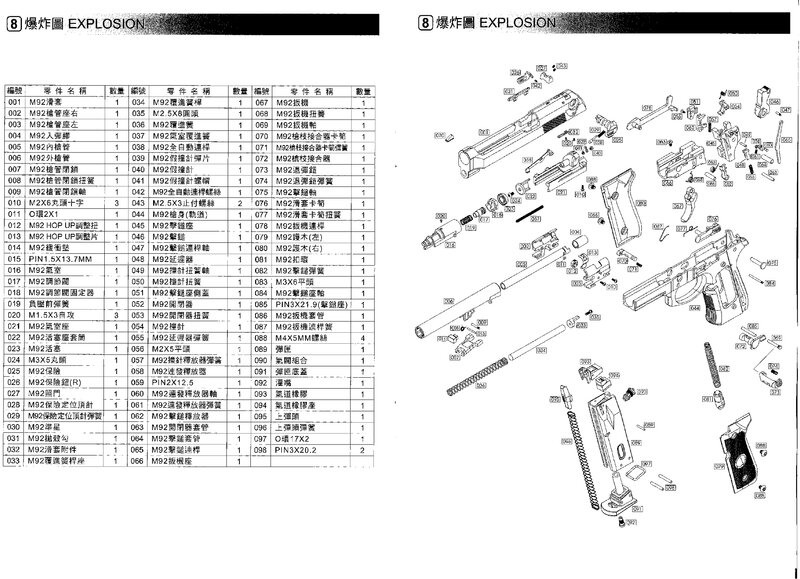 Vous avez aimé ? Aidez-moi à continuer / You liked this review ? Help me continue this adventure ! 
Posté le 22 février 2014 par Dingchavez