Review Tokyo Marui HK45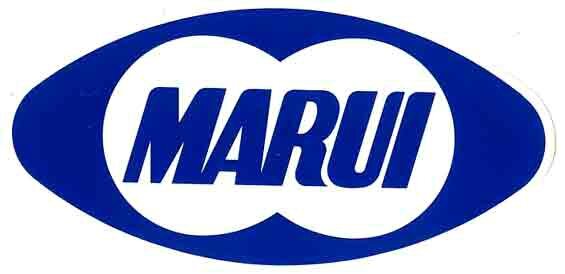 08 mai 2014
 Lorsque Marui sort une nouveauté, c'est chouette. Lorsque Marui décide de faire du PA H&K, j'exulte. Oui, j'avoue, je suis partial !
Cela dit, ayant pré-commandé le HK45 sur IMPULSE101, même si la réplique était pourrie, j'aurais tout de même eu droit à un bon service.
« hein? Quoi? Réplique pourrie » ? Du calme, relisez-bien, et ne vous arrêtez pas avant la fin de cette review 😉
Mais on commence par l'unboxing les amis !
When tokyo Marui issue a new gun, it's cool. When Marui decides to issue an H&K gun, I'm happy ! Yes, I'm partial !
This being said, having pre-ordered my HK45 to IMPULSE, even if the gun was bad, I would have had a nice service.
« what? say again ? bad gun ? » Keep it easy, rewind and read the review until the end, you'll have the answers you're looking for 😉
 But let's start with the unboxing video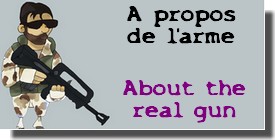 En quelques mots, ce flingue a été développé dans le cadre du marché de remplacement des armes de poings dans l'armée américaine. Faute de fonds suffisants (c'est la crise !) le M9 est resté l'arme de dotation et du coup, on ne voit pas des masses de HK45 dans la nature et c'est bien dommage car cette évolution de l'USP et du P2000 mériterait plus d'attention.
Le même en 9mm (HK9 ? Pourquoi pas ?) serait indéniablement un succés… Hé, mais… Ca existe, c'est le HK P30 ! Pas encore de modèle airsoft cependant.
Bref, pour plus de détails, vous pouvez visiter le site H&K USA ICI
 HK website will give more accurate info than I could do 😉
It's right HERE.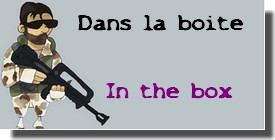 Comme souvent, la boite est classe. Une jolie photo du HK45 y figure, accompagnée de munitions réelles et d'un badge du SWAT.
La partie inférieure est également en carton, le polystyrène étant placé à l'intérieur.
As it is often the case, the box is classy. A nice HK45 picture along with real cartridges and a SWAT badge.
The lower part is also made of cardboard, polystyrene being inside.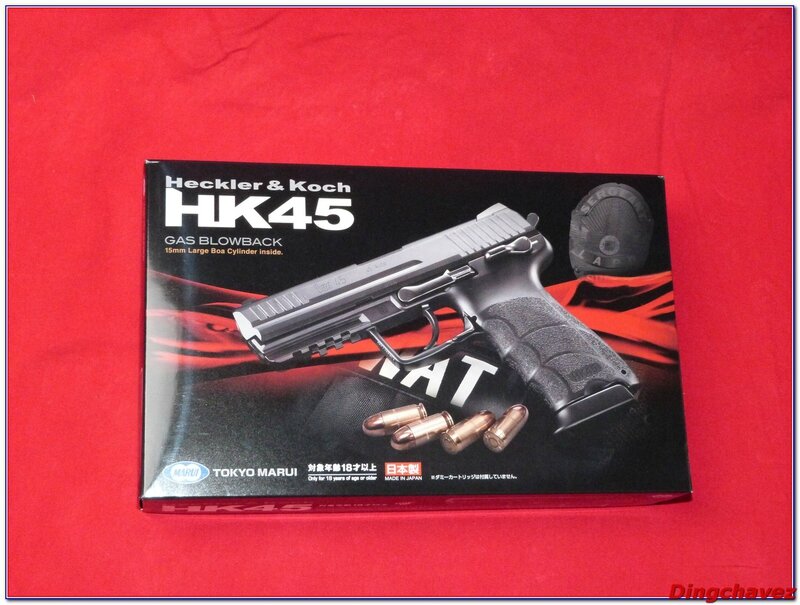 Du carton noir cache le polystyrène, tout est bien callé et la boite est bien remplie.
Some black cardboard hides the polystyrene. Everything is well maintained in the box, which is filled with a lot of things !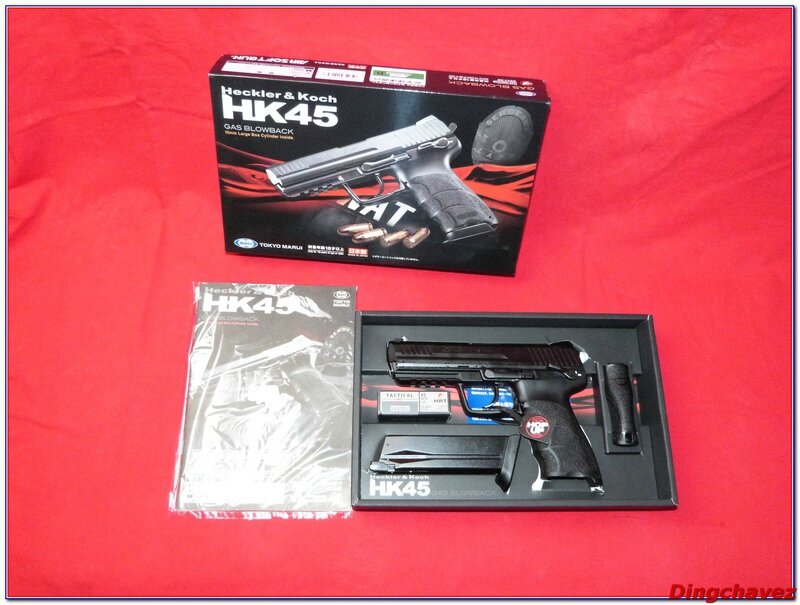 On y trouve donc :
-La réplique, en ABS, pesant 790 grammes en ordre de marche, plus léger que le vrai (880g)
-Un chargeur de 26billes.
-Deux pièces permettant de tirer à vide.
-Une tigette de nettoyage.
-Un sachet de billes.
-Un petit chasse-goupille.
-Un grip supplémentaire.
-Le manuel et l'éclaté, plus quelques cibles.
-Le bouchon de canon.
We've got :
-The replica, made mainly of ABS, it weighs 790grams, that's 90 grams lighter that the real gun.
-A 26BB magazine.
-Two small parts allowing dry fire.
-A cleaning rod.
-A BB sachet.
-A pin punch.
-An additionnal backstrap grip.
-The users manual, along with some targets and the part list.
-The red barrel protection.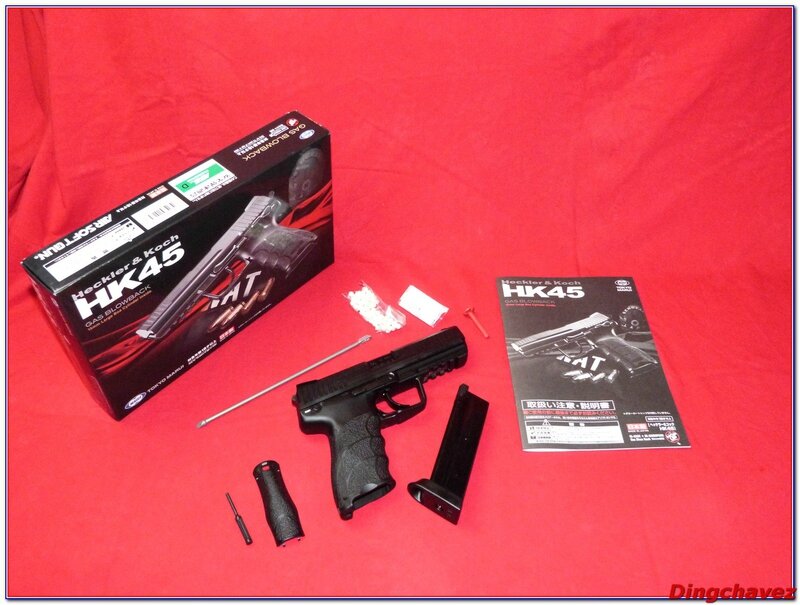 Les amis, je me demande si je ne viens pas de trouver le successeur de mon USP Compact KSC ! Argh ! Non, pas craquer ! Ca ne va avec aucune de mes tenues… J'aime les flingues HK moi, c'est pas ma faute !
Hum, bon, effectivement il a de la gueule, et même s'il est composé d'ABS (corps et glissière) il est loin de faire toc et la prise en mains est excellente.
 Guys, I wonder if I just haven't found my new backup; a nice one to replace my KSC USP Compact ! No, I can't do that ! It fits none of my outfits… It's not my fault, I love HK guns !
Well, it's is really good looking, and even if it is made of ABS (slide and frame) it is far from cheap and handling is excellent.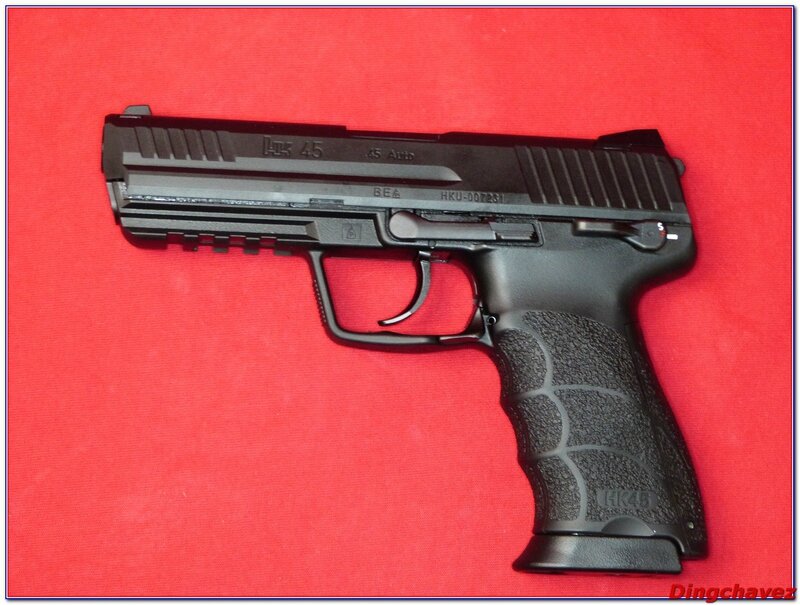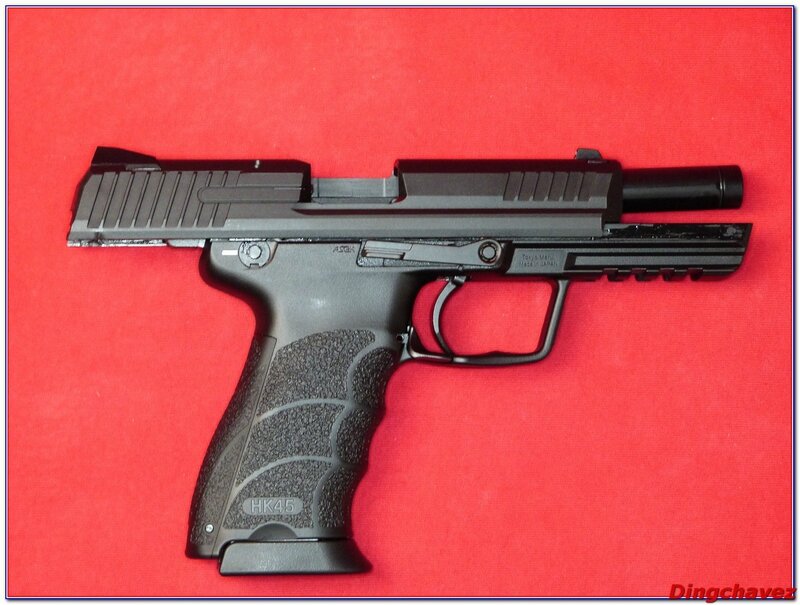 Contrairement aux USP, le HK45 est équipé d'un rail Picatinny permettant de se passer des adaptateurs HK.
Unlike the USP, the HK45 has a Picatinny rail, so you don't need H&K adaptor.
Ici avec une lampe G&P, il y a un peu de jeu avant/arrière.
 Here with a G&P flashlight. There's a small amount of back-forward wobble.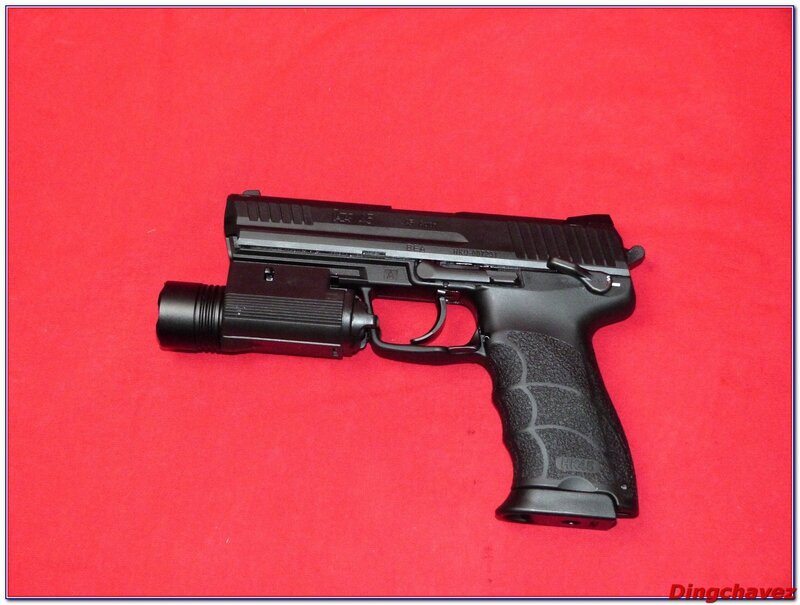 Les marquages du canon externe. Très fins.
Outer barrel markings. Crips.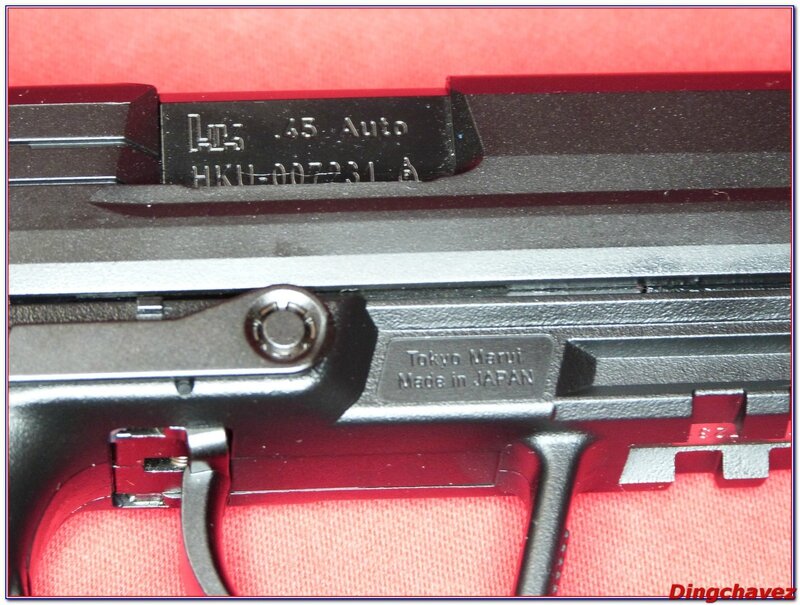 Côté gauche, il manque le bois de cerf HK, dommage ! Pour ma part j'attendrai une chouette glissière métal avec impatience !
On the left side, the H&K deer antler is missing? That's too bad ! I'll wait for a nice metal slide.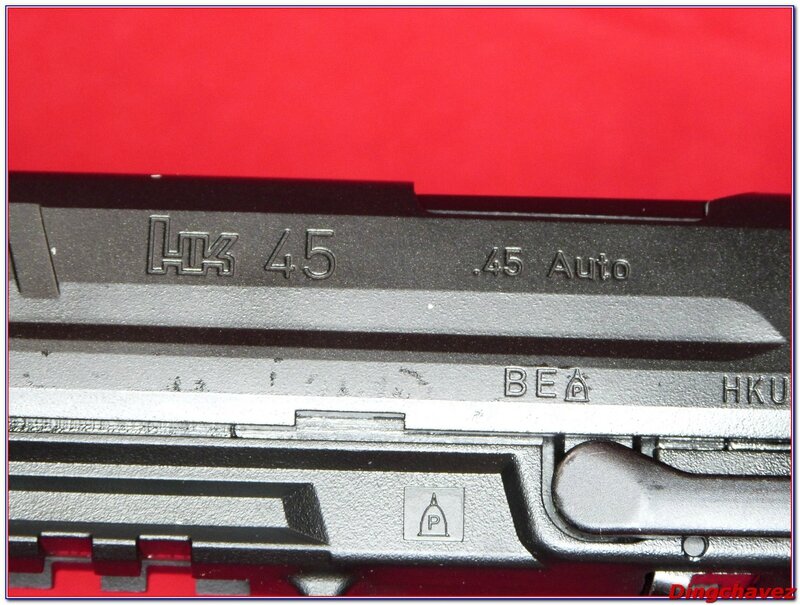 (Photo H&K USA)
Le cran de sûreté est identique aux USP. Il sert également de levier de désarmement.
The safety lever is similar to the USP, so it also acts as a decocking lever.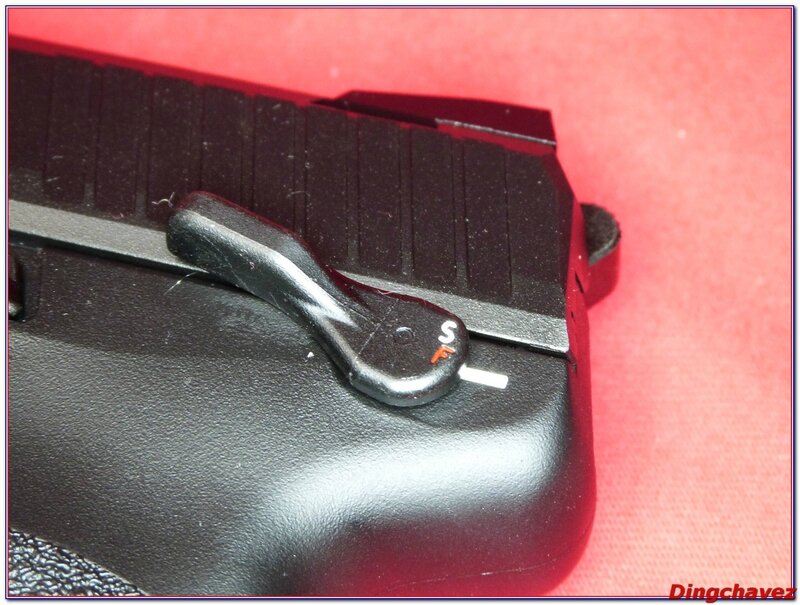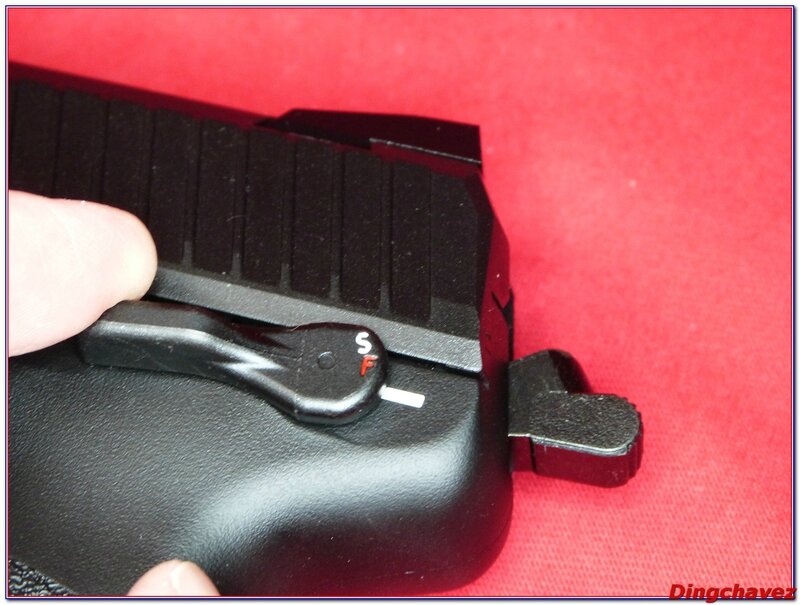 Là où toutes les autres commandes sont ambidextres, le levier de sûreté ne l'est pas…
 Every control is ambidextrous, except for the safety lever… Weird…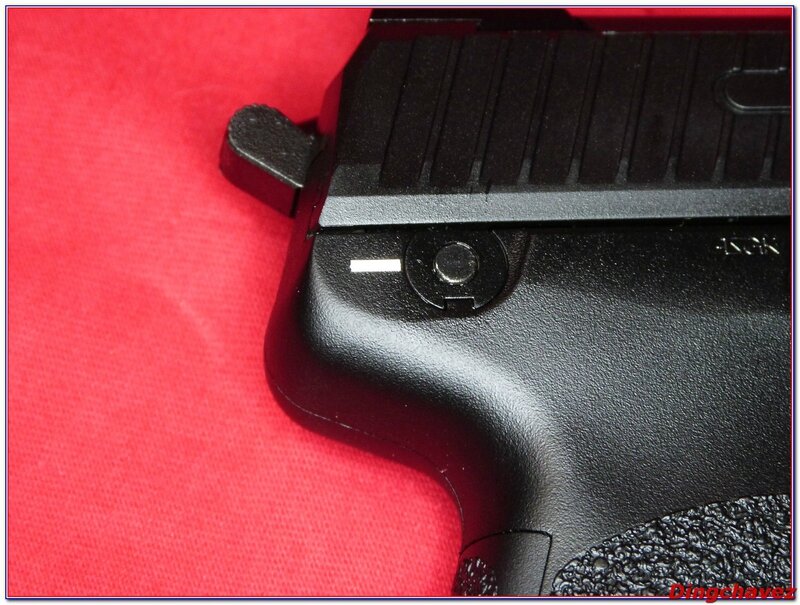 Et oui, l'arrêtoir de glissière est ambidextre.
 Yep, ambi slide catch/release…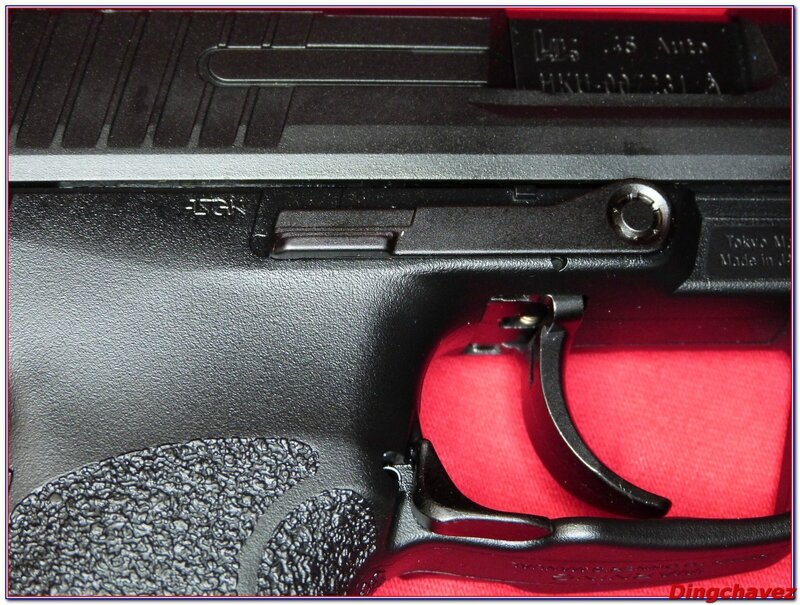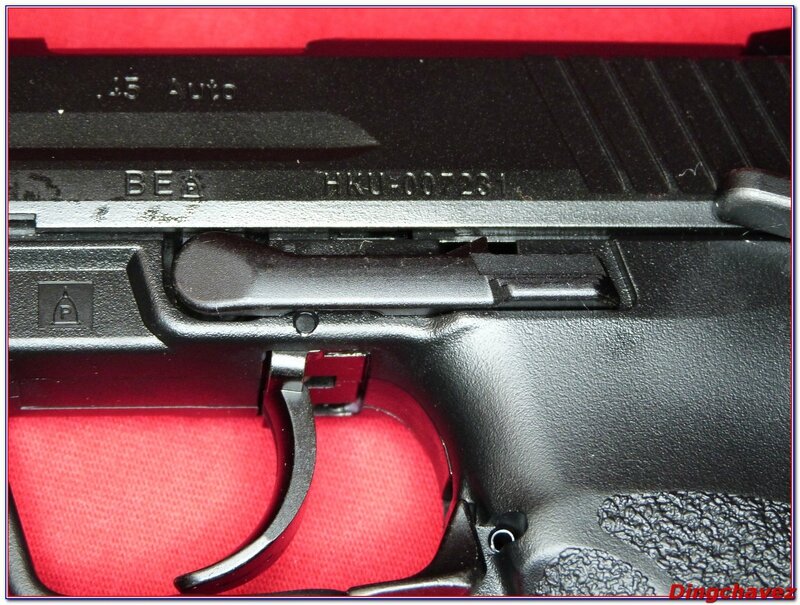 Tout comme la commande de déverrouillage du chargeur.
 …and mag catch/release.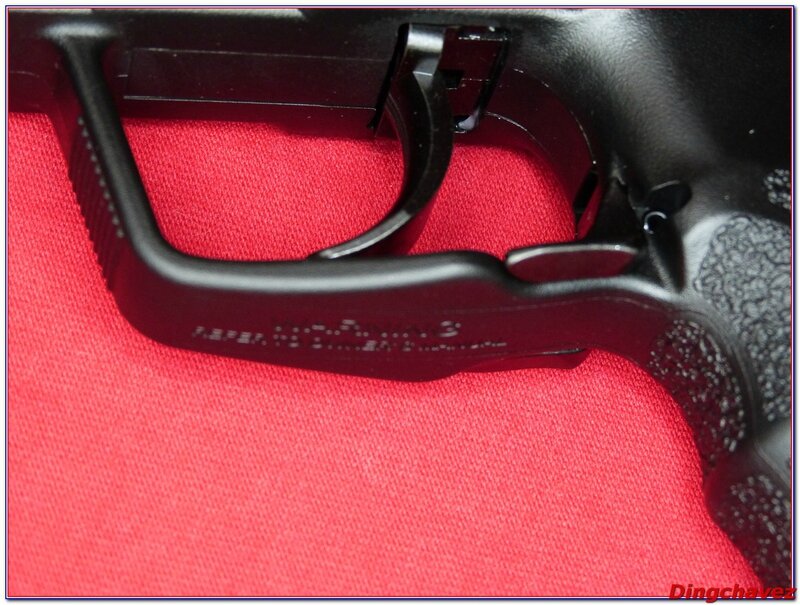 On remarque au passage les marquages sur la partie inférieure du pontet.
 Notice the markings on the trigger guard.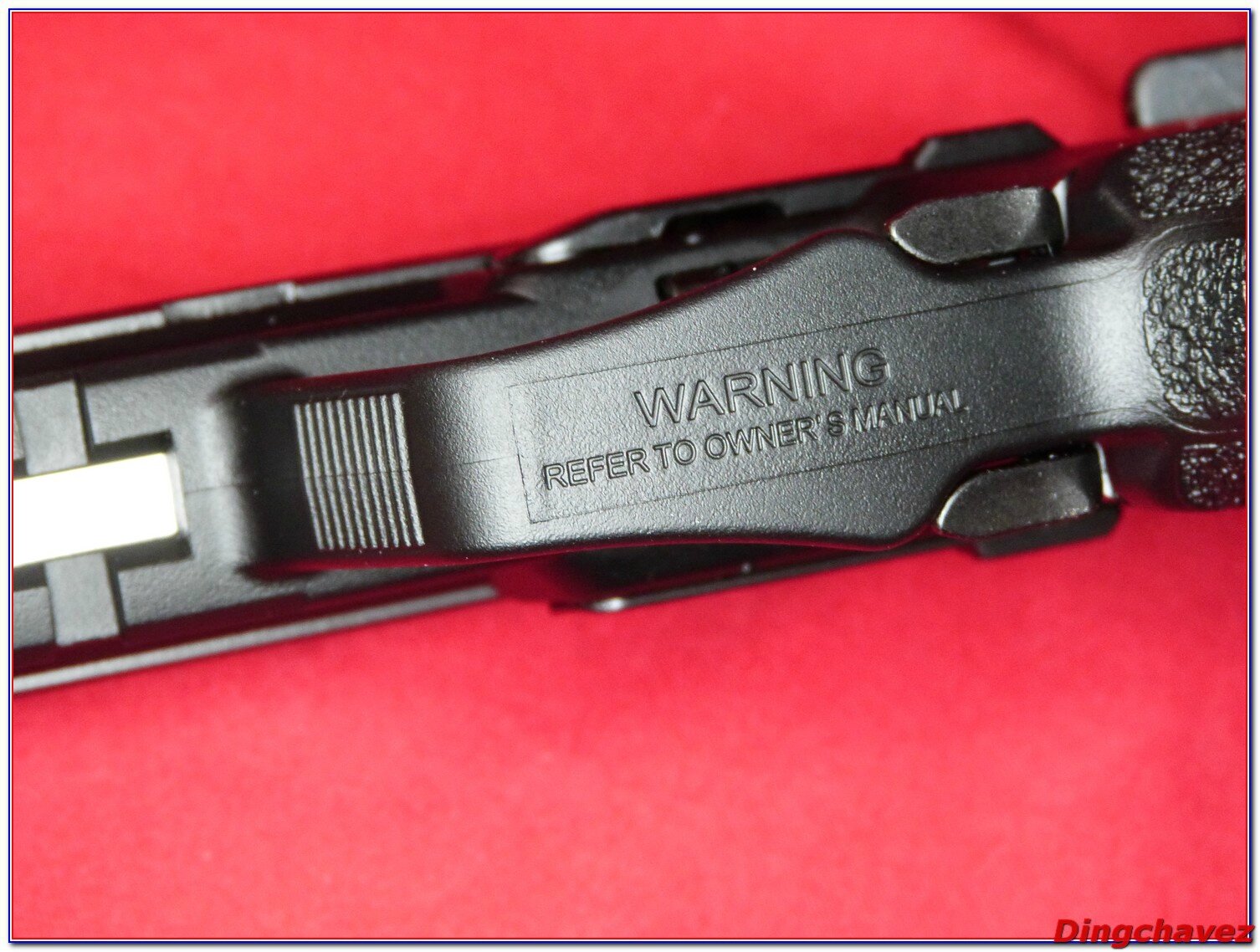 Si la queue de détente, en métal, possède une petite course en simple action, tirer en double action est assez pénible car on a l'impression de presser la queue de détente à n'en plus finir. Le cran à passer pour relâcher le marteau est assez prononcé.
If the trigger slack is quite short in double action, shooting simple action isn't very smooth, the slack is huge so you feel like pulling forever ! The hammer notch is a bit rough.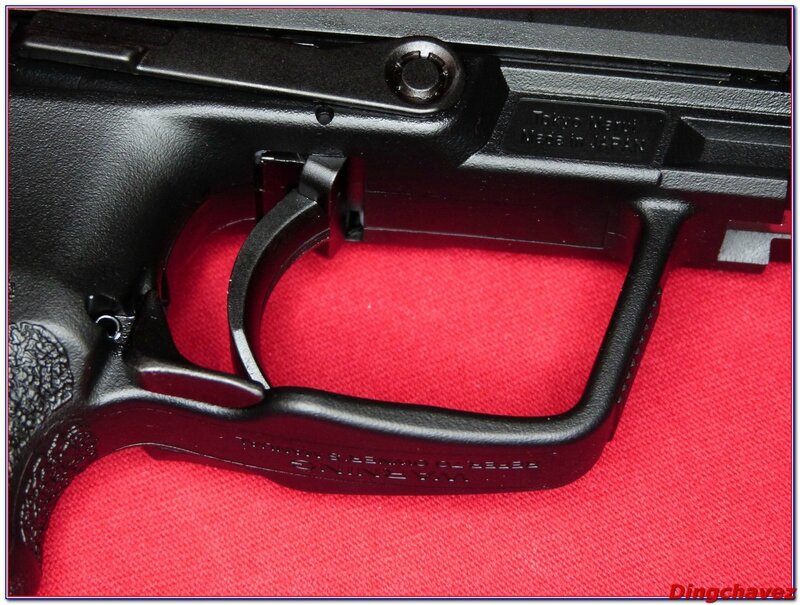 La crosse est adaptée à la morphologie, rendant le contrôle de la réplique plus aisé.
The butt is addapeted to the players morphology, controling fire is easier.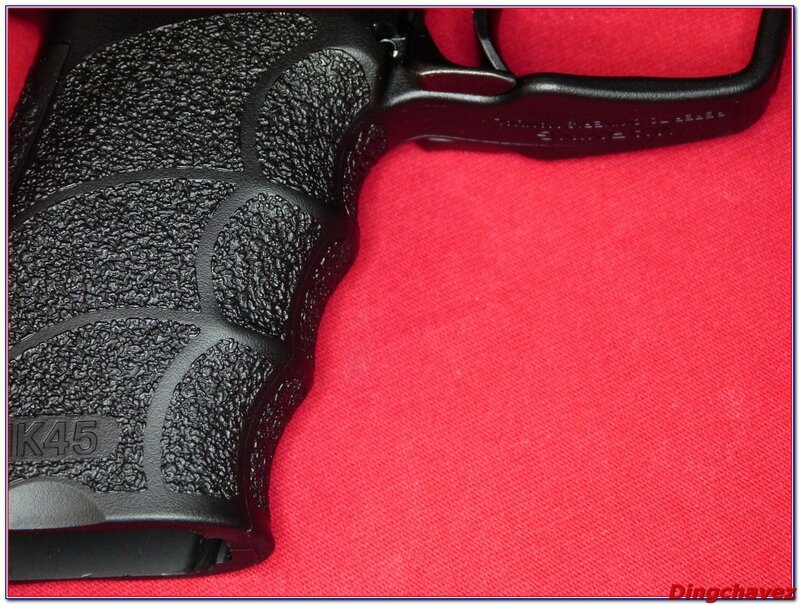 Elle est marquée du logo HK45.
It is marked with HK45 logo.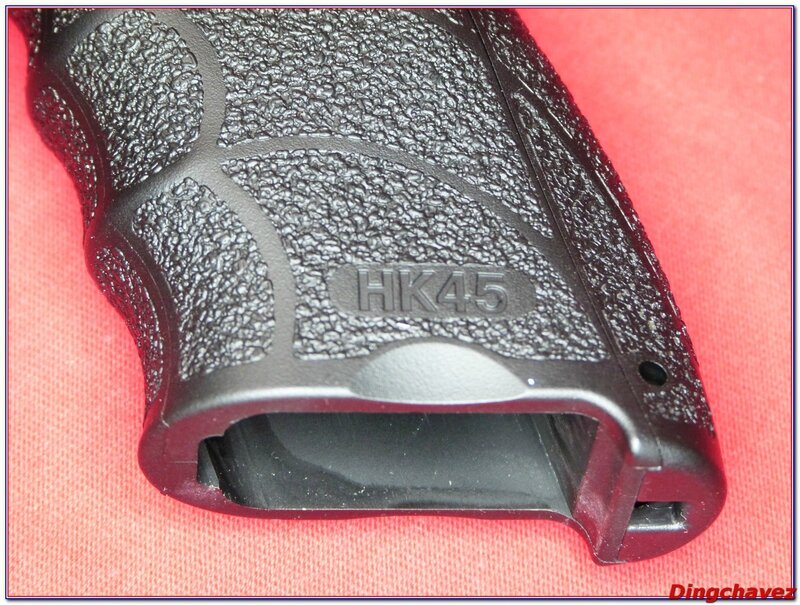 Et il est possible d'y attacher une dragonne.
And you can attach a lanyard to it.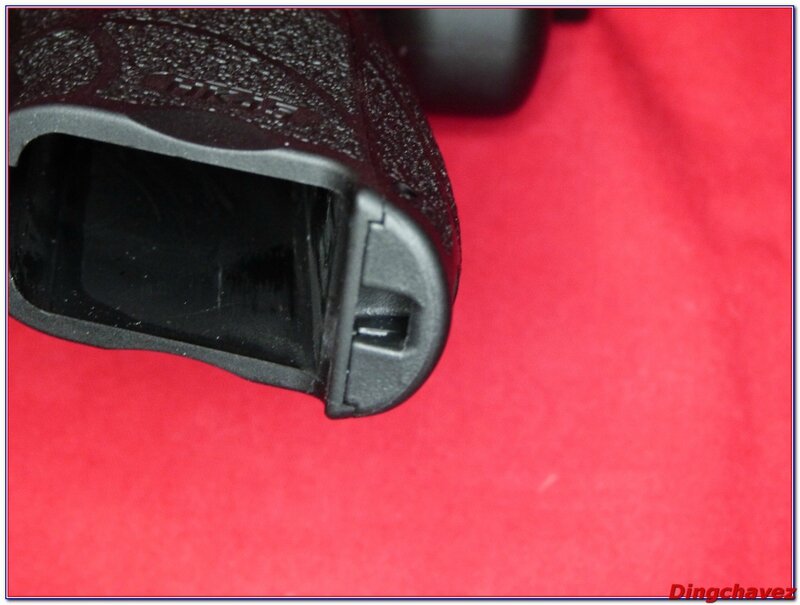 Comme sur de nombreux modèles de PA modernes, il est possible de changer l'arrière de la crosse. Deux choix sont proposés.
Like other modern handguns, it is possible to change the backstrap. Two choices in the box.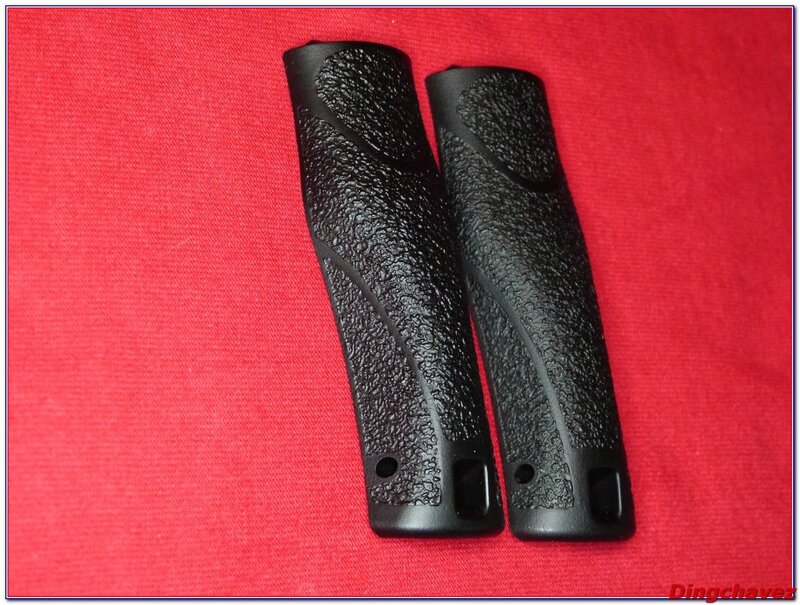 C'est là qu'intervient le chasse-goupille fourni dans la boite.
This is where you use the pin punch.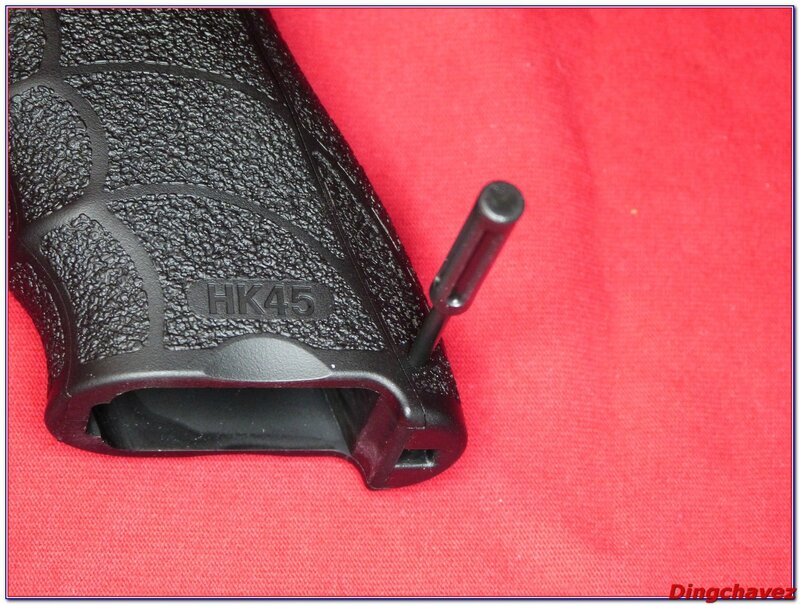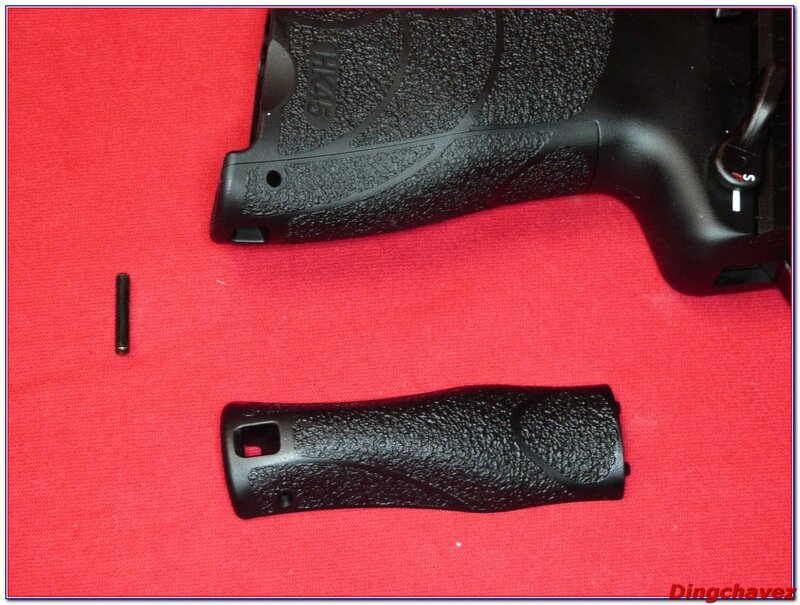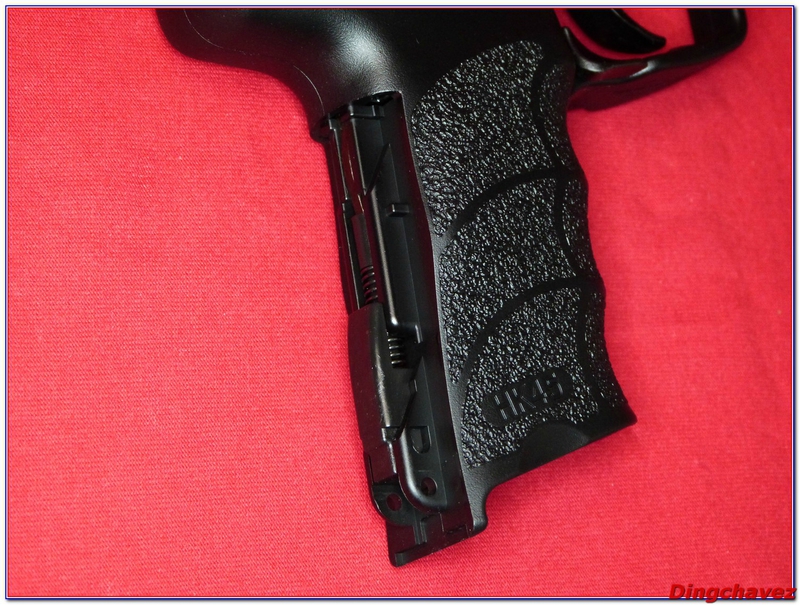 Deux choix donc, le fin…
The thin backstrap…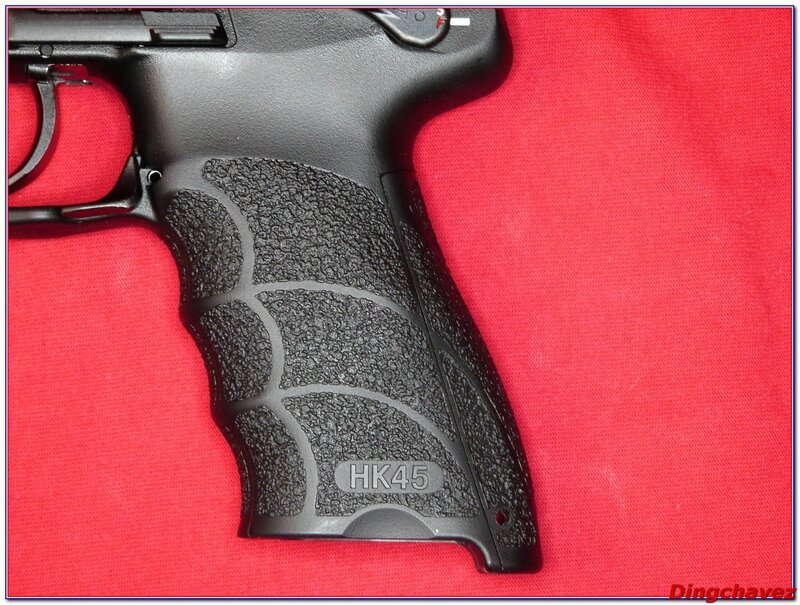 …et l'épais, qui prend place par défaut sur la réplique en sortie de boite.
…and the larger one, mounted by default on the gun.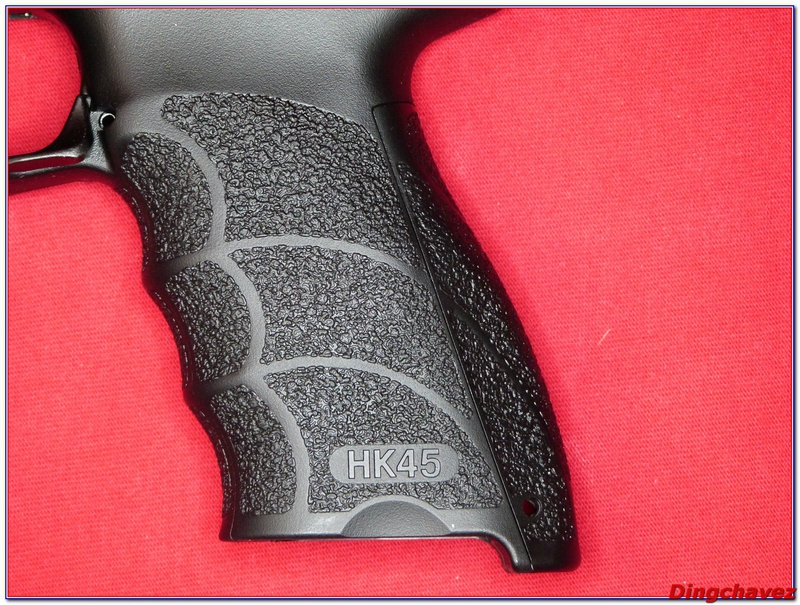 Les organes de visée sont classiques, un point blanc sur le guidon…
Classic iron sights, a white dot on the front sight…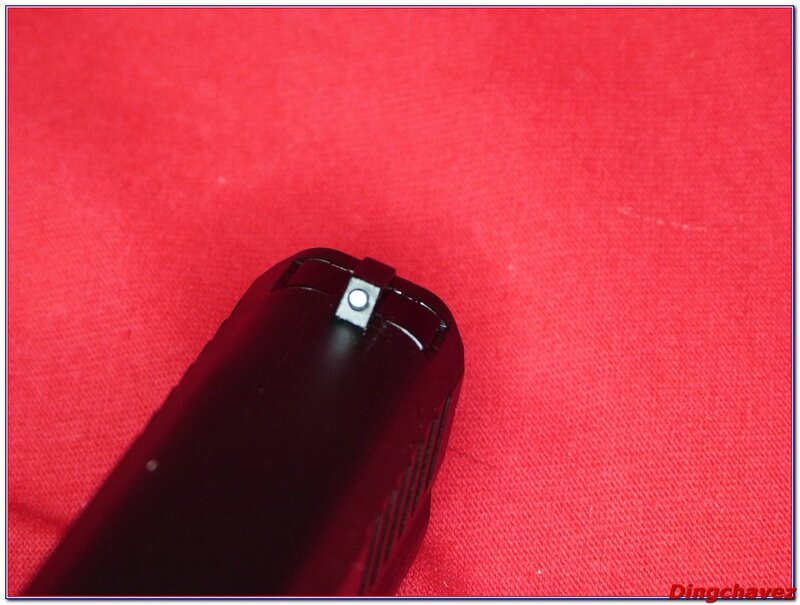 …deux points sur la hausse (non réglable).
…two white dots on the rear sight.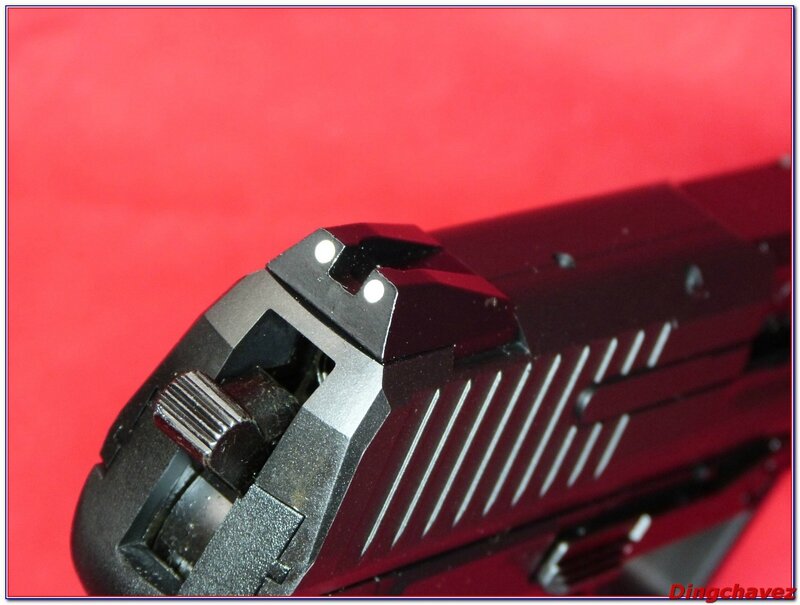 On aligne, on tire, ça touche !
Aim, shoot, hit !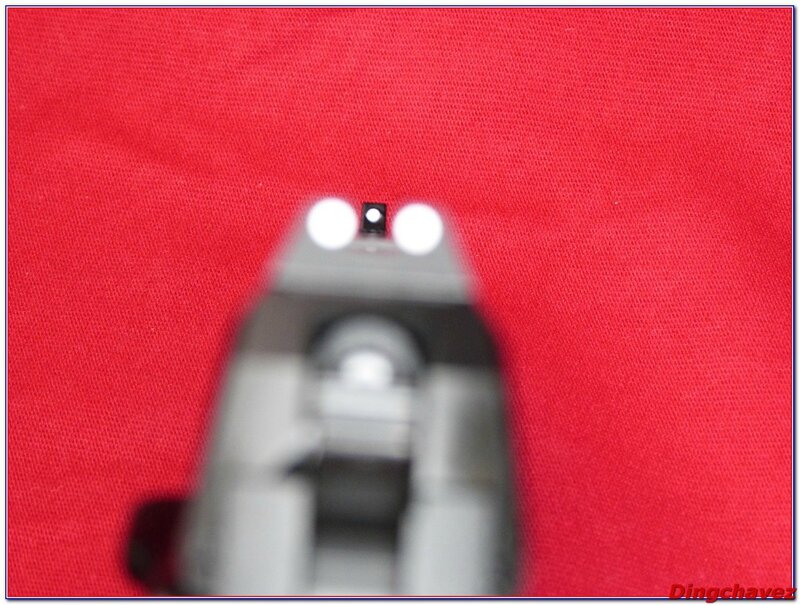 On peut voir ici l'alignement du chargeur face au bloc hop-up.
Here you can see the alignment of mag with hop-up unit.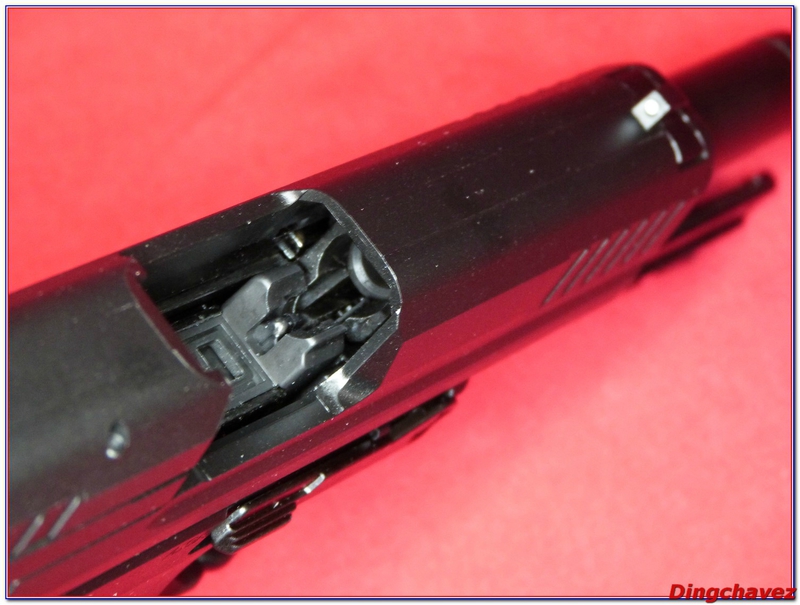 Pour régler le hop-up, il faut enlever le chargeur et actionner une petite molette, inutile donc de démonter la glissière à chaque fois. Un peu comme sur le PX4 (review ICI).
La molette étant assez dure, mieux vaut avoir des ongles ou un petit outil sous la main. Le point positif étant que le hop-up ne risque pas de bouger lors du tir.
To set the hop-up, you have to remove the magazine and operate a small serated wheel, no need to remove the slide, a bit like on the PX4 (review HERE).
The wheel is quite hard, so if you don't have long nails, use a tool. The good thing is that it won't move by itself in game.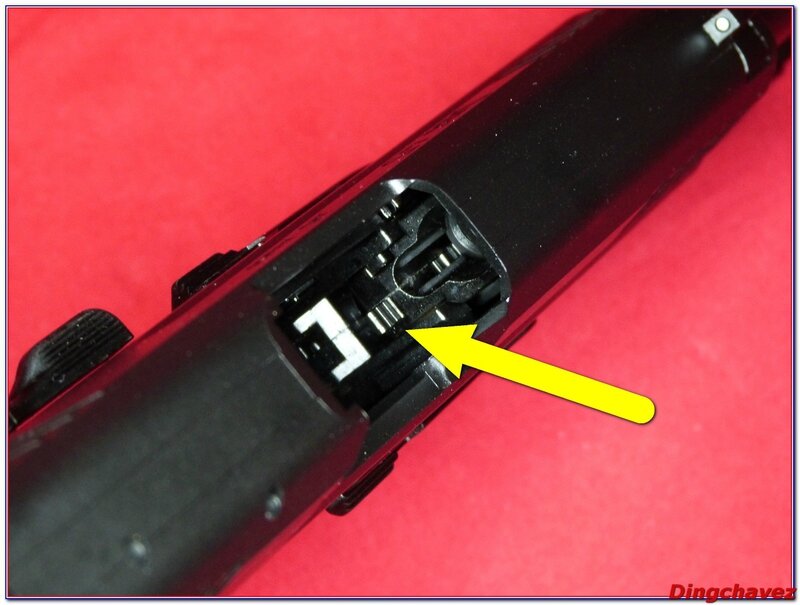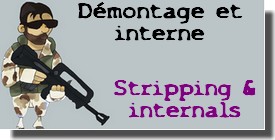 Mais même si on peut régler le hop-up sans rien démonter, moi j'aime démonter !
Il faut donc enlever l'arrêtoir de glissière, au départ mieux vaut s'aider d'un outil (ou de la tigette de nettoyage) mais au gré des démontages successifs, il deviendra plus facile à enlever.
 Even if it is possible to set the hop-up withiut removing the slide, I like stripping my guns !
First of all, remove the slide catch, at first it isn't easy so you can use the cleaning rod.
On fait donc correcpondre les encoches.
Match the slide and the slide catch.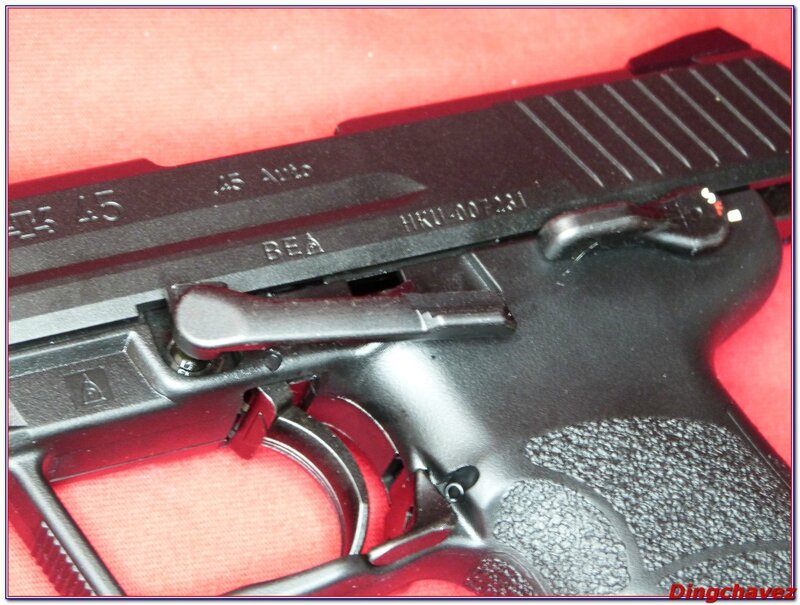 Et voilà !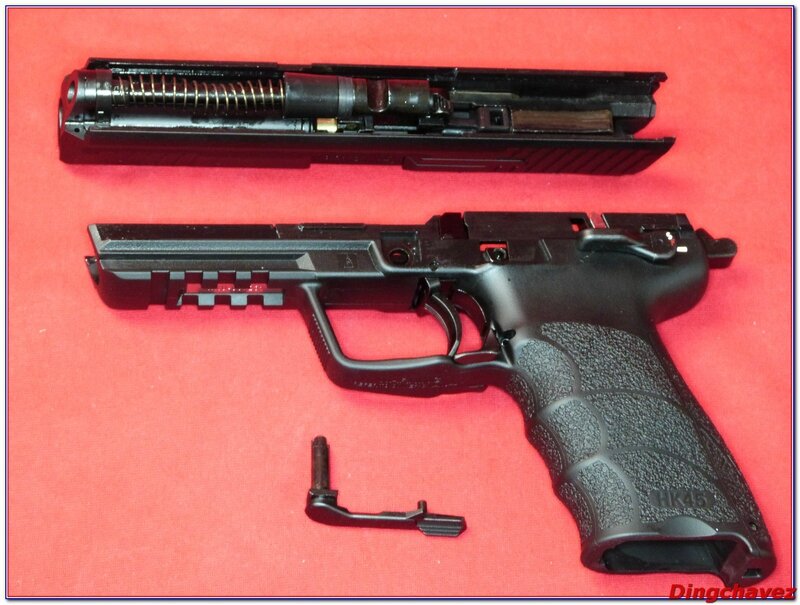 Gros plan sur les tripes, bon j'avoue, pas grand-chose à se mettre sous la dent.
Close-up at the guts. Well, no much to see.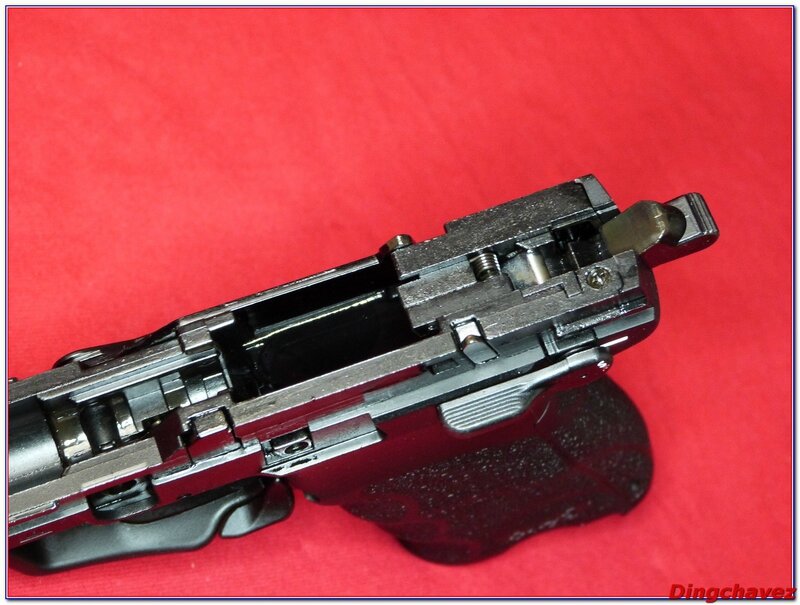 Le bloc nozzle.
 The nozzle.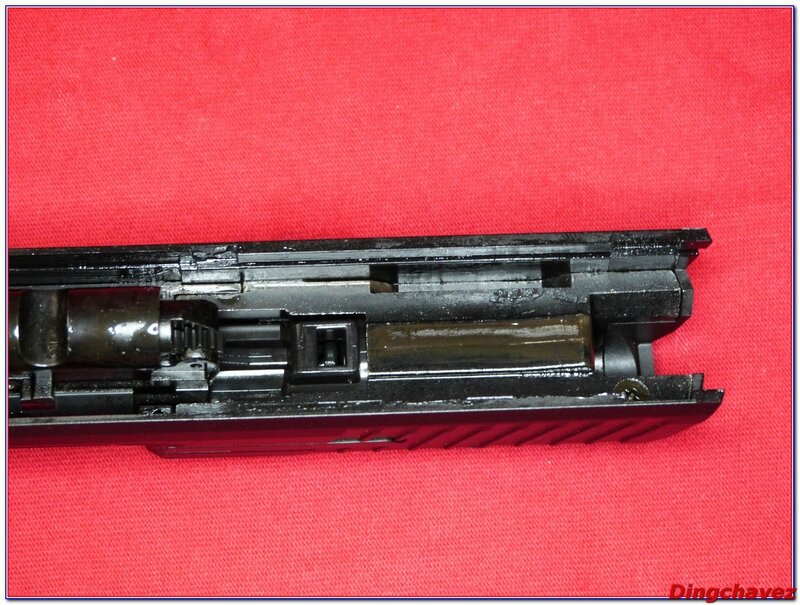 On continue, déposons maintenant le ressort récupérateur, qui est solidaire de sa tige guide. On pourra ensuite ôter le canon externe.
 Now we remove the recoil spring and its guide. Both parts are linked together. Then strip the outer barrel.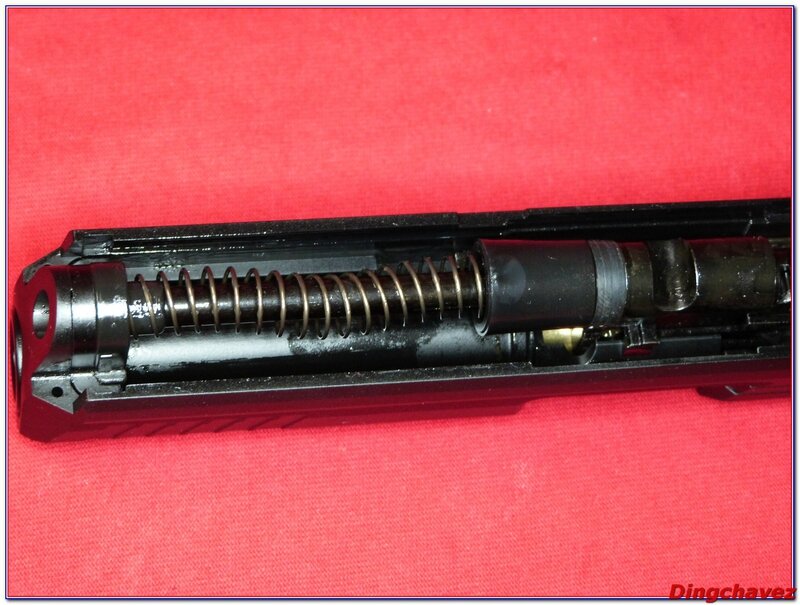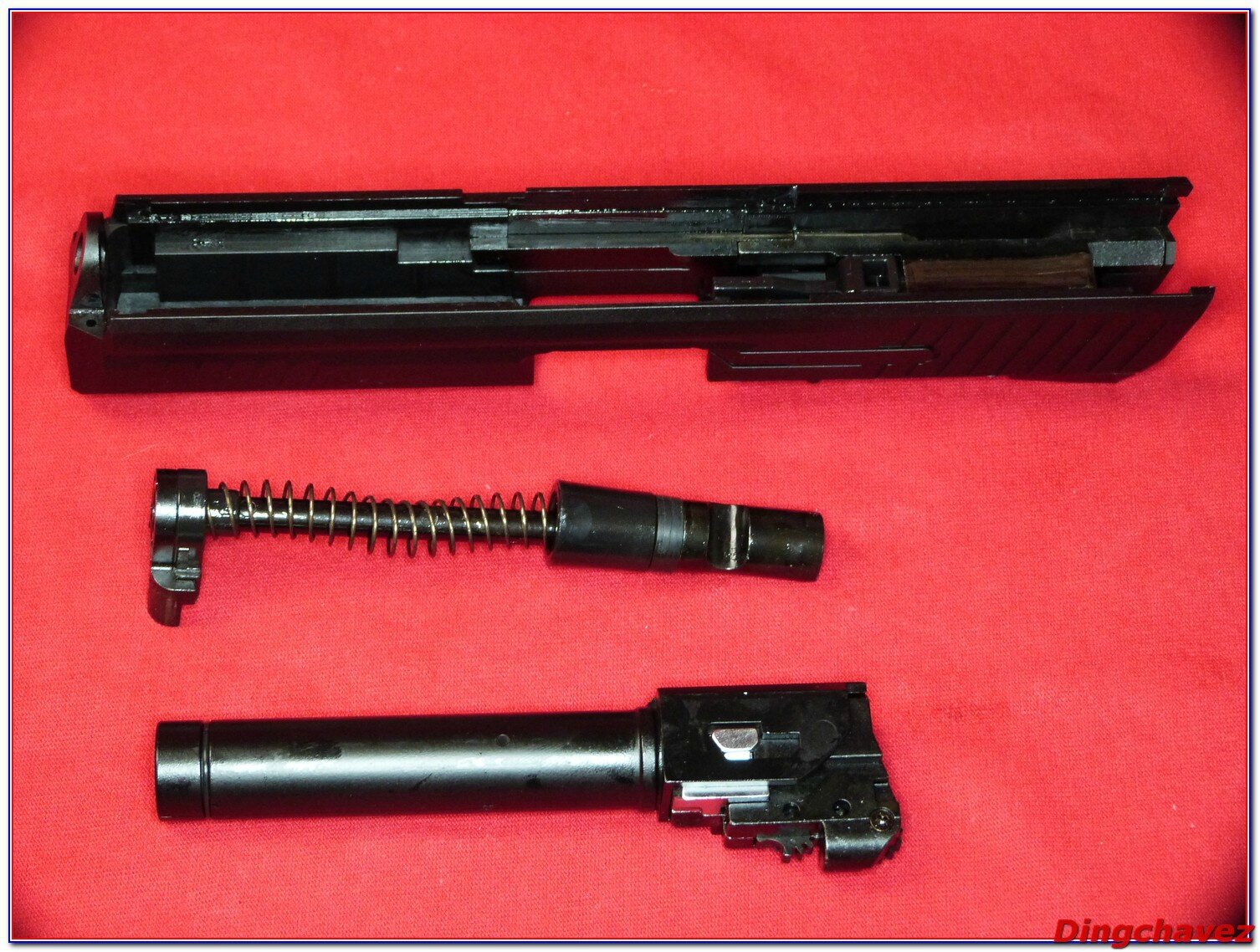 Pour enlever l'ensemble canon interne/bloc hop-up, il faut déposer cette vis.
In order to disassemble the hup-up unit, remove this screw.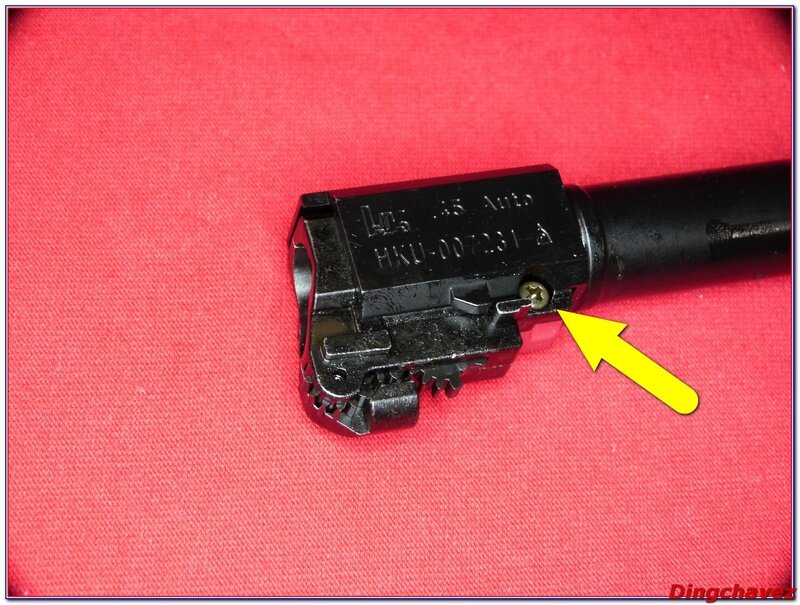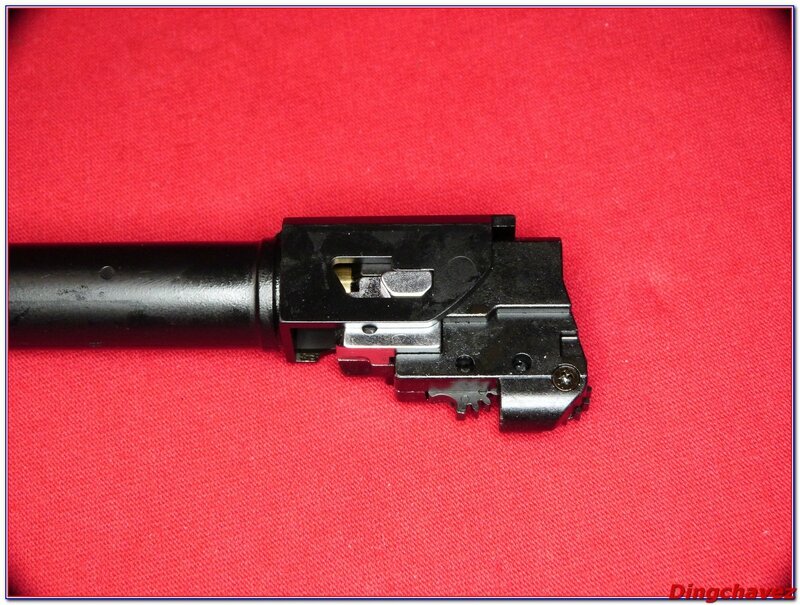 Puis si l'on souhaite changer le canon ou le joint, il faut enmever ces deux vis.
Then, if you wish to change the rubber or the barrel, remove these two screws.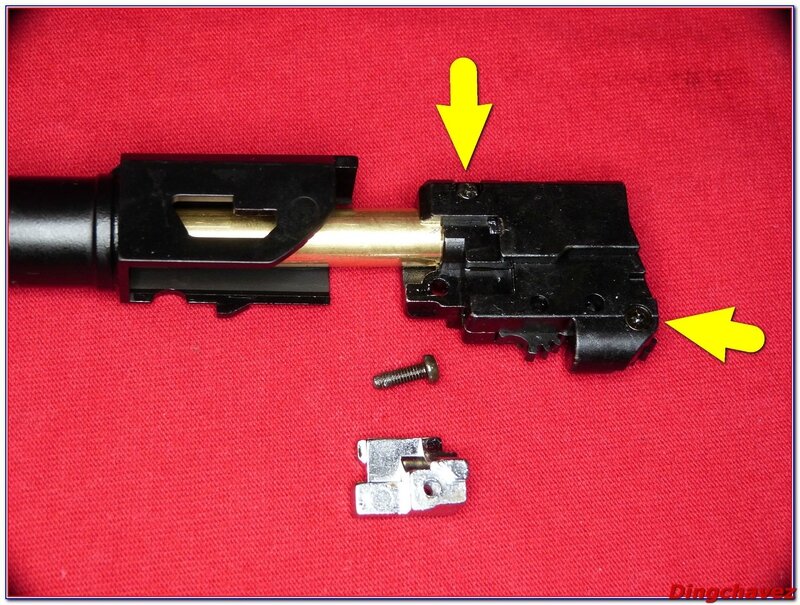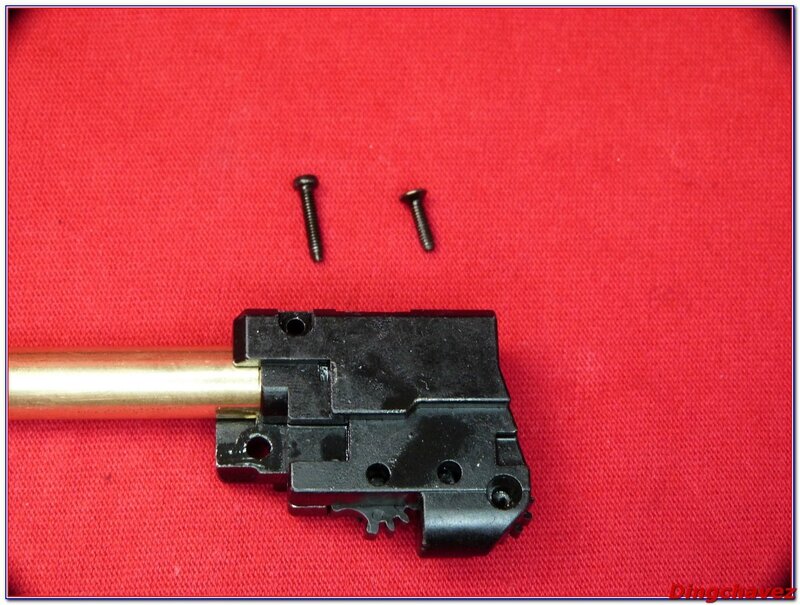 On voit bien les 3 engrenages de réglage du hop-up.
Here you can see the three hop-up wheels.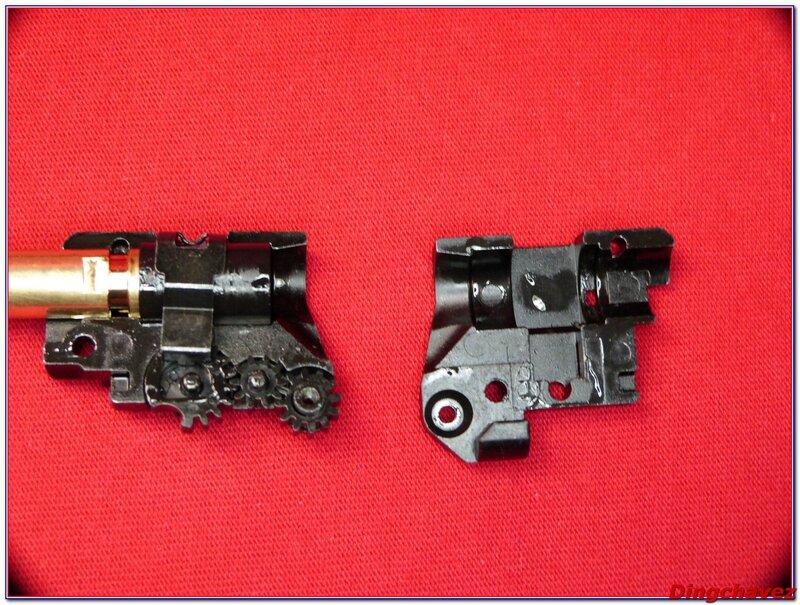 Le canon fait 100mm de long.
The barrel is 100mm long.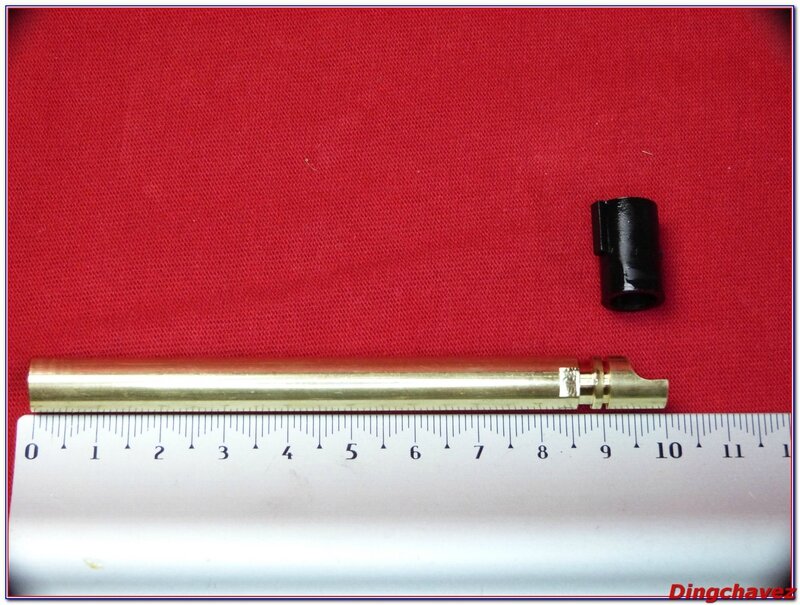 Remarquez l'encoche sur le canon. Je n'ai pas fait attention sur les autres répliques mais il me semble que l'usinage était différent.
Notice the notch on the barrel? I don't recall seing this before on Marui guns. Well, I didn't notice…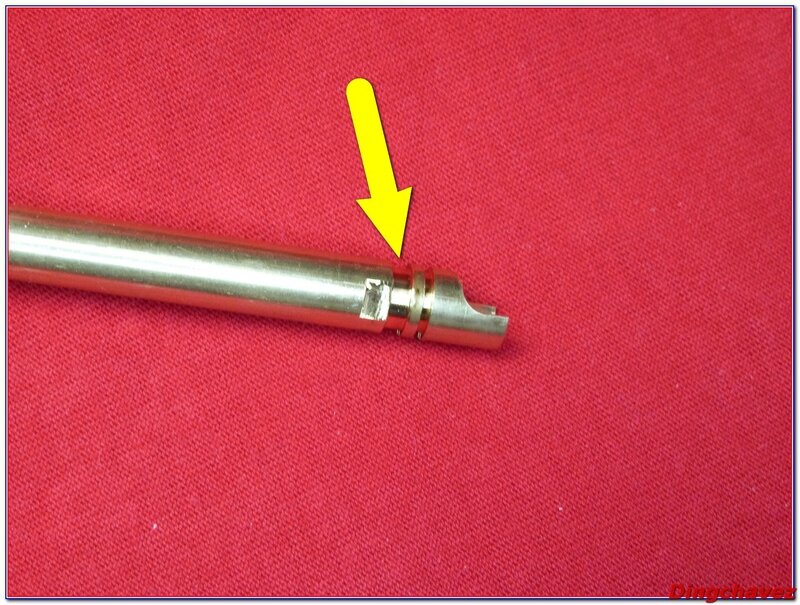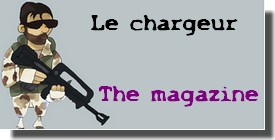 Le chargeur à gaz emporte 26 billes au maximum.
The gaz magazine hosts 26BBs max.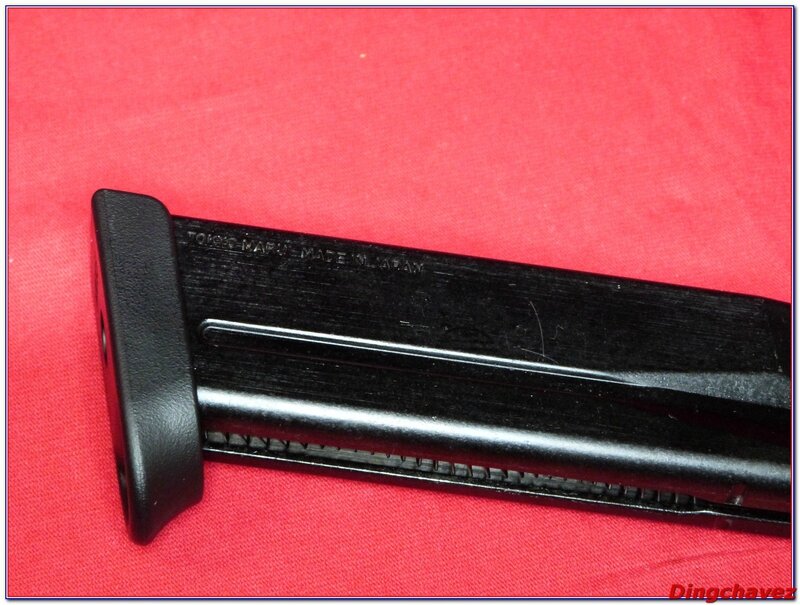 A l'arrière on peut voir les marquages correspondant à l'emport du vrai HK45, soit 10 cartouches.
At the back, we can see the real deal markings, that's for 10 .45ACP slugs.
Je ne l'ai pas démontée, mais la valve de chargement en gaz est spécifique. elle est en effet plus profonde que les valves classiques. Je vous mettrai des photos si un jour je démonte le chargeur.
I didn't disassemble it, but the gas filling valve is specific to this gun, it is deeper that classic valves. I'll put some more pictures when I strip it some day.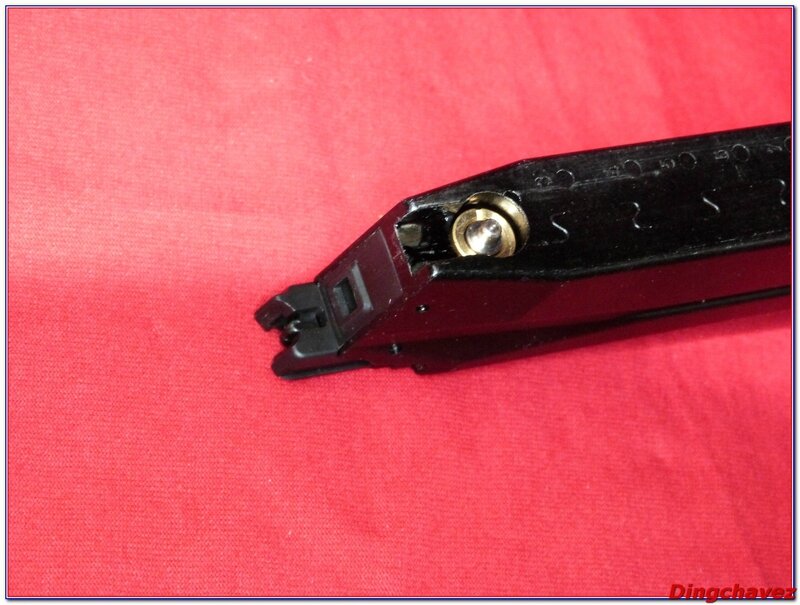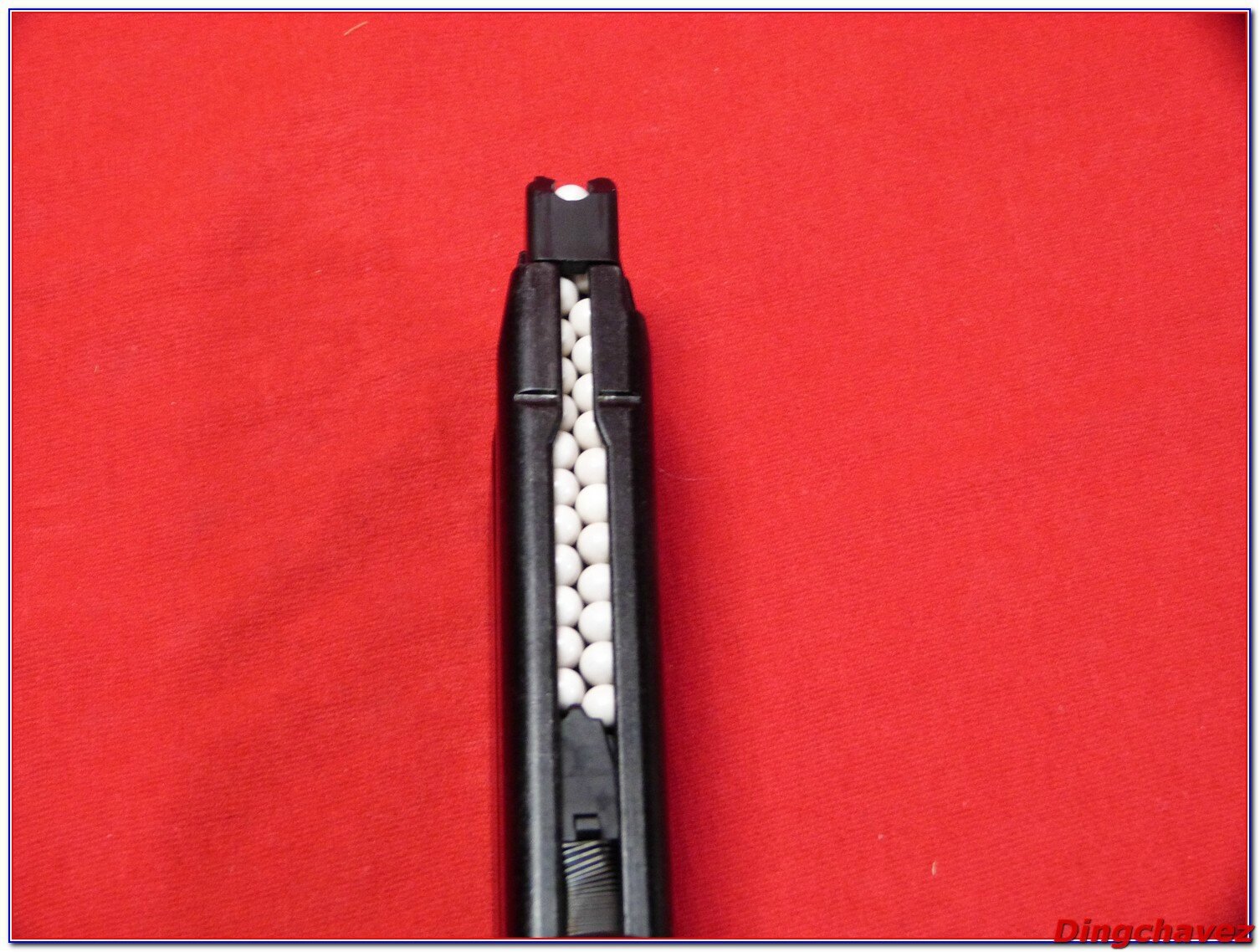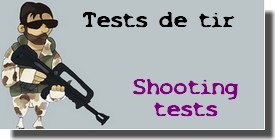 J'ai utilisé mon fidèle Xcortech 3200 et des billes bio Xtreme precision 0.20 grammes pour ces tests.
La température était d'environs 17°C
J'ai commencé par utiliser du gaz Abbey Predator HFC144a, sur 10 billes la puissance moyenne est de 265FPS
En passant à l'Ultrair on atteint 290 fps.
Au départ j'ai eu un petit coup de chaud : les billes n'allaient pas vraiment là où je voulais et les trajectoires étaient aléatoires. Après un bon nettoyage du canon et du joint, tout est rentré dans l'ordre et on retrouve les performances habituelles des répliques Marui. Ce sera un plaisir de sortir les joueurs dont seule une fesse ou le bob dépasse d'un tronc d'arbre !
Le réglage du hop-up est assez dur à régler si on n'a pas les ongles longs. Le bon point étant qu'une fois réglé, il ne bouge plus.
Le kick est bon, bien que moins impressionnant que sur d'autres modèles. Le claquement sec de la glissière est sympathique.
Je vous laisse découvrir la vidéo :
I used my fellow Xcortech 3200 chrono, 0.20G Xtreme precision Bio BBs, HFC144a and ultrair gases. The temperature was about 17°C.
I started with Abbey Predator hfc144a gas, I had an average 265 FPS on 10 BBs, this increased to 290 fps with Ultrair gas.
At first, I was afraid : I couldn't shoot two BBs at the same spot, once I'd cleaned the barrel, it was way much better !
It is really consistent and accurate and it'll be a pleasure to hit an adversary hiding behind a trunk, with only a buttock out 🙂
Kick isn't as impressive as on the Desert Eagle, but it is noticeable. The sound of the gun is a bit « plastic like » but hey, this is a toy !
See that by yourself :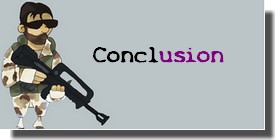 On peut dire sans hésiter que Marui nous offre une nouvelle très très bonne réplique de poing. Tir régulier, précision habituelle de la marque niponne et une boite bien remplie pour un tarif sympa (la réplique m'est revenue à environs 140€ sur Pulse Japan), même si je prédis un tarif « européen » proche des 170-200€ selon les boutiques…
Certains reprocheront peut être à cette réplique de développer une « faible » vélocité en sortie de canon (en utilisant le gaz préconisé, bien entendu, on évitera le propane…), mais lorsqu'il s'agit de toucher un camarade jusqu'à une trentaine de mètres, elle fait son travail sans problème.
 I can say without being afraid that this Marui HK45 is a veryn very good side replica ! Consistent shooting, nice acuracy and a well-filled box for a nice price (I paid about 140€, but the European price will probably be around 170-200€).
One might say that the power is a bit low with hfc144a, but bear in mind that Japanese law is very strict about that. Don't use propane or high power gas with this gun, you could break it more or less quickly…
Bottom line, when you've got to hit a friend 30 meters away, the HK45 is right there and does the job !
-Alternative au modèle KSC/Umarex /alternative to Umarex gun
-Rapport puissance-portée-précision / good ratio between power-range-acuracy
-Boite bien remplie / many things in the box
-Finition / finish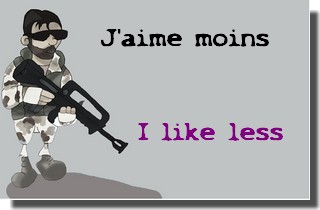 -Attention à utiliser le gaz recommandé sous peine de casse de glissière à plus ou moins long terme / be careful and use adapted gas.
-Pas de levier de sûreté ambidextre. / no ambi safety lever
Une petite photo de famille avec l'USP45 et l'USP Compact KSC.
Familly portrait with my KSC USPs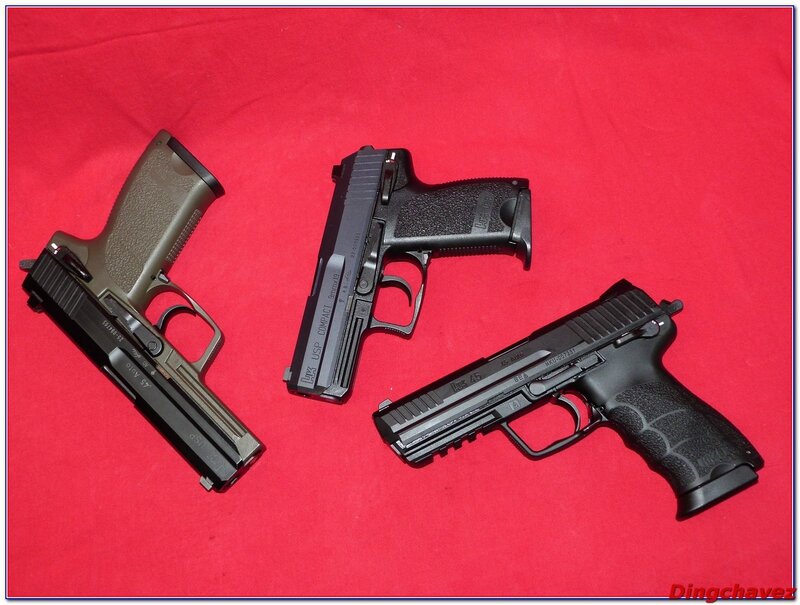 Et en bonus, une vidéo de Khan Seb (French Airsoft Dude). A bientôt !
Of course you can also watch Khan Seb's HK45 video ! Cheers !
Posté le 8 mai 2014 par Dingchavez