Review KSC HK45 Heavy Weight et comparatif KSC/Tokyo Marui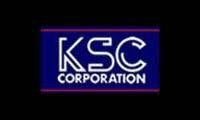 14 juin 2014
Il y a quelques semaines seulement, je vous présentais en exclusivité le HK45 Tokyo Marui
Ce n'était pas la première réplique de ce PA disponible sur le marché, Umarex distribuant un modèle fabriqué par KSC Taiwan (marquages blancs).
KSC Japan nous gratifie d'un modèle amélioré dénommé « heavy weight » -poids lourd- sur lequel la glissière a été alourdie pour augmenter le poids total d'environs 60 grammes.
Si cela vous intéresse j'ai tourné un déballage du colis…
A few weeks ago I was one of the first ones to introduce the Marui HK45 to you. 
Of course it was not the first of its kind, Umarex being the first one with its licenced KSC version.
Now, KSC Japan is releasing a « heavy Weight » revision on which the slide has been modified to be 60 gramms heavier.
Let's discover the gun in a video…
Je me suis procuré la réplique sur la boutique en ligne IMPULSE, service encore une fois au top et poste japonaise très efficace !
Aller, c'est parti pour une review complète de ce HK45 heavy weight KSC Japan !
I bought the gun on IMPULSE online shop. Very good contact and Japanese Post is very effective.
Let's roll guys !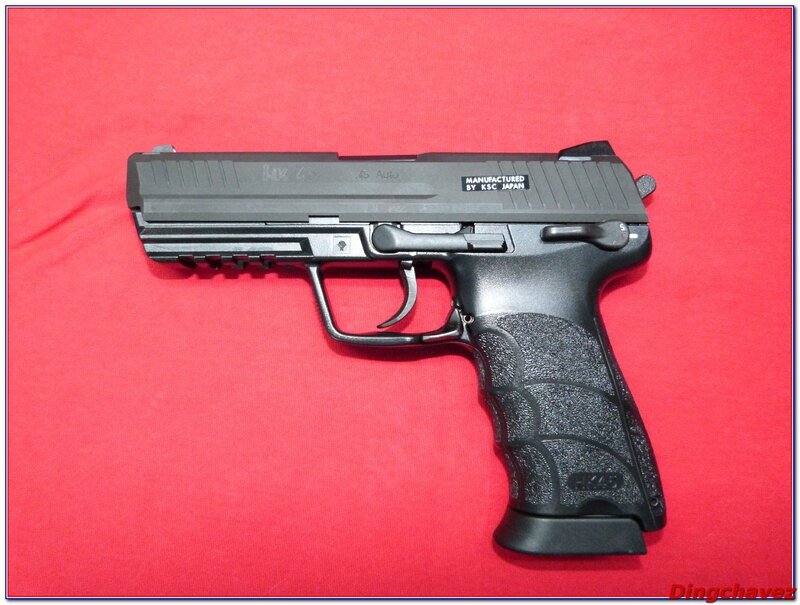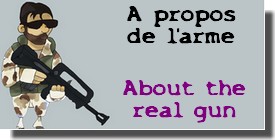 En quelques mots, ce flingue a été développé dans le cadre du marché de remplacement des armes de poings dans l'armée américaine. Faute de fonds suffisants (c'est la crise !) le M9 est resté l'arme de dotation et du coup, on ne voit pas des masses de HK45 dans la nature et c'est bien dommage car cette évolution de l'USP et du P2000 mériterait plus d'attention.
Le même en 9mm (HK9 ? Pourquoi pas ?) serait indéniablement un succés… Hé, mais… Ca existe, c'est le HK P30 ! Pas encore de modèle airsoft cependant.
Bref, pour plus de détails, vous pouvez visiter le site H&K USA ICI
 HK website will give more accurate info than I could do 😉
It's right HERE.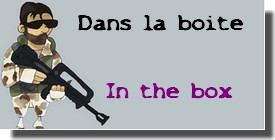 La boite en carton brillant très sobre comporte le logo HK, Umarex ayant la licence de la marque.
The black glossy box has the H&K logo on it, Umarex h the license.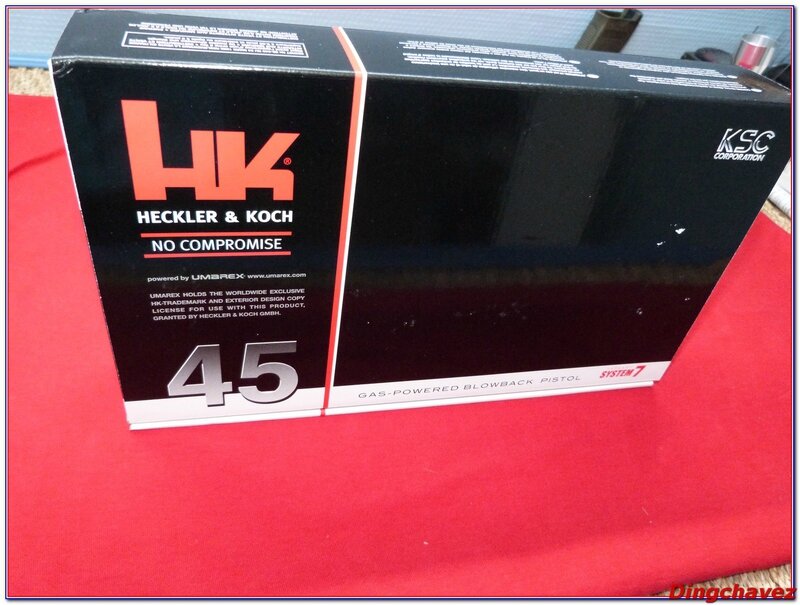 A l'intérieur tout est bien calé dans une coque en polystyrène dense.
Inside, everything is well maintained in compacted polystyrene.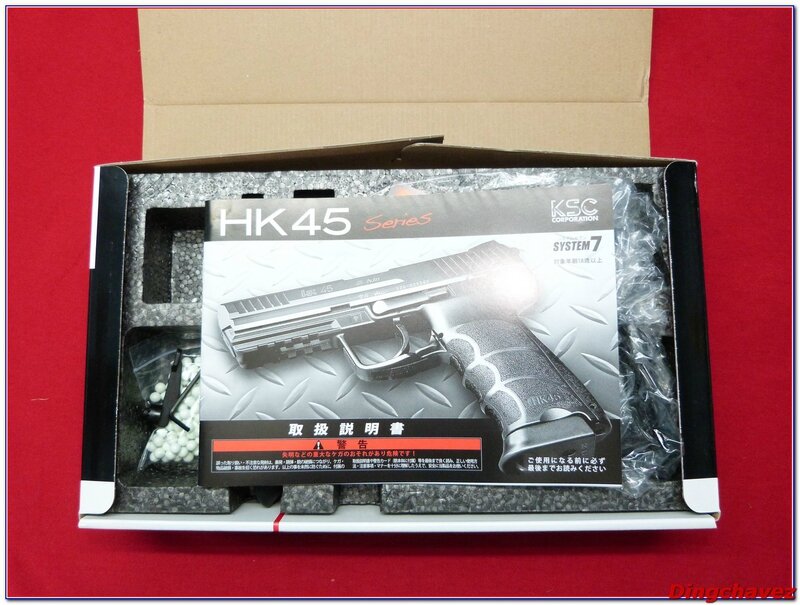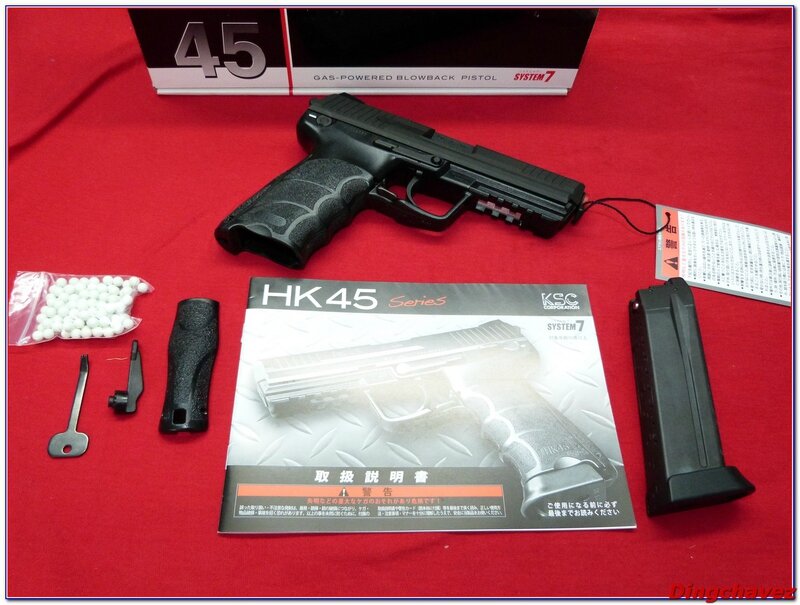 La boite contient :
-La réplique, en ABS et ABS haute densité. Elle pèse 915 grammes.
-Un chargeur de 26 billes
-Un backstrap additionnel
-Une clé de réglage hop-up
-Une clé de verrouillage
-Un petit paquet de billes
-Un manuel en japonais.
The box contains :
-The gun made of ABS and high density ABS, 915 gramms on the weighing machine.
-A 26BB gas magazine
-An additionnal backstrap
-A hop-up tool
-A special key
-A small pack of BBs
-A user's manual, written in Japanese

Vous pouvez faire tourner la réplique avec votre souris.

De prime abord on remarque le brillant du plastique utilisé pour le corps, alors que la glissière est bien mate. Le poids est agréable et la prise en main toujours aussi facile.
At first sight the frame is very shiny whereas the slide is mat. Weight is nice and handling is easy.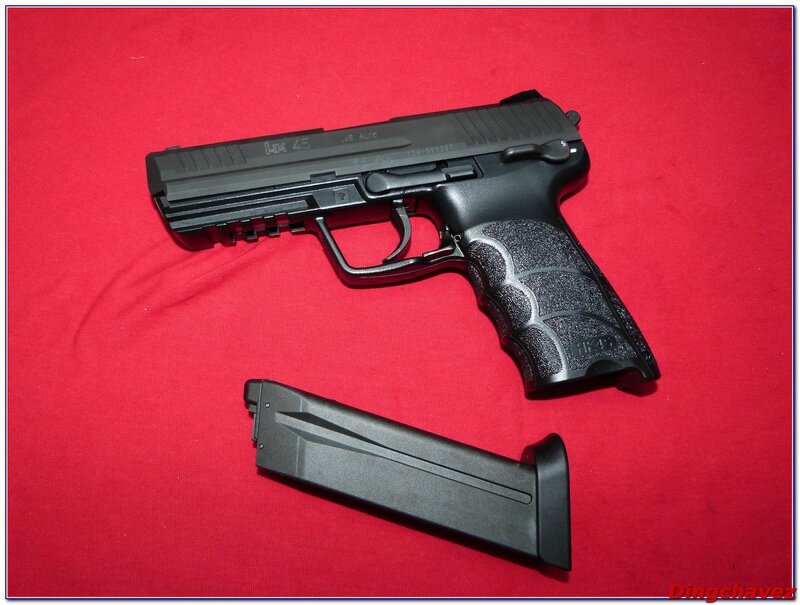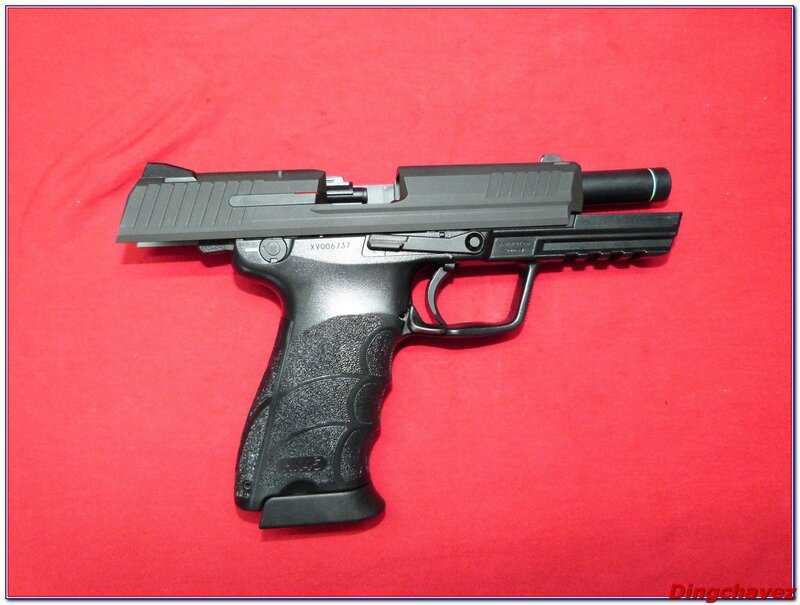 La glissière comporte les marquages H&K semblables au modèle réel, un léger plus face au modèle Marui. Cependant, s'ils sont finement gravés, ils sont un peu trop discrets pour être remarqués.
The slide has been engraved with H&K markings, a slight advantage compared to Marui's. However, they are thin so you don't really notice them.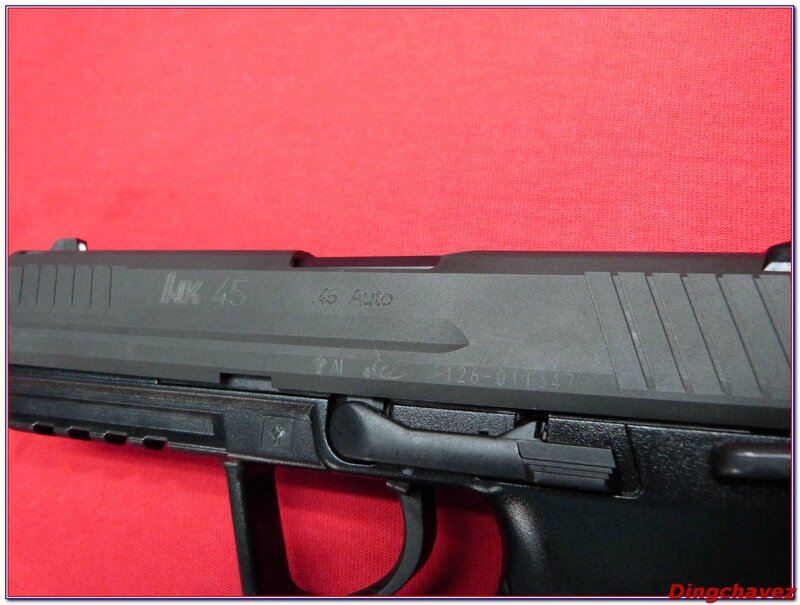 Le levier de sûreté fait également office de levier de désarmement.
The safety lever also acts as a de-cocking lever.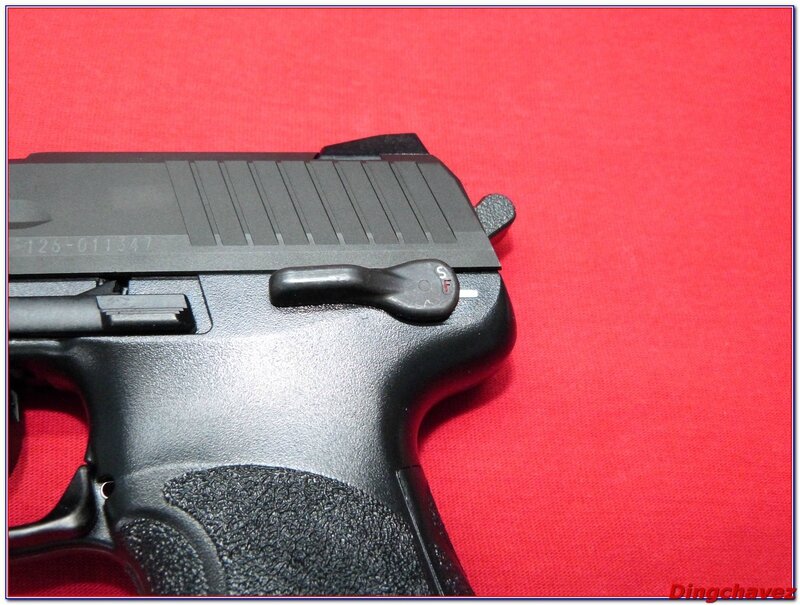 La crosse, ornée du logo HK45, est un modèle d'ergonomie qui peut encore être améliorée si vous adaptez le backstrap en fonction de vos mains. On peut y attacher une dragonne.
The butt, engraved with HK45 logo, is very ergonimic. You can eve upgrade your grip by changing the backstrap. You can also attach a lanyard to the butt.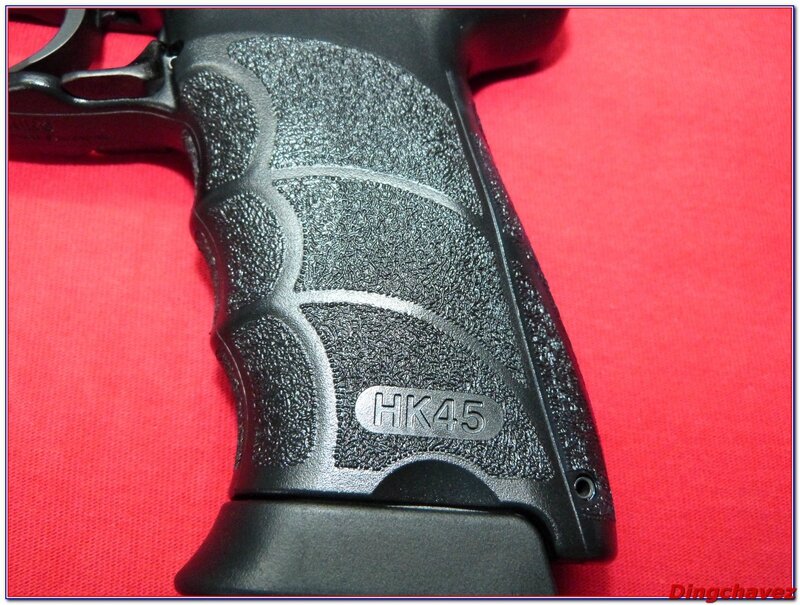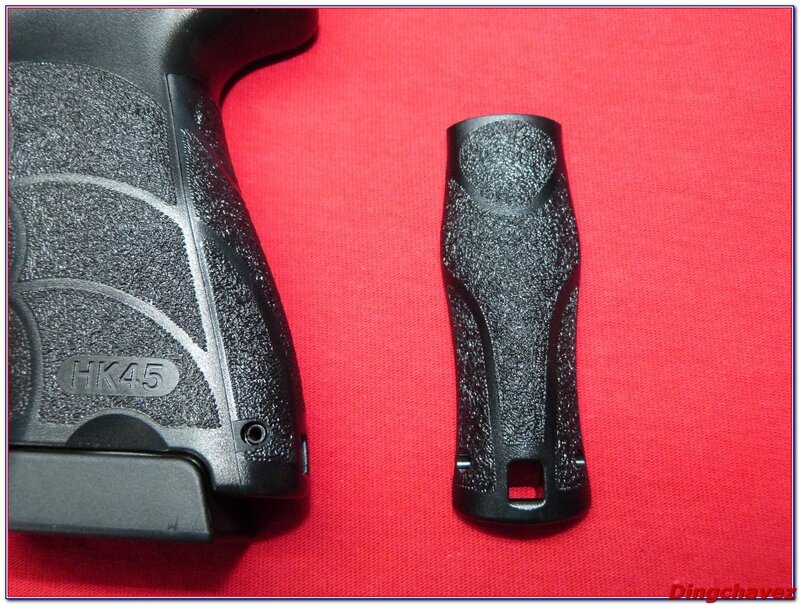 La goupille élastique s'enlève sans forcer.
The pin can be removed without any effort.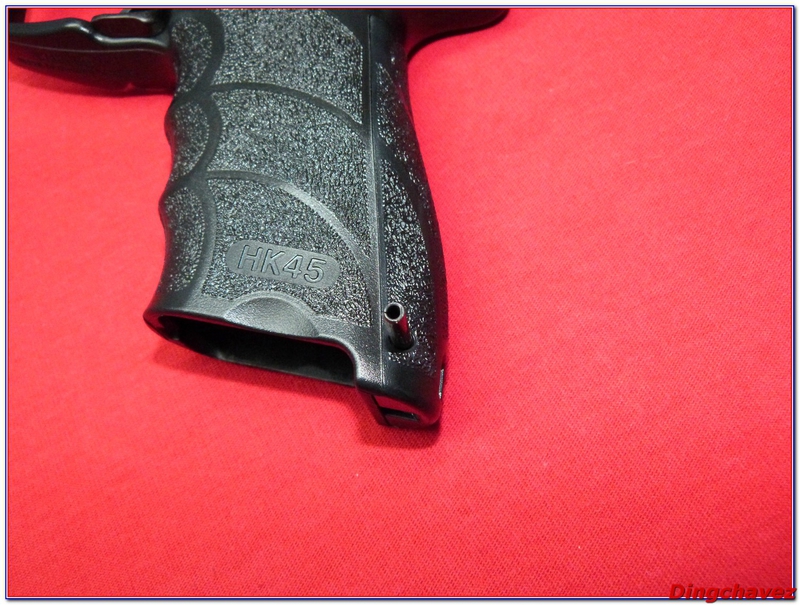 A vous de faire votre choix !
Your choice !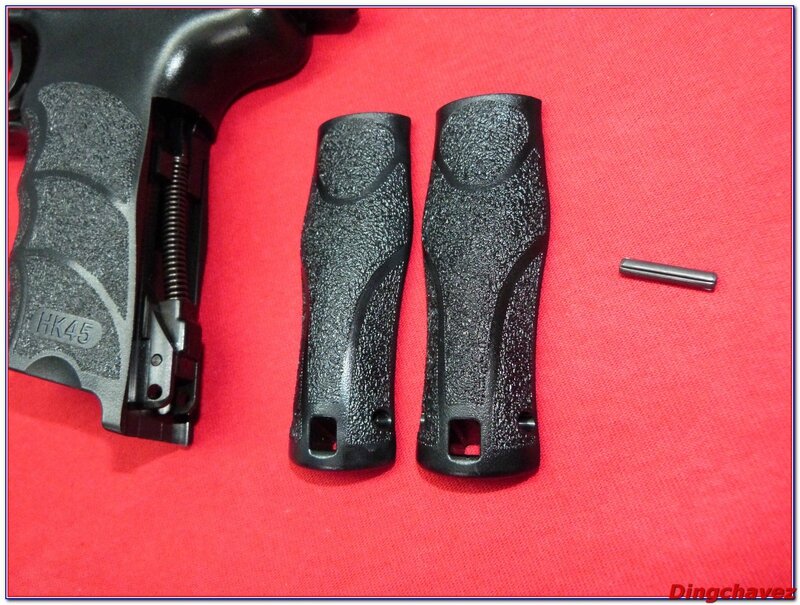 Le corps de la réplique ainsi que le canon externe sont également ornés des marquages HK.
The frame of the replica, as well as the outer barrel, are also marked.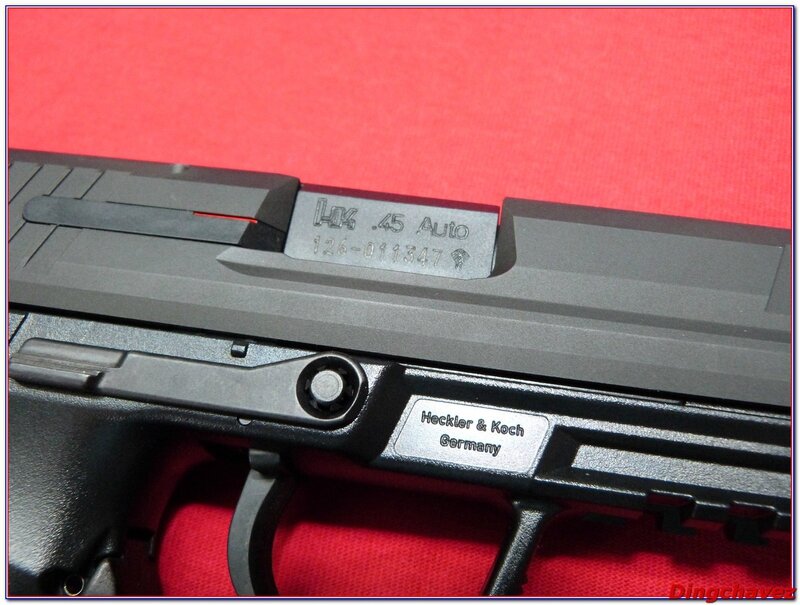 On remarque que l'extracteur est très bien rendu et que l'arrêtoir de glissière est ambidextre, tout comme l'arrêtoir de chargeur. Seul le levier de sûreté est un modèle droitier. A noter que sur le vrai HK45 on peut changer le levier de côté et même avoir un levier ambidextre.
The extractor is really nice. The slide catch and mag catch are ambidextrous. The safety lever isn't, unlike the real gun (on which you can have ambi lever or switch side).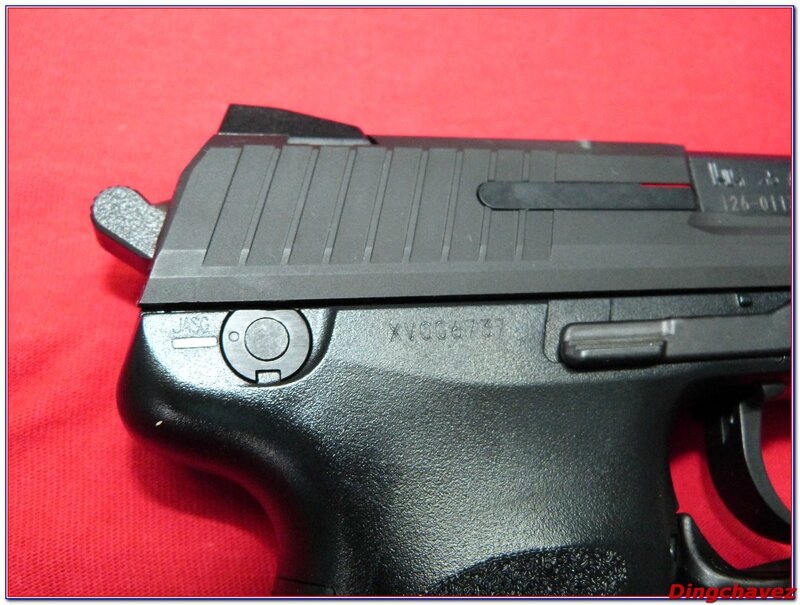 Les organes de visée assurent un tir rapide et précis.
The sights provide quick and easy aiming.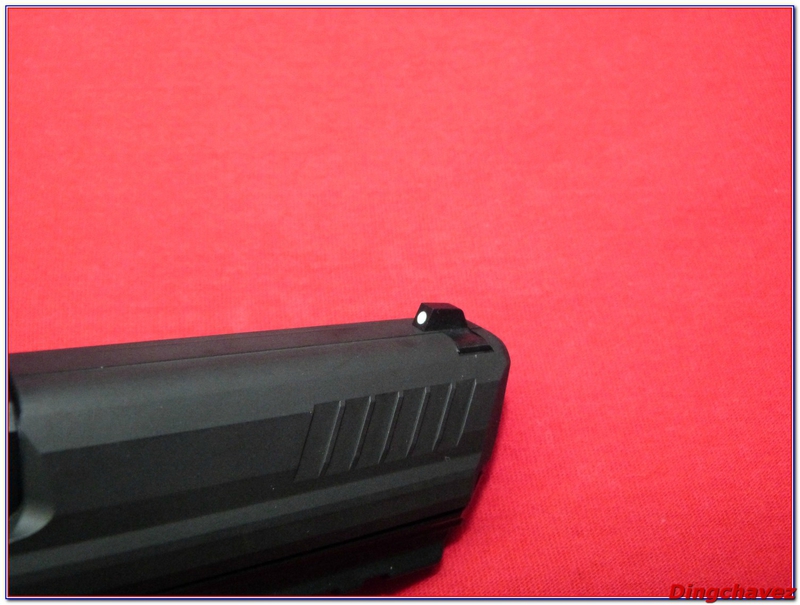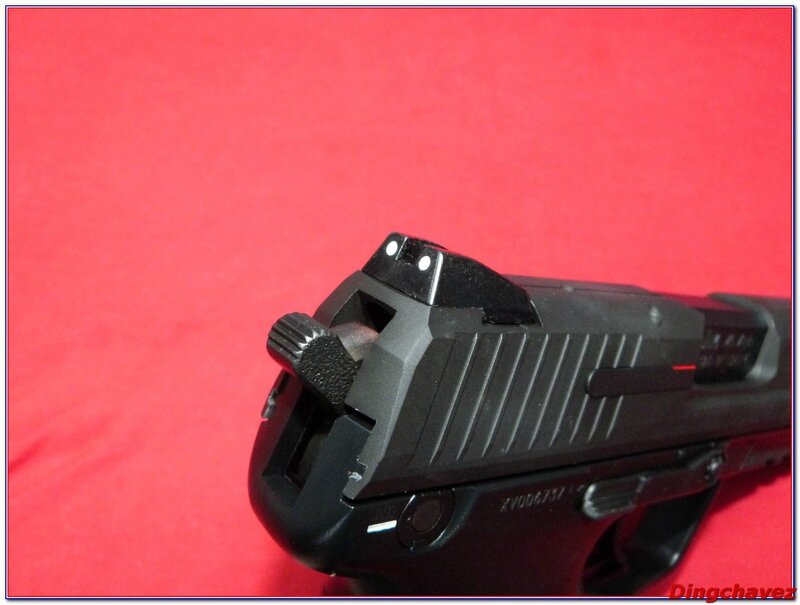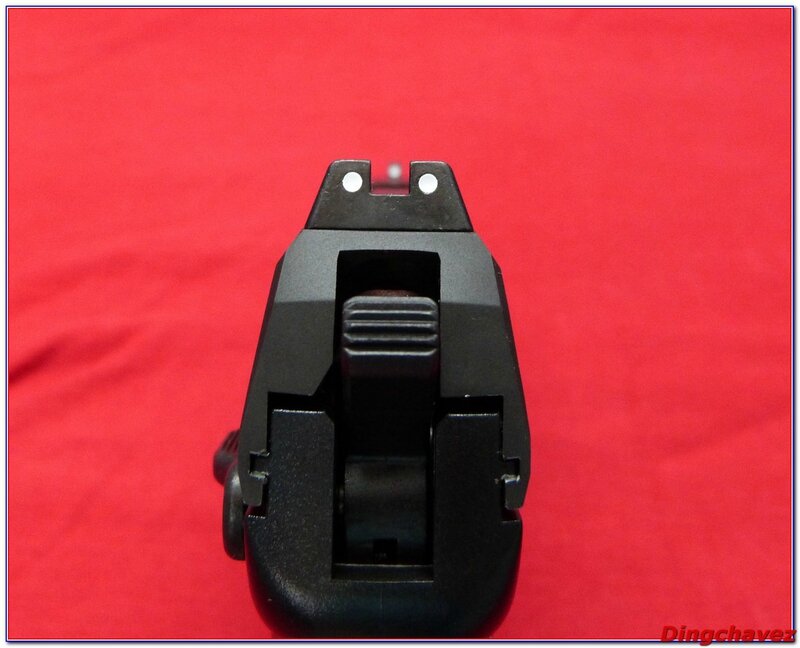 Le rail Picatinny. Même la plaque du numéro de série dispose des marquages HK.
The Picatinny rail. Even the serial number plaque has HK markings.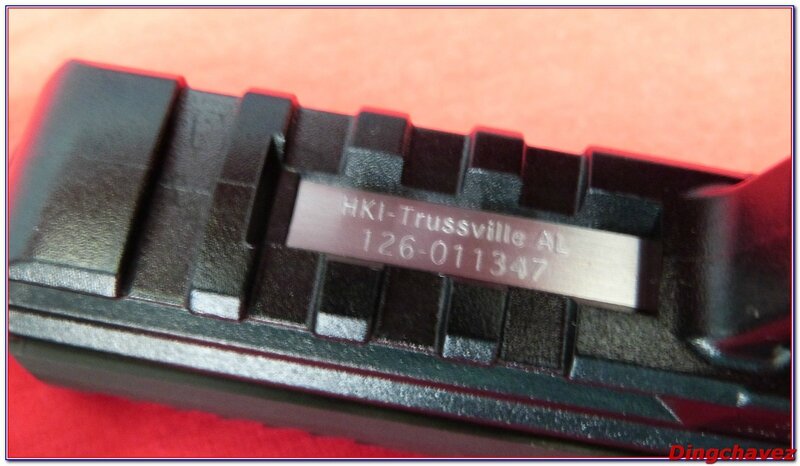 Le hop-up est un classique chez KSC, il se règle sans rien démonter à l'aide d'une clé crantée.
A classic KSC System 7 hop-up. You can set it with the provided key.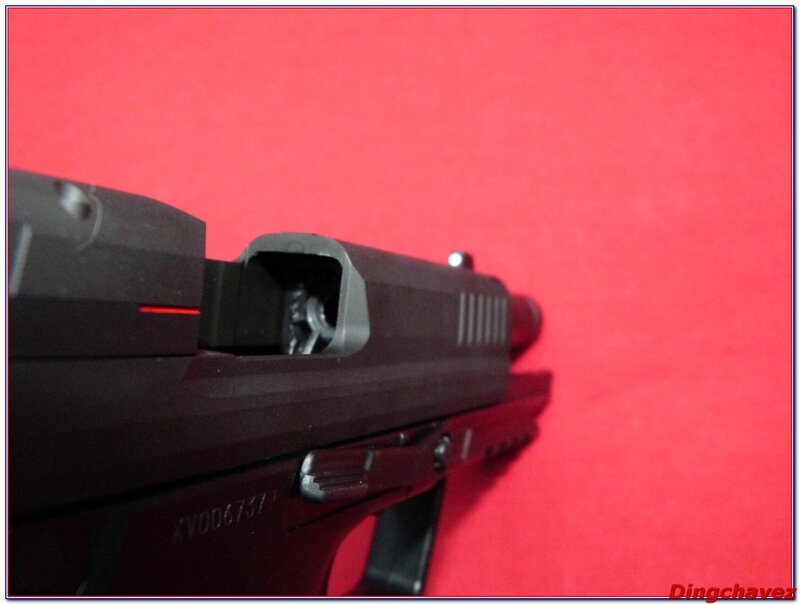 Contrairement au Kriss Vector, la molette est en métal.
Unlike on Kriss Vector , the wheel is made of metal.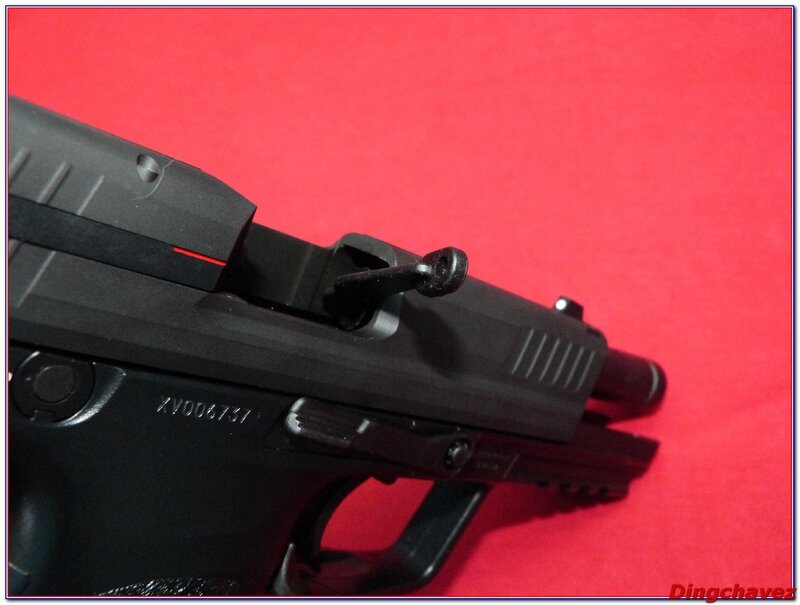 Un système de verrouillage est présent dans le puits de chargeur. Il bloque le tir.
A locking system in the magazine well provide additionnal safety.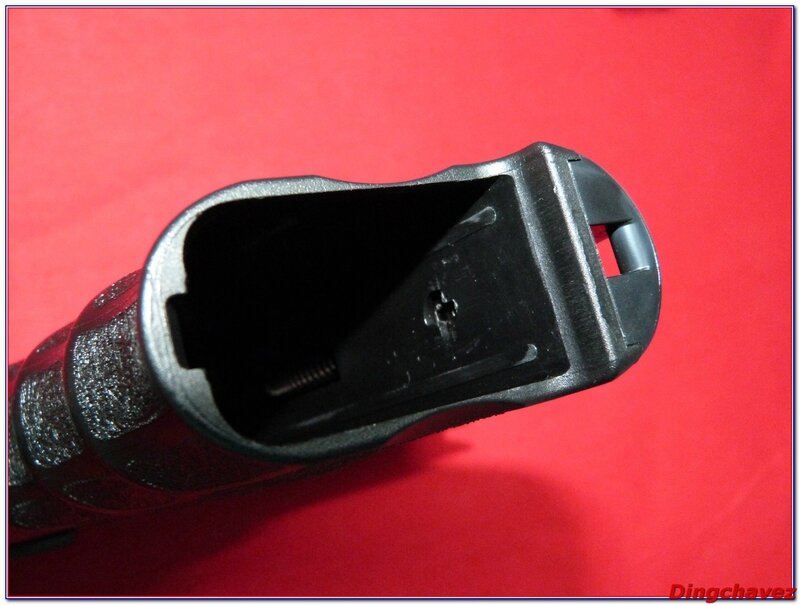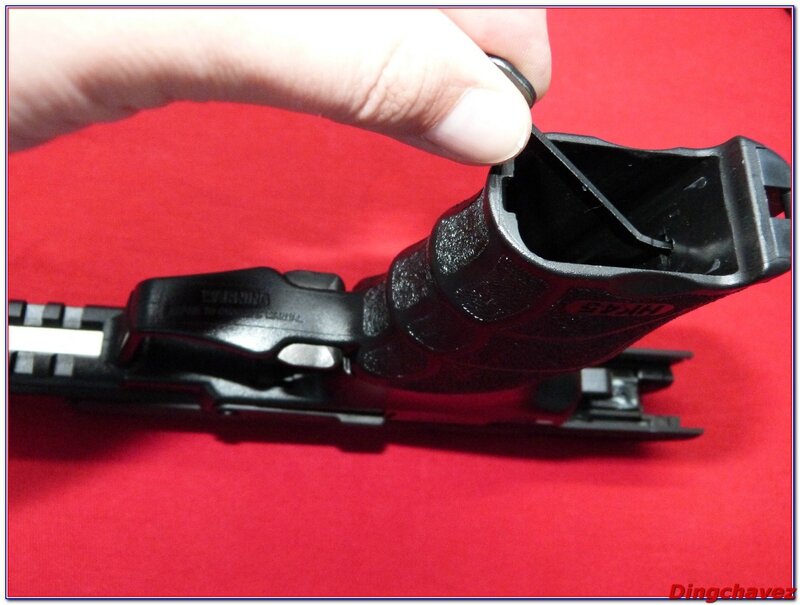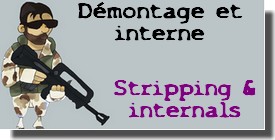 Un jeu d'enfant ! Faites correspondre l'arrêtoir avec la fente de la glissière et tirer vers vous.
Easy as pie ! Match the slide catch with the serration and then pull it.
Hop ! On fait avancer la glissière hors de son emplacement.
Then slide the slide forward.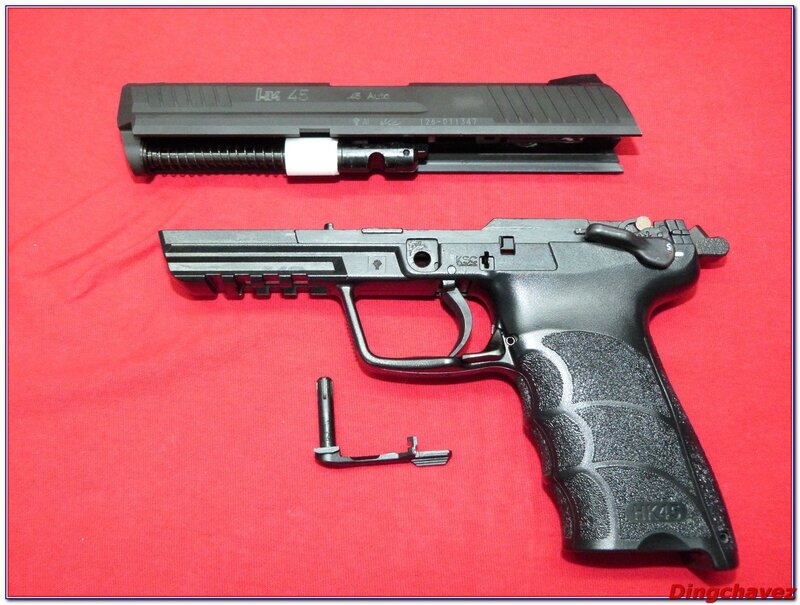 On peut ensuite déposer l'ensemble tige-guide/ressort récupérateur, le canon externe (en plastique) et l'ensemble canon/hop-up.
Now we can strip the recoil spring, the outer barrel and the hop-up assembly.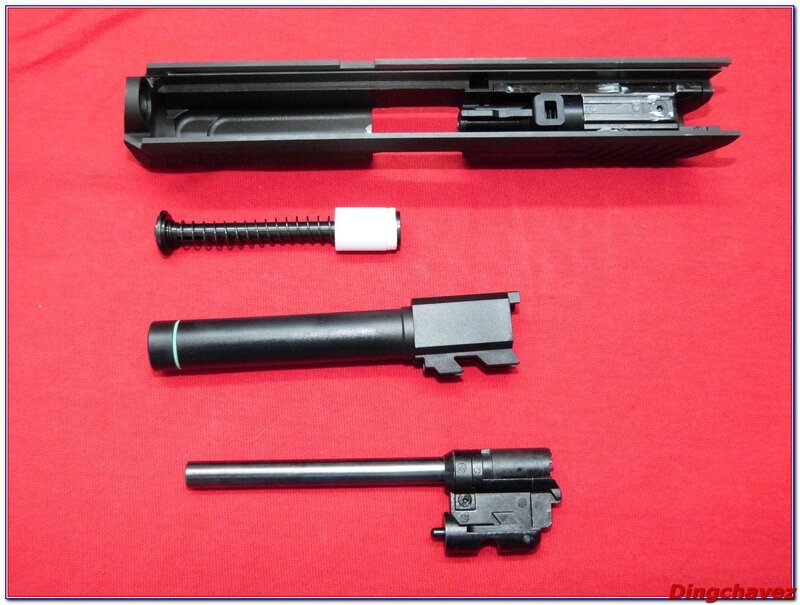 La mécanique est identique aux USP de la marque.
The inside looks like KSC USPs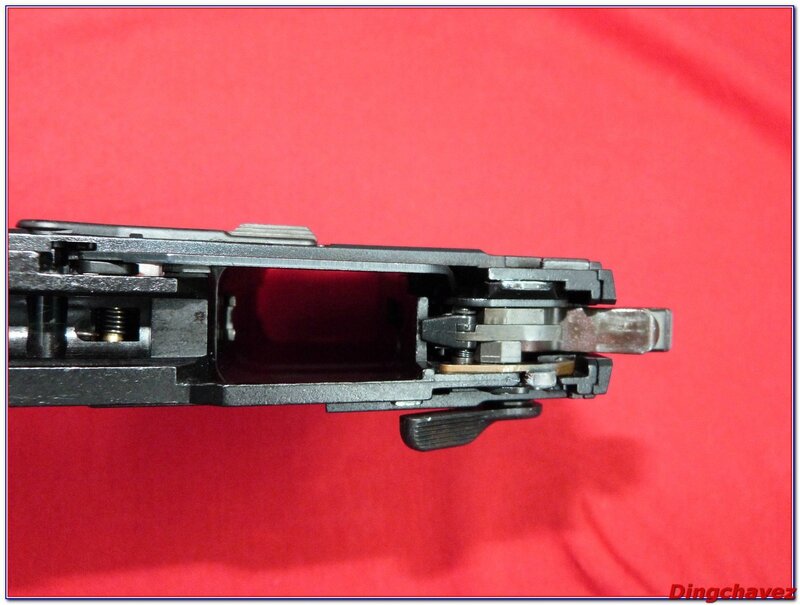 Le joint de hop up est un modèle en W.
A W rubber.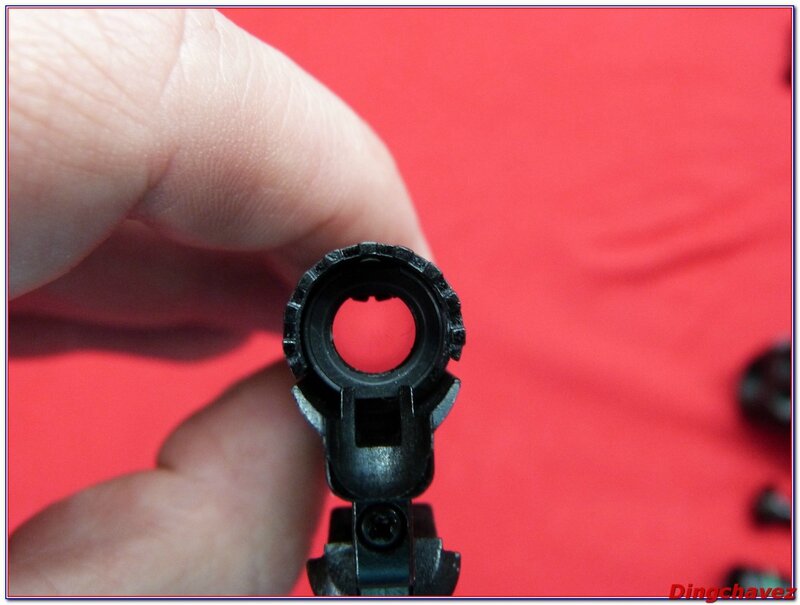 On constate que le HK45 a des pièces en commun avec son grand frère.
As I said, some parts are similar to USP ones.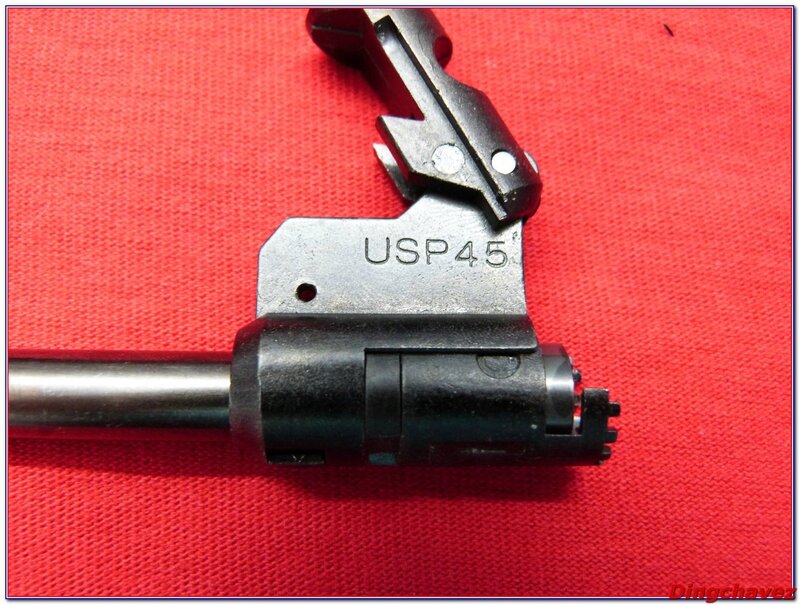 Le bloc hop-up est constitué de nombreuses pièces, attention à l'ordre de montage !
The hop-up unit has got many parts, be careful if you disassemble it.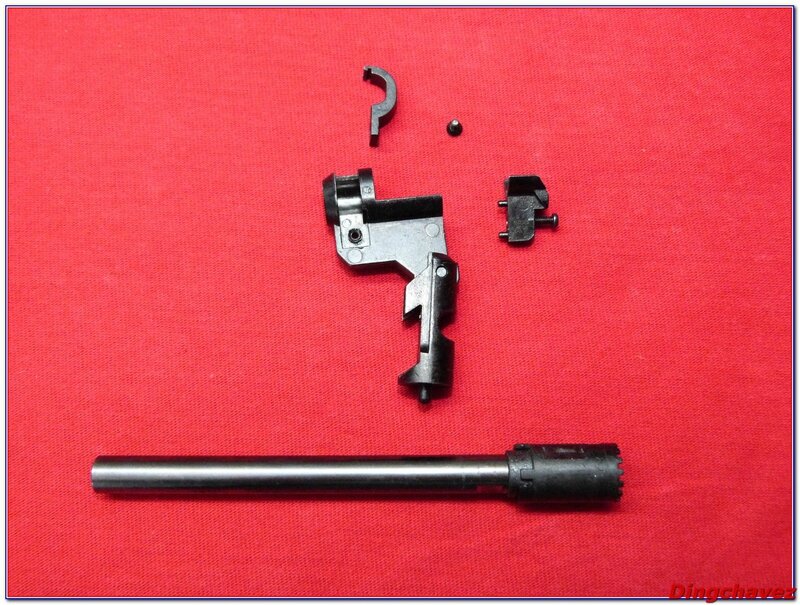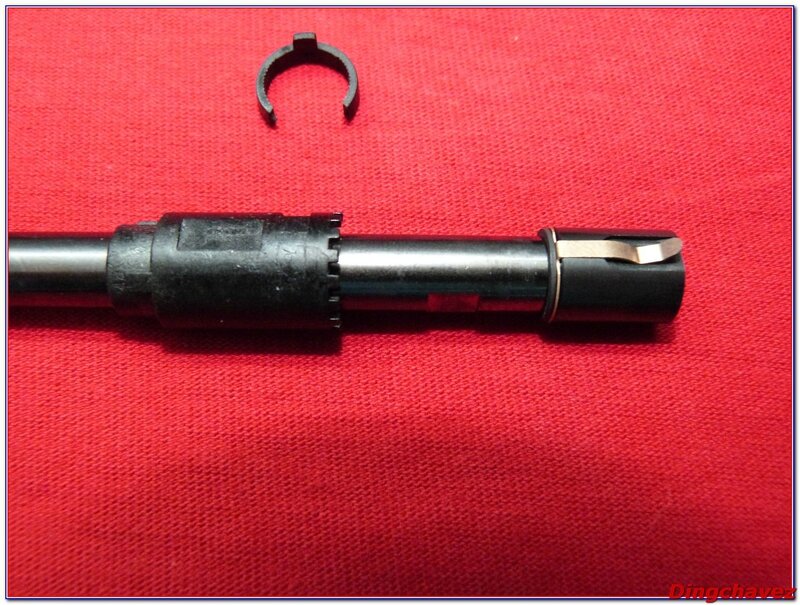 Le canon de 105mm est de très bonne facture. Son diamètre, mesuré au micromètre intérieur, est de 6.06mm.
A 105mm inner barrel. It looks nice.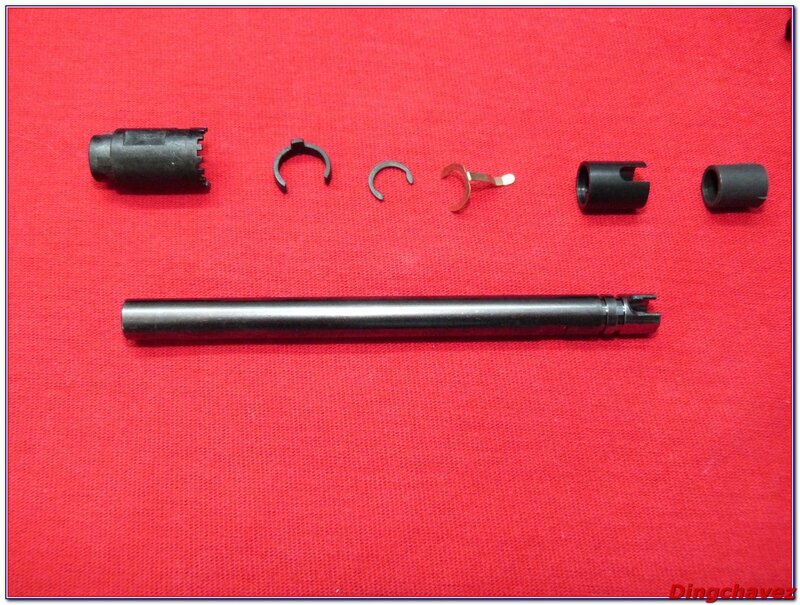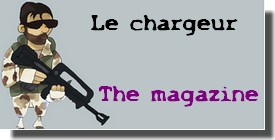 Le chargeur gaz peut contenir 27 billes, mais pour ne rien casser, il est conseillé de n'en mettre que 26.
Attention, le ressort est assez dur à bloquer en position basse lorsqu'on recharge.
The gas magazine can hold up to 27BBs but I'd advise you to put only 26.
Be careful, the spring is quite tough to block in its lower position.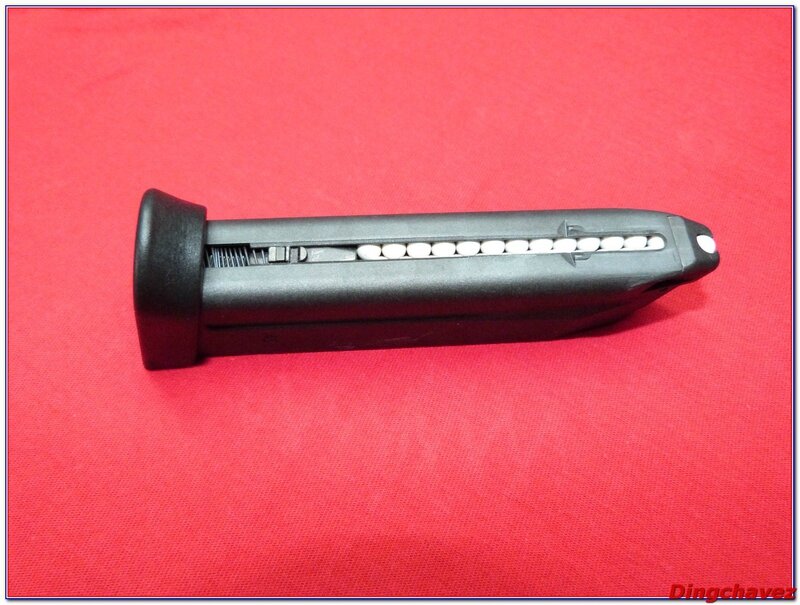 Bien entendu il dispose des marquages adéquats.
And of courses there are markings.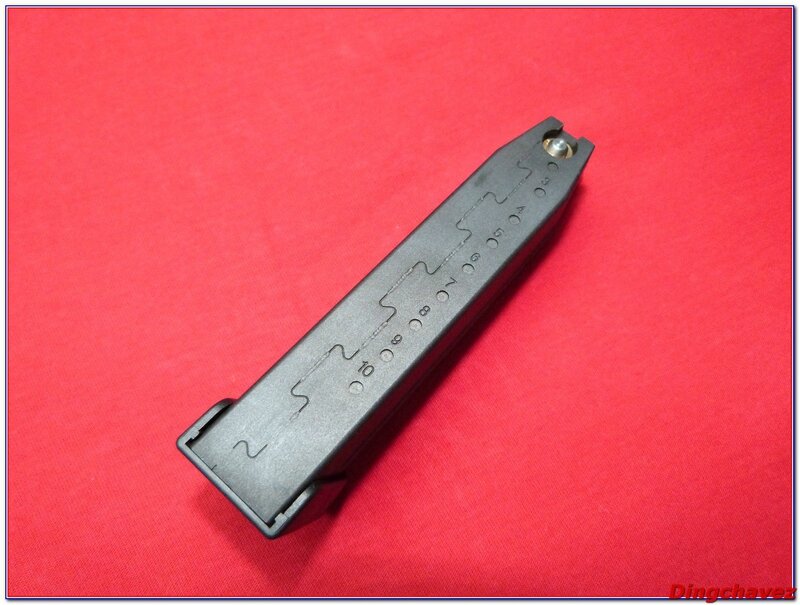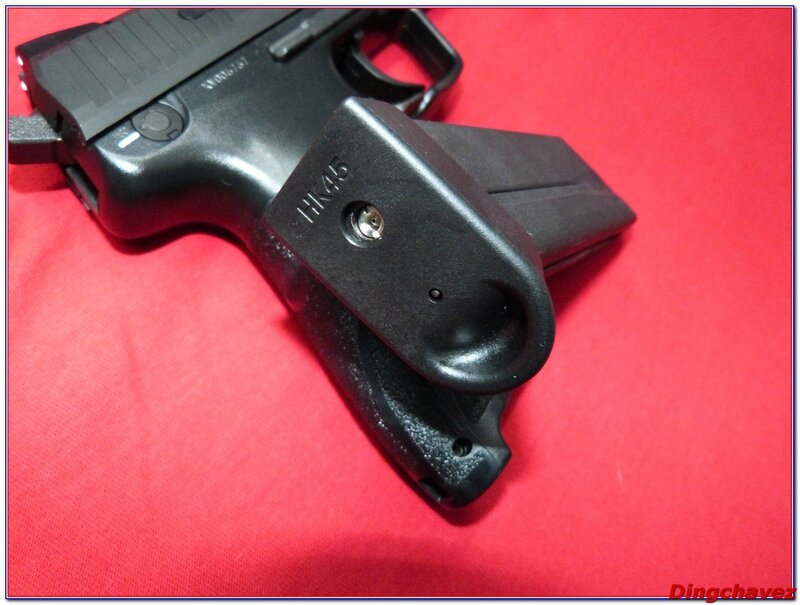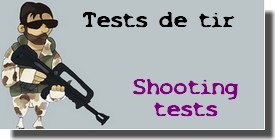 Les tests de tir ont été effectués avec des billes 0.2g Xtreme précision Bio et du gaz Ultrair, par une température de 25.5°C
Les mesures de vélocité ont été prises avec un chrony Xcortech X3200.
La moyenne de vélocité sur 5 billes est de 313 fps, c'est correct pour une réplique de poing, surtout vu la température extérieure lors des tests.
Les trajectoires sont droites et régulières, le kick semble un peu moins prononcé que sur le modèle Marui mais cela reste raisonnable.
La visée se fait naturellement et comme je vous le rabâche depuis un moment, la prise en mains est excellente.
Le groupement est honorable et j'ai pu toucher une cible de taille humaine à 35 mètres (limites balisées de mon jardin).
Je vous laisse prendre connaissance de mes tests (toujours en tir debout, deux mains, en situation de jeu).
The shooting tests have been made standing up, shooting with two hands and in « game » condition.
I used 0.2g Xtreme precision bio BBs and Ultrair gas. Temperature was 25.5°C
Velocity measures have been collected with Xcortech3200 chrono.
The average velocity after 5 BBs is 313FPS, that's nice for a handgun. Keep in mind that the temperature was quite high.
Trajectories are straight and consistent. Kick seems to be a bit lower than on the Marui one but still, this is nice.
As I've already said it, handling is awesome, aiming comes naturally.
Grouping is good, I could hit a target up to 35 metres.
Let's discover the shooting video.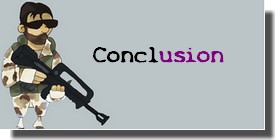 Et bien, KSC prouve une fois encore que ses produits sont de bonne facture avec ce HK45 Heavy Weight distribué par Umarex.
Excellente finition et bonnes performances sont les atouts de la réplique, et sa puissance modérée en fait un backup de choix qui pourra également vous sauver les miches jusqu'à une bonne trentaine de mètres en cas de défaillance de votre réplique principale.
Mon gros souci va être de déterminer quelle réplique passera à la vente, KSC ou Marui ? Le choix est très difficile…
Well, KSC proves one more time that they offer good products with this HK45 Heavy Weight under Umarex license.
Excellent finish and good performances are nice assets, and its moderate power is perfect for a backup gun. It will also save you butt up to 30 metres if your main gun breaks in game.
My dilemma will be to sell one of these guns; Marui or KSC ? The choice will be really difficult !
-Puissance correcte/adapted power
-Finition/finish
-Marquages/markings
-Performances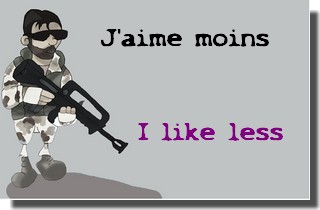 -Corps un peu brillant à mon goût./frame a bit glossy
-Un peu plus cher que le Marui./a bit more expensive than Marui
-Pas de levier de sûreté ambidextre./no ambidextrous safety
Voici l'éclaté de la réplique et du chargeur.
Here are the part lists.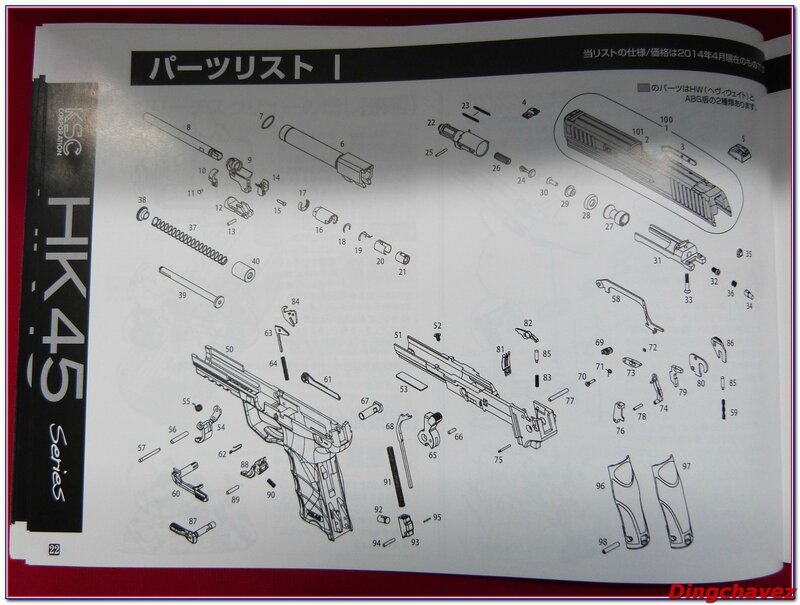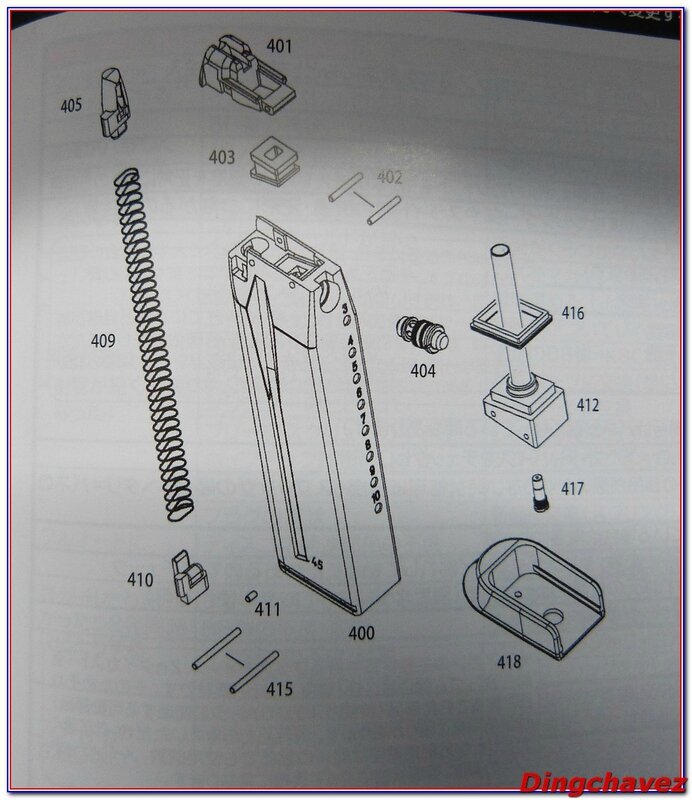 Ainsi qu'un historique des modèles HK, mais en japonais…
As well as a history of HK pistols, but everything is in Japanese !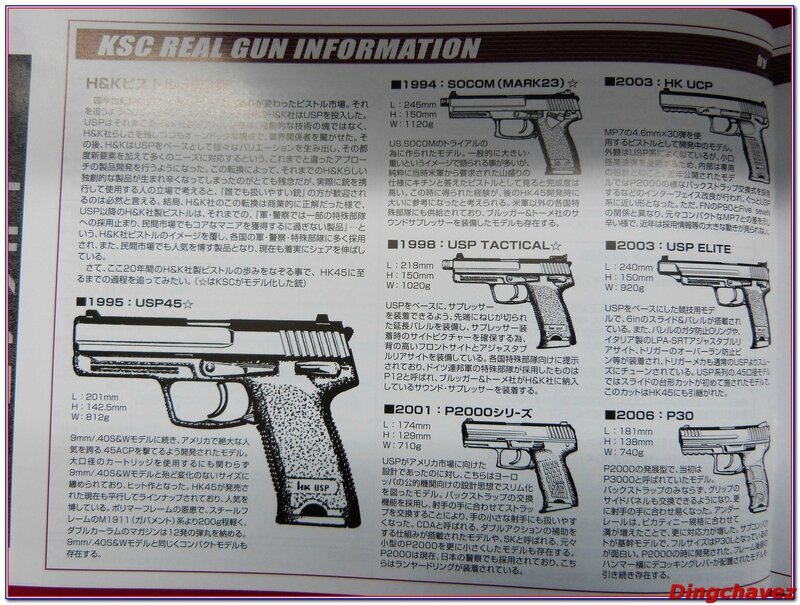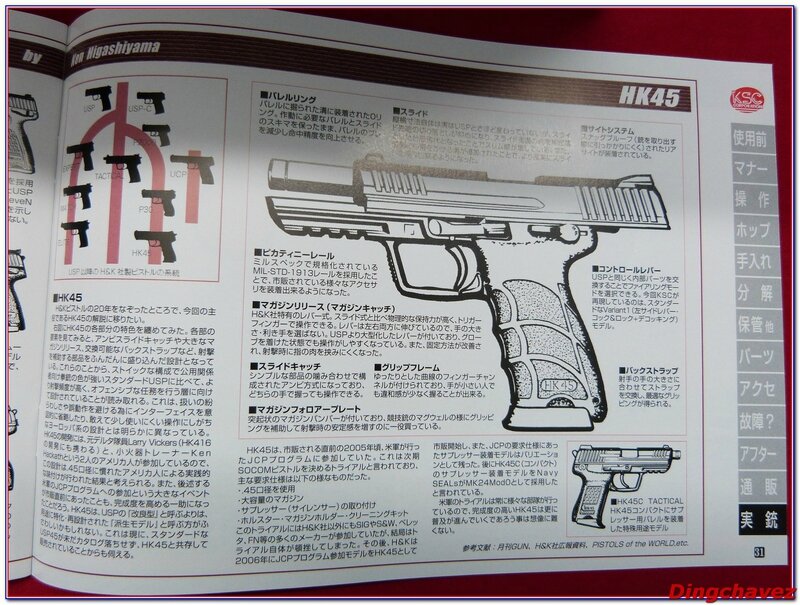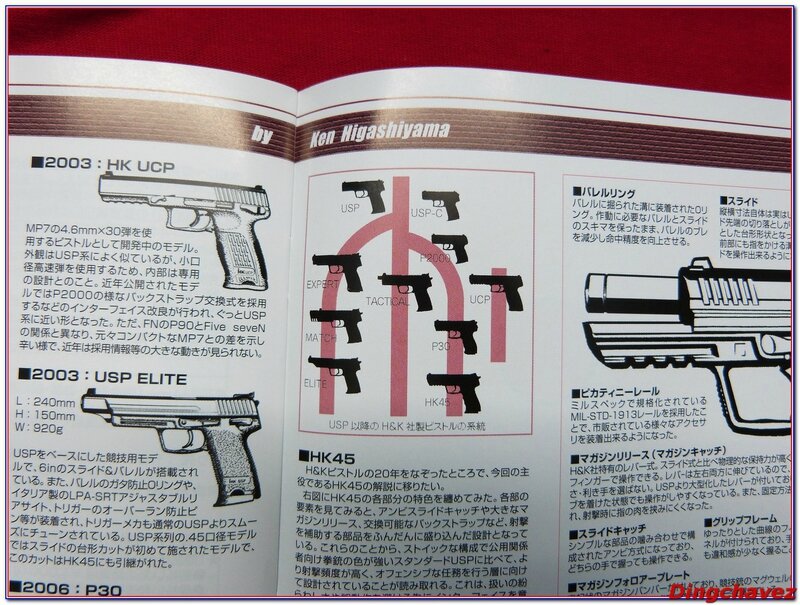 En prime, la vidéo de Khan Seb concernant le modèle « normal » sorti précédemment.
Bonus, Khan Seb's video about the « old » HK45
Comparatif KSC/Tokyo Marui/comparison :
Comme on dit, une image vaut mieux que 1000 mots !
 A picture says more than 1,000 words !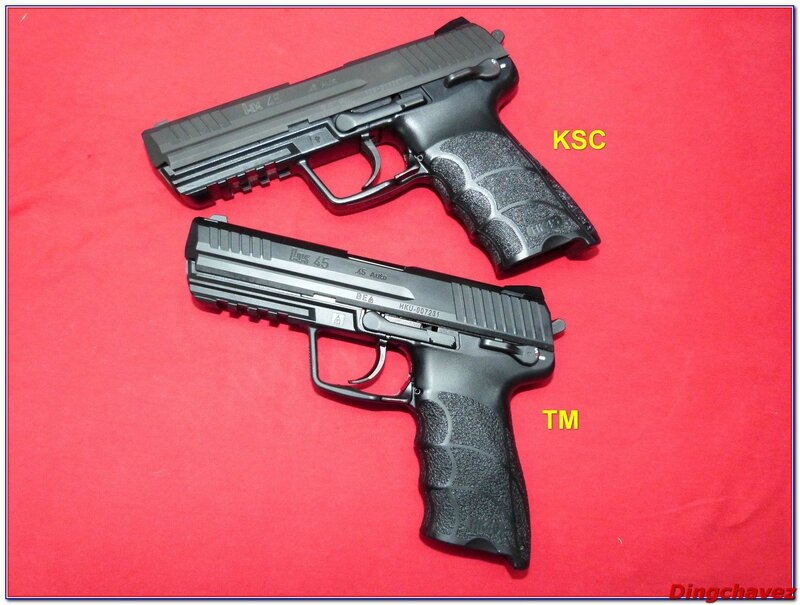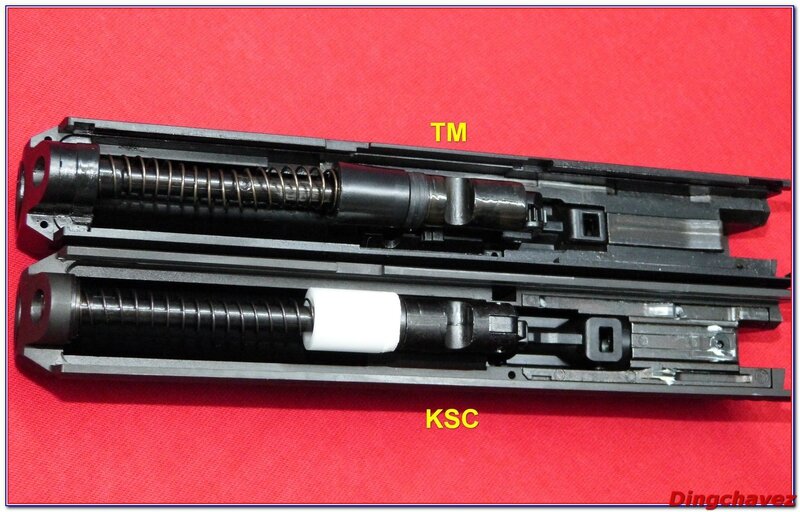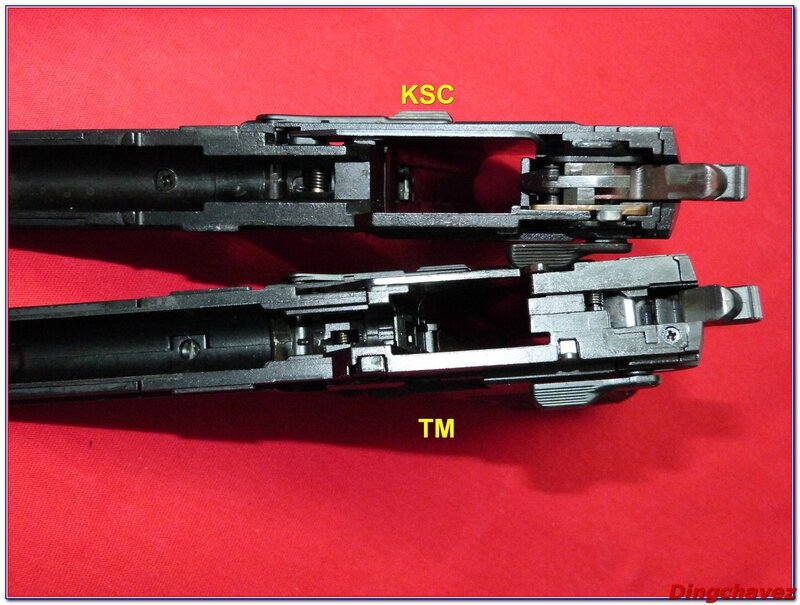 Les inscriptions sont plus marquées sur le modèle Marui mais KSC a mis les marquages RS.
The markings are deeper engraved on Marui gun but KSC put full markings.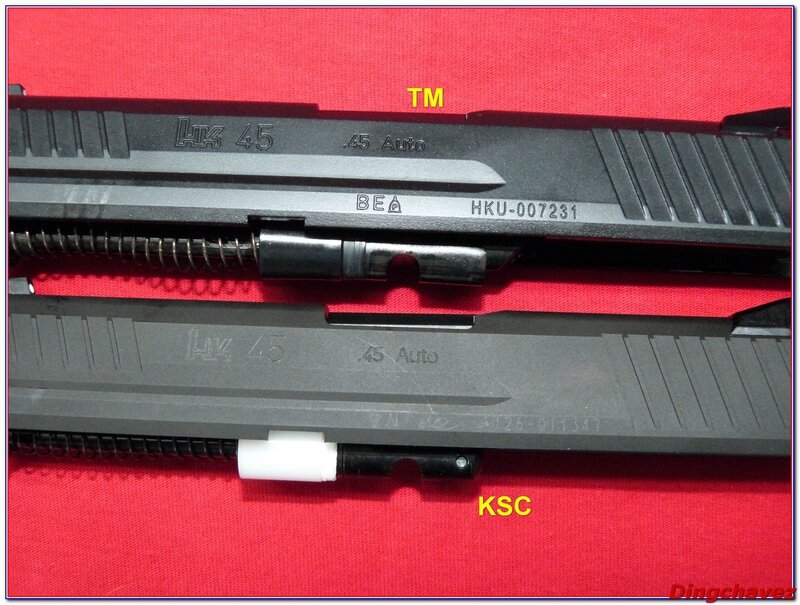 L'extracteur KSC est mieux rendu.
KSC extractor is better looking.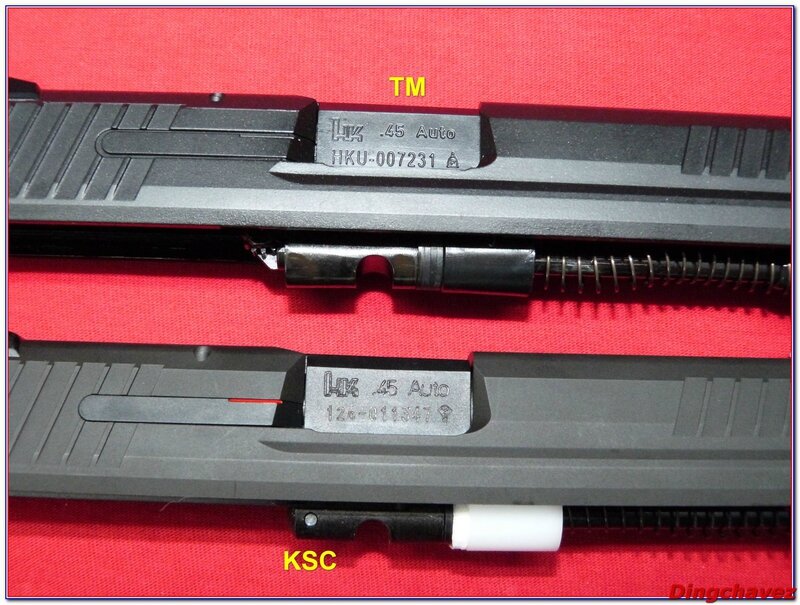 Marquages RS également sur le corps KSC.
KFC frame has real markings.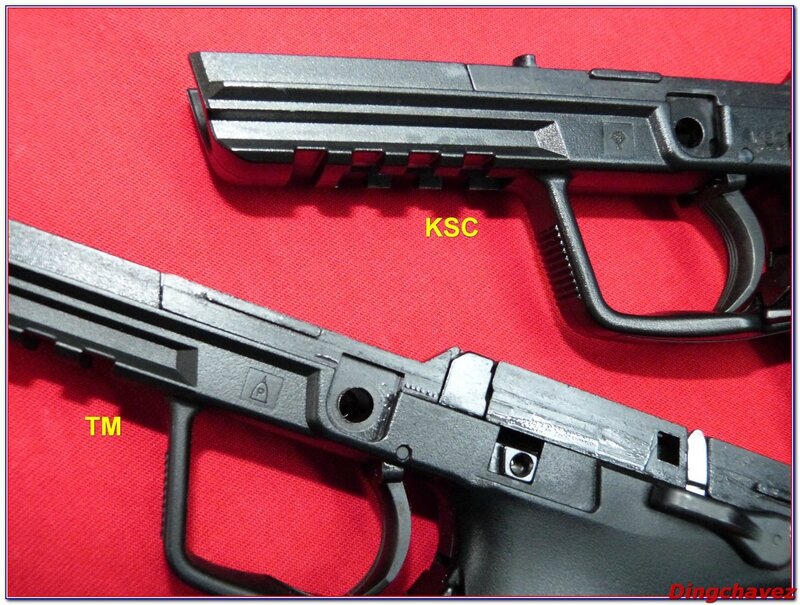 Notez la différence de texture des crosses.
Notice the different textures.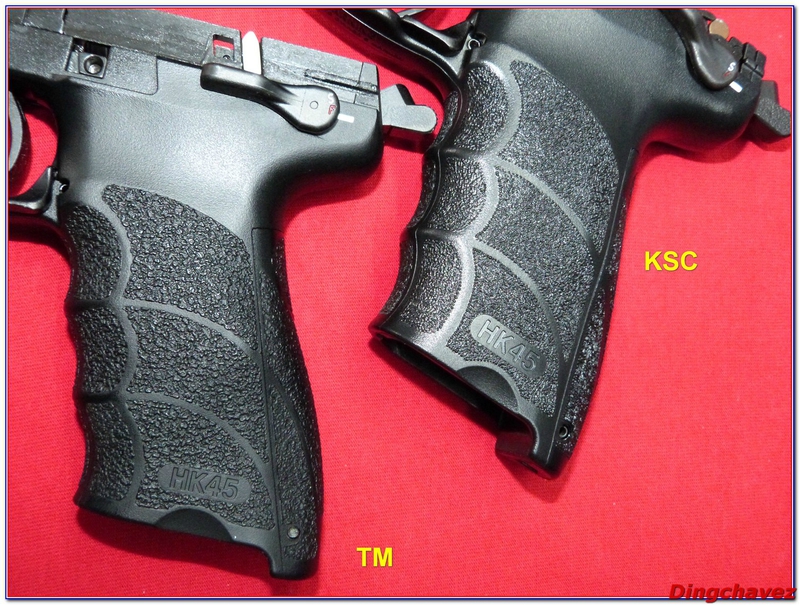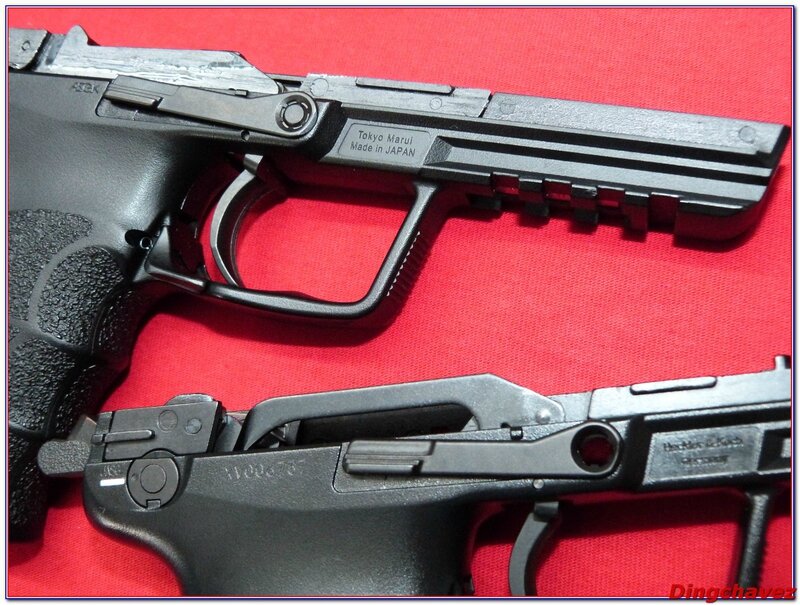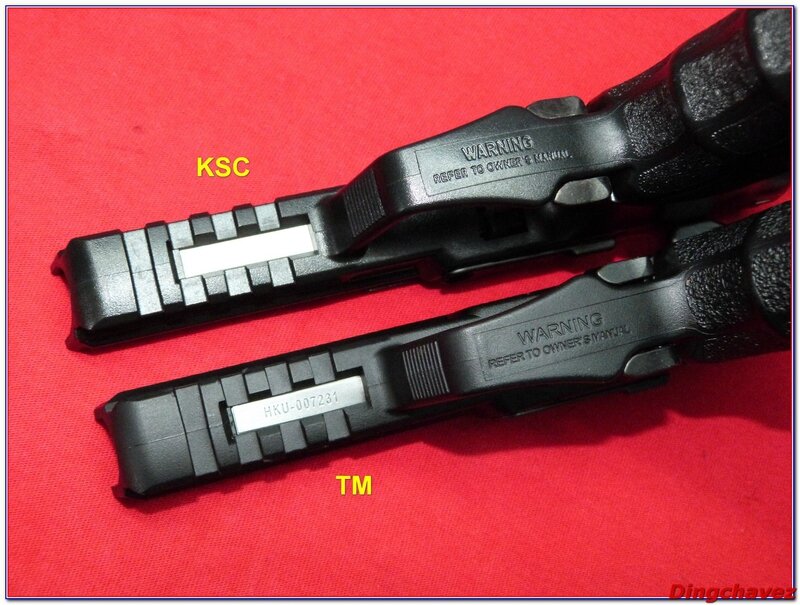 Les chargeurs ne sont bien entendu pas compatibles entre eux.
The magazines are not compatible.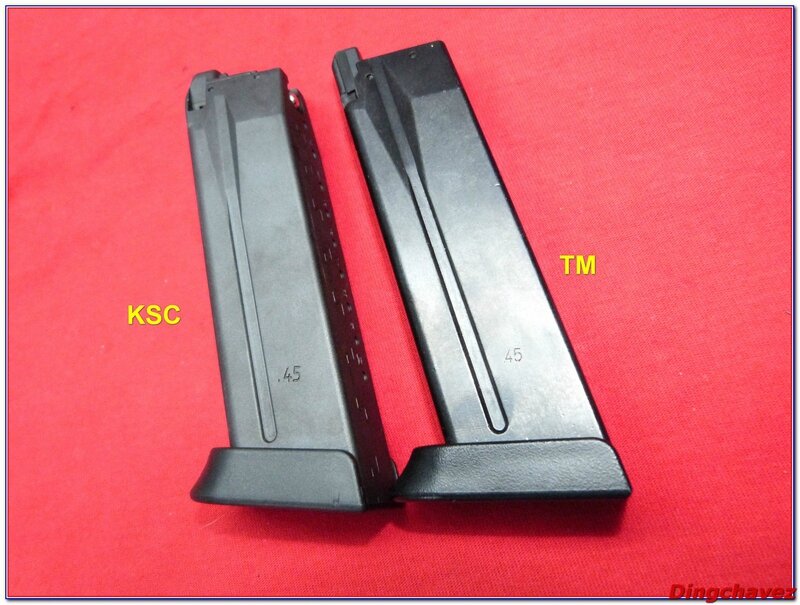 On peut voir que le KSC est un peu plus imposant.
KFC's is bigger.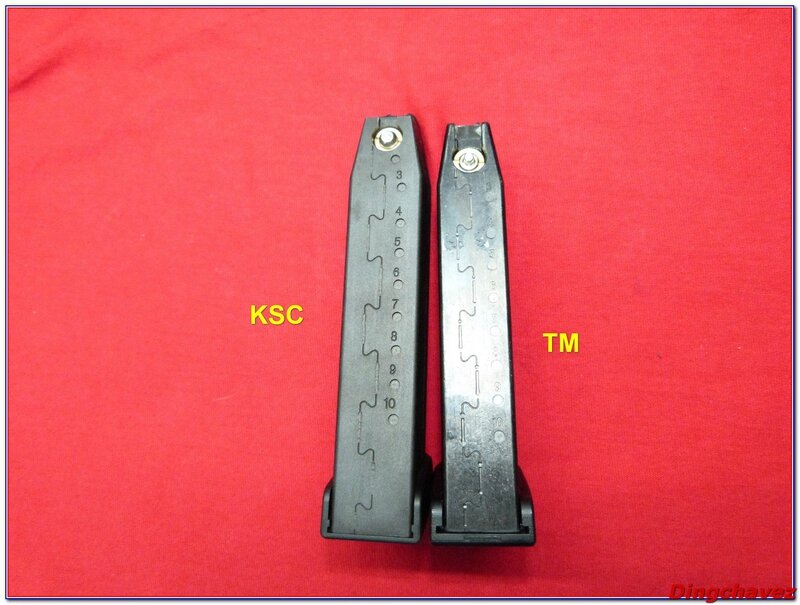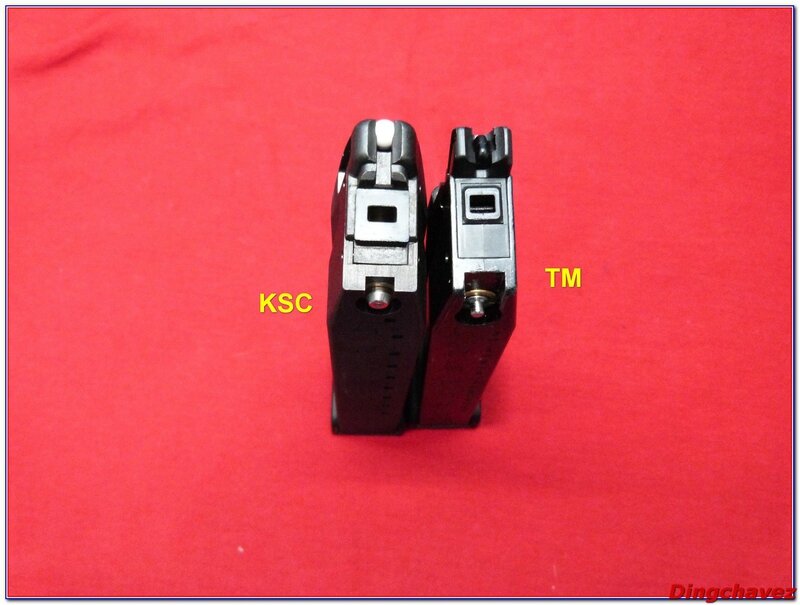 Les deux chargeurs emportent 26 billes.
Both mags can hol up to 26BBs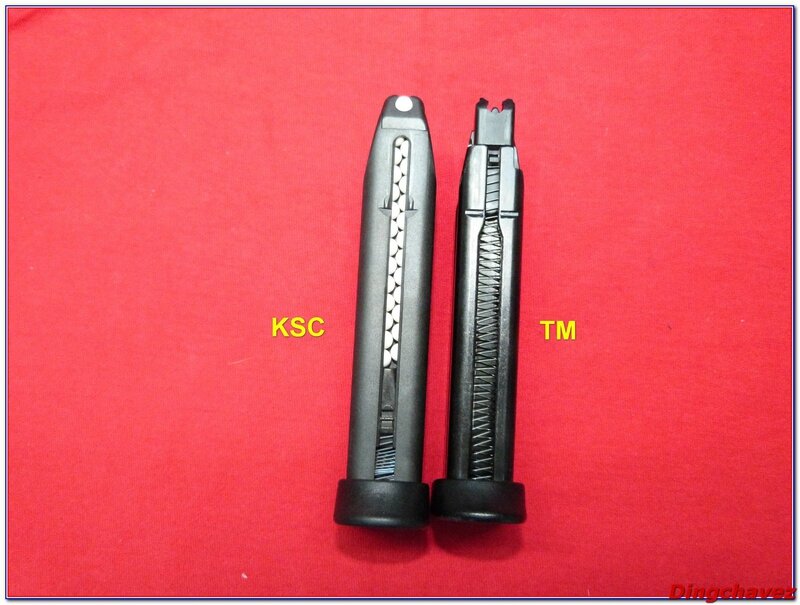 Posté le 14 juin 2014 par Dingchavez