Review BO Dynamics Combat LT595 Polymer et BO Shield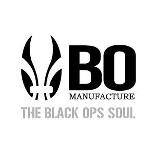 22 juillet 2014 avec Edit le 13 avril 2015.
AS as used to do on my reviews before seing that nobody gave a damn about it, purple writing is for English speaking people and noir pour les francophones ! Vous pouvez cliquer sur le texte souligné pour avoir accès aux liens et sur les photos pour les voir en grande taille. You can click on the underlined text to have access to the links and on the pictures to see them full sized.
Parfois le hasard fait plutôt pas mal les choses. Alors que j'attendais impatiemment la dernière née des ateliers KSC, bloquée en Douanes, Johann de la boutique Airshop37 a bien voulu me faire passer une réplique par l'intermédiaire de Djé.
Du coup, mes acolytes du jour et moi-même avons pu découvrir cette réplique estampillée BO Dynamics, et nous sommes d'accord que l'entreprise française basée à Bordeaux offre avec cette Combat LT595 en polymères (fibre de nylon) dont le corps est garantie à vie (en usage normal hein, n'allez pas escalader des murs avec…) une alternative intéressante dans la tranche de prix 250-270€.
Aller hop, on se jette sur cette review complete de La Combat LT595 nylon fiber de BO Manufacture !
Et j'ai ajouté des infos concernant le modèle court, le BO Shield. Merci à BO Manufacture pour la réplique.
Sometimes things happen by accident. As I was waiting for the latest product from KSC, detained in a dull customs office since July 1st,  Djé provided me with a BB gun from Johann from Airshop37 shop.
And you can now see the BO Shield, nicely provided by the company, thanks to them.
So my fellow friends and myself could discover this new BO Dynamics replica : the Combat LT595 nylon Fiber.
Let's have a look at it !
Et voici la vidéo du Shield
And here the video of the shield
Je vous laisse découvrir également le nouveau Shield-K que nous présente Razorback: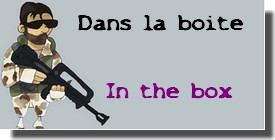 Une boite en carton assez sobre ornée d'un autocollant présentant les différents modèles de la gamme, voila ce que l'on peut voir de prime abord.
A classy black cardboard box with a sticker, that's what you have at first sight.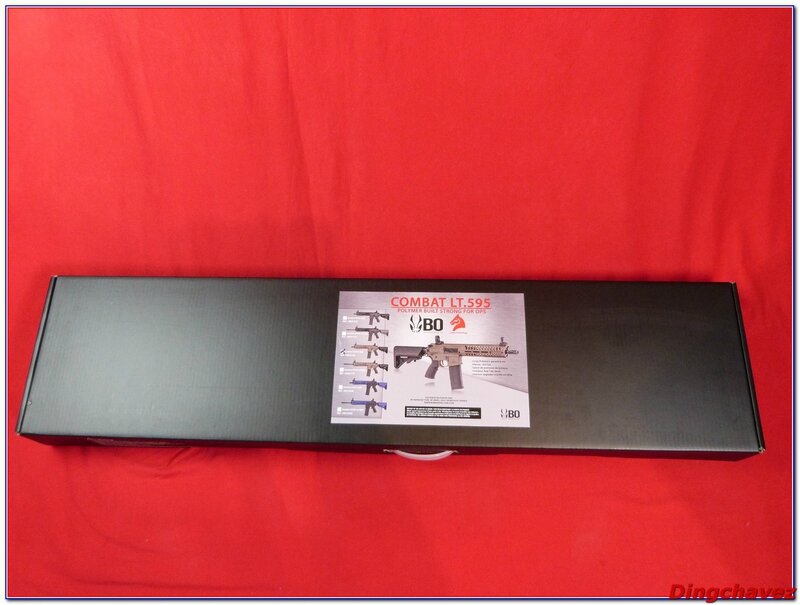 6 versions sont disponibles, nous avons le modèle « QCB » en version black&tan.
6 different types are available. We get the CQB tan&black version.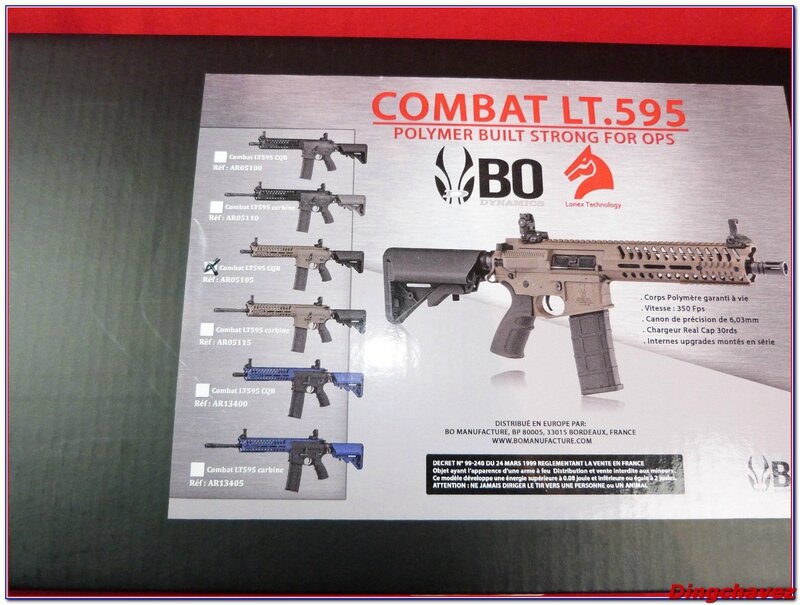 Deux versions pour le Shield, noir et tan ou noir
Two variants for the Shield, tan&black or black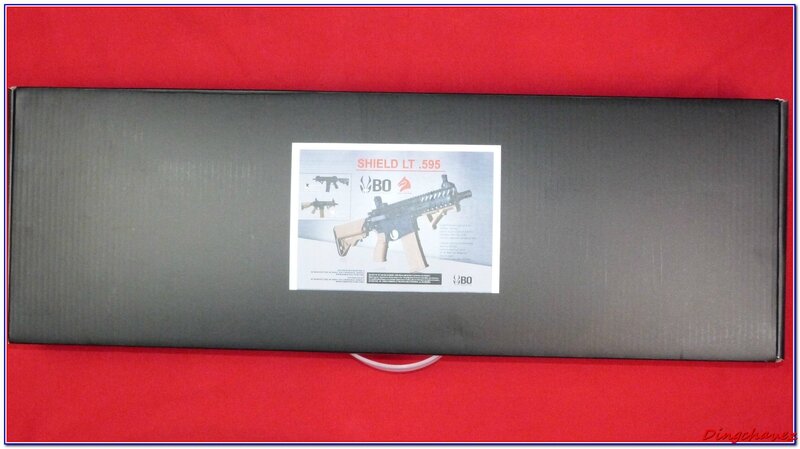 A l'intérieur la réplique est calée dans un plastique transparent thermoformé.
Inside the box, the gun is embedded in thermoformed plastic.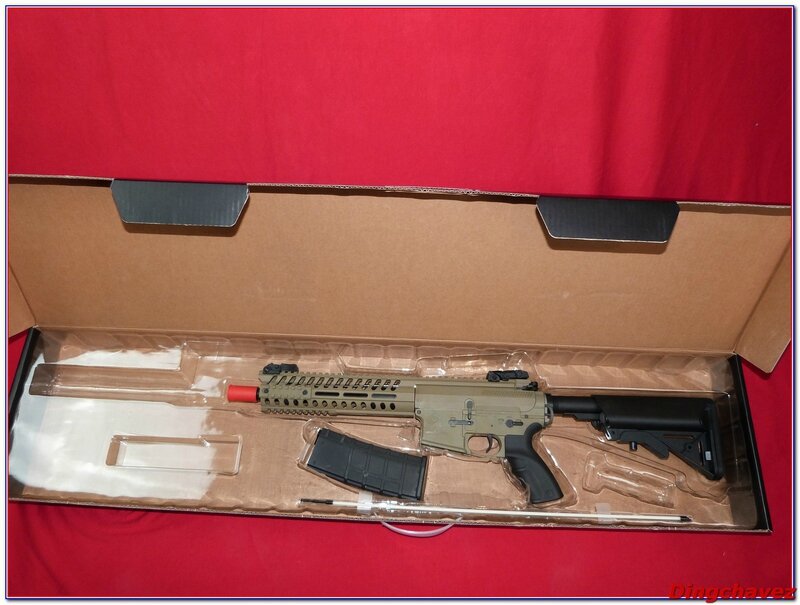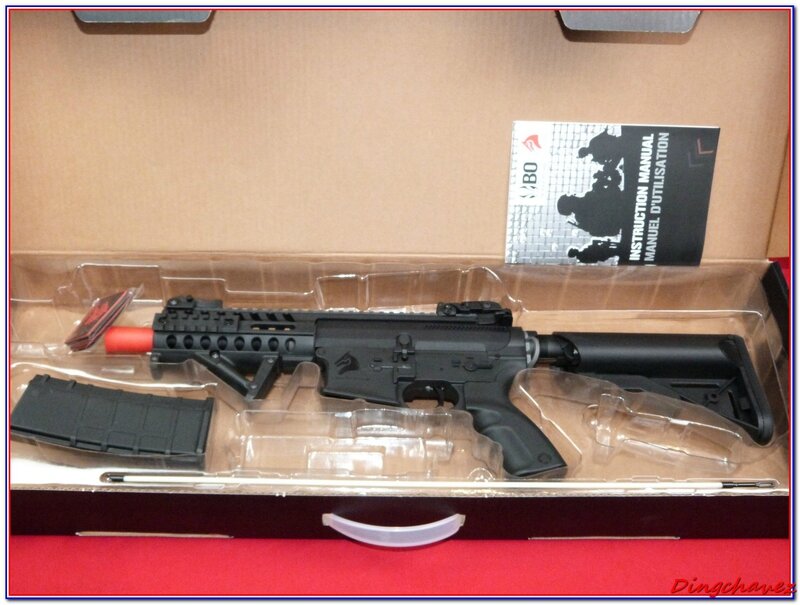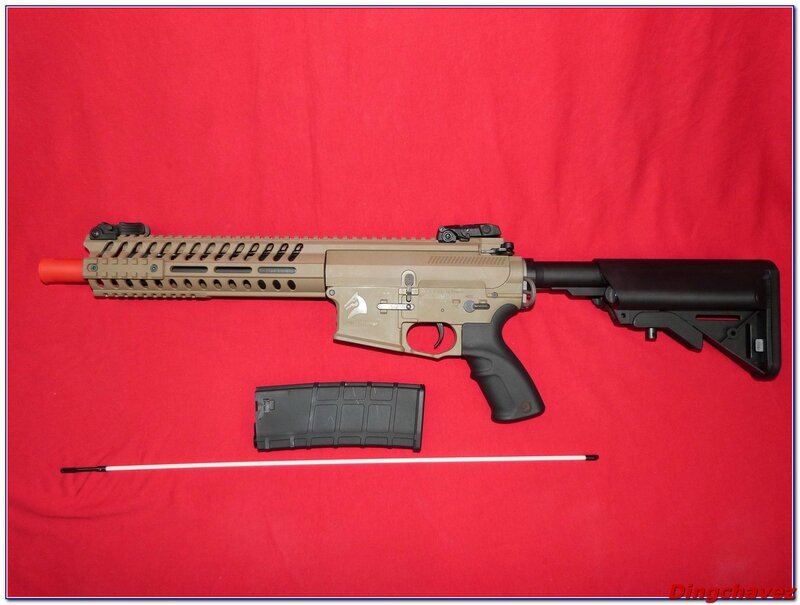 Pas grand-chose dans la boite :
-La réplique, en polymères, alliage et acier, elle pèse 2.8Kg – 2.27 kg pour le Shield
-Un chargeur real cap de 30 billes
-Une tige de nettoyage
-Un manuel en anglais-français
Not much in the box :
-The replica, made of polymer, metal alloy and steel, it weighs 2.8 kg – 2.27 kg for the Shield

-A real cap 30 roud magazine
-A cleaning rod
-A French-English manual
Dans la boite du Shield on trouve deux patches 3D en caoutchouc.
In the box of the Shield are 2 3D-patches.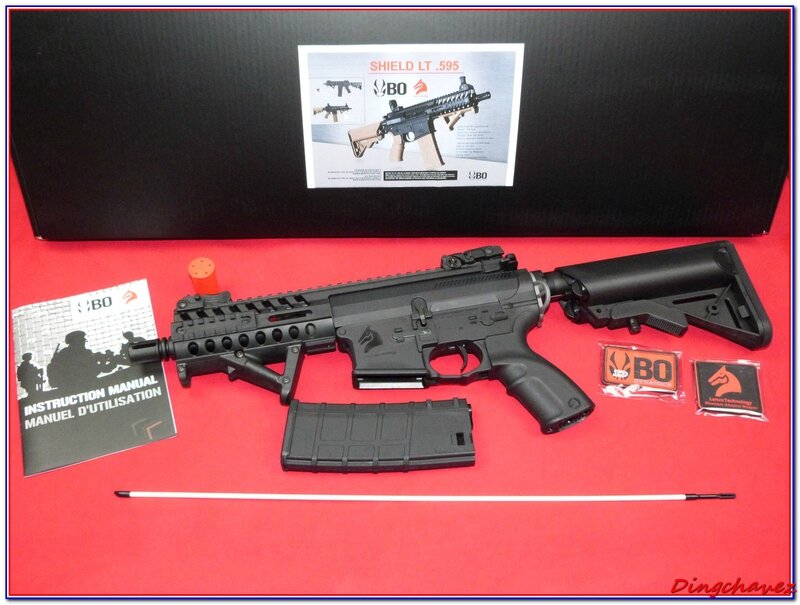 Votre oeil aguerri l'aura déjà remarqué, on a à faire à une base de M-4. De ce fait, la maniabilité et la manipulation des contrôles est tout à fait satisfaisante.
Your veteran eye will notice that this LT595 is built on an M-4 basis. Thus, handling is good.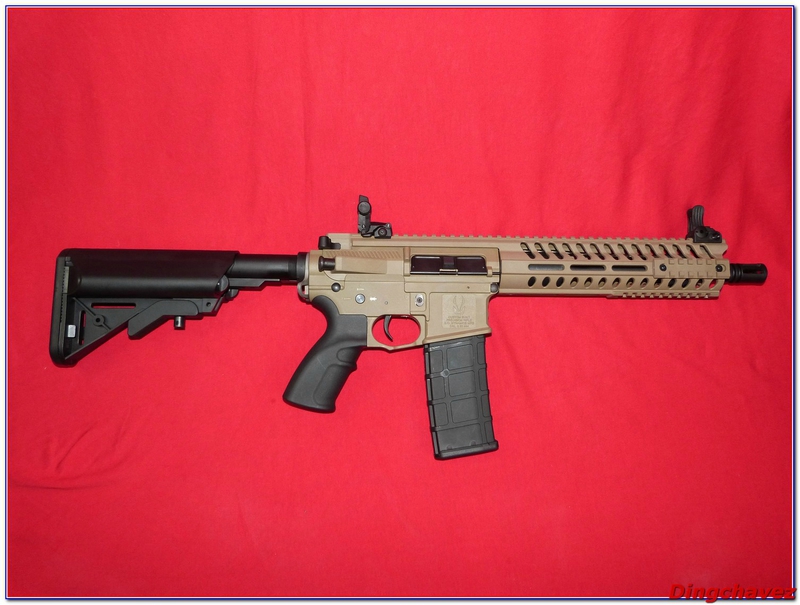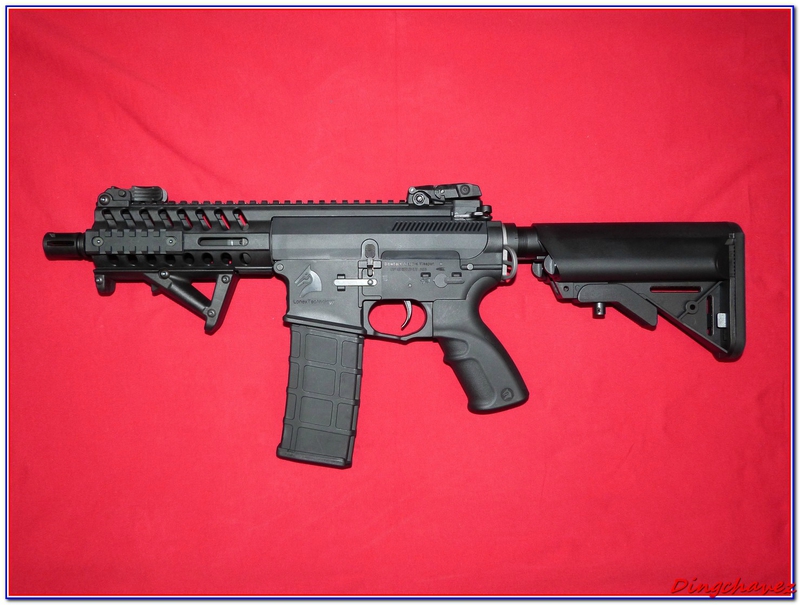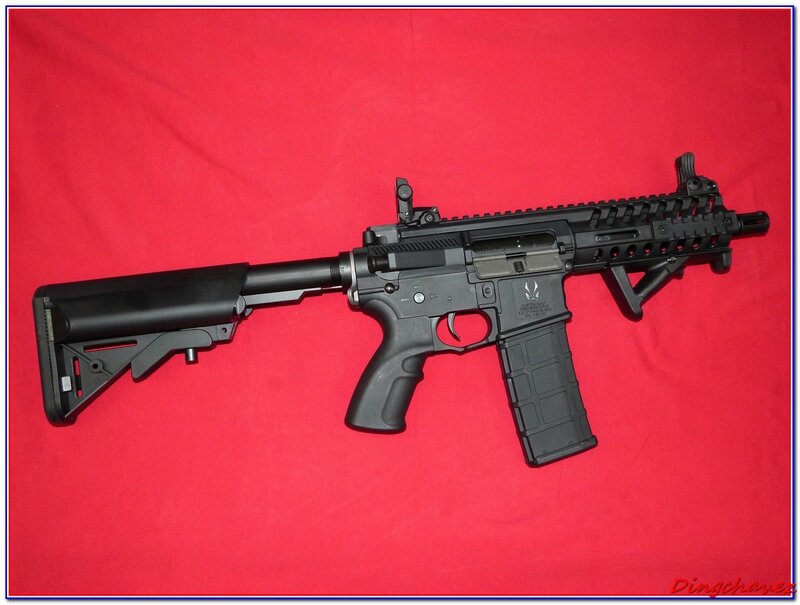 La partie supérieure du corps est striée. Les arrêtoirs sont en acier et le sélecteur en alliage.
The upper receiver is ridged, the catches are made of steel and the fire selector is made of alloy.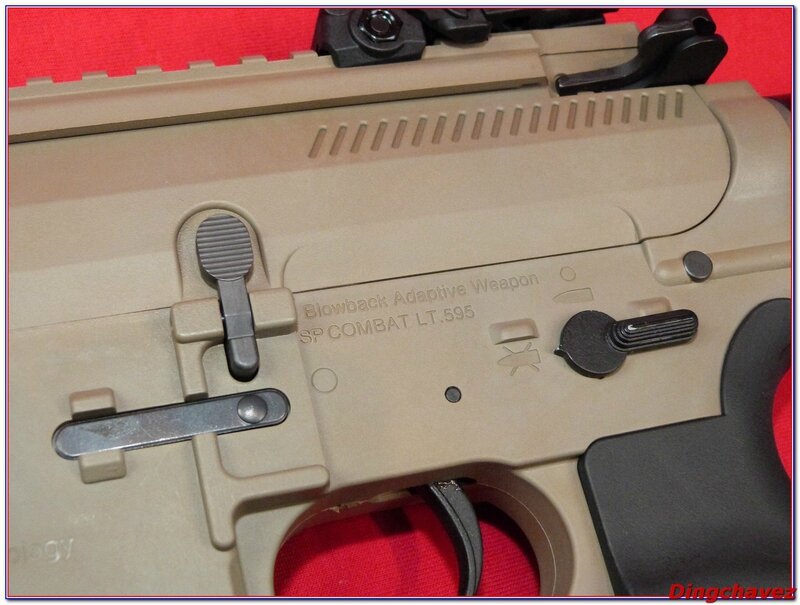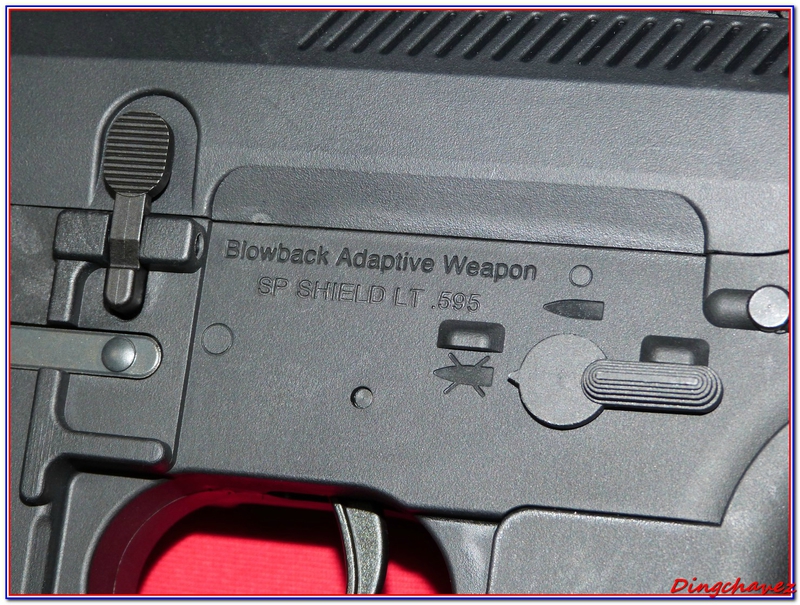 Côté gauche on peut voir le cheval Lonex (enfin, j'espère que c'est un cheval !). BO assume complètement son partenariat.
On the left side we can see the Lonex horse (well, I hope it is a horse !). The BO-Lonex partnership is now « official ».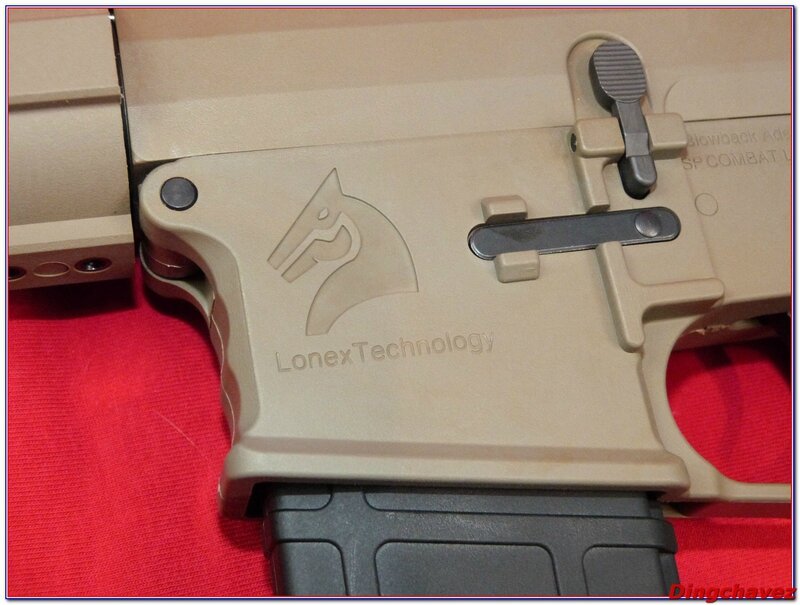 Côté droit le logo BO Manufacture accompagné du calibre des billes de la marque.
On the right side, BO Manufacture logo and their BB caliber.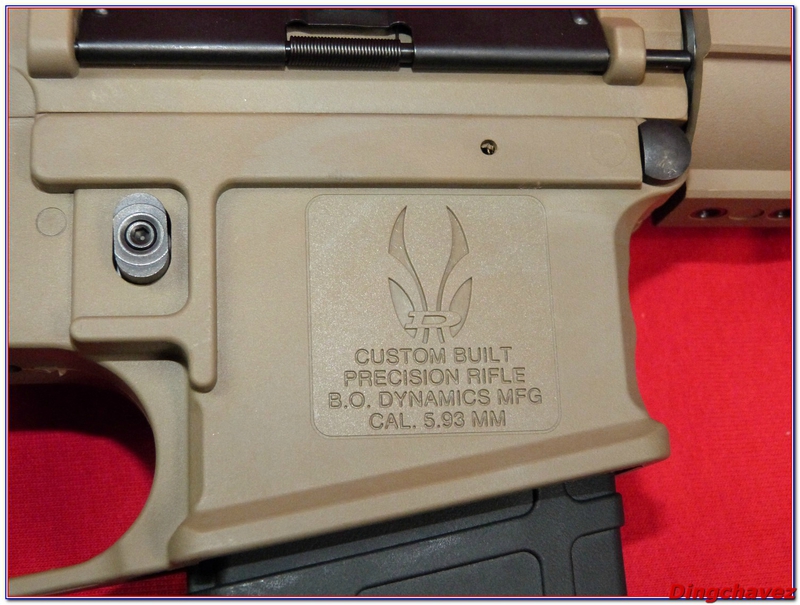 Le bouton d'assistance de la culasse n'est pas fonctionnel. Il est en acier. On peut remarquer que le sélecteur de tir n'est pas ambidextre. Il n'y a aucun repère permettant de savoir en quelle position de tir on se trouve.
The Forward bolt assist is made of steel. It is of no use. We can notice that the fire selector isn't ambidextrous. There's no way of knowing if you're in safe, semi or auto position.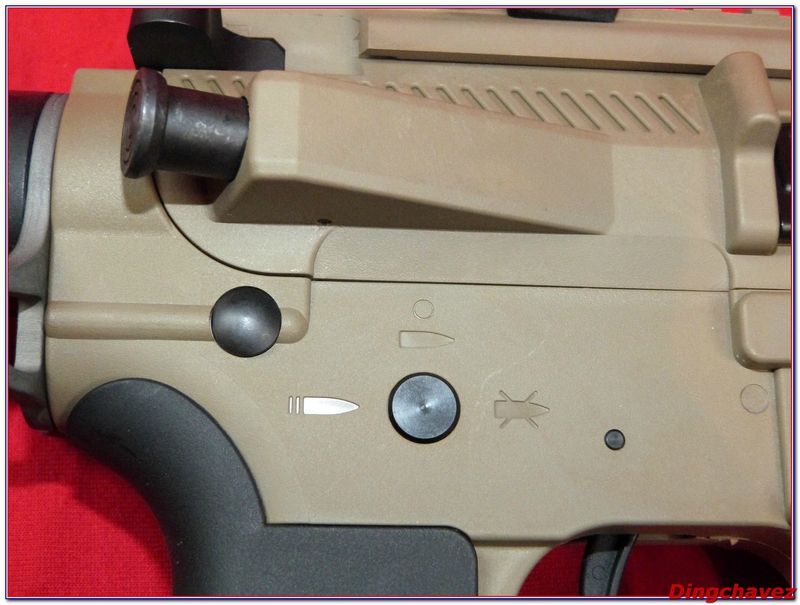 L'arrêtoir de culasse est fonctionnel, il faut d'ailleurs appuyer fortement sur celui-ci pour rabattre la fausse culasse. On a accès au réglage du hop up. La bague est suffisamment serrée pour ne pas bouger seule.
The bolt catch works and you'll have to push it hard to operate it. You can access the hop up setting. The wheel is hard enough not to move by itself.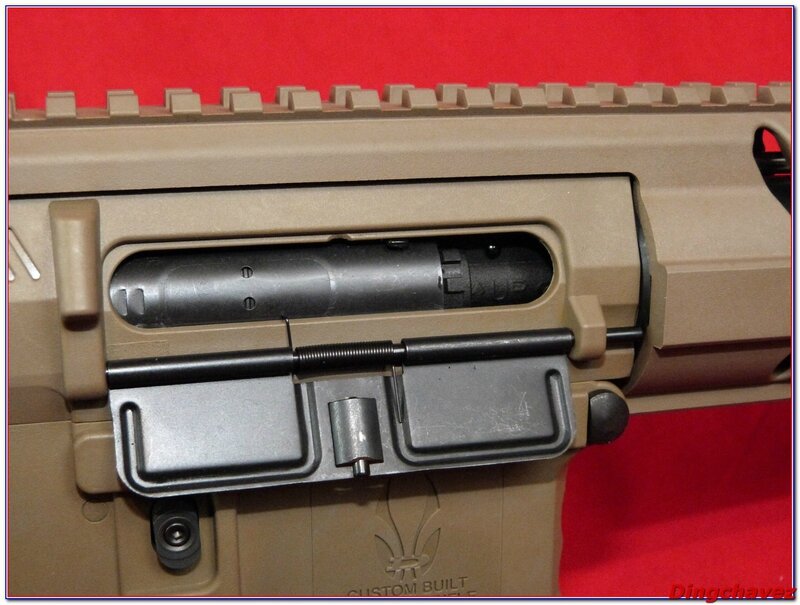 La poignée pistolet est très agréable. Ergonomique, elle permet de bien saisir la réplique, mais le bourelet à l'arrière nécessite d'avoir de grands pouces pour actionner le sélecteur.
The pistol grip is comfortable and ergonomic. The lump on the rear leads to some problems to operate the selector switch if you don't have long thumbs.
Le garde main possède un look assez intéressant. Si la partie supérieure possède un rail tout du long, la partie inférieure n'a qu'une demi longueur. Quant aux rails latéraux, ils sont amovibles mais on ne peut les déplacer, c'est dommage
The hand guard has an interesting design. Its upper part is railed. The lower part only has a rail on the front half.
The side rails can be removed but not moved on another place. Too bad…

Le Shield est livré avec une poignée type Magpul AFG.
The Shield has an AFG-type front grip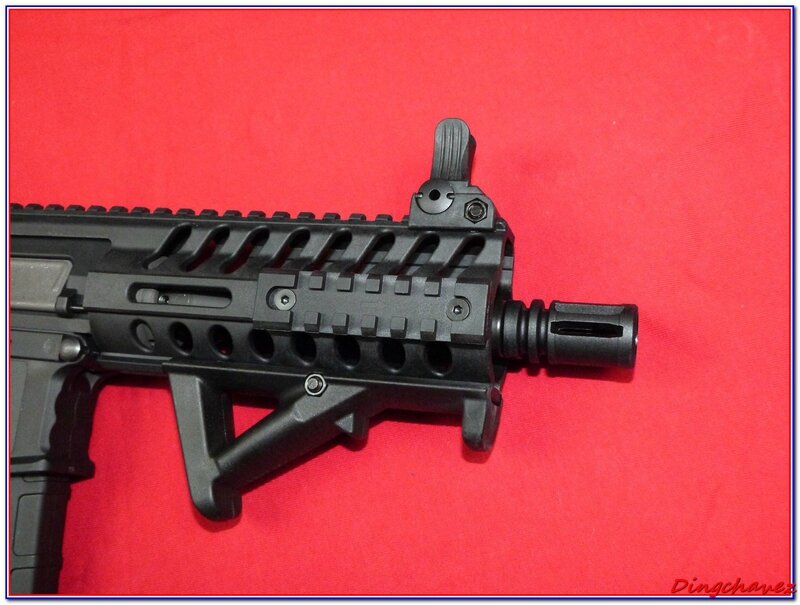 Étonnamment, le cache-flammes est en plastique. Cela n'est pas trop dérangeant étant donné que beaucoup de joueurs préfèrent adapter caches-flammes customisés et autres silencieux.
Amazingly, the flash-hider is made of plastic. It is not bothering, many players like to customize this part or add a sound suppressor.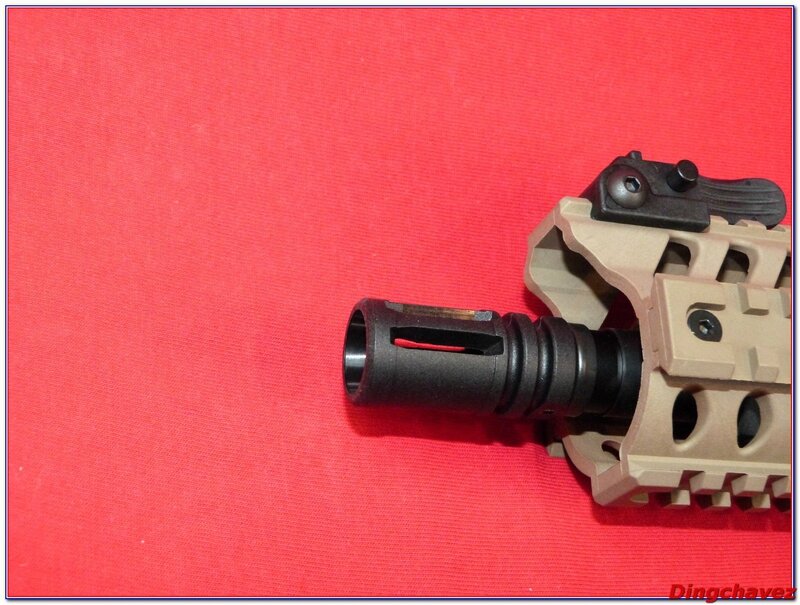 Attention lors du démontage, il y a une petite vis à desserrer préalablement.
Be careful when removing it, there's a small Allen screw.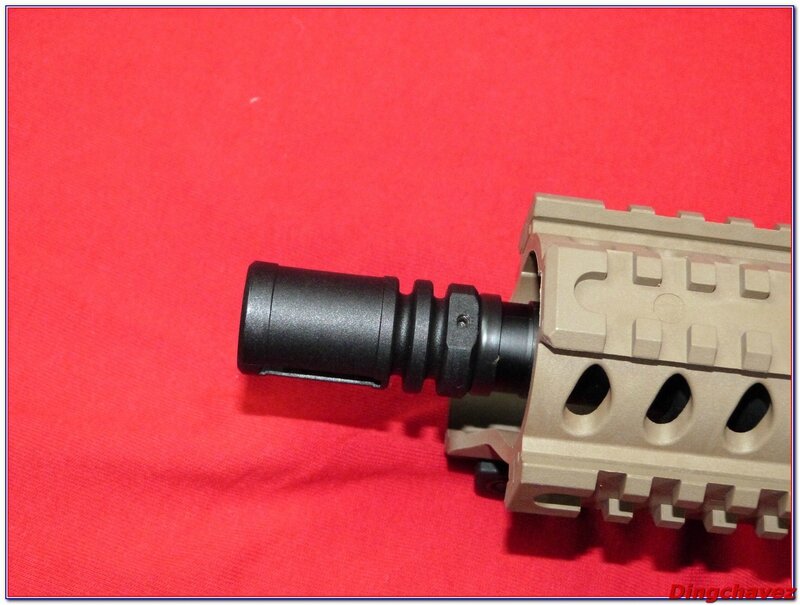 Notez le profil de l'avant du puits de chargeur, il permet d'agripper la réplique fermement en tout confort.
Notice the shape of the front of the mag well, it allows a firm and comfy grip.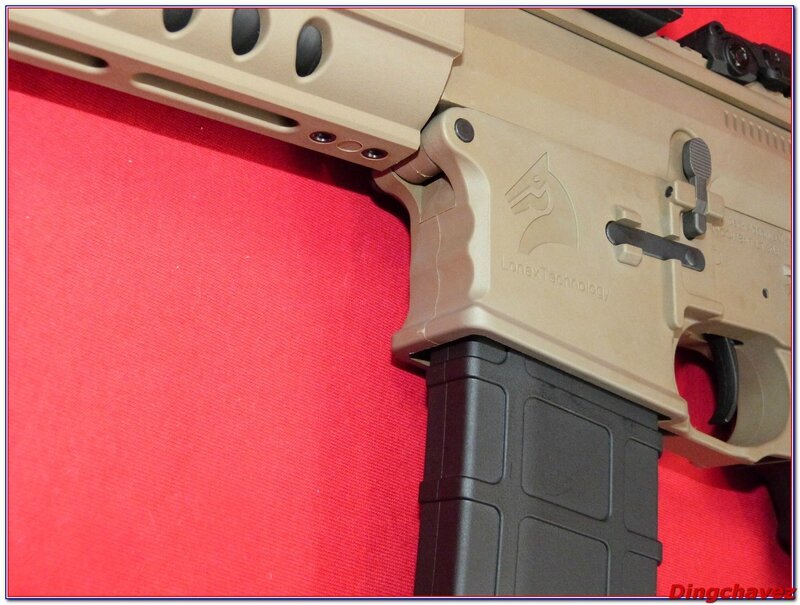 Si la finition de la réplique est quasi-parfaite, les points d'injection au niveau du pontet sont assez marquées. Un petit coup de lime sera le bienvenu.
If the finish of the gun is almost perfect, the two injection points around the trigger guard are quite big. You'll need to file them.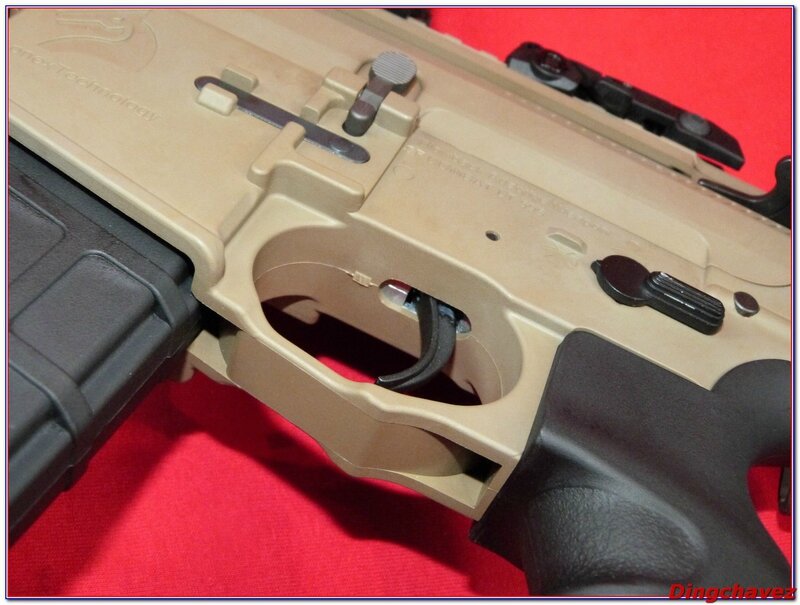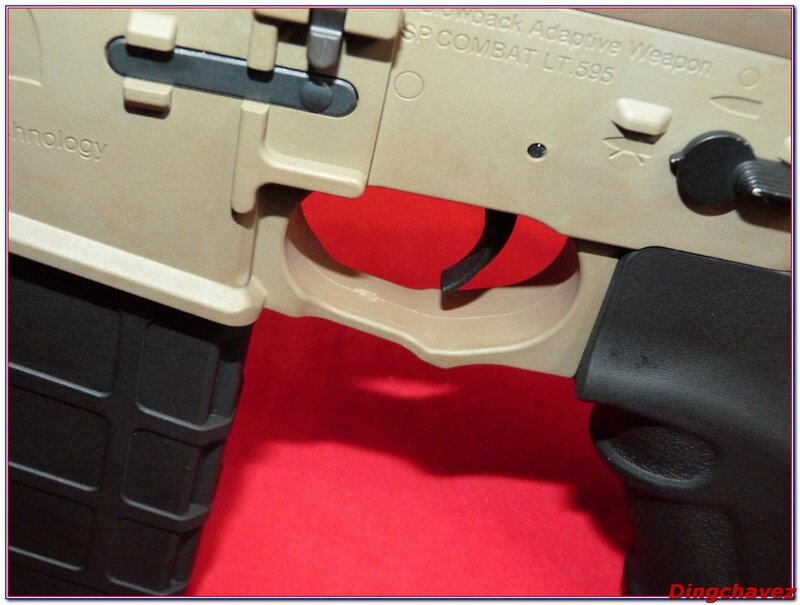 La crosse « crane » n'a quasiment pas de jeu. On peut la régler selon 6 positions.
The « crane » stock has almost no game. You can set it on 6 positions according to your size.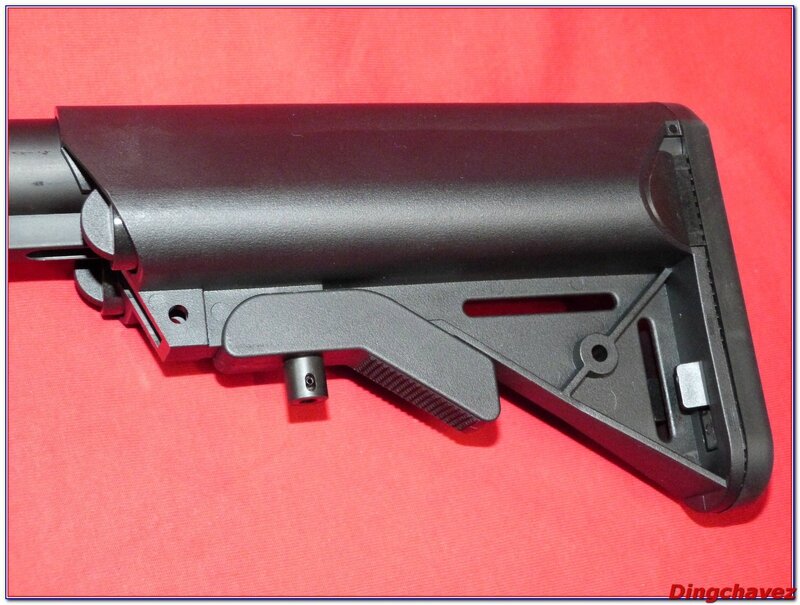 On peut y placer la batterie. La plaque de couche (autrement appelée « cul de crosse ») est bien fixée, il n'y a donc aucune raison qu'elle se perde en partie comme cela arrive parfois.
You can put the battery in it. The butt plate is well attached, no risk of losing it in game as it happens sometimes.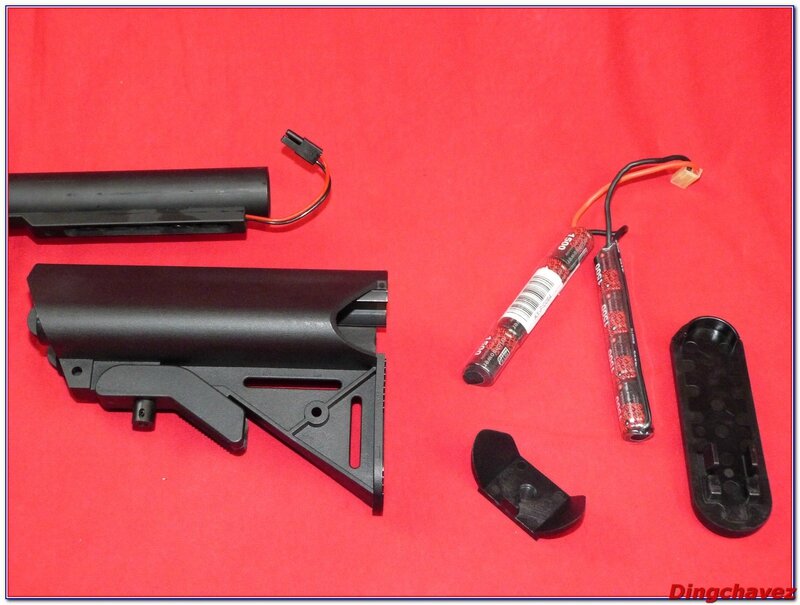 Le tube de crosse est vide, on peut donc y mettre un stick.
The buffer tube is empty, you can put a stick battery inside it.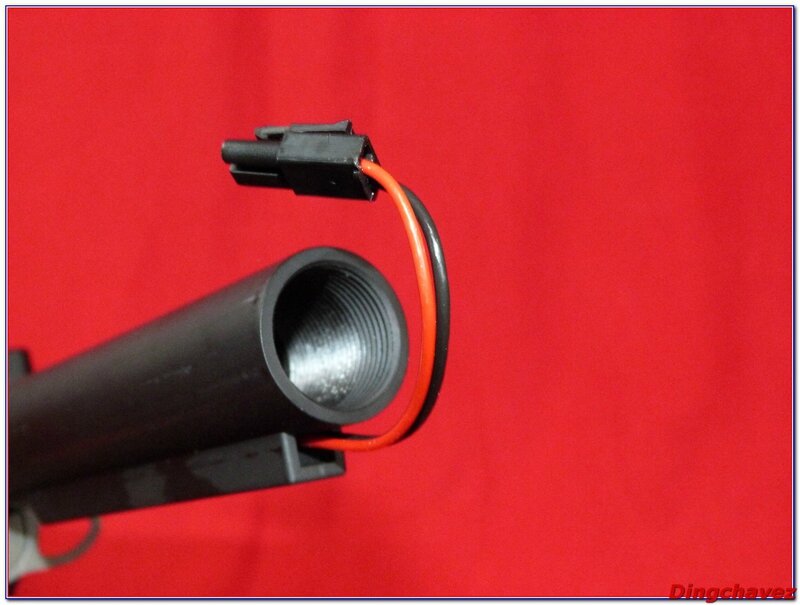 Il est intéressant de noter qu'un attache sangle est monté par défaut, il permet aux droitiers comme aux gauchers d'utiliser leur sangle préférée.
It is interesting to see that a sling ring is mounted on the gun, allowing right handed and left handed people to use their favorite sling !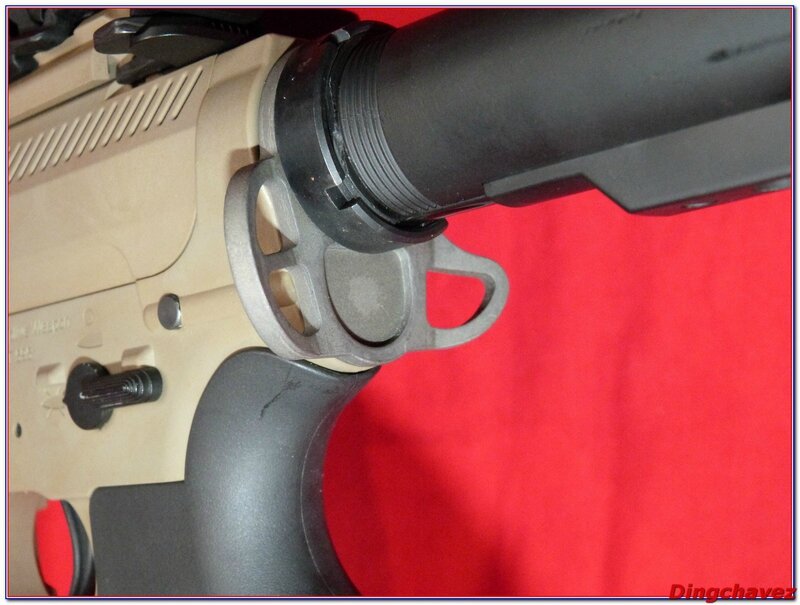 Les organes de visée sont en plastique. A l'arrière on a un oeilleton rabattable qui fait penser au MBUS de chez Magpul, mais il est marqué du logo Lonex. On peut le régler latéralement (j'ai un doute sur le fait qu'on puisse le régler en hauteur également).
Those are plastic sights. The rear sight looks like the MBUS from Magpul but it is marked with Lonex logo. It can be set in windage (I have a doubt if we can set it in elevation too).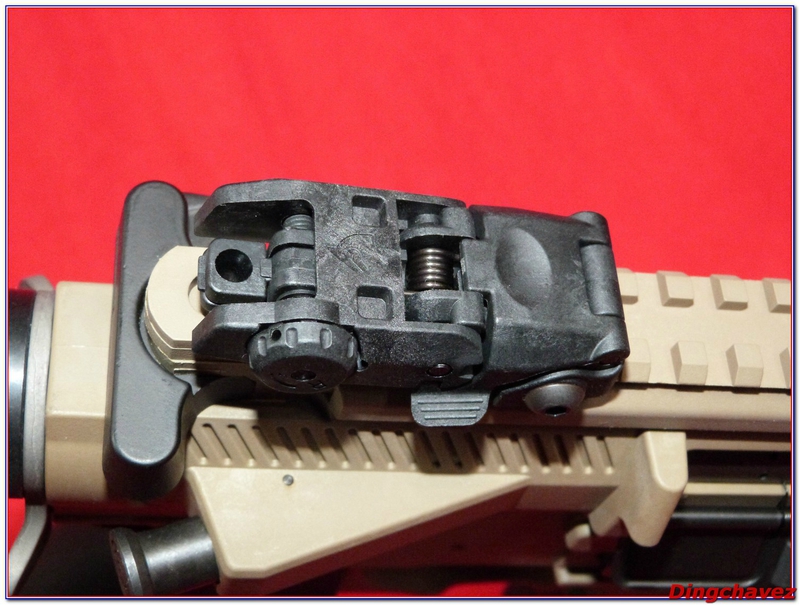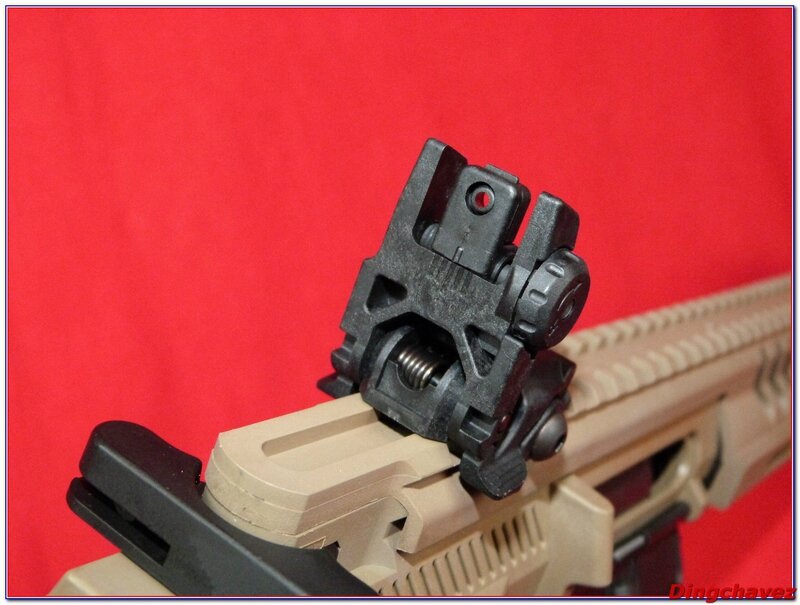 Le guidon est également rabattable. Il peut être réglé en hauteur.
The front sight is also a flip-up type. It can be set in elevation.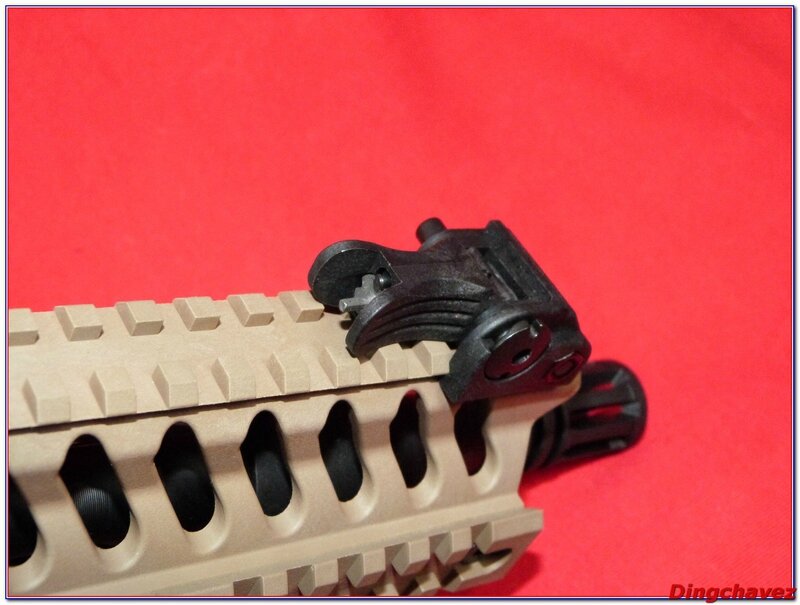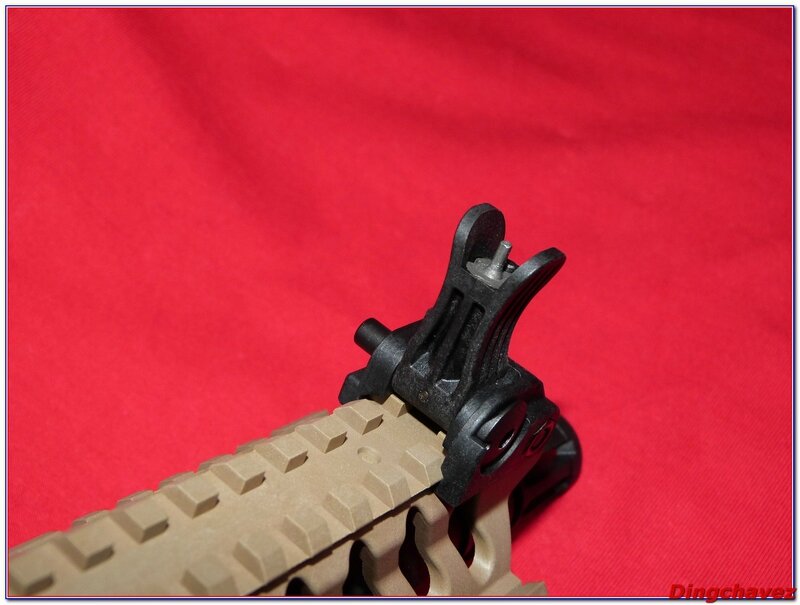 La visée est nette et rapide mais nombre de joueurs choisissent d'utiliser des systèmes de point rouge (red dot en anglais, et non pas red hot comme on le voit très souvent écrit…)
Aiming is nice and easy, but many players prefer using a red dot.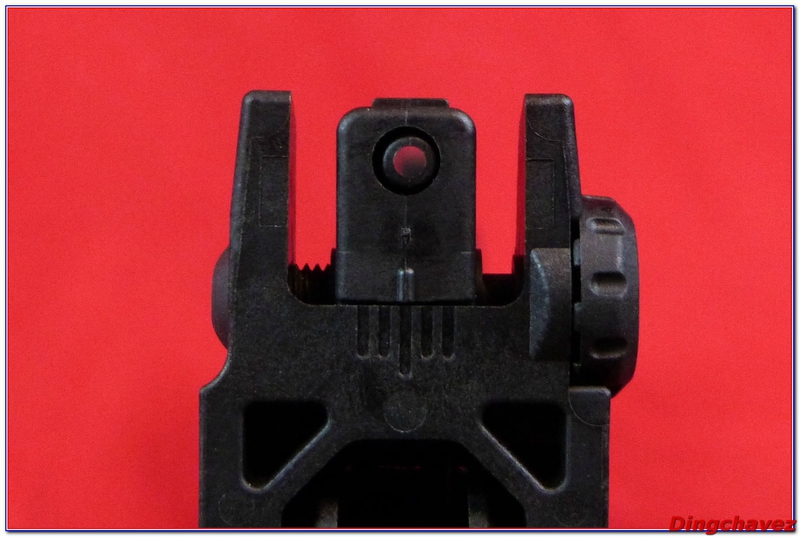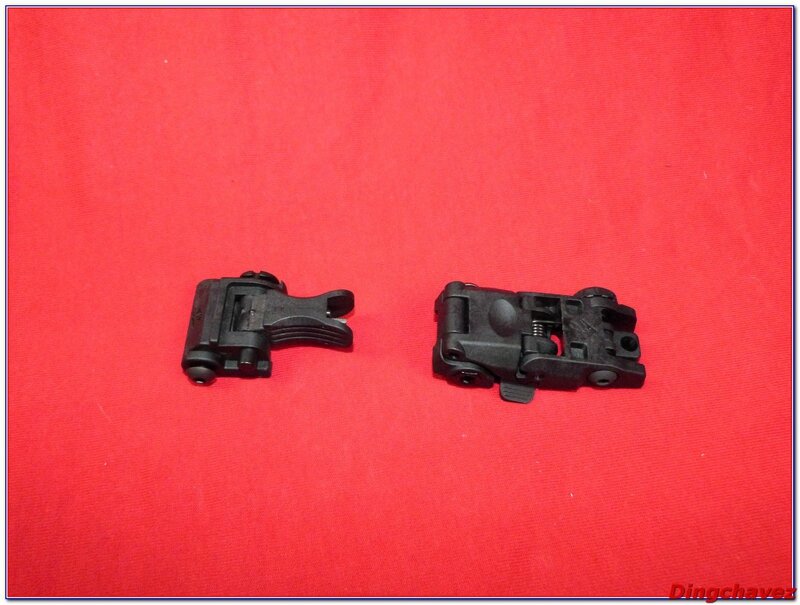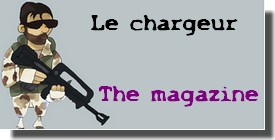 Le chargeur en plastique contient 30 billes. C'est un choix assez curieux car les jeunes joueurs préfèrent souvent les high cap, mais qui reste dans la philosophie « black ops » de la marque.
The plastic magazine can hold up to 30 BBs, weird choice when you know that most of the new players prefer hi cap mags, but it is consistent with BO's philosophy.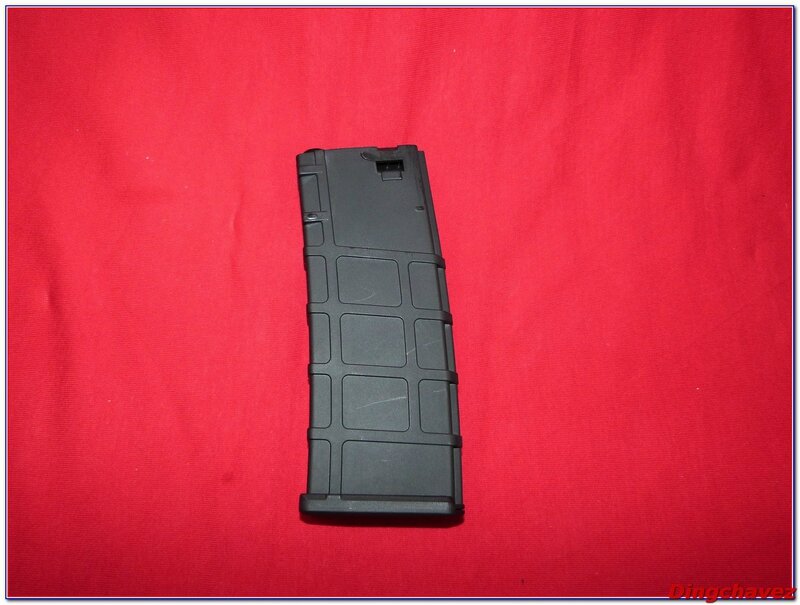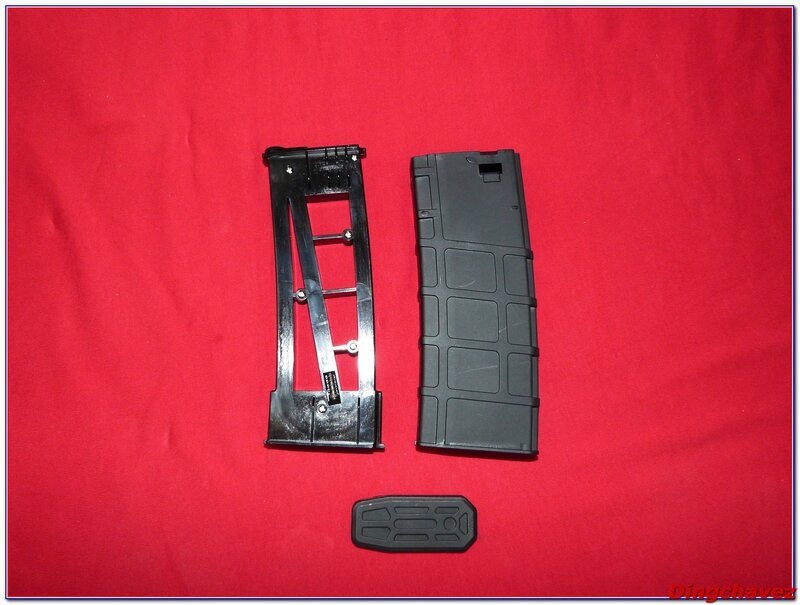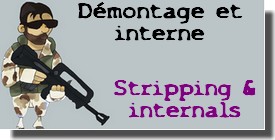 C'est parti pour un dépeçage en règle ! On peut déjà séparer le haut du bas en retirant la goupille de démontage avant et en tirant les deux parties à l'opposé l'une de l'autre. Attention à la poignée de chargement qui viendra butter contre les vis du système de recul.
Let's go for a complete stripping ! Remove the front takedown pin and split the upper from the lower. Be careful, the charging handle has to go over the two screws of the recoil system.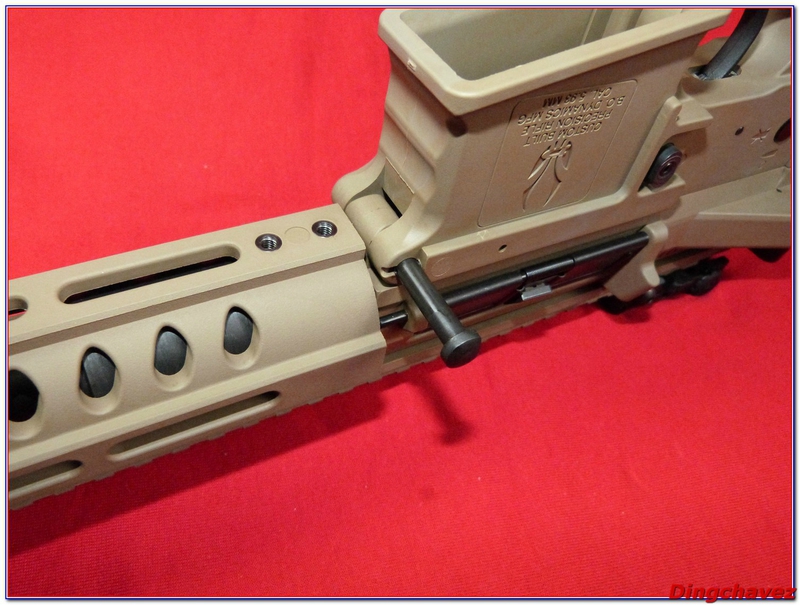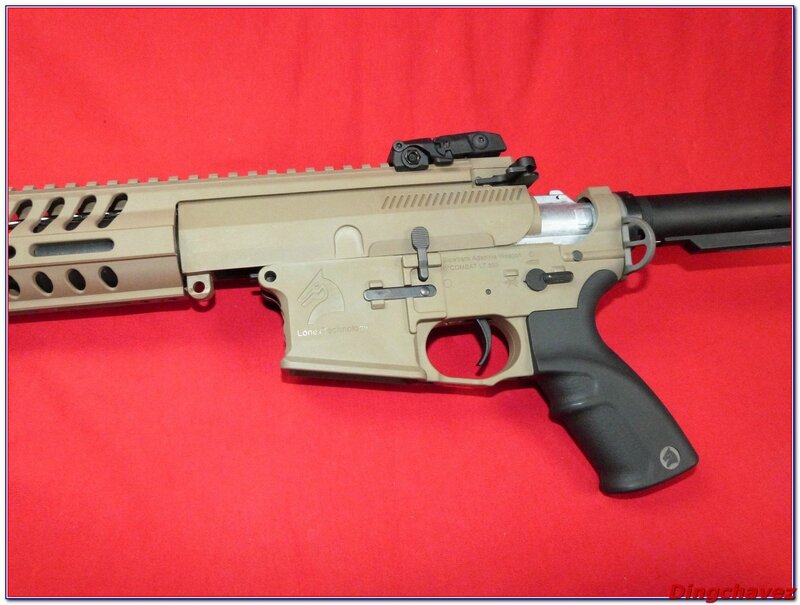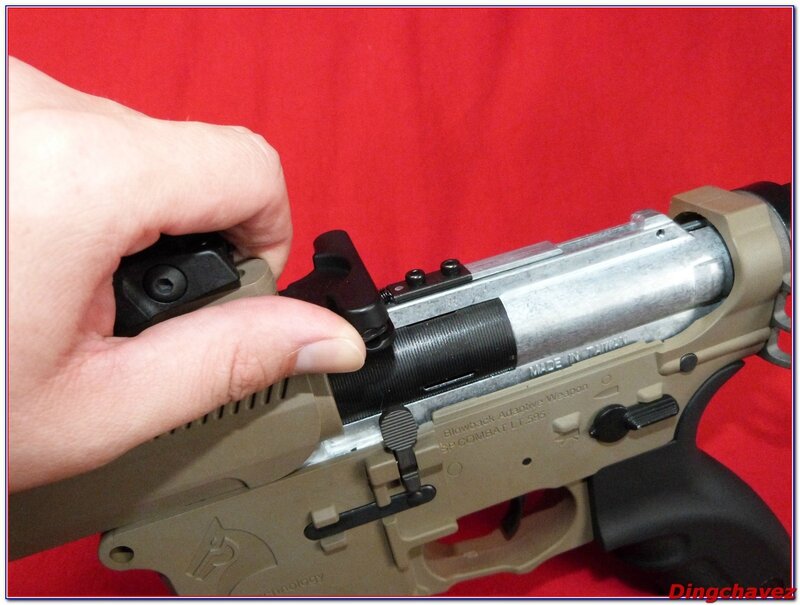 Cette opération de base vous permet d'accéder facilement à l'ensemble canon interne/hop up.
This operation allows you to easily access the inner barrel and the hop up unit.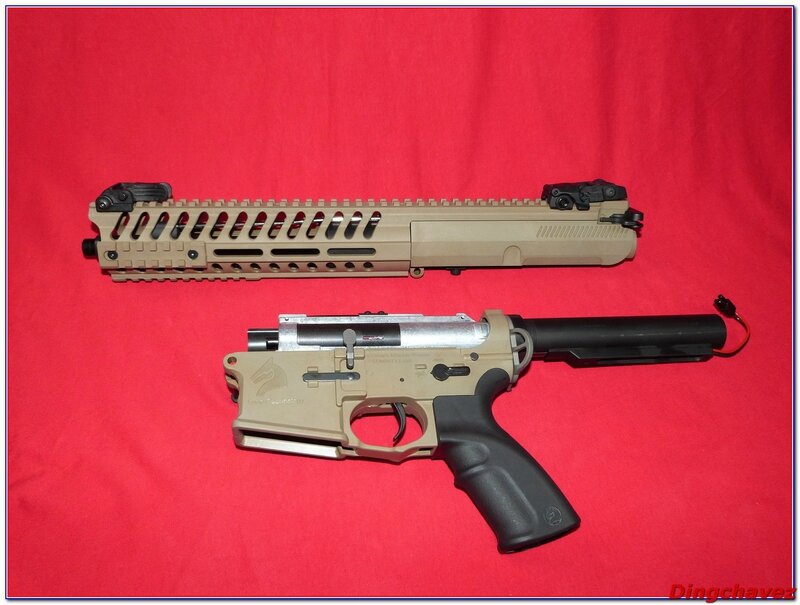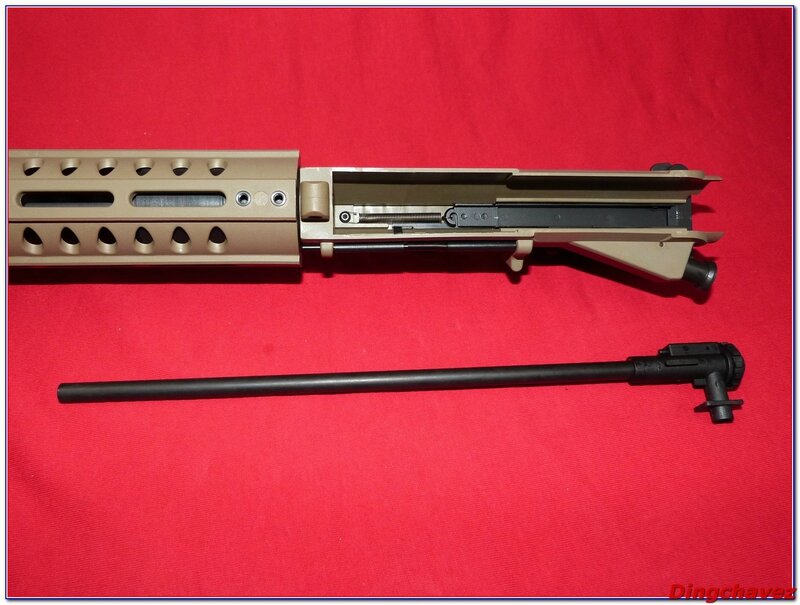 On peut voir le désormais classique bloc en plastique qui équipe la plupart des répliques type M4 de la marque. Le joint est assez souple, parfait pour la puissance de la réplique.
We can see the now classic plastic hop up unit which fits most of BO M-4-like guns.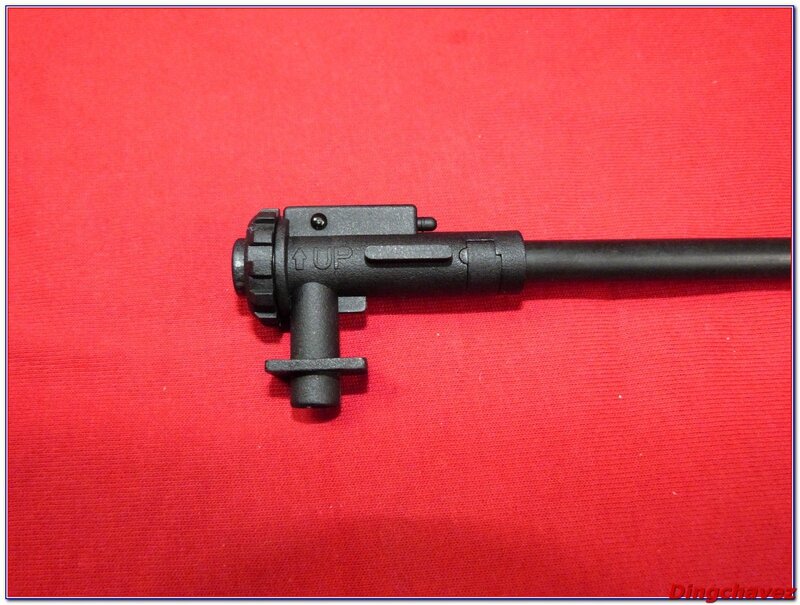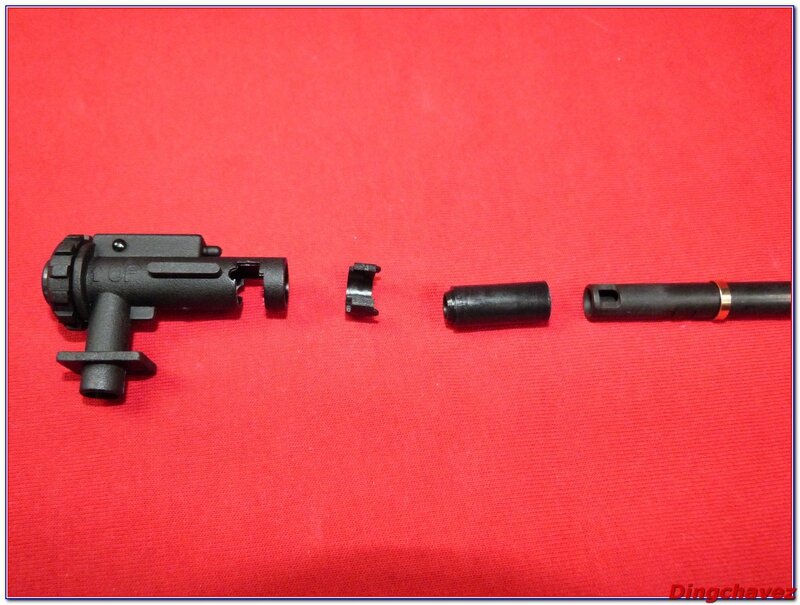 Le canon Lonex 6.03 mesure 285mm, xxxmm pour le Shield
The black 6.03 Lonex barrel is 285mm long. xxxmm on the Shield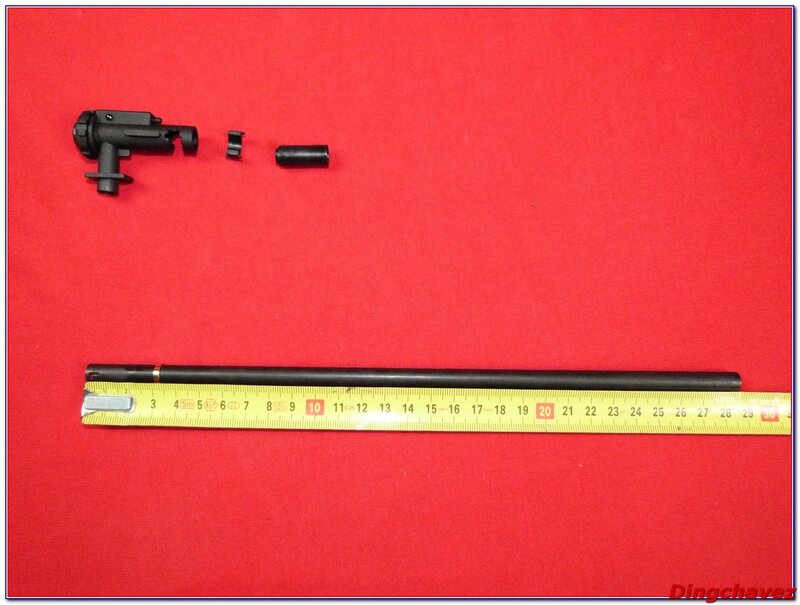 Il n'est pas très utile de démonter le garde mains mais cela permet de voir que le tube de récupération des gaz est représenté. Pas très utile mais une petite touche de « réalisme » est toujours bienvenue.
It is not very useful to remove the hand guard, but we can see the gas tube. Useless but it is always nice to have a bit of « realism ».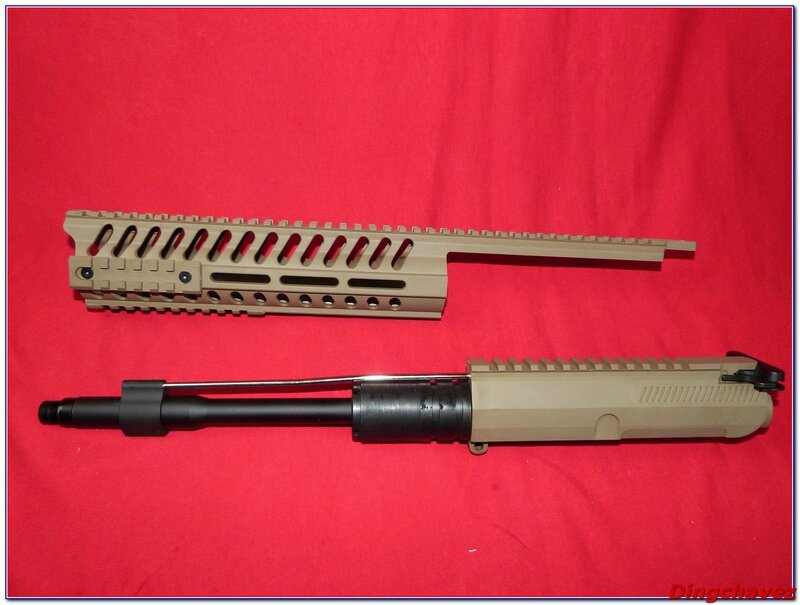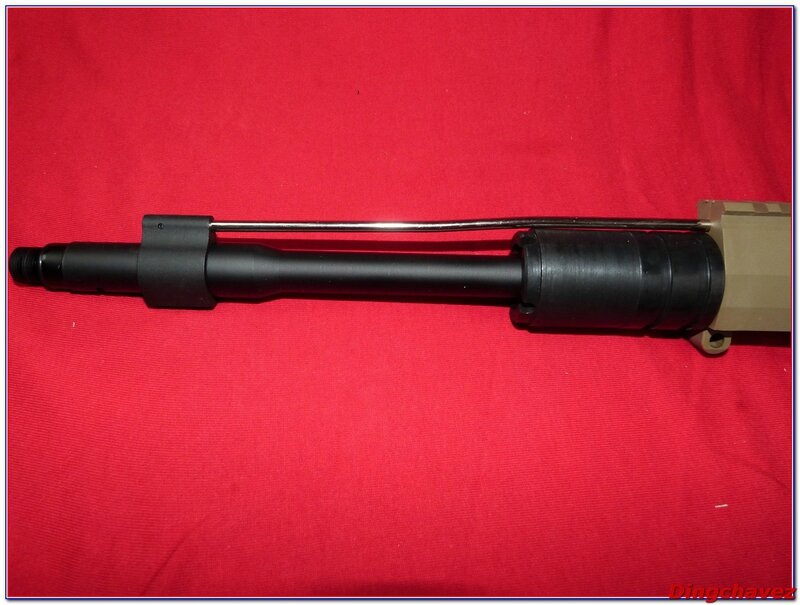 L'écrou de canon est en acier et le canon externe en alliage, cela ajoute un peu de poids à la réplique.
The barrel is made of alloy and the barrel nut is made of steel, it adds a bit of weight to the gun.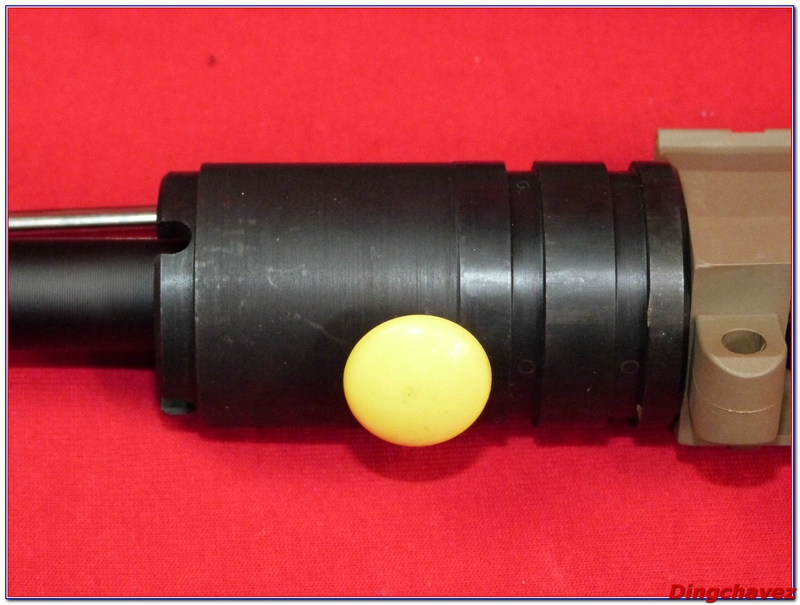 Le moteur Lonex ne dispose pas de marquages. Je ne saurais vous dire s'il s'agit d'un high speed ou d'un high torque.
The Lonex motor has no markings. I can't tell if it is a high speed or a high torque motor.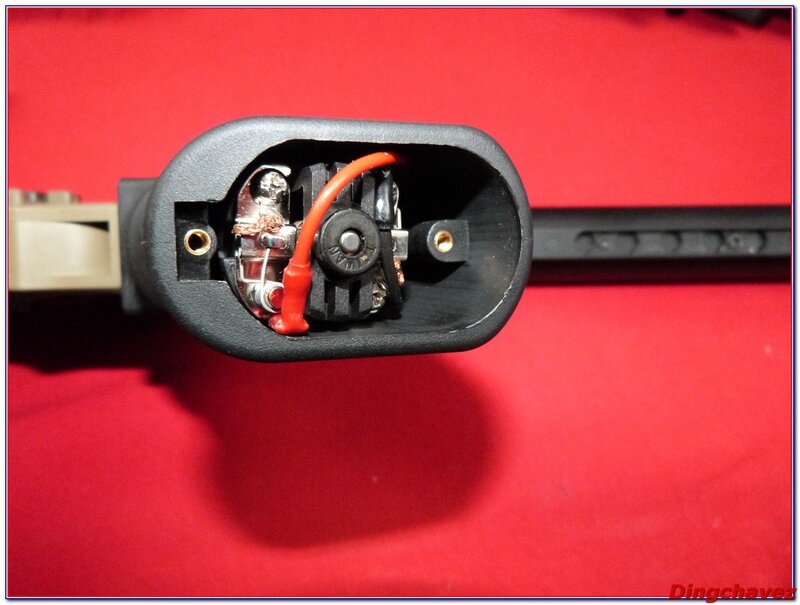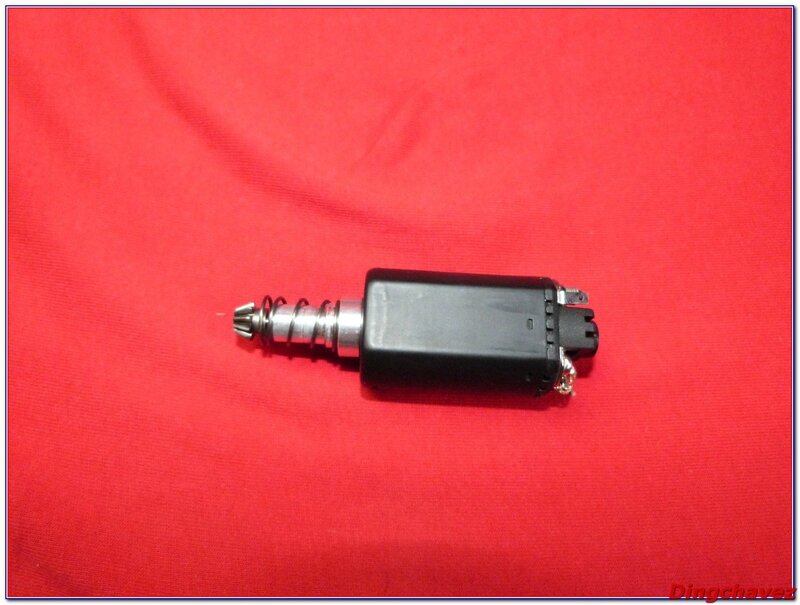 La poignée pistolet tient à l'aide de deux vis, il faudra les ôter pour enlever la gearbox.
The pistol grip must be stripped in order to remove the gearbox from the lower receiver.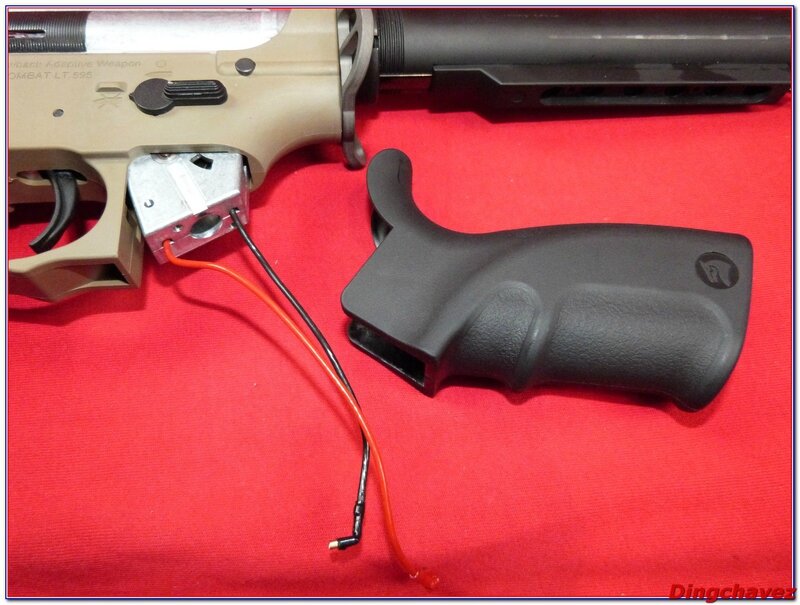 On peut maintenant démonter l'arrêtoir de chargeur avec une petite clé Allen;
Now we can remove the mag catch with a small allen key.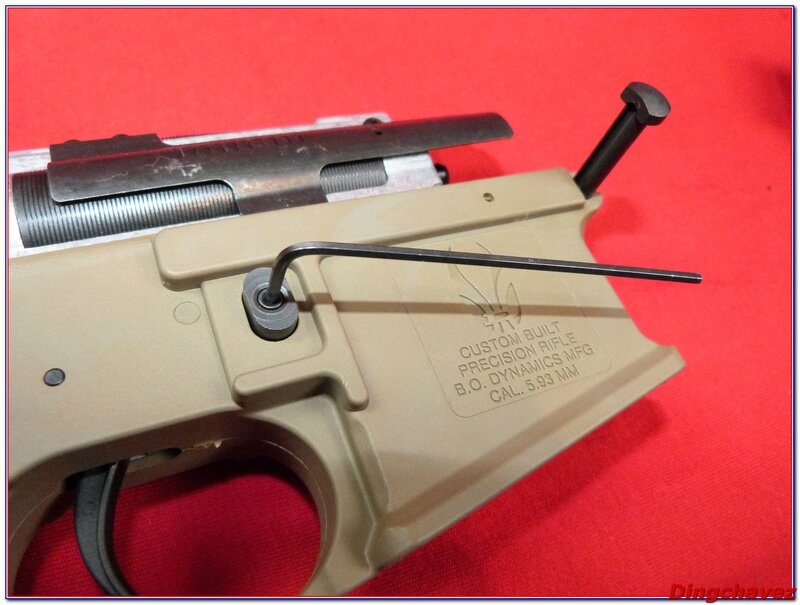 Puis on chasse la goupille de démontage arrière et la petite goupille de détente, attention elle a un sens.
Then remove the rear takedown pin and the trigger pin. Be carefull, there's a serated side.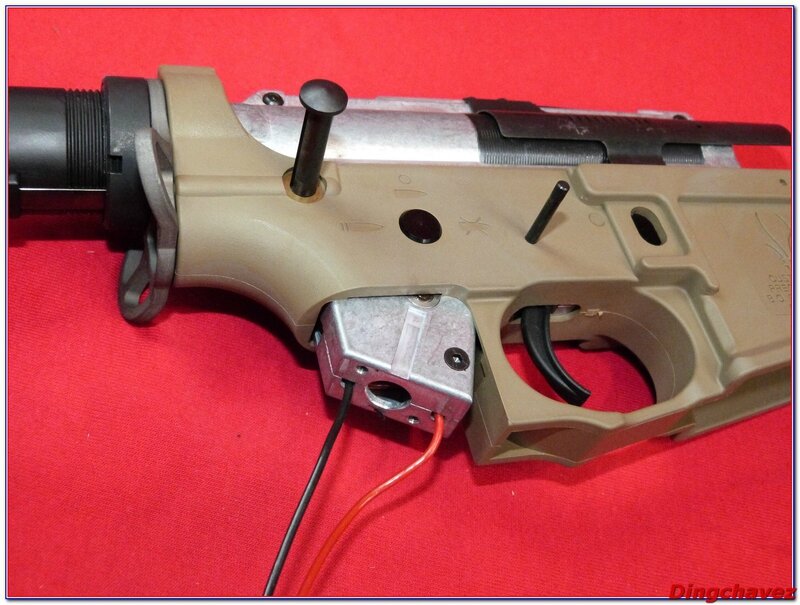 On termine par l'arrêtoir de culasse. Chassez la goupille, puis appuyez sur la petite pièce de l'autre côté de la gearbox tout en tirant l'arrêtoir vers l'extérieur.
Let's finish with the bolt catch. Press the small part on the other side of the gearbox, then pull the bolt catch.
Ici la pièce à baisser.
Here you can see the part to press.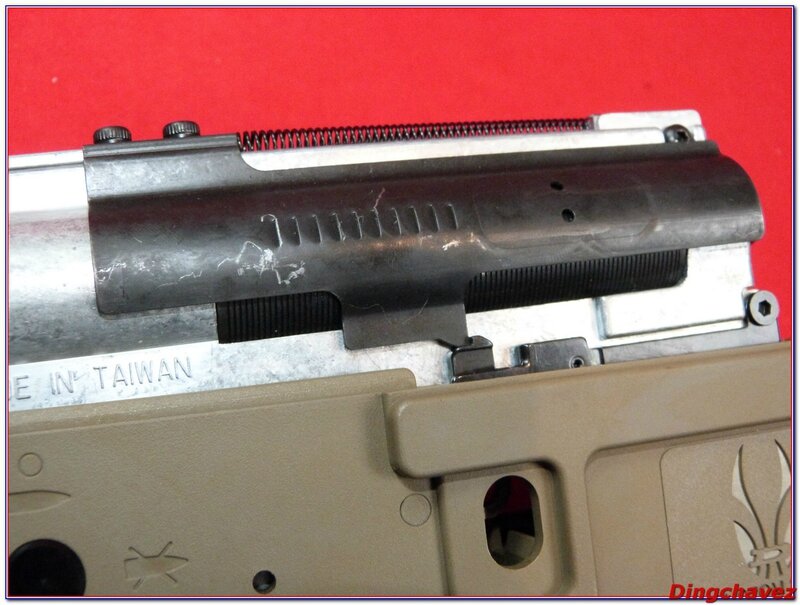 Attaquons-nous maintenant au câblage. Retirez les deux vis de la glissière de crosse.
Let's take care of the wires. Remove the stock slide.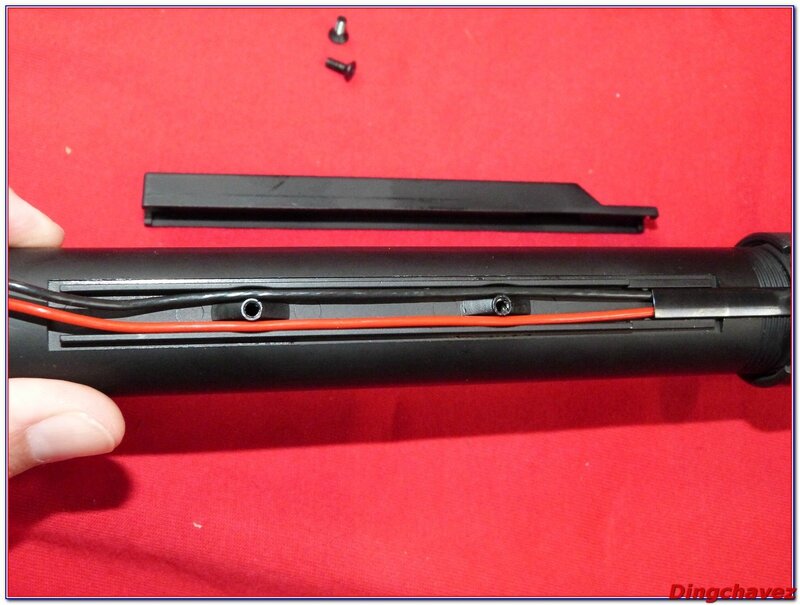 Et dévissez l'écrou du tube d'amortisseur.
And unscrew the buffer tube nut.
Il ne reste qu'à sortir délicatement la gearbox !
Now gently remove the gearbox.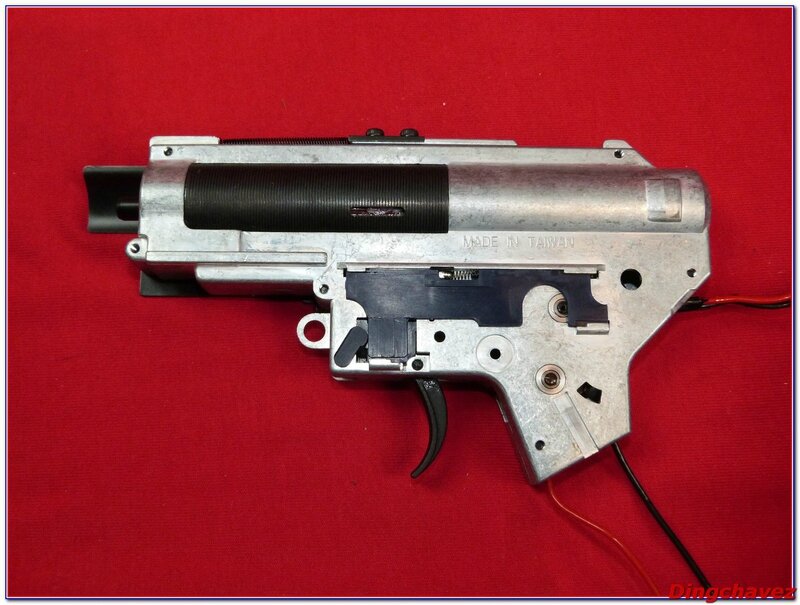 Et voilà, j'ai encore tout cassé !
I've broken everything again !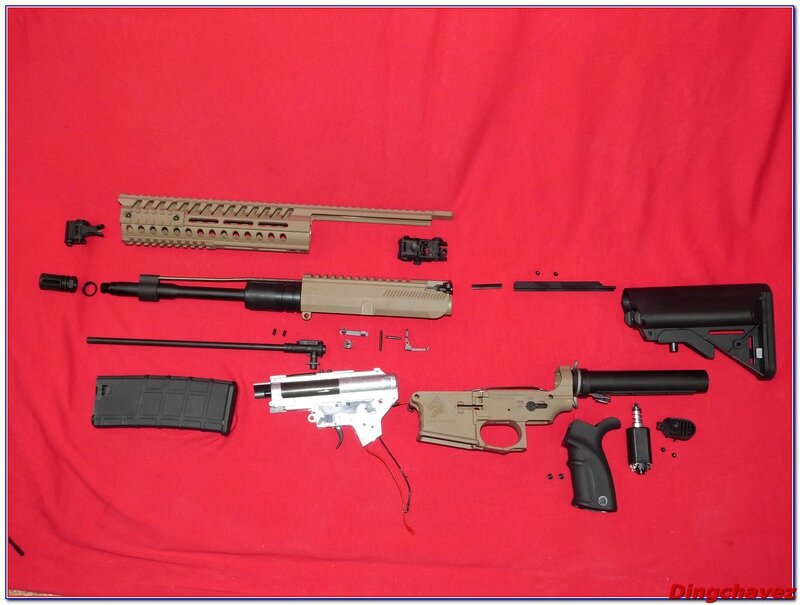 La gearbox semble solide, les engrenages sont montés sur bushings et non sur roulement, mais ils sont en métal. On peut voir le système de blowback sur lequel la fausse culasse est fixée.
The gearbox looks sturdy, metal bushings here, no bearings. You can see the blowback system on which the fake bolt is screwed.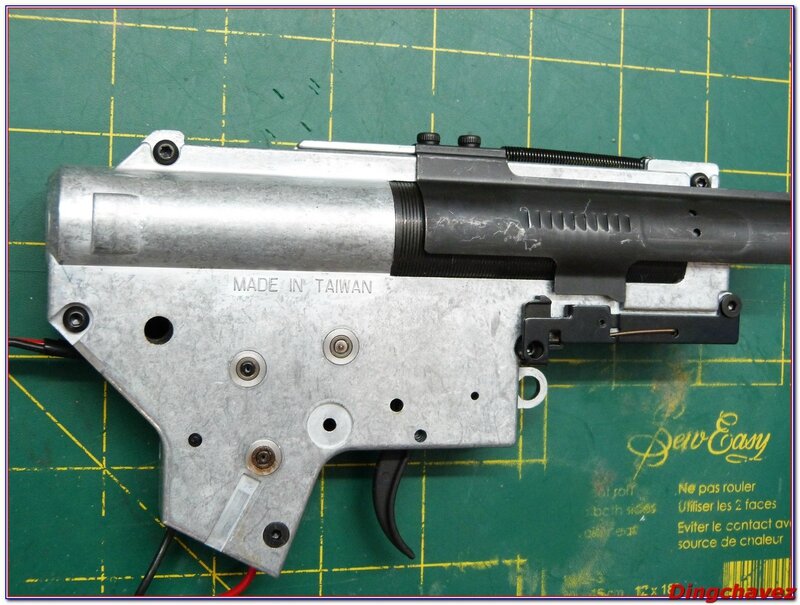 Enlevons-le.
Let's remove it.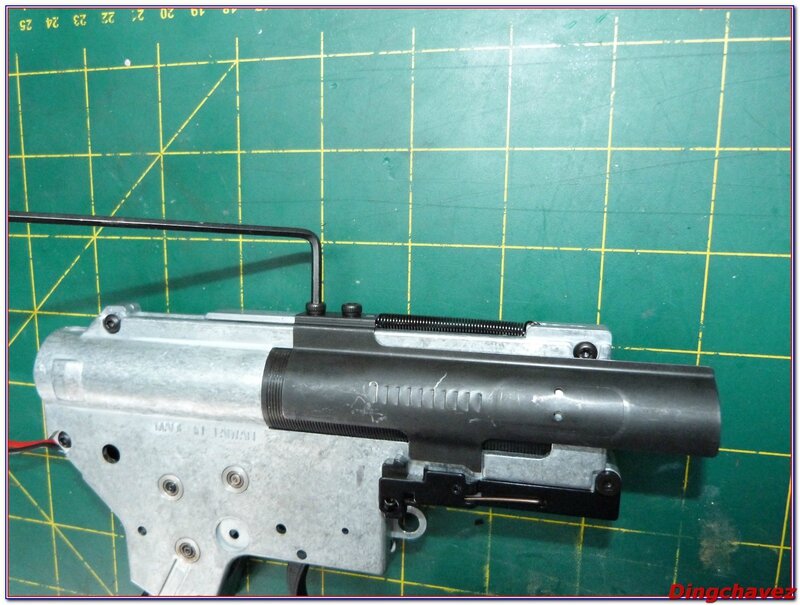 Ici on voit un peu plus en détail le système d'arrêtoir de culasse.
Here we can see the bolt catch system.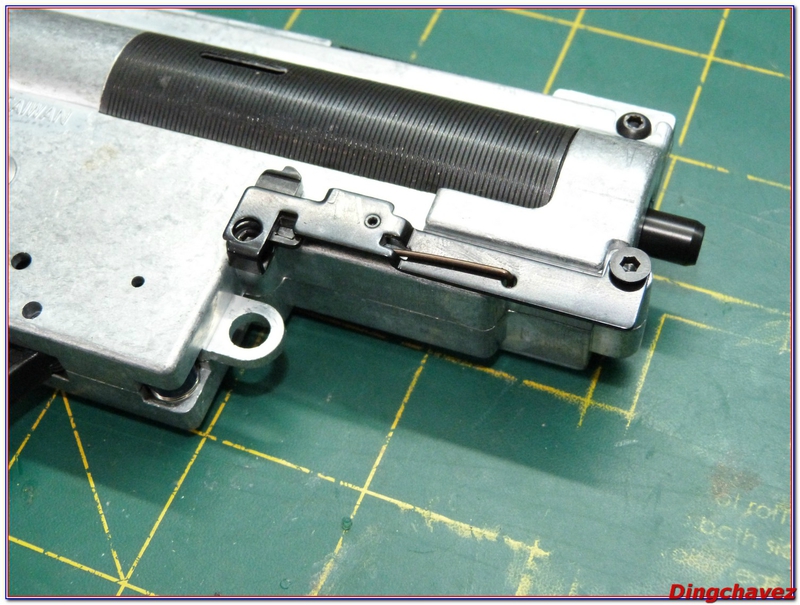 Une fois la gearbox ouverte on constate un interne full Lonex avec un cylindre percé, adapté à la longueur du canon, un piston à demi-dents en acier, un nozzle avec joint torique, des engrenages acier, un guide de ressort sur roulement et une tête de piston également sur roulement.
L'étanchéité est tellement bonne que même bien énervé je n'ai pas pu repousser le piston de plus de 2 cm !
Once the gearbox opened, we can notice the full lonex parts. A drilled cylinder to adapt airflow to barrel lenght, steel half-teeth piston, nozzle with an O-ring, steel gears, spring guide and piston head on bearings. Airtightness is so good that I couldn't go farther than 2 cm inside the cylinder !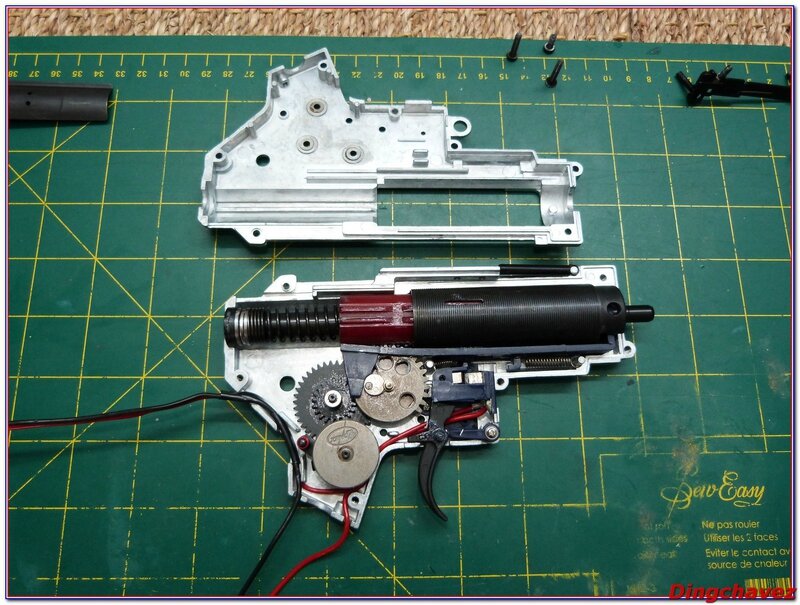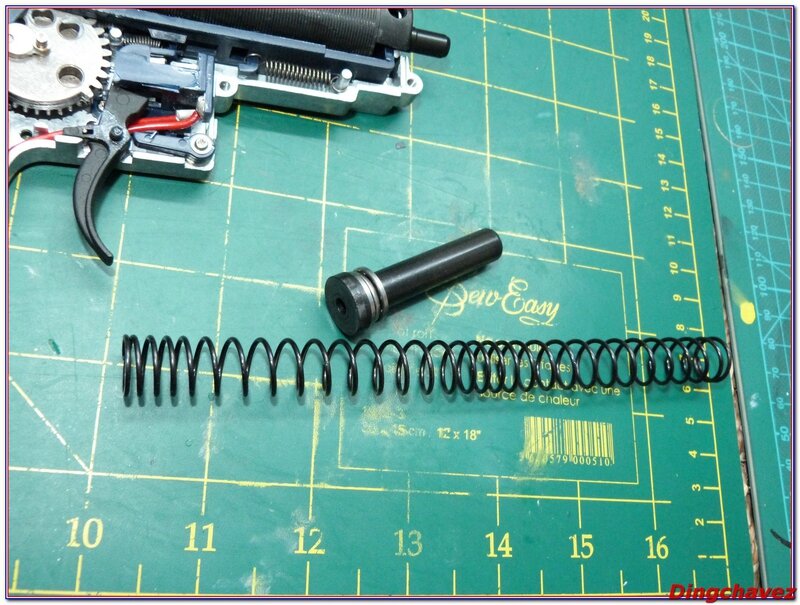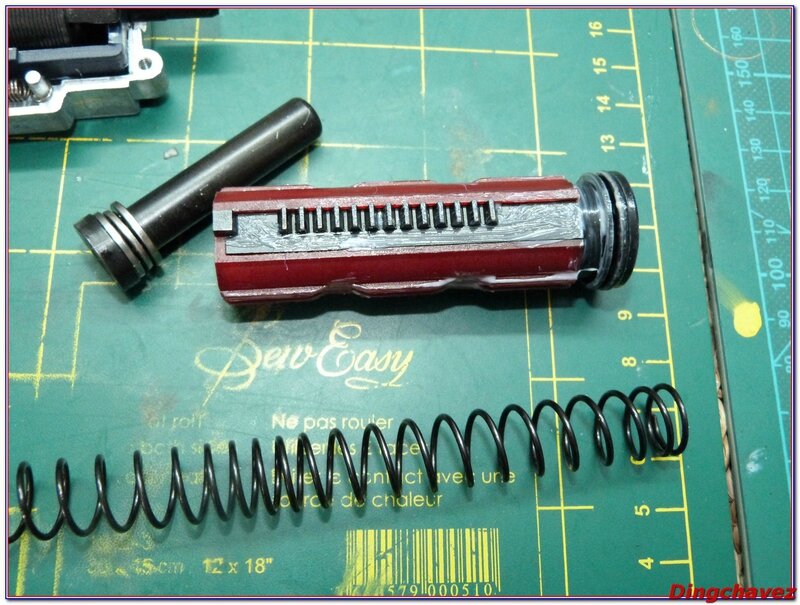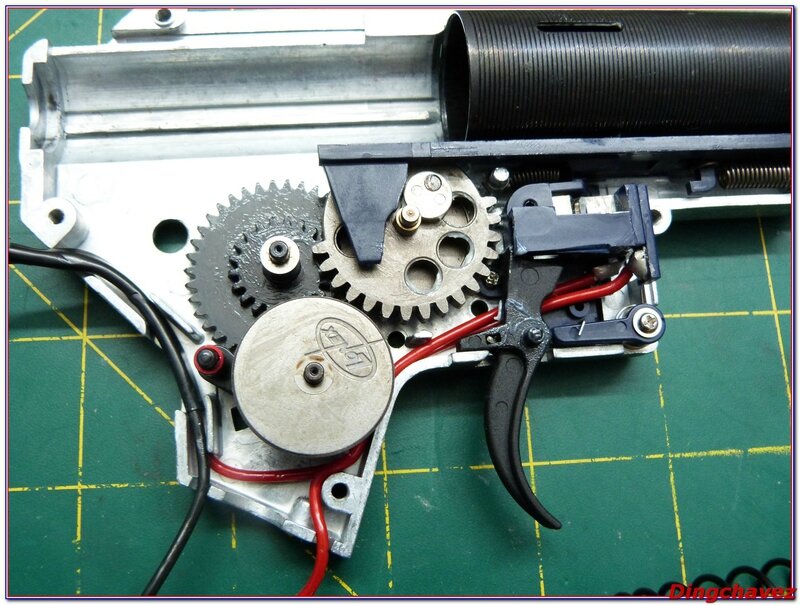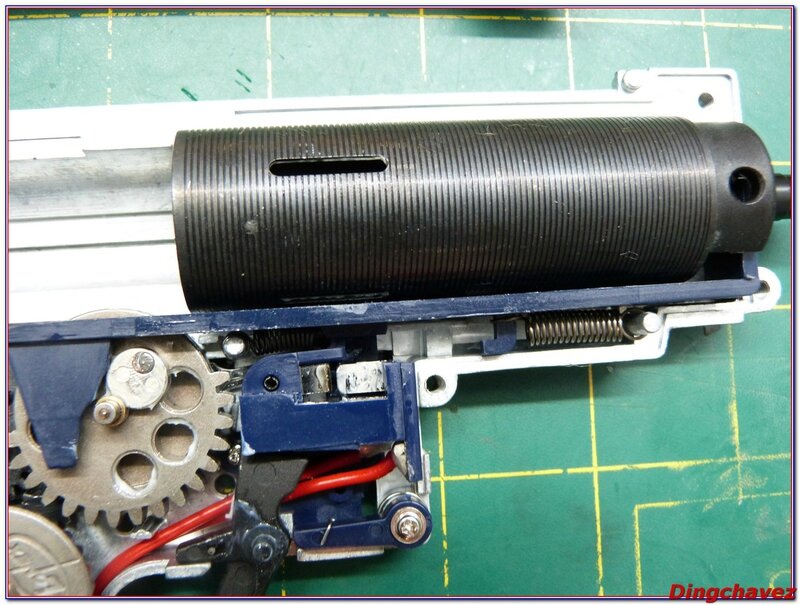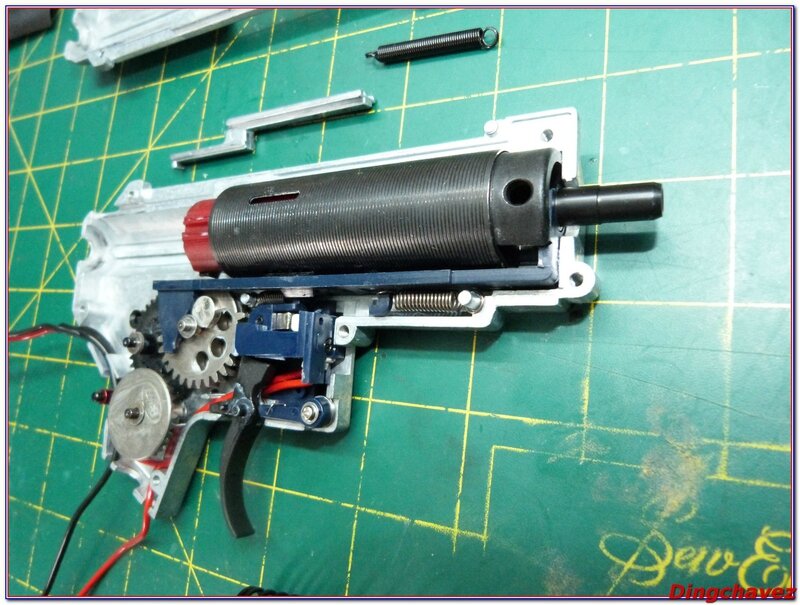 Ici la pièce mue par le piston. C'est elle qui fait frémir la réplique lors du tir.
Here is the blowback part. It is moved by the piston and give a slight recoil feeling.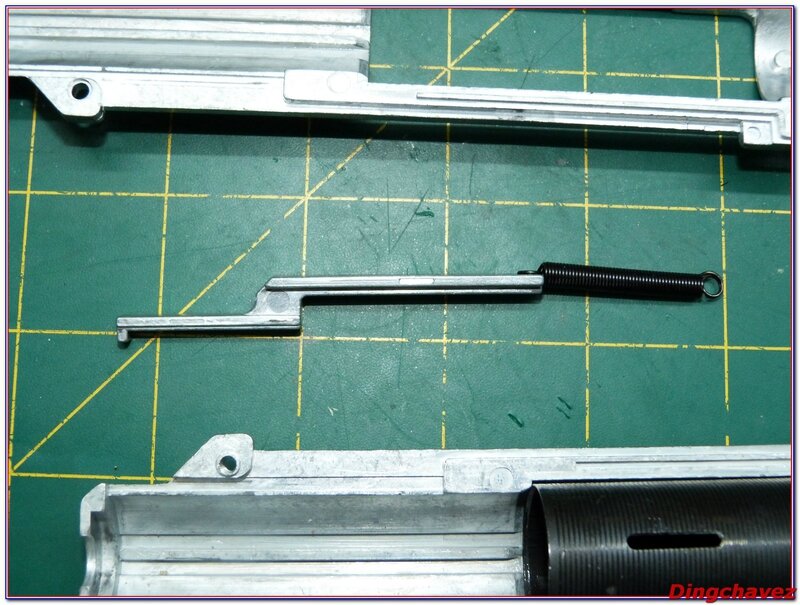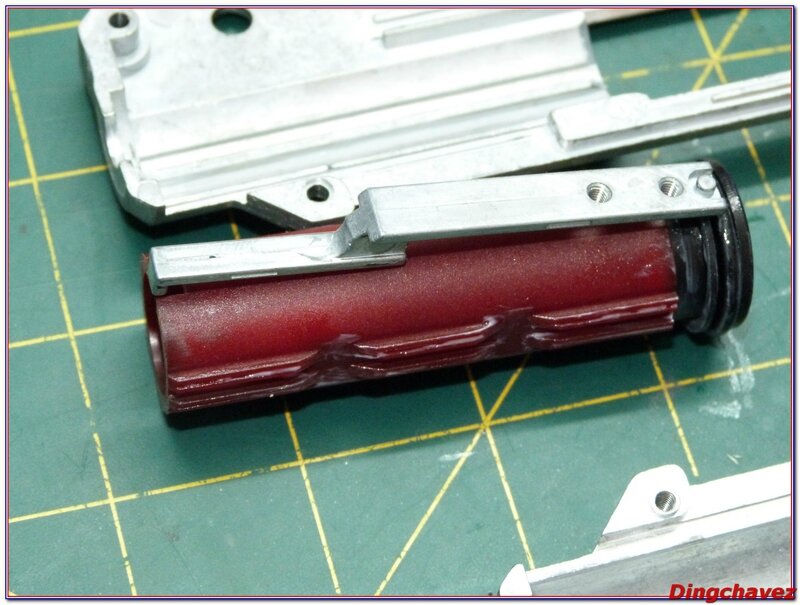 Le contacteur dispose d'une course assez courte. Cela assure une réactivité intéressante à cette LT595 mais peut occasionner des tirs en burst lors du semi si vous ne faites pas de cycle franc.
The trigger switch is close to the other connector, hence a pretty good reactivity but you'll have some 2 BB bursts if you don't perform complete trigger cycles.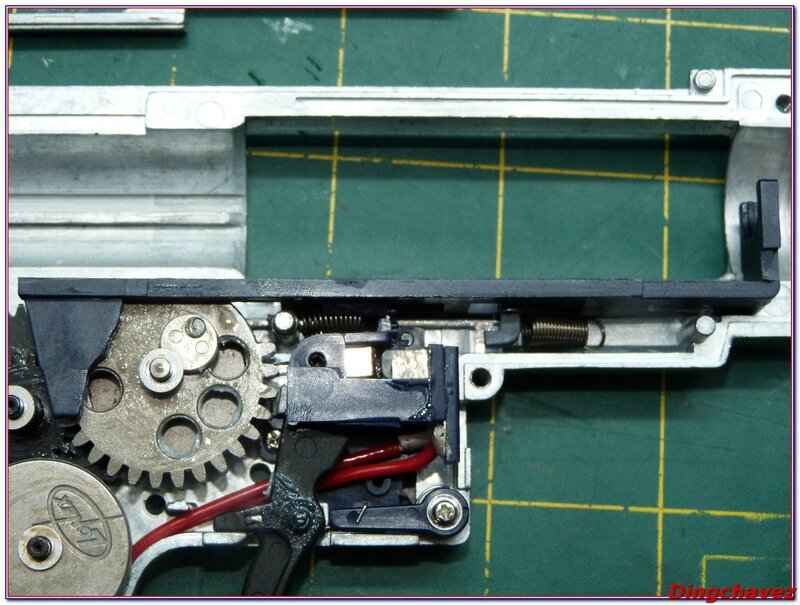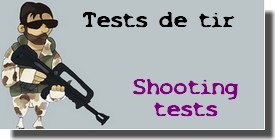 Les tests ont été effectués avec un Chrony Xcortech3200 et des billes 0.20 bio Xtreme precision.
La puissance moyenne sur 5 tirs est de 332 FPS, du tout bon en sortie de boite ! 345 FPS pour le Shield
La cadence de tir constatée va de 13.5BB/secondes (LiPo 7.4V, 11.66 bille/seconde sur le Shield) à 22BB/s (LiPo 11.1V) en passant par 18BB/s avec une batterie NiMh 9.6V
La réactivité est très bonne pour un AEG classique, le bon calage des engrenages et du moteur assurent un cycle régulier et un bruit qui met en confiance.
Le hop up fait bien son travail et assure une trajectoire régulière aux billes. La portée pratique avec des billes 0.25 est d'environs 35-40 mètres.
Les tests sur cible ont été fait un jour de grand vent, la vidéo suivante n'est donc peut être pas révélatrice des vraies performances de tir mais c'est déjà pas mal du tout à 25 et 35 mètres.
 As usual, the velocity tests have been made using my fellow Xcortech3200 chrono and 0.2 Xtreme precision bio BBs
 The average on 5 BBs was 332 FPS, that's really nice for France, it allows you to play everywhere in full auto.
The rate of fire ranges from 13.5BB/second (LiPo 7.4V) to 22BB/s (LiPo 11.1V) and 18BB/s with NiMh 9.6V battery
Trigger response is quite fast for a « classic » AEG and the noise coming from the gearbox is nice and smooth.
Hop up is efficient, giving consistent trajectory to the BBs. Effective range is about 35-40 meters with 0.25 BBs.
The video has been shot when the wind was quite strong but the results are still quite good.
Et voici pour le Shield, le vent de travers n'a pas été très sympa !
And here it is with the Shield, crosswind wasn't very nice !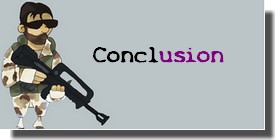 Une bien bonne surprise qui complète la gamme BO en apportant une réplique bien finie et présentant de bonnes performances en sortie de boite pour une gamme de prix située sous les 300€. Cela comble un manque dont les joueurs se plaignaient parfois, accusant BO de favoriser les gros budgets. Certes, on pourrait se plaindre de la trop grande présence de plastique, mais le corps de la réplique est garanti à vie dans le cadre d'une utilisation normale de celle-ci.
La boucle est donc bouclée et  malgré l'absence de notice d'utilisation (sauf pour le Shield) et l'obligation d'acheter des chargeurs supplémentaires pour pouvoir jouer immédiatement, la Combat LT595 représente une alternative viable aux répliques peu chères mais également peu fiables ou trop puissantes en sortie de boite qui peuplent certains sites…
Certains d'entre-vous vont sans doute encore une fois me taxer de favoritisme envers la marque bordelaise, mais je dois avouer que depuis un peu plus d'un an, rares ont été les répliques ne méritant pas d'être mises en avant…
Well, this gun is a good surprise. It allows BO Manufacture to fill the 300€ range of replica that lacked before, giving the opportunity to many players to acquire a replica from the French company. Some might complain that the gun is mainly made of plastic, but the body has a life-time warranty (if you use the gun for its real purpose of course !) and good plastic is always better than mediocre metal alloy !
In spite of the lack of a users' manual (except in the Shield's box) and that the mag is a real-cap one – so this is a mandatory case of mag-buying ! – the Combat Lt595 is a nice alternative to all those cheap, overpowerded guns that flourish on certain webshops…
Some of you might say that I'm a BO enthusiat, but for the last 18 months, I haven't seen one of their replica suffering from big flaws…
-Rapport qualité-prix / price-quality ratio
-Puissance correcte en sortie de boite / reasonable out of the box FPS
-Mini recul / Slight recoil
-Bonne finition / good finish
-Corps et rail garantie à vie /  body and rail lifetime waranty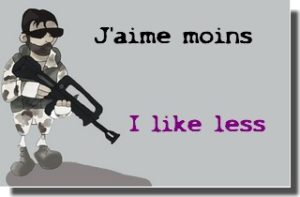 -Chargeur 30 coups dans la boite, bien mais pas top pour les débutants / 30round magazine in the box, good but not really for newbies
-Pas de notice dans la boite du LT595/ no users' manual in the LT 595 box

-Pas possible de régler les rails latéraux/side rails not moveable.
On termine sur une petite improvisation avec les moyens du bord, j'aime assez le look.
Let's finish with some improvisation here, I had a few accessories, I like the look of the gun like that.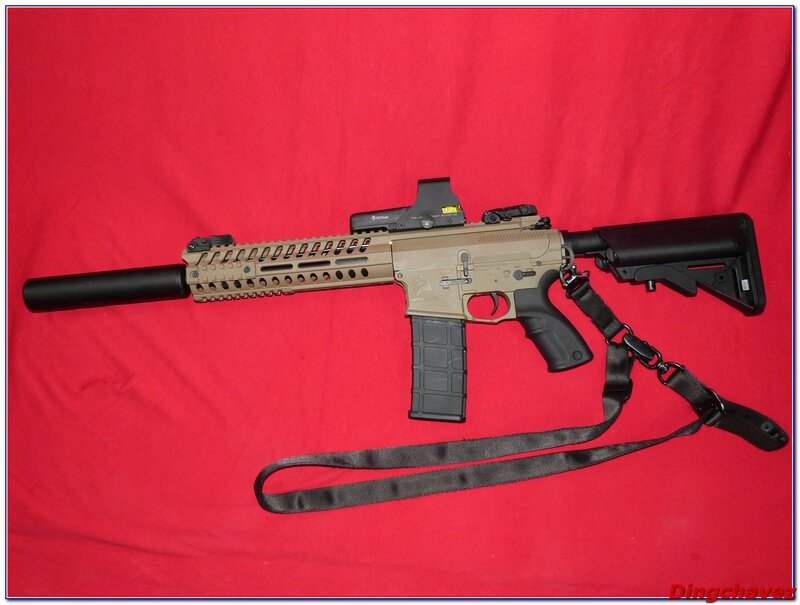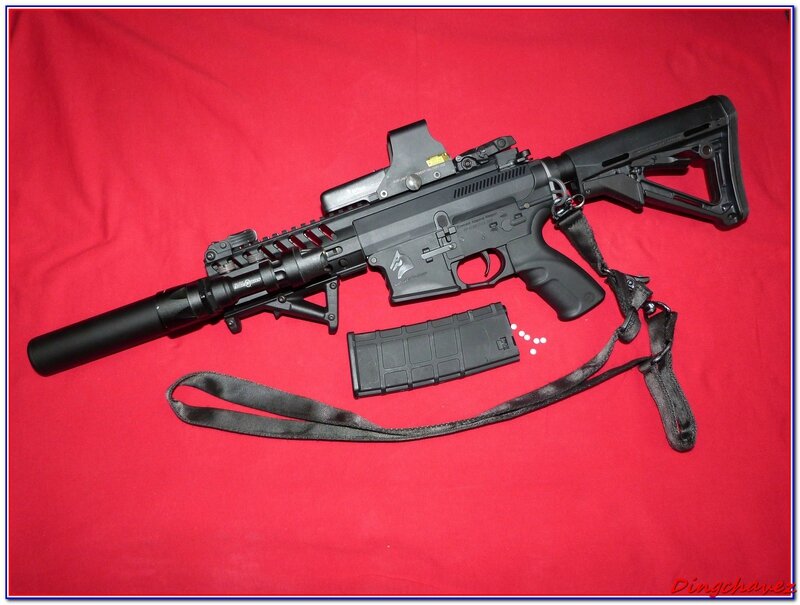 Posté le 2 juillet 2014 par Dingchavez