Review Cybergun Colt MKIV Series 70 CO²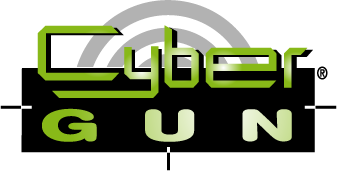 29 juillet 2014
 AS USUAL befaore I figured out than nobody would ever say « thanks for the translation », purple writing is for English speaking people and noir pour les francophones ! Vous pouvez cliquer sur le texte souligné italique pour avoir accès aux liens et sur les photos pour les voir en grande taille. You can click on the underlined italic text to have access to the links and on the pictures to see them full sized.
Cette review est la première liée au partenariat lancé par Cybergun avec quelques chaînes Youtube (les vidéos concernant cette réplique sont en fin de review). Un petit rappel pour les retardataire et l'occasion pour moi de remercier encore une fois tous les intervenants ayant rendu ce partenariat possible et plus particulièrement Arthur de Cybergun..
This review is the first one linked to the partnership between Cybergun and a few French Youtube channels. Here is a reminder (with English subtitles of course…) and this is also the moment to thank everyone who took part in the process.
Il est donc temps de voir ce que ce fameux « Colt MkIV » a dans le ventre.
So now it's time to discover what this so-called « Colt MkIV » is hiding.
Aparté RS/About the real gun :
 Je n'ai pas vraiment l'habitude d'insister sur l'histoire des modèles RS car on fait de l'airsoft, mais ne connaissant pas l'historique des différentes versions du Colt 1911, j'ai eu envie d'en savoir plus, non seulement en me documentant sur le net, mais également en parlant avec quelques férus du Colt 1911 qui ont voulu me faire du mal lorsque je leur ai présenté la réplique….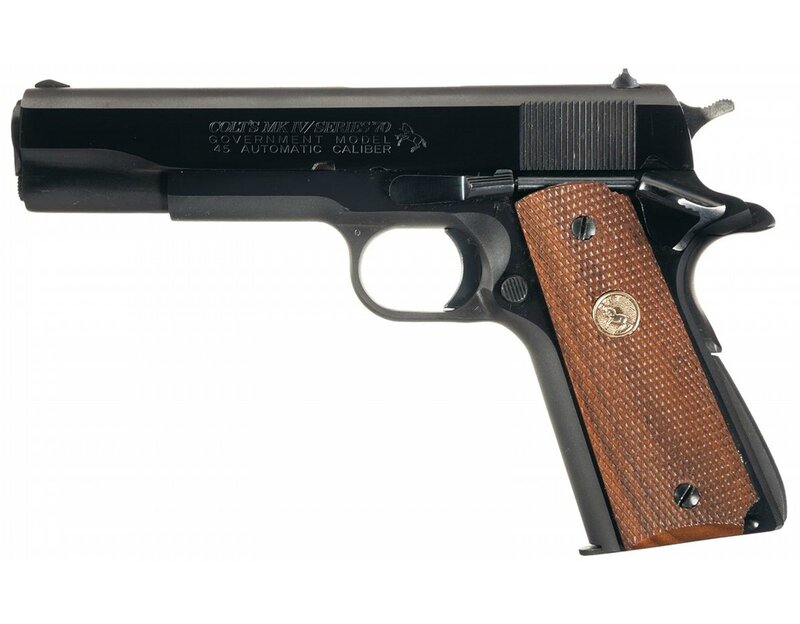 Le Colt MarkIV série 70 a été produit de 1970 à 1983 en deux déclinaisons, le Commander, et le Government's Model dont s'inspire cette réplique.
Il s'agit d'un 1911 un peu plus attirant à l'oeil et usiné avec des cotes un peu moins « larges » que les modèles militaires conçus pour fonctionné en conditions dégradées (boue, sable…), ce qui en fait l'un des modèles les plus appréciés des fans de cette arme mythique.
Well, I have nothing more to say than this very nice paper does HERE .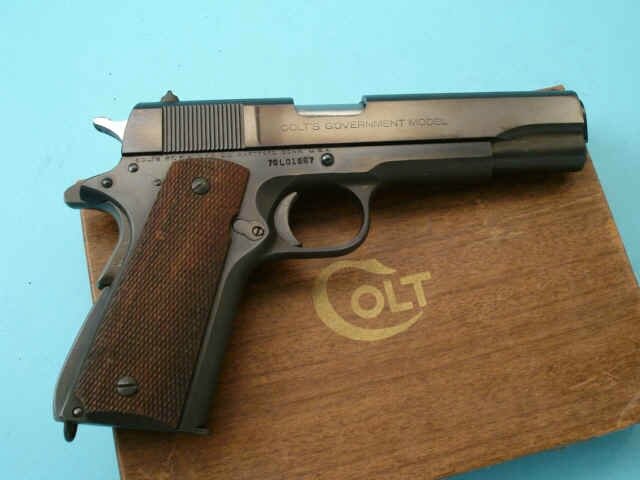 Dans la boite/in the box :
 La boite en carton est assez flashy, on y retrouve le slogan Colt, une photo de la réplique et à priori quelques photos du vrai Colt 1911 ? (j'ai des doutes même à ce niveau…)
On y voit également toutes les spécificités techniques résumées.
The cardboard bow is a bit flashy, with the Colt motto, a picture of the replica and some of  the real gun ? (I'm not sure about that)
We can also discover a sum up of the important data.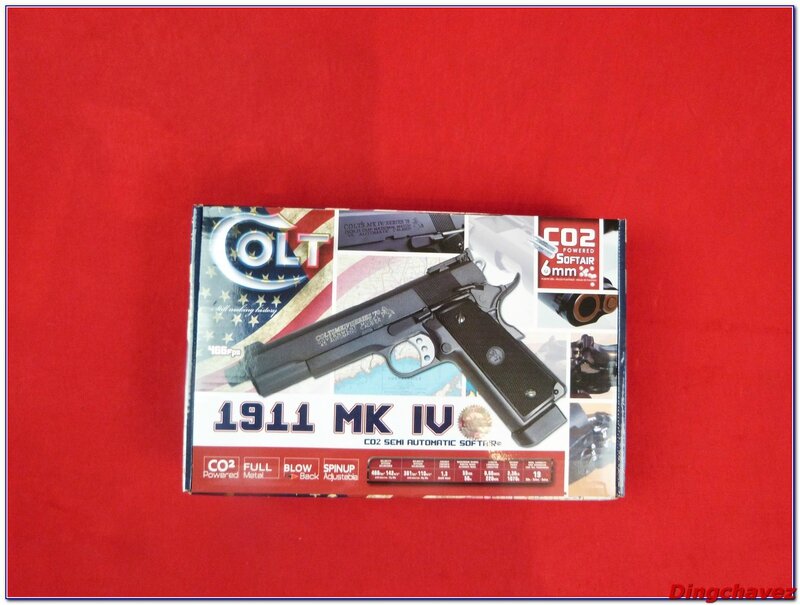 A l'intérieur du polystyrène blanc, celui qui se défait facilement, d'ailleurs attention à bien nettoyer la réplique après l'avoir déballée.
En tout cas tout est bien maintenu, c'est le principal.
Inside the box there's white polystyrene, it tends to sneak everywhere so don't forget to clean your gun after unboxing it.
What's important is that everything it well held.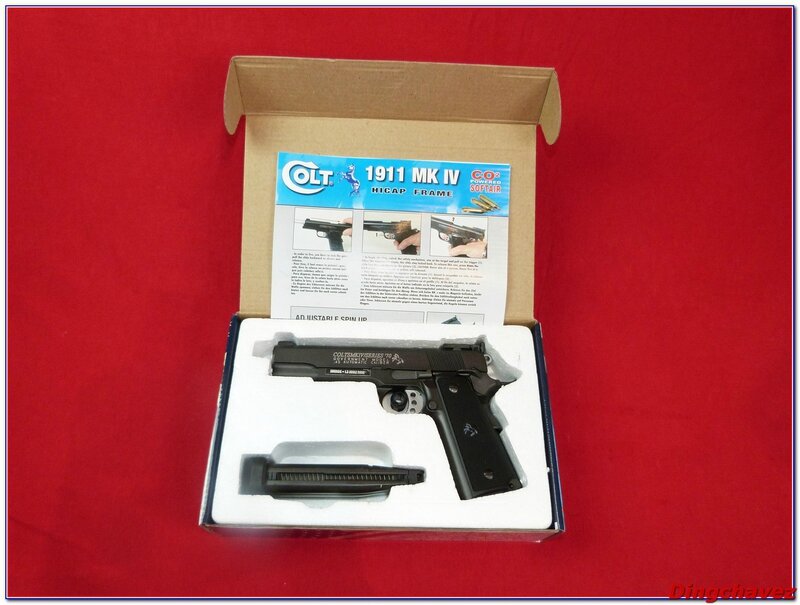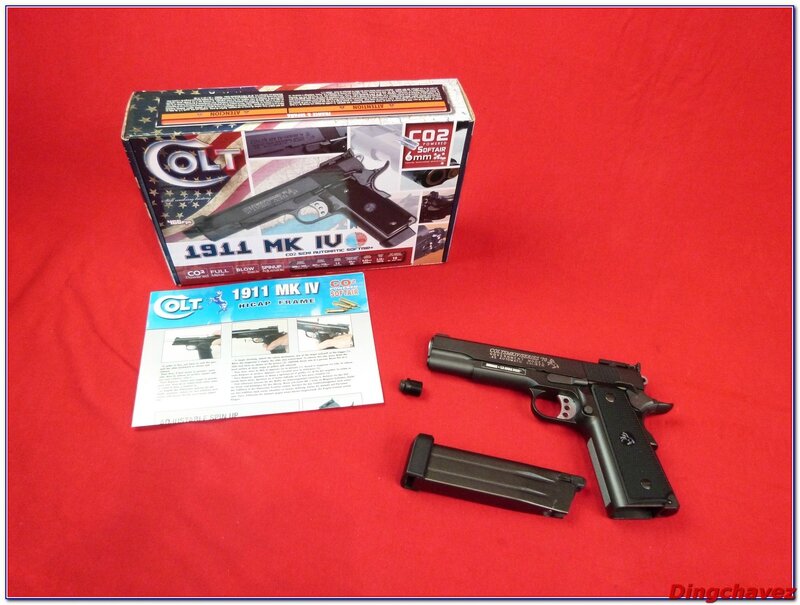 On y trouve :
-La réplique, en alliage et ABS, elle pèse 1085 grammes (sparclette et billes incluses).
-Un chargeur de 19 billes (en fait, 21).
-Un adaptateur pour silencieux.
-Un manuel multilingue.
There is :
-The replica, made of metal alloy and ABS, it weighs 1085 gramms (with CO² cartridge and BBs).
-A 19BB magazine (that holds up to 21…).
-A silencer adaptor.
-A French-English-Spanish-German users' manual
La réplique/the gun :
Et bien c'est un hicapa, rien à voir avec un Colt 1911, on est plus proche du ParaOrdnance 14-45. La maniabilité est bonne et son poids conséquent est agréable. La peinture grise utilisée semble assez fragile mais la couleur anthracite est sympa.
Well, this is a hicapa, nothing to share with a real Colt 1911, it looks more like a ParaOrdnance 14-45… Handling is good and its weight is well balanced. The paint seems quite fragile but the chosen color is nice.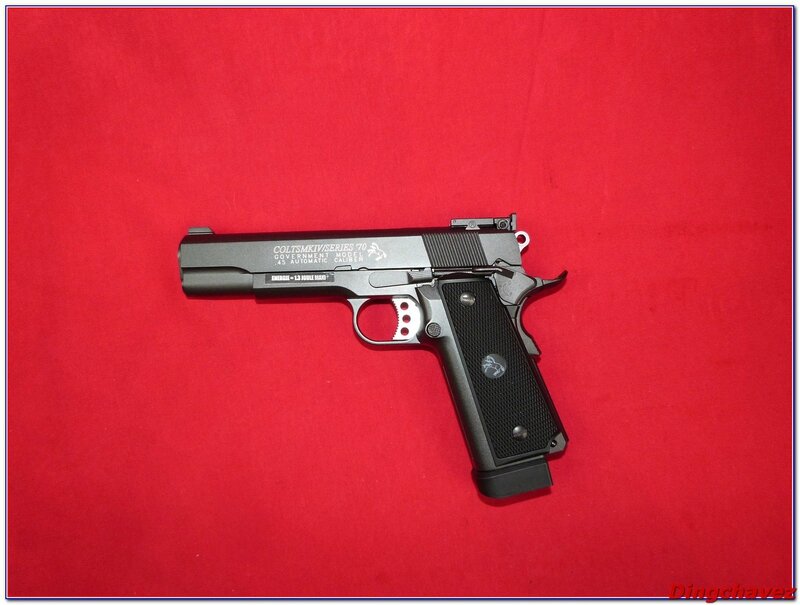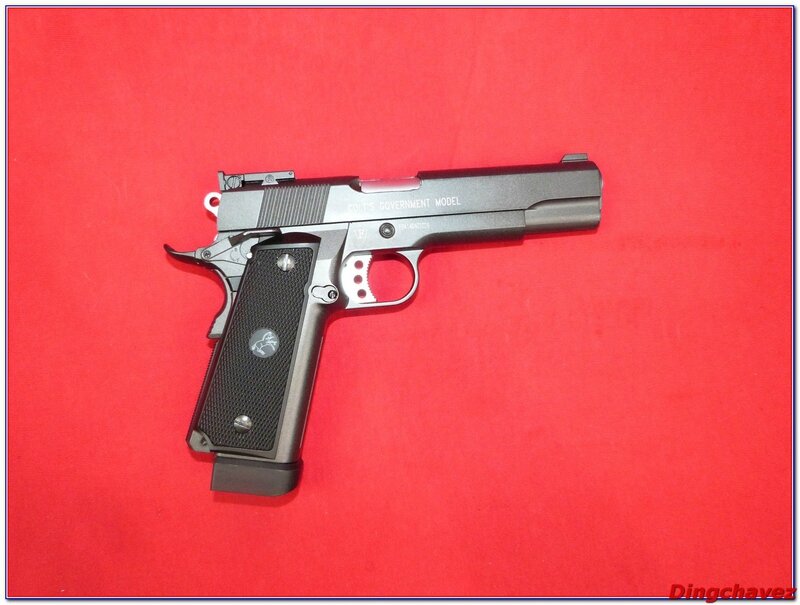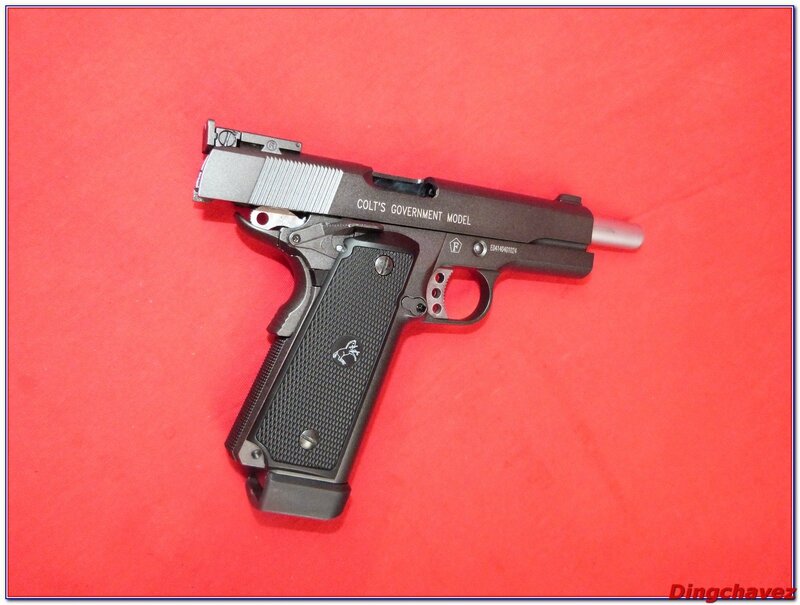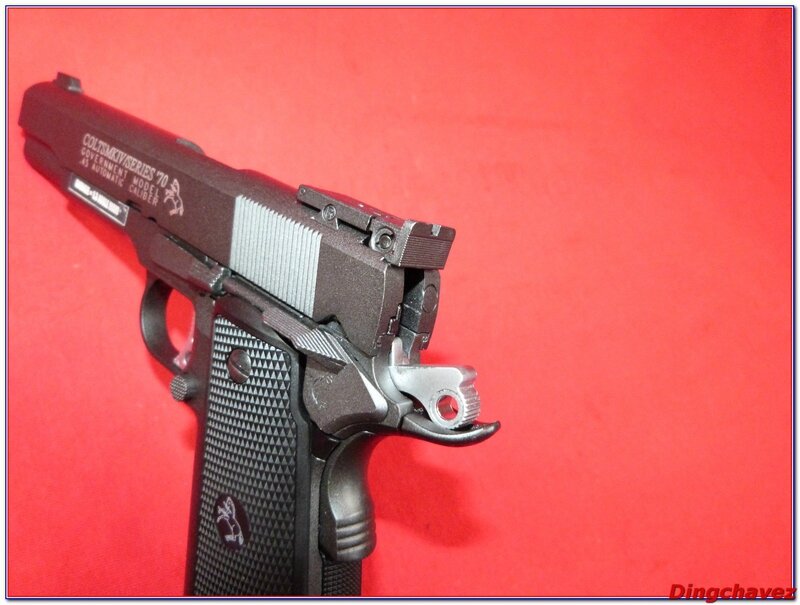 Licence oblige, on a donc droit aux marquages Colt conformes (même s'ils ne sont, du coup, pas conforme avec la réplique, vous suivez toujours ?)
Because Cybergun owns the licence, we've got makings in compliance to the real gun, but not compliant with the replica (are you still with me ?)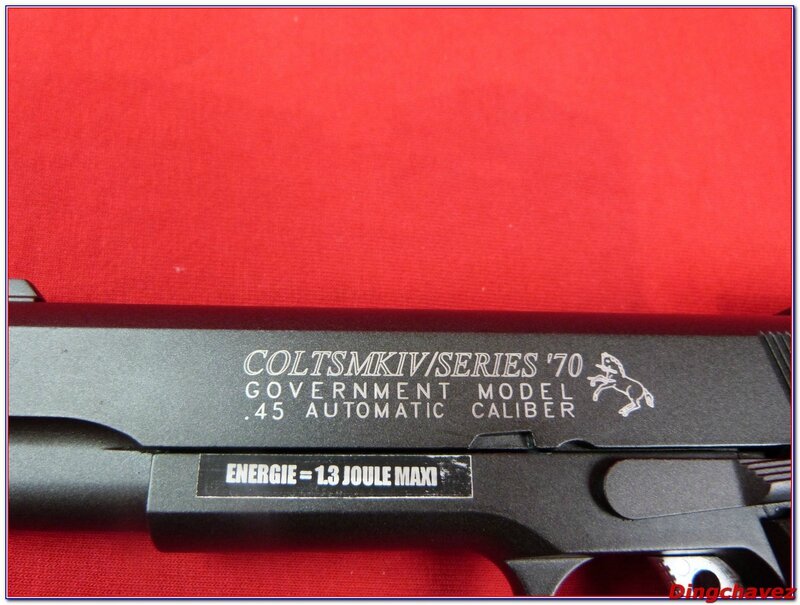 Ils  sont gravés. Cela ressort bien sur le gris anthracite de la réplique et le frottement de vos holsters ne devrait pas les faire disparaître. Sur certaines séries ils sont de travers.
They are engraved . Contrast between white markings and anthracite grey replica is nice. Your holster won't erase the markings. On certain guns, they are askew.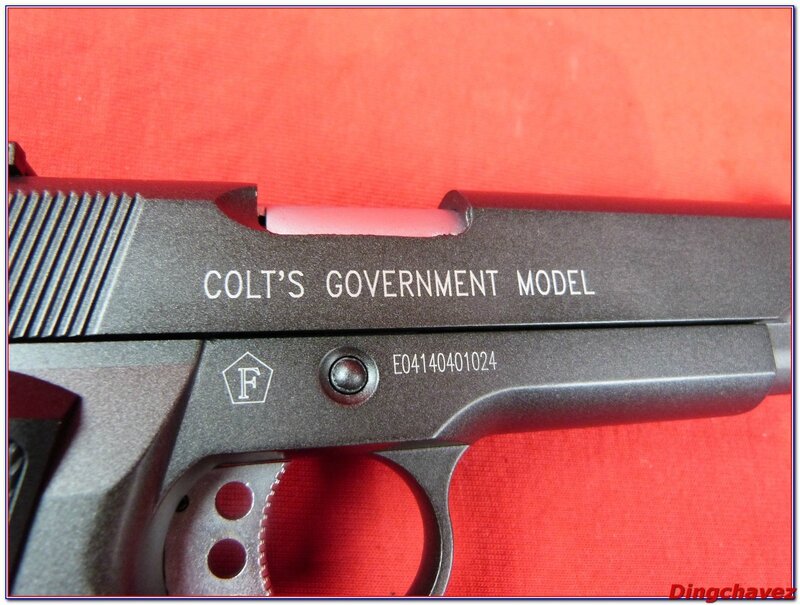 Le logo Colt sur les plaquettes de crosse sont particulièrement… laids… On peut également voir l'arrêtoir de chargeur classique.
The Colt logo on the grips is particularly… ugly… Tou can also see the classic magazine catch.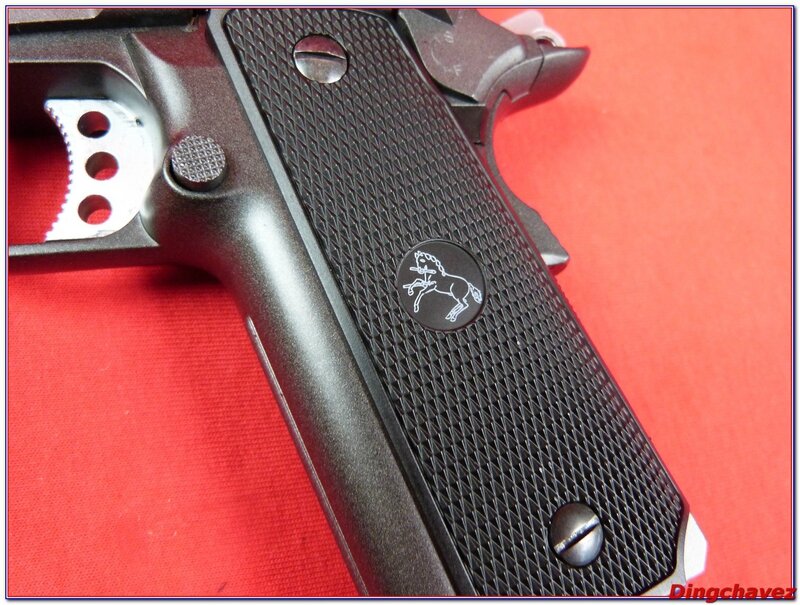 Le levier de sûreté est ambidextre, côté droit la petite vis n'était pas serrée, attention donc à ne pas perdre la pièce.
The safety lever is ambidextrous. The right one wasn't tightened, so be careful not to lose it.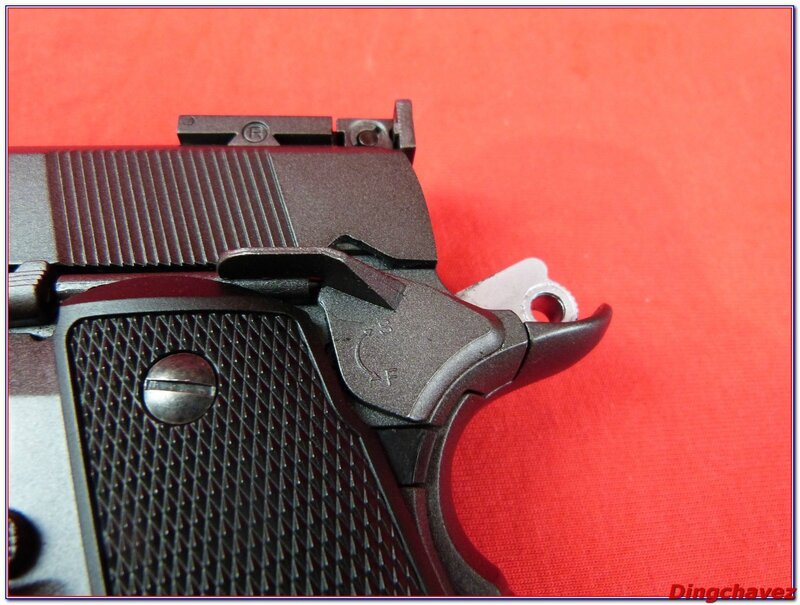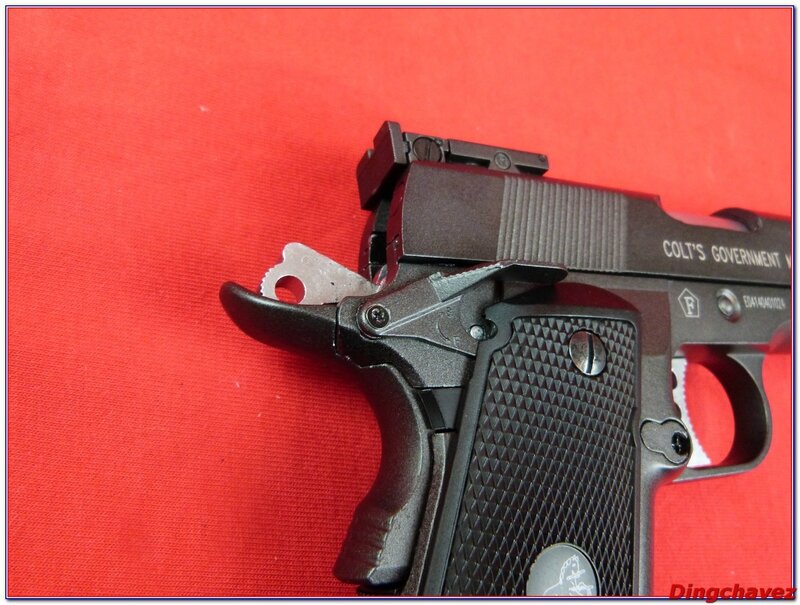 Certains camarades ont reçu une réplique avec le cran de mire coupé en biais, j'ai eu de la chance, celui-ci est droit.
La hausse réglable en site et en gisement. Elle souffre d'un léger jeu mais cela n'influe pas sur la prise de visée.
The rear sight can be set in height and windage. There is a slight wobble but it doesn't disturb the aiming.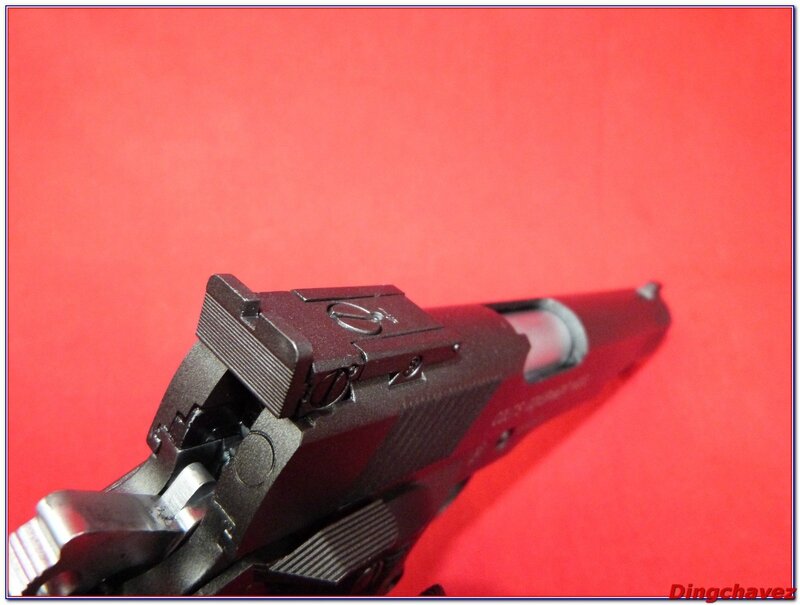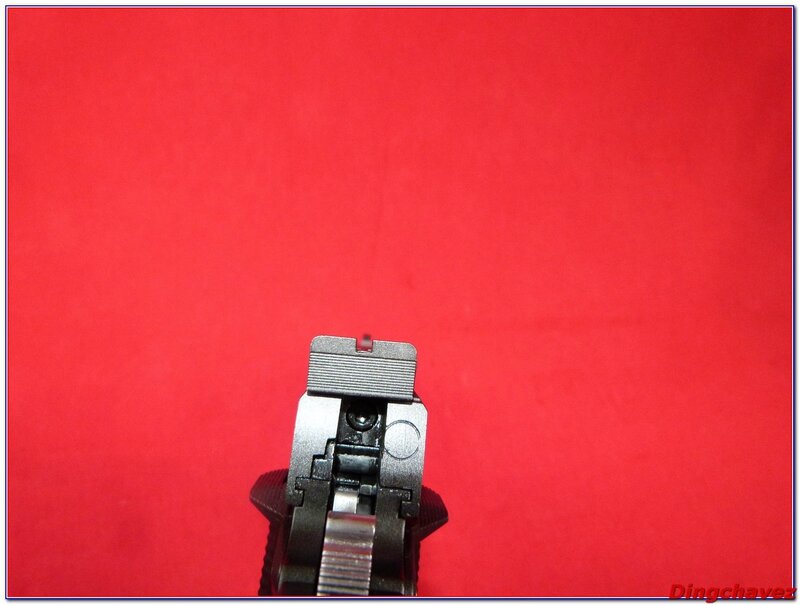 La détente ajourée est assez agréable. Il n'y a presque pas de jeu et le départ du coup est franc.
The openworked trigger is quite nice. There's almost no slack.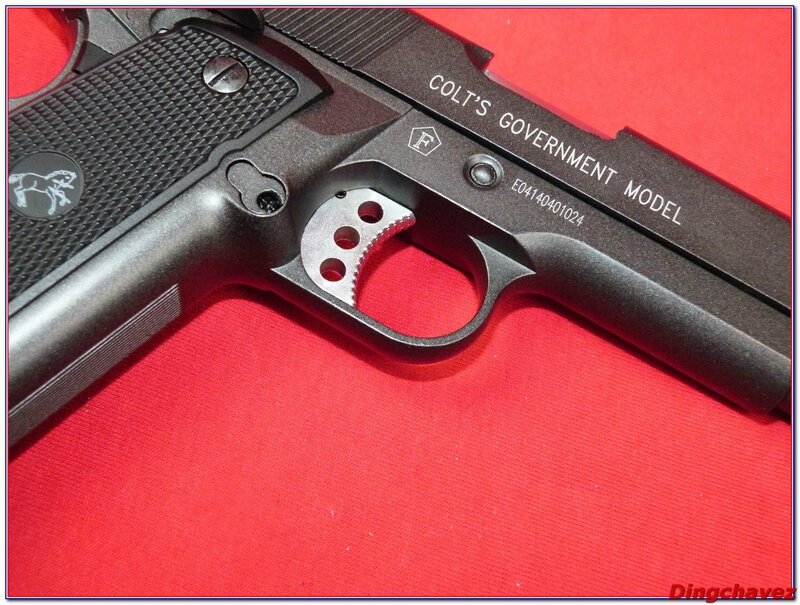 Le canon externe est fileté. Nous en avons parlé précédemment, un adaptateur en plastique est fourni dans la boite.
Ce filetage n'est pas compatible avec le kit WE assassin.
The outer barrel is threaded. As I told you before, there is a plastic adaptor in the box.
This thread isn't compatible with WE assassin kit.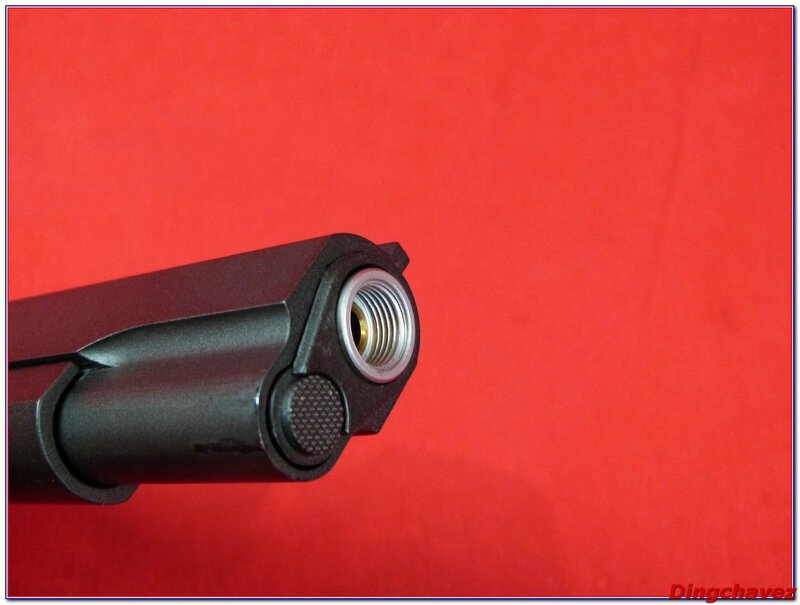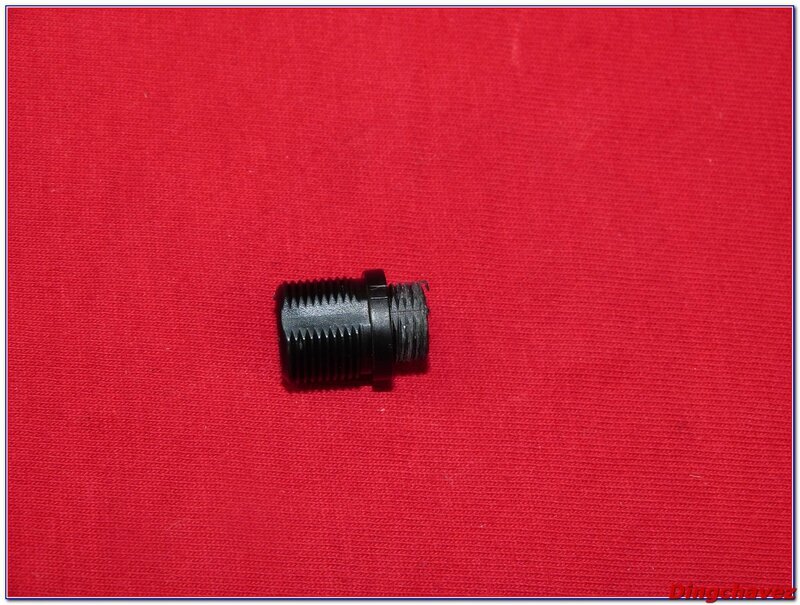 Attention à ne pas visser trop fort, la pièce est fragile. Tout comme la peinture, on peut voir qu'elle est partie assez rapidement.
Be careful not to toghten it too much, this part is fragile. As is the paint, here you can see that it is gone quickly.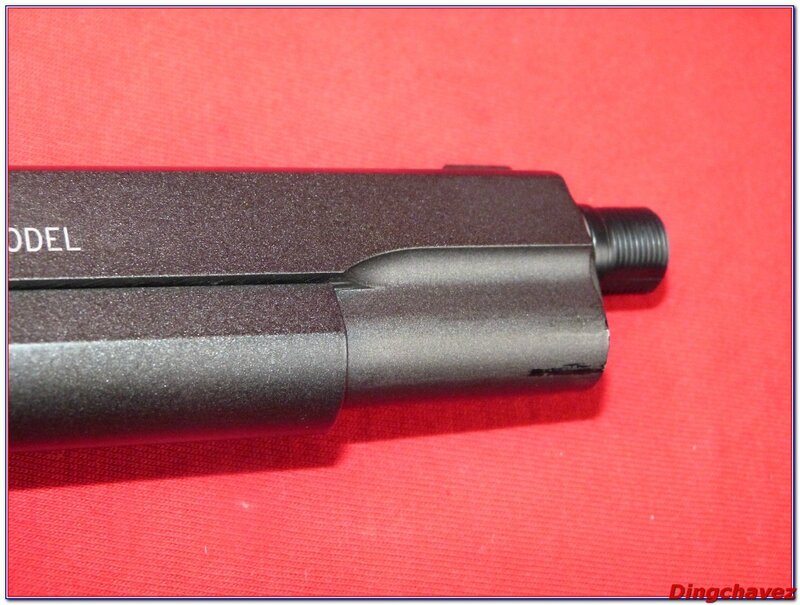 On eut y visser un silencieux en 15mm anti-horaire.
You can screw a 14mm CC silencer.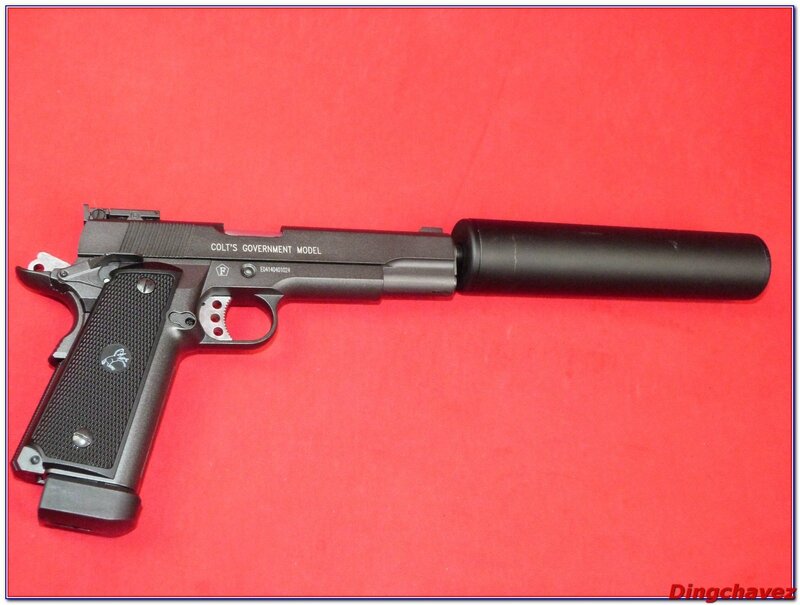 Le chargeur/The magazine :
Annoncé à 19 billes, ce chargeur CO² peut en fait en embarquer 21 mais 19 semble le bon nombre pour éviter de forcer sur le nozzle lors du chargement (comme sur les chargeurs de GBBr).
The 19BB magazine can host 21 but in order not to dammage the nozzle, 19 seems good.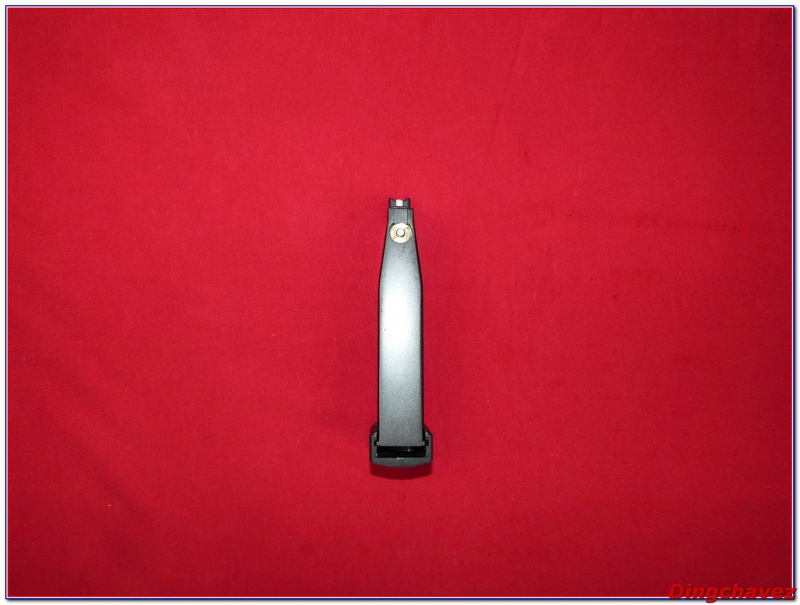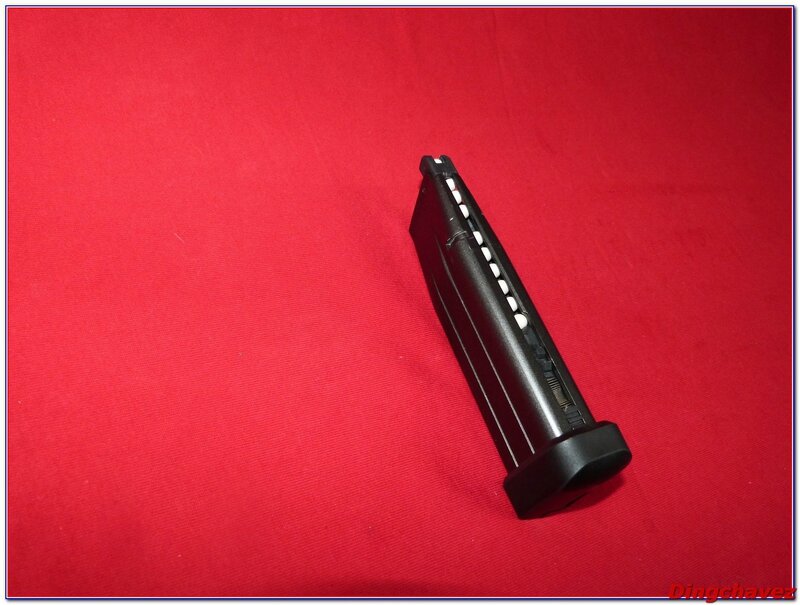 La cartouche de CO² se loge bien évidemment dans le chargeur. Il faut retirer le talon puis dévisser l'extrémité en alliage.
 The CO² cartridge fits inside the magazine. You need to remove the mag plate and unscrew the lid.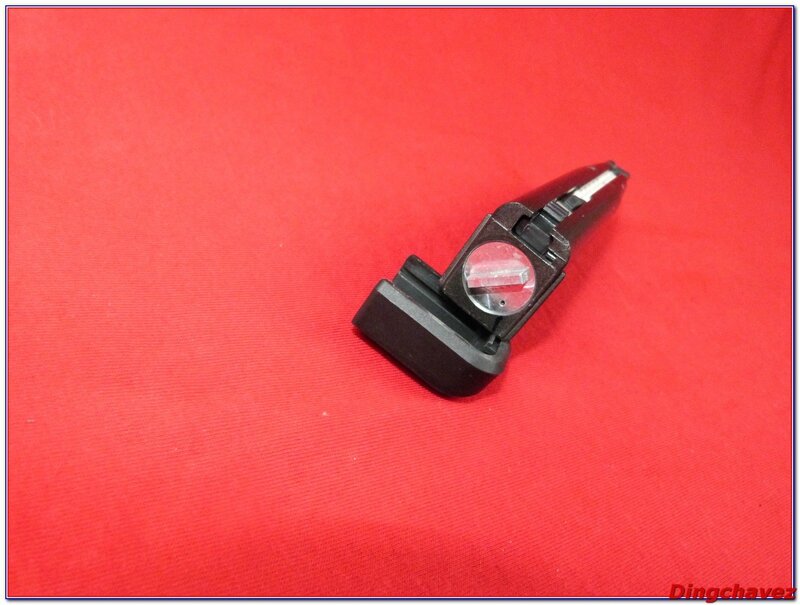 On enfourne la cartouche puis on revisse à la main jusqu'au contact.
Insert the cartridge and screw the lid until you reach contact.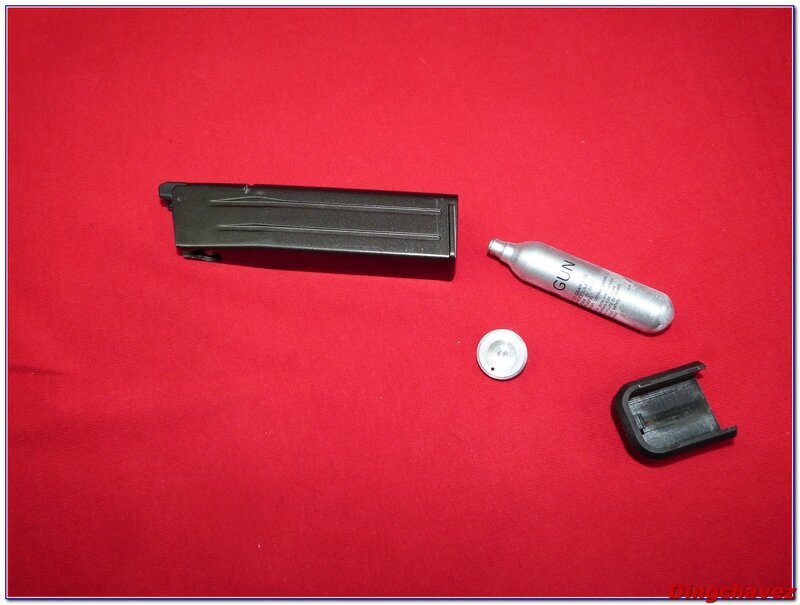 On peut ensuite utiliser l'encoche du talon pour terminer le serrage.
 Then finish using the mag plate.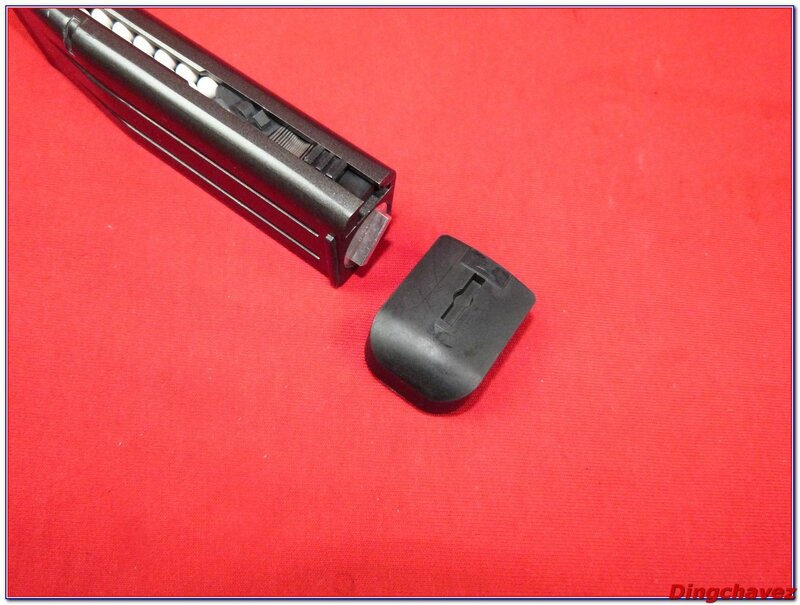 Attention, sur certains modèles (comme sur le mien), le talon de chargeur a tendance à se détacher tout seul.
Be careful, on some of those replicas, the mag plate tends to go away by itself.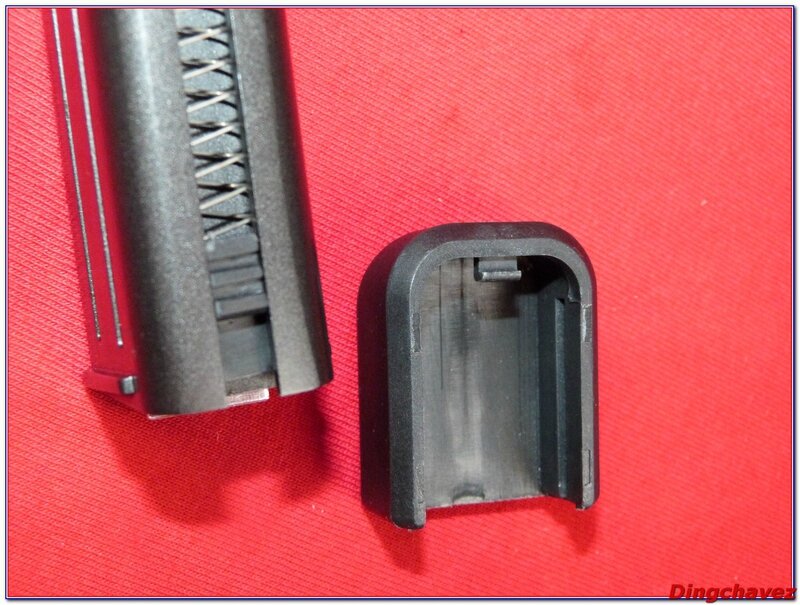 Démontage et interne/Field stripping and internals :
Rien de plus simple que de démonter une réplique type Colt 1911 !
Après avoir enlevé le chargeur, on tire la glissière jusqu'à pouvoir déposer l'arrêtoir.
Nothing simpler than stripping a 1911 !
After having removed the magazine, pull the slide until you can remove the catch.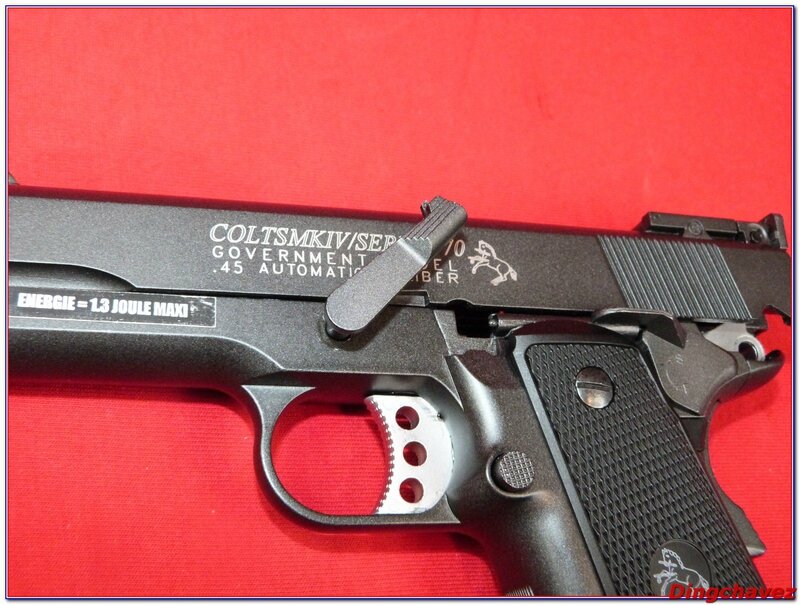 Puis faire coulisser la glissière vers l'avant, le tour est joué.
Then push the slide forward, job's done !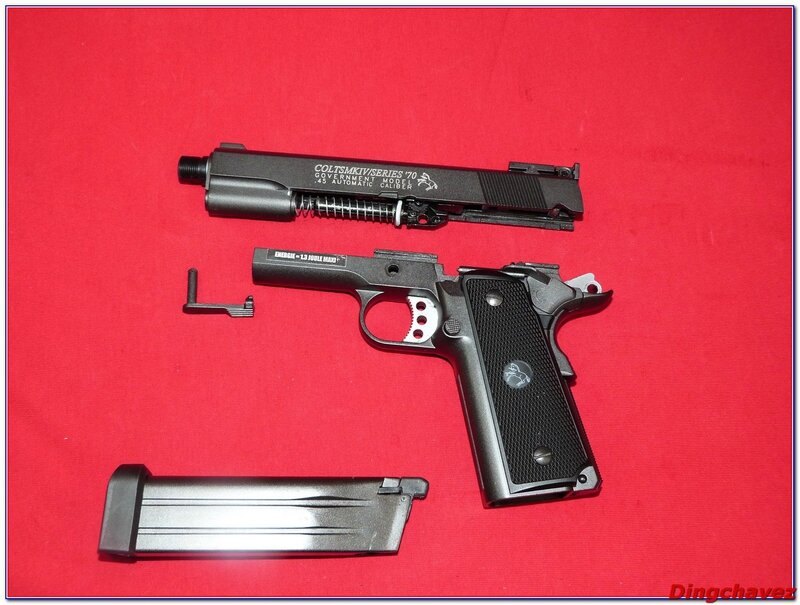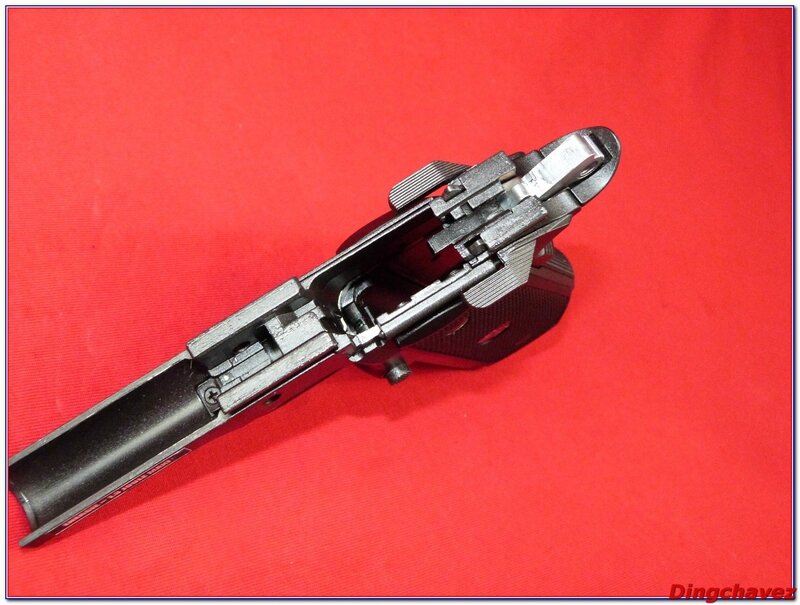 Nous allons maintenant pouvoir retirer le ressort récupérateur et sa tige-guide.
Now we can remove the recoil spring and the spring guide.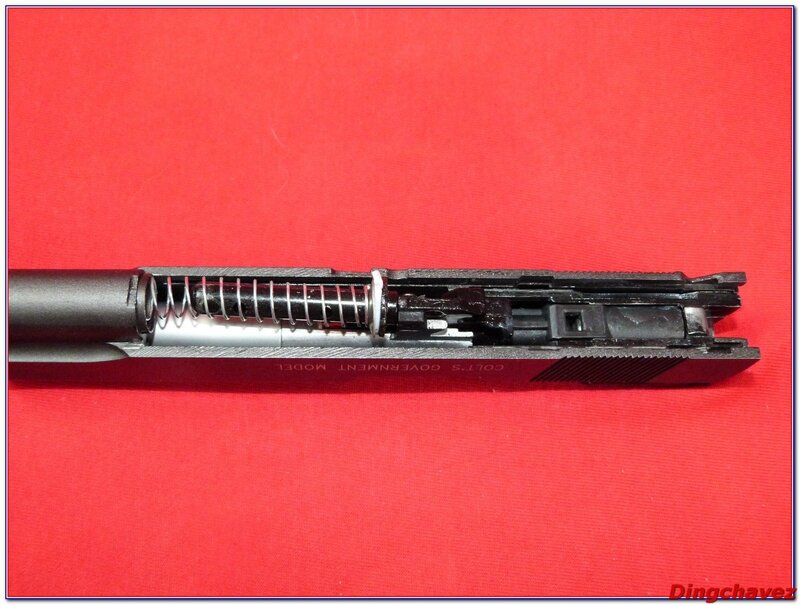 On peut remarquer une sorte de joint en silicone assez grossier sur la tige-guide.
Notice the ugly silicon joint on the spring guide.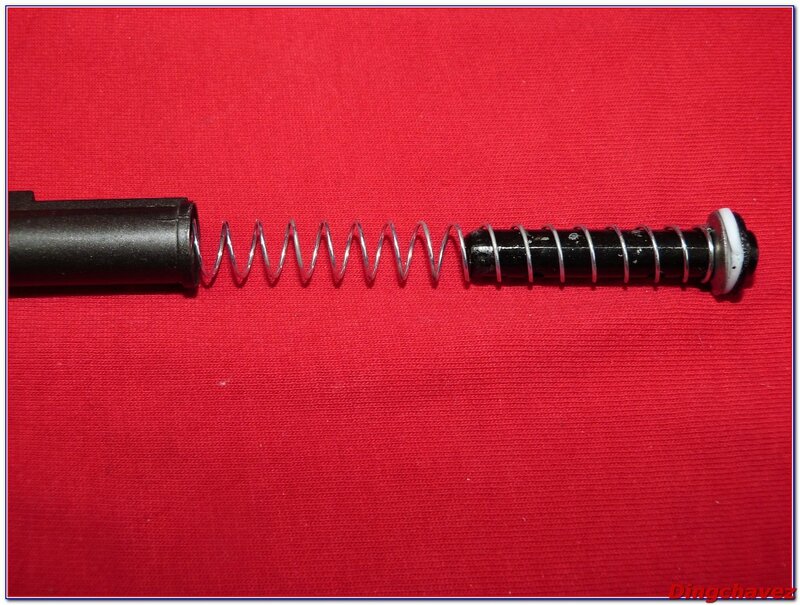 On fait ensuite tourner l'espèce de tenon de verrouillage pour enfin pouvoir sortir le canon externe.
Then turn the barrel bushing to finally remove the outer barrel.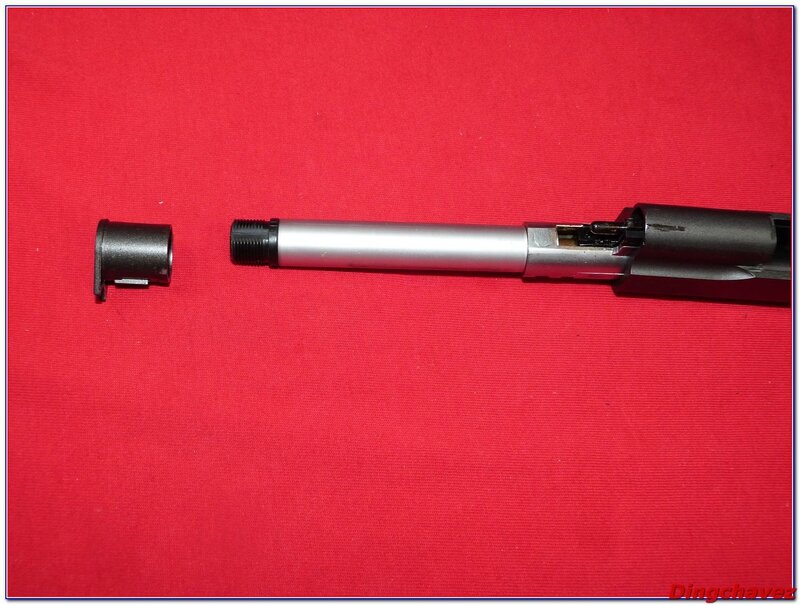 Bon point, le nozzle semble solide.
Good thing here, the nozzle seems durable.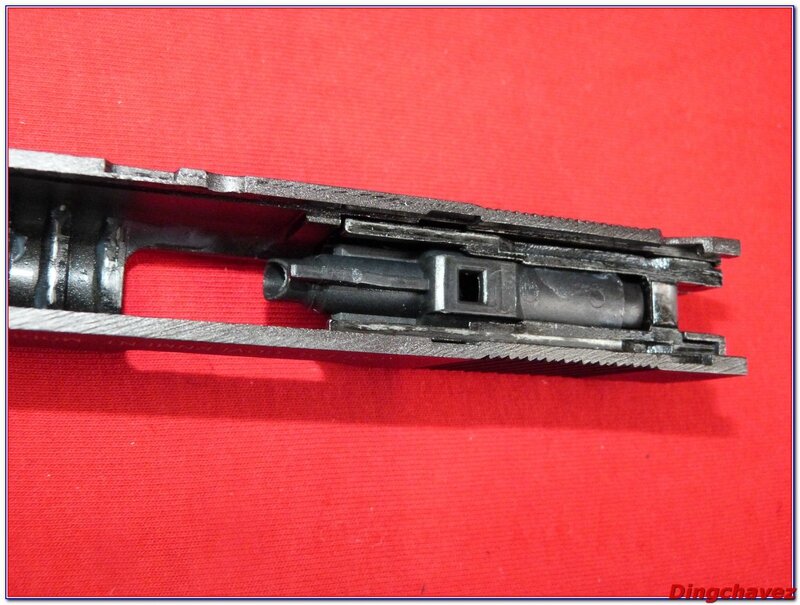 A ce stade, vous pouvez nettoyer et graisser votre PA puis le remonter, ou aller un peu plus loin si vous voulez changer le canon ou le joint de hop… euh, spin up !
At this point, you can clean and lubricate your handgun and reassemble it, or you can make a step further if you need to replace the inner barrel or the hop… ahem, spin up rubber !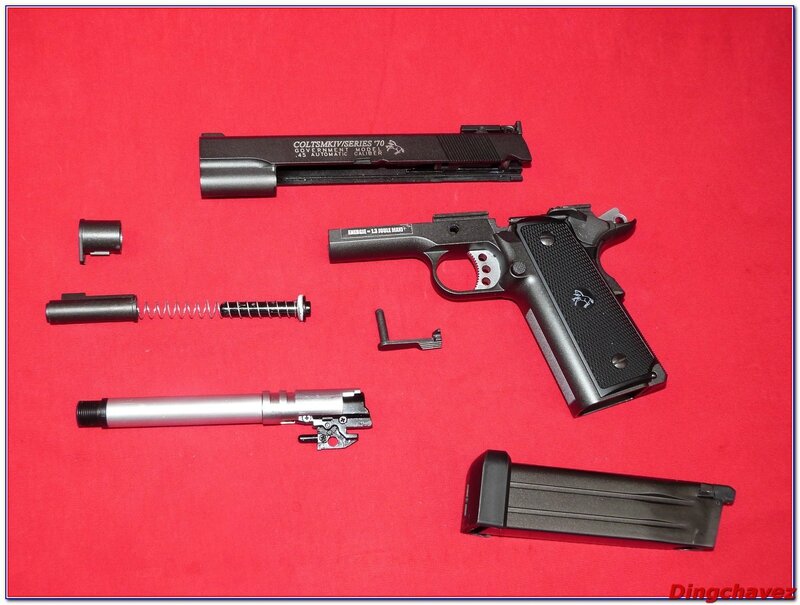 Pour ce faire, ôtez une petite vis (qui sur ma réplique n'était pas serrée correctement) qui vous permet de déposer une petite pièce carrée.
To do so, remove this small screw (it wasn't tighten properly on my gun), this will allow the removal of a small square part.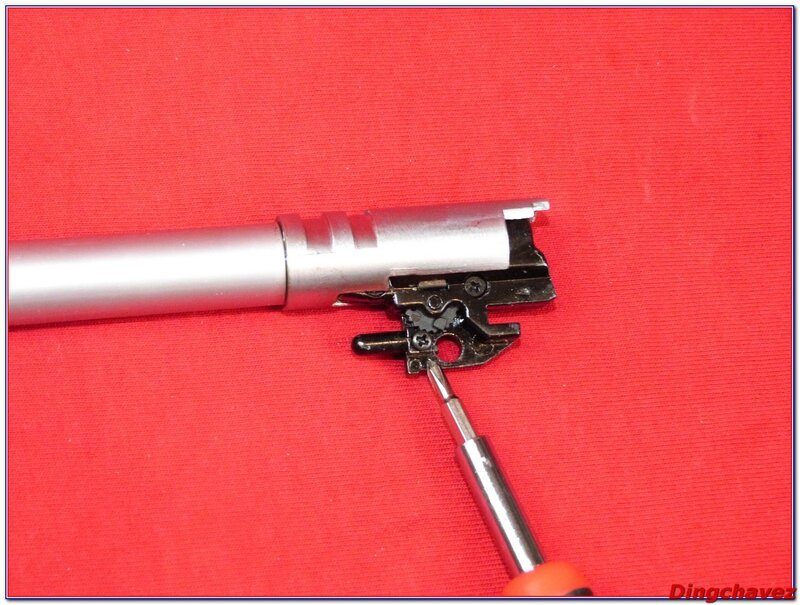 On peut alors retirer le canon interne du canon externe.
Then you can pull the inner barrel out of the outer barrel.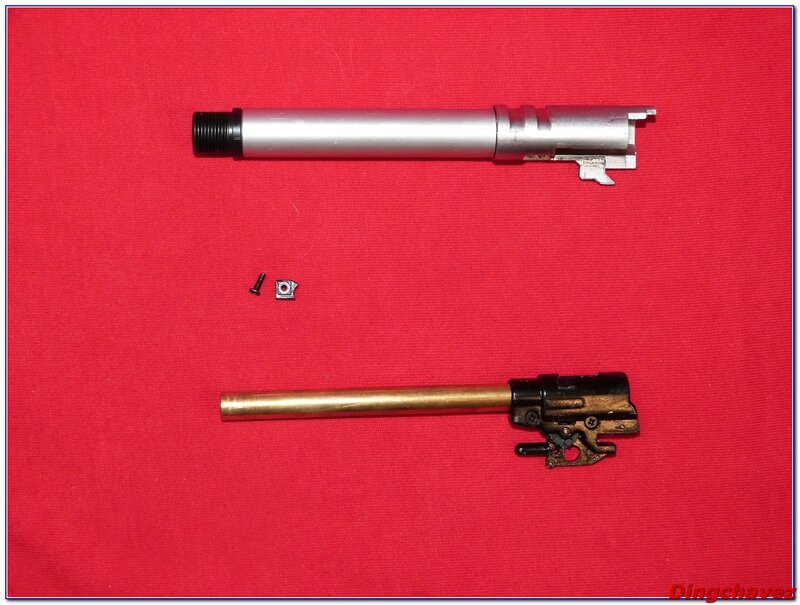 Deux vis retiennent le bloc hop up . Une fois enlevée on trouve un système « type Marui » à molette et lamelle métalique.
Le joint de type VSR-10 est en caoutchouc transparent assez souple.
Two additionnal screws to remove and you can split the spin up unit in two halves and discover a Marui-type system.
The VSR-10 type rubber is made of translucent rubber (duh !)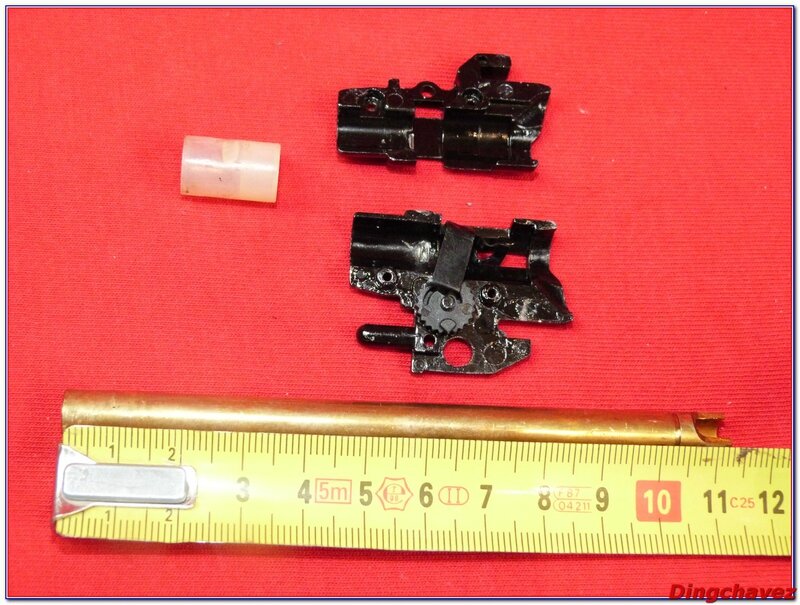 Le canon interne fait 112mm
The inner barrel is 112mm-long.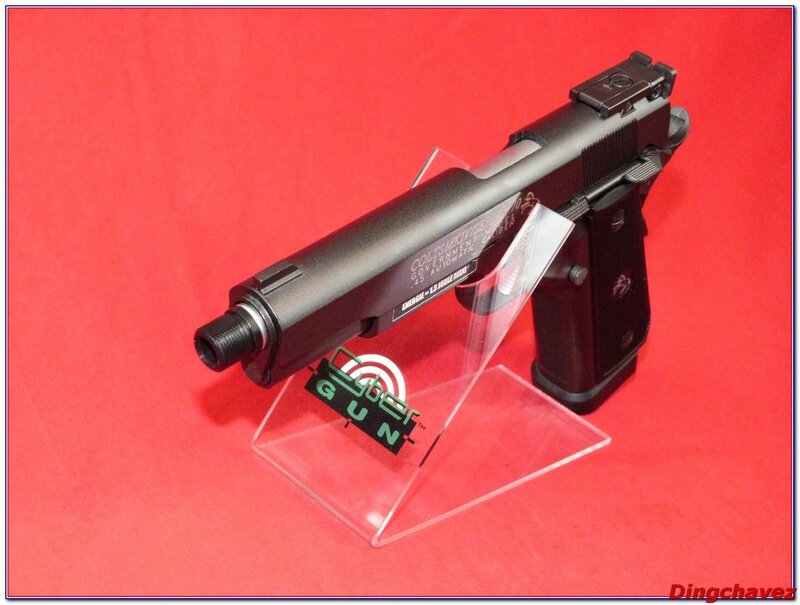 Tests de tir/Shooting tests :
Les tests de vélocité ont été effectués à l'aide de mon fidèle Xcortech3200 et de billes 0.20 bio Airsoft Entrepôt (eh oui, je n'ai plus de billes Xtreme precision en 0.20, ça y est !). La température extérieure était de 24°C mais cela influe peu sur le CO².
La vélocité moyenne mesurée lors des 10 premiers tirs est de 365 FPS (soit 1.4 joules) et sur trois sparclettes j'ai réussit à tirer une moyenne de 67 billes par charge de CO².
Le kick est très sec et on sent que la puissance de sortie est élevée, j'ai eu un peu peur de casser quelque chose et à ce rythme je ne donne pas vraiment une longue durée de vie à la réplique, mais seul l'avenir le dira…
The velocity tests where conducted using my fellow Xcortech3200 and Airsoft Entrepôt 0.20 bio BBs (no more Xtreme precision Bs in 020…). Temperature was 24°C but it's not really relevant using CO²
The average velocity on the first 10 shots was 365 fps (1.4 joules) and on 3 cartridges, I shot an average of 67BBs/each.
Kick is really strong, you can feel that the gun is powerful? I was a bit afraid of braking something and I don't know if this replica will stay the distance. Only future will tell us.
D'ailleurs j'ai été assez rapidement confronté à un problème de réarmement de la réplique. Le cycle se fait et la détente « pédale dans le vide », m'empêchant de tirer. Le simple fait d'enlever/remettre le chargeur permet de reprendre le tir… Etonnant… Il semblerait que cette petite pièce ait du mal à revenir en place :
By the way, I had quickly a trigger reset problem. Cycle is good but the trigger doesn't reset, so it is hard to double tap because you have to touche the hammer or remove/put back the magazine after each shot. Amazing ! It seems that this small part has trouble to reset :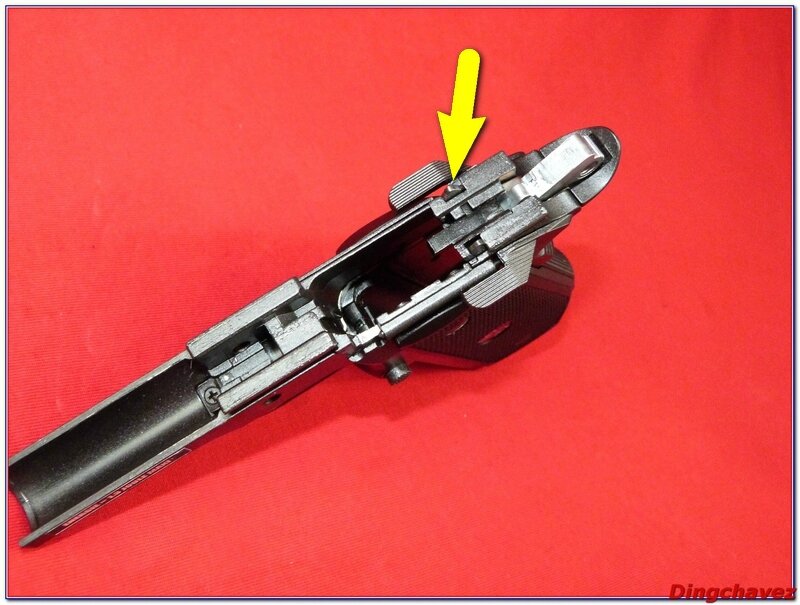 Du coup j'ai préféré ne pas mettre la vidéo de tir en l'état et essayer de réparer ce qui ne va pas, car si mon exemplaire ne tire pas  chaque fois, lorsqu'il tire les performances sont plutôt bonnes. Je vous tiendrai informés dès que possible.
So I prefered not to publish the shooting tests right now and to repair the gun, because when it shoots, it shoots quite well. I'll keep you informed asap.
Conclusion :
Je trouve dommageable pour la marque d'utiliser les licences possédées pour en faire un peu tout et n'importe quoi. Cette réplique n'est clairement pas un MarkIV series70 et y apposer les marquages Colt n'y change rien. Reste à savoir à qui s'adresse vraiment ce produit : tireur amateur ou sportif à la recherche de quoi s'entrainer dans son jardin ou joueur novice qui « flashera » sur la jolie boite ? Malgré tout ce hi capa devient jouable dès lors qu'on fait l'effort de se procurer des chargeurs gaz et s'il était un peu moins cher, il représenterait dès lors une alternative viable pour le nouveau joueur désireux d'acquerrir une première réplique de poing, ou le vétéran cherchant un backup qu'il peut un peu maltraiter sur le terrain sans pleurer à la moindre égratignure (possesseurs de PA Western Arms, levez la main !).
J'ai tenté une fois encore de vous donner un maximum d'information concernant la réplique, à vous de voir si elle correspond à ce que vous recherchez et si c'est le cas, de vous rapprocher de votre boutique préférée. N'hésitez pas à commenter ici ou sur Facebook.
I think that Cybergun shouldn't use the licences they have to do any old thing with them. This gun is clearly NOT a Colt1911 MarkIV 70 Series, even with such markings ! This gun is clearly not for the French market, well, at least not for airsoft players. Maybe for casual shooters or people who want to train in their garden, or newcomers who will buy the gun because of its flashy box…
This hicapa becomes playable if you use gas magazines (and appropriate gas…) and if it were cheaper, it could be a nice « first gun » for many players, or even an « all terrain » backup for more experienced players wanting to abuse it on the field without crying out loud for each scratch (Western Arms users, raise your hands !).
I tried to give you as much information as possible, don't hesitate to comment, here or on Facebook.
J'aime/I like :
-Compatible avec les chargeur gaz Spartan Imports, Marui, Well et WE/Compatible with Marui, Well, WE and Spartan gas magazines.
-Look sobre assez sympa/Nice « low profile » look.
-Numéro de série unique /unique serial number.
-Bonne portée-précision/Good range-accuracy.
J'aime moins/I like less :
-Trop puissant en sortie de boite pour le terrain/Too powerful out of the box for French airsoft fields.
-Peinture fragile/Fragile paint.
-Adaptateur de silencieux en plastique fragile/Silencer adaptor made of fragile plastic.
-Ce n'est PAS un Colt MkIV series 70/This is NOT a Colt MarkIV series 70.
 Et voici en bonus les vidéos des partenaires Cybergun/Youtube :
And as a bonus, here are the videos from my fellow co-partners with Cybergun.
Posté le 29 juillet 2014 par Dingchavez