Review Crown Smith&Wesson M19 .357 Combat Magnum

08 septembre 2014
Lorsque Julien, gérant de la boutique en ligne IMPULSE (ex-Pulse Japan mais en mieux) m'a proposé de tester une « nouvelle » marque (comprendre : un truc qui n'est pas connu en Europe) j'ai été curieux de voir ce qu'il allait me proposer. Après un bref aperçu des répliques fabriquées (souvent à Taiwan et en Corée) par Crown Models, j'ai pu choisir trois modèles : le ELEX9 (review à venir), un S&W M29 à gaz(review à venir) et ce Smith&Wesson M19 .357 Combat Magnum 4 pouces à ressort.
Vous avez sans doute déjà vu la vidéo de présentation de ces répliques, mais au cas ou, voici une piqûre de rappel :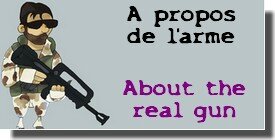 Un peu plus petit et léger que son grand frère le M27, le M19 est chambré en .357 Magnum, le plus vieux calibre « Magnum » pour arme de poing (1935, et un certain Dan Wesson n'y est pas étranger…). Fabriqué de 1957 à 2005, le M19 a connu un franc succès et équipe encore de nombreuses forces de police ainsi que le GSG9 en allemagne. Un article intéressant en anglais se trouve ICI.
Well guys, just read this nice paper here and the wiki !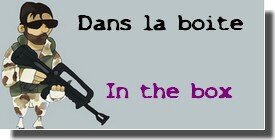 La boite en carton ne paye pas de mine mais elle est relativement jolie.
The plain Jane cardboad box is somehow nice.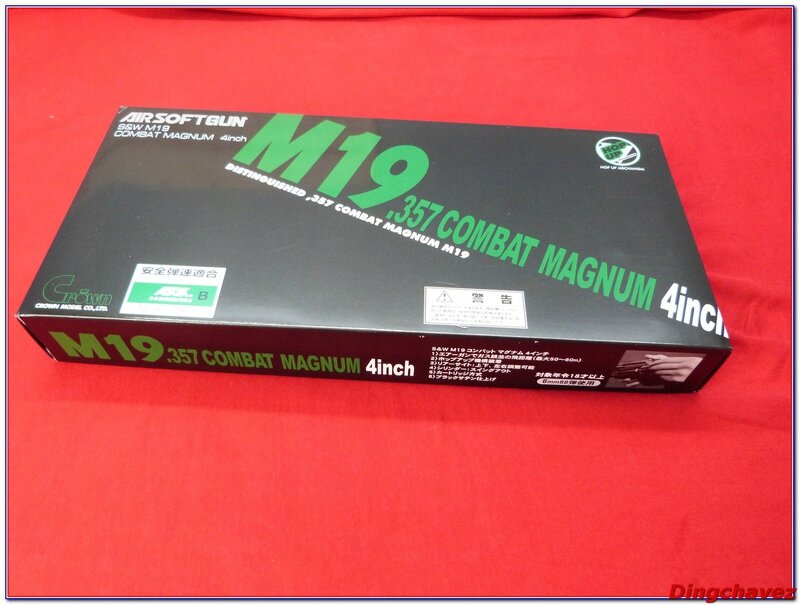 A l'intérieur rien n'a bougé lors du transport, tout étant bien calé dans une coque en polystyrène.
Inside, nothing moved during transport, everything is held in a polystyrene shell.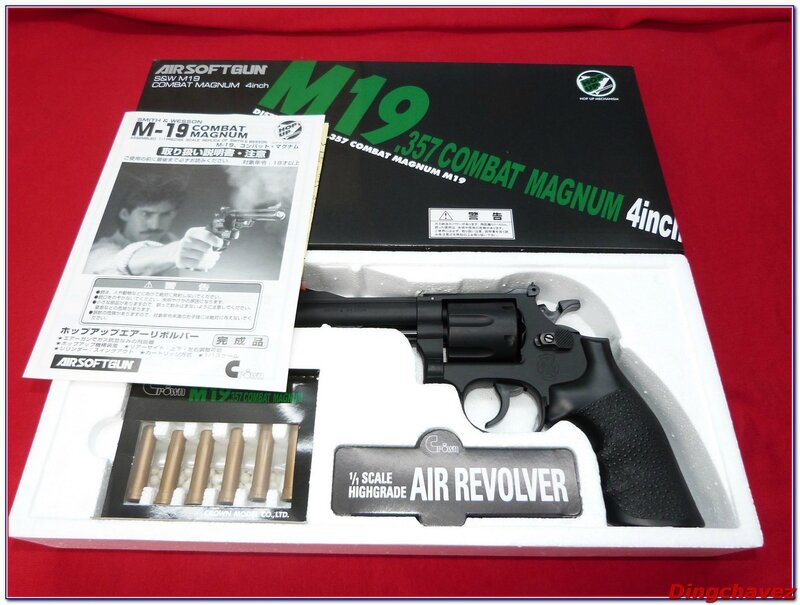 Il y a tout ce qu'il faut pour aller jouer immédiatement :
-La réplique, en ABS, elle pèse 362 grammes avec ses cartouches.
-6 étuis en plastique.
-Un petit sachet de billes 0.2 grammes.
-Un guide d'utilisation.
-Deux cibles.
Everything you need to play is in the box :
-The gun, made of ABS, it weighs 362grams with cartridges inserted.
-6 plastic cartridges.
-A small 0.20BB sachet.
-A users' manual.
-Two small targets.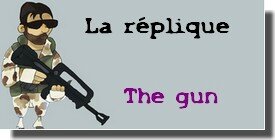 C'est léger, c'est full plastique, mais c'est à l'échelle tout de même !
 It is light, it is full plastic, but it is 1:1 scale !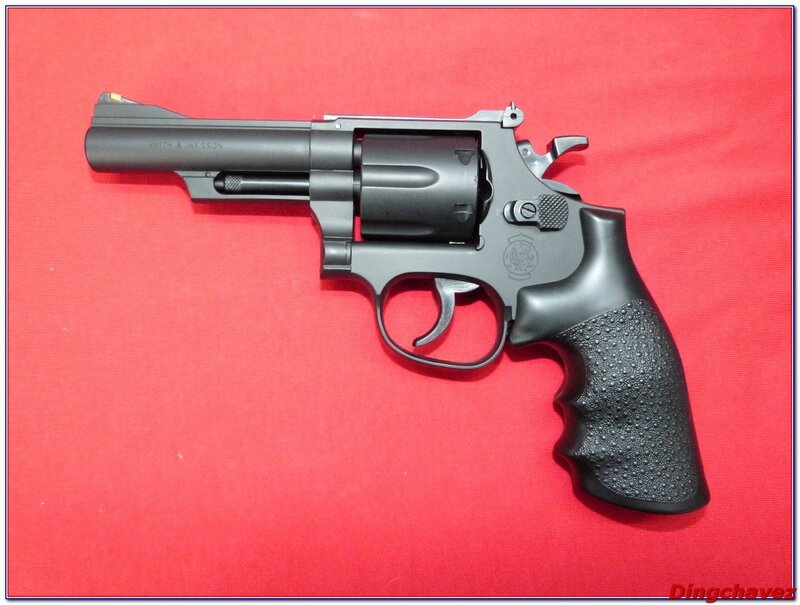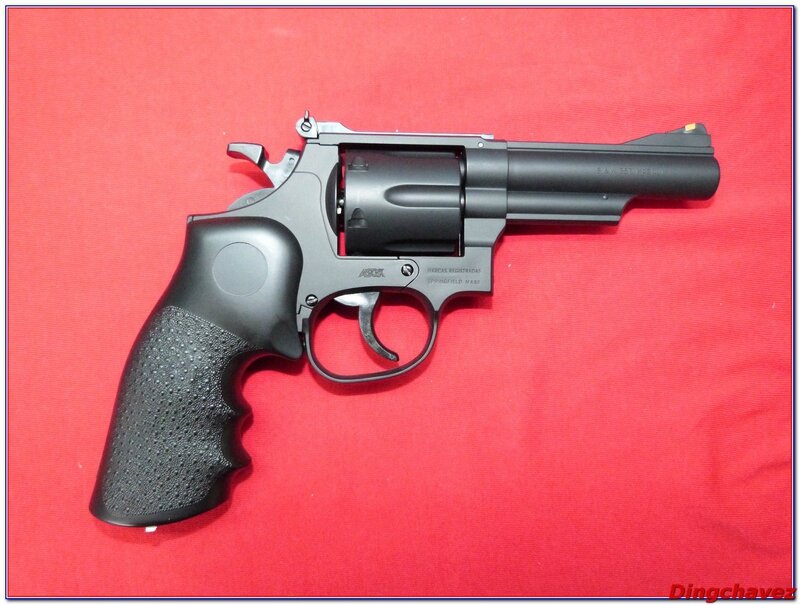 Les marquages semblent gravés point par point, c'est assez déconcertant mais à moins d'avoir le nez dessus ça ne saute pas aux yeux.
Markings seem to be engraved dot by dot, it is puzzling but if you don't pay attention, you won't remark it.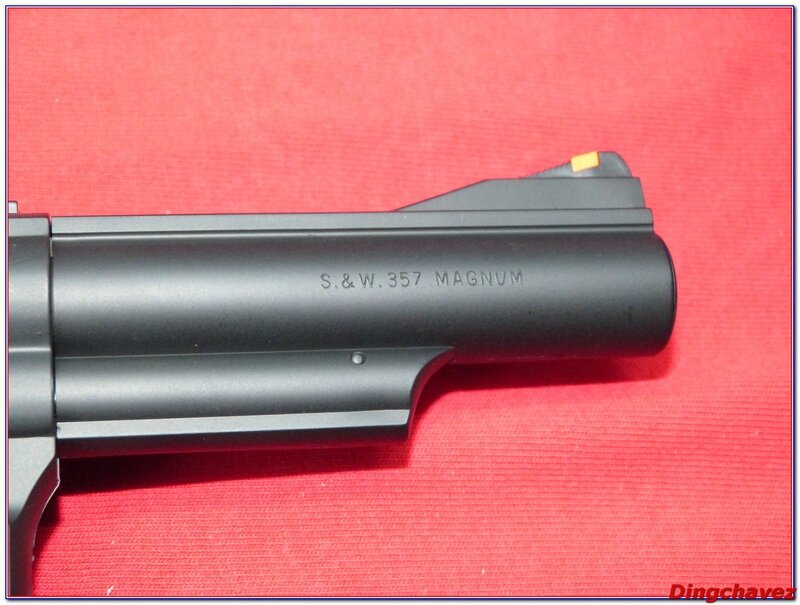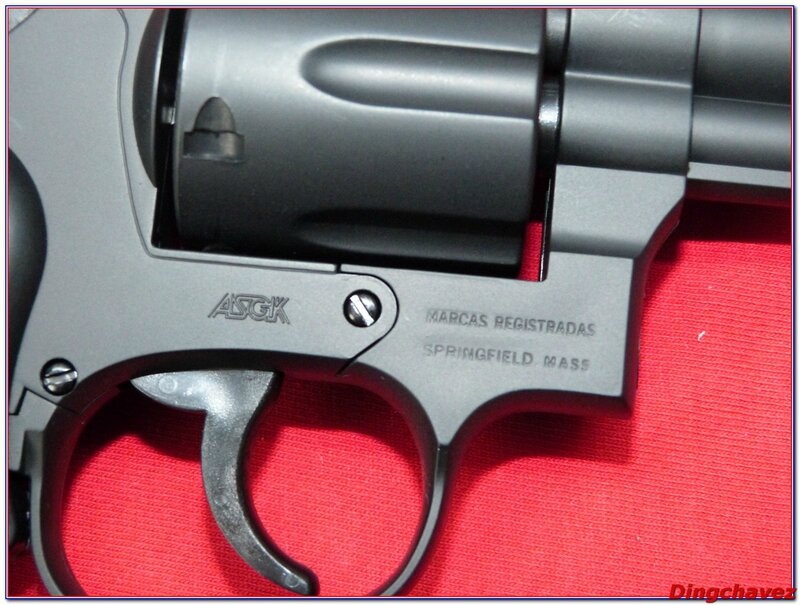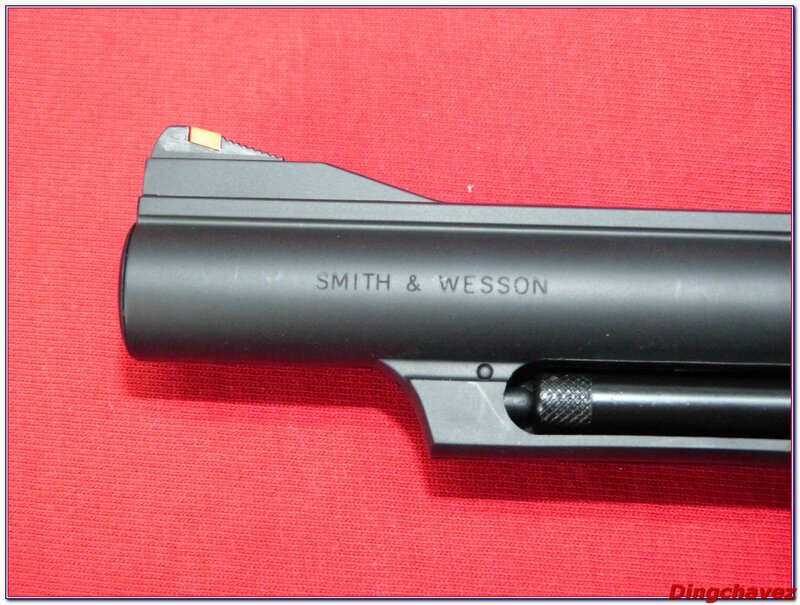 Ce que j'avais de prime abord pris pour les marquages S&W s'avèrent être les marquages CM (Crown Models)
What I thought were S&W markings are, in fact, Crown Models ones ! CW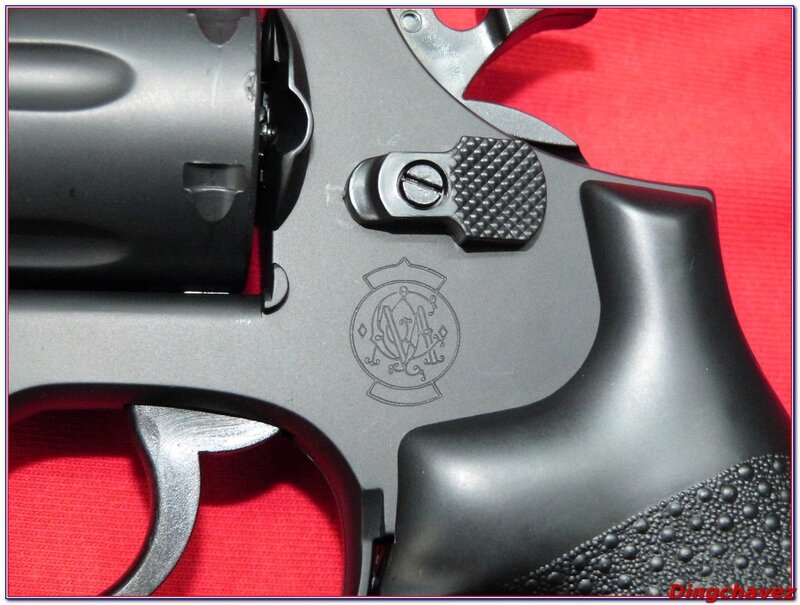 La crosse est parsemée de petites protubérances, ce n'est pas désagréable et elle est ergonomique.
The butt is sprinkled with small lumps, it is not disturbing, handling is good.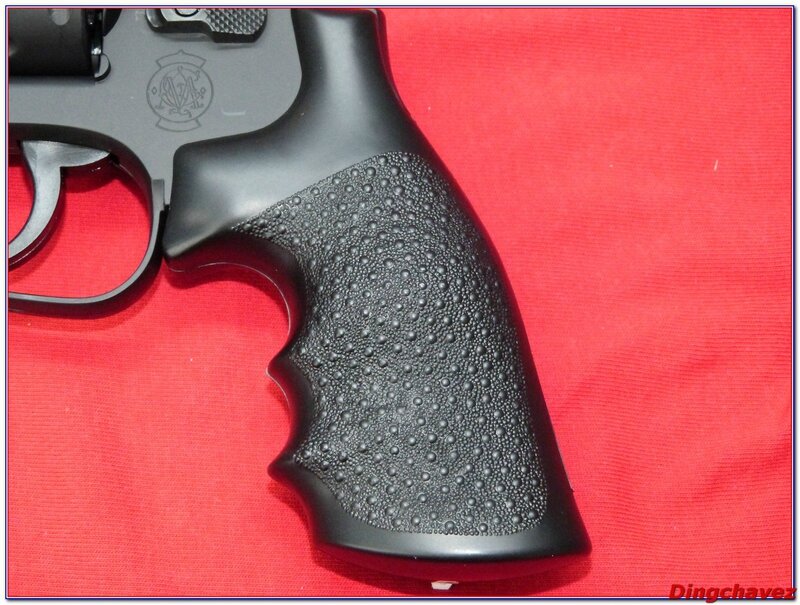 Sous la crosse, la provenance de la réplique n'est plus un mystère !
Under the butt, the gun's origins are no mystery !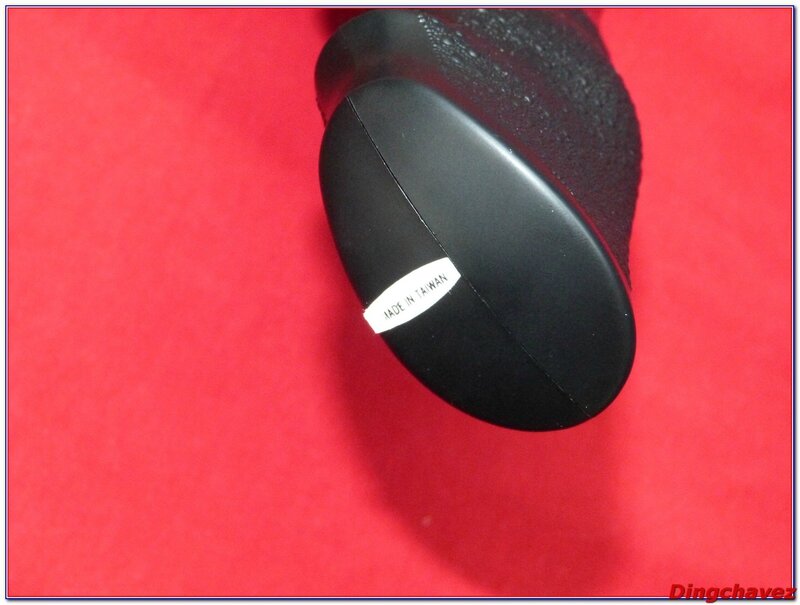 Sous le pontet on peut voir LA grosse trace d'injection.
Under the trigger guard, we can notice THE injection point.
Je ne sais pas si un médaillon est censé prendre place ici.
I don't know if some kind of marking is supposed to be here.
Le marteau est lisse pour éviter toute confusion. On peut apercevoir le tuyau qui relie le cylindre au barillet.
The hammer is smooth to avoid any confusion with a real gun. We can see the hose linking the air cylinder to the ammo cylinder.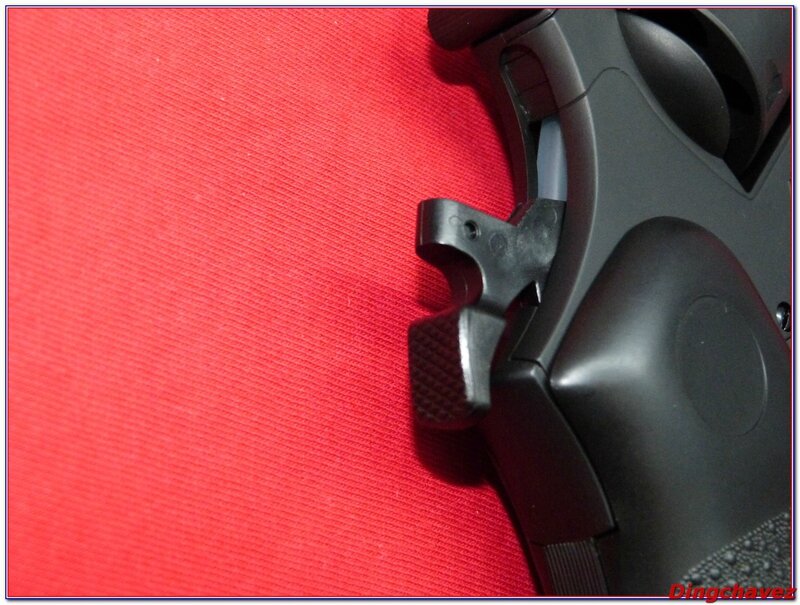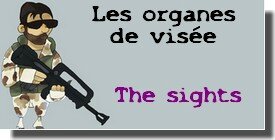 Rien de bien compliqué, un guidon disposant d'un repère orange, une hausse réglable en hauteur et en largeur.
Nothing complicated, a front sight with an orange point of reference, and a rear sight that you can set in height and windage.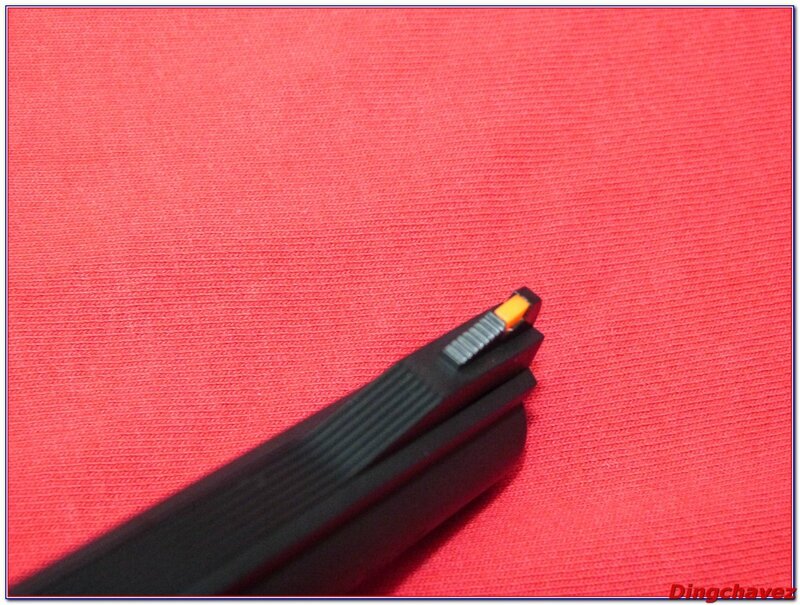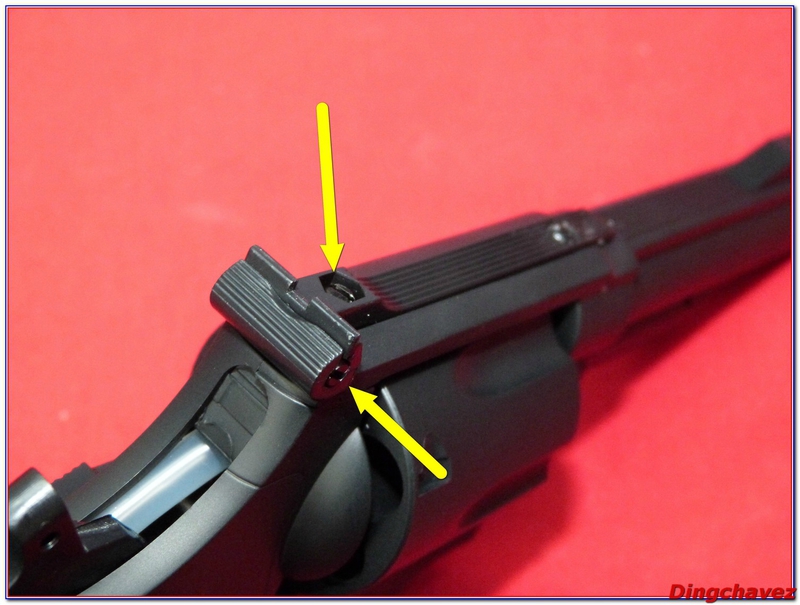 La visée est aisée.
Aiming is easy.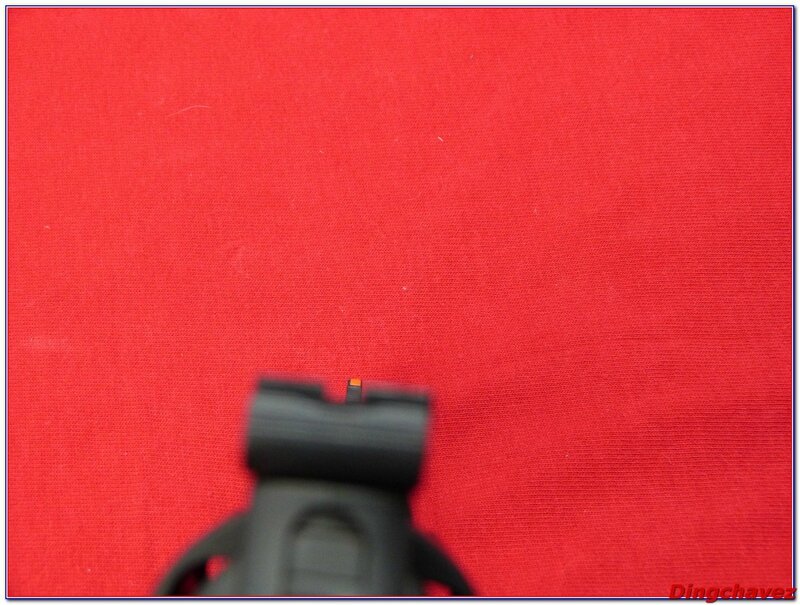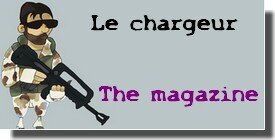 Si lorsque l'on actionne la sûreté vers l'arrière il n'est pas impossible de tirer (bug de mon exemplaire ?), la pousser déverrouille le barillet.
If pulling the safety to the rear doesn't prevent the gun from firing (malfunction of my piece ?), pushing it will unlock the cylinder.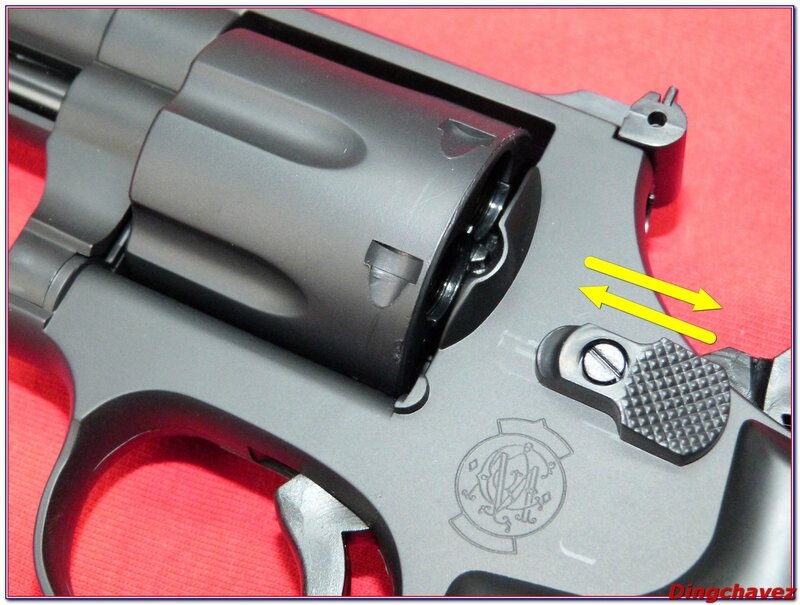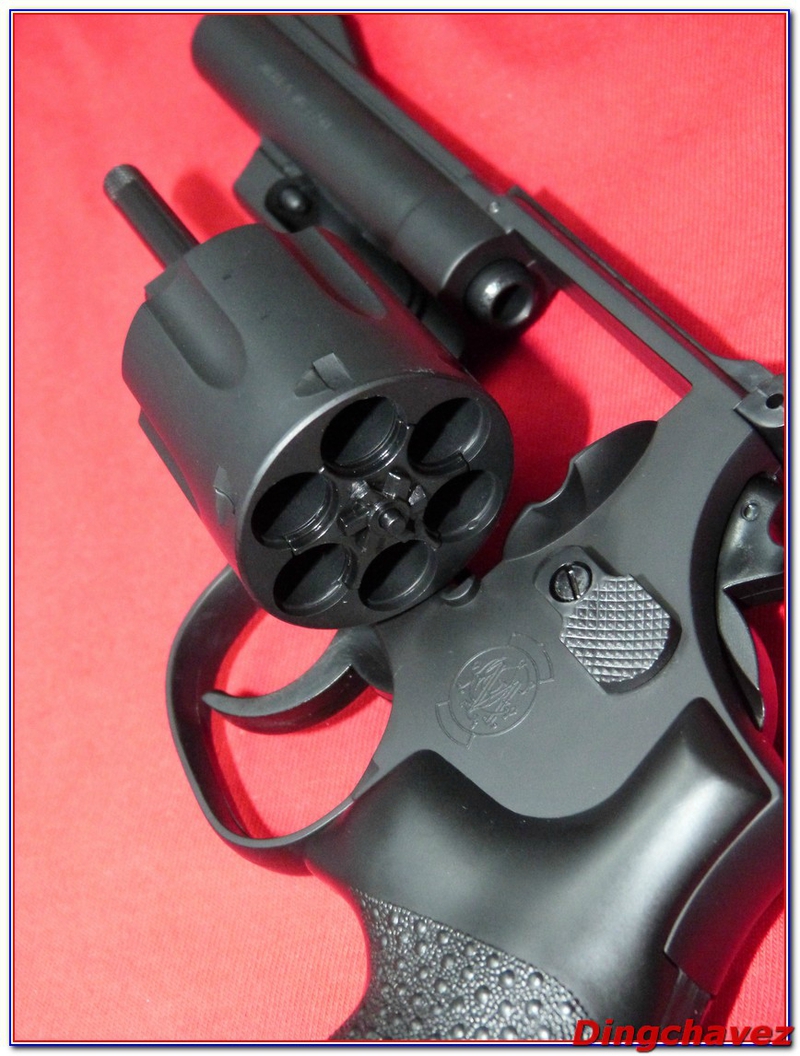 On peut voir ici l'arrière du bloc hop up qui assure l'étanchéité.
Here we can see the rear part of the hop up, it improves airtightness.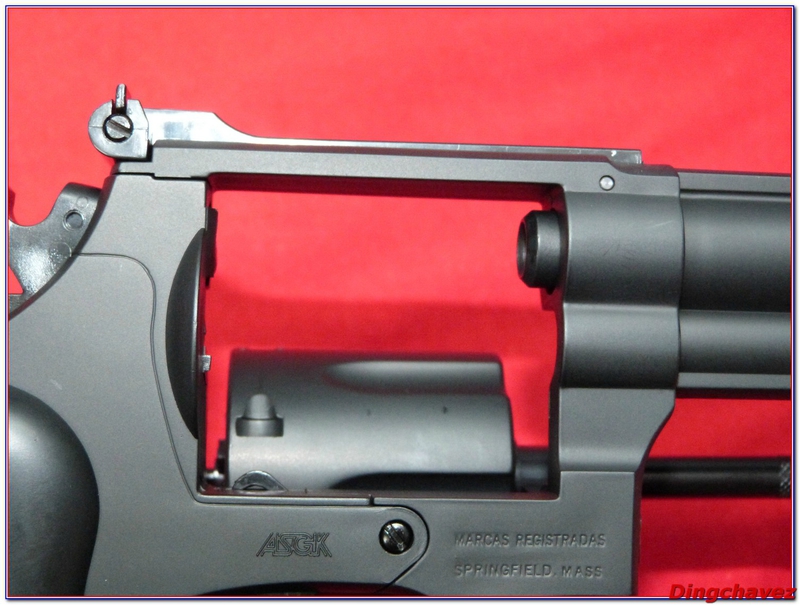 Les étuis en plastique sont équipés d'un joint à double lèvre sur lequel la bille prend place.
The plastic shells have a double O-ring to the rear, this is where the BB goes.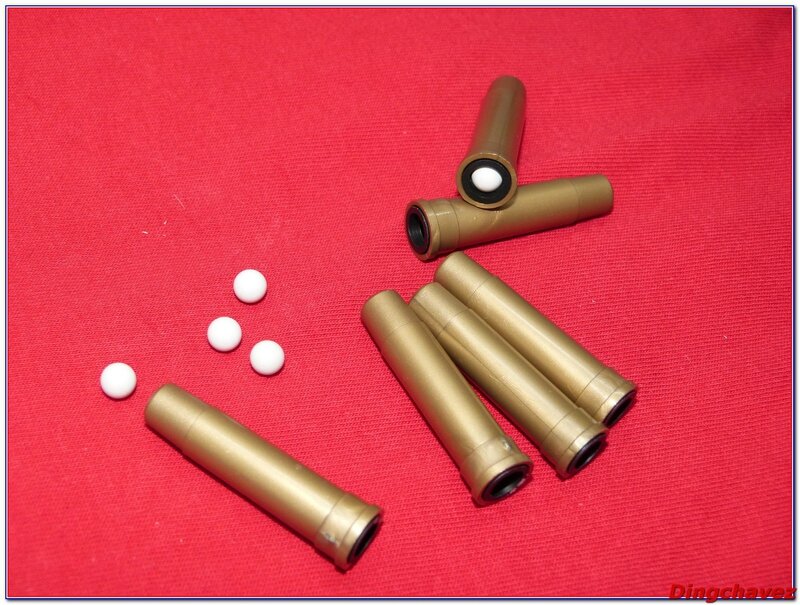 Une fois chargé, vous pouvez rabattre le barillet.
Once loaded, close the cylinder.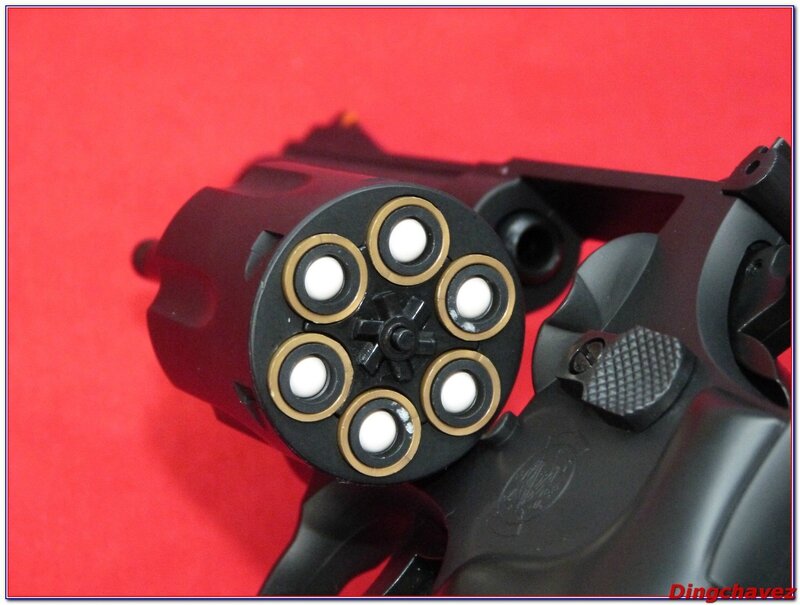 Pour éjecter les étuis, poussez la tige.
To eject the empty shells, push the rod.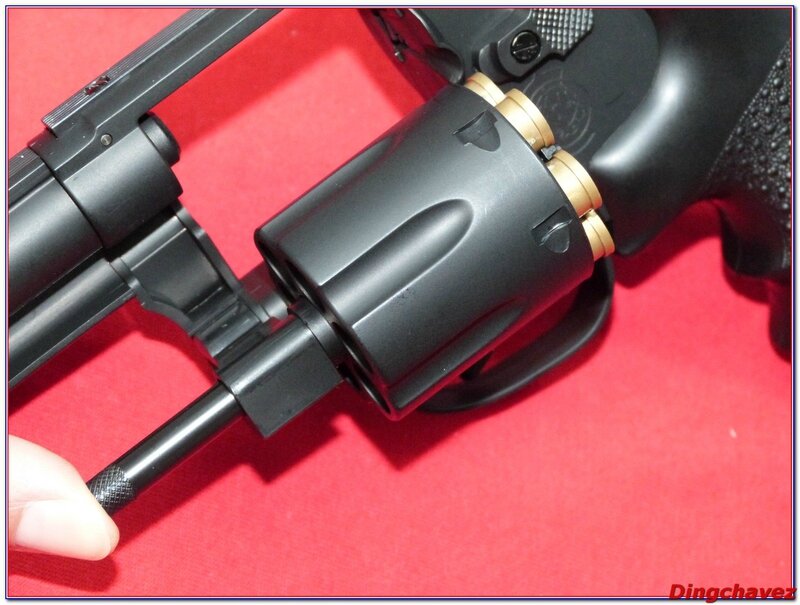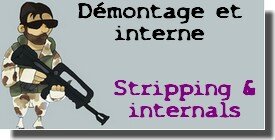 Vous commencez peut être à me connaître, j'aime bien savoir ce qu'il y a dans les répliques que je teste, mais parfois il n'est pas évident de savoir d'où viennent ces petits ressorts qui vous sautent au visage lorsqu'on ouvre un flingue…
C'est un peu ce qui m'est arrivé avec ce M19, cric cric, shhhboouuiing ! Oups, ça va où ce machin ?
Bref, en gros, si vous aimez les frissons ou que la réplique s'arrête de fonctionner, tentez le démontage, sinon, jouez et quand ça casse, achetez-en un autre !
En premier lieu, ne démontez pas le grip. On peut y voir une masse additionnelle autour du cylindre.
Well, some of you may start to know me, I like disassembling my guns, but sometimes it is hard to know where all the small flying springs are supposed to fit…
That's what happened to me with this M19; criic criiic, shhhbooiinng ! Darn, where does this nubbin go ?
Well, basicaly, if you like shiver of excitement or if the gun stops shooting, strip it, otherwise, just play and buy another one if it breaks down !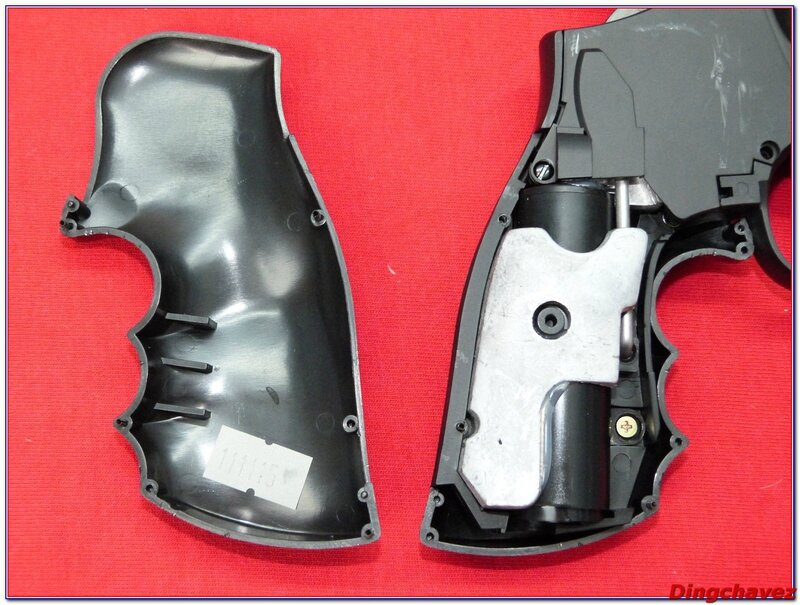 Puis n'enlevez pas ces trois vis afin d'ouvrir le corps (c'est à ce moment là que ça peut gicler…)
Then, don't remove those 3 screws to open the frame (this is when things fly away…)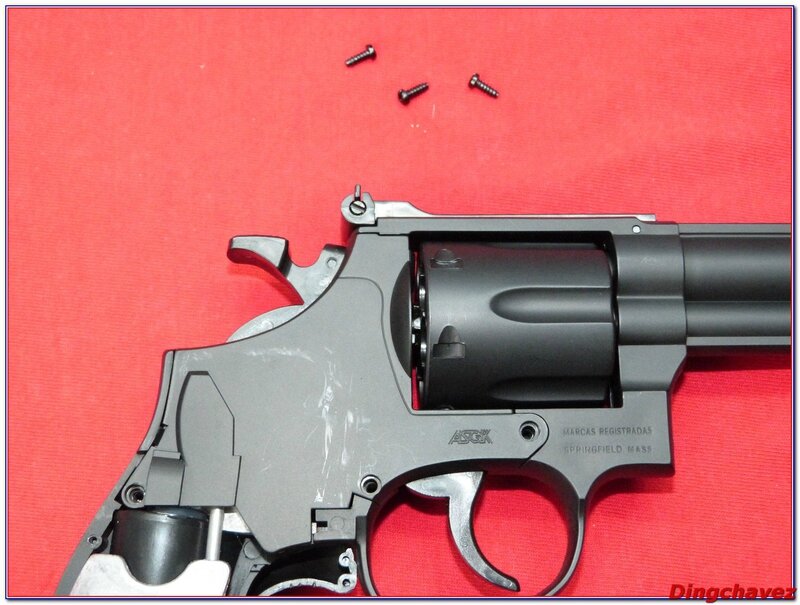 Et voilà, c'est la misère ! Des trucs ont bougé, une pièce est partie, mais cela me permet de vous faire voir comment le marteau arme le piston dans son cylindre !
And here it is ! Misery ! Stuff moved, parts flew, but this allows me to show you how the hammer sets the piston in the cylinder !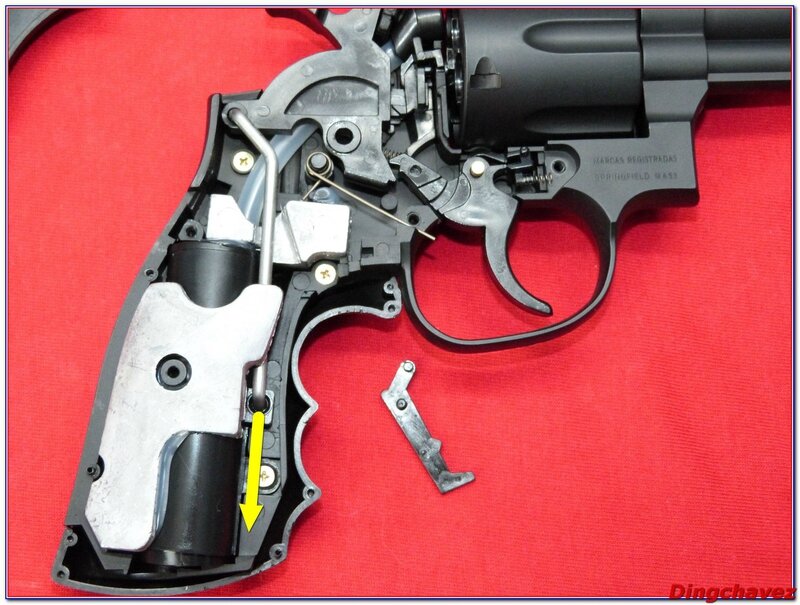 Rassurez-vous, j'ai un moral d'acier, et après avoir englouti 3 chatons, j'ai pu remonter le tout !
But don't worry,I've got strong morale and after eating three kittens, I could to reassemble the gun !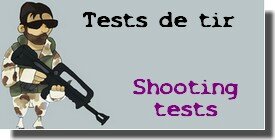 J'ai utilisé des billes 0.20 Bio Airsoft Entrepôt et mon fidèle Xcortech3200 pour les tests de vélocité.
Sur 10 billes j'ai obtenu une moyenne de 119 fps, soit 0.14 joules avec un mini à 104 fps et un  maxi à 129 fps.
Les tirs sont assez irréguliers, le canon interne étant partiellement mobile je suspecte les vibrations dues au retour du piston.
Si le hop up est prévu pour des billes 0.20, j'ai obtenu les meilleurs résultats avec des billes plus lourdes, la meilleure étant la 0.28g.
Après 15 mètres, inutile de chercher à toucher quelque chose en tir tendu, soit la bille tombe avant, soit elle s'envolle.
I used 0.20 Bio BBs from Airsoft Entrepôt and my fellow Xcortech3200.
The average power on 10 shots is 119fps, that's 0.14 joules. The mini was 104fps and the maxi 129 fps.
Shots are not very consistent, probably due to the release of the piston giving vibrations to the partly floating barrel.
If the hop up has been designed to lift 0.20BBs, I had the best results using 0.28.
After 15meters, it is silly to hope for an impact, wether the BB will fall or it will rise.
Je vous laisse découvrir tout ça en images :
I let you discover the tests :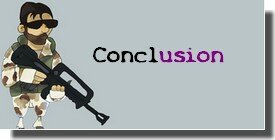 Ce M19 à ressort n'est pas une réplique qui changera votre vie. Sa légèreté et son aspect plastique font très jouet, mais il pourra toujours vous rendre service en cas de contact rapproché, en CQB par exemple ! En tout cas pour le prix (environs 35€), ce n'est pas forcément un mauvais investissement et Crown propose beaucoup de modèles différents.
This M19 isn't a replica which will change your life. Its light weight and its plastic aspect rank it as a toy, but it can be useful in close quarter battles ! Its cheap price (about 35€) and the various type of revolvers proposed by Crown make of this type of spring gun a clever choice if you're broke !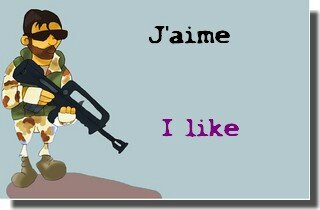 -Boite complète/complete package
-Spring jouable en backup/you can use it as a backup
-Etuis indépendants/separate cartridges
-Peu cher/cheap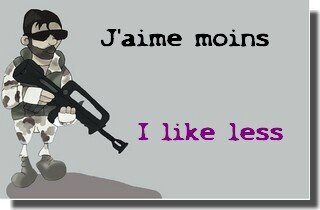 -Marteau dur à armer/Hammer hard to cock
-Performances aléatoires/random performance
-Fait un peu jouet/feels like a toy
Posté le 8 septembre 2014 par Dingchavez