Review VFC UMP 45 Deluxe GBBR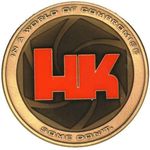 Je reprends le même canevas pour les reviews bilingues, noir c'est pour vous autres francophones, violet c'est l'anglais.
I'll use once again my new canvas for multilingual reviews : purple this is for you English speakers, black is for French readers.
Aparté RS/Real steel info :
Wikipedia est votre ami. Notons simplement que l'UMP a été développé et est produit depuis 1999 en tant que remplacement plus léger et bon marché du MP5 mais sans arrêter la production de ce dernier.

Il existe un UMP-9 (9mm parabellum) un UMP40 (calibre .40 Smith&Wesson) et un UMP45 (calibre .45 ACP) qui nous intéresse plus particulièrement, Umarex ayant mandaté VFC pour la fabrication de la réplique.
C'est une arme dédiée au combat à courte distance, le .45 ayant une portée utile de 50 mètres. Ca tombe bien, ce modèle sera un atout majeur dans vos parties en CQB du fait de son encombrement réduit (sans le silencieux).

Pour les airsofteurs souhaitant associer leur réplique à une tenue cohérente, pas facile avec l'UMP. En effet, la plupart des utilisateurs sont des agences gouvernementales (Douanes américaines, service de protection du Pentagone) ou des forces spéciales de pays exotiques (forces spéciales géorgiennes, roumaines ou serbes par exemple), de plus la plupart ont préféré les versions UMP9 et UMP40… Bref, au moins si vous vous faites un setup complet vous serez certain de ne pas être 15 dans votre asso à avoir la même tenue !
English speakers :
La boite et son contenu/in da box :

Désormais classique pour les répliques HK (sous licence Umarex, on le rappelle), la boite cartonnée noire avec le logo et la devise de la firme allemande.
As usual since Umarex bought the HK licence, they packed the gun in a black cardboard box marked with the German brand logo and motto.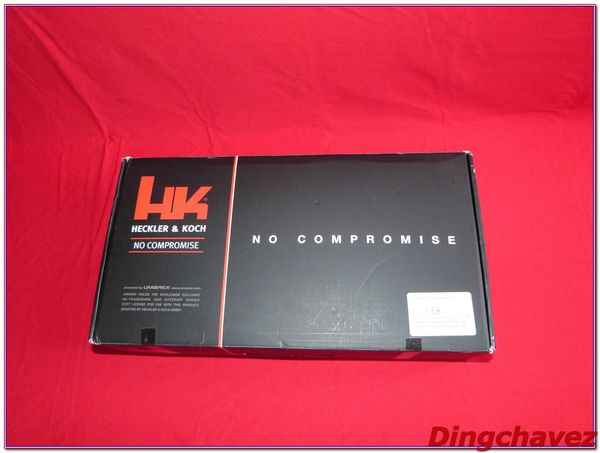 Intéressant, la puissance de la réplique est notée sur la boite.
Interesting fact, the power of the gun is written on the box.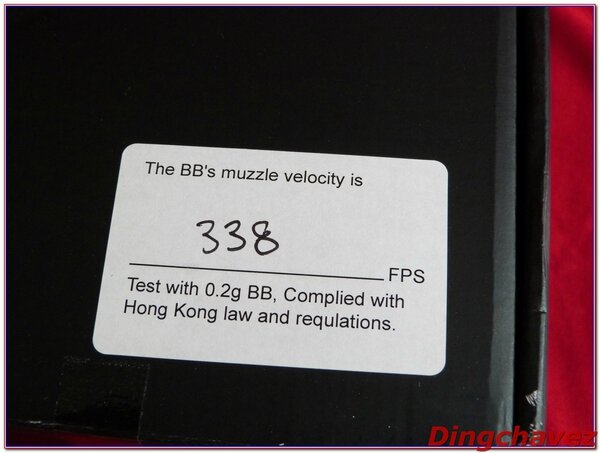 J'avais commandé deux chargeurs supplémentaires. WGC les a inclus dans la boite d'origine, du coup c'est bien rempli !
I ordered two extra mags. WGC put them in the same box so this is overcrowded in here 🙂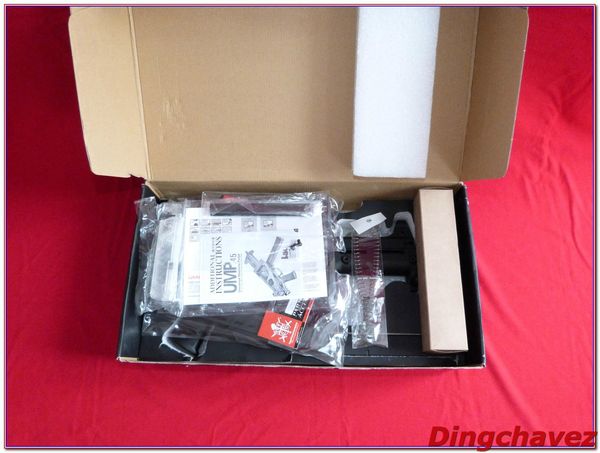 La réplique en elle-même est bien calée dans son emplacement en polystyrène. Rien n'a bougé pendant le transport.
The gun itself is well maintained in polystyrene. Nothing moved during transport.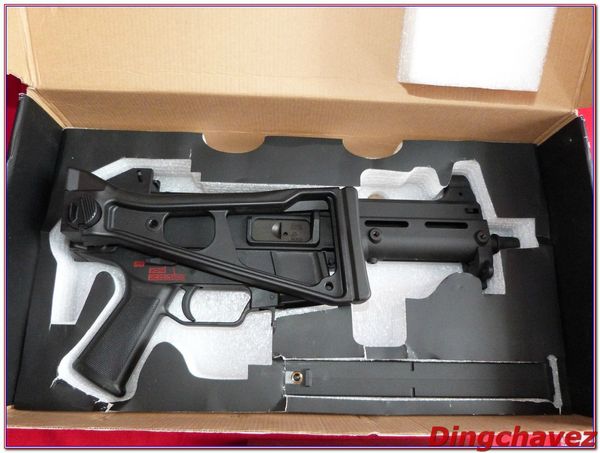 Voici le contenu de la boite d'origine :
-La réplique, quasi intégralement en plastique, elle pèse 2.2 kg avec le chargeur engagé.
-Un chargeur contenant 20 billes.
-Le silencieux avec attache rapide, inclus dans la version Dx uniquement.
-Un rail supérieur en alliage.
-Un BB loader de 100 billes avec deux embouts.
-Une clé 6 pans pour régler le hop up et monter le rail.
-Un ressort récupérateur « hiver ».
-Le manuel de la réplique, en allemand (super !)
-Un petit guide d'utilisation supplémentaire en anglais.
Here's what's in the Dx version box :
-The gun, almost entirely made of plastic, it weighs 2.2 kg with mag inserted.
-A 20 BB magazine.
-A quick detach sound suppressor.
-An alloy superior rail.
-A BB loader and two adaptors.
-An Allen wrench (to tighten the rail and set the hop up).
-A « winter » recoil spring.
-A user's manuel, written in German (mmm'kay…)
-An additionnal instructions manual, written in English.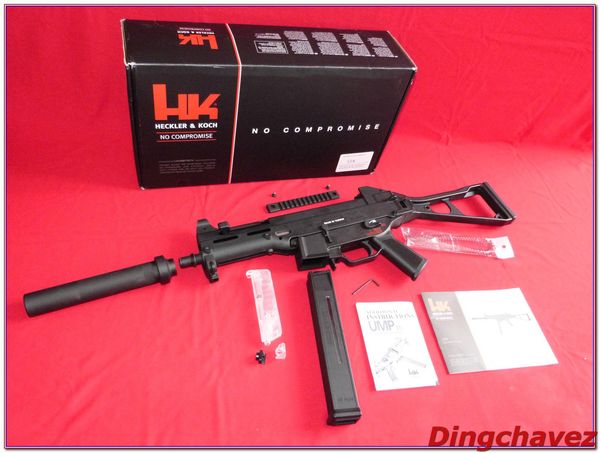 Les organes de visée/sights: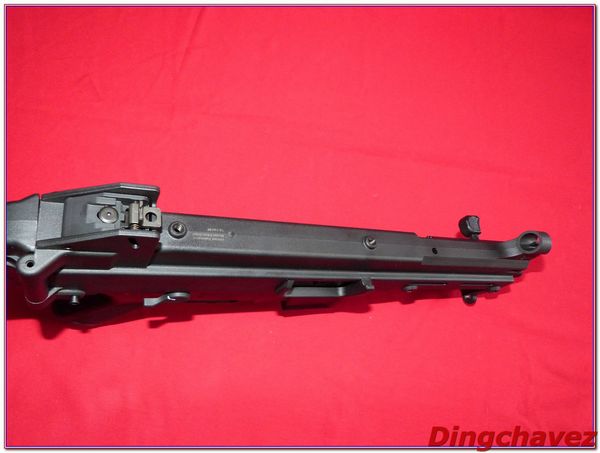 L'œilleton à deux positions est réglable en site et en gisement à l'aide d'une clé allen de 2mm.
The 2-position rear sight can be set in elevation and windage using a 2mm Allen key.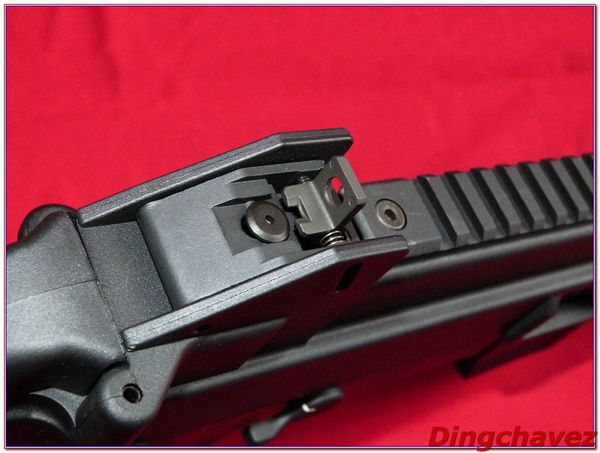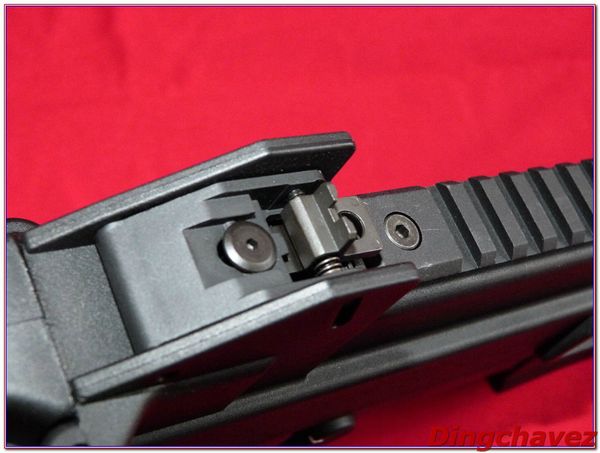 Le guidon, fixe, est moulé dans le corps de la réplique.
The front sight is part of the frame. It can't be set.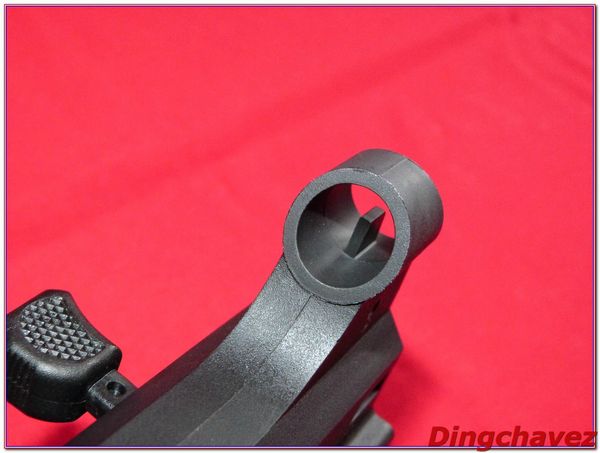 La visée est aisée mais la plupart des joueurs préférera utiliser le rail pour mettre un optique.
Aiming is very easy but most of the players will prefer putting a reflex sight.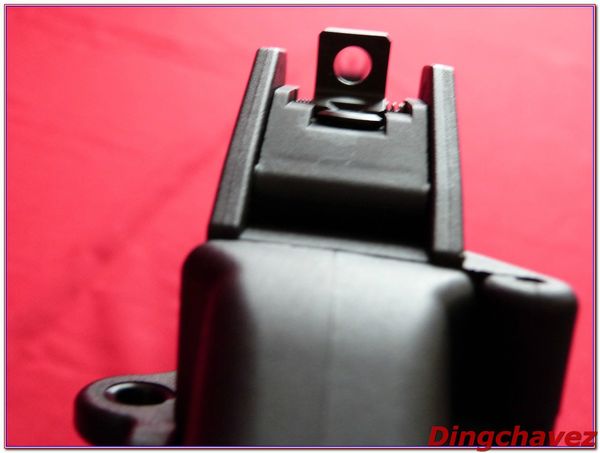 En parlant d'optique, la réplique est livrée avec un rail supérieur en alliage. Il se fixe avec deux vis Allen.
Speaking about optics, the gun comes with an aloy superior rail.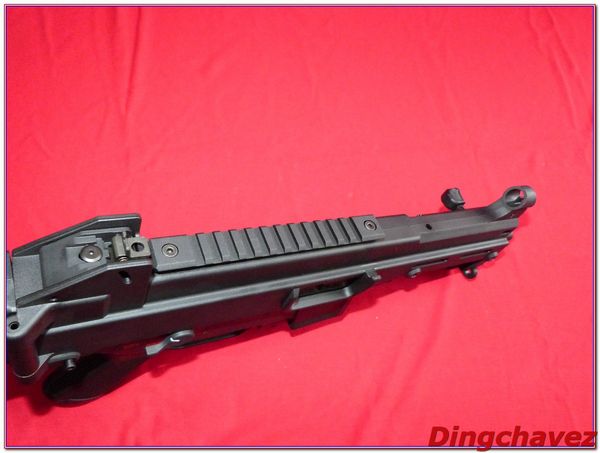 Malheureusement les rails latéraux et le rail inférieur ne sont pas fournis, ils sont disponibles à part pour une vingtaine d'Euros.
Unfortunately the lower and lateral rails aren't part of the bundle. Buying them will cost an extra $25.
Marquages et détails divers/details and markings:


Les licences ont tout de même du bon, VFC nous offre l'intégralité des marquages RS sur cette réplique.
Pour ceux qui aiment lire ça fait du boulot !

Le sélecteur est ambidextre, les utilisateurs de MP5 ne seront pas dépaysés. Les 4 positions sont bien marquées, aucun risque de changer de mode de tir par accident.

On peut tirer en coup par coup, rafale de deux billes ou en automatique.

The fire selector is ambidextrous. MP5 users won't be disoriented; The 4 different positions are well defined, no risk of switching from safe to single or full by accident !
You'll be able to select safe-single shot-2round burst-automatic fire.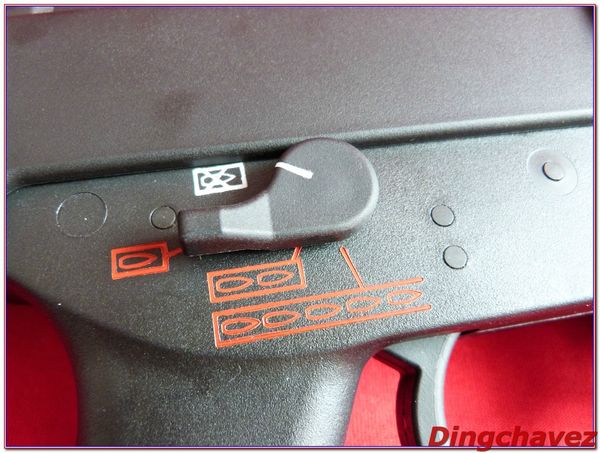 Un superbe autocollant est apposé sur le côté gauche du corps de la réplique, vite, enlevons-le !
A wonderful sticker has been put on the left side of the body, let's remove it !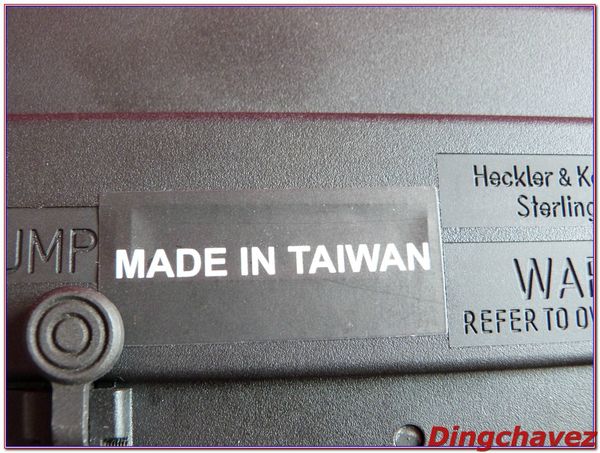 Voilà qui est mieux, admirez les superbes marquages HK.
This is better, admire the nice HK markings on the left side.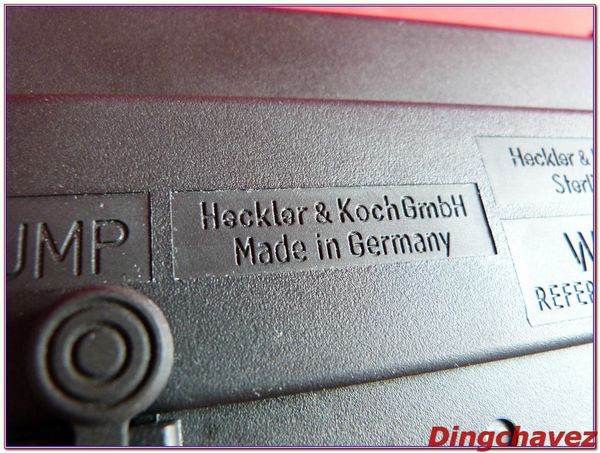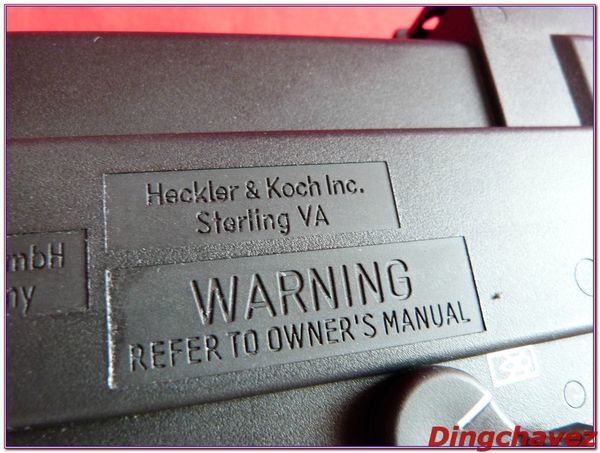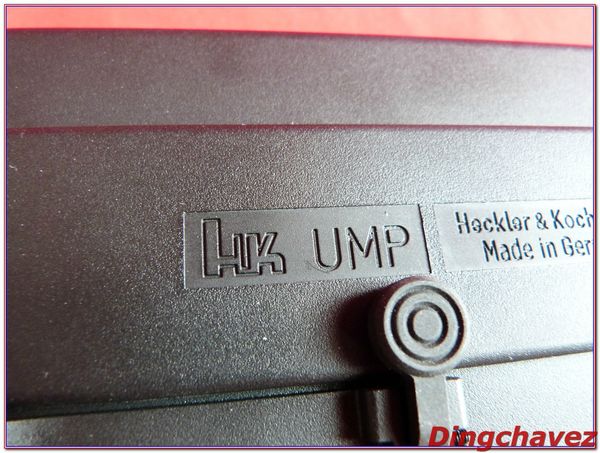 Magnifique ! A l'avant gauche de la réplique on trouve le numéro de série unique, ici le 163-130274 (par exemple, celui de Khan-Seb est le 130482, celui de Capt'ain Caverne est le 130484 et Jérémy67 a le 130088)
Superb ! To the front there's the unique serial number.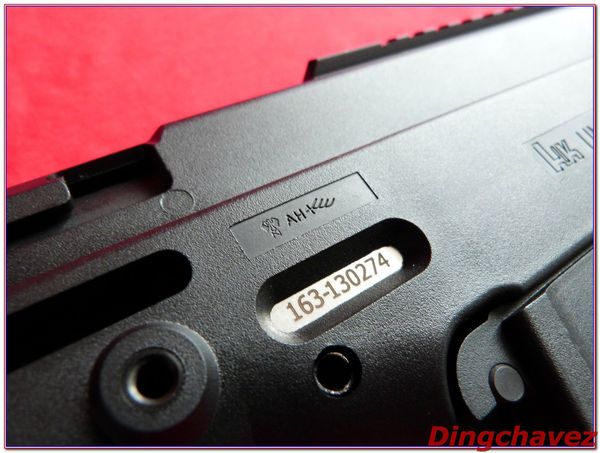 Sur le côté droit du corps, pas de marquages mais on y trouve l'ensemble mobile, marqué du sigle HK et du calibre RS.
On the right side of the frame, no markings but we can see the bolt carrier, marked with HK logo and caliber.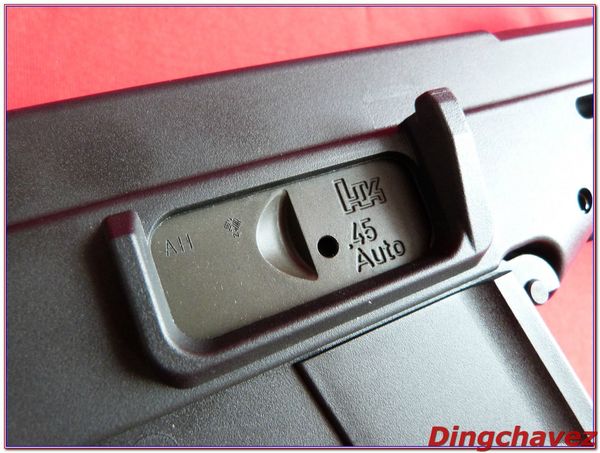 Sur le dessus du corps on trouve le marquage « légal » Umarex avec le calibre réal de la réplique.
On the top of the body there's the legal Umarex markings with the real caliber of the BB gun.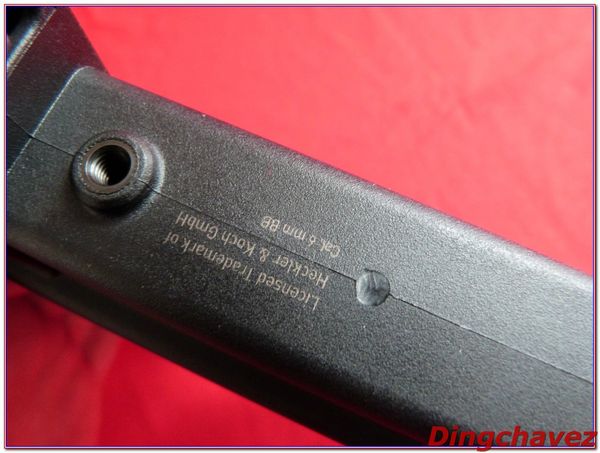 La poignée pistolet est assez fine, ça m'arrange j'ai des petites mains ! Le grip est agréable, presque doux.
The pistol grip is thin, as I have small hands I'm pleased with that ! The grip itself is fine, almost soft !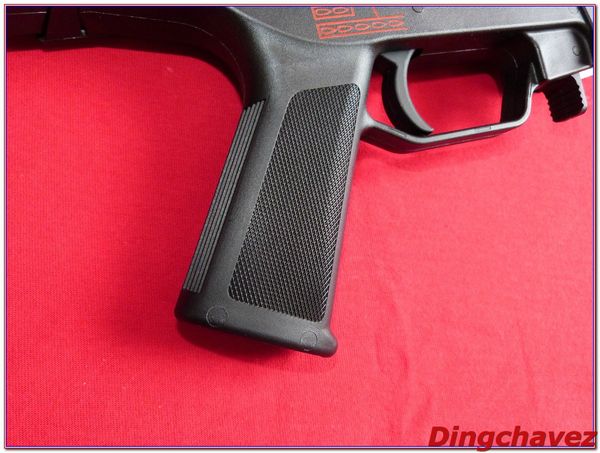 Le loquet de verrouillage de chargeur est en plastique.
The mag catch/release is made of plastic.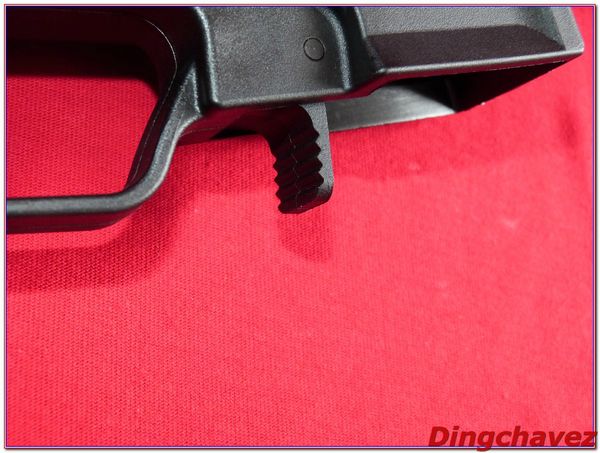 Le garde-mains est pré-équipé de trous qui permettent de visser des rails additionnels sur les côtés…
The handguard is equipped with holes allowing the use of additionnal rails on the sides…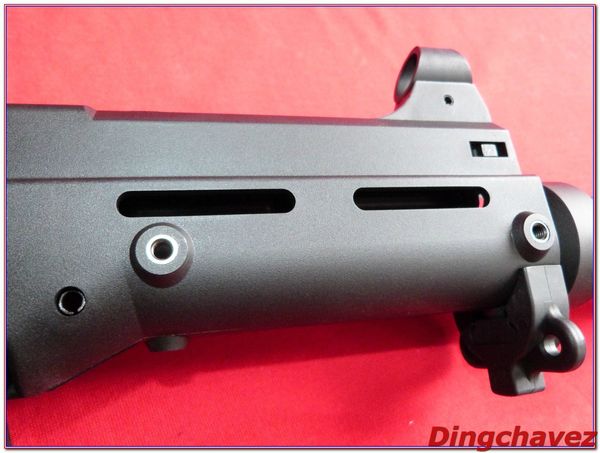 …et le dessous. Remarquez l'attache pour la sangle identique à celle du HK416C.
… and the bottom. Notice the sling system, it is the same as on the HK416C.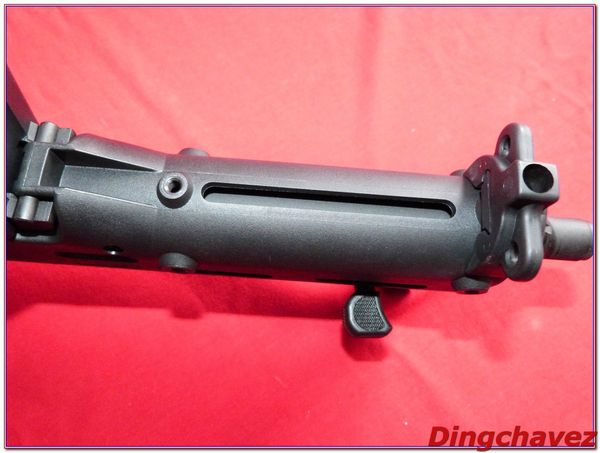 Le canon externe en alliage.
The alloy outer barrel.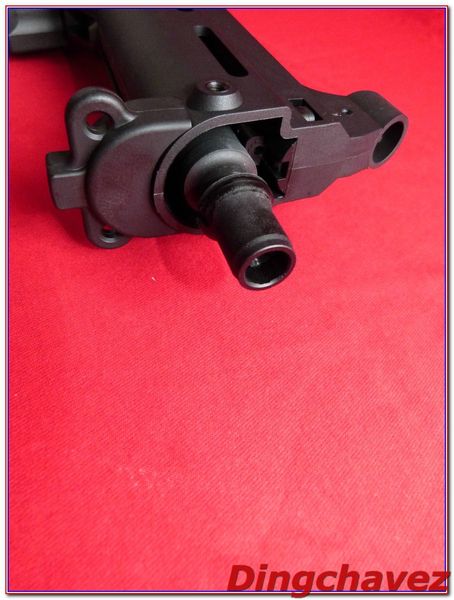 Le pontet est très long et la queue de détente est en plastique.
The trigger guard is very long. The trigger itself is made of plastic.
Vue sur le puit de chargeur.
A view on the mag well.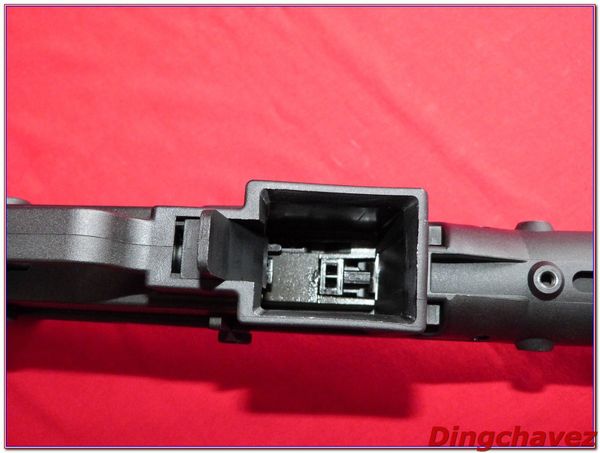 L'arrêtoir de culasse en acier est fonctionnel.
The steel bolt stop works for real.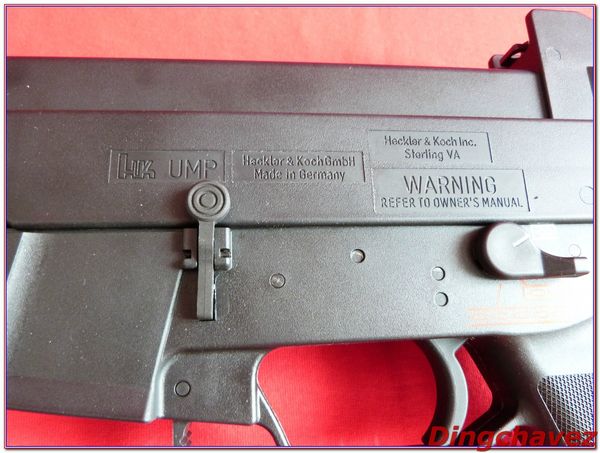 Le levier d'armement. Comme sur le MP5 on peut le verrouiller à l'arrière.
The charging handle. Like on MP5 it can be locked to the rear.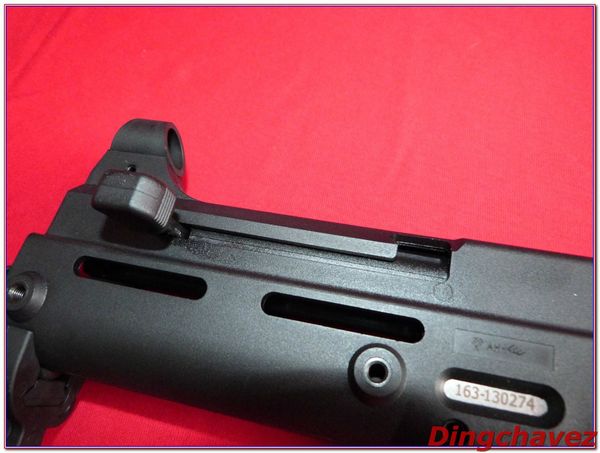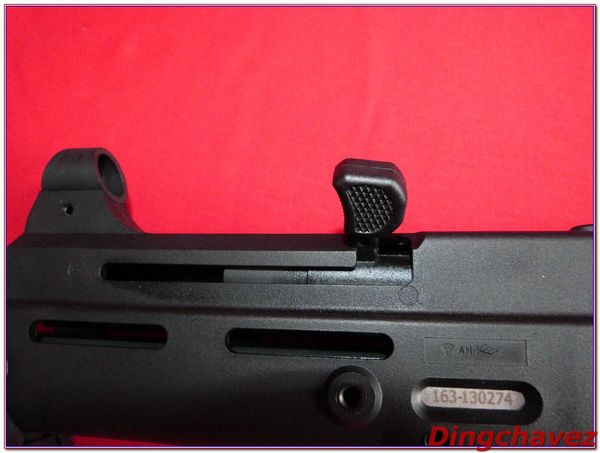 La crosse repliable est… vous l'avez deviné, en plastique !
The foldable stock is made of… yeah, you guessed well : plastic !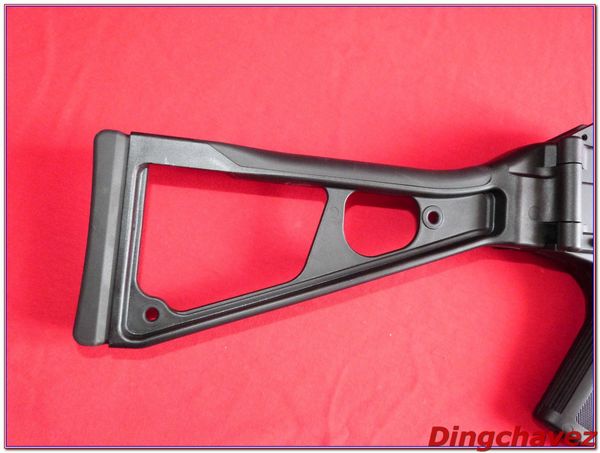 Le bouton de verrouillage est assez dur à actionner. Il est également en plastique.
The lock button is quite hard to press, it is also made of plastic.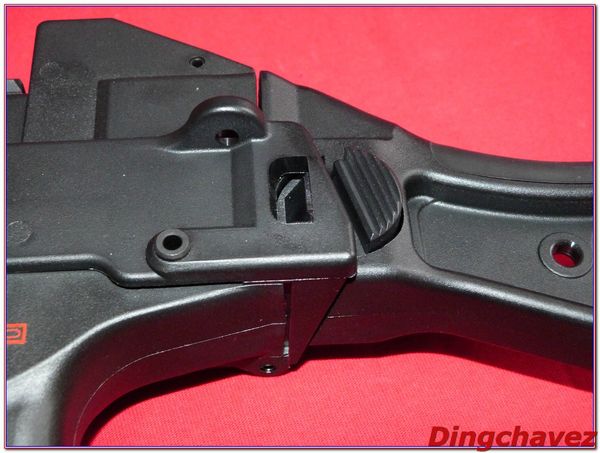 Une fois pliée, la crosse se verrouille sur un petit loquet intégré au corps de la réplique.
Once folded, the stock locks onto a small latch integrated to the frame.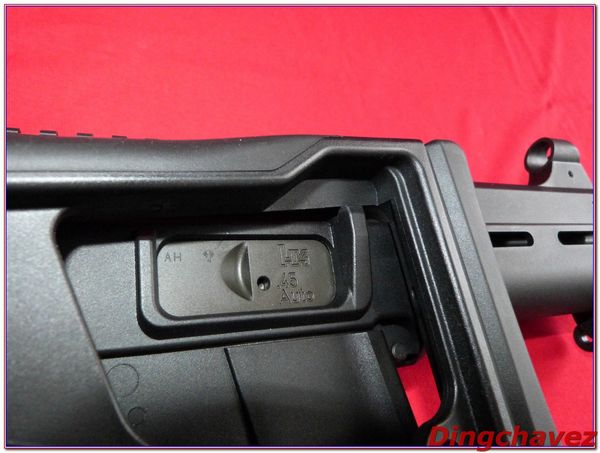 Crosse repliée, les commandes de sélecteur et de tir sont accessibles.
The fire selector and trigger controls are still reachable.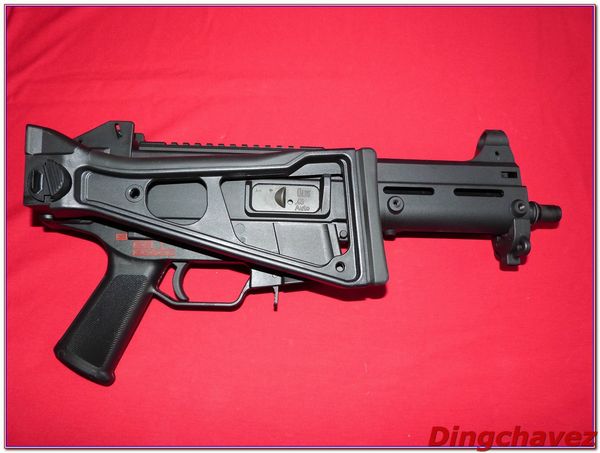 Le silencieux. Il comporte les marquages de calibre et les marquages HK ainsi qu'un numéro de série générique.
The sound suppressor. It has got caliber markings and HK markings, plus a generic serial number.
Il comporte un système d'attache rapide.
It is a quick detach system.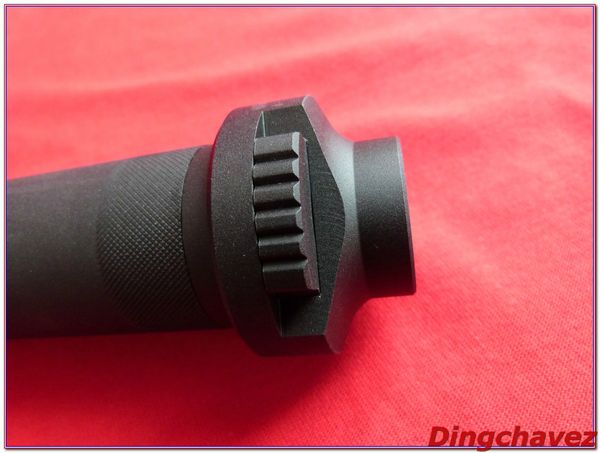 L'interne est composé de mousse. Le rôle de ce silencieux est juste esthétique.
Inside the suppressor there is foam, but it doesn't suppress anything, this is purely for the look.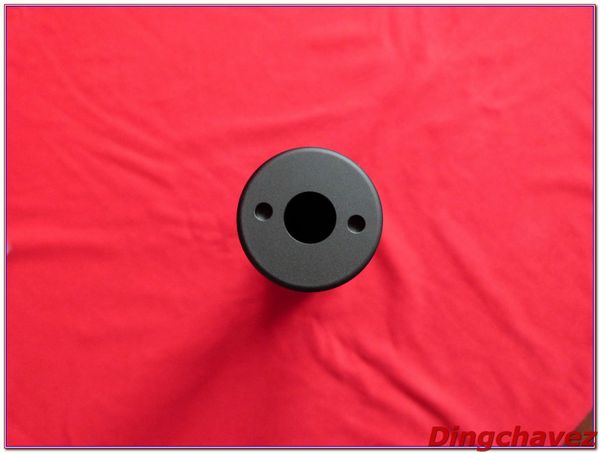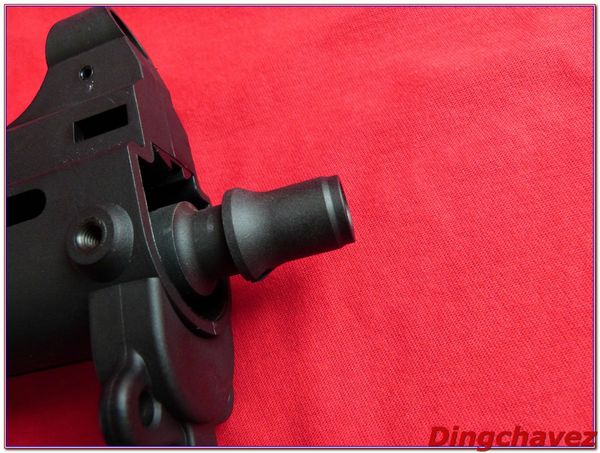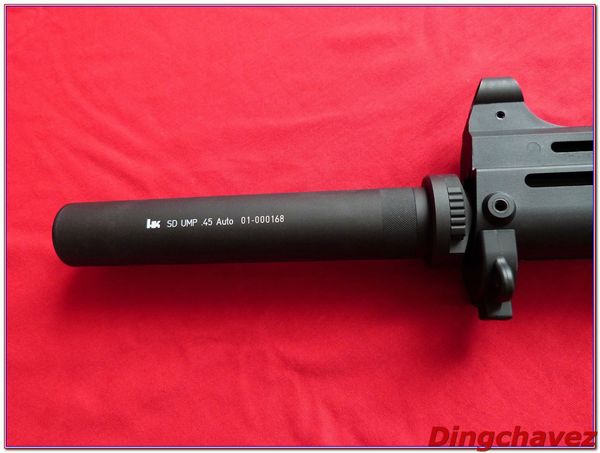 Par contre, l'utilisation du silencieux rallonge drastiquement la réplique. Pas pratique en CQB !
Using the suppressor adds an important lenght to the gun. Not very convenient in CQB !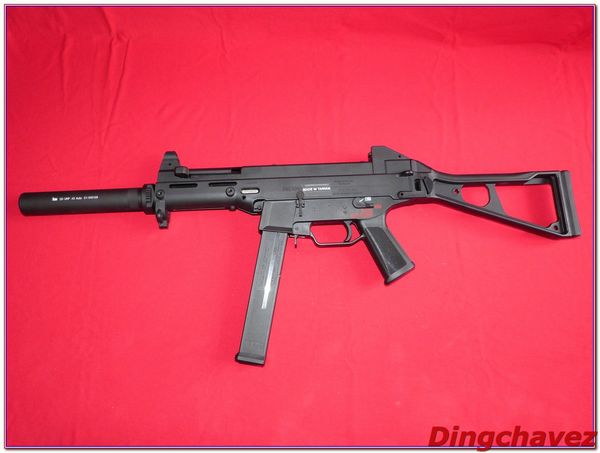 Le chargeur/magazine:
Ils possèdent tous les marquages nécessaires, mais il n'y a pas de fausses balles dans les fenêtres transparentes…

Sur la boite de la réplique, il est indiqué que l'on peut mettre 30 billes. Impossible d'origine. J'ai réussi à en mettre 21 au maximum. C'est donc une information inexacte, pour ne pas dire mensongère de la part d'Umarex, drôle d'idée de leur part…

They've got all the markings, but we can't see any dummy bullets through the transparent windows.

On the box of the gun, you can read « 30BBs ». Impossible without modification. I managed to put max 21 BBs in the mag. This is a false specification, even we could say a lie from Umarex, I don't know why they would do that…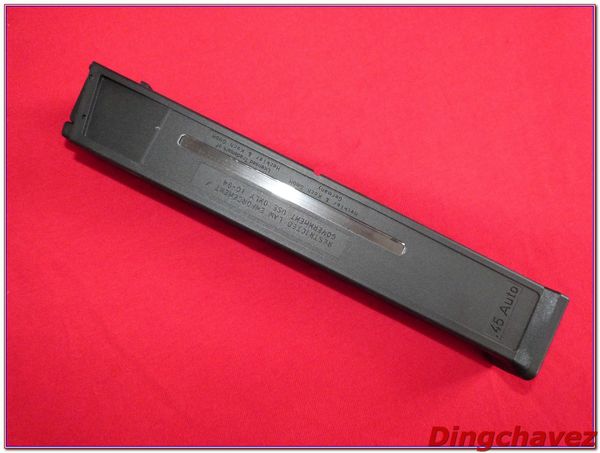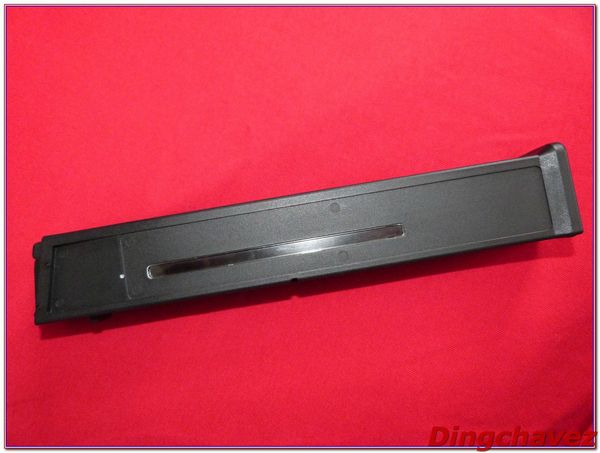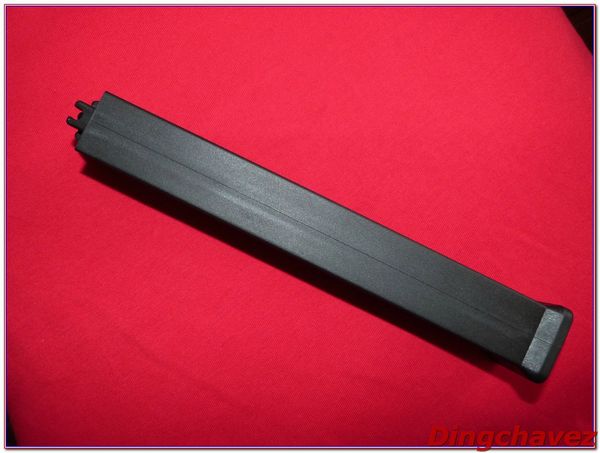 Ici on peut apercevoir le bolt lock, mais nous y reviendrons plus en détail.
Here you can see the bolt lock system. We'll be back to it in detail later.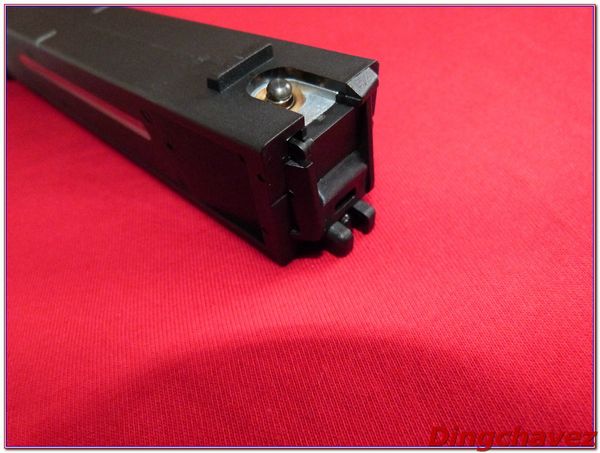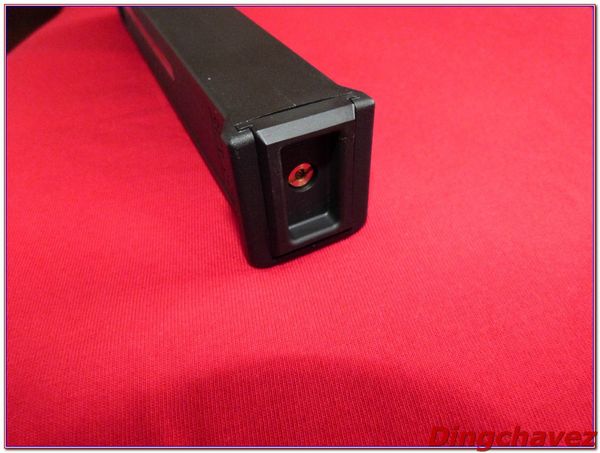 Pour démonter le chargeur, c'est assez simple mais il y a pas mal d'étapes nécessaires. La première, pour enlever le talon, est de dévisser la valve de remplissage.
To strip the mag, it is quite simple but there are many steps. The first one is to unscrew the filling valve to be able to remove the mag butt.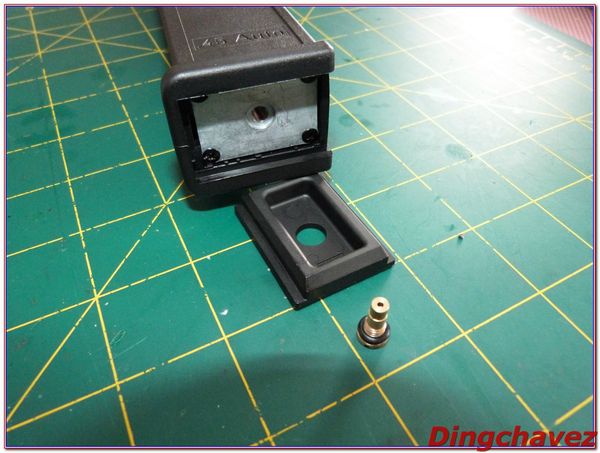 Il faut ensuite déposer les 4 vis de la plaque inférieure.
Then, remove the 4 screws of the lower plate.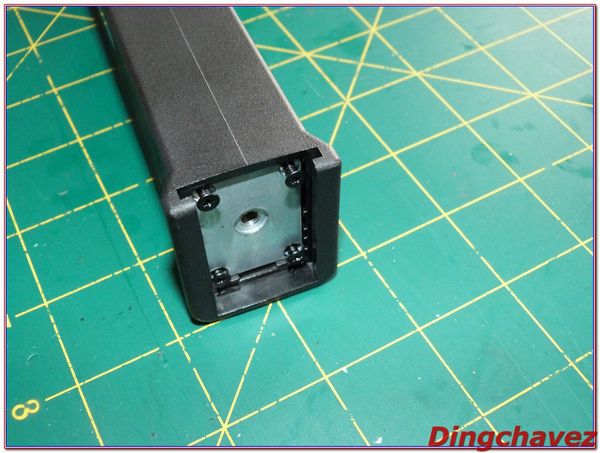 On enlève les deux goupilles supérieures.
Remove the two pins.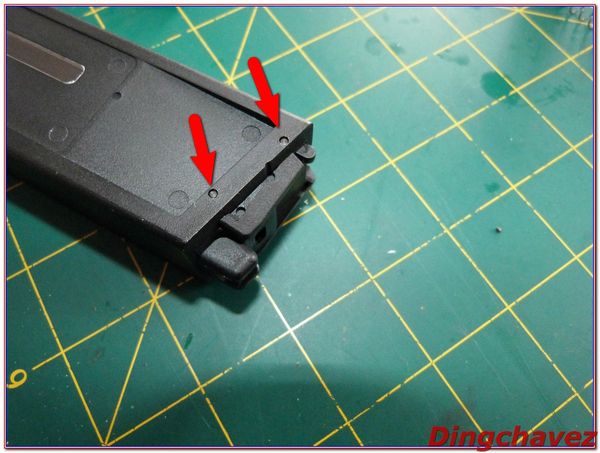 Ici on peut voir en détail le système de bolt lock.
See the bolt lock detail.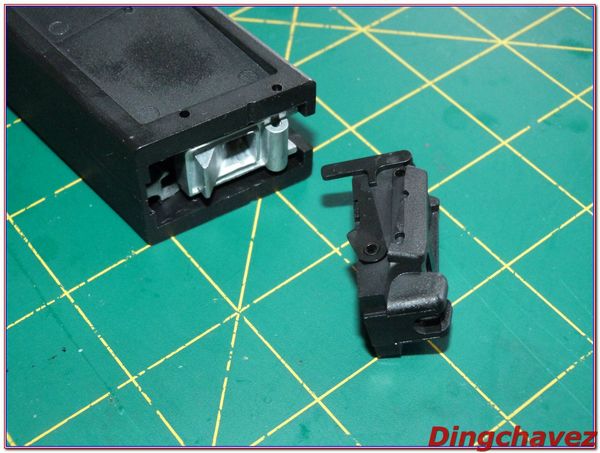 Déposez la valve de percussion.
Remove the valve.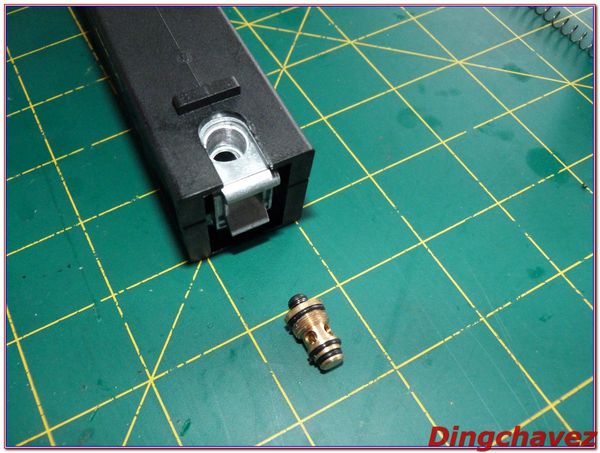 Il faut sortir l'interne par le dessous de la coque.
Remove the internals by the bottom of the shell.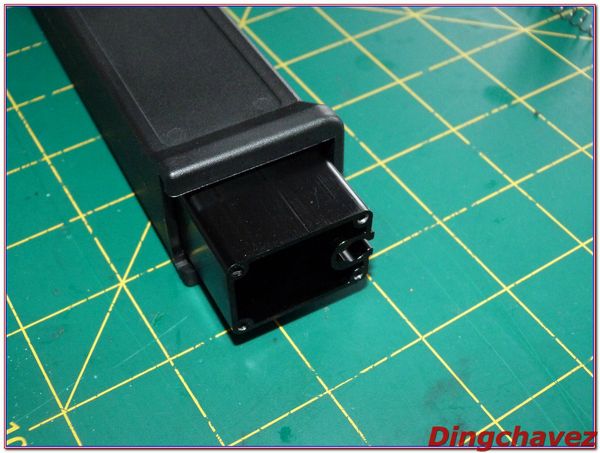 Et voici le chargeur en pièces détachées !
And here is the mag entirely stripped.
On voit clairement que la longueur du chargeur devrait permettre de mettre 30 billes
We can clearly see that the mag length should allow to put 30 BBs.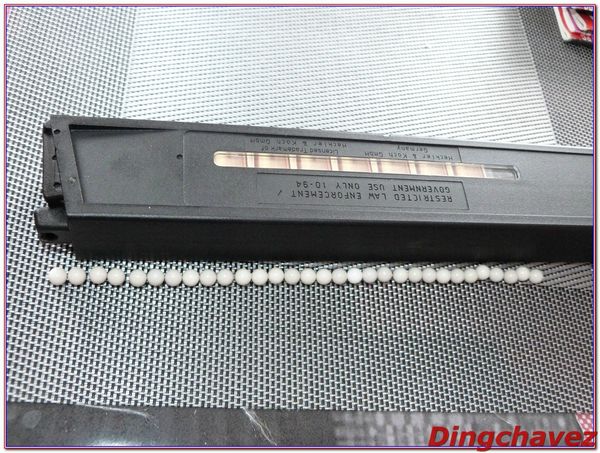 Pour pouvoir mettre quelques billes de plus, vous pouvez ôter cette pièce, cela m'a permis de passer de 21 à 25 billes.

To be able to put more BBs, you can remove this metal part. It allowed me to put 25 BBs instead of 21.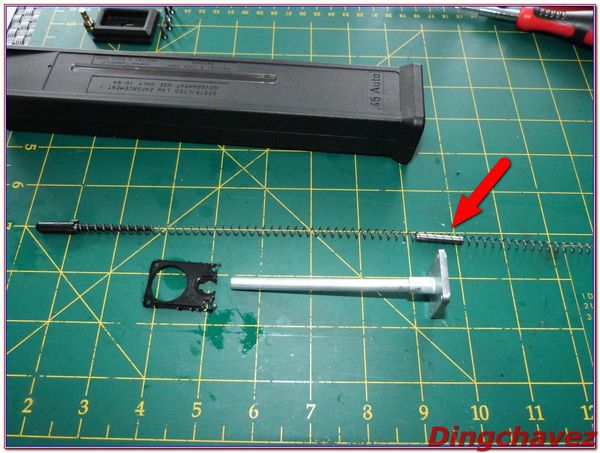 Mais souvenez-vous, sur la boite il est écrit 30 billes par chargeur. Nous en sommes encore loin et pour pouvoir ajouter le nombre manquant il faut couper la pièce qui guide les billes, extrèmement longue d'origine. Bien entendu la garantie saute, tout ça pour pouvoir avoir un chargeur qui corresponde à ce qu'on achète !
But remember, it is written 30BBs on the box, we are still far from this number. To be able to add more BBs, I'll cut the BB guide, un-necessary long… Of course it removes any kind of waranty, all this to have a mag respecting the original specifications ! Great !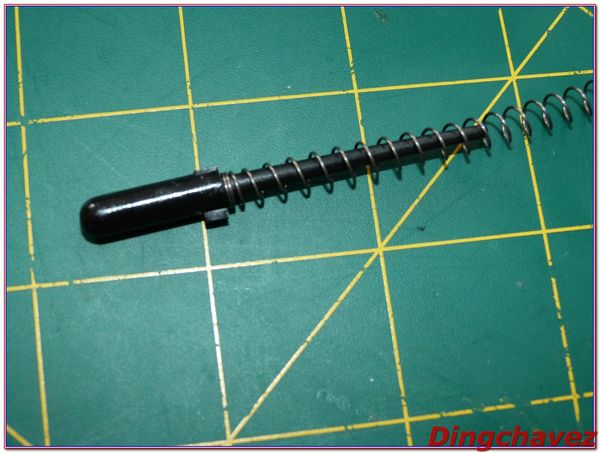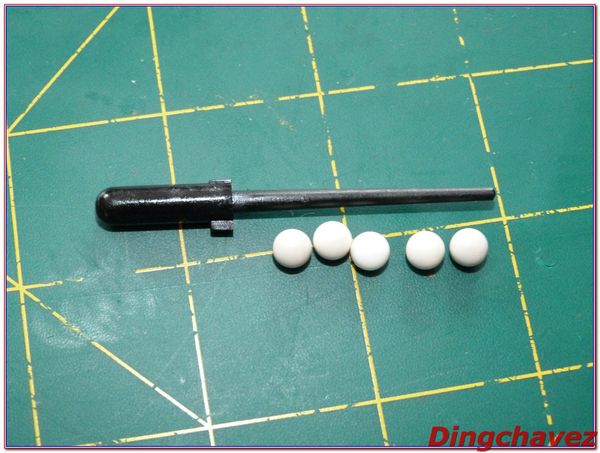 Pensez à étirer le ressort avant de remonter, sinon vous risquez de perdre la fonction arrêtoir de culasse.
Think of pulling on the spring before reassembling, otherwise you could lose the bolt catch function.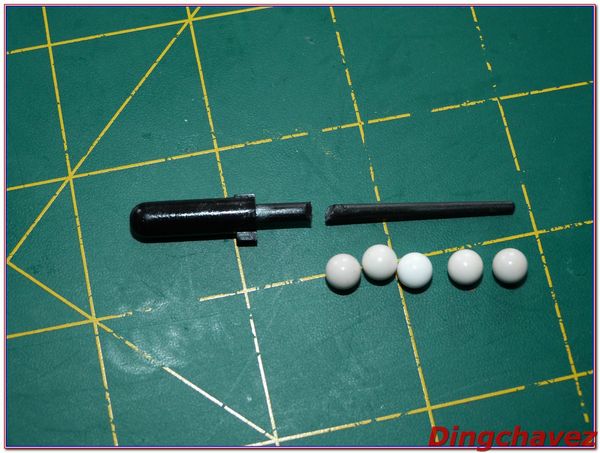 Démontage et interne/Field stripping and interns :

Rien de plus simple, il suffit de retirer la goupille située à l'arrière du receveur inférieur et de faire pivoter la mécanique.

Simple as pie, remove the takeout pin and pivot the lower receiver.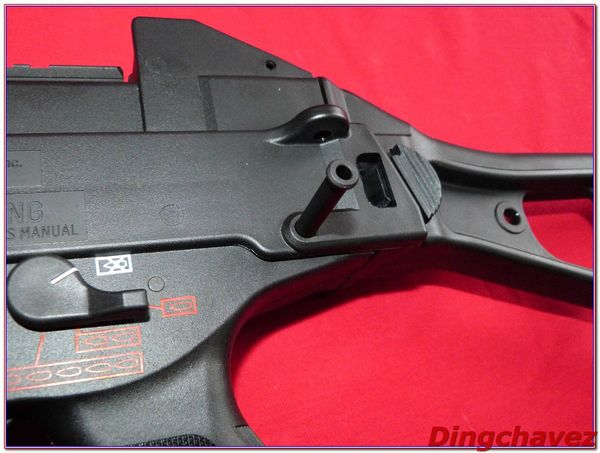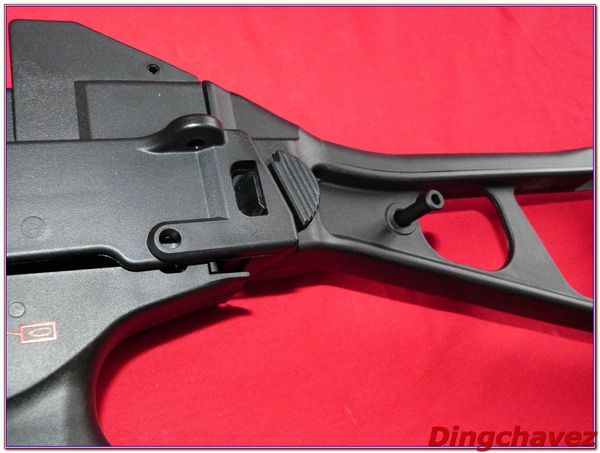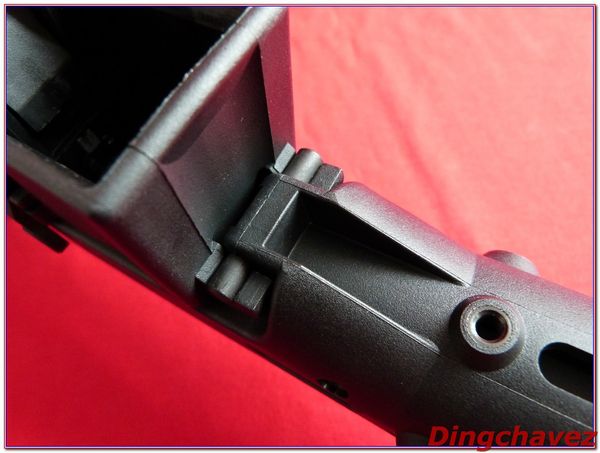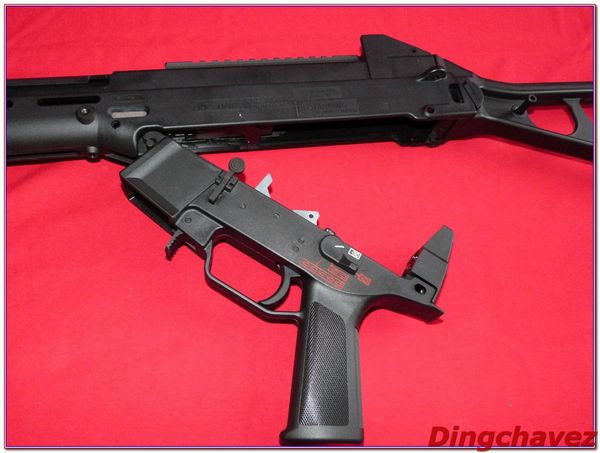 La tige guide et l'ensemble mobile sont situés dans la carcasse.
The spring guide and the bolt carrier are in the upper receiver.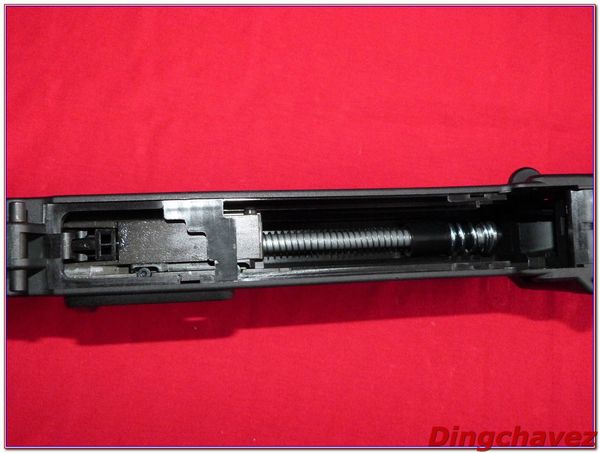 Toute la mécanique de sélection et de percussion est dans l'ensemble inférieur. Pas d'acier là dedans, tout est en alliage et en plastique, espérons que ça tienne le choc…
The whole mechanic is in the lower (firing selection, percussion). There's no steel in here, only alloy and plastic, let's hope it will be durable…
Au passage, comme j'ai des aimants, petit test pour voir ce qui est ferreux !
By the way, I've got a few magnets, let's see if there's steel somewhere !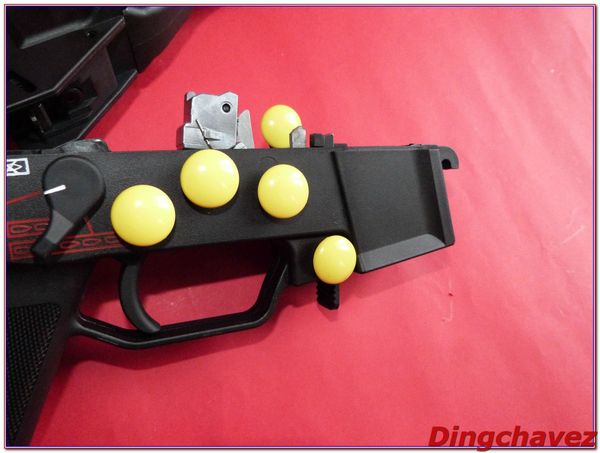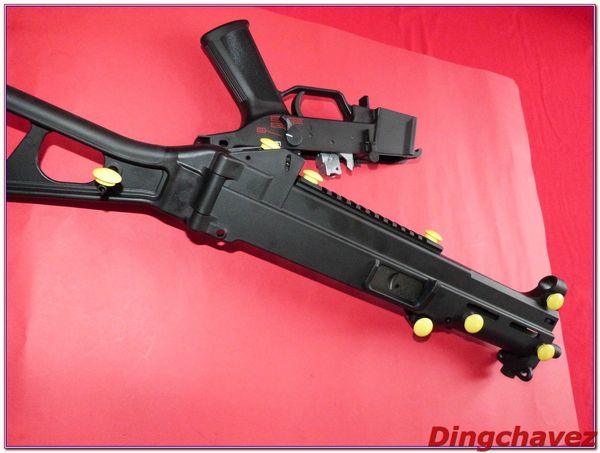 En gros : les goupilles, les vis et l'arrêtoir de culasse !
To sum it up : the bolt catch and all the pins and screws !
On peut sortir l'ensemble par l'arrière.
Then we can remove the bolt carrier by the rear of the gun.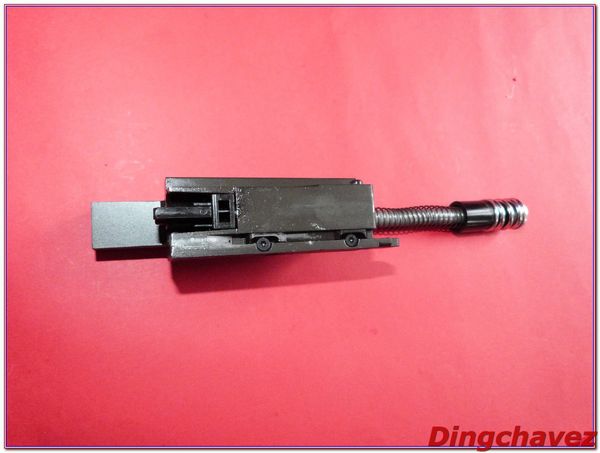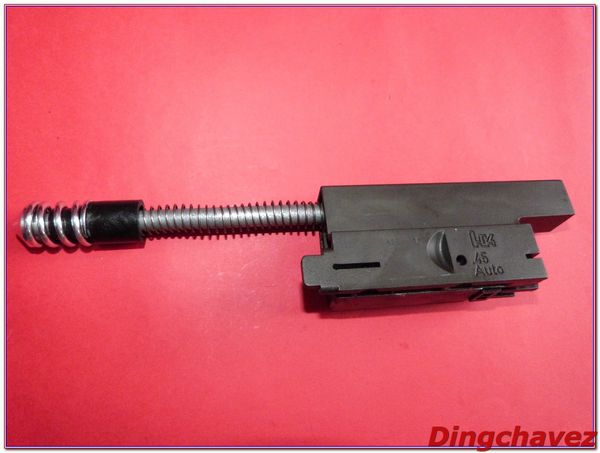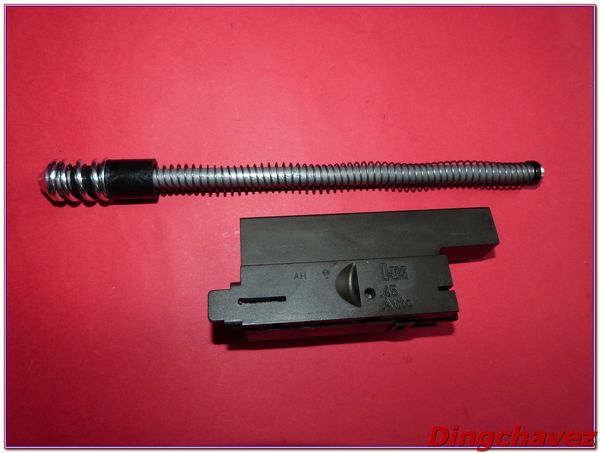 Le ressort récupérateur peut être changé par celui fourni dans la boite en fonction de la température extérieur. La réplique est montée d'origine avec le ressort « été », plus dur.
The recoil spring can be changed for the one given in the box. The default spring is the hard « summer » one.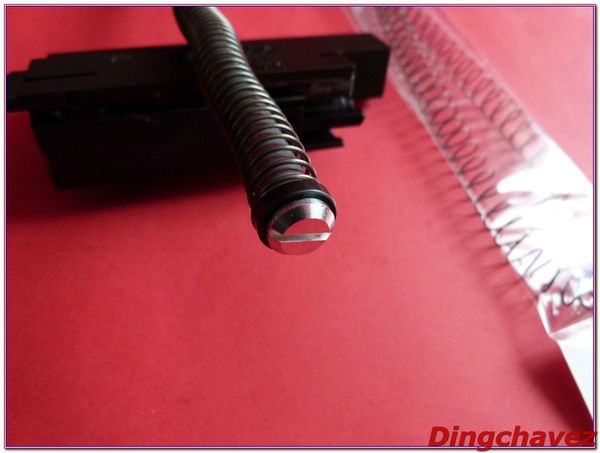 L'ammortisseur, constitué d'un gros ressort et d'un bloc en caoutchouc.
The buffer : a big spring and a rubber cylinder.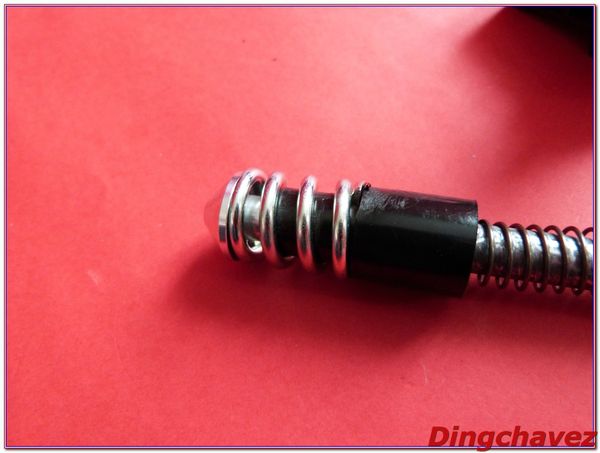 Intéressons-nous à l'ensemble mobile. Constitué d'un bloc culasse et d'un nozzle en plastique, le tout pèse 357 grammes. La petite vis que l'on peut voir sert à faire contact avec le bolt lock, cela permet d'avoir un contact entre deux pièces en acier et donc de ne pas endommager l'ensemble mobile.
Let's focus on the bolt carrier. Composed of an alloy carrier and a plastic nozzle, the whole weighing 357 grams. The small screw that you can see is here to make contact with the bolt lock so this is steel/steel contact. Therefore, the bolt carrier isn't damaged by the shocks.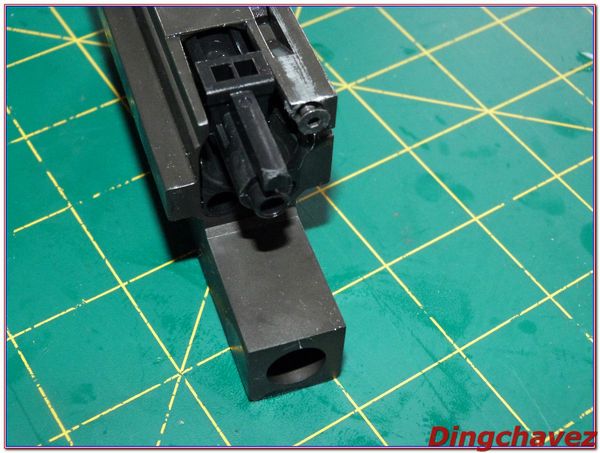 Pour enlever le nozzle il faut déposer le guide.
To remove the nozzle, we must strip the nozzle guide.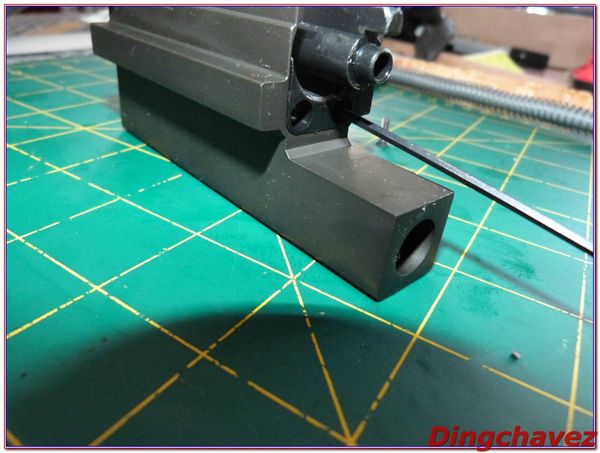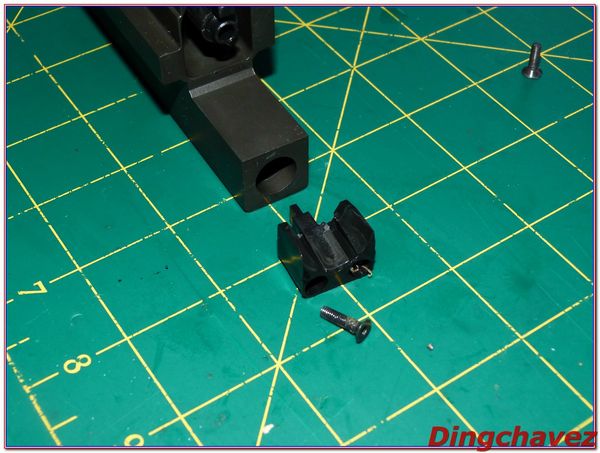 Puis une vis à l'arrière du bloc culasse.
ATTENTION : au remontage, utilisez du frein-filet !
Then, a screw at the rear of the carrier.
WARNING : when putting it back, please use threadlocker !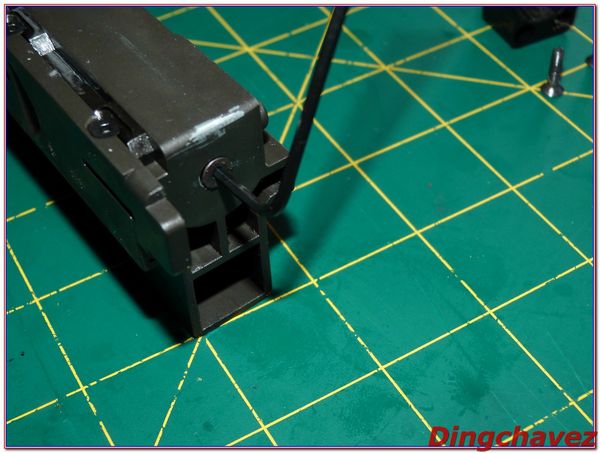 Si vous souhaitez poser une valve d'ajustement (AVS) contactez Captain Caverne sur GBB-technics, il pourra vous en faire une sur mesure, les NPAS ra-tech n'étant pas aux bonnes cotes. Pour démonter le nozzle, vous pouvez vous référer à CET ARTICLE.
If you want to put an adjusting valve system, you can contact Captain Caverne, on GBB-technics forum. He makes valves on order. If you want to know how to do it, please read THIS.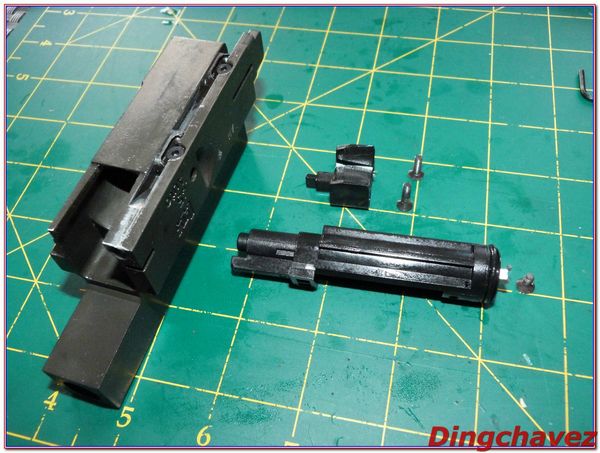 Un système sympa permet de modifier le kick de la réplique en déplaçant le moment de fermeture du valve locker. A gauche, recul minimal, à droite, recul maximal.
A nice system allows us to set the recoil of the gun by moving the moment of the closing of the valve locker. Left pic, minimum recoil, right pic, max recoil.
Un mot sur le graissage/about lubrication :

Bien entendu ce type de réplique nécessite un MINIMUM d'entretien, c'est à dire un peu de graisse lithium sur les parties mobiles (points de frotement sur la culasse par exemple), une goutte d'huile silicone sur le joint à l'arrière du nozzle et un petit coup de spray dans le trigger group. Pour plus d'informations voici une courte vidéo sur l'entretien des GBBR.
Of course, this type of gun requires a MINIMUM care. I.E. a bit of lithium grease on the mobile parts of the bolt carrier, ONE drop of silicon oil on the O-ring at the rear of the nozzle and a little spray in the trigger group. For more details here is a short video about servicing a GBBR.
ATTENTION : le démontage du levier d'armement est inutile, à part pour péter un câble lors du remontage, donc abstenez-vous…
WARNING : removing the cocking lever is useless except if you want to experiment nervous breakdown, don't do it if you don't have to…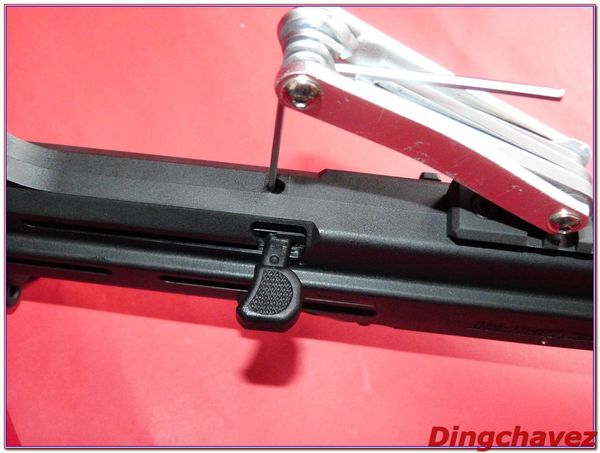 Ca m'a pris presque un quart d'heure pour le remonter correctement…
It took me like 15 minutes to put it back !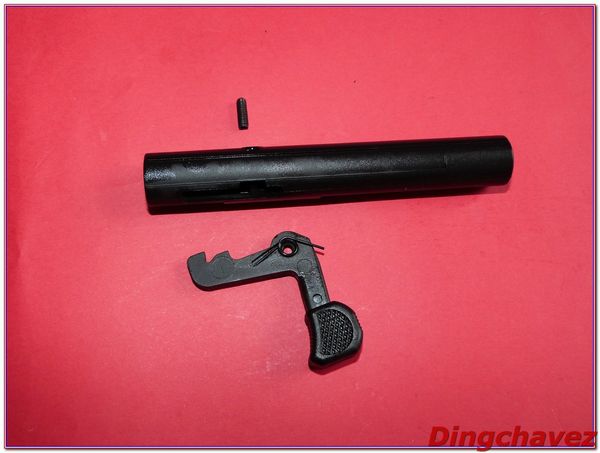 Intéressons-nous au canon externe. Première étape, démonter la patte de réglage du hop up, ça évitera de la casser comme ceci (merci de ne pas avoir mis ni éclaté des pièces ni manuel de démontage dans la boite !) :
Let's talk about the outer barrel. First of all, remove the hop up setting mechanism, you'll then avoid to break it as I did (thank you Umarex for not putting any part breakdown or stripping instructions in the manual !) :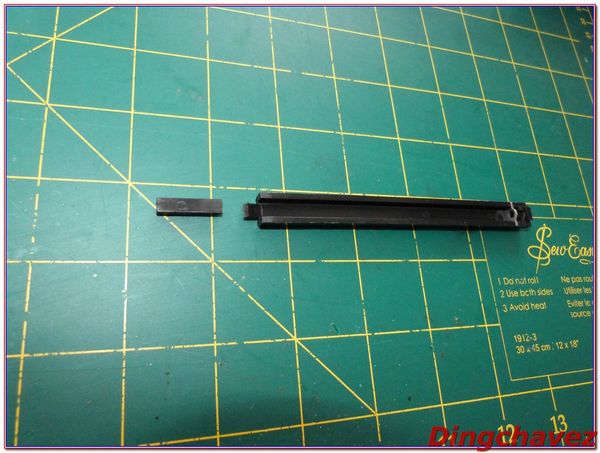 Donc on dévisse la pièce de réglage.
So we unscrew the setting part.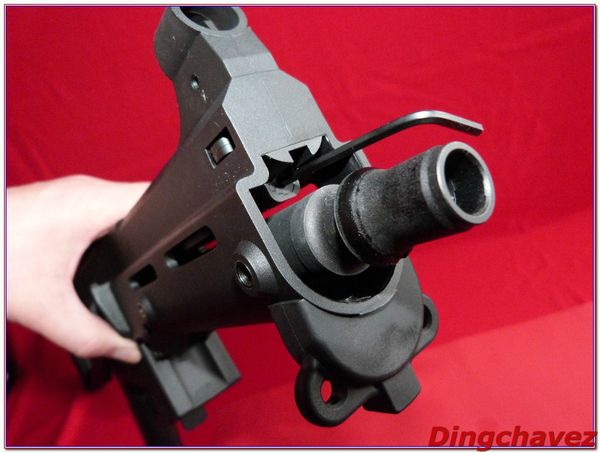 Puis on enlève la goupille qui retient le canon.
And the remove the pin holding the outer barrel.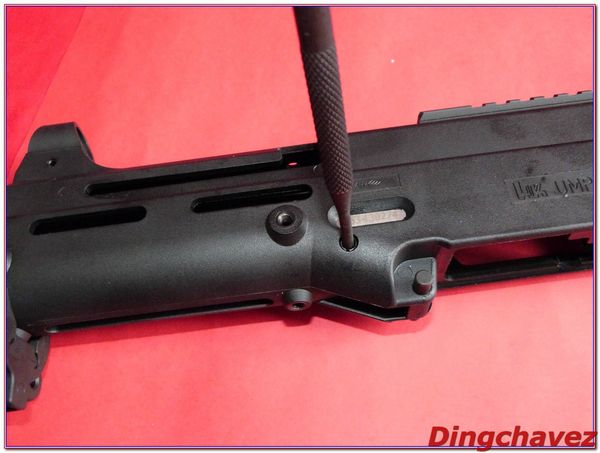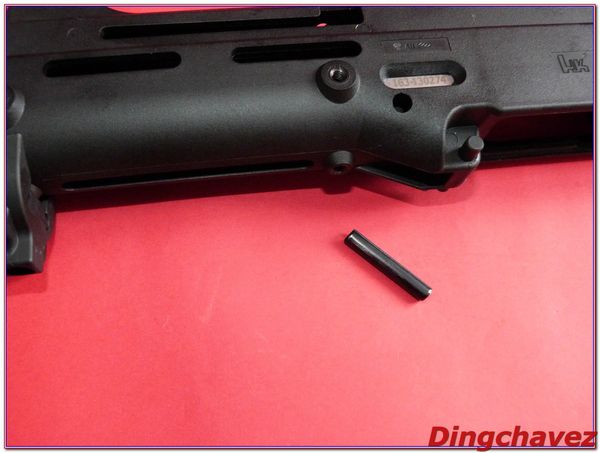 Et enfin, on tapotte sur le bloc hop up depuis l'intérieur avec une calle en bois ou en caoutchouc jusqu'à ce qu'il y ait assez de jeu pour enlever le canon.
Finally, strike gently the hop up unit from the inside of the gun with a hammer and a soft chock (wood or rubber) until there is enough game to remove the barrel.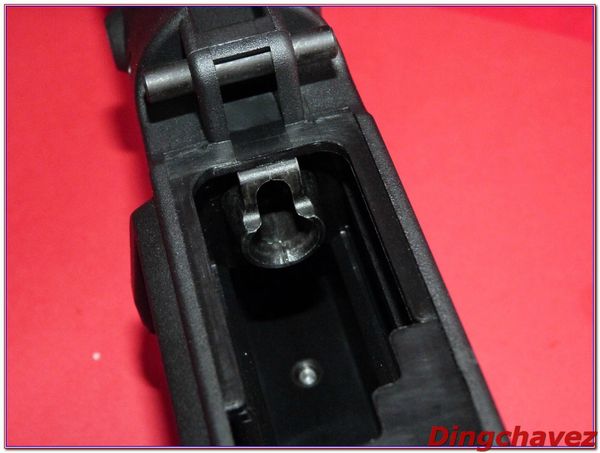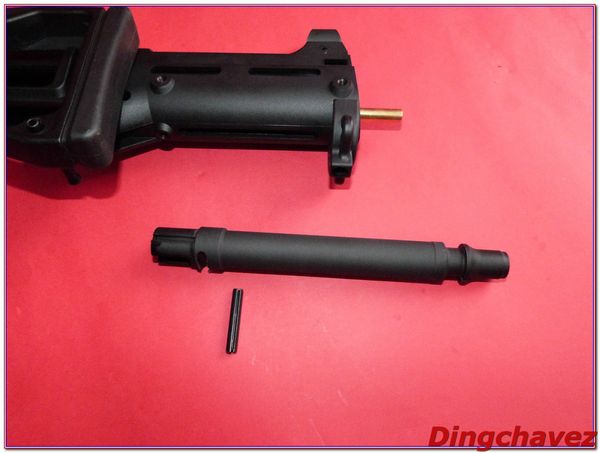 Ici sans le canon mais avec la patte de réglage du hop up pas enlevée.
Here a picture without the barrel but with the hop up setting thing.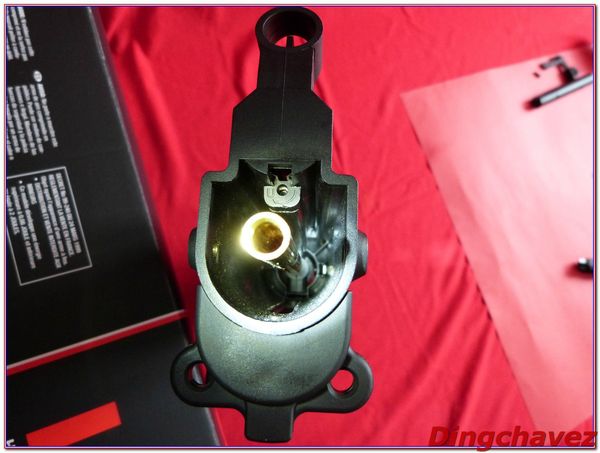 Et là, le résultat d'avoir tapé sans avoir enlevé la pièce qui pour moi ne servait qu'à cacher la vis de réglage (mais en fait non…)
And here after having hit without removing the part (to me it was here only to hide the setting screw, but no…)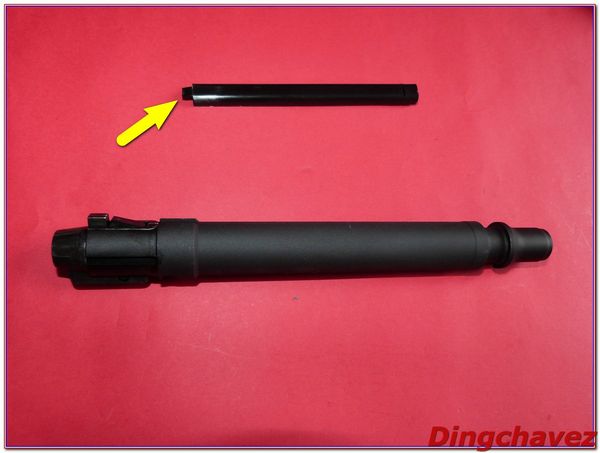 La même pièce une fois réparée…
The same part once it's been repaired.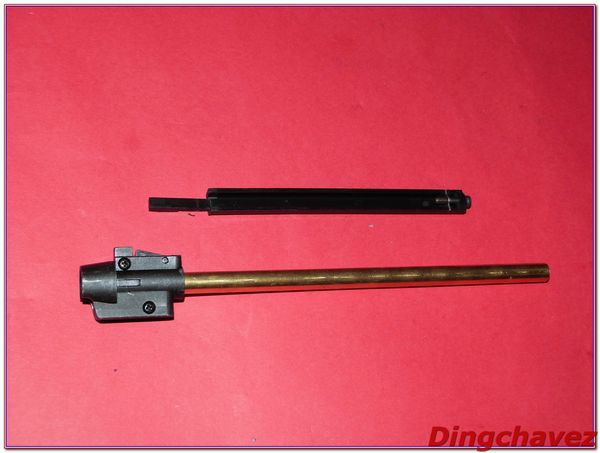 Le bloc hop up et le canon interne.
Hop up unit and inner barrel.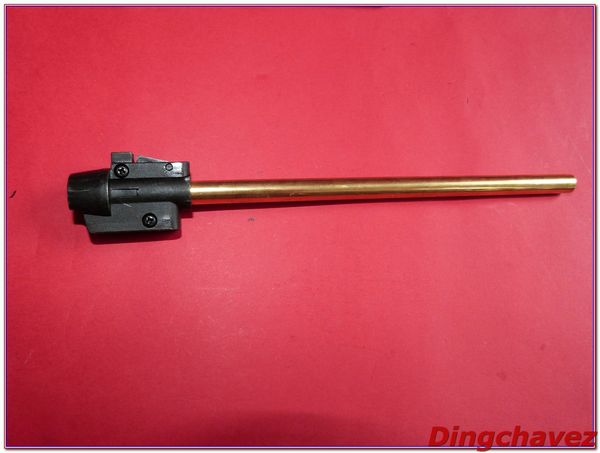 Deux vis à enlever et on découvre un joint type VSR, bonne surprise ! dommage que ce soit un joint en W qui est médiocre sur toutes les répliques que j'ai pu tester…
Two screws to remove and we discover a VSR type rubber, good surprise ! too bad it is a W version, very bad in all the guns I've tested…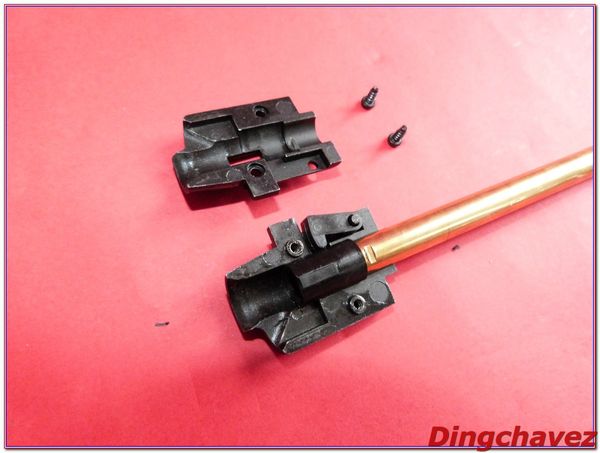 Le canon fait 182mm de long, le diamètre mesuré est entre 6.03 et 6.04 mm.
The inner barrel is 182mm, the inner diameter has been measured between 6.03 and 6.04mm.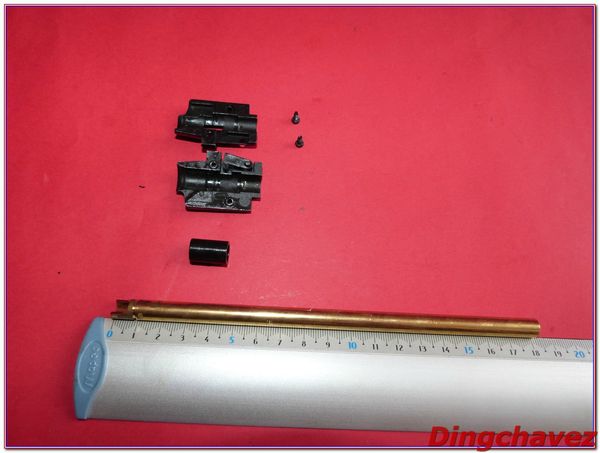 Test de tir/shooting tests :

Gaz propane
Billes bio Xtreme precision 0.2grammes
Température environs 20°C
Chrony Xcortech3200
Hop up à zéro
Les tests chrony sur une dizaine de billes montrent une moyenne de 340 fps, c'est bien mais lorsque les températures vont monter ça va passer au dessus des 350 fps fatidiques que la plupart des asso appliquent pour le full (mais en même temps, sur 20 ou 30 billes, est-ce nécessaire de tirer en full ?). Il faudra alors soit poser une valve de réglage, soit opter pour un gaz moins puissant.
Over 10 BBs the average power is 340 fps. This is good but as the temparatures will increase it will go over 350 fps (here in France many teams don't allow auto fire above 350fps).

La cadence de tir est de 13.2 billes/seconde avec un kick réglé au maximum et 17.2 billes/s avec un kick au minimum. C'est beaucoup plus rapide que les valeurs du modèle RS (600 coups/minute, soit 10 coups/seconde). L'effet cooldown arrive très rapidement lors du coup par coup rapide ou du tir en auto. Forcément, il n'y a aucune chicane pour permettre au gaz de s'évaporer donc il arrive quasiment liquide dans la réplique. C'était déjà le cas avec les premiers chargeurs M4 de VFC et les chargeurs de G36, on dirait qu'ils ne retiennent pas les leçons des erreurs passées… De ce fait, il est quasiment impossible de tirer ne serait-ce que 20 billes en auto sans que la cadence ne s'effondre ou que la réplique dégaze…

The rate of fire is 13.2 BB/sec with max kick, 17.2 BB/sec with minimum kick. This is far over the real RoF of the UMP45 (600rpm).

The cooldown effect appears very quickly when firing in full auto or rapid fire. Of course it does ! There's no zigzags in the magazine so the gas, instead of evaporating smoothly, goes out almost liquid in the gun ! It's not as if it was the first time with VFC : they did that on their first M4 mags and also on the first G36 mags. Please people, don't you learn from your mistakes ?

Une fois le hop up réglé, c'est sans surprise que je constate l'inefficacité du joint d'origine. Il était mauvais sur le S18C, il était mauvais sur le HK416C et il est mauvais sur l'UMP !
Hop up au maximum il lève péniblement de la 0.25 et le groupement n'est vraiment pas terrible.
 Once the hop up set, I'm not surprised to see that the rubber is crappy. It was bad on S18C, it was bad on HK416C, it's bad on the UMP !

The max setting barelly allows 0.25BB to go straight…

Quelques tests en vidéo/video testing :

Conclusion :

Malgré les défauts de tir de cette réplique, elle convient plutôt pas mal pour des actions en CQB : on va tirer de près, en semi et en tir instinctif, et pour faire ça, l'UMP Umarex-VFC est bon.
Pour jouer en forêt, en extérieur, à longue distance, ça va être un peu plus compliqué. Manque de précision et de portée d'origine à cause d'un joint douteux, limite de rafale courte ou de burst à cause du cooldown rapide et des chargeurs donnés pour 30 coups qui n'en contiennent que 20, bref, ce n'est pas une grande réussite et seule la réalisation et la qualité des pièces (on parle d'assemblage, car rien n'est en acier dans la mécanique…) peuvent attirer l'airsofteur qui voudrait tâter de cette réplqiue sans y faire aucune modification.
Je tiendrai cette review à jour au fil des parties pour vous tenir informé de ce qui casse, de ce qui ne casse pas et surtout comment avoir un bon compromis entre portée et précision. Merci de votre lecture et n'hésitez pas à commenter sur la page Facebook.
Well, despite the shooting problems of this gun (mostly in rapid fire and auto mode), it is a good gun for CQB actions when you don't need range and extreme accuracy.
To play outside, it is a little bit more complicated. The gun is not accurate enough out of the box because of the hop up rubber and you won't be able to use auto mode unless it is 30°C outside just because of a problem of mag design !
Besides, the mag only houses 20 BBs instead of the 30 announced…
So you'll understand that even trying not to be too mean, I can't be totally satisfied with this gun. Yes, it is a nice piece of work, the markings are beautiful and the materials seems to be sturdy (well, even if the insides are still not made of steel…) but after a disastrous MP5 series, we could have assumed that VFC would have learnt its lesson…
I'll keep feeding this review as the plays go to keep you informed about what breaks, what doesn't break, and if I managed to have a good ratio between range and accuracy ! Don't hesitate to comment on the Facebook page !
J'aime/I like :
-Qualité de fabrication. /Quality of the build.
-Le kick réglable et le ressort hiver, bonne idée ! /We can set the kick and change the recoil spring, great idea !
-Marquages. /Markings
-Léger et maniable. /Light and handy.
-Prix et contenu corrects pour cette version Dx. / Nice price and content of the box.
J'aime moins/I like a little less :
-Publicité mensongère sur la capacité des chargeurs. /Lies about BB content of the mags (hey guys, 20 is NOT like 30 !)
-Engineering des chargeurs à revoir pour supprimer le cooldown. /Bad engineering of the mags leading to cooldown.
-Joint de hop up à changer d'urgence. /Hop up rubber to change immediately…
-Pas d'éclaté ni d'instructions de démontage. /No stripping instructions and no spare parts list.
-Les rails en option. /Side and lower rails not included.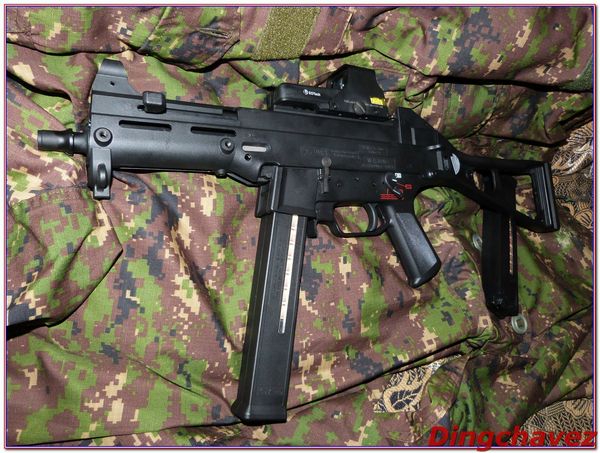 Bonus : l'éclaté de la réplique/ parts list.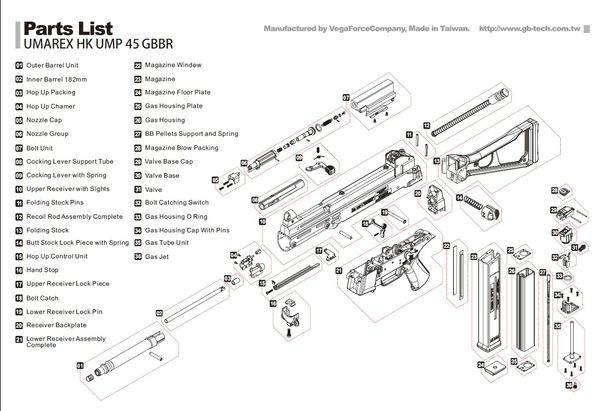 update 03 juillet 2013

Premiers essais en partie, ça n'a pas été fabuleux. Avec des billes 0.25g les trajectoires des 20-30 premières billes étaient très plongeantes, puis un camarade s'en est pris une en pleine tête car les 10 billes suivantes remontaient assez rapidement. Sur la fin du 3e chargeur la trajectoire était point visé-point touché, à n'y rien comprendre…
Une fois rentré j'ai changé le joint de hop up par un joint nineball violet, les premiers essais semblent concluants : trajectoire régulière, bonne portée et surtout réglage plus fin du hop up. Je ferai un nouveau point lors de la prochaine partie…
First play with the UMP, it hasn't been thrilling… With 0.25BBs and hop up set to the max, the trajectories were diving on the first 30 rounds, and then a buddy took a BB in his face because the next 10 BBs went to the Moon ! The BBs from the last magazine went straight, it is really puzzling.
Once I went back home, I changed the rubber for a Nineball one. The trajectory seems to be stable and the range is good. I'll come back to you after next play.
Update 28 juillet 2013. (photos et vidéo à venir)

Seconde partie avec l'UMP, je dois dire que cette fois ce fut beaucoup mieux ! Trajectoires régulières et bonne précision en changeant simplement le joint de hop up par un Nineball. Ne jouant pas en rafale, je n'ai à nouveau pas subit de cooldown.
J'ai également posé un canon en acier Crusader, le poids de la réplique s'en ressent mais le rendu est très sympa, avec les marquages.
Enfin, j'ai acheté le set de rails à mettre sur le garde-mains pour avoir le choix de mes accessoires selon la situation de jeu.
Voici la vidéo.
 Second play with the UMP, I must say that it was way better ! Consistent trajectories and pretty good accuracy, simply by changing the rubber for a Nineball. As I don't play in full auto, still no cooldown today.
I also bought a Crusader steel barrel, the weight of the replica increases a lot but this is a nice part, with .45 markings.
At last, I bought the triple rail set in order to put whatever I want on the handguard.
Here is the video.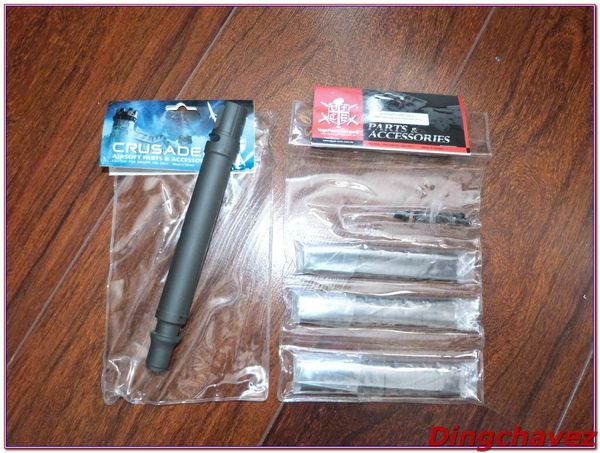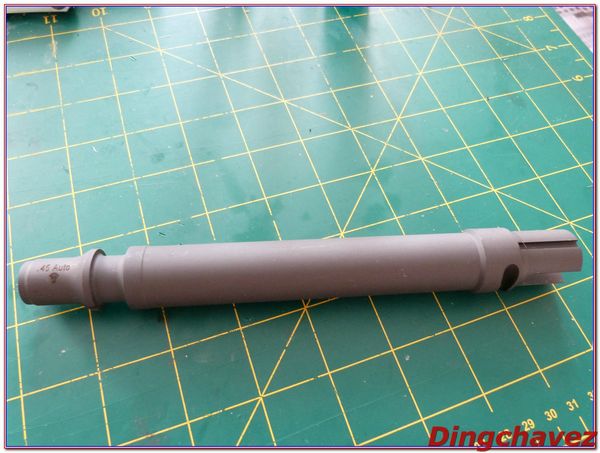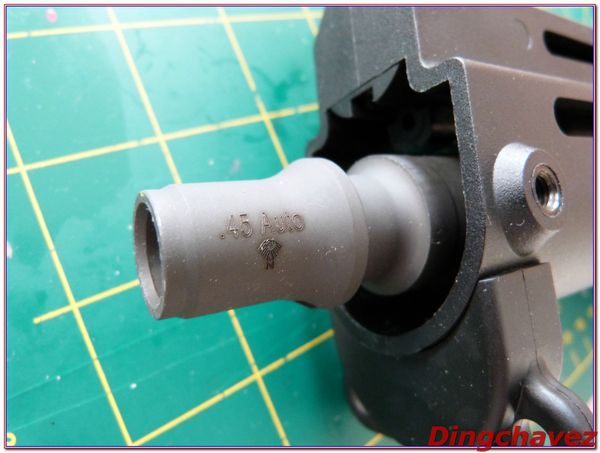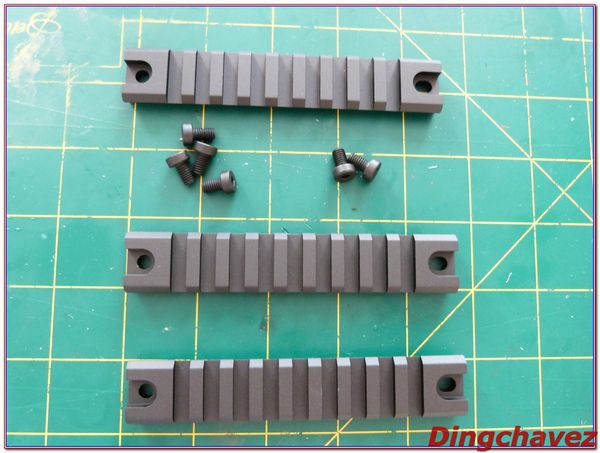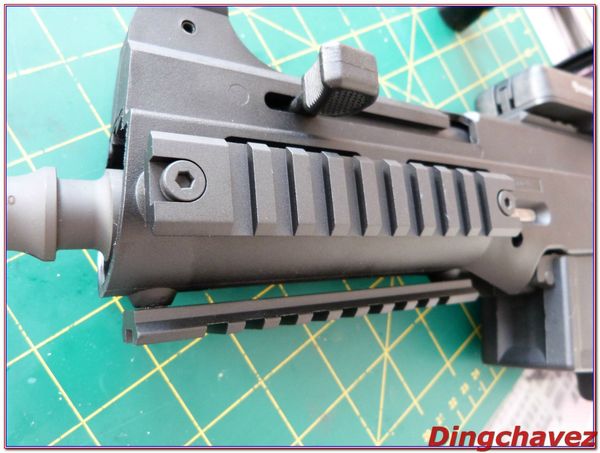 Posté le 31 août 2021 par Dingchavez